16 Best Places for Camping in Ontario
Authors Michael and Lana Law live in Ontario and spend time each summer tent camping across the province.
Maybe because we live here, we're biased, but with the province's diverse landscapes and warm summer weather, we feel Ontario is one of the best places to camp in Canada. Lakes, beaches, forests, and the rocky landscape of the Canadian Shield all combine to make for an enchanting camping trip.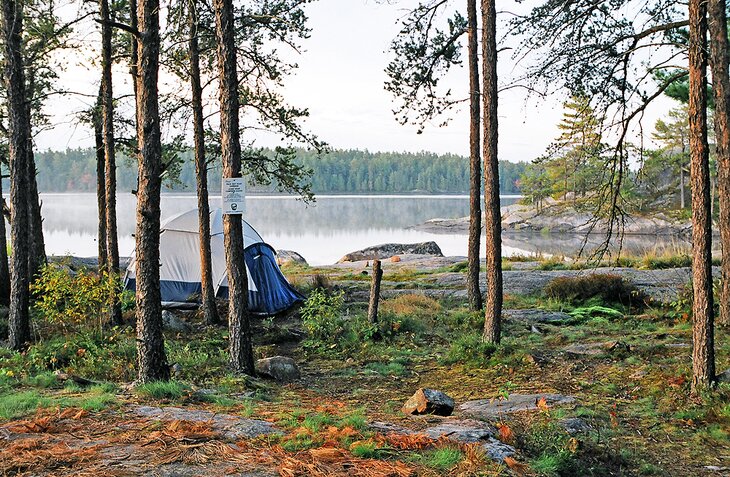 I know we're not the only ones who feel this way. Camping is a popular pastime in Ontario, and each weekend throughout the summer, legions of families pack up the car and stream out of the cities to the great outdoors. Backcountry camping is also popular, but all the campgrounds below are drive-to campgrounds.
Campgrounds in Ontario Provincial Parks are well set up for outdoor adventures. Reservations are easy to make (but you need to plan ahead), sites are well maintained, and facilities are modern.
Ontario's parks open up opportunities for a variety of interests. Boating, hiking, swimming, you name it, you'll probably find it at one of these parks. They also do a good job of educating visitors on the history, flora, and fauna of each park. Be sure to take in a free naturalist-led Discovery Program if you get a chance.
Parks have varying levels of services, but generally, you'll always find flushing toilets, running water, and electric sites. Some campgrounds even have hot showers, laundromats, and concessionaires selling supplies.
Yurts, multi-sided buildings complete with heat and electricity, are also available in some parks. This is a good option if you aren't completely set up for camping.
Parks cater to those who want to have fun and be sociable and to those who prefer peace and quiet, with radio-free sites, and others with pet-free sites. Choose your campground with our list of the best places for camping in Ontario.
1. Algonquin Provincial Park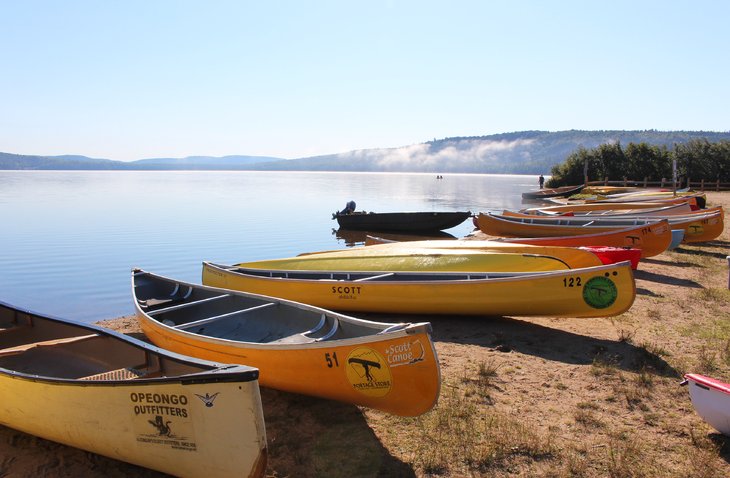 Algonquin Provincial Park is perhaps the most well-known park in the entire province. We come here frequently to soak up the scenery and to canoe, but not to be alone or to get away from it all. This is a busy park!
Algonquin park covers nearly 8,000 square kilometers and features several excellent campgrounds. Most of the campgrounds are along the Highway 60 corridor running through the mid-southern section of the park. Each of these campgrounds has its own character.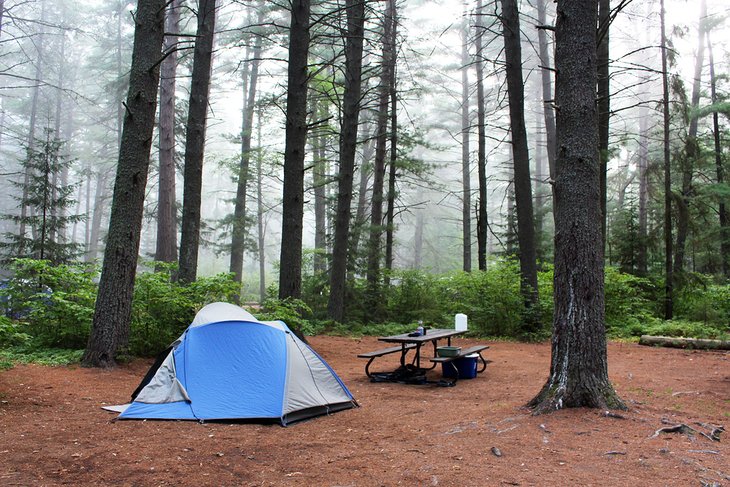 The most popular place to camp in this area is the Lake of Two Rivers Campground. Sites here are gorgeous, nestled beneath towering white pines. Hiking and biking trails leave right from the campground, and there is a large, sandy beach, perfect for swimming or launching a canoe.
If you crave a bit more solitude, head to one of the more remote camping areas of the park. One of the best is Achray Campground, with its huge sand beach and historical Tom Thompson cabin dating from 1916. Several great canoe routes leave from this area of the park, including one leading to spectacular Barron Canyon.
2. Killbear Provincial Park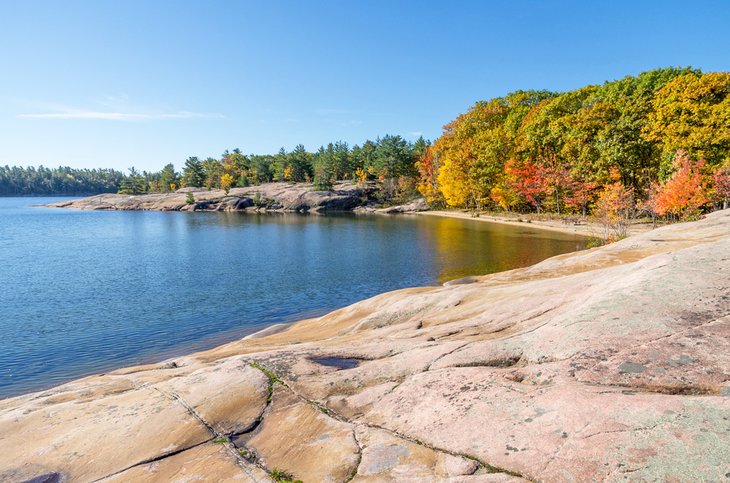 Set out on a peninsula and surrounded on three sides by water, Killbear is one of the most popular, if not the most popular, campgrounds in Ontario, particularly for families.
Killbear has a huge campground, with 880 sites across seven loops. The sites are set in pine and mixed deciduous forest and are mostly level with a mix of sand, grass, and dirt.
Killbear has seven beaches, each one is located near a campground loop, and is an ideal place to go swimming, canoeing, or enjoy other water sports on Georgian Bay.
Hiking and biking are good pastimes here - the park has four trails, three suitable for hiking and one six-kilometer-long trail suitable for biking and hiking.
3. Killarney Provincial Park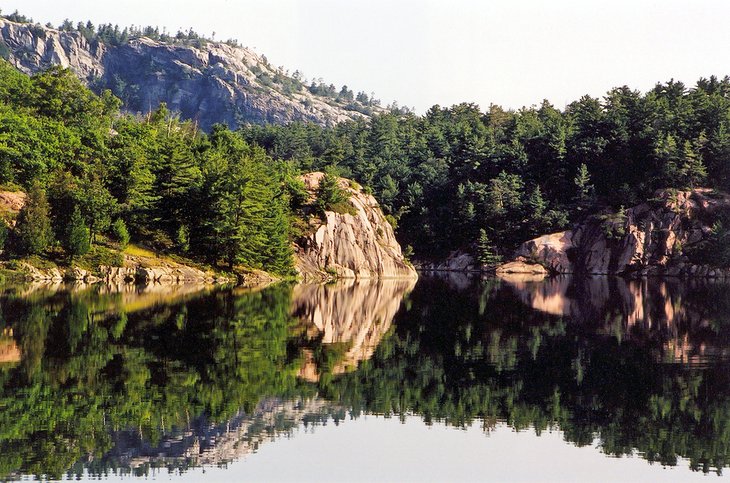 About four hours north of Toronto, Killarney is one of the most beautiful places for camping in Ontario. This is where we come for quiet camping. It's where we can sometimes find some solitude, see wildlife, enjoy hiking trails, and do some backcountry canoeing. I say "sometimes" because you can forget about any of this on a long weekend when the park is packed with visitors.
The campground is set on George Lake, and its crystal-clear waters are perfect for swimming or canoeing. Off in the distance, white quartzite mountains shimmer in the afternoon sun.
The campground at Killarney is divided into several sections, each of which offers something a little different. Sites are generally small here, and the best ones near the lake are primarily suitable for tents and small tow-behind trailers. Farther back from the lake is an RV area, but again the sizes are limited. Hookups are available.
If you'd like to try staying in a yurt, six are available along with two cabins.
Several hiking trails of varying distances leave right from the campground and take you either past hidden lakes or to impressive viewpoints.
A short drive away is the historical town of Killarney and the wonderful Georgian Bay shoreline with its pink rocks. Be sure to stop in for some of the best fish and chips in the area at Herbert Fisheries.
4. Oastler Provincial Park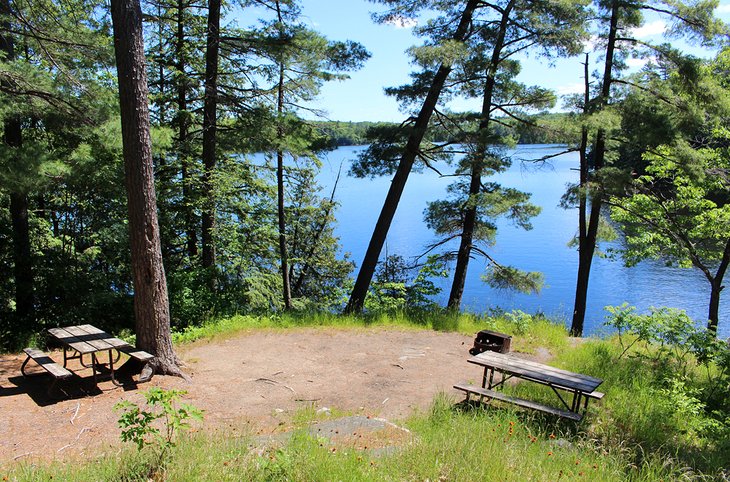 This campground's setting on a small lake among a mix of pine and deciduous trees, and its relative closeness to Toronto, make Oastler Provincial Park a popular destination for campers. Sites are large and well spaced, and unlike many other parks, you'll have a very good chance of securing a waterfront site here.
Unless we're with a group, our personal favorite campsites here are the walk-in sites that jut out at the end of the peninsula and are set off on their own. These require only a short walk to reach, so it's not a long way to carry your gear. This is a radio-free area.
This is a good park to try your hand at fishing - rock bass, pike, and even rainbow trout hide out in the lake's clear water. Bring your bikes - the nearby Seguin Recreation Trail, a 75-kilometer-long former railway line, offers up as much distance as you can handle.
This is one of the more scenic campgrounds in Ontario. One thing to be aware of is that the railway tracks at the end of the lake are used regularly by freight trains, and noise is a bit of a problem.
5. Bronte Creek Provincial Park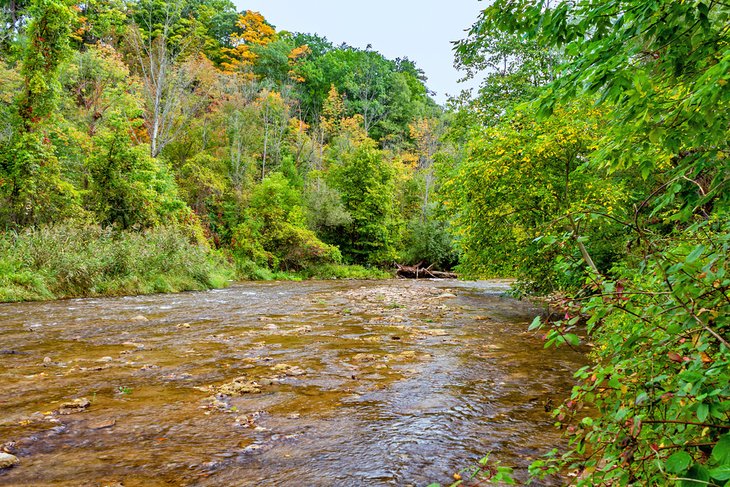 Rookie campers should head to Bronte to get acquainted with the ins and outs of camping. Located within the GTA limits, this park is a "camping lite" experience. Need some more supplies? A big grocery store is five minutes away. High-speed internet for streaming on your phone? You'll get five bars here. Need to recharge your phone? Every site has electricity.
The park is also unique in the fact that it has a 1.8-acre outdoor swimming pool (additional fee). Another interesting feature that will delight young ones is the Children's Farm, complete with live animals waiting to be petted.
If you want to stretch your legs, five hiking trails wind their way throughout the park and along 12 Mile Creek. If you come in June, keep an eye out for the wildflowers blooming in the meadows and trilliums blooming in the wooded areas.
Sites are generally open and large and as a result, even the largest RVs are welcome here.
6. Pinery Provincial Park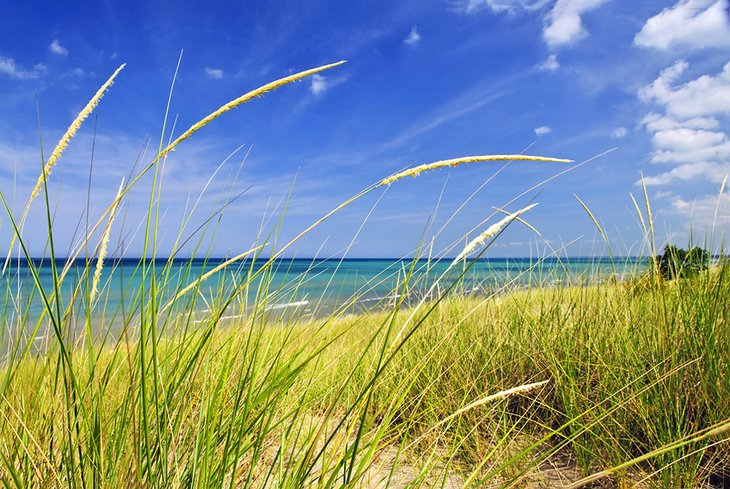 Pinery Provincial Park has a huge campground with 1,275 sites spread across three camping areas.
This is camping for the masses, and if you are a family looking for a great spot where the kids will meet up with others while mom and dad have some quiet time, this is the place.
The reason this campground is so large and popular is because of the 10 kilometers of sandy beach fronting Lake Huron. Water activities abound here, and kayaks, canoes, paddleboats, and other watercraft are available to rent.
Bring your bikes and walking shoes. Off the beach, you'll find 10 walking trails and the 14-kilometer Savanna biking trail winding its way through the park.
For those interested in birding, the park is one of Ontario's birding hot spots, especially in May and June.
7. Sandbanks Provincial Park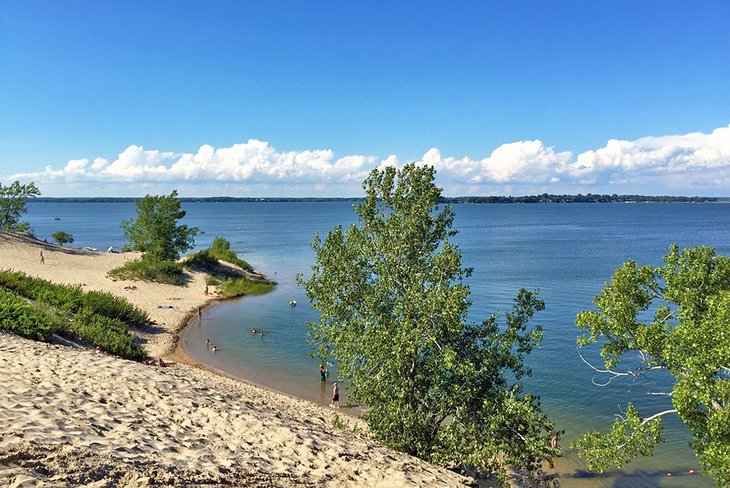 Sandbanks is another large campground with over 500 sites. Four distinct campgrounds offer a range of experiences, from family fun to calm and private.
The campground is set just back from Lake Ontario, and the highlights of camping here are the three beaches. You'll find warm, shallow water at two of the beaches and, at the third, a sand dune trailing off into the water.
Six hiking trails wind their way through the park and showcase the various highlights, including the rolling sand dunes, wildflowers, and marshlands.
8. Agawa Bay in Lake Superior Provincial Park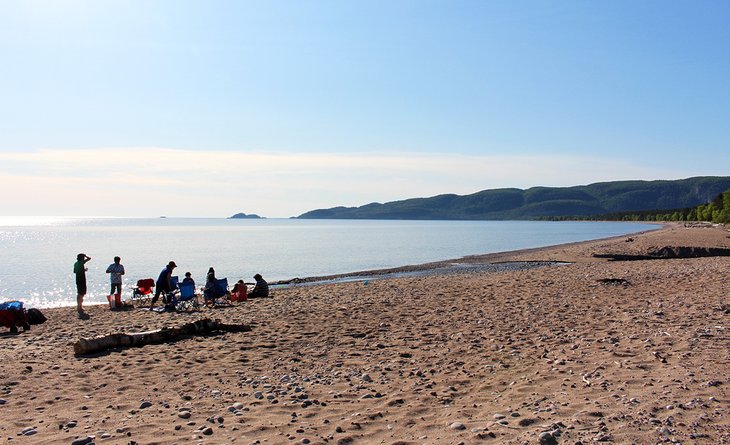 If you've ever dreamed about a waterfront campsite on one of the Great Lakes, Agawa Bay is the place to go. Over half the sites here are right on the beach. Crawl out of your tent in the morning, put the coffee on, and watch the sun come up across the water as you wiggle your toes in the sand.
The campground is relatively small, with only 147 sites nestled in the pine trees and spread along the waterfront, so it's important to book if possible.
The beach runs for three kilometers and is a mix of sand and pebbles. It's an ideal place to walk, and you'll have an excellent chance of seeing wildlife. Nearby are the Agawa Rock pictographs in a spectacular cliffside setting, just above the water.
If you can't get a campsite at Agawa Bay, Rabbit Blanket Lake is also an option. Set on a small lake, it has 60 sites. Highway noise can be a factor at both campgrounds, although it gets quieter as the night grows later.
9. Pancake Bay Provincial Park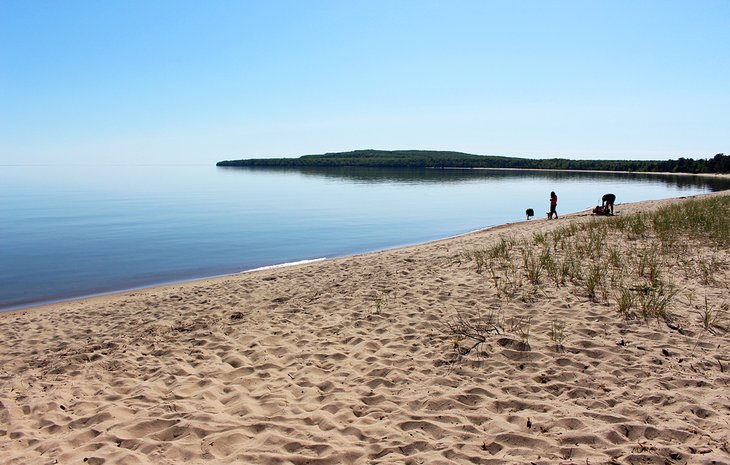 Many consider Pancake Bay to have the most beautiful beach on Lake Superior. Even if we're not camping here, we sometimes stop in for a picnic lunch. A broad beach curves around a wide bay with crystal-clear water. The water here is generally calmer than in other areas and warms up to a passable swimming temperature. Unlike other beach areas on Lake Superior, the beach has soft, golden sand.
Camping at any one of the 325 sites is wonderful. Most sites are mere steps from the beach, and many have amazing views out over the lake. Sites are well spaced and set among pine trees, so privacy is good.
It's important to note that the weather on the north shore of Lake Superior can change rapidly, be sure to pack for all weather conditions!
10. Bon Echo Provincial Park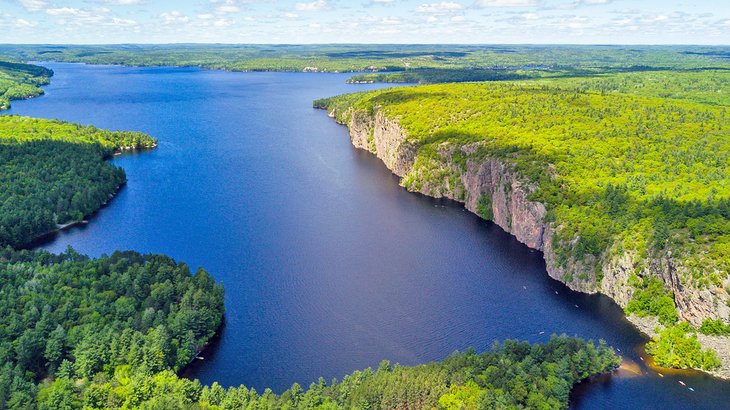 The sheer granite rock wall descending 100 meters straight down into the depths of Mazinaw Lake will forever be one of many things you remember about camping at Bon Echo Provincial Park.
Two campgrounds are available at Bon Echo: Mazinaw Campground has 395 campsites wonderfully located in a hilly area of exposed granite under large white pine trees. With the exception of the walk-in sites, all these have electricity.
A short walk down to the lake brings you to a wide swimming beach and a few historical buildings. Due to the hilly terrain, you'll want to choose your site carefully and consider the type of camping equipment you are bringing.
Hardwood Hill Campground is smaller, with 100 sites, and is located across the road and a fair distance from Mazinaw Lake. This is a place for those who prefer to have a more natural experience and wish to have a better chance of seeing wildlife.
11. Awenda Provincial Park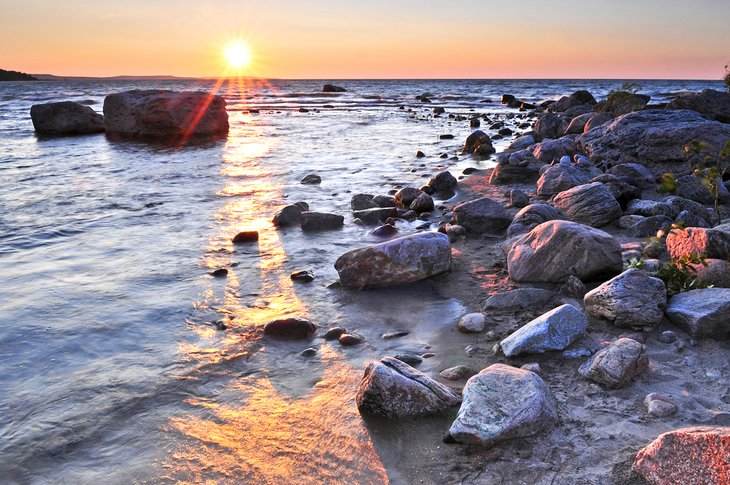 Awenda is for nature lovers. The park is quieter than many of the other provincial parks, with large tracts of forested areas.
The campground here is for those who crave solitude and peacefulness. The 300 sites are dispersed across six areas. Unlike many other campgrounds, the sites here are spaced an especially long way apart from each other. This allows for the feeling of camping in the woods without others around.
Awenda is unique in the fact that one of its five beaches is designated pet-friendly. Your four-legged companions can splash and run to their heart's content.
Activities away from the Georgian Bay coastline include hiking on seven trails, one of which will take you to ancient sand dunes.
12. Bruce Peninsula National Park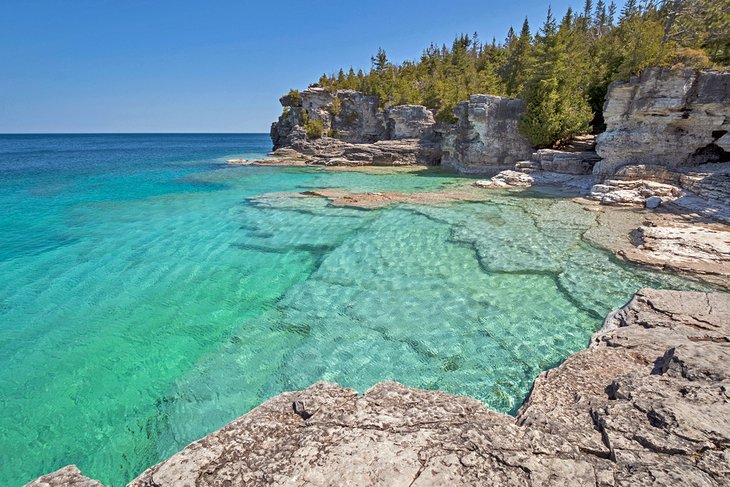 Bruce Peninsula National Park occupies a spectacularly beautiful area of rocky headlands and inland lakes. It is situated at the far end of the Bruce Peninsula near the town of Tobermory.
The campground contains 232 sites spread across three loops: Birches, Poplars, and Tamarack. Campsites are relatively tightly spaced, but the views out over Cypress Lake make up for the close quarters. If you prefer to sleep off the ground, 10 yurts are also available.
The best thing about camping at Bruce Peninsula National Park is the sheer number of things to do in the surrounding area. These include fun family outings like glass-bottom boat tours of Fathom Five National Underwater Park, with a stop at Flowerpot Island, or a cool dip in Georgian Bay.
One of the great advantages of staying at the campground at Bruce Peninsula National Park is the fact that you'll always have access to the fantastic beach at Indian Head Cove, even if the park is completely full. It's a pleasant 20- to 25-minute hike from the campground each way.
Prefer something more terrestrial? Try out one of the many hikes in the surrounding area and then do a bit of shopping or dining in the uber cute town of Tobermory.
13. Neys Provincial Park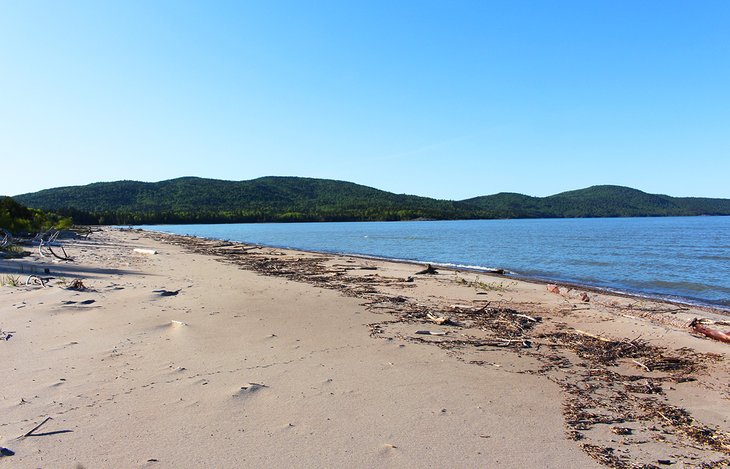 Neys is well off the beaten path and perfect if you are craving solitude. This park is set on a wide bay fronting Lake Superior, miles from any form of civilization.
The number of campsites at Neys is relatively small, with only 150 sites, however, they are spread across a wide area, which makes it seem like you are camping some place remote.
There are four camping areas: Area 1 is set in a bright, wide-open area with views to Lake Superior. This area has grass sites along with electricity and is most suitable for large RVs. Areas 2 through 4 are set back from the beach in dense forest and provide the ultimate in privacy. Area 4 is closest to the Little Pic River and the best for tents, and is also the location of the boat launch.
The beach here is sandy, wide, and long - just perfect for a solitary stroll. The water is shallow a long way out and can warm up to a point suitable for swimming depending on your tolerance. Note that the nearby Little Pic River can sometimes make the water brown and silty after a significant rainfall.
Neys is nature at its best; however, at this park, you'll get a bit of history thrown in as well. It was the site of a former POW camp. Offshore from the park is Pic Island, painted by the famous Lawren Harris of Group of Seven fame.
Note that train tracks near the campground can be loud at times.
14. Sleeping Giant Provincial Park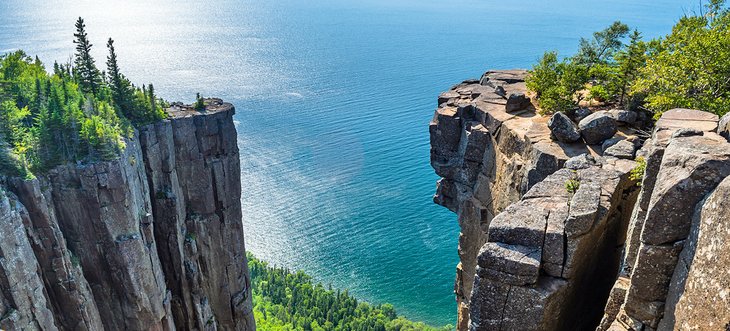 Only a short distance from Thunder Bay is Sleeping Giant Provincial Park and the Marie Louise Lake Campground. You'll find over 200 sites, many with incredible views high up on a rocky outcrop over Lake Superior.
For the best views, try and reserve a site in Marie Louise campground area B. This area can also be windy, so bring along extra tent stakes. A majority of the campsites have electrical connections.
Sleeping Giant Provincial Park is well known for its abundance of wildlife, and the best way to see it is to get out on one of the 25 hiking trails located throughout the park.
Road biking is also a popular pursuit here, with the rolling, curving roads providing heart-pumping thrills. Mountain bikers will love the Thunder Bay Lookout Trail's nine kilometers of bumps, humps, steep climbs, and turns.
15. Pukaskwa National Park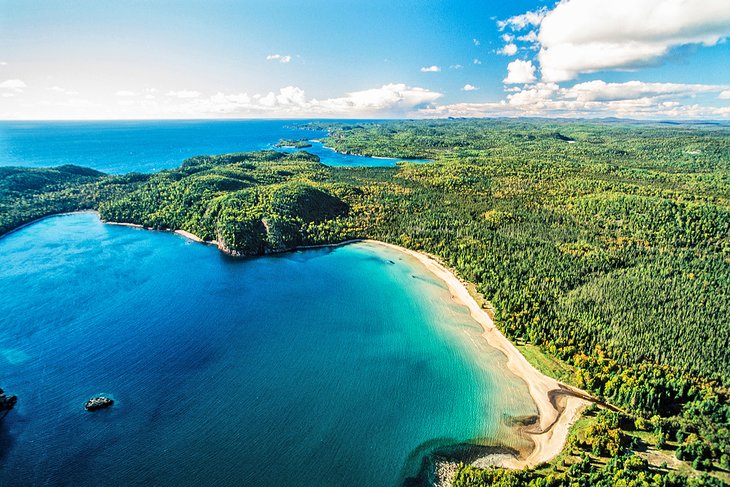 One of Ontario's most overlooked parks, Pukaskwa, showcases the best of the north shore ruggedness of Lake Superior. Off on its own on a point of land, it's one of the best places in the province to get a true feeling of the raw power of nature while still enjoying decent creature comforts.
The campground at Hattie Cove is set in among pine trees and has 67 vehicle sites. Flush toilets, potable water, and even hot showers make a stay here easy and comfortable. If you don't have camping gear, don't despair. The park has the fully equipped oTENTik sites available.
You probably won't spend too much time at your site. The sheer number of things to do and see will keep you busy from sunup to sundown. The park is noted for its incredible hiking, including one trail that takes you high on a suspension bridge over a roaring waterfall.
If beaches are your thing, Pukaskwa has that in spades, with the deserted Horseshoe Beach. This is a stunning stretch of golden sand lapped by crystal-clear water. Back from the shore are pieces of driftwood, each with its own story of where it came from before washing up here.
Multi-day hikes are also an option along the 135 kilometers of granite shoreline within the park's boundaries.
16. Rushing River Provincial Park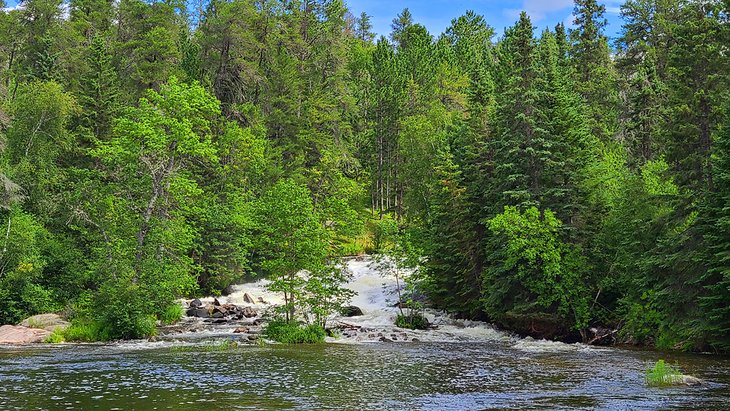 Set in Ontario's far northwest, Rushing River is a wonderful introduction to the wilds of the boreal forest. Complete with a set of rapids tumbling over billion-year-old granite, the park also boasts of golden-sand beaches, multiple hiking trails, and playgrounds.
Rushing River Provincial Park abuts Eagle-Dogtooth Provincial Park and Winnange Provincial Park, a vast area with some of the best canoeing in the province.
The 217 sites in the campground at Rushing River are a mix of electrical (75) and non-electrical sites (142) and are spread across four areas, all named after points of the compass. In addition, the campground has walk-in only sites and four fully equipped RVs for rent. Many of the sites are waterfront; the only exception would be the sites in the Southwest Campground.
Rushing River is an excellent family-friendly place to camp with four beaches, all with shallow, warm water; easy hiking trails; and playgrounds. The park is only 20 minutes from Kenora and a 2.5-hour drive from Winnipeg.
Map of Places for Camping in Ontario