8 Top Attractions & Things to Do on Mackinac Island, MI
Mackinac Island is one of Michigan's most popular places to visit in the summer, situated in Lake Huron along the Straits of Mackinac. More than 80 percent of the island is a State Park, offering beautiful scenery of high cliffs, ravines, natural bridges, caves, and rock formations. What really sets Mackinac Island apart from other places to visit, however, is its unique historic ambience, punctuated by the lack of motorized vehicles anywhere on the island.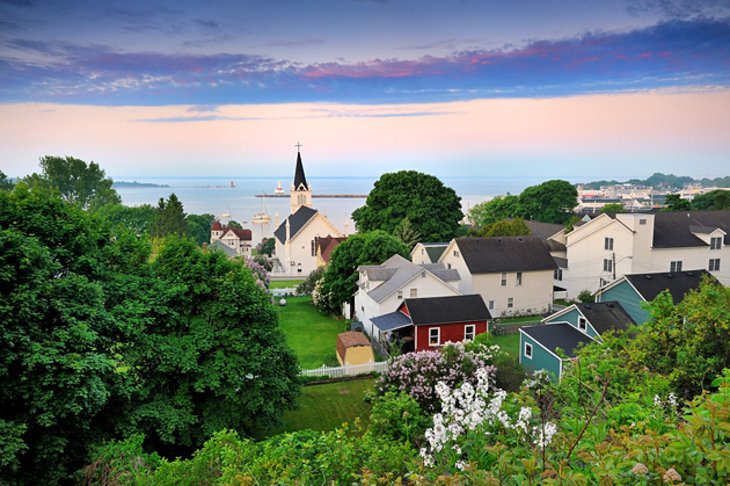 You truly step back in time when you arrive on Mackinac Island, a unique place where the immersive living history experience is so complete that aircraft are the only exception to the rule. You are only able to arrive by ferry or via plane at the island's tiny airport, and from here you're brought to their destination by horse-drawn carriage "taxis." These carriages can be found throughout the island; however, most tourists walk and bicycle within the historic downtown area.
You'll that many of Mackinac Island's top attractions use living history interpreters to further immerse visitors in the experience. National Historic Landmarks, including Colonial Michilimackinac, Fort Mackinac, and the Historic Mill Creek Discovery Park, all provide demonstrations by costumed interpreters, and the Historic Downtown area has maintained an authentic feel.
Despite this, you will have no trouble finding lovely hotels with all the modern amenities, fine-dining options, or simple places to eat, and plenty of things to do day and night.
Plan your sightseeing and find the best places to visit with our list of the top things to do in Mackinac Island.
1. Mackinac Island State Park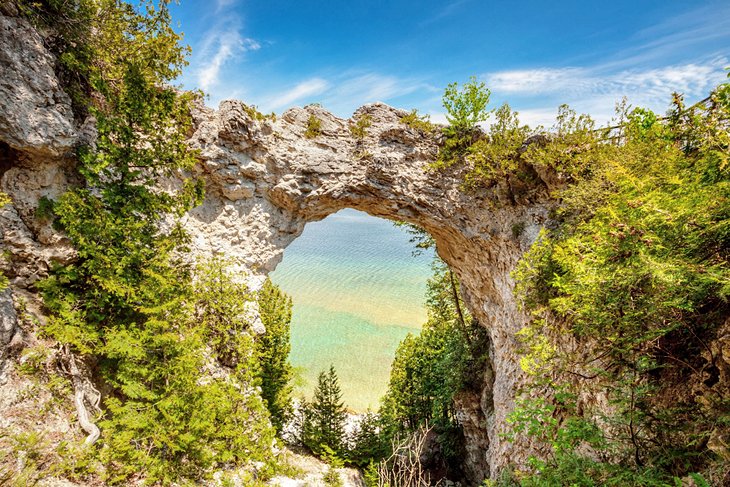 Mackinac Island State Park covers more than 80 percent of the island's 3.75 square miles, encompassing most of the island's historic and natural sights and offering a plethora of free things to do.
The park's most impressive natural feature is Arch Rock, a natural limestone formation, which sits on the shore at a height of 146 feet with a width of as much as fifty feet.
Another major natural landmark is Sugar Loaf, a 75-foot stack of breccia limestone, which was formed as the surrounding stone was eroded. Skull Cave, a natural cave carved by the waters of Lake Huron, is famous as the hiding place for the few British troops to survive Pontiac's uprising. Due to the region's unique geology, the island is also home to several freshwater springs, the best-known being Dwightwood Springs, where tourists can relax in the pergola.
Among historic sites in the park, you will find Fort Holmes, which was built by the British during the War of 1812 as a lookout spot for the larger Fort Mackinac, the 1814 Battlefield, and three historic cemeteries. There are also numerous monuments that commemorate various people important to Mackinac's past, including the Father Marquette Statue in Marquette Park.
Anne's Tablet is dedicated to author Constance Fenimore Woolson, and Cass Monument honors former governor and civil servant Lewis Cass. Among the park's historic buildings are the Michigan Governor's Summer Residence and the Scout Barracks, which has hosted Girl and Boy Scout troops since 1934.
Where to Stay: Those wanting to stay at one of the island's most iconic resorts should consider the Grand Hotel, which offers amenities including a pool, tennis court, and golf course and services like babysitting and a full-service spa. It is located on the southwest shore of the island, surrounded by the State Park and the shore, boasting the world's largest porch, which looks out over the Straits of Mackinac. Visitors should be aware that there is a dress code at the Grand Hotel: after 6pm, coat and tie are required for all men, and women must wear pantsuits or dresses.
2. Historic Downtown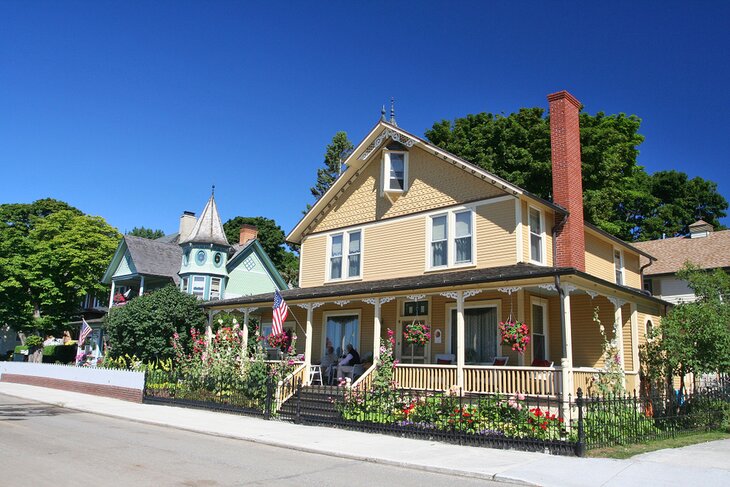 Open during the summer months, Historic Downtown Mackinac is an extension of the island's living history tradition. Home to several historic homes and businesses, the district offers visitors a glimpse into the everyday lives of those who lived here at the height of the fur trade era of the 1820s and 30s. Each building focuses on a different aspect of life and culture, and includes costumed interpreters who perform demonstrations and answer questions.
The Biddle House has been fully restored to its state as an 1820s merchant-class home. Here, the focus is on domestic life, and the interpreters go about their daily chores of cooking and taking care of household needs. Domestic crafts are highlighted, from the process of transforming sheep's wool into yarn to knitting and sewing.
The McGulpin House, set in the same era, focuses on architecture and the restoration process used to return the building to its original condition. A "working-class" home, it was originally constructed on the mainland and moved to the island in 1780. Exhibits include models of the home, which highlight various aspects of its French-Canadian architecture, and an account of the building's original construction and restoration.
One of the most popular spots in the Historic Downtown area is the American Fur Company Retail Store, where tourists can see what Mackinac's original general store looked like, complete with products from grocery items to housewares and cloth. In the same building, the Dr. Beaumont Museum contains exhibits about Dr. William Beaumont's discoveries related to the digestive system, initiated by a gunshot wound sustained in the store by a customer.
The Benjamin Blacksmith House provides a firsthand look at another local business, this time focusing on the time period of the 1950s. Here, you can watch the interpreters make various steel creations, and even give it a try yourself.
Where to Stay: Just one street over from the Blacksmith house is Lilac Tree Suites, which features all-suite accommodations equipped with kitchenettes, private balconies, and roomy living areas. The property is also known for its full-service spa, and those with younger kids can enjoy a spa day with the hotel's in-room babysitting services.
Hotel Iroquois is also right in the Historic Downtown area, a lovely beachfront hotel that offers bright, spacious rooms. The downtown area is also where you can find the majority of Mackinac Island's restaurants, with a wide variety of places to eat within easy walking distance.
Another top place to stay is the Chippewa Hotel Waterfront, also located downtown. For an extra-special stay, book a water-view suite that offers a separate living area and balconies. Guests can enjoy fine dining on-site at the Pink Pony, and have access to spa services at its sister property, Lilac Tree Suites.
3. Colonial Michilimackinac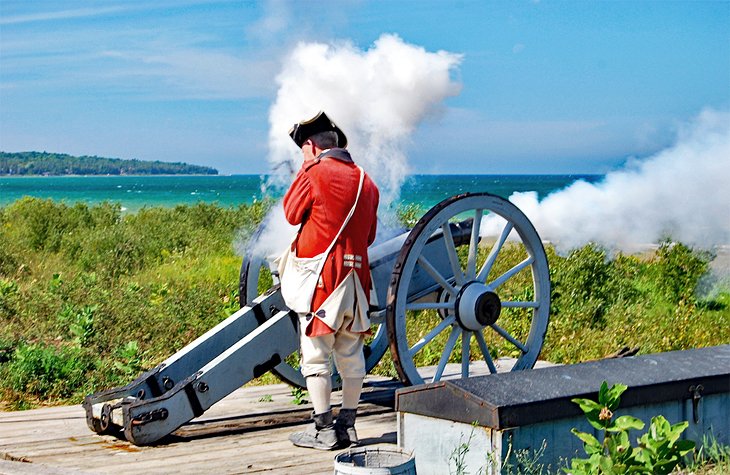 Colonial Michilimackinac is the largest of the island's living history areas, set on the actual site of an early fur trading village and fortification. The year is 1775, and everything from the furnishings to the costumed interpreters provide the authenticity needed to fully immerse yourself in the past.
There are a total of 16 historic buildings, which house various demonstrations and exhibits, and guided tours led by interpreters are available. In addition to watching villagers go about their daily routine of cooking and learning about handcrafts, visitors can see (and hear) musket drills and even the canon, once daily.
Various exhibits can be found throughout the village as well, providing more information on topics like the French occupation of the island, life as a British soldier, and the chance to explore various archaeological dig sites, including the fort's powder magazine and other sites. Those interested in the dig can also watch excavation efforts on-site, ongoing since 1959.
Colonial Michilimackinac is open during the summer season, but also offers special seasonal events including an annual "Colonial Christmas" celebration in December that re-creates a 17th- and 18th-century holidays. Other winter events include snowshoeing treks that are complete with hot cocoa and s'mores.
4. Fort Mackinac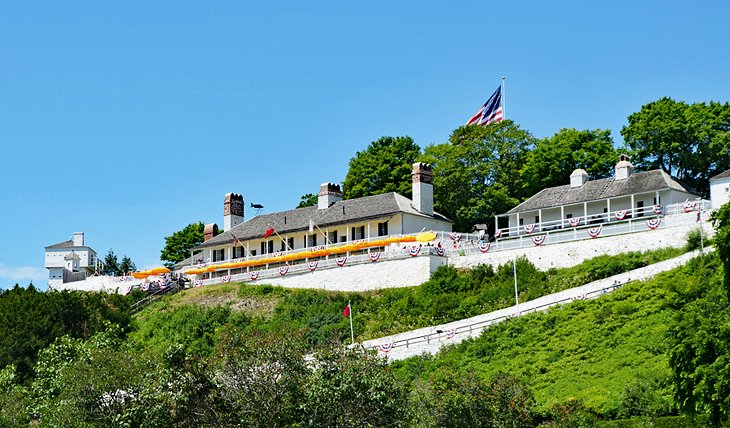 Fort Mackinac was the main military post on the island and housed the soldiers and their families. The fort is now fully restored, and costumed living history interpreters provide visitors with a look at what life was like while the fort was active.
There are a total of 14 buildings, which house a variety of exhibits, each focusing on a different aspect of the fort's history, function, and operations, as well as a look at the history of the island and its strategic importance.
The Post Hospital is home to an extensive exhibit about military medicine between 1780 and 1895, and the Post Guardhouse provides visitors with a look at how justice was served on post, using examples of actual cases tried here. Tourists will also enjoy the fort's own regular demonstrations and tours, including military exercises and the cannon firing.
5. Richard and Jane Manoogian Mackinac Art Museum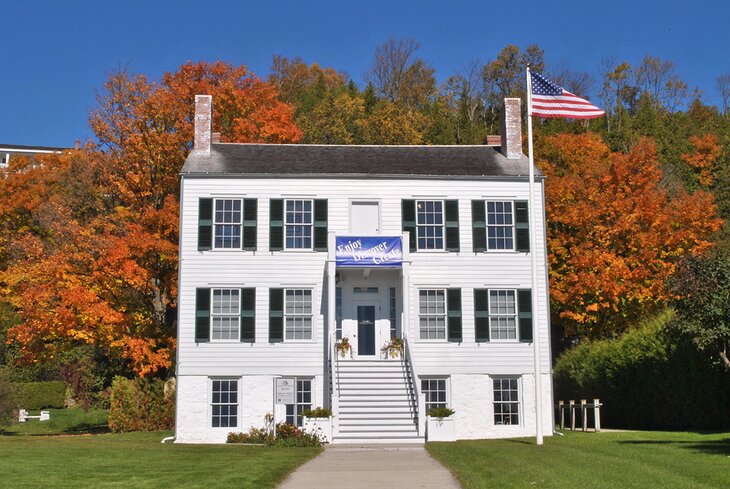 The Richard and Jane Manoogian Mackinac Art Museum occupies the historic building known as the Indian Dormitory. Built in 1838 and intended as a residence for displaced native Americans, it was never used for this purpose. By 1850, the building had been re-appointed as the island's schoolhouse, which it remained for almost a century. After falling out of use and into disrepair, it was finally restored to its original condition by the Manoogian Foundation and houses the island's only art museum.
The galleries display a variety of Mackinac-related art, including beaded clothing and Native American arts. A large section of the museum is dedicated to photography, displaying images that were taken from the mid-19th century through the next 100 years.
Other exhibits include artifacts like early maps from the 1600s and 1700s, various decorative items, and audiovisual displays. During the summer, the museum also offers several art activities, which provide kids with fun things to do while parents explore.
Where to Stay: Just up the street from the museum is Mackinac Island's oldest hotel, Island House Hotel, which offers excellent waterfront views and has multiple restaurants on-site with outdoor dining options. The hotel also has a sun deck and outdoor fireplace, and picnic areas throughout the property. There is an indoor heated pool, as well as both indoor and outdoor hot tubs, and bicycle rental is available on-site for guests.
6. Old Mackinac Point Lighthouse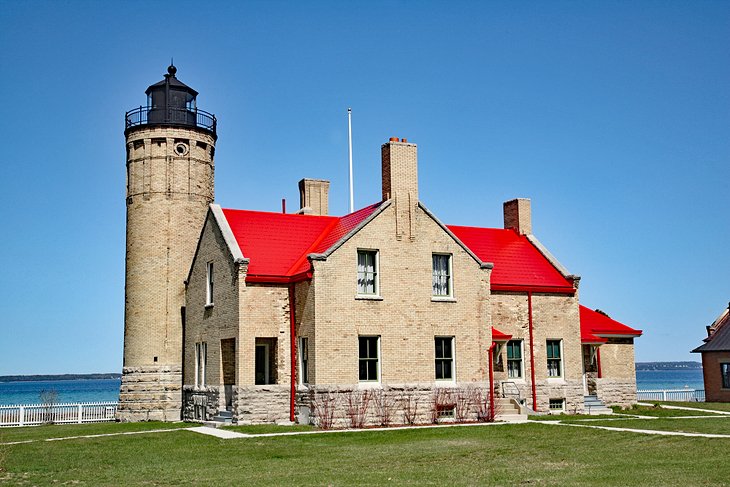 The Old Mackinac Point Lighthouse first guided ships through the treacherous Straits of Mackinac in 1889. Tourists can now tour the lighthouse, which houses its original lens, fully restored keeper's quarters, a film, and several exhibits.
These exhibits include original items from the lighthouse, descriptions of its history, and a look at the ways that lighthouses use optics and sound to warn vessels. Free tours are available on a limited, first-come basis for those who would like to see inside the tower.
The lighthouse grounds are also home to the Straits of Mackinac Shipwreck Museum, which features recovered artifacts and stories about the surprising number of ships that did not make it through. Part of the museum's mission is to illustrate the causes behind the wrecks—over 100 of them—in an effort to demonstrate how preparedness and planning can make all the difference.
The shipwreck museum also presents a film, "Shipwrecks of the Straits," as well as footage from various dives to the nearby wreck sites.
7. The Original Mackinac Island Butterfly House & Insect World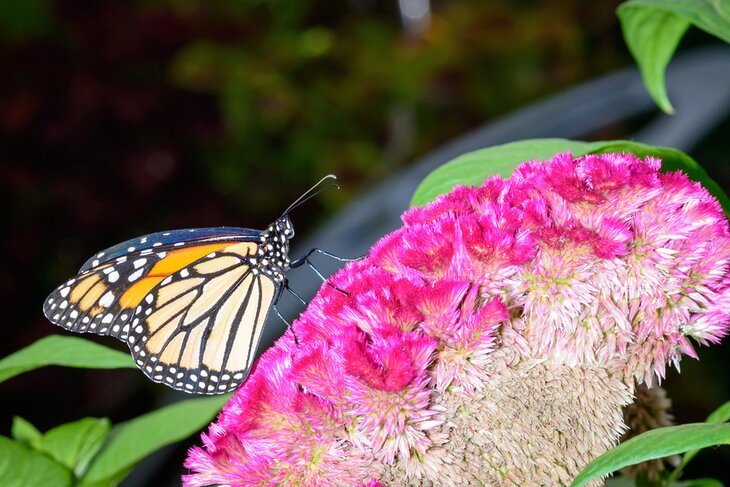 The tiny Mackinac Island is home to not just one, but two places where you can walk among live butterflies. The largest of these is the original, a status that was recently added to the Butterfly House's name.
Opened in 1991 as a simple greenhouse occupied by a variety of local butterflies, the Original Mackinac Island Butterfly House & Insect World is the third oldest live butterfly exhibit in the country and the first in its state. The Butterfly House is now an extensive tropical enclosure with an 1,800-square-foot indoor garden that is home to butterflies native to four continents.
Visitors are provided with a butterfly identification chart with admission, and guests may choose to continue to Insect World, an informative exhibit that explores the importance of insects and houses several species, including the impressive Goliath beetle.
The Wings of Mackinac Butterfly Conservatory is Mackinac Island's second butterfly house, first opened in 1997. It is open seasonally from Mother's Day weekend through October and features a wide variety of imported butterfly species, as well as a butterfly pupa viewing area. It is also home to a good gift shop that features books and butterfly-related souvenirs.
Address: 6750 McGulpin Street, Mackinac Island, Michigan
8. Mackinac Island Carriage Tours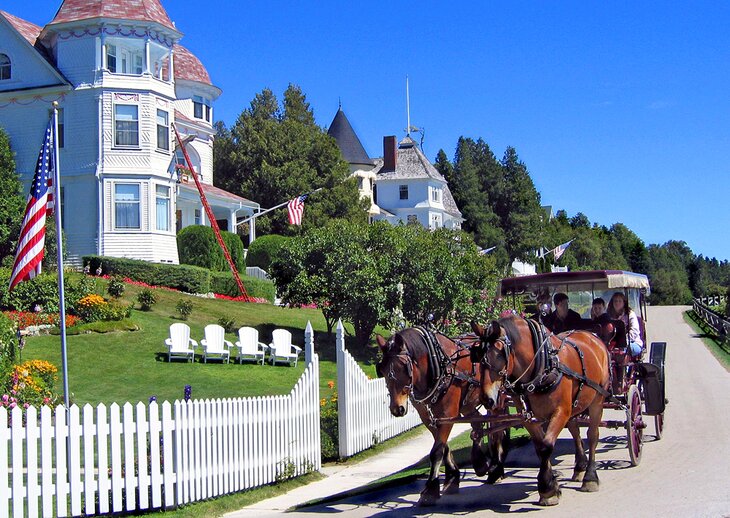 In keeping with the island's historic authenticity, those who do not want to travel by foot or bicycle have only one choice—carriage ride.
Mackinac Island Carriage Tours provides guided tours of the island, which last just under two hours and include the ability to "hop off" and experience some of the sights along the way, including Fort Mackinac and the Wings of Mackinac Butterfly Conservatory, as well as a brief stop at Arch Rock.
The tour also includes admission to the Surrey Hills Museum, operated by the carriage tours, which provides a look at the history of the island's horse-powered vehicles, including a hearse and even a fire vehicle. Tourists are also able to call a ride to get a horse-drawn taxi, arriving at dinner or perhaps the airport in Mackinac style.
An evening carriage ride through Historic Downtown is a particularly romantic option for couples looking for things to do at night on Mackinac Island.
Mackinac Island, MI - Climate Chart
Average minimum and maximum temperatures for Mackinac Island, MI in °C
J
F
M
A
M
J
J
A
S
O
N
D

-4

-11

-3

-11

2

-7

8

0

16

6

21

12

24

16

23

16

19

11

12

6

5

0

-1

-6

PlanetWare.com
Average monthly precipitation totals for Mackinac Island, MI in mm.

43

26

41

51

62

64

69

66

79

73

61

41
More Related Articles on PlanetWare.com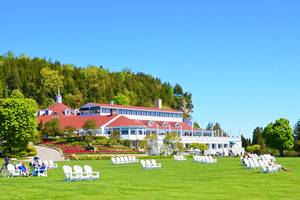 Michigan Vacation Ideas: Mackinac Island is one of the top-rated resort destinations in Michigan, including other waterside resorts in Bay Harbor and St. Joseph. Michigan is also famous for its golf resorts, as well as its many excellent ski resorts, which are known for their excellent conditions and reasonable prices. The island is also a top destination for weekend getaways in Michigan, among other relaxing summer destinations like Lake Michigan and Traverse City. In winter, hit the slopes on the top ski resorts in Michigan.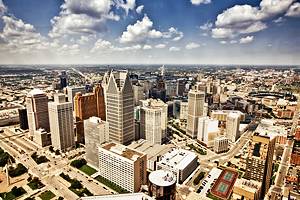 Michigan City Sights: Tourists will find plenty of excellent tourist attractions in Grand Rapids and endless possibilities in Detroit, the Motor City and birthplace of Motown.