14 Top-Rated Beaches in Michigan
Anietra Hamper is an Ohio native who has spent time visiting some of the most spectacular outdoor locations in neighboring Michigan, including its beaches.
Surrounded by four of the Great Lakes and characterized by peninsulas and islands, Michigan has thousands of miles of beaches to visit, with experiences that are unique to each.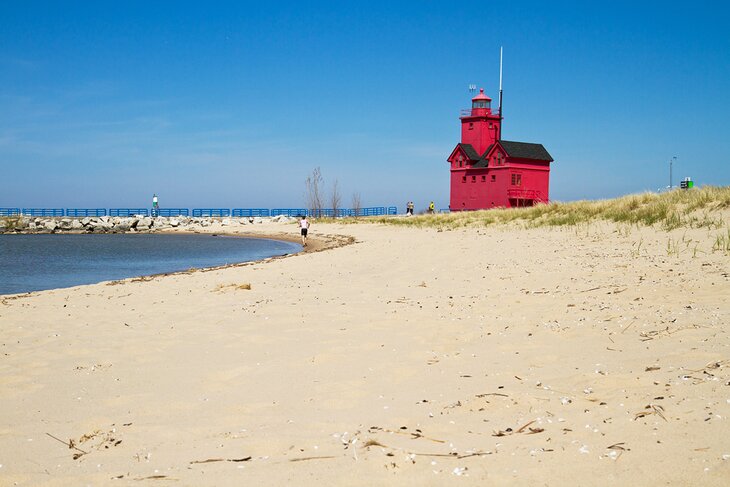 Go ahead and tackle the famous sand dunes at Sleeping Bear Dunes National Lakeshore on Lake Michigan, or kick back in an Adirondack chair on the beaches of Lake Huron at Mackinac Island State Park.
You can pass your time leisurely collecting stones in Michigan's upper peninsula on the 100 miles of beaches of Lake Superior or go for a traditional summer swim in some of the most impressive lakes in Michigan.
With thousands of miles of sand and shoreline to choose from, narrow down your options with our list of the top beaches in Michigan.
1. Sleeping Bear Dunes National Lakeshore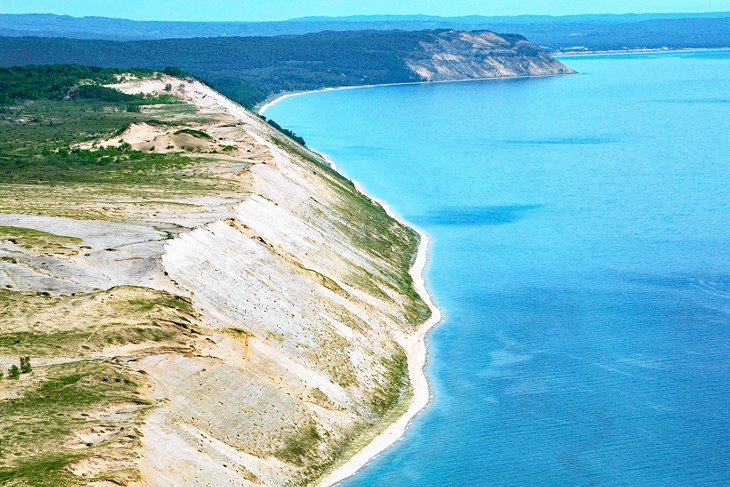 With more than 60 miles of shoreline and majestic sand dunes that you will remember for a lifetime, the beaches of Sleeping Bear Dunes National Lakeshore are some of Michigan's most prized gems.
Walk the golden-hued sand beaches along Lake Michigan and admire the panoramic views of the coastline along Sleeping Bear Dunes National Lakeshore, which is one of the best places to visit in Michigan.
Swimming is popular at the beach, but so is resting under a sun umbrella. Some of the best beach access points are located at Platte River Point, Tiesma Road, Peterson Road, and Esch Road. The area is surrounded by forests, with an abundance of flora and fauna unique to the region.
Be sure to plan some time to visit the lighthouse and take a stroll on one of the trails near the beach. You can break up the day for a bite to eat in the surrounding beach towns of Glen Arbor, Frankfort, Leland, and Empire.
Most of the nearby lodging options are small, independent motels and bed-and-breakfasts, but you can find resort lodging like the Harbor Lights Resort about 15 minutes away.
Accommodation: Best Resorts on Lake Michigan, MI
Read More: Top-Rated Tourist Attractions in Michigan
2. Cheboygan State Park Beach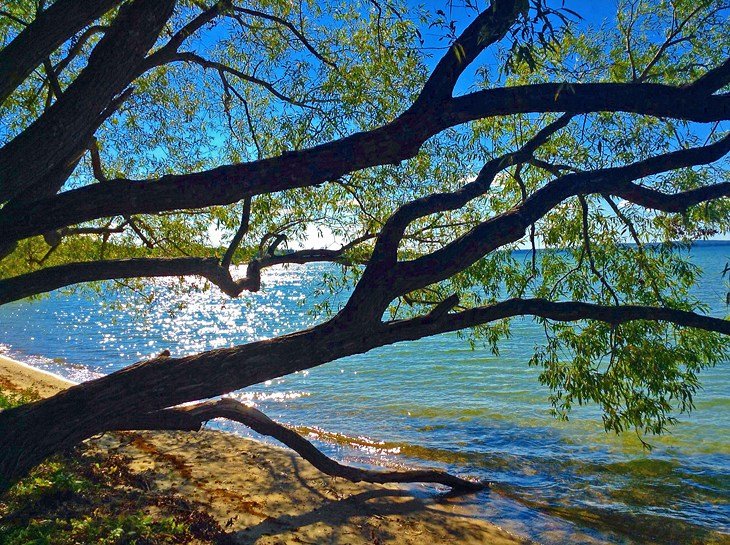 If you are looking for a beach that offers more than just sand, sun, and water, the beach at Cheboygan State Park is where you want to spend some time. Located in eastern Michigan, you can enjoy the scenic shoreline of Lake Huron and take small hiking excursions on one of the many trails through the park.
This beach is perfect for families as it has plenty of space for building sandcastles and pitching a beach shade canopy. The water is shallow and clear, so it is a great spot for a day of swimming with children. There is also a playground, picnic tables, and terrific views of two lighthouses.
Accommodation options nearby include a campground, rustic cabins, or Fleetwood Inn & Suites.
Address: 4490 Beach Road, Cheboygan, Michigan
3. Mackinaw City Beach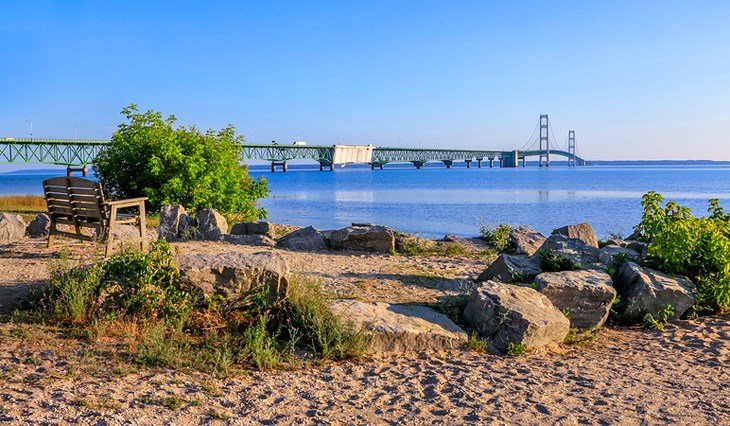 You cannot beat the scenery or the warm water on Mackinaw City Beach in northern Michigan. The large, sandy beach has plenty of room for swimming in the mild waves of Lake Huron and walking the dunes that define its landscape. The beach is close to several historical sites and local boutiques for shopping.
There are several beaches in Mackinaw City, many of which are connected by a path, so you can easily explore several of them during your stay.
Where to Stay: The entire outdoor recreation area has no shortage of waterfront eateries and hotels like the Clearwater Lakeshore Motel, so everything is conveniently located.
Address: E Wilderness Park Drive, Mackinaw City, Michigan
Read More: Top Attractions & Things to Do on Mackinac Island, MI
4. Holland State Park Beach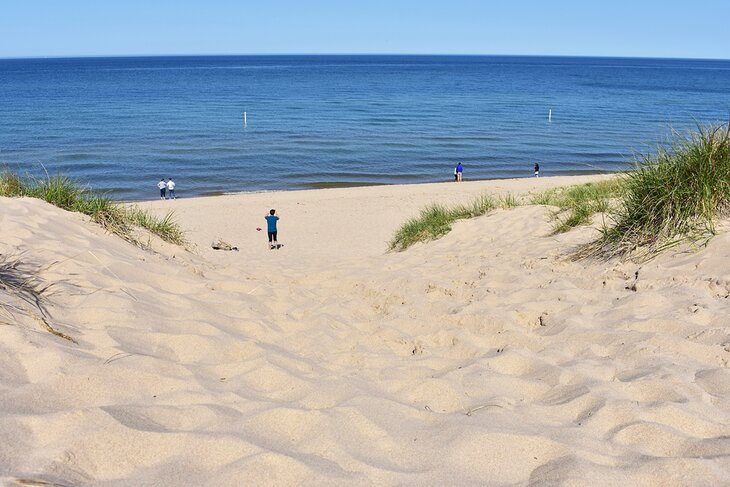 Holland State Park has two beaches with some of the best views of Lake Michigan. Both beaches located on Lake Michigan and at Lake Macatawa have designated swim areas that can get busy in the summer months. The beaches require day-use passes and offer plenty of ways to occupy your time, from swimming and playgrounds for kids to paddle boat rentals.
The beaches here are part of the reason that this state park is one of the most popular in Holland and why this area offers up one of the best weekend getaways in Michigan. The beach sands are soft and "sugary" making them comfortable for playing and relaxing by the water.
Be sure to plan some time to explore the beaches for some hiking or fishing or just take in the sights at the Big Red Lighthouse, an iconic landmark at the park. For a fun outdoor getaway, you can book a spot in one of the two large campgrounds at the state park.
Address: 2215 Ottawa Beach Road, Holland, Michigan
Accommodation: Top-Rated Resorts in Michigan
5. Lakeside Beach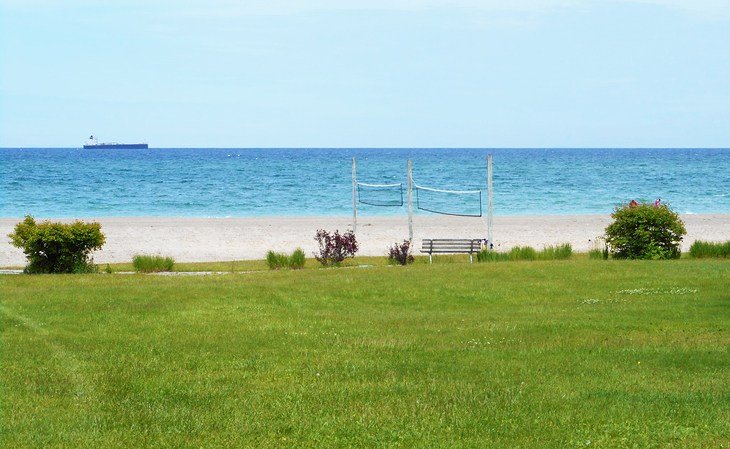 The beaches in Rogers City are some of the most popular in all of Michigan. With nicknames like the "Salmon Capital of Michigan" and "Nautical City," Rogers City is a beach retreat for many Michigan natives. The pristine sands of Lakeside Beach top the list for the city.
There are convenient facilities like restrooms and picnic areas nearby, and families can easily access the playground and splash pad. Located on Lake Huron in Eastern Michigan, Lakeside Beach is terrific for hours of swimming and enjoying the social scene. Take up a game of volleyball or basketball on the courts or just chill on the sand and soak in summer.
Be sure to get up at least once to cool off with an ice-cream cone from the on-site concession stand.
Address: 120 N Lake Street, Rogers City, Michigan
6. Grand Haven City Beach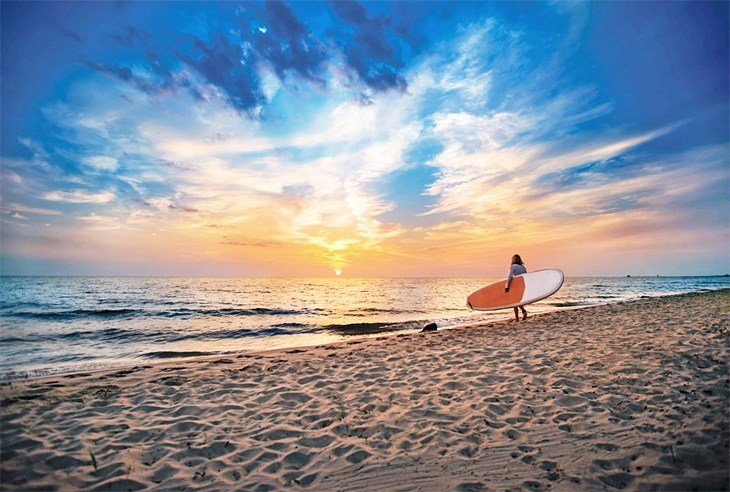 One of the most popular beaches in Michigan is Grand Haven Beach, located in a quaint and lovely beach community in the western part of the state. The beach is located near a state park, with an abundance of activities and amenities like restrooms nearby.
This beach is family-friendly and dog-friendly, with lots of space for spreading out. Free nearby parking makes it easy to haul a chair and umbrellas to the waterfront. Enjoy a swim in Lake Michigan or try your hand at kiteboarding or surfing (yes, even in Michigan). Stop for a bite at the Morningstar Café before your day in the sun or grab a snack at Jack's Waterfront bistro.
If you travel with your pet, there is a pet-friendly beach nearby.
Where to Stay: It is only fitting that Grand Haven boasts some unique bed-and-breakfast lodging options, like the waterfront Looking Glass Inn or the historic Boyden House Inn in town.
Address: South Harbor Drive, Grand Haven, Michigan
Read More: Top-Rated Things to Do in Grand Haven, MI
7. Manistique Beach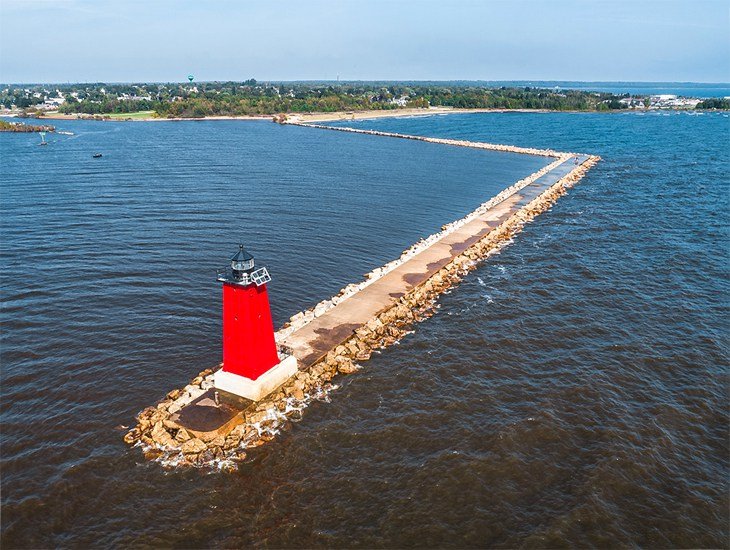 The Manistique Beach is an upper Michigan draw for many locals because of the harbor views and ideal swimming. Just a short drive from the downtown area of Manistique, the large, sandy beach is one of the best along Lake Michigan.
The mild water conditions make it a perfect beach for swimming or floating on a raft. You can even see the Manistique Lighthouse from your beach chair. If you do not want to pack a picnic lunch, you can treat yourself to one of the nearby restaurants that specialize in serving local cuisine.
If you need a break from swimming, you can visit one of the souvenir shops, stroll along the boardwalk, or take a tour of the Seul Choix Lighthouse.
Address: 1254 W Lakeshore Drive, Manistique, Michigan
8. Silver Lake Sand Dunes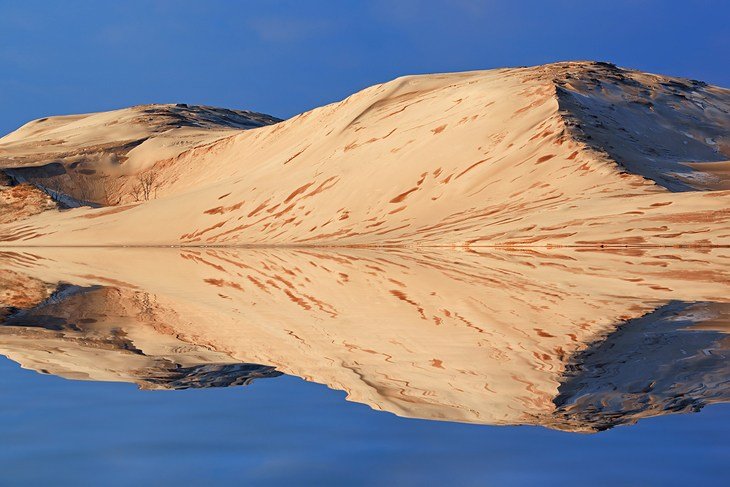 The secluded beach of the Silver Lake Sand Dunes is a hidden paradise. Though not easy to access, it is an idyllic, romantic beach getaway for couples and adventure seekers, who want to navigate the more than 2,000 acres of sand dunes between the lake and the beach.
Silver Lake State Park is located between Muskegon and Ludington along Lake Michigan. If you get tired of swimming, you can enjoy recreational activities like hiking, boating, and four-wheel driving.
The easiest way to access the beach is with an off-road vehicle to get over the dunes, otherwise, it is a 45-minute walk to the beach from the Silver Lake parking area.
Where to Stay: If you want to stay close to the dunes with a picturesque view, you cannot get closer than the Dunes Waterfront Resort, which also has a small private beach on Silver Lake.
Address: 9679 W. State Park Road, Mears, Michigan
9. Tawas Point State Park Beach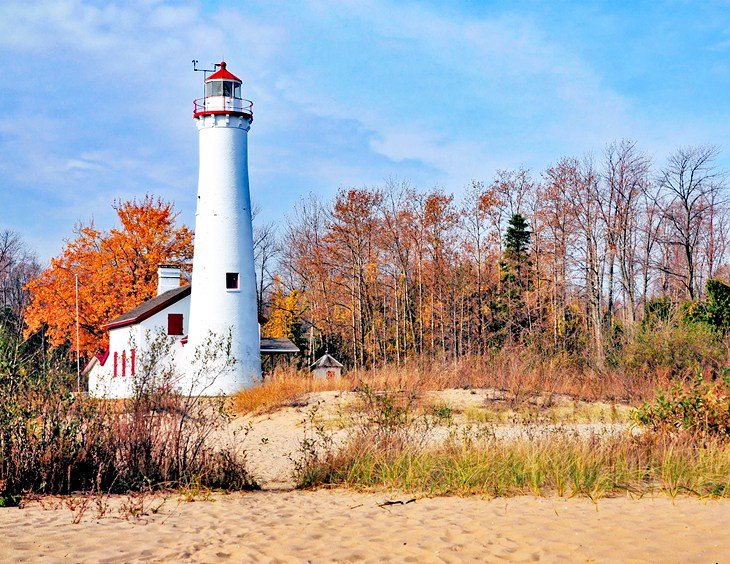 The shallow beach at Tawas Point State Park makes it a favorite beach for sun worshipers and families with children. The popularity of this quaint beach is what earned it a reputation as the "Cape Cod of the Midwest."
While there is not a lifeguard on the beach, the water is buoyed for designated swimming areas. There is a large campground and other beach activities like bird-watching, walking the soft sands along the shores of Lake Huron, and touring the lighthouse.
Where to Stay: The Tawas Point State Park beach is also a nice backdrop for a romantic retreat. Couples who visit can extend their getaway by staying at the Huron House Bed & Breakfast, which has lake views and private outdoor hot tubs.
Address: 686 Tawas Beach Road, East Tawas, Michigan
10. Warren Dunes Beach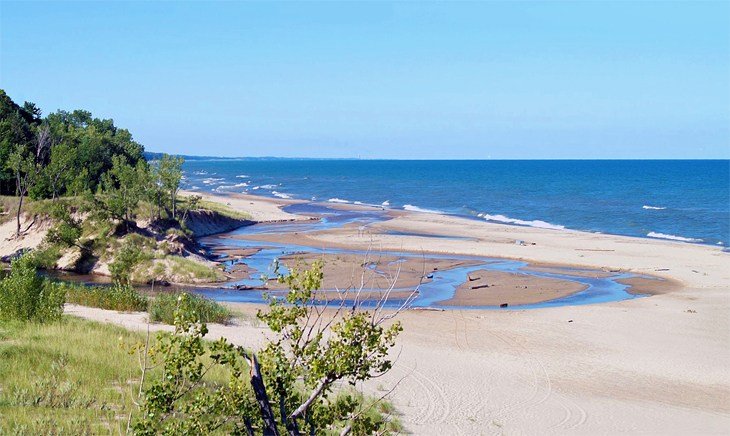 It is no surprise that the beach at Warren Dunes State Park is one of the most popular in the state, given that more than one million vacationers visit the park each year. The reason is that besides the enjoyable swimming and stunning view of Lake Michigan, the rolling sand dunes make a day at the beach a thrill.
If you want to work in some exercise during your time lounging on the sand, try trekking up Tower Hill, the tallest sand dune in the park, and touch base with your inner child as you slide all the way to the bottom.
Where to Stay: To extend your beach vacation stay at The Inn at Harbor Shores, which features the iconic late 19th-century architecture of coastal hotels, as well as walking trails and a world-class golf course.
Address: 12032 Red Arrow Highway, Sawyer, Michigan
11. Hunter's Point Park Beach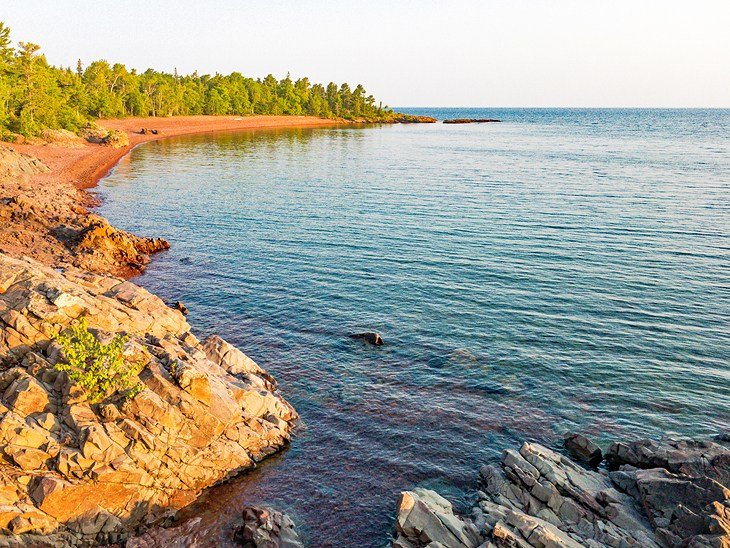 The beaches of Hunter's Point Park in the community of Cooper Harbor, in Northern Michigan, are terrific swimming beaches, but many people visit just for the views. In fact, you are likely to see newlyweds taking photos with the beach backdrop.
With nearly 5,000 feet of shoreline, you will enjoy the quiet scenery, many species of birds, and unusual rock formations. The beach is located in a public park across the street from the lighthouse, where you can also take a sea kayak tour.
You can find trails within the park that lead to the North and South Shore Beaches. When you meander into Cooper Harbor for lunch be sure to stop into some of the unique galleries. Most of the lodging options in Cooper Harbor are small, independent cabins and motels.
Address: Harbor Coast Lane, Cooper Harbor, Michigan
12. Caseville Beach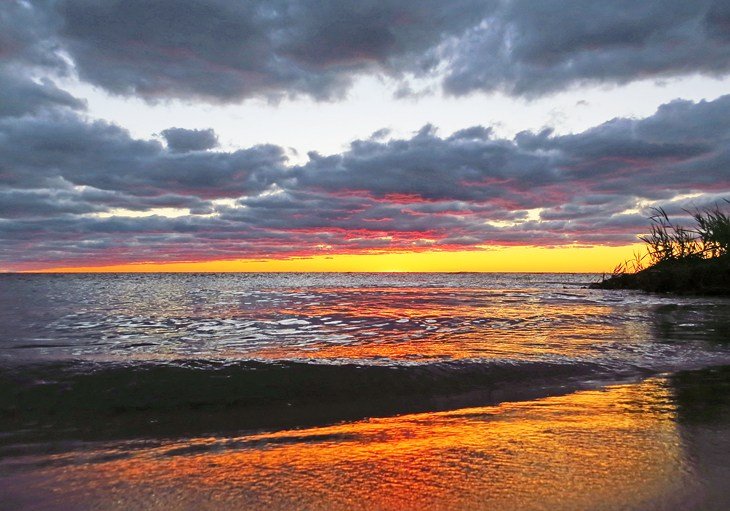 The beach town of Caseville in eastern Michigan boasts several great spots to dip your toes in the water, but the beach at Caseville Park is a must-visit. This family-friendly beach on Lake Huron is spacious, with plenty of swimming spots to enjoy the calm and shallow waters.
The entire beach area is relaxing, from the wide, sandy stretch of beachfront to the walkways and the pier where you watch the fishermen. If your timing is right, you might just catch a concert in the park.
There is a play area for children and a campground for families who want to stay a few days.
Where to Stay: The closest lodging options beyond the campground are locally owned resorts, but you can find more mainstream lodging like the Ameriway Inn and Suites about 15 minutes away.
Address: 6400 Main Street, Caseville, Michigan
13. Silver Beach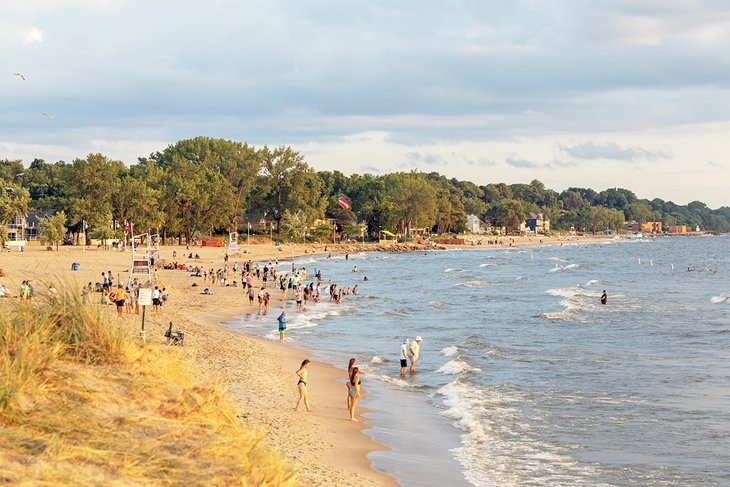 Silver Beach County Park is one of the most popular beaches near St. Joseph, Michigan on the shores of Lake Michigan. The area has seven clean beaches and miles of wide, sandy shoreline.
This is an easily accessible beach and nice if you are looking to add some additional things into the day, like hiking or sightseeing. It is worth taking some time to walk to the nearby South Pier and the North Pier Lighthouses.
The beach is also close to the southern end of the West Michigan Pike trail, which is a historic byway that connects several beach towns where you can eat, shop, and take in the area's artsy and historic atmosphere.
Also in the area are picturesque sand dunes, hiking trails, and playgrounds.
Address: 101 Broad Street, St. Joseph, Michigan
14. South Beach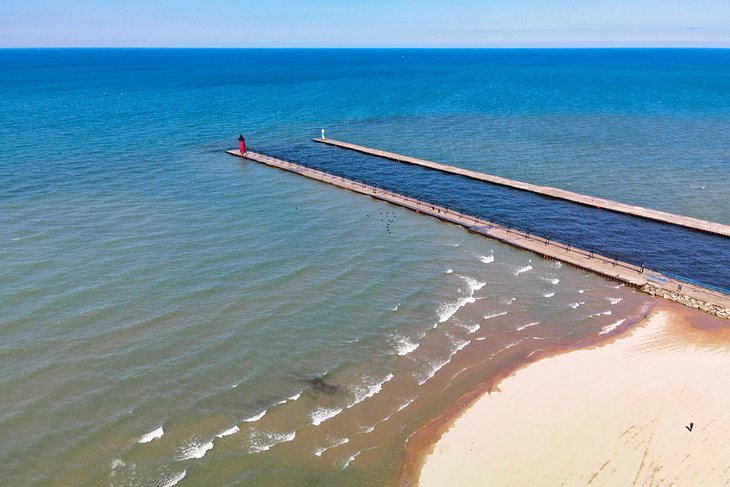 The stretch of South Beach in South Haven is one of two city beaches. This is a popular beach because it has a large sandy waterfront and conveniences like food concessions, picnic areas, restrooms, shops, playground equipment, and public access to the lighthouse.
The South Haven community that surrounds the beach is nice for a stroll to take in some live music, arts, maritime history, and cultural experiences. Kayak and paddleboard rentals are available at the beach. While there is a fee to park, you will be able to stay for a full day since there are so many activities and amenities in the vicinity.
Address: 60 Water Street, South Haven, Michigan
Read More: Best Things to Do in South Haven
Map of Beaches in Michigan
The Best Time to Visit Michigan Beaches
The best times to target a visit to Michigan's beaches is from June to September. Weather during these months is ideal, with mostly sunny and warm days on the shores of Lake Michigan and Lake Huron, as well as the northern beaches in the Upper Peninsula along Lake Superior.
Most daily temperatures during these months range from 70 to 80 degrees Fahrenheit, which is almost perfect beach weather. July and August are the hottest and most reliable months for good beach weather.