12 Top-Rated Things to Do in Muskegon, MI
Author Meagan Drillinger visited Muskegon in the fall of 2022.
Like many Lake Michigan towns, Muskegon's heart and soul is on the water. This historic and lovely lakefront city is known for its Lake Michigan lifestyle, from fishing and sailing to shipping and beyond.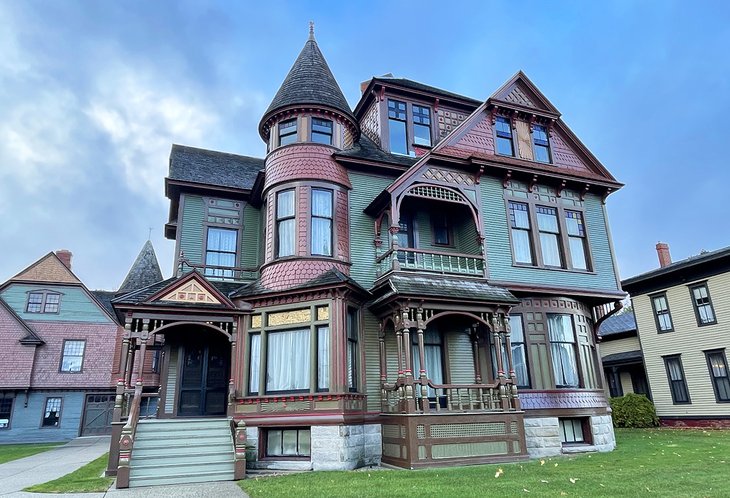 Muskegon is an incredibly diverse destination, with parks, 26 miles of beaches, an amusement park, historic architecture, museums, and local green spaces. No matter the season, you'll always find plenty of things to do in town, whether it's a day at the beach or a cross-country ski through the snow-covered forest.
Festivals and community events abound, from art festivals and music to performing arts and beyond. Many of the festivals happen at the waterfront Heritage Landing, which is a beautiful place to visit to watch the boats come in. You can also visit historic military vessels and even a submarine museum.
These are only a few of the exciting things to do in this part of Michigan. Read on to discover the best things to do in Muskegon.
1. Visit the USS Silversides Submarine Museum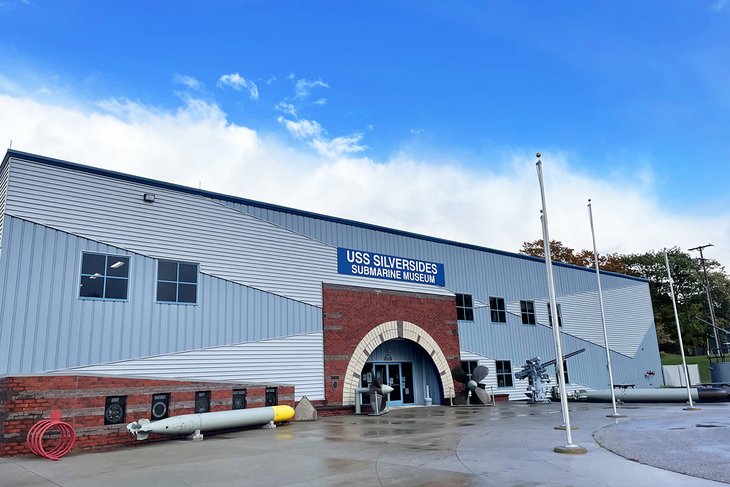 One of Muskegon's leading claims to fame is that it is the city that hosts the USS Silversides. This historic Gato-class submarine was made famous in World War II and is one of the most successful submarines of its era. Today it is a National Historic Landmark and serves as a museum dedicated to submarine history.
Step on board and step back in time to the heyday of the submarine, which entered service following the Japanese attack on Pearl Harbor in 1941. The USS Silversides Submarine Museum has several rotating exhibits, as well as a permanent collection. The collection includes artifacts like torpedoes, uniforms, and personal items that belonged to soldiers and sailors.
In addition to the exhibits, the vessel itself is quite impressive. It received 12 battle stars for its service in World War II and one Presidential Unit Citation. She has sunk 23 ships, which means it has one of the best combat records of any U.S. submarine.
Address: 1346 Bluff Street, Muskegon, Michigan
2. Explore Pere Marquette Park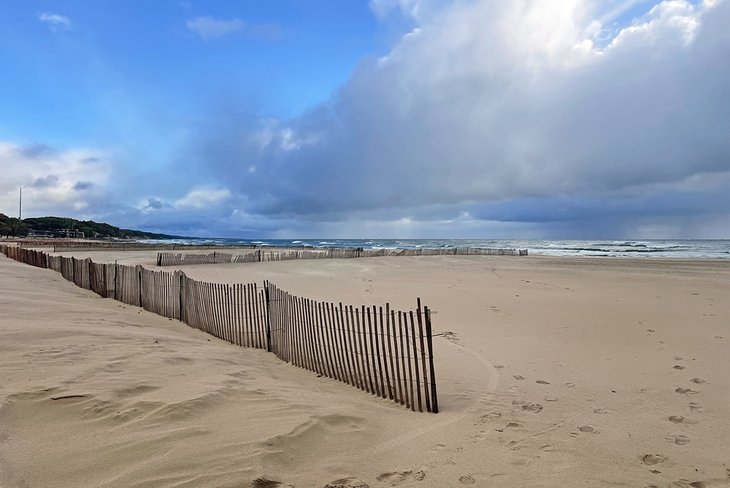 Muskegon's Lake Michigan frontage is one of its most attractive features, particularly in Pere Marquette Park. The 27.5-acre park looks out over Lake Michigan and is bordered by the Muskegon Channel. It's home to one of the prettiest beaches in Michigan and is a highlight for visitors and residents of Muskegon, especially in the warmer months.
The park's biggest asset is the wide expanse of powdery soft sand and the gently crashing waves from Lake Michigan. But Pere Marquette Park also has picnic areas, playgrounds, fishing piers, and views of the South Breakwater Light and Muskegon South Pierhead Light.
During the warmer months, it's common to find kiteboarders, kayakers, beach volleyball players, and sunbathers. But even in the chillier months, Pere Marquette is still a popular spot for brisk walks with a lovely lakeshore view.
Address: 3510 Channel Drive, Muskegon, Michigan
3. Wander Muskegon State Park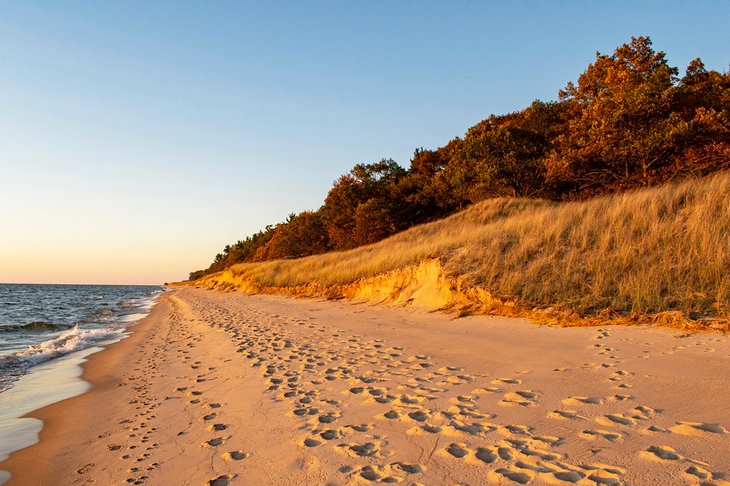 Muskegon State Park sits four miles from Muskegon, perched dramatically on the shores of Lake Michigan. The beachfront park has over two miles of shoreline along Lake Michigan, and another mile of shoreline along Muskegon Lake.
The gorgeous landscape makes it one of the prettiest state parks in the country, and one of the most visited in Michigan.
Set on 1,233 acres, Muskegon State Park is popular for swimming, picnicking, paddling, fishing, and hiking along its 12 miles of trails.
In the winter months, five miles of cross-country skiing trails become available, as does ice skating and ice fishing. The park even has a luge track, which has been used for Olympic training.
If you're looking to spend the night, Muskegon State Park has more than 200 campsites, with 50-amp service, mini cabins, and restroom facilities.
Address: 3560 Memorial Drive, North Muskegon, Michigan
4. View the Muskegon Museum of Art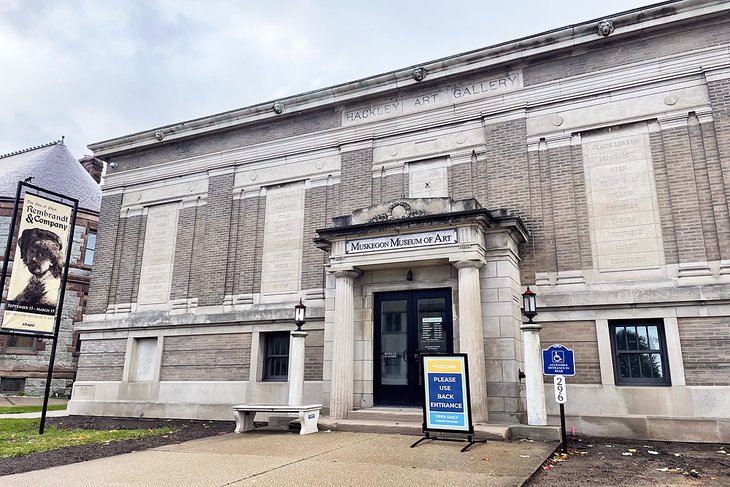 Get your daily fix of culture with a visit to the Muskegon Museum of Art, one of the most revered art museums in the Midwest. The expansive art museum is renowned for its collection of paintings, sculpture, prints, and drawings. It also features several rotating exhibits throughout the year.
Its permanent collection is home to works from artists like Edward Hopper, Winslow Homer, Pierre Bonnard, Richard Royal, and many others. Rotating exhibits change throughout the year, featuring international artists, as well as local Michigan artists. The museum also puts on educational programs, from lectures and films to classes and gallery tours.
One of the most beloved events at the museum is its annual Festival of Wreaths. This is a partnership with Downtown Muskegon and invites businesses to display wreaths in their windows, all of which are designed by local artists and designers. It brings such a burst of life and holiday spirit to the downtown storefronts of Muskegon, and takes art outside the walls of the museum.
Address: 296 W Webster Ave, Muskegon, Michigan
5. Adventure into P.J. Hoffmaster State Park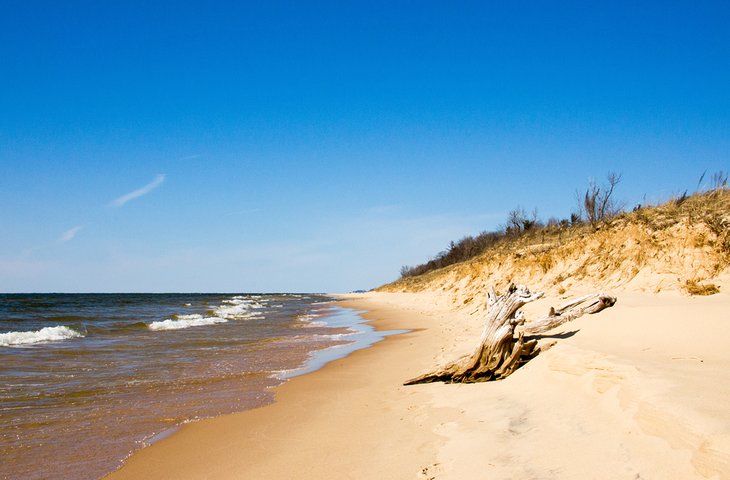 Get up close and personal with the massive dunes of Lake Michigan when you visit the P.J. Hoffmaster State Park.
The park has more than three miles of beachfront overlooking the lake, as well as a Dune Climb Stairway that climbs to the top of a dune. The observation platform at the top offers sweeping views out over the lake, and is a wonderful spot to get the lay of the land out over Muskegon.
In addition to the dunes, the park has 1,200 acres of protected natural area, including 10 miles of hiking trails, three of which are groomed in the winter for cross-country skiing. You'll also find campgrounds at the beach.
Be sure to bring your binoculars for the many opportunities to spot the beautiful birds that call the area home.
Address: 6585 Lake Harbor Road, Norton Shores, Michigan
6. Visit the USS LST 393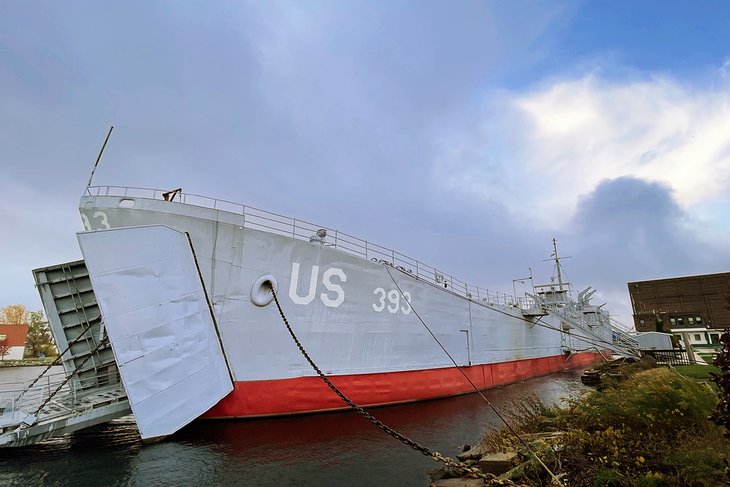 One of the most impressive pieces of history can be found right in the harbor of Muskegon, Michigan. Meet the USS LST 393, one of the most impressive military vessels in U.S. history.
LST stands for Landing Ship Tank, and these massive ships were used to deliver tanks, troops, and amphibious assault vehicles to shore. This particular vessel was used in World War II. Throughout its career, it transported more than 9,000 soldiers to the front. It also carried more than 5,000 prisoners and logged nearly 52,000 nautical miles during her service.
Among its most impressive voyages were the 30 round trips to the beaches of Normandy, including the D-Day invasion.
In 2007, the vessel reopened as a museum ship devoted to veterans. It contains thousands of artifacts, and visitors are allowed to tour the restored areas of the ship to learn all about its time in service.
Address: 560 Mart Street, Muskegon, Michigan
7. Have a Blast at Michigan's Adventure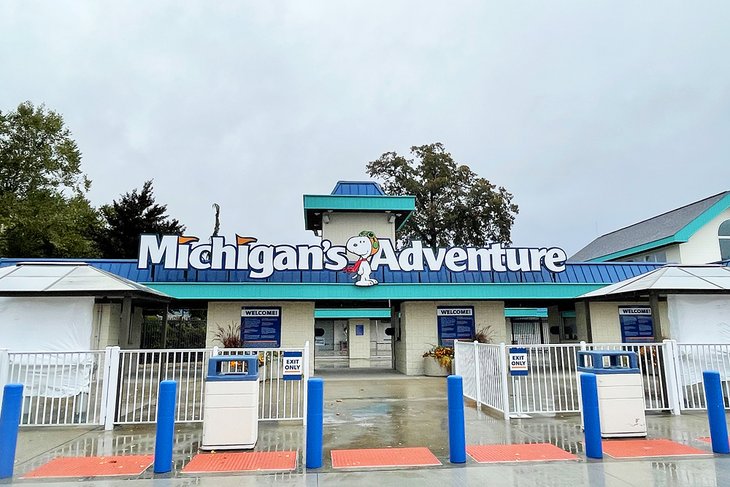 Any true Michigander knows (and loves) the beloved state amusement park, Michigan's Adventure. A trip to Michigan's Adventure is practically a rite of passage for anyone who grew up in the Mitten.
Located in Muskegon, this is the largest amusement park in the state, home to nearly 40 rides, including roller coasters, a water park, and many other tourist attractions.
The sprawling amusement park is one of the hottest tickets in the summer, bringing people of all ages to experience the gorgeous Michigan weather and a few adrenaline-pumping rides, as well.
Among its thrill rides include a suspended looping coaster, a wooden coaster, and several steel coasters. But even if you're not into action-style rides, the park has many family-friendly ones designed for laughs over screams.
The WildWater Adventure water park is also incredibly popular, with three wave pools, body slides, and even a beach.
Address: 4750 Whitehall Road, Muskegon, Michigan
8. Visit the Hackley and Hume Historic Site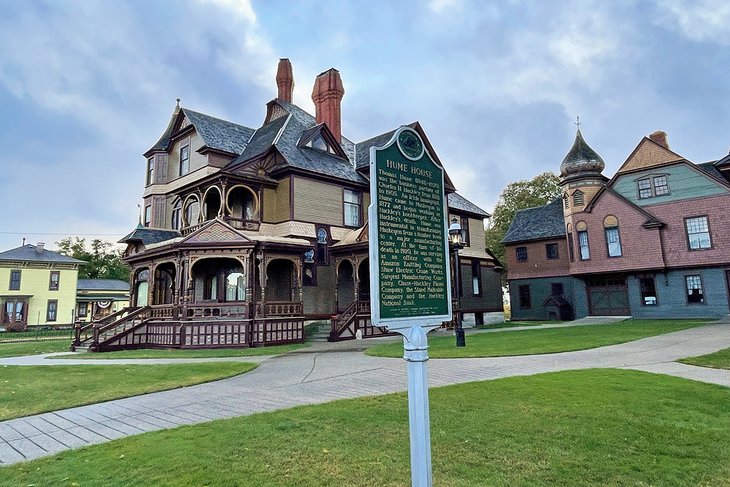 Of all the historic architecture in Muskegon, Michigan, none is as impressive as the homes of Hackley and Hume at the Hackley and Hume Historic Site. Two of the area's most successful lumber barons, Charles Hackley and Thomas Hume, built these Queen Anne homes in the late 19th century, and they stand to this day just as beautifully as they did when they were new.
The homes are known for their ornate carvings, stained glass, stenciled walls, and ceilings. David S. Hopkins of Grand Rapids was the architect who was hired to design and build the houses.
The homes are open for tours, which are held from May through October. Between the two houses is a structure called the "City Barn," which was shared by both families for horses, equipment, and coachmen who lived on the second floor.
Address: 484 W. Webster Avenue, Muskegon, Michigan
9. Stroll Heritage Landing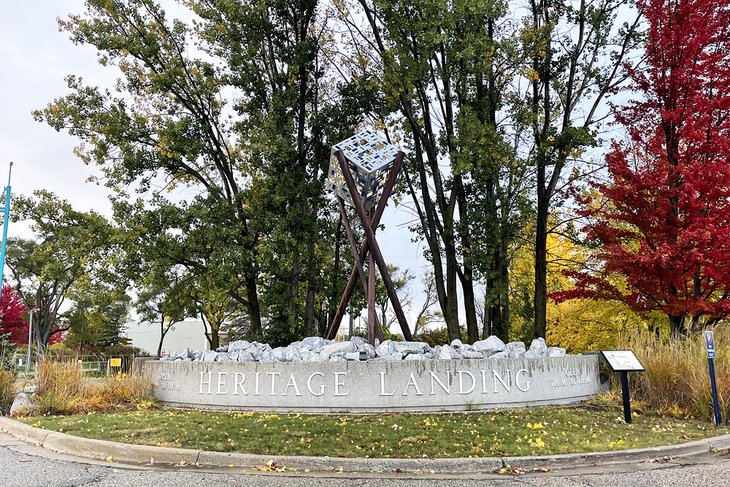 What was once a gray industrial yard has been revitalized to become an energetic and thriving waterfront jewel. Heritage Landing is one of Muskegon's leading gathering places, home to a beautiful park, walking trails, and play areas, and it's a venue for many community events and festivals.
The park has great views along Muskegon Lake, making it a top spot for fishing, as well.
The Lakeshore Trail bike path passes through Heritage Landing, as well, so if you're planning a bike route through Muskegon, you'll want to plan a stop here.
Some of the festivals that are held at Heritage Landing throughout the year include the Michigan Irish Music Festival and the Shoreline Jazz Fest.
Many of the Great Lakes cruises stop at Heritage Landing, as well, so it's always a thriving, exciting environment. Plus, it's just a few steps away from the heart of downtown Muskegon.
10. Visit the Muskegon Heritage Museum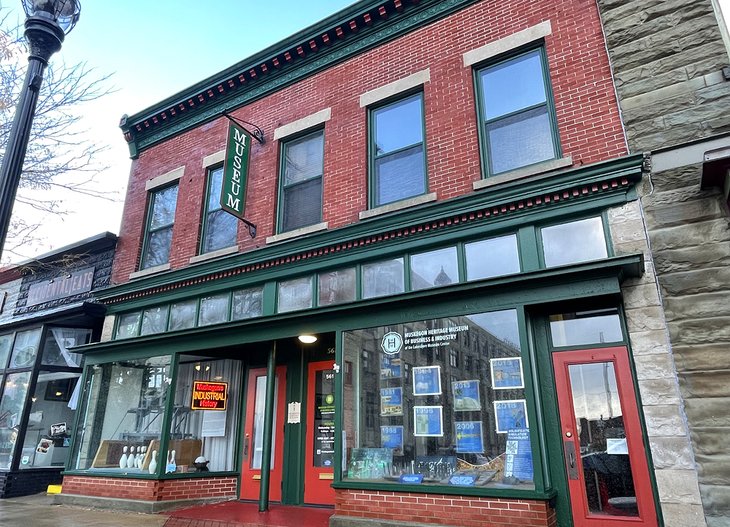 If you want to learn all about the industrial heritage and historic significance of Muskegon, then the Muskegon Heritage Museum is a must. The purpose of this house of history is to preserve the stories that revolve around Muskegon's businesses and its decades-long past.
The museum has nearly 12,000 square feet of space set across three floors. Its collection includes artifacts, photographs, and machinery that help to tell the story about Muskegon's historic industries.
The museum has nine working machine tools in its Heritage Machine Works exhibit. It also has five restored engines manufactured by Continental Motors Corp, as well as a working letterpress. More than 80 companies are represented throughout the museum.
If you have any interest in the evolution of industry in the Midwest, the Muskegon Heritage Museum is a great place to dig a little deeper.
Address: 561 W. Western Ave., Muskegon, Michigan
11. Wander Kruse Park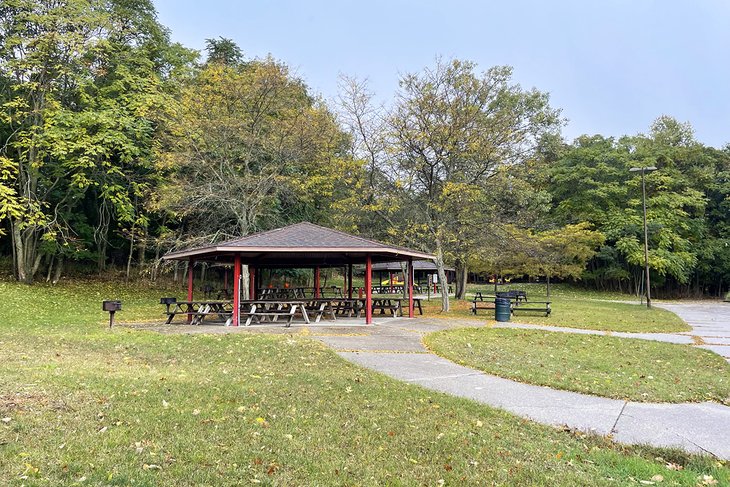 The west coast of Michigan is known for its massive dune system that undulates down the shoreline. In Muskegon, you can see these impressive dunes from Kruse Park. The 52-acre park has a beautiful mile-long stretch of Lake Michigan beach, complete with views of the spectacular dunes.
Above the shoreline on the higher portion of the park are a variety of picnic shelters. The picnic space is very popular during the warmer months. They are equipped with grills, picnic tables, electricity, and running water, which make them incredibly popular for summer gatherings.
From the upper portion of the park, visitors can access the nature trails, dune walks, playground, a basketball court, and the four picnic shelters.
Address: 3205 W Sherman Blvd, Muskegon, Michigan
12. Explore the Monet Garden of Muskegon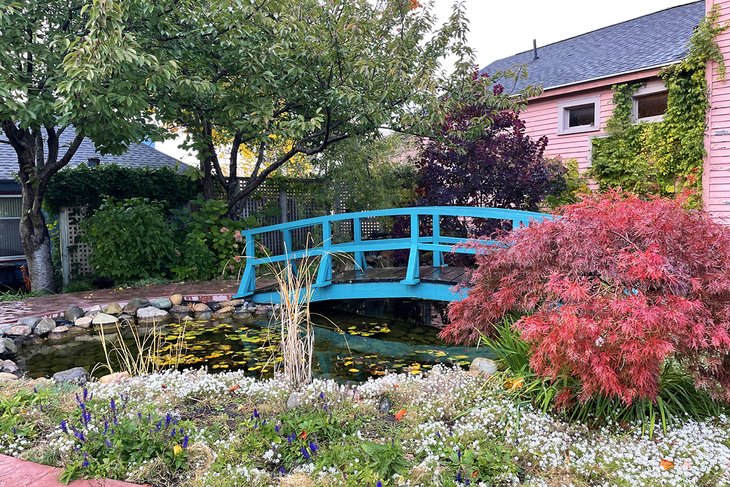 What was once a vacant lot in downtown Muskegon has been transformed into a pocket-sized park modeled after the famous Monet Garden in France. Popping with bright flowers and complete even with a small water lily pond and blue bridge, you might start to think you've stepped off the streets of Michigan and into a Giverny dream. Maybe.
The park opened in 2020 and is free to the public. Visitors can come by to sit on one of the many benches and enjoy the colorful blooms. At night, the park is illuminated, which is a lovely sight to see.
Map of Things to Do in Muskegon, MI
Muskegon, MI - Climate Chart
Average minimum and maximum temperatures for Muskegon, MI in °C
J
F
M
A
M
J
J
A
S
O
N
D

-1

-8

1

-8

6

-4

13

2

19

7

24

12

27

16

26

15

21

11

15

5

8

0

2

-5

PlanetWare.com
Average monthly precipitation totals for Muskegon, MI in mm.

56

40

60

74

75

66

59

96

89

71

82

67

Average monthly snowfall totals for Muskegon, MI in cm.

97

49

31

9

0

0

0

0

0

2

22

78
Average minimum and maximum temperatures for Muskegon, MI in °F
J
F
M
A
M
J
J
A
S
O
N
D

30

17

33

18

42

25

55

35

67

45

76

54

80

60

78

59

70

51

59

41

46

32

35

23

PlanetWare.com
Average monthly precipitation totals for Muskegon, MI in inches.

2.2

1.6

2.4

2.9

3.0

2.6

2.3

3.8

3.5

2.8

3.2

2.6

Average monthly snowfall totals for Muskegon, MI in inches.

38

19

12

3.7

0

0

0

0

0

0.7

8.7

31