15 Top-Rated Lakes in Michigan
Author Anietra Hamper is a Midwest native and has spent time traveling throughout Michigan, enjoying outdoor recreation on the state's top lakes.
If you are looking for lakes to visit in Michigan, you are in luck because the state lays claim to the longest coastline of freshwater in the world. Michigan also has thousands of inland lakes, some of them glacial lakes and some man-made.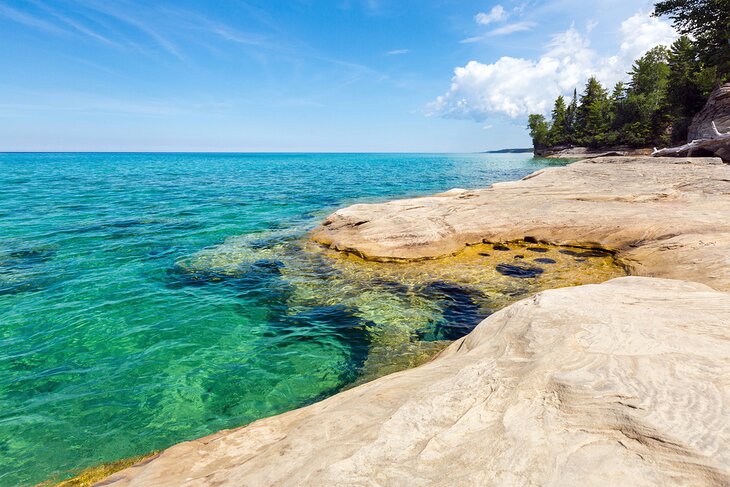 Most of the Michigan border is surrounded by four of the Great Lakes and hundreds of beaches, making it a top destination in the Midwest for beach vacations.
What makes Michigan's lakes so enjoyable beyond the swimming and water recreation is the diverse environment that surrounds them. The forests and waterfalls encompass the natural lakes in the Upper Peninsula, while majestic sand dunes border many of the lakes in the Lower Peninsula.
No matter where you choose to vacation in Michigan, you are always close to a lake. Discover the best places to enjoy the water with our list of the top lakes in Michigan.
1. Lake Michigan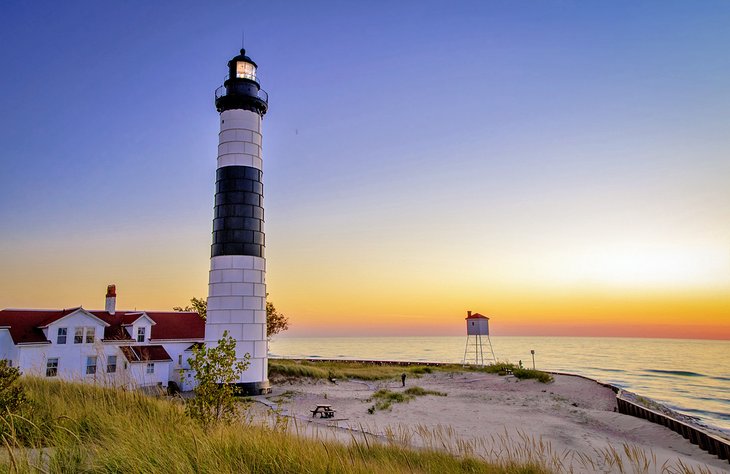 Highlight: The many beach options along the Lake Michigan coastline
As one of four Great Lakes that border Michigan and one of the largest freshwater lakes in the world, Lake Michigan is one of the best vacation spots in the state. The Lake Michigan coastline on the state's western side has many beaches.
Lake Michigan has a rich maritime history and reaches the shores of Wisconsin, Indiana, and Illinois, standing out as the top waterfront attraction in Chicago.
Lake Michigan has outstanding beaches and comprises about 35 miles of shoreline in the Sleeping Bear Dunes National Lakeshore. The 22,000-square-mile lake is popular for boating, sailing, and fishing. It is also popular for its salmon fishing in the spring and in the fall.
There are several parks along the stretch of the lake, including Ludington State Park, where you can go hiking and see Big Sable Lighthouse, one of more than 80 located on Lake Michigan.
2. Lake Superior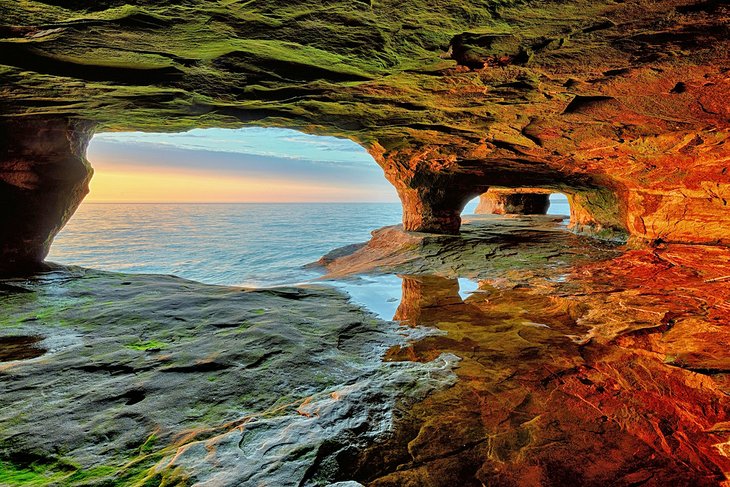 Highlights: Scenic views of waterfalls, cliffs, sea caves, and forests
Lake Superior in Michigan's Upper Peninsula is one of the most beautiful lakes in the state because of the scenery that surrounds it. This lake takes a little more time to get to because it is entirely in the Upper Peninsula, but you can easily stay in Munising and have plenty to do in the area.
Lake Superior is known for its beautiful water and surrounding cliffs, waterfalls, wilderness, and sea caves. Lake Superior is part of the Pictured Rocks National Lakeshore and flows between the Michigan and Canadian borders.
Since it is the largest of the Great Lakes, you can expect great conditions for all types of water recreation. Besides swimming, Lake Superior is popular for boating, fishing, kayaking, and diving.
3. Lake Huron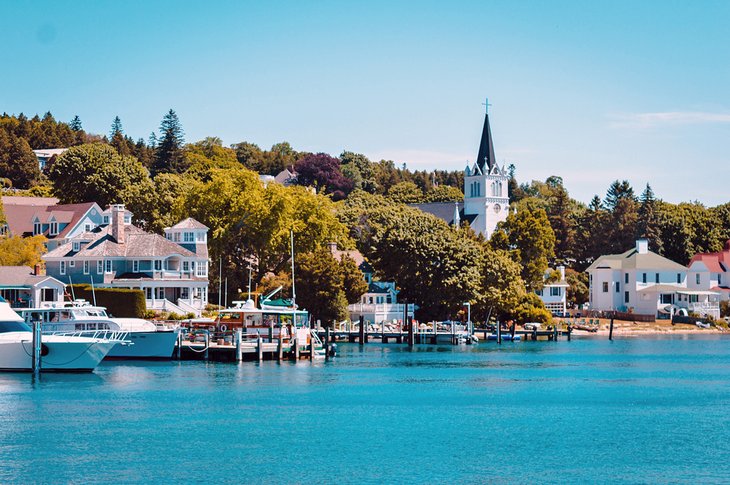 Highlights: Ferry access to historic Mackinac Island, shipwreck diving opportunities
If you plan a vacation to Mackinac Island, you will enjoy Lake Huron, one of the most stunning lakes in northern Michigan. You can take a ferry across Lake Huron to Mackinac Island or plan a sunset cruise. Diving is a popular activity on Lake Huron because of the hundreds of shipwrecks that are on the bottom of the lake.
Lake Huron has stunning sunrises, which is how it became known as the Sunrise Coast. You can take a scenic drive along the Lake Huron coast on the Huron Shores Heritage Route, which runs for 200 miles along US-23, or you can pick up the Huron Shores Coastal Water Trail in Standish and paddle your way along the coastline.
4. Lake Erie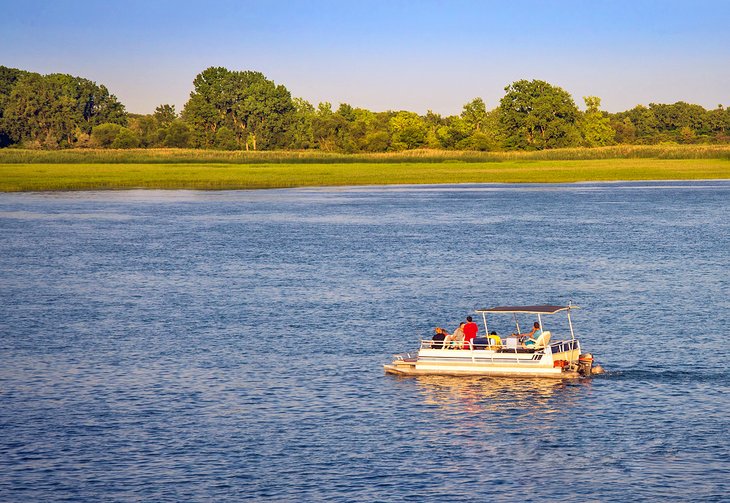 Highlight: Lake Erie is one of the most accessible lakes for outdoor recreation, fishing, and beaches.
As the fourth of the Great Lakes that surround Michigan, Lake Erie is one of the most accessible. It is located close to Detroit and is one of the best lakes to visit in southeast Michigan. It is a terrific boating lake, with access points to the water that are easy to find. Lake Erie is also popular for fishing for the famous Lake Erie walleye. There are many fishing charters available.
Lake Erie has a number of islands that are fun to visit for day trips. You will find great beaches for swimming, and you can do nearly every water sport. The Lake Erie Metropark is a great spot on Lake Erie to find hiking and biking trails, a swimming pool, golf, and conveniences like restrooms.
5. Lake Charlevoix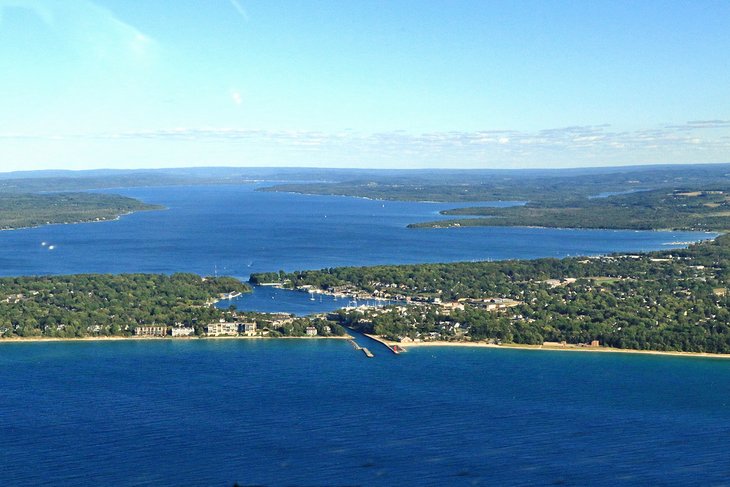 Highlights: A family-friendly lake and one of the largest inland lakes in Michigan
The beautiful Lake Charlevoix in northern Michigan is one of the largest inland lakes in the state. It is located near the town of Charlevoix, which is a charming place to visit and grab a bite to eat after your day on the water. Lake Charlevoix is a nice family-friendly lake, with several white-sand beaches.
The lake has 56 miles of shoreline, so it is a great lake for boating and waterskiing but also for kayaking and canoeing in the smaller tributaries that feed into the lake. There is ample fishing in Lake Charlevoix, as it can get quite deep in some areas. The top portion of the lake is close to Lake Michigan, so you can also plan some water time there while you are in the area.
6. Lake Leelanau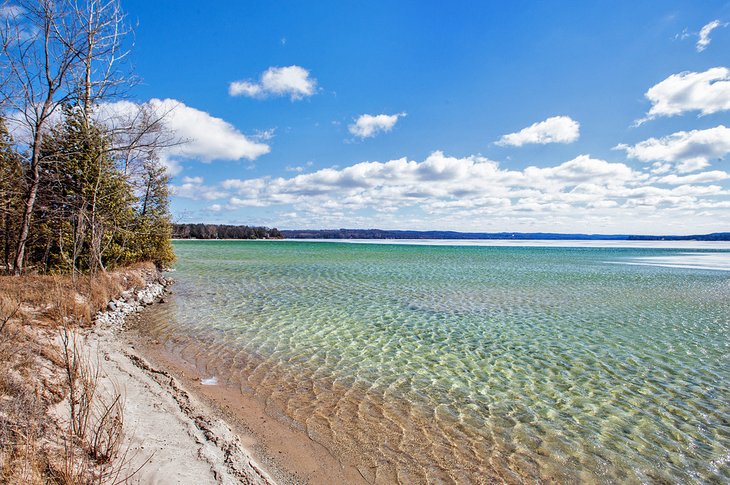 Highlights: A popular lake for a getaway with waterfront vacation homes
The northern Michigan Lake Leelanau is one of the prettiest lakes in the state. It is located near Traverse City in the Lower Peninsula, and it is considered a great family-friendly lake with swimming and boating being two of the most popular activities. You will see many vacation homes and rentals around the lake, so it is ideal if you want to plan a vacation on the waterfront and have everything right outside your door.
There are two sections that make up Lake Leelanau, each with different depths, temperature, and fish species. North Leelanau is the smaller section and South Leelanau is the larger area, but both have water recreation. The lake is close to Sleeping Bear Dunes National Lakeshore, so you can make a day visit to see the sand dunes and the park if you are staying near Lake Leelanau.
7. Big Glen Lake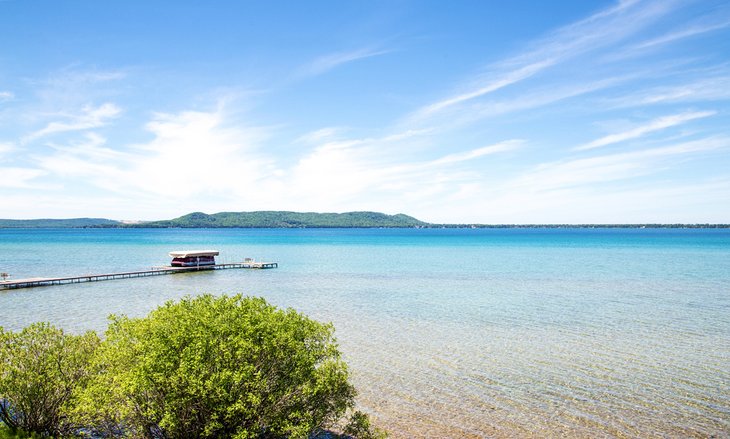 Highlight: The glacial waters of the lake make it ideal for kayaking
Big Glen Lake is one of the cleanest and clearest lakes in Michigan. It is near the small town of Glen Arbor in northeast Michigan. Big Glen Lake and its sister waterway, Little Glen Lake were once a part of Lake Michigan during the ice age. Now a large sandbar separates them, but you can easily access Lake Michigan and the Manitou Islands from this area.
The glacial waters of Big Glen Lake make it a terrific lake for kayaking and swimming. You can rent a pontoon boat for the day or just relax on the sandy beaches and surrounding sand dunes. Big Glen Lake has nice fishing for perch, lake trout, bass, and northern pike. There are many waterfront cottages to rent on the lake for a weekend or weeklong stay.
8. Torch Lake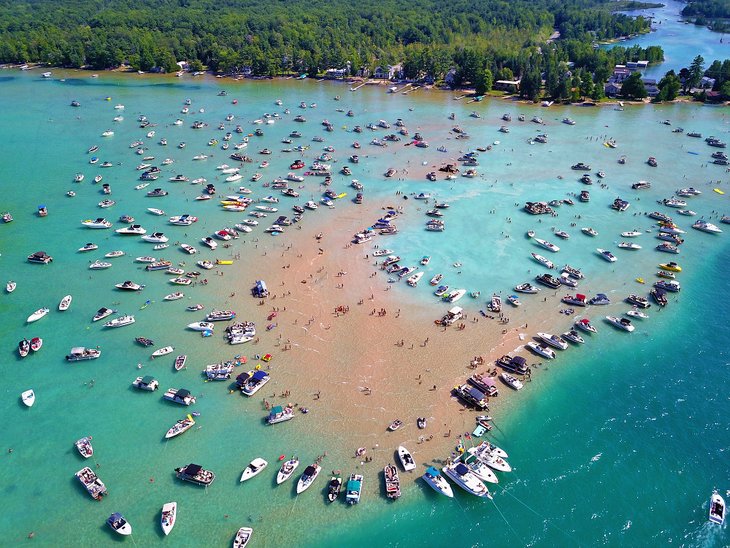 Highlights: The deepest inland lake in Michigan, kayaking and swimming near the sandbars
The northern Michigan lake of Torch Lake is a beautiful clear glacial lake and the longest and deepest inland lake in the state. The lake is 19 miles long, with several sandbars that are popular for swimming and socializing with others who are out on the water. It is located close to Charlevoix and Traverse City in the Lower Peninsula.
There is a two-mile sandbar, which is a popular swimming spot, located at the south end of the lake.
Popular activities on Torch Lake are kayaking and canoeing. You can take a windsurfing lesson from a local outfitter and rent equipment when you get here.
9. Lake St. Clair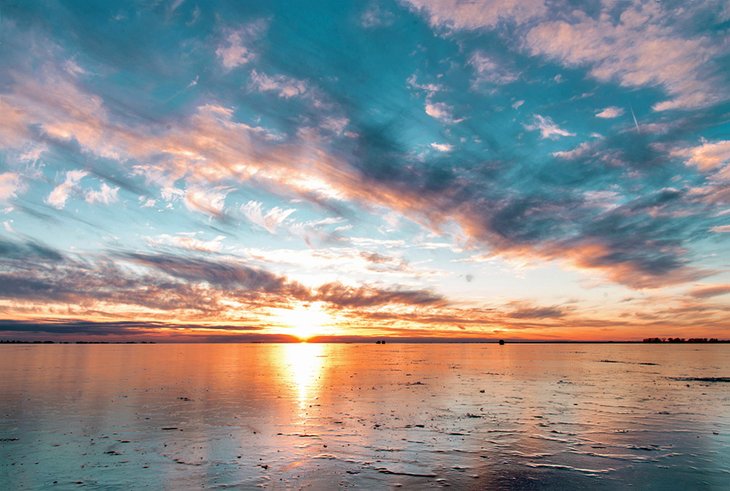 Highlight: A boating lake with beaches and waterfront restaurants
Just outside of Detroit is Lake St. Clair, which creates a freshwater boundary between the shores of Michigan and Canada. Historically, it was a shipping channel between Lake Huron and Lake Erie, but today it is a popular lake for fishing and outdoor recreation. There are several beaches along the lake for swimming.
Lake St. Clair is one of the best lakes for boating in the state, with about 430 square miles, and communities that cater to life on the water. There are many waterfront restaurants, and the lake makes access easy to other ports. There are many small channels and tributaries that are nice for paddling and enjoying the natural surroundings.
10. Elk Lake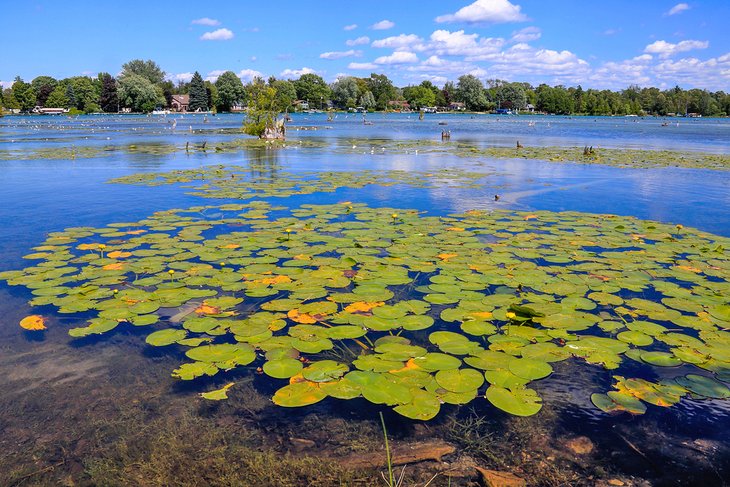 Highlight: A quiet glacial lake that is part of a chain of lakes in northern Michigan
If you are looking for a more secluded and quieter lake experience then Elk Lake is a nice option. It is the second deepest inland lake in the state and not as busy on the beaches and waterways as other popular lakes. It is close to the village of Elk Rapids in northern Michigan.
Besides the quiet scene on Elk Lake, visitors are drawn to the glacial lake's beautiful blue water. Elk Lake is part of Michigan's Chain of Lakes, a series of 14 lakes linked together forming a 75-mile waterway. Elk Lake is great for sailing and for ice-boating in the winter. This lake reaches depths of 200 feet making it nice for fishing, especially in the deepest spot in the middle, where anglers can target lake trout.
11. Crooked Lake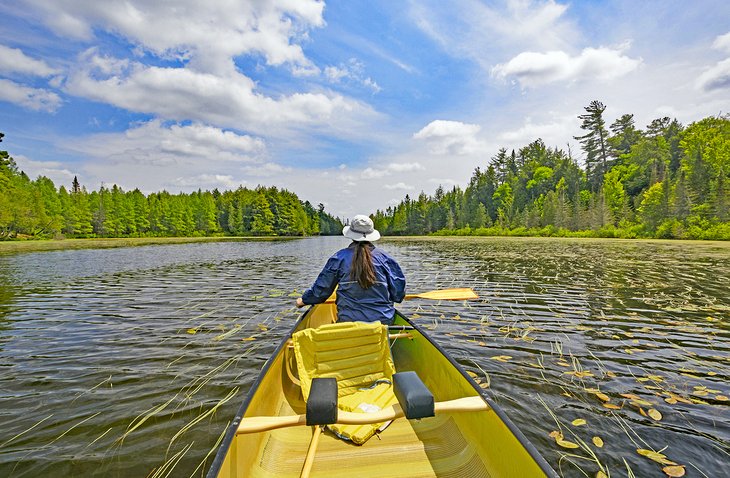 Highlight: A shallow lake popular for parasailing and fishing
Crooked Lake is a nice lake surrounded by the waterfront communities of Ponshewaing, Conway, and Oden in northern Michigan. The lake is fairly shallow, only reaching about 20 feet deep. It is a nice lake for parasailing, tubing, kayaking, and fishing. There is a public fishing pier on the lake and cabins available for rent if you are looking for a cozy and quiet lake getaway.
12. Burt Lake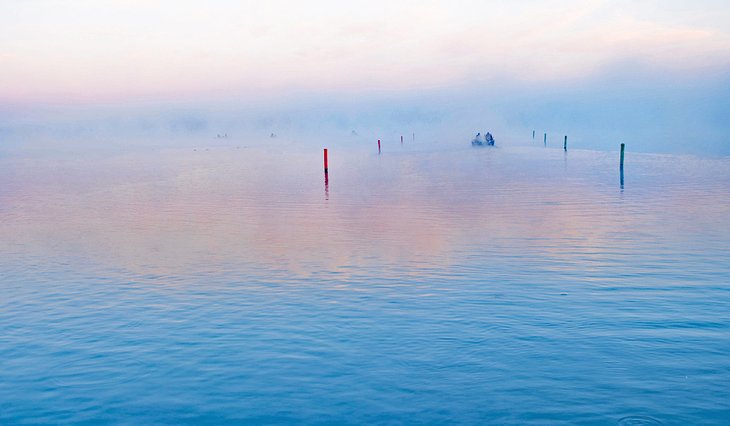 Highlights: Located close to the city of Cheboygan, top fishing lake for bass and walleye
Burt Lake is a versatile lake to visit in the Lower Peninsula because it offers just about everything, and its location is convenient. The lake is located close to Cheboygan, where you can stay if you want to make a base in the city.
Burt Lake has a 2,000-foot shoreline at the Burt Lake State Park, which is one of several park areas near the lake. There is a beach at Maple Bay Campground, and camping is available.
While boating and swimming are popular at Burt Lake, it is also one of the top fishing lakes in the state. Anglers come to the lake for trophy-sized walleye and for the large populations of bass, trout, and sturgeon. If you like to kayak along water trails, you can access the Inland Waterway chain from Burt Lake.
13. Higgins Lake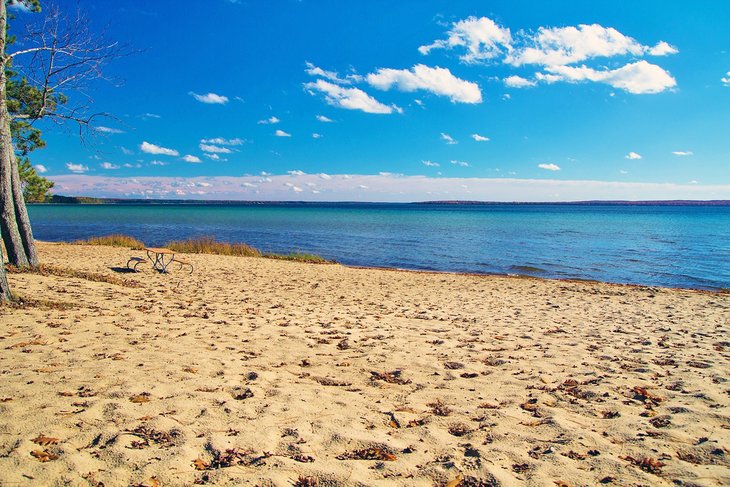 Highlight: The lake's stunning blue water is clear enough for snorkeling
The glacial waters of Higgins Lake are so blue that it is hard to believe it is a lake and not the ocean. It is located near the small town of Roscommon in north-central Michigan. The natural lake has beautiful beaches and warm water for swimming. The waters are so clear that it is common to see people snorkeling.
Higgins Lake has a state park at each end, where you can find beaches, boat access, and campgrounds. This lake is great for water skiing and knee-boarding. Higgins Lake is one of the top ice-fishing lakes in the state for anglers to target northern pike, bass, and trout. There is terrific natural beauty around Higgins Lake, so you can take some time to enjoy the nearby hiking trails while you are here.
14. Portage Lake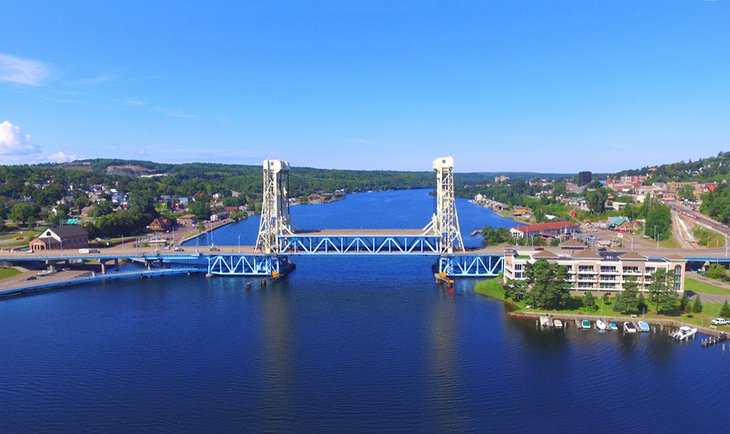 Highlight: A top recreational lake for activities like boating and diving
Portage Lake in northwest Michigan has many recreational purposes. It is a popular place for diving, as there are a number of shipwrecks beneath the surface. The lake is close to Onekama, Michigan, a popular spot for recreational boaters, and there are several boat launches. It is also a top year-round fishing spot.
Water sports are popular, and there are quite a few hiking trails in the area if you want to spend time off the water.
15. Lake Muskegon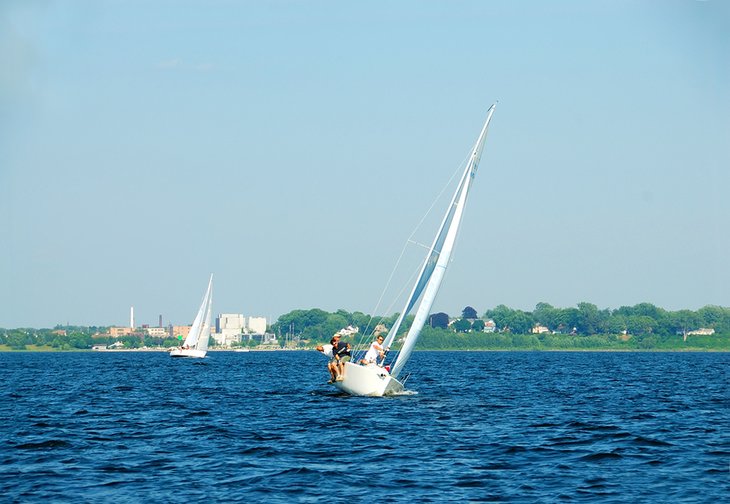 Highlight: Boating opportunities like pontoon cruising, kayaking, and sailboat races
Lake Muskegon is a top lake to visit in Michigan especially if you have an interest in working several types of lake experiences into your visit. The lake is located in western Michigan near the town of Muskegon.
The lake is popular for boating, water skiing, kayaking, and pontoon boating. There are often sailboat races and regattas that take place on Lake Muskegon in the summer. There are beaches for swimming and easy access points for kayaking. Fishing is another popular activity on the lake.
If you are staying on Lake Muskegon for vacation, plan a day trip to take the Lake Express ferry to Milwaukee, where you can enjoy other water activities in Wisconsin.
Best Time to Visit Lakes in Michigan:
The best time to visit the lakes in Michigan for swimming and recreation is in the summer months of June, July, August, and September. These are your best months for warm beach weather, access to recreational rentals that are open for things like kayaks, attractions and amenities that are fully open, and ferries that are running to the islands.
Average temperatures during these months range from 76 to 85 degrees Fahrenheit, with the sweet spot being mid-June through mid-August when you have the warmest air and water temperatures.
July is the hottest, muggiest, and wettest month on Lake Michigan, which has many of the state's most popular beaches, so you might have to consider some indoor backup plans if you go during the height of the summer season.
If you are visiting Michigan's lakes for the scenery more than the swimming and recreation, then visiting between mid-September and mid-October will not disappoint. The weather cools significantly by the end of September into the mid-60s when the fall foliage begins to peak, starting in Michigan's Upper Peninsula.
More Related Articles on PlanetWare.com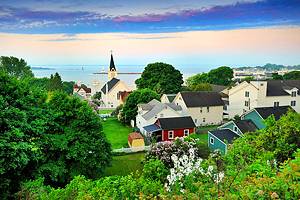 Other Places to Visit in Michigan: As you plan your Michigan vacation you may want to stay in a city like Detroit, Ann Arbor, or Grand Rapids to explore the attractions and make day trips to the lakes nearby. You can stay on Mackinac Island and enjoy Lake Huron for your entire vacation or plan a weekend getaway in Munising near Lake Superior and the many lakes located in the Upper Peninsula.