12 Top-Rated Ski Resorts in Michigan, 2022
We may earn a commission from affiliate links ()
Visit Michigan during winter, and it's apparent the state takes skiing seriously. Except for New York, Michigan boasts more ski areas than any other state. Currently, the Wolverine State has approximately 40 ski areas, over 250 lifts, 50 terrain parks, and nearly 1,000 runs. Michigan is also home to the country's only hill for ski flying, which is like ski jumping but on a larger scale.
While those statistics are impressive, two other factors set Michigan apart from other states in terms of skiing: convenience and cost. Surprisingly, no matter where you go in the state, you're always within two hours of a ski resort. Skiing in Michigan is also much more affordable than buying lift tickets at ski resorts in Colorado or Utah ski resorts.
Changes for the 2021/2022 Ski Season in Michigan: This ski season in Michigan looks a little different than past seasons. New protocols include social distancing and mandatory mask-wearing in public spaces and on chairlifts. Be sure to check the resort's official website before arriving for specific details and possible closures.
Find the best spots in the state to hit the slopes with our list of the top ski resorts in Michigan.
1. Big Snow Resort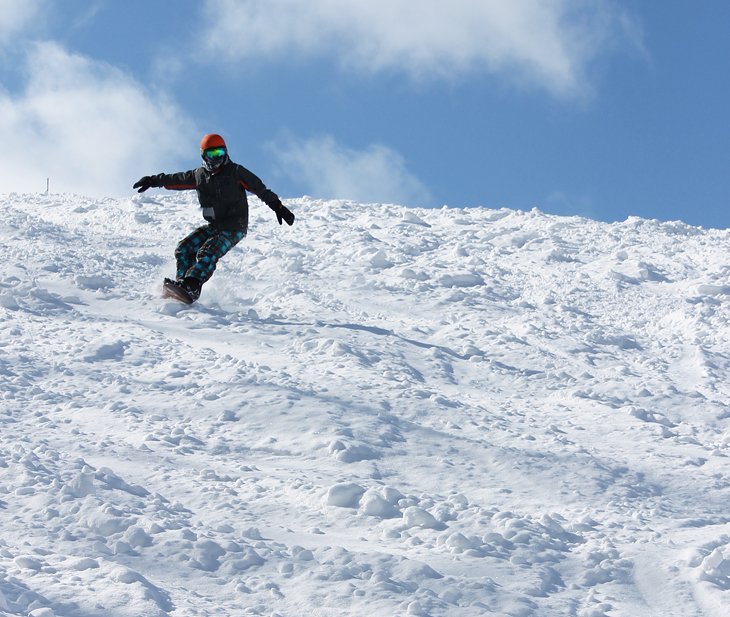 Big Snow delivers on its name. In an average year, it receives more than 17 feet of snow to cover its two mountains: Indianhead Mountain and Blackjack Mountain. While they're both geared to handle all levels of skiers, beginner and intermediate skiers will have slightly more terrain to choose from at Blackjack. Indianhead Mountain does have a cushy beginner's area with a new ski carpet.
If it's size you're looking for, Indianhead weighs in as the favorite, featuring 230 skiable acres versus 170 acres. Both mountains offer night skiing on the weekends after January 1st. Both mountains are also home to two popular terrain parks, and Indianhead Mountain recently added a new glade area for a chance to ditch the groomers.
Big Snow isn't just about skiing, though, as it features live music every weekend and numerous other events like yoga at Blackjack Mountain Ski Lodge.
Need a break from skiing? Head to the tubing slide or Yeti Snow Fort on Blackjack, where you can climb and slide to your heart's content. Between the two mountains, Big Snow Resort also features eight different places to catch a bite to eat.
Address: Indianhead Road, Wakefield, Michigan
Official site: www.bigsnow.com
Accommodation: Where to Stay near Big Snow Resort
2. Boyne Resorts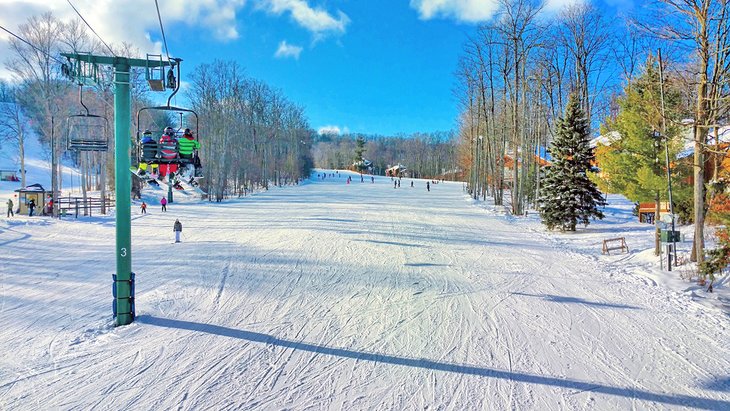 Michigan's best-known resort is Boyne, which actually consists of two mountains, Boyne Mountain and Boyne Highlands. These are the two largest resorts in lower Michigan, and each boasts over 400 acres, with more than 115 trails in total. Boyne Highlands also has a 1.25-mile trail, which is the longest ski run in Michigan. All these amenities make the mountains feel more like those in the West.
At Boyne Mountain Resort, you'll find America's first high-speed, six-place chairlift, and Boyne Highlands has Michigan's first four-place chairlift. In addition, the two mountains feature 11 terrain parks and the SnowSports Academy, which always earns accolades from guests. Both mountains also offer free beginner ski and snowboard areas.
For those not into the downhill scene, each mountain boasts an impressive 35-plus kilometers of cross-country and snowshoe trails. Each mountain is also well regarded for their overnight accommodations, including lodge rooms, cottages, and ski-in chalets.
Since the 2018/19 season, Boyne Highland and Boyne Mountain Resort became a participating Ikon Pass ski resort.
Address: 1 Boyne Mountain Road, Boyne Falls, Michigan
Official site: www.boyne.com
Accommodation: Where to Stay in Boyne
3. Crystal Mountain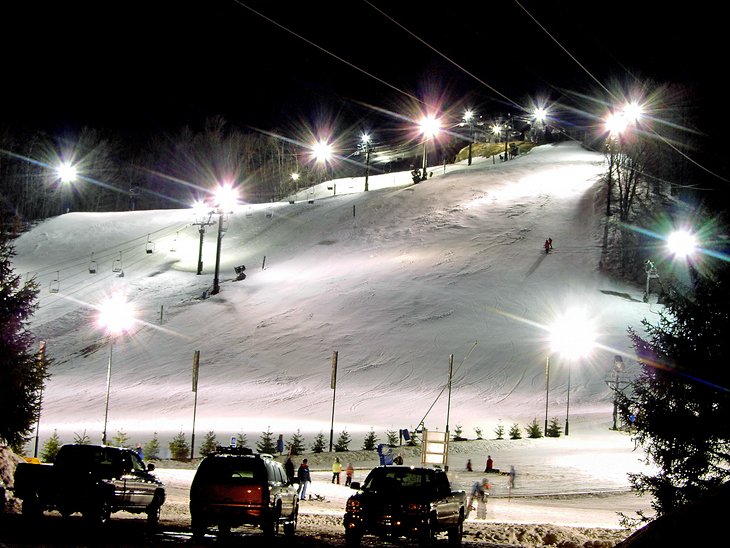 Crystal has scored a place on lists of the 10 best family ski resorts in the United States and Canada, putting it in the company of heavy hitters like Deer Valley in Utah and Steamboat Springs in Colorado. Credit goes not only to the 102-acres of skiable terrain but also the amenities at the resort.
Some of the special features at Crystal Mountain include luxury cottages at the base of the slope, complimentary activities like family campfires, and an indoor pool with a family play area. The mountain also hosts a full array of additional snow activities like fat-tire snowcat biking, snowshoeing, and snowmobiling.
Crystal is also home to an 18,500-square-foot LEED-certified spa. The Crystal Spa offers specialty treatments designed specifically to treat winter aches and soreness. On the slopes, nine lifts give access to 58 trails, including 27 lit for night skiing. The resort also has three terrain areas and six glade areas.
Address: 12500 Crystal Mountain Drive, Thompsonville, Michigan
Official site: www.crystalmountain.com
Accommodation: Crystal Mountain
4. Ski Brule
This might sound like more of a dessert than a ski resort, but if you ski here once, you'll see why this is the ultimate sweet treat. Ski Brule consistently ranks as one of the Midwest's best resorts. It also promises to be the first to open, sometimes as early as October, and stays open for roughly six months.
Much of the credit goes to its location near the Wisconsin and Michigan border, as well as its immense snowmaking capabilities. Within 24 hours, it can generate enough snow to open any one of its 17 trails. It also features three terrain parks, a tubing park, and stays open late for night skiing.
Additional winter activities at Ski Brule include fat biking, cross-country skiing, and sleigh rides. And the unique Acrobag at the resort allows guests to launch off a five-foot jump into an inflatable landing pad (free with the purchase of a lift ticket).
Programs that cater to kids at Ski Brule include an on-site daycare, specialized lessons, and free skiing for kids under nine years old every Sunday.
Address: 397 Brule Mountain Road, Iron River, Michigan
Official site: https://skibrule.com/
5. Mount Bohemia
Getting vertical is one of the biggest draws to Mount Bohemia in Michigan's Upper Peninsula. Here, you'll find the longest vertical in the Midwest at 900 feet. Mount Bohemia is also blessed with an abundance of lake effect snow, receiving 273 inches on average every year.
Because its trails are ungroomed and the runs are either expert or advanced, Mount Bohemia is solely for serious skiers who will no doubt love the mountain's extreme backcountry area. The forested runs feature chutes and cliff drops. Mount Bohemia now also oversees development of the nearby Voodoo Mountain, which offers more intermediate runs and snowcat skiing.
The resort also recently opened the Midwest's first ski resort hostel. The Log Cabin Hostel at Mount Bohemia features 24 coed bunks in two different rooms, a sauna, and outdoor hot tub, all of which are slope-side. You can also bunk in a yurt – sleeping 10 people each – or one of 12 log cabins with capacity for up to seven people each.
Address: 6532 Gay Lac La Belle Road, Mohawk, Michigan
Official site: www.mtbohemia.com
6. Nub's Nob Ski Area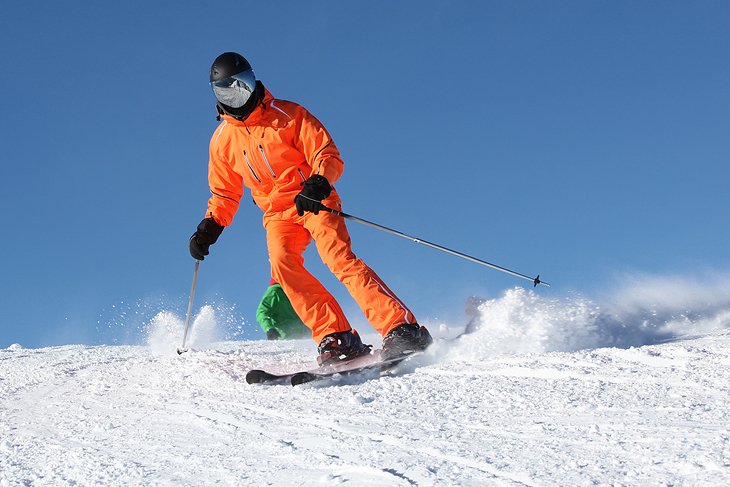 For those looking to get their ski legs on for the first time before heading West, Nub's Nob is the place to go. That's because 30 percent of the trails are marked as easiest, and another 50 percent more intermediate. That leaves only a small amount assigned to most difficult, but with only a 427-foot vertical drop, even intermediate skiers should be able to tackle these trails.
For absolute beginners, there's a free beginner area with a chairlift, so if you have any questions about whether you'll like the sport, you can always try it before buying a ticket. Those eight years and younger and 70-plus ski for free. And once you're on the slope, Pintail Peak is fun for skiing on gently winding trails.
Nub's Nob Ski Area expanded its snowmaking efforts in recent years, as well as added to its fleet of corduroy-making snowcats. Another recent addition to the resort includes a two-kilometer snowshoe trail that allows uphill skiers to access the Arena Glades without taking a lift.
Address: 500 Nubs Nob Road, Harbor Springs, Michigan
Official site: https://www.nubsnob.com/
Accommodation: Where to Stay near Nub's Nob
7. Pine Mountain Resort
Tucked away in the Upper Peninsula, family-friendly Pine Mountain likes to say it has the best-groomed slopes in the Midwest. It features over 30 trails and a terrain park, plus night skiing. What sets Pine Mountain apart, though, is its ski jump, often revered as one of the best in the world.
Every February, the Kiwanis Ski club hosts Jump Weekend, where top jumpers in the world have set numerous records throughout the years. In fact, the US record of 459 feet, which still holds, was set at Pine Mountain. More than 20,000 spectators attend Jump Weekend.
A 2018 change of ownership at Pine Mountain brought about the beginning of a multi-million-dollar upgrade to the resort. Overnight guests at the Lodge at Pine Mountain this year can enjoy the renovated rooms, which feature alpine décor and easy skiing access. The resort also offers newly renovated trailside condos at the Cedar Haus.
Address: N3332 Pine Mountain Road, Iron Mountain, Michigan
Official site: http://www.pinemountainresort.com/
8. Shanty Creek Resort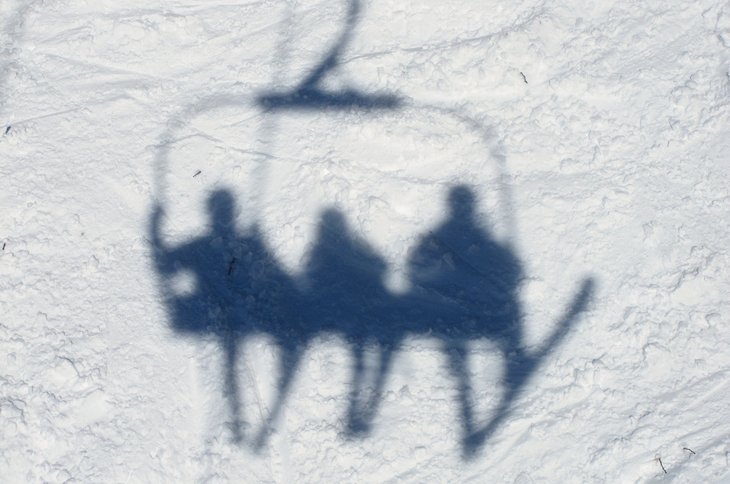 Beginner and intermediate skiers flock to Shanty Creek Resort, which boasts two distinctive ski areas, Schuss Mountain and Summit Mountain, with 53 runs total. More than 60 percent of the runs are suitable for beginner and intermediate skiers, although the resort does feature advanced terrain as well.
Shanty Creek Resort also features three terrain parks, tubing, fat tire biking, and 30 kilometers of groomed and track-set trails for Nordic skiers.
For the 2021/2022 season, daily lift tickets are between $65 (weekday) and $85 (weekend) for adults. The resort also offers discounted lift tickets for night skiing, which occurs between 5pm and 9pm Wednesday through Saturday.
Lift tickets are valid for both Schuss Mountain and Summit Mountain. Shanty Creek Resort has also recently upgraded their rental gear to include the latest equipment from Rossignol – a leader in ski technology.
Address: 5780 Shanty Creek Road, Bellaire, Michigan
Official site: http://www.shantycreek.com/
Accommodation: Shanty Creek Resorts
9. Caberfae Peaks
In the Lower Peninsula of Michigan near the city of Cadillac, Caberfae Peaks receives an abundance of lake effect snow. This not only provides an average of 140 inches of snowfall each year, but also contributes to the light and fluffy powder that makes for a fun ride.
Caberfae Peaks is spread out over 200 skiable acres and features 34 named ski runs and 485 feet of elevation drop.
At the base of the mountain, The Mackenzie Lodge features 39 slope-side rooms. The lodge also features a large outdoor heated pool and hot tub. Stay-and-Ski special packages at Caberfae Peaks are perfect for an affordable family getaway.
Address: 1 Caberfae Lane, Cadillac, Michigan
Official Site: https://caberfaepeaks.com/
10. Big Powderhorn Mountain Resort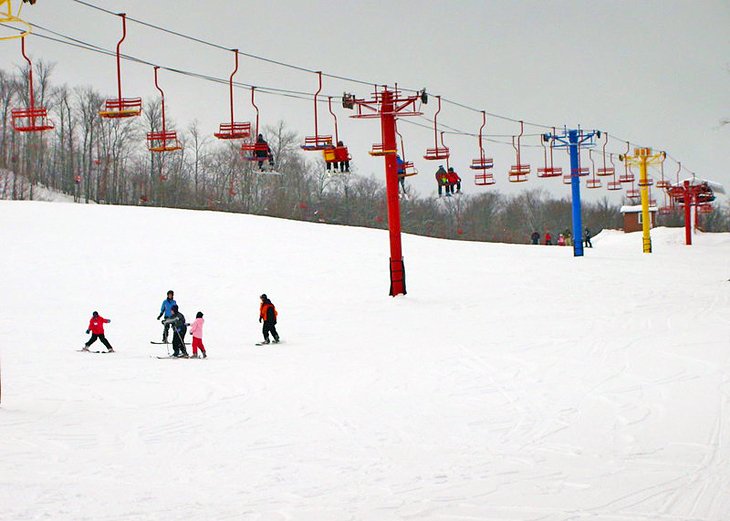 Big Powderhorn is a favorite ski area in the Upper Peninsula and has something for every level of skier. The ski area is spread across 250-plus skiable acres, with 45 named trails ranging from bunny hills to black diamond routes like "Cannonball" and "Don't Chute." Nine double chairlifts service the variety of routes.
Slope-side lodging is available at Big Powderhorn Mountain Resort in the Caribou Lodge. Overnight guests receive complimentary access to the private pool and sauna at the lodge.
The Caribou Lodge is also the place to enjoy a meal or après-ski near the slopes. The menu at the lodge features pasta, surf and turf, and hot sandwiches.
Address: 11375 Powderhorn Road, Bessemer, Michigan
Official site: https://bigpowderhorn.net/
11. Marquette Mountain
Near the shores of Lake Superior, Marquette Mountain is another popular local resort in the Upper Peninsula. The mountain serves as a standard winter retreat for Marquette locals, including students at Northern Michigan University.
On top of great wintry terrain, the affordable season passes and lift tickets at the mountain tend to draw a crowd.
Marquette Mountain has a variety of groomers spread across approximately 160 acres. Many of the runs are illuminated for night skiing seven days of the week. The mountain also offers weekend, weekday, and nightly rentals of ski equipment – perfect for anyone new to the sport.
Address: 4501 M-553, Marquette, Michigan
Official site: https://marquettemountain.com/
12. Mount Holly Ski & Snowboard Resort
Mount Holly is in the Groveland Valley of Southeast Michigan, approximately an hour's drive northwest of Detroit. The resort is well known for its long season and small variety of runs, many of which cater to a more intermediate or advanced skier.
Mount Holly has 16 runs total, accessible by seven chairlifts and two rope tows. The total elevation drop at the resort is around 350 feet, offering quick but dynamic routes to the bottom. And with 100 percent of the mountain able to receive artificial snow, every day brings fresh tracks to make.
Beginners also find enjoyment on the mountain. Two rope tows and a magic carpet lend access to easier runs adjacent to the main mountain. This beginners' area is a great place to learn before tackling the steeper slopes.
Address: 13536 Dixie Highway, Holly, Michigan
Official site: https://www.skimtholly.com/
More Related Articles on PlanetWare.com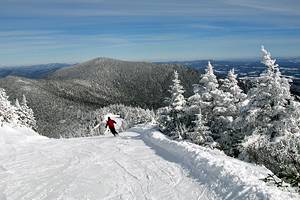 Skiing the American East: The top-rated ski resorts on the East Coast deliver with similar winter appeal. The mountains might be smaller, but ski resorts in places like New Hampshire, Vermont, and New York deliver fast chairlifts and winter wonderlands. Farther south, the best ski resorts in North Carolina include places like Sugar Mountain and Cataloochee Ski Area.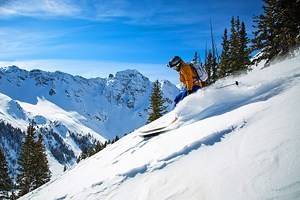 Skiing in North America: For a ski vacation that won't break the budget, our guide to the Top Cheap Ski Holidays in North America highlights the resorts that offer the best downhill value. For skiing in Michigan's neighbor up north, the best ski resorts in Canada feature iconic areas, including Whistler Blackcomb and Big White Ski Resort.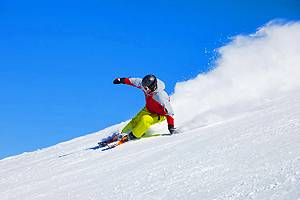 Ski Resorts in the American West: The American West has the biggest mountains and most abundant world-class skiing. The top-rated ski resorts in Colorado make up one of the densest concentrations of first-class ski resorts in the world. Farther to the west, ski resorts in Utah are also world famous and prestigious enough to host the winter Olympics. The state of California doesn't come up short on ski resorts, either, and the top-rated places to ski in California deliver with powdery conditions and fast chairlifts.