18 Top-Rated Weekend Getaways in Michigan
We may earn a commission from affiliate links ()
There are so many ways that a weekend getaway in Michigan can evolve into one of the most memorable getaways of your life. From the old Victorian charm on Mackinac Island, where life runs at a slower pace, to the breathtaking excitement of running on the sand dunes in the summer along Lake Michigan, and the urban revival of Detroit, every Michigan experience is unique.
Michigan has a diversity of both big cities and an abundance of natural regions along the Great Lakes, like Sleeping Bear Dunes National Lakeshore and the natural geological formations that are the signature elements of the Upper Peninsula. Then there are the unique towns like Frankenmuth and Holland that can whisk you away for a weekend that feels like you have traveled across the ocean to another country.
You can enjoy a themed weekend based on food or aquatic adventures, or make your plans by location to explore a place you may have never visited before. From the historic allure of Jackson to the sports and adrenaline scene in Ann Arbor, read our list of some of the top weekend getaways in Michigan.
1. Traverse City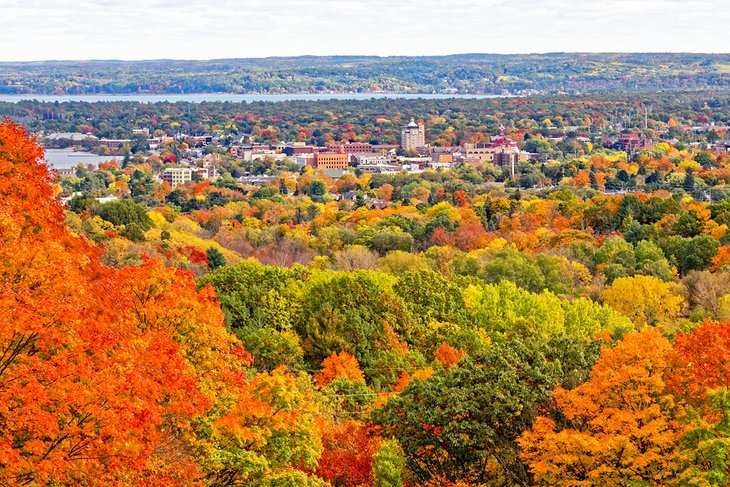 The appeal of Traverse City in every season is that it makes the perfect road trip. Spend your weekend wandering the back roads, and stop at a sidewalk cafe. Take a picnic lunch and head to the Sleeping Bear Dunes National Lakeshore, where you can experience one of northern Michigan's favorite pastimes, climbing the sand dunes.
Spend your afternoon walking the Lake Michigan shoreline and enjoy the many species of wildlife that call the area home. Take a day to go up to Leelanau Peninsula or the Old Mission Peninsula and visit the Mission Point Lighthouse. The peninsula extends 16 miles into Grand Traverse Bay and boasts some of Michigan's most vibrantly colored trees in autumn, making for a beautiful fall weekend getaway.
Traverse City is perfect for a couple's getaway, a solo retreat to indulge in farm-to-table delicacies, or a family getaway where you can stay at a resort like Great Wolf Lodge and take advantage of activities that both kids and parents enjoy.
2. Petoskey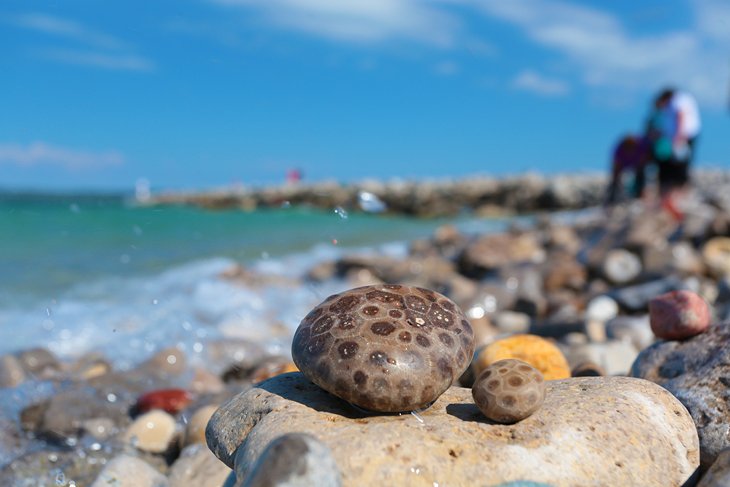 There is no place better for a perfect winter weekend getaway than Petoskey. Located in the northwest of Lower Michigan and on Little Traverse Bay the conditions are always ideal for snow bunnies who need their fix in the winter months. There are three ski areas that combined offer more than 160 downhill ski runs, as well as cross-country ski trails and snowboarding courses.
Petosky offers many types of adrenaline-filled outdoor recreation from ziplining to skydiving. There are also more leisurely activities like birding along the Sunset Coast Birding Trail, scenic hiking trails, and 17 golf courses. One activity unique to Petoskey is hunting along the beach of Lake Michigan for the Petoskey Stone, which was designated as the state stone in 1965.
Resorts like the Inn at Bay Harbor in Boyne make it comfortable and easy to focus on one recreational area during your trip and return to comfortable dining and resort amenities after a day on the slopes. Your other option is to tackle a different a ski area each day of your trip at Boyne Highlands, Boyne Mountain, and Nub's Nob.
3. Grand Rapids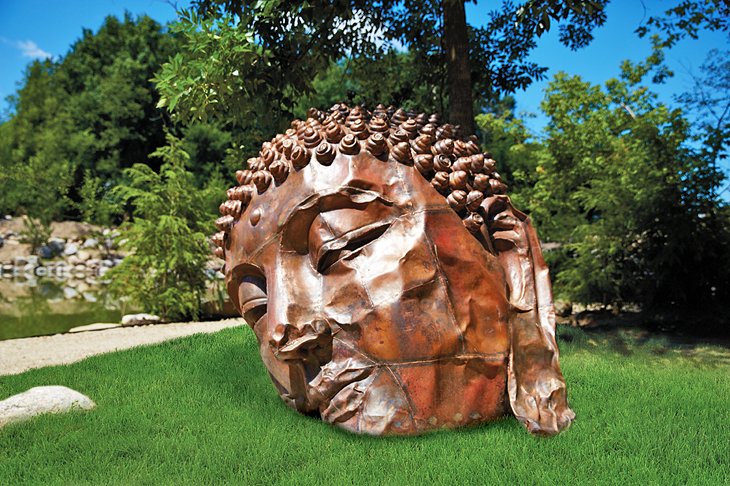 To satisfy your artsy side, plan a themed weekend getaway in Grand Rapids, where the public art, music, and food set a creative mood. In the evenings, check out the diverse music scene with more than 100 live music options.
Round out your Grand Rapid arts weekend by experiencing some of the creative culinary dishes at one of the hundreds of local restaurants that focus on farm-to-table meals along the Grand Rapids Food Trail. For extra savings, you can pick up a three-day Culture Pass GR with savings to seven attractions in the area.
Settle in for the weekend at the elegant and artistic Amway Grand Plaza Hotel that features iron and wood sculptures and décor throughout. It sets the scene for your artistic getaway as you explore the three art museums in Grand Rapids, including the incredible Frederik Meijer Gardens & Sculpture Park, and peruse the public art in the city.
4. Jackson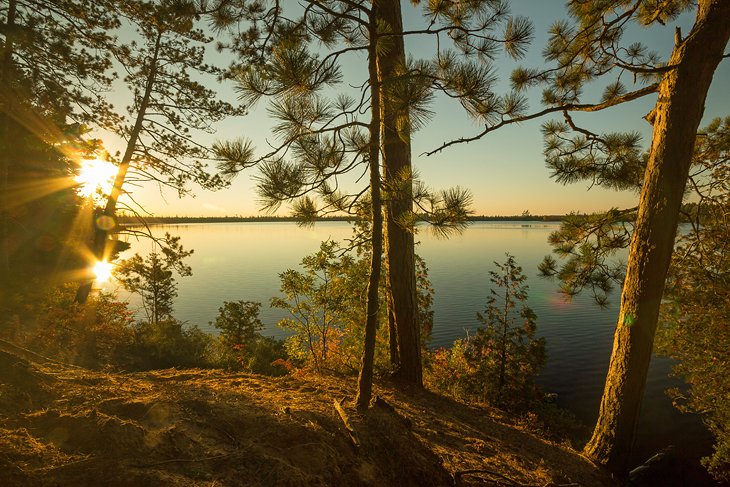 History buffs will enjoy a themed weekend in Jackson in South Central Michigan. The deep history in Jackson starts with the birthplace of the Republican Party at the corner of Franklin and Second Streets. Enjoy the parks and monuments dedicated to some of the most significant events in US history.
You can take a Civil War tour with several stops, including Washington Park, Evergreen Cemetery, Ella Sharp Museum, Michigan Military Heritage Museum, and Under the Oaks Park. Plan another day to visit Cell Block 7, which is a museum experience that walks you through Michigan's prison history on the grounds of an active prison.
Round out your weekend at the Cascades where Cascade Falls, a spectacular man-made waterfall, is illuminated at night featuring music and fireworks in the summer.
Accommodation: Where to Stay in Jackson
5. Ann Arbor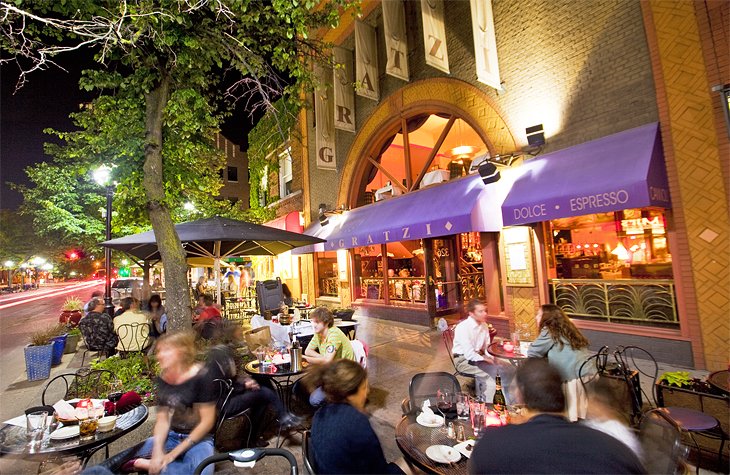 Your quest for a more active weekend getaway should steer you to Ann Arbor, where sports and culture reign supreme. The University of Michigan is closely intertwined in the community, offering museums in archaeology and art, theater and music, and of course, athletic events.
Customize your sports and culture weekend with the menu of options at U-of-M, and spend a day downtown perusing the galleries and boutiques featuring an array of art forms. For an added treat, plan your trip during the annual Ann Arbor Street Art Fair, which takes place every summer.
To complement your themed weekend, plan a stay at the Graduate Ann Arbor, located across from the University of Michigan in downtown Ann Arbor, where the collegiate décor and tone will make you feel like a college student again.
Even if you visit other times of the year, Ann Arbor is known for its ongoing festivals and events relating to culture, arts, theater, and history, so you are likely to find one scheduled during your visit.
6. Mackinac Island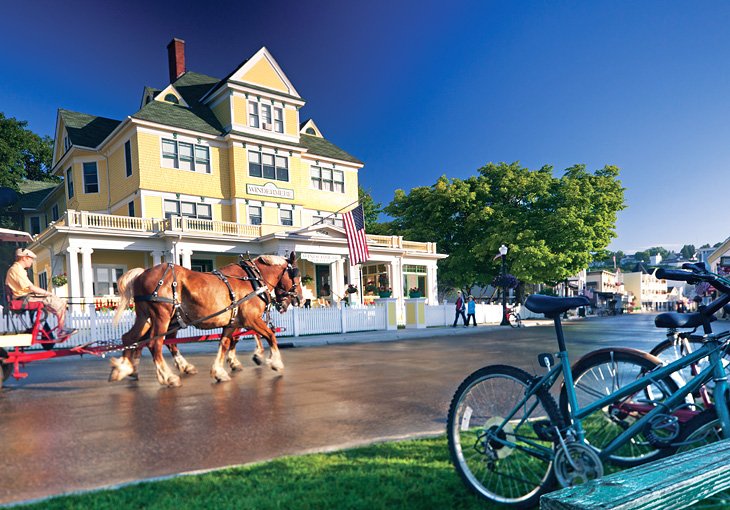 When you think of romance in Michigan there's no comparison to the nostalgia and slower pace of Mackinac Island for a weekend away. This is the kind of romantic getaway that requires no agenda and the only transportation is by foot, bike, and horse-drawn carriage. Sleep in and enjoy a leisurely walk to breakfast along the waterfront.
Take a bike ride along the paved paths around the island and stop to rest in an Adirondack chair for a quiet moment to just listen to the birds and feel the breeze coming off Lake Huron.
Plan a visit to tour the historic Fort Mackinac and go for tea at the Grand Hotel to see the famous movie backdrop of Somewhere in Time. This majestic hotel is a commanding sight as you take the ferry to the island; it's like a time capsule back to an 1800s kind of vacation.
Read More: Top Attractions & Things to Do on Mackinac Island, MI
7. Gaylord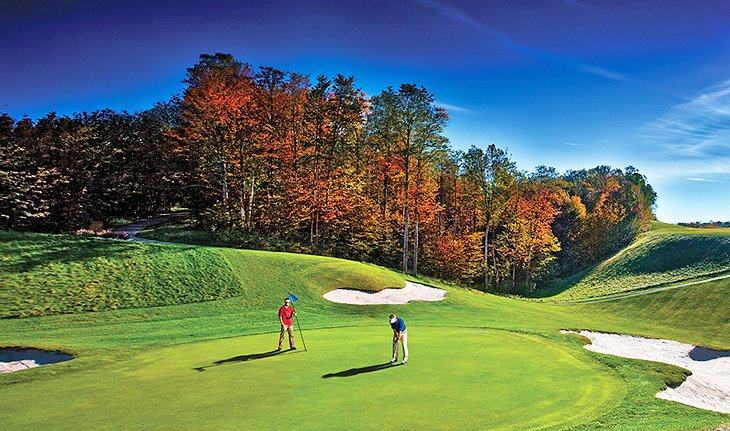 An epic outdoor weekend getaway in Michigan takes you to Gaylord in the northern part of the state. The city is known for its diverse outdoor adventures in every season of the year. Spend a day or the entire weekend exploring some of the 90 inland lakes or one of the five rivers in the area for water activities.
You can intermix your aquatic adventures with hiking along dozens of paths through parks and forests. If "outdoors" to you means tee times on the links, you can spend your getaway at Treetops Resort, which features five world-class golf courses.
That should be enough golf time to improve your swing. Be sure to spend an evening or two watching the sunset from downtown, where you can stroll through one-of-a-kind shops and local restaurants.
Accommodation: Where to Stay in Gaylord
8. Port Huron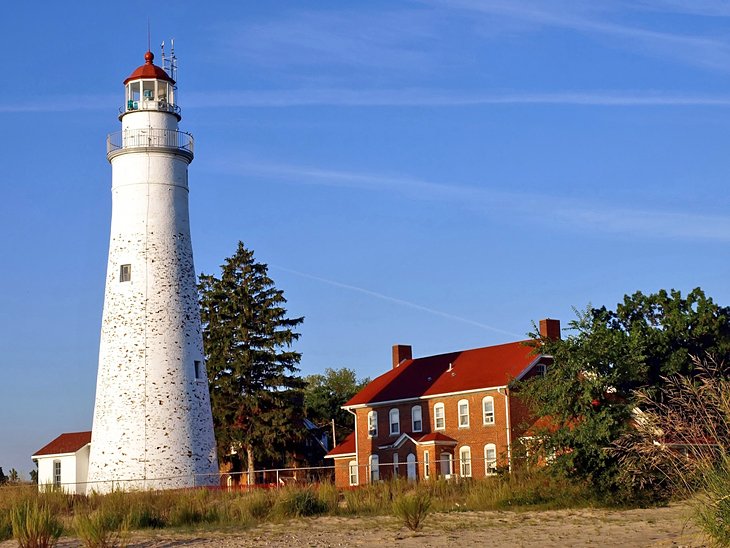 The quaint town of Port Huron is a quiet retreat situated on the St. Clair River, ideal for a romantic getaway weekend or one themed with nautical history. Walk the streets of the historic downtown district and visit the small shops and restaurants renovated from old buildings.
Be sure to walk along the boardwalk at sunset, or to catch a freighter going by during the day. Spend an afternoon or two visiting the museums in town that chronicle the history of the area, like the Huron Lightship, the Fort Gratiot Lighthouse, and the Port Huron Museum.
Since the water is an essential part of the `Port Huron experience, one of the best activities you can do here is take a charter trip along the lakes and rivers. There are miles of boardwalks around the area that are prime spots in the evenings to watch the sunsets.
For an added touch of nautical historical flare, book a waterfront-view room at the luxury Huron House Bed and Breakfast.
9. Bay City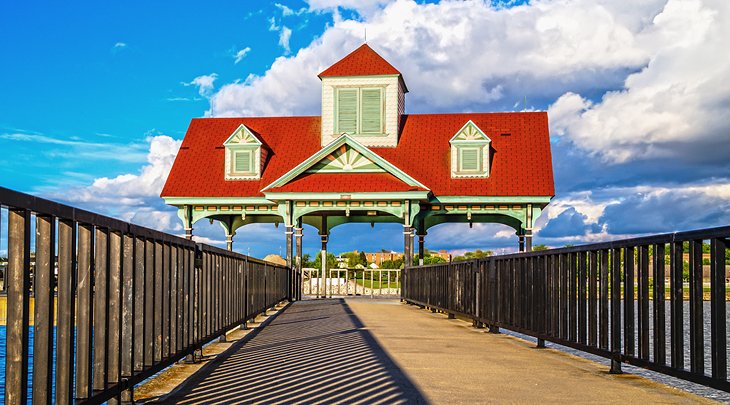 Spend a weekend on the water in Bay City, Michigan where everything from dining to recreation includes an aquatic element to take advantage of the area's most prized attraction - the freshwater Saginaw Bay of Lake Huron. This waterfront city awaits you with an invite to step on board Bay City Boat Lines for an excursion on the water.
You can take a tour by boat or book a dinner on board for a sunset cruise or stargazer cruise. To extend your time on the water, plan a trip on board BaySail's Appledore Tall Ships, where you can enjoy an unforgettable sailing experience and also contribute to the company's conservation efforts for the Saginaw Bay and the Great Lakes.
When you are ready for some things to do land, try out the Sunrise Pedal Trolley, where you will meet several new friends on your getaway, and don't forget to enjoy the fresh seafood at the waterfront restaurants.
Accommodation: Where to Stay in Bay City
10. Detroit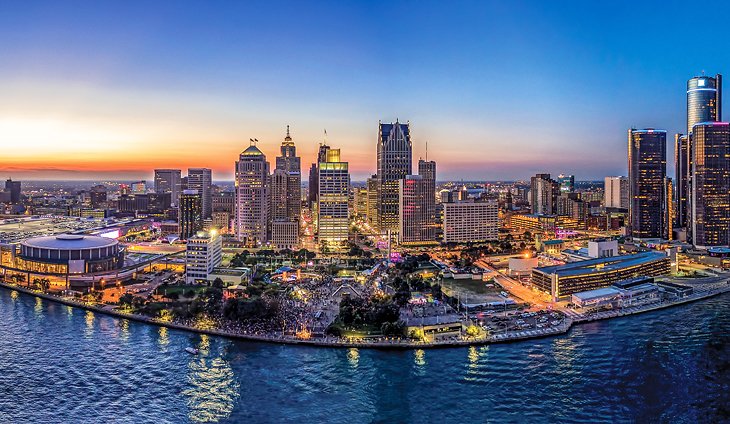 If you have not been to Detroit lately then you have not seen the vibrant transformation of the Motor City, worthy of an action-packed weekend getaway. Your urban excursion starts with the cultural side of Detroit with visits to The Henry Ford Museum of American Innovation, the Motown Museum, and the Sea Life Michigan Aquarium.
Then, spend some time at the famous year-round Eastern Market in downtown Detroit. You can visit on your own or take an organized tour of the district by foot or on bike. Enjoy the local vendors, artists, culinary expressions, and the history of the neighborhood.
Spend another day as a local and take in a Detroit Tigers baseball game at Comerica Park and enjoy a famous Detroit Coney dog. You can get a D Discount Pass for discounts to major tourist attractions in the city.
Accommodation: Where to Stay in Detroit: Best Areas & Hotels
11. Munising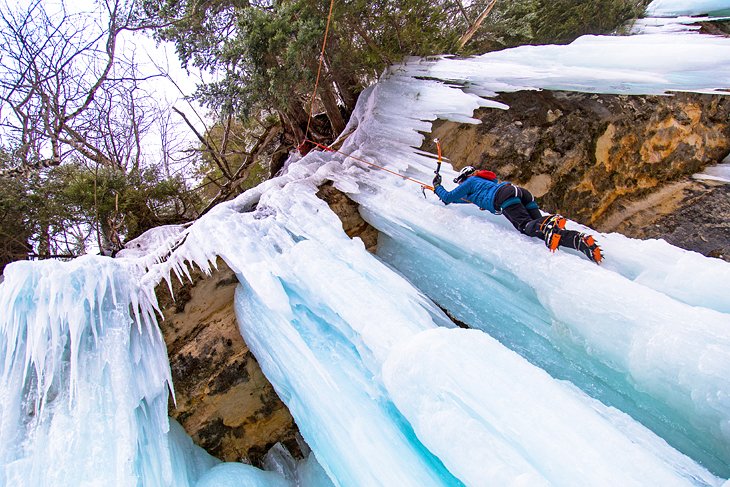 If your weekend getaway is about scenic views or photography, then you will want to spend your time in Munising, which is one of the most picturesque areas in Michigan's Upper Peninsula. Your weekend will be filled with unscripted visits to Pictured Rocks, Hiawatha National Forest, Horseshoe Falls, and Laughing Whitefish Falls.
You will want to plot your day trips before you go to be sure and capture as many scenic spots in one area as possible. More than a dozen waterfalls are in the area, ranging from small but beautiful cascades to jaw-dropping cascades from cliff sides, including some of Michigan's best waterfalls.
There are several lighthouses near Munising, which are great to photograph, and underwater diving excursions to explore the shipwrecks and sea caves.
For a spectacular winter getaway, plan your trip around the Munising Ice Fest, which brings in nearly 1,000 ice climbers to the area to climb the ice walls that form on Pictured Rocks National Lakeshore.
Accommodation: Where to Stay in Munising
12. Mohawk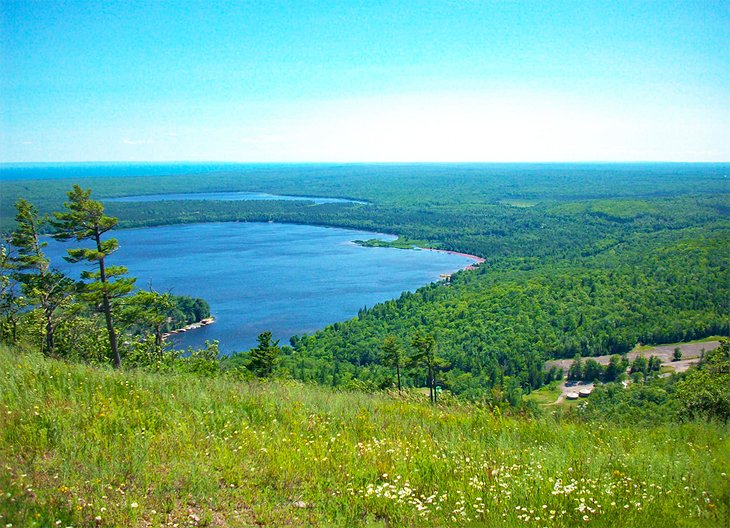 A weekend away in Mohawk can be both outdoor adventure and history combined. The area is defined by its mining roots with the Mohawk Mining Company that settled here in the late 19th century.
A fun experience in Mohawk is visiting some of the farms to try locally grown products from this agriculturally rich region, from cherries to crisp apples.
You can spend part of your getaway exploring this unique part of the Upper Peninsula with a mine tour at the Delaware Copper Mines and visiting the Central Mine Museum. For some outdoor activity in the area, spend the second part of your trip on nearby Mount Bohemia, where you can hit ski slopes in the winter and spend a day hiking, biking, and kayaking in the summer.
Accommodation: Where to Stay in Mohawk
13. Bellaire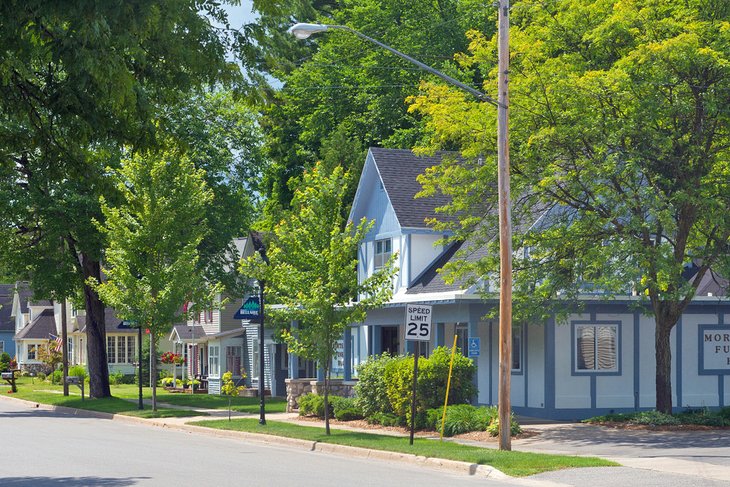 The small village of Bellaire near Michigan's Chain of Lakes is a tranquil place to enjoy a girlfriends' getaway. The area has stunning views and outdoor recreation like skiing, hiking, swimming, and golf. Follow up a busy day with quiet evenings by a fire pit, or a relaxing massage.
From perfectly manicured golf courses that you can play in the summer to the ski slopes in the winter, Bellaire is a small town with a lot of activities available that balance well with the slower pace during your downtime. For an unforgettable visit to Bellaire you can go in August and take part in the Annual Rubber Ducky Festival, an event that has become synonymous with the town.
If you stay at Shanty Creek Resort, you can create a girlfriends' spa getaway package with lodging, spa, and wellness services. The small village of Bellaire has boutique shops and galleries that are nice to peruse. The area is ideal for driving the scenic backroads to see some of the best of Michigan's countryside.
14. Frankenmuth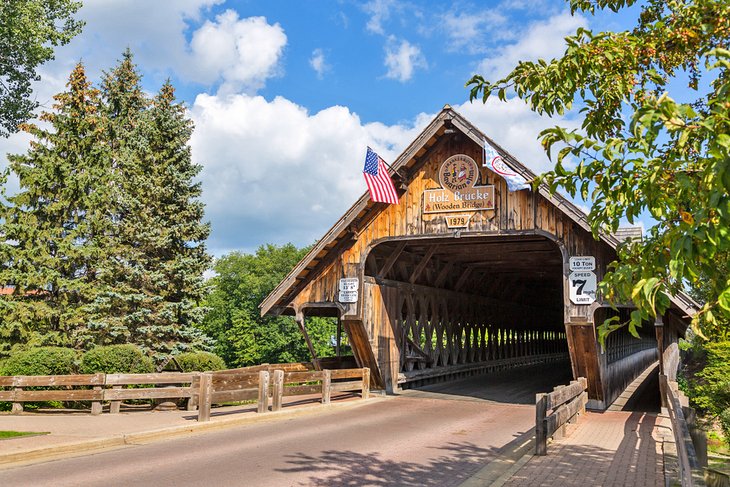 A trip to Frankenmuth is like a mini vacation in another country. The entire town is a small Bavaria, with German-themed lodging, food, and experiences. Get into the Frankenmuth mood with a rolled pretzel from the Bavarian Inn Restaurant or, better yet, sign up to take a pretzel-rolling class.
You should schedule the better part of an afternoon to experience Bronner's CHRISTmas Wonderland, one of the most famous attractions in Frankenmuth. It is the world's largest Christmas store, operating since 1945 and adorned with more than 300 decorated trees.
The Frankenmuth village has some outdoor recreation to enjoy if you need a break from the many shops that line the village. You can rent a kayak and paddle down the Cass River or book a round of golf at the Fortress Golf Course.
Frankenmuth is one of those getaways that is action-packed and memorable, with indoor water parks, shopping, and Bavarian-themed experiences all surrounded by German architecture and indulgent food.
Accommodation: Where to Stay in Frankenmuth
15. Sleeping Bear Dunes National Lakeshore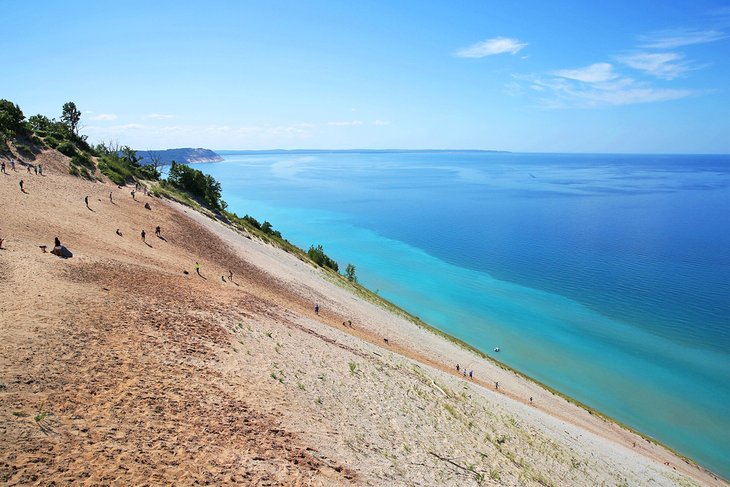 Sleeping Bear Dunes National Lakeshore is one of the best places to visit in Michigan for its stunning beauty and natural playground along the shores of Lake Michigan. The towering bluffs that hover 450 feet above the water are the main attraction, but the lakeshore area has much more to enjoy to make for a relaxing outdoor getaway in Michigan.
Start with the Dune Climb, where you can make your way up the mountainous dunes and run, roll, or slide your way down. You can spend a full day at the dunes with lunch at the picnic area and a hike along the Dunes Trail, a 3.5-mile round trip.
With 35 miles of shoreline Sleeping Bear Dunes National Lakeshore has many beaches, inland lakes, and streams ideal for swimming and kayaking. There are more than 100 miles of hiking trails that are also great in the winter for cross-country skiing.
Be sure to stop at the Sleeping Bear Dunes Point Coast Guard Station Maritime Museum, which has informative exhibits about the history of maritime lifesaving equipment from the early 20th century.
You can also spend a day driving the Pierce Stocking Scenic Drive route. The seven-mile drive takes you past 12 scenic spots with some of the best views of Lake Michigan, Sleeping Bear Dunes, and Glen Lake.
Address: 9922 Front Street, Empire, Michigan
Official site: https://www.nps.gov/slbe/index.htm
16. St. Ignace
A weekend getaway to St. Ignace, in Michigan's Upper Peninsula, makes for a quiet retreat for those who do not want a full agenda and prefer to explore on their own. The area has a rich history of being one of the oldest continuously inhabited settlements in the United States. The small city sits on the northern edge of the Straits of Mackinac.
It is wise to start your visit at The Father Marquette Mission Park and Museum of Ojibwa Culture to find out more about the Indigenous people of the area. The National Historic Landmark has exhibits, Native American crafts, books, and music that depict the diverse cultural history of the people that first settled the area.
Other points of interest during your stay should include the Great Lakes Shipwreck Museum, with artifacts from notable disasters like the Edmund Fitzgerald shipwreck and Fort Mackinac, a 1700s fort overlooking the Straits of Mackinac that often has re-enactments.
Go for a stroll along the boardwalk on the St. Ignace waterfront for great views of Lake Huron, and historical markers that tell more about the history of the area, and stop by the Wawatam Lighthouse in the St. Ignace harbor.
One of the highlights in St. Ignace is Castle Rock, a stunning natural geological formation of limestone that is the subject of many photographs. If you base yourself in St. Ignace, you can ferry over to Mackinac Island for a day sightseeing in another of Michigan's historic towns, which only has horses and carriages and bicycles for transportation.
Accommodation: Where to Stay in St. Ignace
17. Holland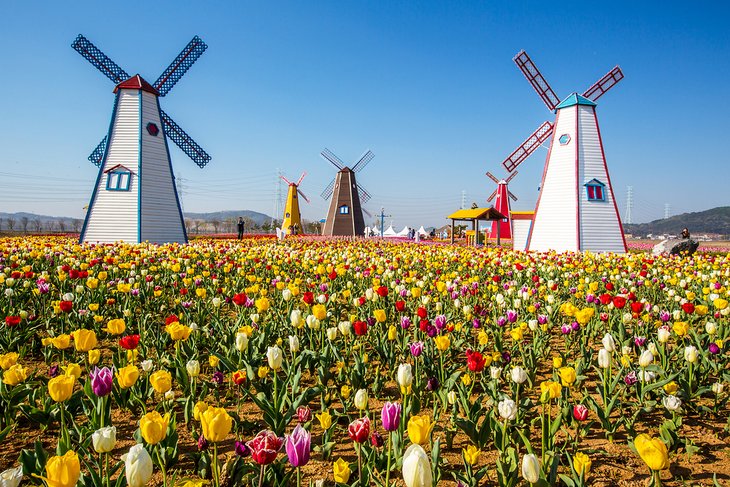 Holland, is one of the most beautiful places to photograph in Michigan, especially in the spring between April and May, when the city's famous tulips are in full bloom. Holland's Dutch heritage is what makes this one of the best weekend getaways in Michigan.
One of the best times to visit is during the Tulip Time Festival in May, when more than six-million colorful tulips are on display throughout the city.
Spend a day exploring Holland's Dutch heritage with a visit to the Windmill Island Gardens. Explore the island making your way to see the 250-year-old De Zwaan Dutch windmill, which was brought to the United States from the Netherlands in 1964.
Continue with the Dutch heritage theme by visiting Nelis' Dutch Village, with over 10 acres of a replicated historic Dutch village complete with a theme park, wooden crafted shoes, and decadent pastries to sample. You will forget that you are in Michigan.
You can spend some of your weekend experiencing Holland's scenic outdoors at Holland State Park for swimming and a day at the beach. Be sure to visit Big Red while at the park, which is one of the most iconic and photographed lighthouses in Michigan.
Accommodation: Where to Stay in Holland
18. Great Lakes Bay Region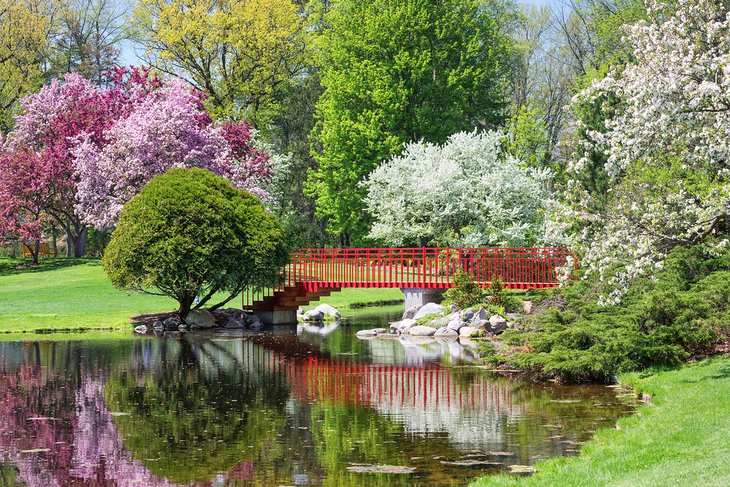 If you like to plan visits to several destinations during a weekend getaway then the Great Lakes Bay Region is a great option. The region covers six cities in Saginaw Bay along Lake Huron. The cities sit along the eastern coastline of Michigan and include Bay City, Frankenmuth, Midland, Chesaning, Birch Run, and Saginaw.

You can make your way from one city to another, dividing your time among them to capture the highlights of each. Bay City is known for its aquatic playground at Bay City State Park. It's also where you can set sail for sunset cruise.
Frankenmuth is a popular historic city most known for its historic German attractions and where Christmas is a year-round theme. A must-see in Midland is Dow Gardens, where spring blossoms are stunning in the 110-acre botanical gardens. Chesaning is a small village on the Shiawassee River that is worth a stop for lunch and a stroll through some of the family-owned shops.
Birch Run is where you can stop for some retail therapy during your travels, with one of the largest outlet mall complexes in the Midwest.
Saginaw offers a bit more culture and nature, with places like the Shiawassee National Wildlife Refuge and traditional Japanese gardens at the Japanese Cultural Center and Tea House.
More Related Articles on PlanetWare.com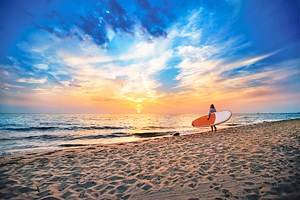 Things to Do: There are so many great tourist attractions in Michigan: You can extend your weekend getaway to a longer visit on Mackinac Island or by exploring more of Detroit. Michigan has incredible outdoor experiences, like climbing the sand dunes at the Sleeping Bear Dunes National Lakeshore, tackling the downhill slopes at some of the ski resorts, or kayaking and swimming near some of the beaches on Lake Erie and Lake Huron.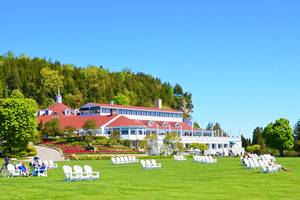 Where to Stay: Beautiful resorts in Michigan offer spa and golf getaways. Many are located in between main cities to take advantage of the natural landscape while still keeping you close to the urban scene. If you want to stay in the heart of the action, you can base yourself at one of the top hotels in Detroit while exploring other towns in the state.