14 Top-Rated Tourist Attractions in Michigan
We may earn a commission from affiliate links ()
Michigan's most-visited tourist destinations include a wide range of interests thanks to the state's diverse landscape, rich history, and legendary city of Detroit. There are endless opportunities for those who are looking to enjoy nature, especially along the shores of the Great Lakes, where you can find freshwater dunes and coastal habitats far from the sea.
Visiting historical sites, like living history museums, is one of the popular things to do, especially Fort Mackinac on Mackinac Island and Greenfield Village, which is part of the Henry Ford historic sites.
For those looking for a faster pace, Detroit is an excellent place to visit. It's a city that has worked hard to embrace its significant contributions as the Motor City while evolving into a top tourist destination and cultural center.
From the bright lights of the city to the Great Lakes, you'll find more things to see and do in the state with our list of the top tourist attractions in Michigan.
Note: Some businesses may be temporarily closed due to recent global health and safety issues.
1. Mackinac Island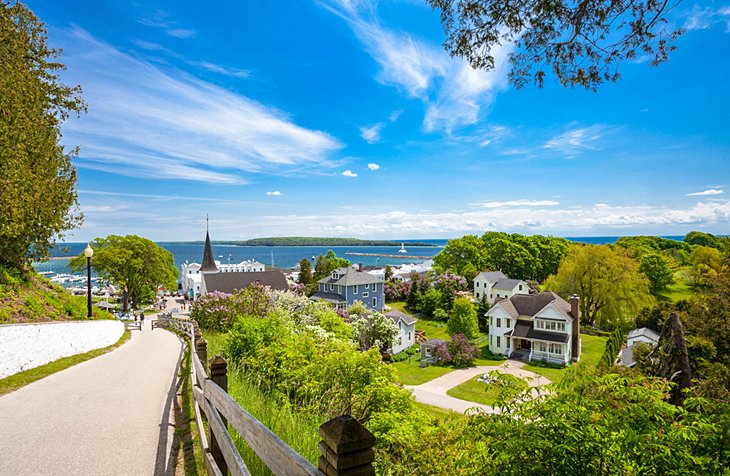 Mackinac Island offers a look at a historic period and a simpler way of life, before cars and buses. Visitors can take a ferry to the island and spend the day wandering through the shops of the old town, touring the island on a horse-drawn carriage, hiking, or visiting Fort Mackinac.
Opened in 1957, Mackinac Bridge connects the Lower Peninsula at Mackinaw City to the Upper Peninsula at St. Ignace. One of the longest suspension spans in the world, it eliminated the backup of vehicles waiting for ferry passage across the straits. The Mackinac Bridge Museum contains many interesting and original artifacts from the construction of the Mighty Mac.
Accommodation: Where to Stay on Mackinac Island
2. Sleeping Bear Dunes National Lakeshore and Lake Michigan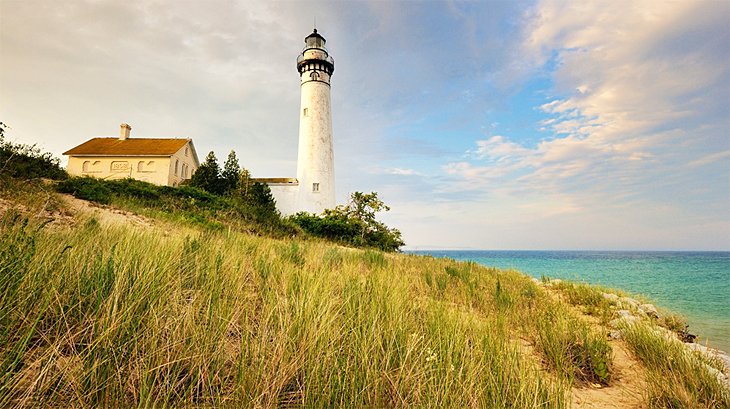 Although it is the third largest of the Great Lakes, Lake Michigan is the only one that entirely borders U.S. soil, and it also gives the state the distinction of having the second-longest shoreline of all 50 states, second only to Alaska. A comprehensive look at the lake's importance can be found at the Michigan Maritime Museum in South Haven, and there are numerous boat tours perfect for sightseeing, like the Tall Ship Manitou in Traverse City.
The lake's islands are a popular destination, with the Beaver Island Archipelago and the Manitou Islands as tourist favorites. The Manitou Islands are part of the Sleeping Bear Dunes National Lakeshore, which is known for its expansive dunes that are perched on headlands along the shoreline.
This state park is one of the most visited, noted for its variety of hiking trails and the Pierce Stocking Scenic Drive, which spans 7.5 miles along the coast. Other impressive lakeshore dunes include the Warren Dunes in Warren and the P.J. Hoffmaster State Park in Muskegon.
Address: 9922 Front Street, Empire, Michigan
Official site: www.nps.gov/slbe
3. Detroit Institute of Arts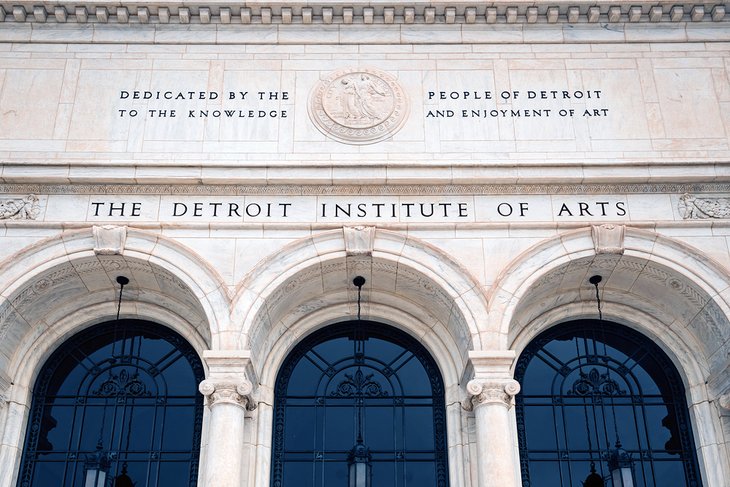 The Detroit Institute of Arts is known for its expansive collection of humanity's creative works from the earliest cultures through today. With more than 65,000 works of art in over 100 galleries, people from every corner of the globe are represented.
The museum's Islamic art collection includes examples of pottery, stone, and bronze, and there are prime examples from Classical Antiquity, medieval Europe, Oceania, Africa, and the Americas. Among the most coveted European works are paintings by Picasso, Rembrandt, Matisse, and Van Gogh.
While in the neighborhood, tourists will want to take a peek at the beautiful architecture at the Detroit Public Library then make the short walk down Woodward Avenue to the Detroit Historical Museum, which is dedicated to the motor city's fascinating past and emergence as not only an industrial center but also the birthplace of the legendary Motown sound.
Address: 5200 Woodward Avenue, Detroit, Michigan
Official site: www.dia.org
Accommodation: Where to Stay in Detroit: Best Areas & Hotels
4. Pictured Rocks National Seashore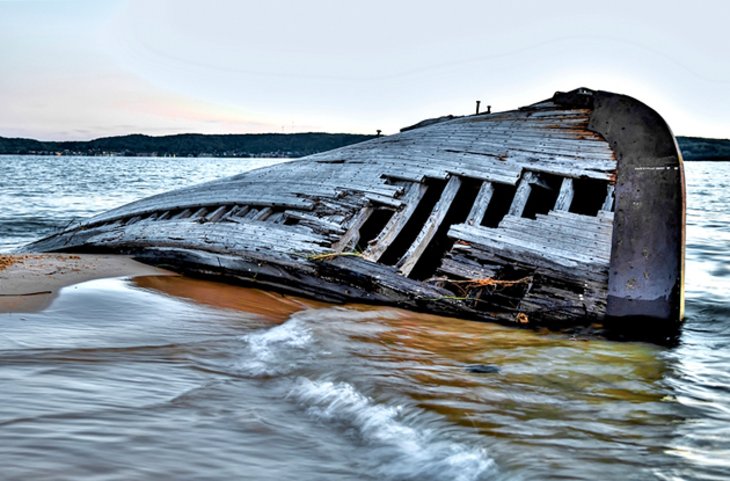 Pictured Rocks National Seashore, on the south shore of Lake Superior, gets its name from the colors of copper, iron, and manganese oxide found in the rocks. The landscape here is a mix of dunes, cliffs, beaches, and rocky shoreline. The interior is forest covered, with inland lakes and rivers.
Visitors come here to experience nature, usually through activities like hiking, camping, and boating. In winter, the area is open for cross-country skiing, snowshoeing, and snowmobiling.
Nearby is Grand Island National Recreation Area, an island which is also popular with outdoor enthusiasts.
Official site: www.nps.gov/piro
Accommodation: Where to Stay in Munsing, near Pictured Rocks National Seashore
5. Frederik Meijer Gardens & Sculpture Park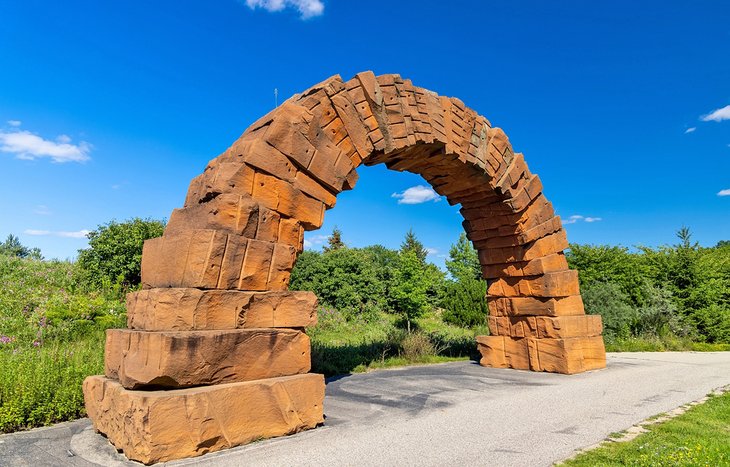 The Frederik Meijer Gardens & Sculpture Park offers a variety of environments in which visitors can enjoy the synthesis of art and nature. Outdoor gardens include traditional foliage, a children's garden that encourages interaction with its unique plants, a "Butterfly Maze," and a peaceful Japanese Garden with twin waterfalls.
The 1880s farmhouse is a replica of Lena Meijer's first home and includes the Farm Garden. The Lena Meijer Conservatory is a five-story tropical environment that houses many rare and exotic plants, and in March and April, visitors can watch the amazing process of Monarch butterflies transforming from caterpillar to delicate insect. Sculptures are found throughout both indoor and outdoor spaces.
Address: 1000 East Beltline NE, Grand Rapids, Michigan
Official site: www.meijergardens.org
6. The Henry Ford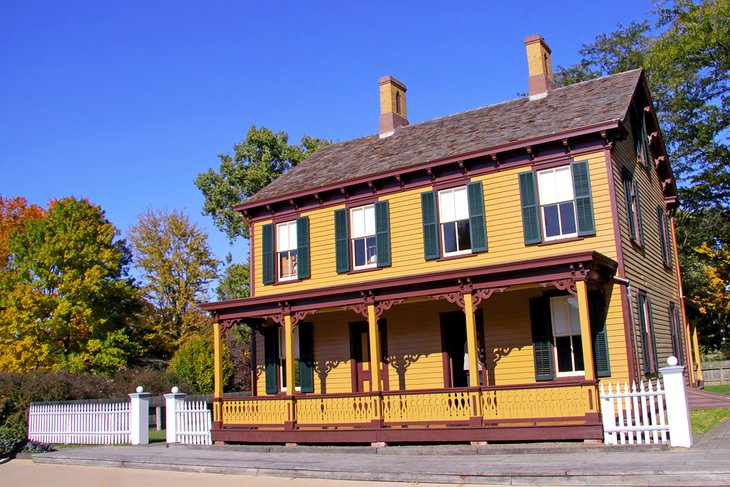 Known collectively as "The Henry Ford," this is a group of three attractions that explore not only the auto legend's life and work, but also the entire scope of American innovation. Visitors can take a step back in time at historic Greenfield Village, where you will see what life looked like in the 19th century.
Points of interest include working farms, a restaurant that serves fare that was typical in the 1830s, the train depot where you can catch a ride on a steam-powered locomotive, and rides in a Model T. The Henry Ford Museum of American Innovation tells the story of inventors and forward-thinkers who helped shape the world we see today, from the Wright brothers' dream of flying to Rosa Parks' conviction to see change in her lifetime.
For a look at the most current marvels of innovation, the Ford Rouge Factory Tour allows visitors to witness the inner workings of an automotive factory and learn more about the technology and concepts that go into modern vehicles.
Address: 20900 Oakwood Blvd, Dearborn, Michigan
Official site: www.thehenryford.org
7. Isle Royale National Park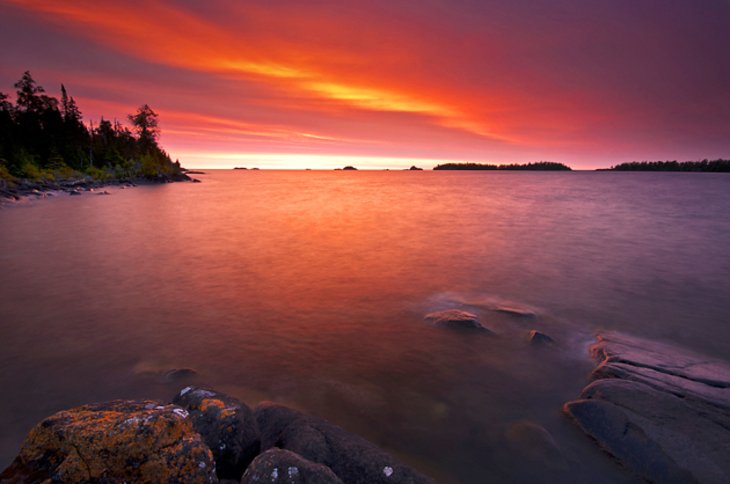 Isle Royale lies in northwestern Lake Superior near the Canadian frontier. Shaped by Ice Age glaciers, this 432-square-mile island has many lakes and streams, dense forests, and a variety of wildlife that includes wolves, foxes, moose, otters, ospreys, herring gulls, falcons, and more. This relatively unspoiled tract of country attracts those looking for a remote wilderness experience.
The best way to see the park is on hiking trails and boat trips. Access to the island is by boat or seaplane. Trips usually originate from Houghton or Copper Harbor, Michigan, or Grand Portage, Minnesota.
Official site: www.nps.gov/isro
Accommodation: Where to Stay near Isle Royale National Park
8. Detroit Zoo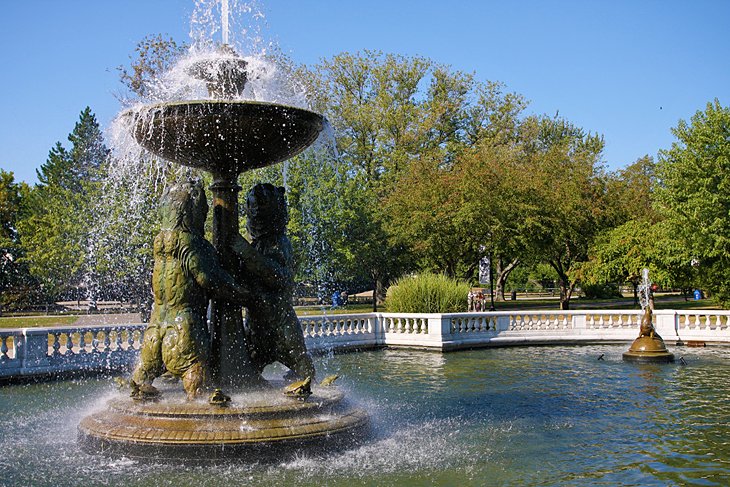 The Detroit Zoo has an impressive variety of animals in multiple habitats representing all parts of the world. African animals live either in the forest or grassland habitats and include everything from aardvark to zebra, with many family favorites like giraffes, lions, lemurs, and several primates.
An arctic habitat is home to the zoo's famous polar bears, and the Australian Outback has sixteen resident kangaroos and two wallabies. The exotic Asian Forest features red pandas and Amur tigers, while the North American habitats feature some of the continent's most interesting animals, including bears, wolverines, and bald eagles.
The zoo also houses reptile and amphibian centers, an aviary, and even a fine art collection. Visitors can tour the park aboard the miniature Tauber Family Railroad, which has been in operation since 1931.
Battle Creek's Binder Park Zoo also offers a vintage train ride, as well as a "wilderness tram" through its African Savannah habitat, and the John Ball Zoo, one of the top attractions in Grand Rapids, has a large selection of special animal interaction opportunities.
Address: 8450 W 10 Mile Road, Royal Oak, Michigan
Official site: www.detroitzoo.org
9. University of Michigan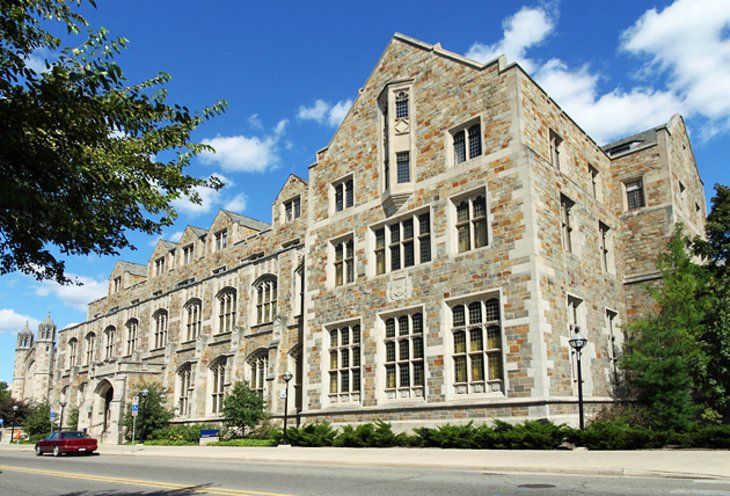 The University of Michigan in Ann Arbor encompasses 2,800 acres. Some of the interesting old Gothic buildings include the Law Quadrangle, the Power Center for the Performing Arts, and the Natural History Museum. Key attractions on the campus include the Kelsey Museum of Archaeology, with strong collections related to Mediterranean civilizations, the University of Michigan Museum of Art, and the University of Michigan Museum of Natural History.
Also of interest, although located off campus, is the Matthaei Botanical Gardens. Located next to the central campus is the Nichols Arboretum.
Location: Ann Arbor, Michigan
Official site: www.umich.edu
Accommodation: Where to Stay in Ann Arbor
10. Belle Isle Park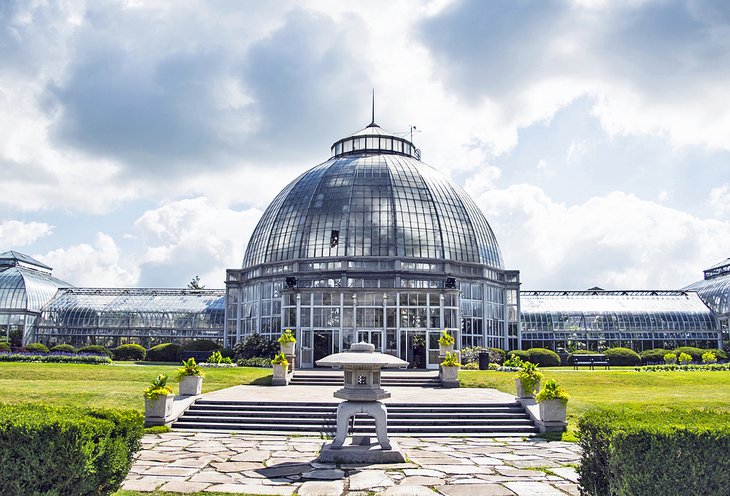 Detroit's Belle Isle sits in the Detroit River, housing an expansive park that is home to numerous attractions; the entrance fee to the island covers admission to all.
A family favorite is the Belle Isle Aquarium, the country's oldest aquarium. It is housed in a historic 1904 building with a stunning green opalite vaulted ceiling, and aquarium residents include favorites like pufferfish and clown fish, turtles, seahorses, and even poison frogs.
The Anna Scrips Whitcomb Conservatory is another popular attraction, occupying 13 acres alongside the Lilu Pond and the formal gardens. It is one of the oldest conservatories in the country, and includes the Show House, Palm House, Cactus House, Tropical House, and a sunken Fernery.
To find out more about the region's maritime history, visit the Dossin Great Lakes Museum, home to permanent and changing exhibits that celebrate the economic and social importance of the Great Lakes.
Among the many other attractions on Belle Isle are the grand James Scott Memorial Fountain, a Giant Slide, the Belle Isle Golf Range, and the Belle Isle Boat House. Belle Isle is also home to the Detroit Yacht Club
Address: Bridge Entrance at the intersection of Jefferson Ave and East Grand Boulevard
Official site: https://www.belleisleconservancy.org/belle-isle-park-attractions
11. Fort Mackinac (Colonial Michilimackinac)
Michilimackinac, located in Mackinaw City, was a French fur-trading village and military outpost that operated from 1715 until 1781, when it was almost entirely destroyed by fire. Also known as Fort Mackinac, the site is now home to 14 fully restored and authentically furnished buildings, one of which is the oldest in Michigan.
Presented as a living history museum, the attraction offers plenty of things to do. Costumed interpreters work and go about their day as they would have in 1775, from farming and cooking chores to musket and marching drills. Highlights include the Soldiers Barracks housing an exhibit on the island's history, the Post Hospital with descriptions of medical treatment during the fort's operation, and the Post Guardhouse that explores the era's military justice system.
Visitors may explore freely or choose a guided tour, and there is a children's area dedicated to engaging younger historians in learning about 18th-century life.
Address: 102 W Straits Avenue, Mackinaw City, Michigan
Official site: http://www.mackinacparks.com/parks-and-attractions/colonial-michilimackinac/
Accommodation: Where to Stay in Mackinaw City
12. Michigan Historical Museum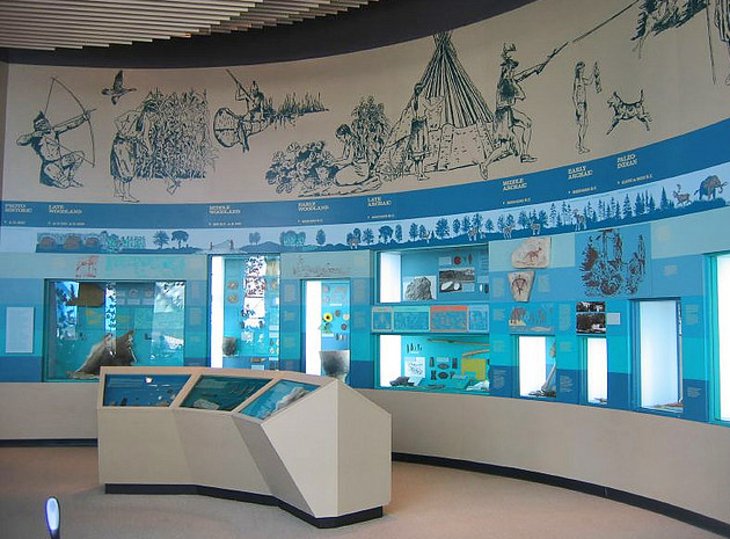 The Michigan Historical Museum in Lansing was the first facility created by the state museum system and is its largest educational center. Exhibits and artifacts range from an exploration of the region's native populations through the state's evolution and growth as it became what you see today. Permanent and rotating exhibits include interactive modules, films, and presentations.
Exhibits are continuously updated to incorporate the latest technology while enhancing visitors' ability to look into the past. The Michigan History Museum System also operates several other museum sites and archival collections, maintains historic markers, and offers special programs and events for both residents and tourists.
Address: 702 West Kalamazoo Street, Lansing, Michigan
Official site: www.michigan.gov/mhc
13. Windmill Island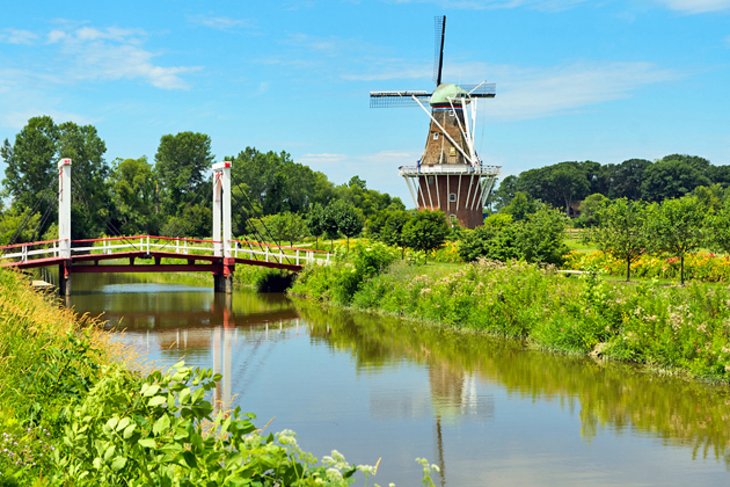 Windmill Island is a 36-acre heritage park filled with manicured flower gardens and Dutch architecture. In May, the park comes to life with 175,000 tulips, and in June the extensive gardens change to annual flowers.
Highlights include an authentic Dutch windmill, DeZwaan, dating to the 1760s and brought from the Netherlands in 1964. Standing 125 feet, the windmill is a symbol of the Dutch heritage of this area and is the only original Dutch windmill exported to America. It is still a working windmill producing stone ground flour for sale.
Holland is also home to the Outdoor Discovery Center of Wildlife Unlimited, which has taken on the task of restoring agricultural land to natural habitat. As a result of their efforts, there are now six distinct ecosystems on this 130-acre nature preserve. Highlights include walking trails and wildlife viewing opportunities.
Address: 4214 56th Street, Holland, Michigan
14. Great Lakes Shipwreck Museum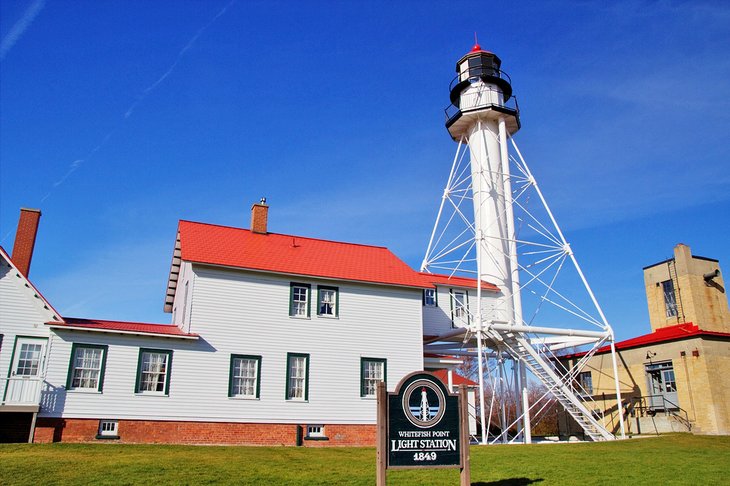 Open seasonally from Mid-June through October, this museum is full of artifacts from historic wrecks of Lake Superior, including the bell from the Edmund Fitzgerald. Visitors can also tour the Lightkeepers Quarters, built in 1861, which has been fully restored, as well as the 1923 Surfboat House. There is also a barrier-free boardwalk that allows access to the fragile dunes of Whitefish Point.
Address: 18335 N Whitefish Point Road, Paradise, Michigan
Official site: www.shipwreckmuseum.com