12 Best Small Towns in Michigan
Author Meagan Drillinger traveled to many small towns in Michigan in the fall of 2022 to discover the best the state has to offer.
Michigan is one of the most diverse and naturally beautiful states in the United States. Surrounded by four out of the five Great Lakes, it is a veritable outdoor playground for nature lovers and adventure seekers, while small towns with performing arts spaces, historic downtowns, galleries, and museums make it a treasure trove for those who love culture.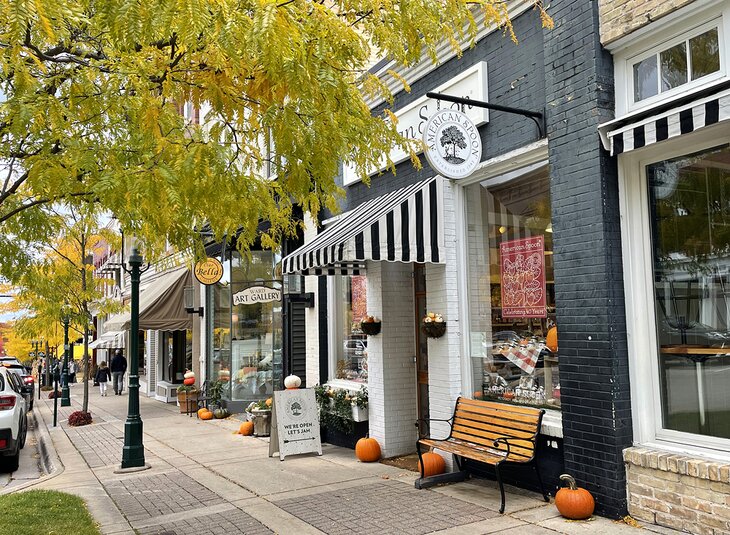 Michigan may be home to major metropolises like Detroit, Grand Rapids, and Lansing, but its charming and historic small towns offer exceptional experiences. These pocket-sized cities are peppered across the state, from the many lakefront coastal communities to the small towns inland between the major cities.
If you're planning a visit to this Midwestern hot spot, here are some of the best small towns in Michigan.
1. Frankenmuth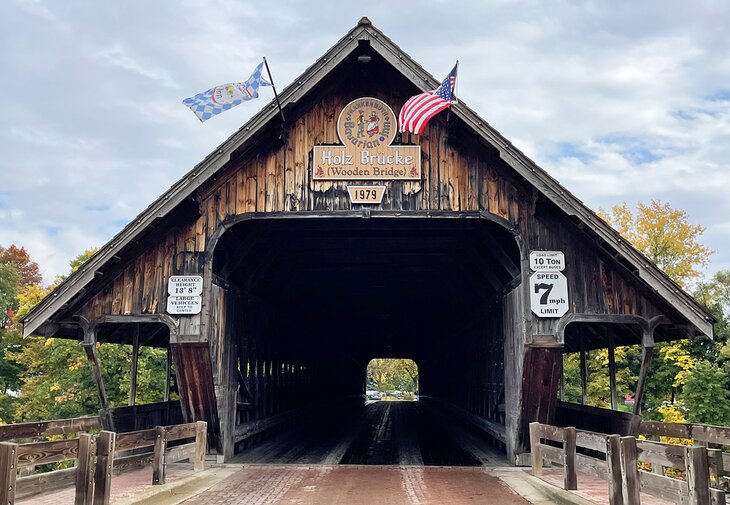 Frankenmuth is one of the most unique and popular small towns in the state of Michigan thanks to its whimsical design and quirky attractions. The entire town was created to resemble a historic Bavarian village, complete with traditional architecture, a historic covered bridge, themed restaurants and lodging, and even a shopping center evocative of a small town in Germany's Black Forest.
Settled by Lutheran immigrants from Germany in the 19th century, Frankenmuth has been a satellite community for German expats ever since. In fact, German is still spoken in town, and the local church has services in German.
If you're looking for a dash of year-round Christmas cheer, look no further than Frankenmuth. This is one of the best Christmas towns in America and home the world's largest Christmas store. Open throughout the year, Bronner's Christmas Wonderland is a massive shopping complex that focuses on all things Christmas. From twinkling lights and ornaments to trees, nativities, and collectibles, you can browse the thousands upon thousands of Christmas-themed items that Bronner's has on display.
2. Saugatuck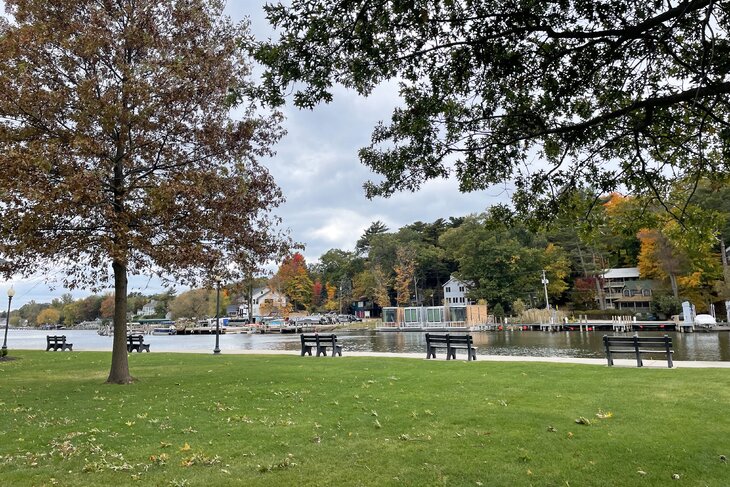 Leafy, tree-lined streets with historic homes; a charming riverfront perch along the Kalamazoo River; and a thriving arts community are just a few of the attractions that make Saugatuck, Michigan so interesting. The small river town is a thriving tourist community thanks to its many art galleries, quirky shops, harbor, things to do outdoors, and Lake Michigan beaches.
With a population of less than 1,000 people, it is very fair to say that Saugatuck is one of the smallest towns in Michigan. But its residents are fiercely proud of everything they have to offer. Saugatuck Dunes State Park, for example, is a stone's throw away and is considered to be one of the best state parks in Michigan.
Saugatuck has long been a haven for artists and creatives, and that energy permeates today. A walk down Butler Street will reveal a slew of galleries, while the Saugatuck Center for the Arts is one of the top performance spaces in Michigan.
The Kalamazoo River provides endless scenic and outdoor recreation opportunities, from kayaking and canoeing to exploring the many parks that line the riverfront.
3. Ludington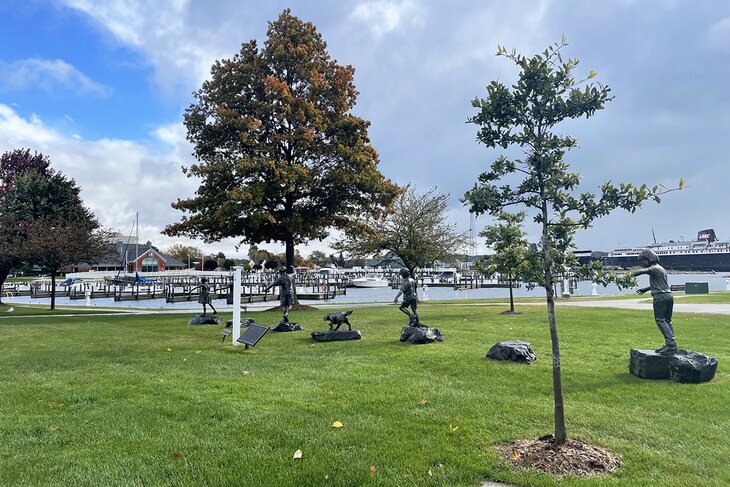 Ludington is a beautiful harbor town that sits at the mouth of the Pere Marquette River, where it flows into Lake Michigan. The lakefront town is famous for its laid-back, beachy lifestyle, as the destination has some of the most beautiful beaches in all of Michigan.
One of the top beaches in Ludington is Stearns Park, thanks to its wide stretch of sand, beautiful rolling waves, concessions playground, and a skate park. But Ludington has other claims to fame, too, like the S.S. Badger ferry, which is the largest car ferry to sail on the Great Lakes. It makes the trip between Ludington and Manitowoc, Wisconsin.
No Michigan lake town is complete without a lighthouse, and Ludington has two. The North Breakwater Light and the Big Sable Point Lighthouses are icons of the city. The latter can be seen in Ludington State Park, which happens to be one of the most beautiful state parks in all of Michigan.
4. Petoskey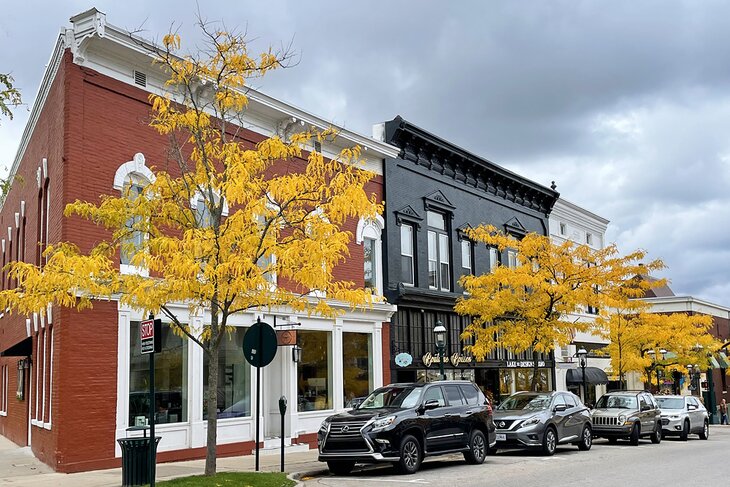 Petoskey is one of those lovely historic lake towns that will stick with you. Tucked in a corner of Little Traverse Bay, Petoskey is a waterfront city known for its lovely hotels, historic downtown, great restaurants, outdoor living, and local boutiques.
Petoskey has actually been attracting tourists for more than a century. Visitors were drawn to the lovely lakefront location, with views over Little Traverse Bay, and a vibrant downtown district known as the Gaslight District. The Gaslight District is still thriving today, with more than 170 shops and restaurants, as well as parks and tree-lined streets.
Petoskey is so pretty that it drew the attention of iconic writer Ernest Hemingway, who visited throughout his youth and used the Northern Michigan landscape as inspiration for his writing.
Petoskey remains a capital of culture today, drawing artists, musicians, and patrons of the arts to experience performances at the Great Lakes Center for the Arts.
5. Mackinac Island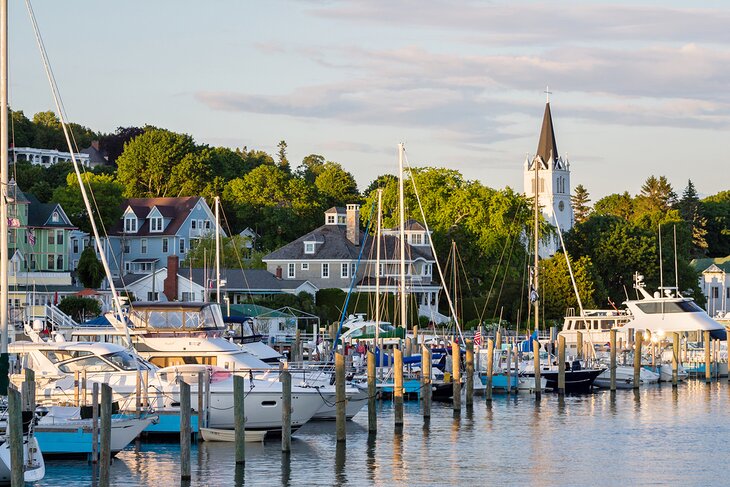 If Michiganders had to pick their favorite spot in Michigan, chances are Mackinac Island would be at the top of the list. The beautiful island sits just off the coast of the Upper Peninsula in the Straits of Mackinac, between Lake Michigan and Lake Huron, and is one of the most beautiful places in the state.
Mackinac Island is unique because it's an entirely car-free island. Instead, visitors get around on foot, bicycle, or the vintage horse-drawn carriages that can be heard clip-clopping down the historic streets.
With more than 1,600 hotel rooms to choose from, Mackinac Island is one of the top vacation destinations in the country. Add to that dozens of restaurants, miles of hiking trails, boat cruises, rivers, and historic architecture, and it's easy to see why the people of Michigan are so proud of Mackinac Island.
Accommodation: Best Resorts on Lake Michigan, MI
6. South Haven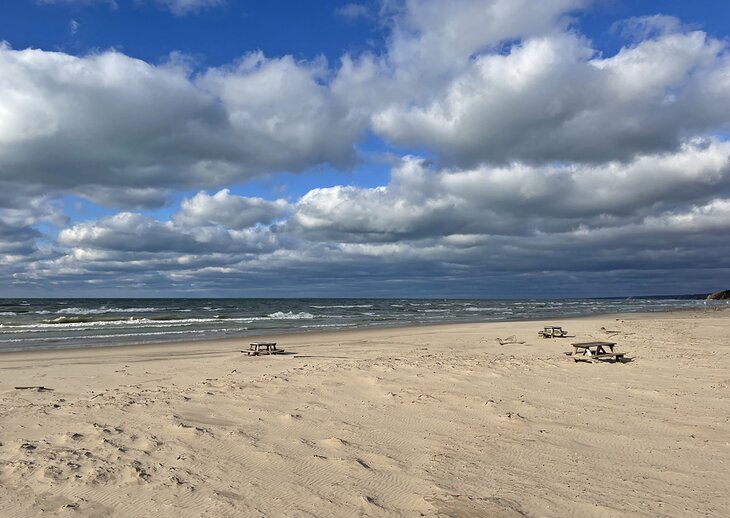 The shoreline of southwestern Michigan has a slew of lovely lakefront towns, but South Haven is particularly charming. The city sits where the Black River empties out into Lake Michigan and has, for decades, been a port city. Because of this, it has been a tourist destination for more than 100 years, with visitors coming from across the nation to explore its harbor, beaches, hiking trails, and lovely downtown.
South Haven's surrounding area is known for its natural beauty. North Beach is one of the most beautiful beaches in Michigan, and a top gathering place for visitors and residents. A little outside the city is Van Buren State Park, known for its rolling dunes, hiking trails, and beachfront, as well.
South Haven has deep roots in agriculture, too, and travelers can experience the bounty of its fields at its many U-Pick farms, like Bumbleberry Acres and Overhiser Orchards.
When it comes time for culture and history, head over to the Michigan Maritime Museum or the South Haven Center for the Arts.
7. Munising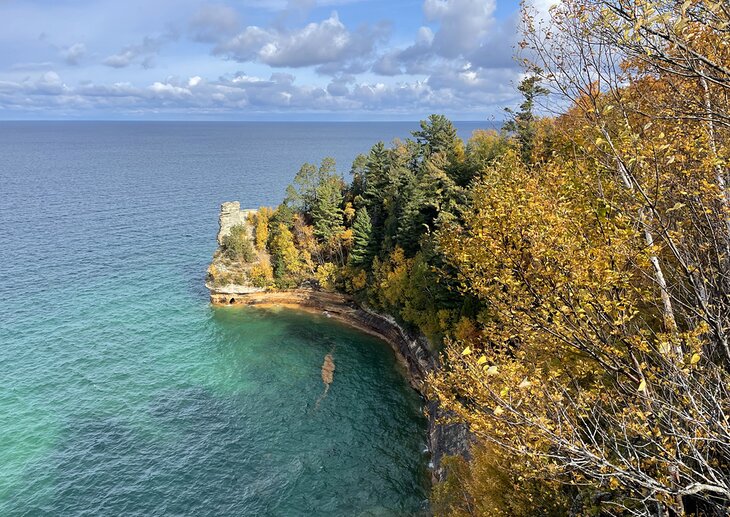 Along the Lake Superior coast of Michigan's Upper Peninsula is the small town of Munising. Tucked amid the thick trees of the Hiawatha National Forest, Munising is a remote paradise for outdoor exploration. It happens to be the gateway to the Pictured Rocks National Lakeshore, too, which is one of the best things to see in Michigan.
Munising is a haven for lovers of the great outdoors. Within the Hiawatha National Forest are miles of hiking trails, teeming with wildlife and surrounded by towering trees. Along the coastline is the Pictured Rocks National Lakeshore, known for its striated cliffs, waterfalls, beaches, and rock formations.
Munising also receives more than 200 inches of snow each year, so if you like snowmobiling, snowshoeing, ice climbing, or cross-country skiing, this would be a town to add to your list.
The charming downtown has prime Lake Superior views, lovely mom-and-pop shops and restaurants, art galleries, and a small performance space. It's a quiet, cozy pocket of northern Michigan to escape to and experience a different side of the state.
8. St. Joseph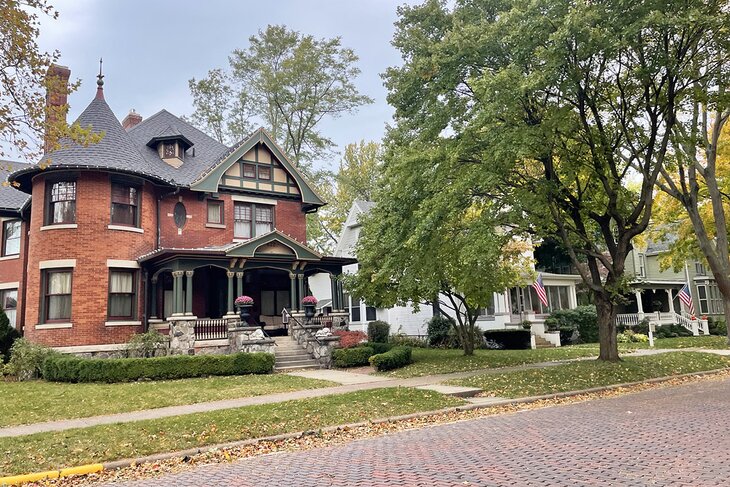 St. Joseph, Michigan, is a southwestern city that sits overlooking the stunning shores of Lake Michigan. In fact, if you enjoy beaches, St. Joseph may be exactly what you're looking for.
Perhaps the most famous beach in St. Joseph is Silver Beach County Park. The lakefront park has powdery soft sand and plenty of buzzing activity, particularly in the summer months. The park is where you'll find the historic Silver Beach Carousel, which is an explosion of color and packed with local history. Other beaches to explore include Tiscornia Park and Lions Beach Park.
Stroll along Lake Bluff Park, which sits above the beachfront and borders the historic downtown. It gives a great vantage point for peering out towards the North Pier Lighthouse.
Downtown also has the Krasl Art Center and the Box Center for the Arts, because St. Joseph is a small town that loves to celebrate art, culture, and performance.
9. Marquette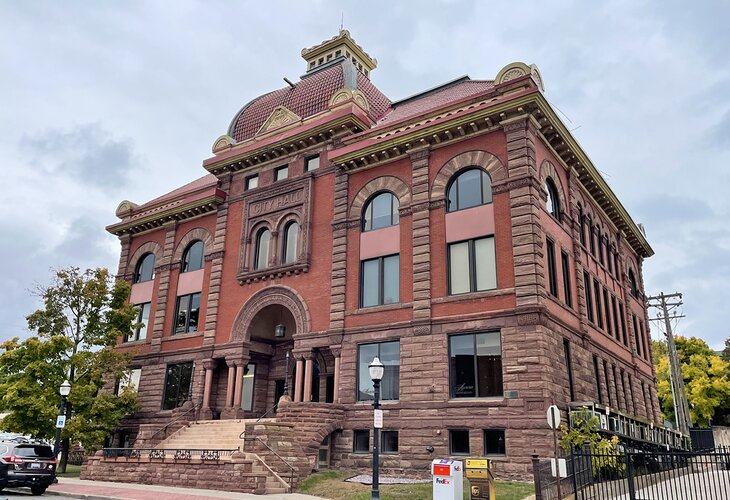 Marquette, Michigan, is almost as far west as you can go on the Upper Peninsula before you reach the border with Wisconsin. This bustling town of northern Michigan is one of the largest on the Upper Peninsula, and yet is still buzzing with a small-town atmosphere.
Overlooking Lake Superior, Marquette is home to Northern Michigan University, which means it is alive with a youthful, vibrant energy.
Marquette traces its roots back to the 19th century and earlier, when it was a post for trappers. It became a village in the middle of the 19th century, and evidence of its history can be seen in its gorgeous architecture downtown, just steps from the Lake Superior shoreline.
A must when visiting Marquette is a drive through Presque Isle Park. This peninsula park juts directly out into Lake Superior and has some of the most beautiful coastal views in Michigan.
If you're in town during the right months, be sure to catch a game at the Superior Dome, which is the campus stadium for Northern Michigan University.
10. Holland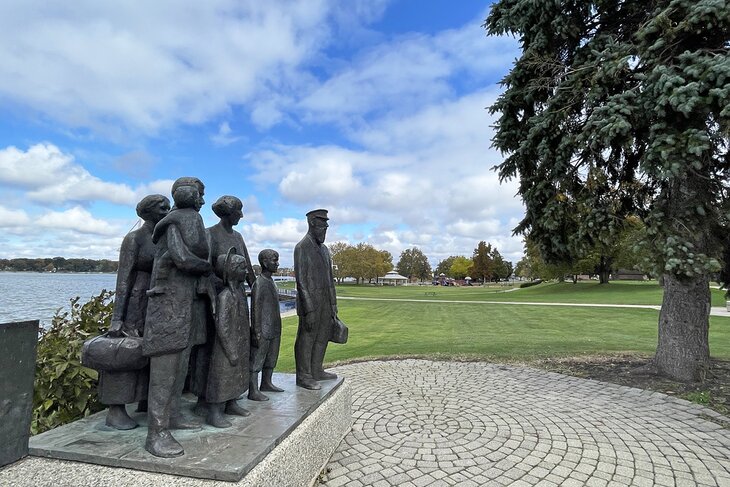 If you thought Frankenmuth was the only Michigan town to be rooted in its past, take a look at Holland. The foundation of Holland traces its roots directly back to the people of the Netherlands, and they have certainly left their mark all across the city, from its historic windmills to a village that is entirely themed around Dutch culture.
Holland sits near Lake Michigan overlooking Lake Macatawa. It was settled in the middle of the 19th century by Dutch Calvinist separatists who were fleeing religious persecution in the Netherlands. To this day, Holland is best known for its Dutch cultural identity, which permeates throughout the city.
Among the top Dutch-themed attractions and things to do in Holland are the Holland Museum; Windmill Island (home to an original 250-year-old Dutch Village); and Nelis Dutch Village, a historical-themed park that recreates Dutch life in the 19th century.
Beyond the Dutch identity, Holland is also known for its beautiful parks, Lake Michigan beaches, and miles of walking and hiking paths to explore.
11. Muskegon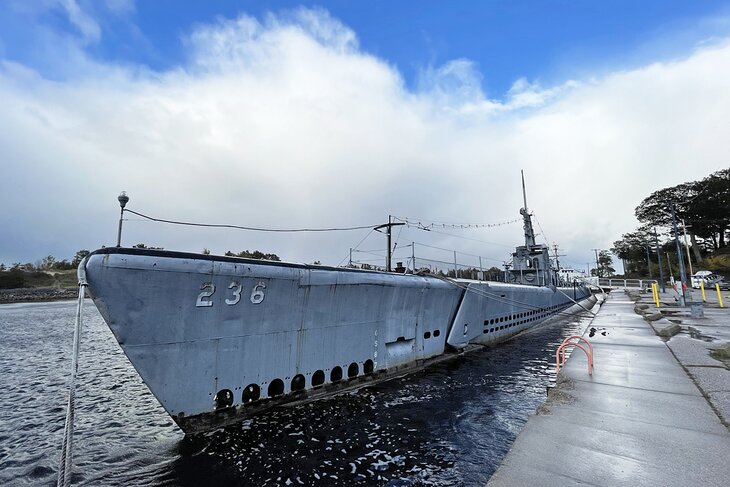 Muskegon has many claims to fame, but one of its biggest bragging rights is the 26 miles of Lake Michigan shoreline. Because of its prime Lake Michigan access, the town has become synonymous with life on the water, from modern-day cruising and fishing to maritime history.
Step back in time with a visit to the USS Silversides Museum — a museum aboard a real-life World War II military submarine. From here, visitors can move on to the USS LST 393, a tank landing ship that was also used in World War II and also calls Muskegon, Michigan home. Muskegon is proud of its maritime heritage and offers visitors many opportunities to learn.
For more contemporary adventures in Muskegon, explore the lovely and revitalized Heritage Landing, a community meeting point for concerts, festivals, and waterfront views.
Muskegon is a nature lover's dream, as well, with 65 miles of trails across three state parks, rivers, and, of course, its shimmering stretch of Lake Michigan shoreline.
12. Grand Haven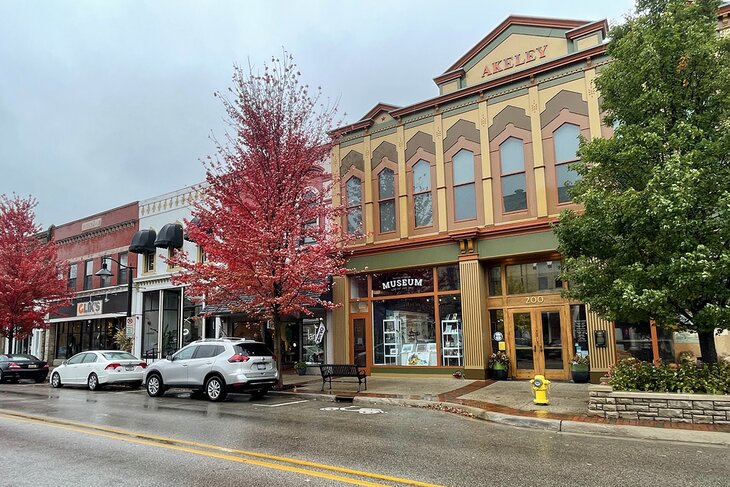 Grand Haven enjoys one of the very best locations in all of Michigan. A quick drive from the major metropolis of Grand Rapids, Grand Haven is exactly that — a lakefront haven surrounded by nature, all within a stone's throw of the big city creature comforts.
Visitors come to Grand Haven first and foremost to experience its natural beauty. The small town sits where the Grand River empties into Lake Michigan, meaning it's a prime place to visit for summer beach vacations, as well as lake activities like kayaking, stand up paddleboarding, and canoeing.
Grand Haven is practically shrouded in forest, as well, from the Rosy Mound Natural Area to Grand Haven State Park, and the Kitchel Lindquist Dunes Preserve. You'll find miles upon miles of hiking trails and walking and cycling paths to discover across Grand Haven.
One of the best features of Grand Haven is its historic lighthouse, which dates back to 1839 and is one of the most photographed in the state. Downtown Grand Haven is a treasure trove of history and culture, from the Tri Cities Historical Museum to the Railroad Depot, and the Lynne Sherwood Waterfront Stadium.