16 Best Christmas Markets in the US
We may earn a commission from affiliate links ()
Christmas markets are one of the best ways to get in the holiday spirit while finding unique gifts for friends and family. Many of the markets in the United States stay true to the authentic Christkindlmarkts of Germany, some even featuring visits from Nuremburg's own Christkindl Angel. Others, inspired by their European roots, incorporate elements of other countries' traditions including Czech, Polish, Austrian, and Russian influences. Still more celebrate the nostalgic atmosphere of Charles Dickens' London, and some embrace their local mix of cultures to create an entirely new tradition of community holiday celebration.
Coast to coast, north to south, use our list of the best Christmas markets in the United States to find the one perfect for your holiday.
1. Washington, D.C.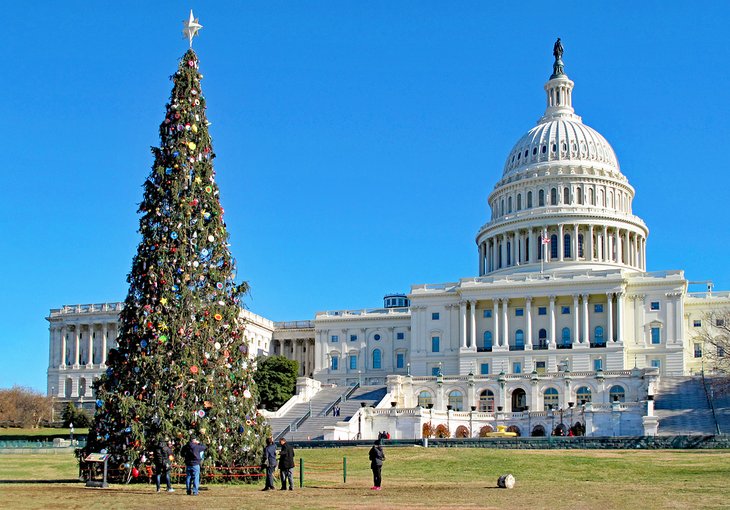 The nation's capital holds one of the biggest and most diverse Christmas markets, offering over 75 vendors who represent dozens of international and local cultural groups. Among these are many members of the Made in DC program, which features small local businesses owned by minorities.
In addition to plenty of crafts and unique gifts, market-goers will find a wide range of food vendors, including traditional German baked goods, as well as southern BBQ, Indian food, and South American specialties.
The market is held in the Chinatown neighborhood near the National Portrait Gallery, starting Thanksgiving weekend and ending December 23, daily from noon to 8pm. The market also offers live entertainment, featuring live holiday music from all over the world.
2. Chicago, Illinois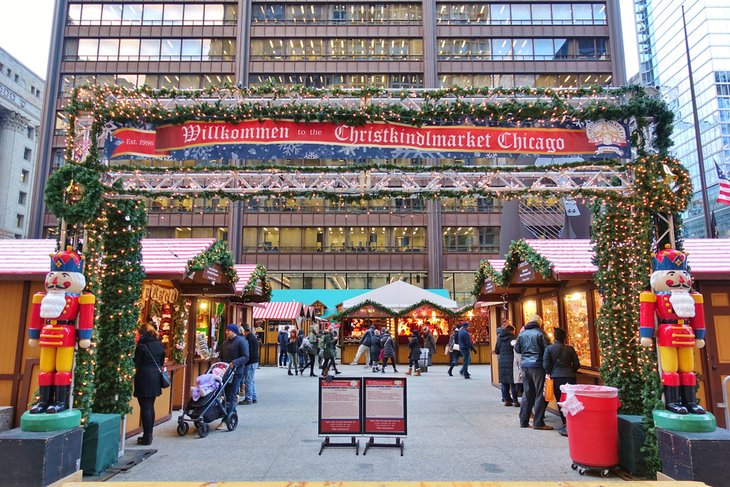 Chicago's Christkindlmarket is most famous for its bratwurst – the iconic German-style sausage that is the perfect walk-around food to keep up your energy while perusing the plethora of vendors at this classic open-air Christmas market.
Shoppers will find an authentic European experience here, complete with German cuckoo clocks inspired by Munich's Glockenspiel, handcrafted Christmas tree ornaments, hand-carved wooden crafts, and many other traditional gifts.
3. Bethlehem, Pennsylvania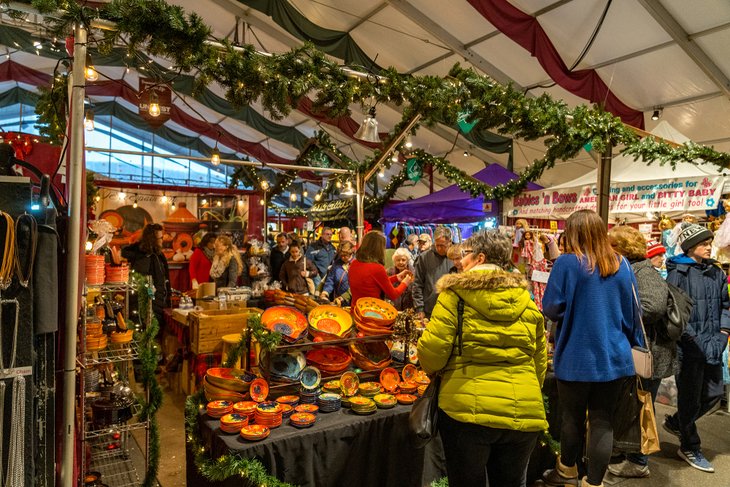 Nicknamed "Christmas City," Bethlehem hosts not one but two excellent Christmas Markets. The open-air Christmas City Village in downtown offers the most authentic experience, featuring vendors in quaint wooden manger-like structures reminiscent of a European market. Shoppers can find international crafts and gifts and locally made handicrafts, as well as warm beverages and goodies. This market operates during the month of December on Fridays, Saturdays, and Sundays.
4. Arlington, Texas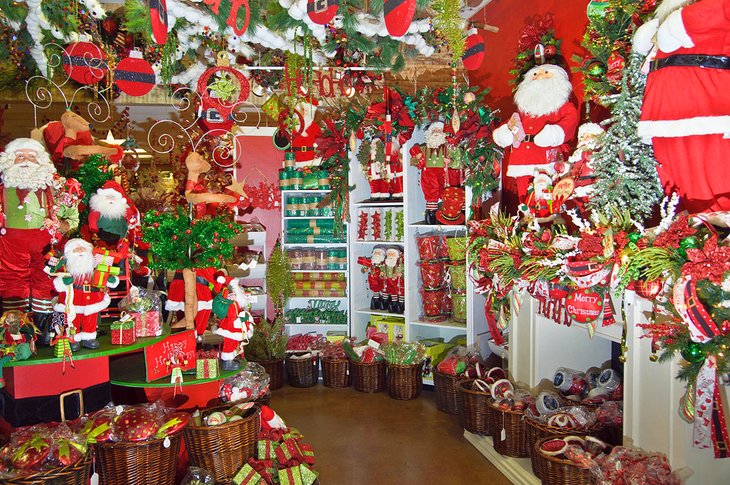 Arlington's Christkindl Market puts a Southwest spin on the traditional European Christmas market, both honoring the traditions of the German roots while incorporating cultural elements from Central and South America. Shoppers will find a variety of handcrafted and imported gifts, including hard-to-find Käthe Wohlfahrt Christmas decorations, and there are plentiful food vendors serving holiday treats.
5. Philadelphia, Pennsylvania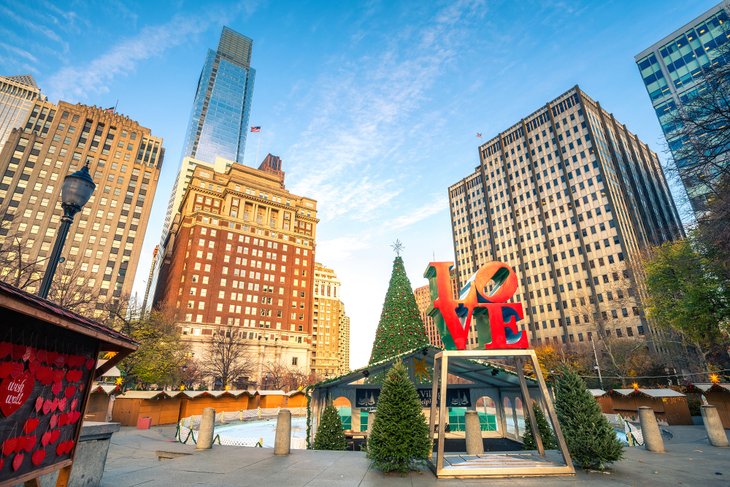 A big draw is the wide variety of irresistible European foods, from savory specialties like Berlin Döner Kebab, Flammkuchen, raclette, and Belgian Fries to traditional desserts like classic gingerbread, fluffy waffles, and pastries galore.
6. New York City, New York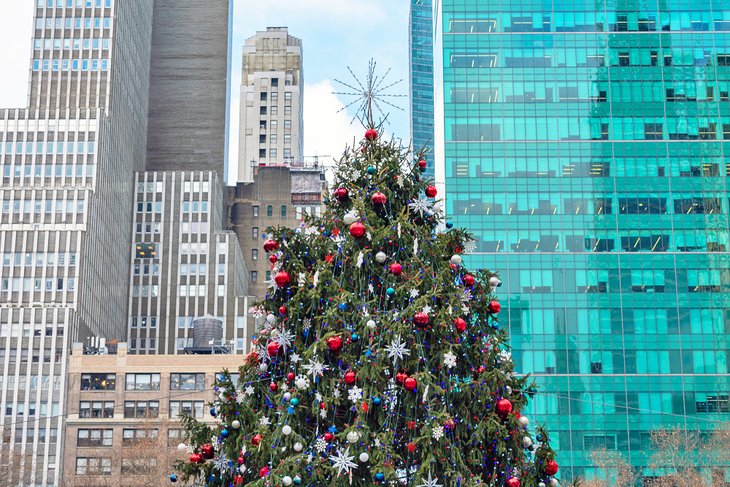 It should be no surprise that New York City has a large number of excellent Christmas markets, so it's hard to choose just one from the seemingly limitless options. In addition to these top picks, holiday visitors should be sure to see the iconic tree at Rockefeller Square.
Tourists will also want to admire the Christmas decorations in Central Park, and a good starting point is the Christmas Market at Columbus Circle, where shoppers will find gifts and holiday food in abundance.
The Union Square Holiday Market hosts over 150 vendors each year in a festive outdoor setting. Shoppers can find a huge variety of gifts, including many that are certified fair trade, recycled and upcycled creations, organic, and locally made by artisans and craftspeople. Items include artwork, décor, ornaments, toys, clothing, unique housewares, jewelry, and much more. Visitors will also find a variety of food vendors, as well as live entertainment and many kids' activities.
7. San Francisco, California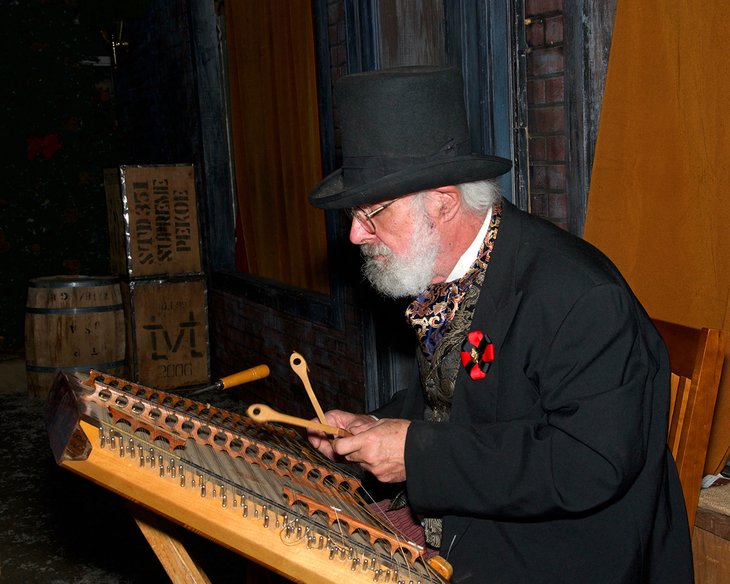 Charles Dickens was known for his love of the Christmas season, and every year from Thanksgiving to Christmas, the Cow Palace Exhibition Halls become a re-creation of Victorian London in celebration of the author and the characters he brought to life. The Dickens Christmas Fair is complete with reproductions of London streets lit by lamps and lined by vendors and shops, as well as themed tearooms and restaurants.
8. Denver, Colorado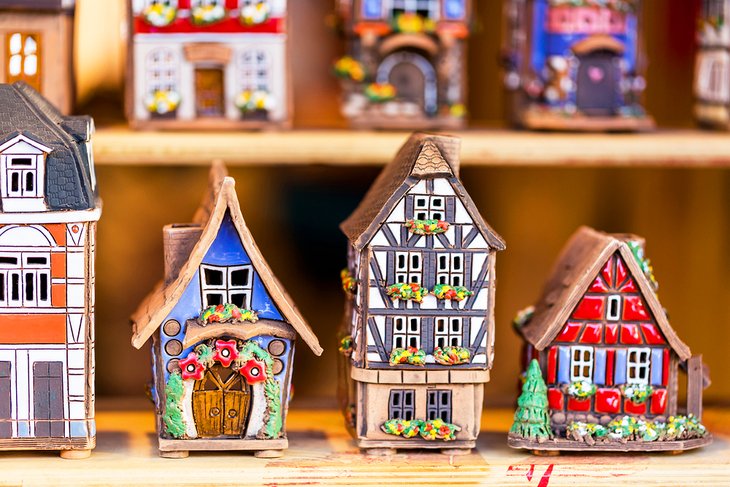 From mid-November through Christmas Eve, the Denver Christkindl Market features a variety of craftspeople and food vendors stationed in wooden kiosks for that old-world atmosphere. The market also features theme nights, as well as a wide variety of entertainment for the whole family, including German polka, choral performances, and even performances from the Denver Philharmonic Orchestra.
9. Atlanta, Georgia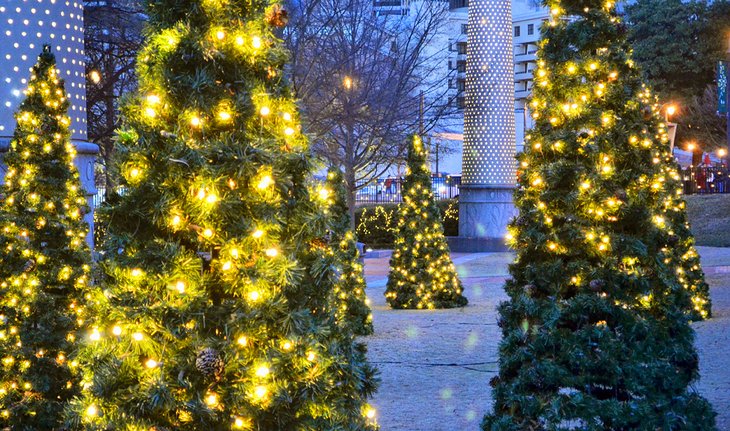 The Atlanta Christkindl Market takes place in the massive Centennial Olympic Park, kicking off each holiday season on the first weekend of December with a visit from the Christkind from Nuremburg, Germany. After performing the traditional ceremony, she visits with children for selfies, and shares German Christmas folktales with curious market-goers while enjoying the festive atmosphere and cheerful live music.
10. Leavenworth, Washington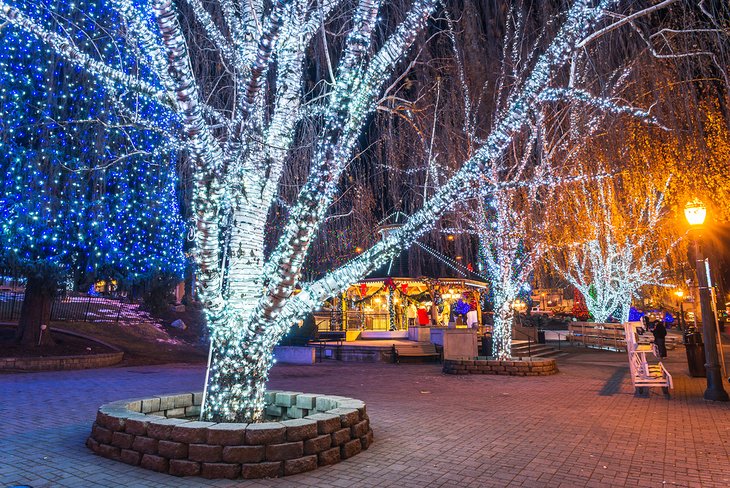 The town of Leavenworth doesn't just embrace its European heritage at Christmas – this is truly a year-round Bavarian town nestled right in the mountains of the northwest. Like a living snow globe, this beautiful community does Christmas like no other, featuring month-long celebrations with caroling, lighting ceremonies, and special events for all ages.
11. Georgetown, Colorado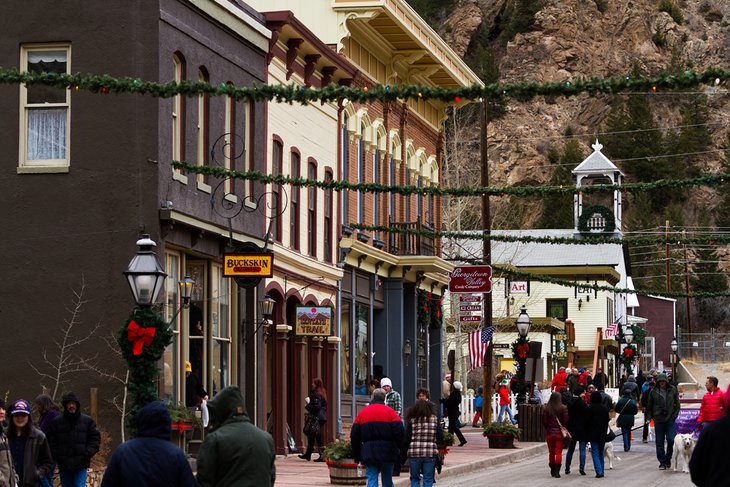 The first two weekends of December each year, this small Colorado mountain village transforms into a lively Victorian town, complete with costumed performers and horse-drawn carriages. The Christmas Market features numerous craft vendors, as well as other local artisans and creators, offering decorative items, handmade clothing, Christmas decorations, and other unique gifts.
12. Elkhart Lake, Wisconsin
Held at the Osthoff Resort, this Christkindlesmarkt is held in a giant heated tent, looking out over Elkhart Lake, to give shoppers the authentic outdoor atmosphere while staying comfortable. Each vendor sells their wares from cute wooden kiosks flanked by evergreens and lights, offering a range of traditional German handicrafts, as well as Eastern European items.
13. Cincinnati, Ohio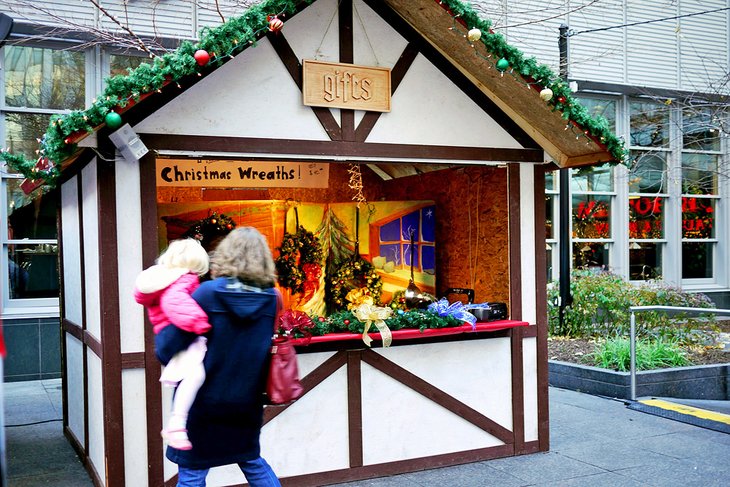 Cincinnati is home to two fantastic markets thanks to a vibrant German community and plenty of Christmas spirit. The Germania Society Christkindlmarkt is operated as part of the society's efforts to expose people to the culture and traditions of Germany.
This outdoor market is held over a three-day weekend just before Thanksgiving and features vendors selling traditional crafts and items and plenty of authentic German food. There are also kids and family activities including a petting zoo, horse-drawn carriage rides, a kids' parade, and live music.
14. Baltimore, Maryland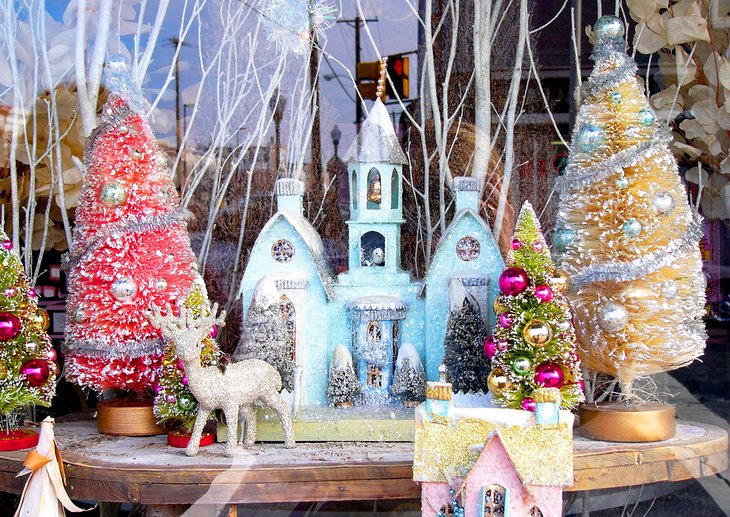 The Christmas Village in Baltimore offers more than 50 vendors in an authentic outdoor setting featuring wooden stalls and a heated tent for chillier evenings. The centerpiece of the space is the "Pyramid," a large wooden Christmas tower with a fan-like topper, which was custom-made for the event by a German woodworker.
15. Frankenmuth, Michigan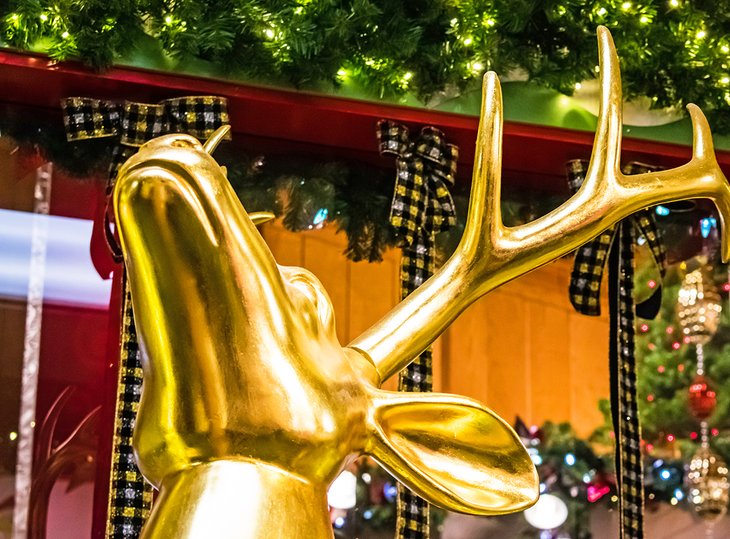 Operated by the Frankenmuth Farmer's Market, the ChristKindlMarkt is open Friday through Sunday on the last weekend of November, all of December, and the first weekend of January. In the spirit of a traditional German market, vendors here sell locally sourced and made items made by local artisans.
16. Boston, Massachusetts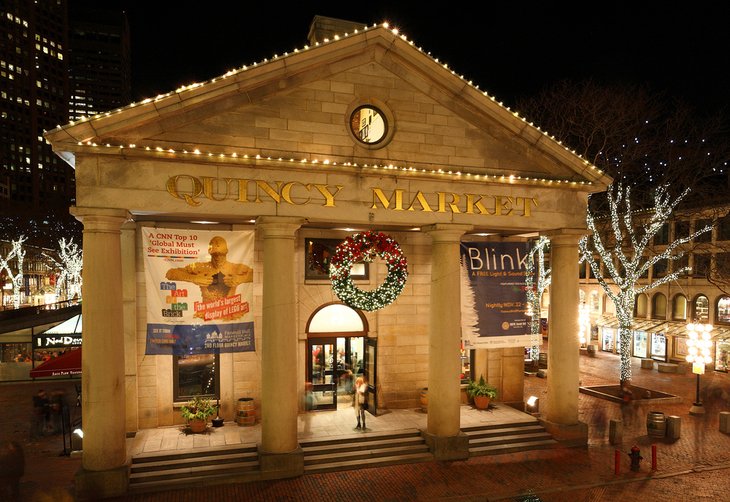 Although Boston's Faneuil Hall Marketplace is not a traditional Christmas market, it deserves a spot on this list because it serves as the iconic Christmas shopping destination for the greater Boston area and beyond. From Thanksgiving through the New Year, the historic Faneuil Hall and Quincy Market fill with lights, garlands, and festive music to welcome shoppers and sightseers.