16 Top-Rated Beaches in Maryland
Many miles of coastline characterize the Mid-Atlantic state of Maryland. Annapolis, the state capital, is well known as the sailing headquarters of the world and, of course, is home to the U.S. naval training academy of the same name.
Baltimore, the largest city in the state, offers the deepest port in the Chesapeake Bay and is home to the coast guard. Needless to say, this East Coast destination has a focus on water and the beach. Visitors will find lakes, ocean, and rivers, all complete with sandy shores to satisfy their beach vacation needs.
Many of the top beaches are part of a larger park area offering a plethora of amenities for a full day of varied activities. Measuring in at over 3,000 miles of shoreline, Maryland is truly a state that takes water activities seriously.
For ideas on the best places to visit, read our list of the best beaches in Maryland.
1. Ocean City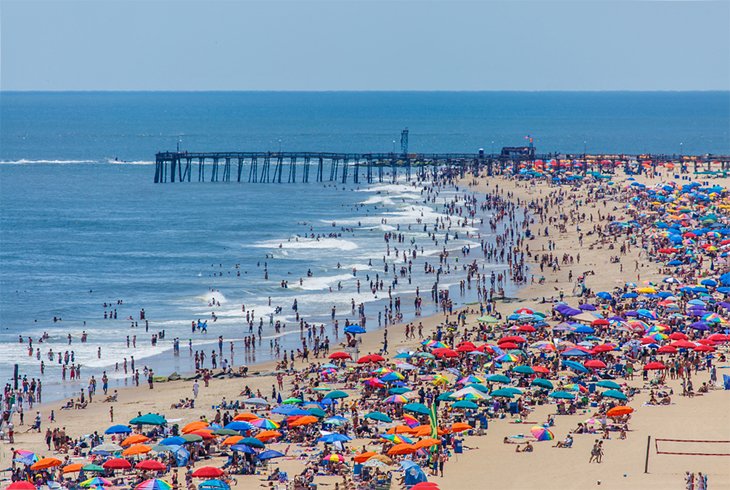 Ocean City is one of Maryland's most popular beach locations for families. With a three-mile boardwalk and long stretches of beautiful coastline, there are many things to see and do in the 10 miles the city encompasses.
The boardwalk and beach aren't the only draws to Ocean City. It's known as being the "White Marlin Capital of the World." Ocean City attracts thousands of anglers each year who want to try their hand at snagging the "big one."
While here, visit some of the local favorites on the boardwalk, like Salt Water taffy at Dolle's Candyland, or enjoy some local seafood specialties for dinner at one of the 200 restaurants you have to choose from.
Enjoy miniature golf, rides at Jolly Roger Amusement Park, and shopping at the outlets outside of town. If you are feeling adventurous, rent a Jet Ski, go paddleboarding, or take part in one of the many water sports offered.
If you need to beat the heat, there are plenty of indoor activities as well. Ripley's Believe it or Not! is filled with interesting oddities, or visit the Ocean City Life-Saving Station Museum, which is dedicated to lifeguarding over the centuries.
Accommodation: Where to Stay in Ocean City
2. Cherry Beach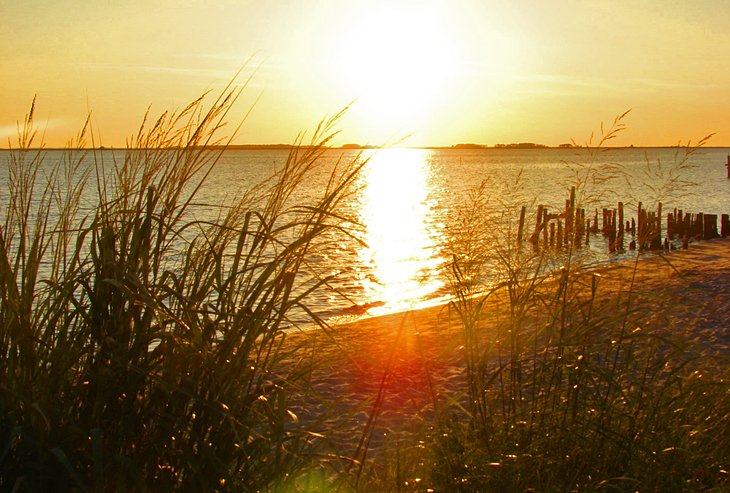 Not all beaches are found on the Atlantic coast in Maryland. For those who are located inland, you can enjoy some sun and sand at Cherry Beach on the Nanticoke River.
This popular park is a short drive from Salisbury, Maryland and offers visitors a fishing pier, boat ramp, and a well-maintained beach area. It's the perfect place to sit, relax, and have a picnic lunch at the pavilion.
This beach is pet friendly and connected with trails to the Cope Bennett Park for additional exploring.
3. Sandy Point State Park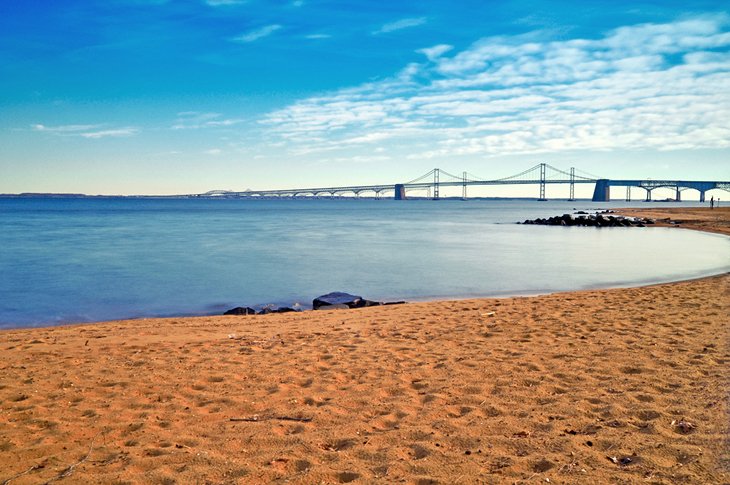 For the last six decades, families have enjoyed Sandy Point State Park on the northwestern shore of the Chesapeake Bay. It's close to Annapolis, so you will find many city dwellers here coming to connect with nature and enjoy the beach.
At Sandy Point, you can enjoy swimming, fishing, or bird-watching. For those wanting to take a break from the beach, you can hike the trails, rent a boat at the marina, or spend a few days camping.
There are lifeguards on duty during the summer months, so it makes it a great spot to take the kids swimming for the day.
4. Assateague Island National Seashore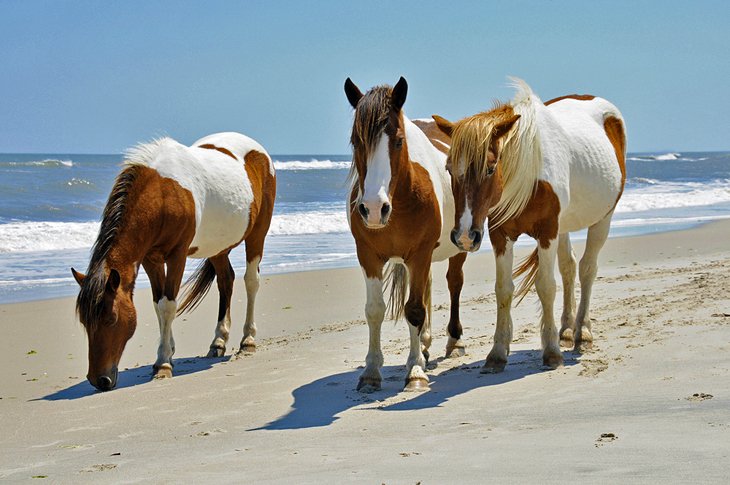 Assateague Island is not only known as being the only park on the ocean in Maryland, it's home to wild horses that have roamed this island for centuries. Visitors can walk along the shore and see these animals in their natural environment. Don't be surprised if they roam past you on the beach as you sunbathe.
The serene stretch of sand is just two miles of the 37-mile-long Assateague Island. There are also shady trails winding through the interior of the island where you can view birds and other wildlife in their natural habitat.
Bring a kayak to explore some of the shady coves and inlets or just soak up the sun on the beach. The calm waters of Assateague Island make a perfect spot for swimming or surfing.
For tent campers, you can stay on a simple campsite and explore the island for a few days.
5. Calvert Cliffs State Park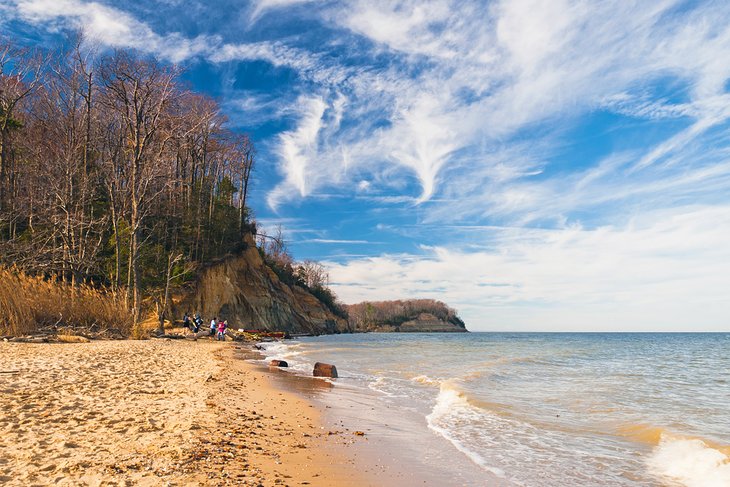 As the name promises, this 25-mile stretch of shore along the Chesapeake Bay is flanked by towering cliffs, and over 10 miles of hiking trails allow visitors to explore them. Great for swimming and sunbathing, the beach itself is sandy and has a small playground area, but it offers far more than just that.
Visitors come here to scavenge for fossils on the beach and are never left disappointed. Even the youngest and most inexperienced archaeologists come away with specimens easily found in the sand. Fossilized remains of more than 600 species have been found here.
The park is also home to a marsh and freshwater area that is popular for fishing.
6. Matapeake Beach, Kent Island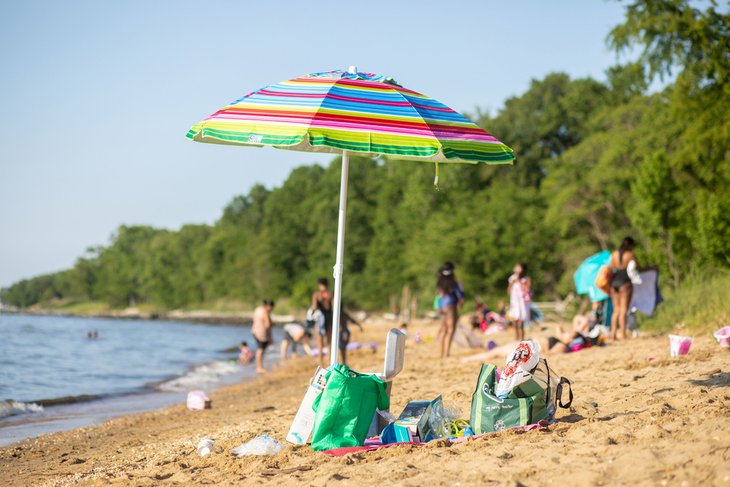 Matapeake Clubhouse is home to a lovely public beach that is popular with swimmers and sunbathers. The clubhouse serves meals on a terrace overlooking the water, and there is also a large picnic area. During the summer, visitors can enjoy shows at the amphitheater, and there is even a dog-friendly section of beach.
Kent Island is also home to Terrapin Nature Park, which covers nearly 300 acres and is home to nature trails that traverse fields, wooded areas, wetlands, and a lovely beach.
7. Deep Creek Lake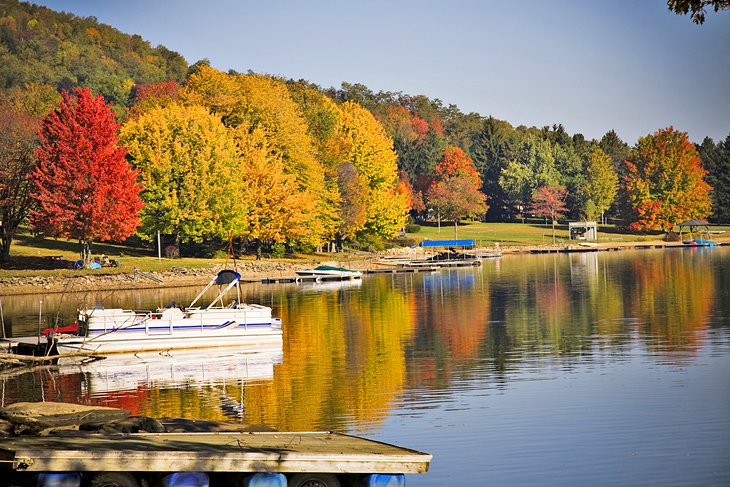 The largest inland lake in Maryland, Deep Creek Lake offers visitors over nine miles of shoreline to explore. For those who can't make it to the beach, Deep Creek Lake is the next best thing. There are many activities here to choose from, ranging from water sports to go-karts to shopping.
Try your hand at fishing for small or large mouth bass or rent a sailboat, kayak, or canoe if you want to explore by water. Because the town and most of the shops and restaurants are found around the perimeter of the lake, it's easy to bike or walk.
Kids will love the Deep Creek Lake Discovery Center, where they can touch, play with, ask questions about, and interact with wildlife. There is also Splash Island, which is open seasonally. Here, you can slip, slide, and splash around.
Just outside of town, you can find white water rafting. Although the town is best visited in the summer to take advantage of the lake, there is also a small ski resort located nearby.
8. Cunningham Falls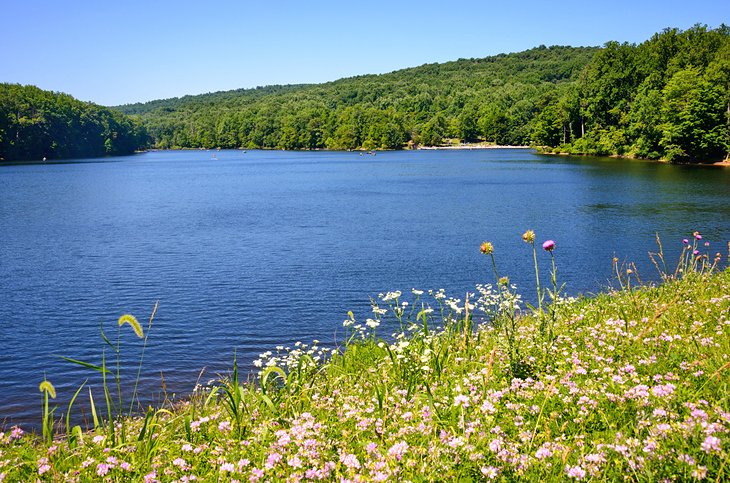 When Washington, D.C. and the metro area's residents want to escape the city, they head to Catoctin Mountains and Cunningham Falls State Park. This park is not only a place to view spectacular waterfalls, the largest in Maryland, but to reconnect with nature. There is a small lake with a beach, trails, and campsites for visitors to enjoy.
While you are here, be sure to visit the Scales and Tales Aviary, an environmental education program of the Maryland Park Service. There are also the ruins of an old iron furnace, which can be an interesting spot for some creative photography.
9. Hart-Miller Island State Park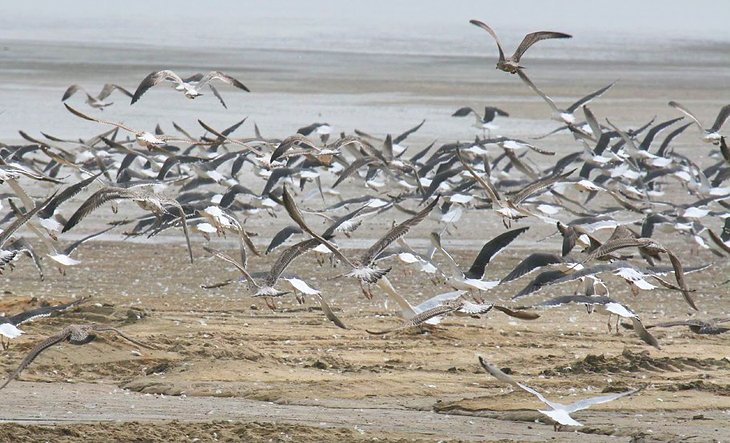 Hart-Miller Island State Park is located on the 1,100-acre Hart-Miller Island. This park is not only popular with anglers, but hikers as well. Access is by boat, which adds to the adventure. The 3,000-foot sandy beach is perfect for angling or just soaking up the sun.
On the island, you can take advantage of one of the popular campsites. Hikers will love the eight miles of trails that navigate the island and be rewarded with amazing views of the Chesapeake Bay. For those interested in learning more about the native plants and animals, there are informative signs on the trail that educate visitors about the park and its ecosystem.
10. Breezy Point Beach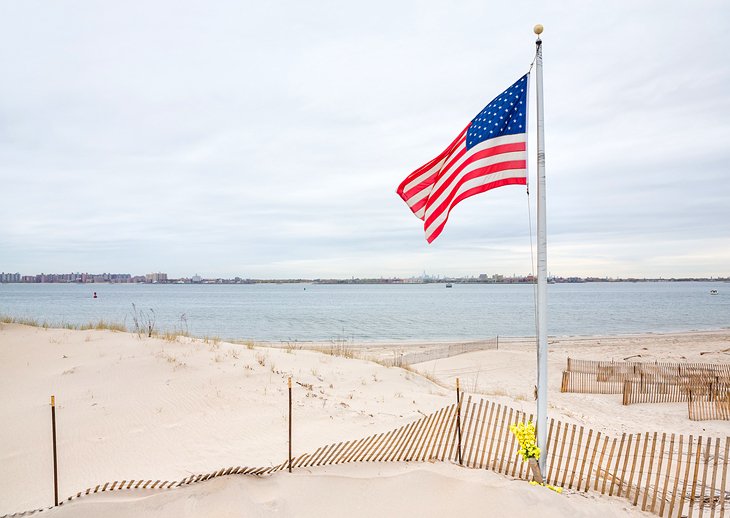 This popular destination is operated by Calvert County and serves thousands of visitors each year. Families flock here for the half mile of sandy beaches on the Chesapeake Bay. They have a netted swimming area and playground for kids, as well as a 200-foot pier for those who want to cast a rod.
If you want to make it a weekend visit, there is a campground at the beach where you can tent camp or bring your RV. If you just want to visit for the day, you can use one of their many grills and tables to have a classic picnic lunch.
When visiting Breezy Point Beach, the best time to go is during the week. Holidays and weekends in the summer are often very busy, and entrance to the park is limited to a specific amount of visitors. The best advice is to head here early.
11. Betterton Beach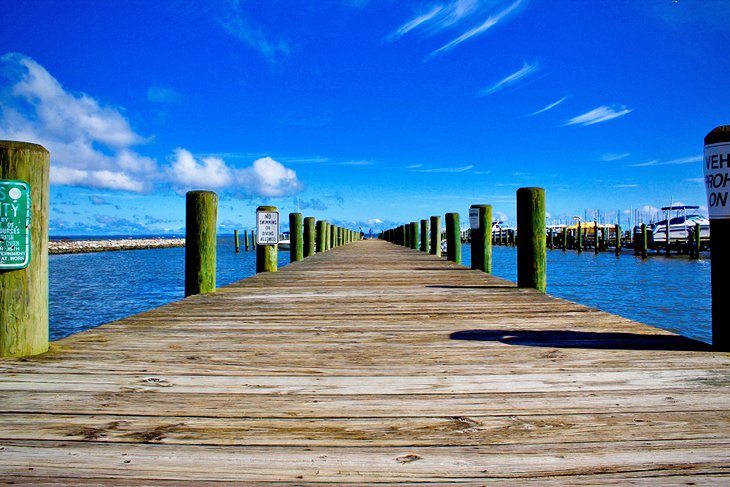 Betterton Beach is part of a small town located at the mouth of the Sassafras River. Originally known as a fishing village, the introduction of the steamboat was responsible for its evolution into a thriving resort community.
The family-friendly beach area compromises five acres of waterfront park, including two public beaches. Visitors will find 500 feet of boardwalk, a bathhouse, and public restrooms. There is also a picnic area located on a scenic bluff. Cast a fishing rod from the jetty, or launch a boat from the public pier.
Visitors who want to learn a little about local history and the Chesapeake Bay can visit the Betterton Heritage Museum, a short walk from the beach. Exhibits include local arts and crafts, as well as "the Ark," a historic boathouse once used by fishermen in the area.
12. North East Beach at Elk Neck State Park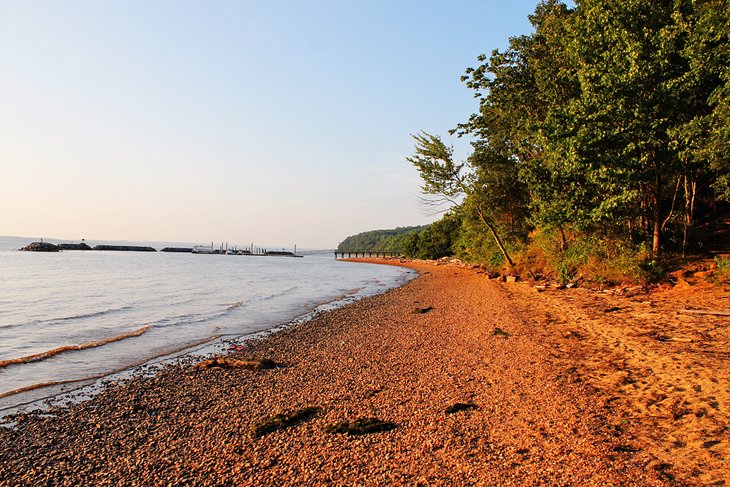 Located on a peninsula jutting onto Chesapeake Bay on one side and the Elk River on the other, the park offers 2,370 acres of varied landscape for visitors to explore. Marshlands, forests, and white clay cliffs complement the sandy shoreline. Overnight visitors can stay in one of their 19 cabins or 250 campsites.
Turkey Point Lighthouse is a popular tourist attraction located at the south tip of the park.
The beach area is combined with picnic shelters with tables and grills. A designated swimming area is great for young water babies. Separate boating facilities allows for access to the Elk River and fishing piers.
13. Chesapeake Beach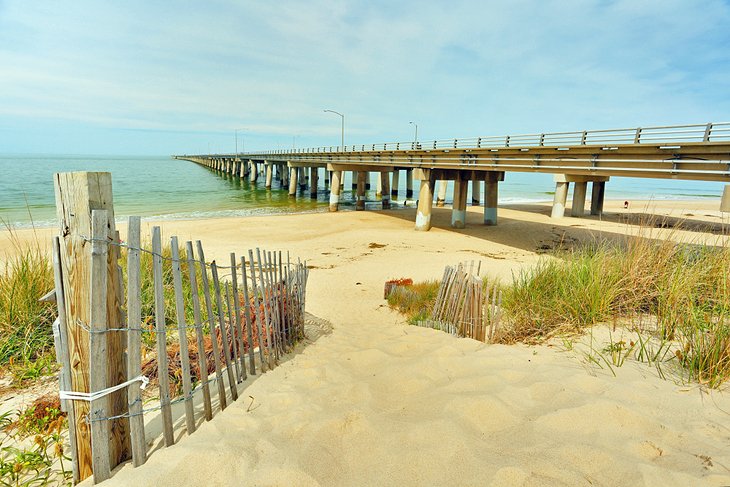 Chesapeake Beach represents a beautiful bayside community, as well as a section of one of the best beach areas in Maryland. The town itself is known for waterfront restaurants serving fresh and local seafood, a refreshing water park, and plenty of action in the water.
The Railway Trail is one of the top attractions of things to do in Chesapeake Beach, representing 1.9 miles of trail built along the old abandoned railway for all levels of skill. Dogs must be leashed on the walk, and bicycles are also welcome.
Bay Front Park, where the area beach is also known as Brownie's Beach, is south of town. The location has a reputation as a good site for visitors to look for fossils.
There is not a lifeguard on duty, and tourists must pay a small fee for entrance during the summer season.
Accommodation: Where to Stay in Chesapeake Beach
14. Tilghman Island Beaches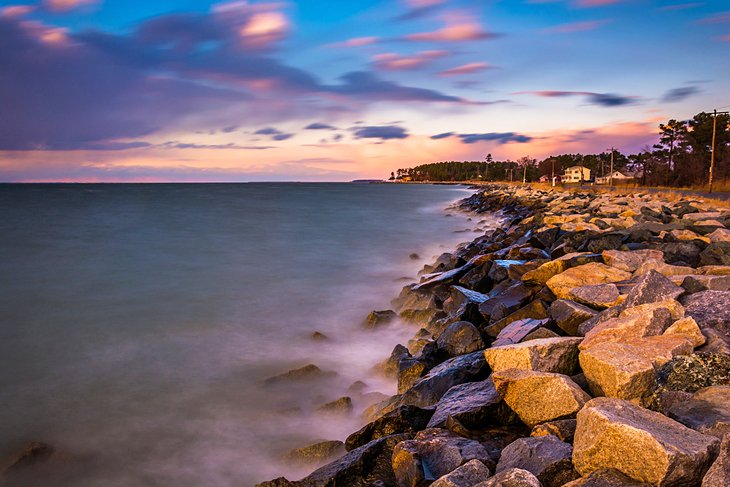 For a laid-back, relaxing waterfront getaway, take a look at Tilghman Island. The mood is decidedly old school, and you can access the area by car or boat. Just keep in mind that the drawbridge to Tilghman Island has a reputation as one of the busiest in the US. Plan your travel time accordingly.
Most of the beaches are privately owned, so access will undoubtedly be through your hotel stay. That being said, the island is known for its hospitality and delicious seafood.
This old-fashioned fishing village located in Talbot County is a perfect respite from the daily grind, situated between the Chesapeake Bay and Choptank River. On the island, you won't find any chain stores or noisy entertainment venues, just a laid-back way of life that will let you rest and recharge for the weekend. Biking is a great activity, as is kayaking if you can bring your own kayak.
While you are here, check out the Tilghman Watermen's Museum, which celebrates the rich history of the island's watermen and features historical artifacts and local artists.
15. Hammerman Beach, Gunpowder Falls State Park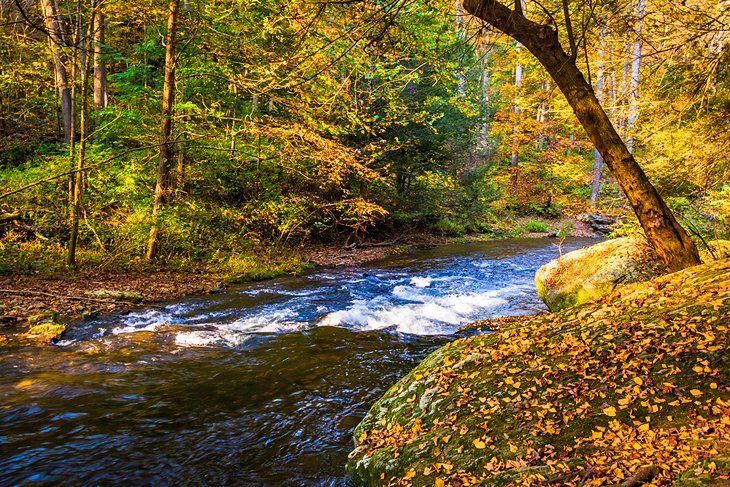 With a name like Gunpowder Falls, visitors would expect a roaring loud waterfall to greet them. In spring, when the water is high, you'll get what you're looking for. Other times of year, the falls are a bit more tame, but nonetheless lovely.
The area encompasses over 18,000 acres and is Maryland's largest park. Protecting the Gunpowder River and related falls, there is a varied topography offering over 120 miles of hiking and horseback riding trails, historic sites, kayaking, paddleboarding, fishing and, of course, Hammerman beach.
Located in Middle River, the stretch of sandy shore is a lovely spot for families to swim. Several large trees offer shade from the sun, and pavilions are a great location for picnicking. The popularity of this destination makes an early arrival necessary during peak season to secure parking.
16. North Beach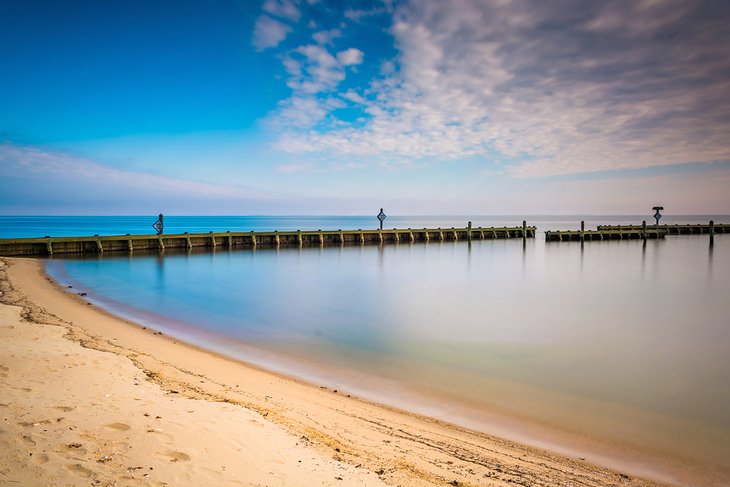 Located just up the shore from Chesapeake Beach, this quiet beachfront offers a nice boardwalk that's dog-friendly and has plenty of benches facing the water. There is also a long pier that's popular for fishing (with a permit only), as well as a stone jetty and a play area for kids. There are also a selection of boat slips available for use, free of charge. Throughout the summer, the town hosts special events on the beach, including movie nights.
There is an entry fee to use the beach, which can be purchased online or at the Welcome Center between 8am and closing time at dusk. Visitors who get there early enough can park for free at one of the town-owned lots along Bay Avenue, just behind the pier, but there are several other private lots and spaces available nearby.
Birding is another popular activity here at the beach and at nearby Wetlands Overlook Park, home to a wide variety of waterfowl and migratory birds. In addition to terns and gulls, visitors can spot pelicans, gannets, and geese, as well as osprey. In the winter months, look for tundra swans, bald eagles, and several varieties of ducks.
More Related Articles on PlanetWare.com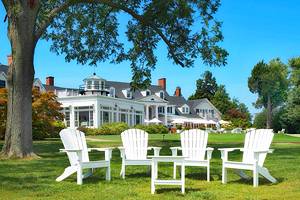 Exploring Maryland: If you want to expand your travels and see more than just the beaches, have a read through our list of the Top Tourist Attractions in Maryland. To help locate the perfect place to stay, see our guide to the Top Resorts in Maryland.