13 Top-Rated Things to Do in Bethlehem, PA
History comes to life in Bethlehem, Pennsylvania. In fact, nearly all the top things to do in this destination have a fascinating historical element to them.
You can learn about the earliest communities in this town at the Moravian Museum of Bethlehem, see remarkably preserved buildings that date back centuries in the Colonial Industrial Quarter, and take in roughly 300 years of style and design at the Kemerer Museum of Decorative Arts.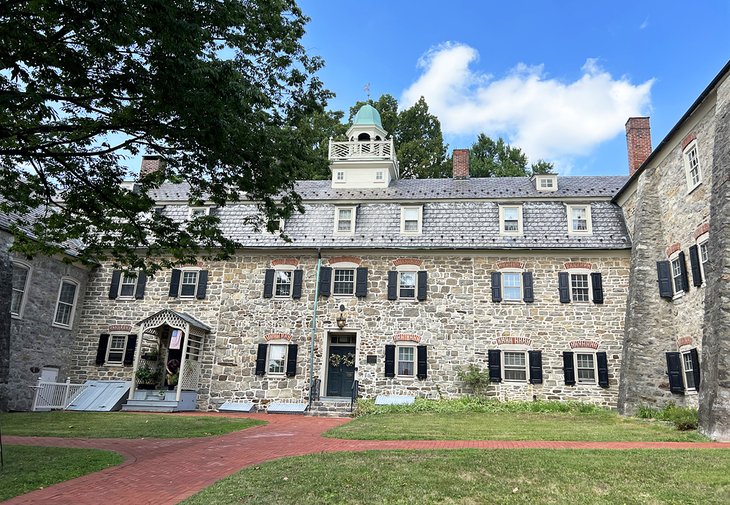 There's also an industrial past worth exploring in Bethlehem. The city was home to one of the country's largest steel manufacturers and has revived its once-abandoned sites as the SteelStack entertainment complex and an elevated park that runs alongside the massive blast furnaces.
But beyond history buffs, Bethlehem also caters to another type of traveler: holiday lovers. Many of the top attractions get into the holiday spirit with festive decor and Christmas trees in December. There's also a renowned Christmas market, complete with German ornaments and holiday fare.
Plan your sightseeing with our guide to the top things to do in Bethlehem, PA.
1. See a Concert at SteelStacks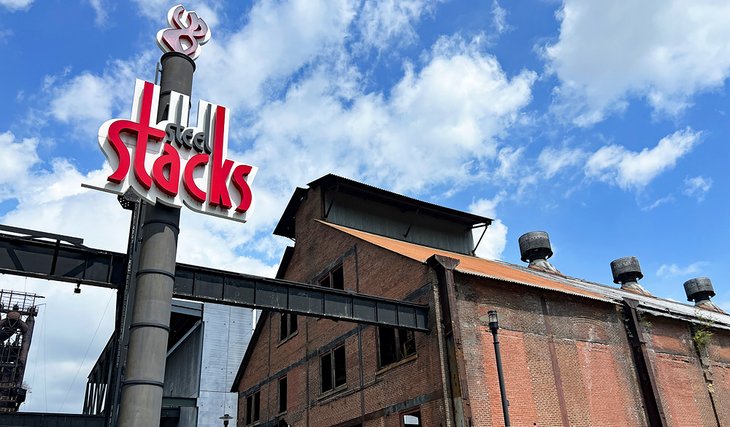 When Bethlehem Steel, one of the largest steel manufacturers in the nation, shuttered its historic plant in Bethlehem after around 120 years of production, the city was left with a vacant eyesore that seemed too large for any new business to fill. But thanks to a partnership between local authorities, the nonprofit ArtsQuest, and several other groups, the site was reborn in 2011 as SteelStacks.
This 10-acre arts and entertainment complex now puts on more than 1,000 concerts every year, many of which take place on a stage in front of the iconic blast furnaces. There are also dance recitals, a movie theater, live comedy, and food experiences.
A variety of festivals take place at SteelStacks throughout the year, as well, including the annual Christkindlmarkt and an improv comedy festival. Check the website to see what's happening during your trip to Bethlehem.
Address: 101 Founders Way, Bethlehem, Pennsylvania
Official site: www.steelstacks.org
2. Walk the Hoover-Mason Trestle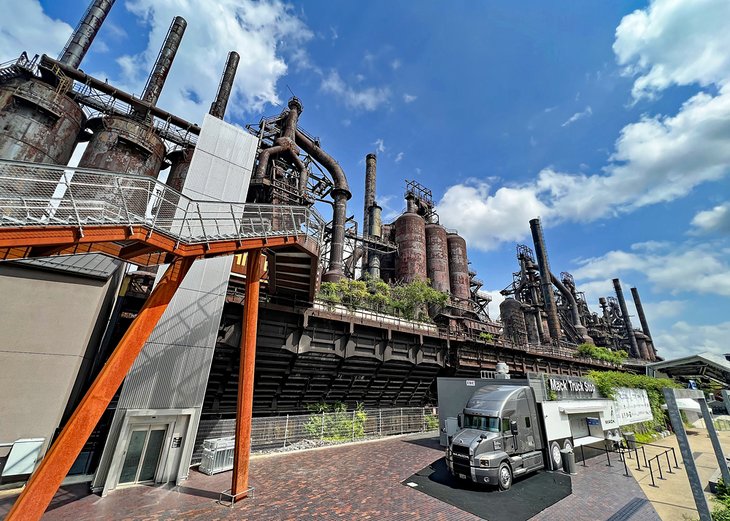 For more than 80 years, transfer carts transported raw materials (like iron ore and limestone) to Bethlehem Steel's blast furnaces via the Hoover-Mason Trestle. Today, it has been reimagined as a 1,650-foot elevated linear park, where tourists can get an up-close view of the awe-inspiring blast furnaces.
The structures, of which two are more than 230 feet tall, each produced up to 3,000 tons of iron per day when they were in use. Educational plaques along the pathway make the experience feel like an outdoor museum, teaching about the history of this once-bustling plant and the workers who labored here.
The park is just a short walk from the National Museum of Industrial History, which provides even more information on steelmaking in the region.
Address: 711 First Street, Bethlehem, Pennsylvania
Official site: www.hoovermason.com
3. Gawk at Big Machines at the National Museum of Industrial History
Learn about the important technologies and machines, along with the workers who operated them, that turned the U.S. into an industrial powerhouse at the National Museum of Industrial History.
Located at the SteelStacks campus, the attraction is housed in Bethlehem Steel's former electrical repair shop–a fitting site, considering the museum's theme.
The permanent collection displays several huge machines, including a 115-ton Corliss steam engine, a 20-foot-tall Nasmyth steam hammer, and a loom that was used to produce textiles for restoration projects at the White House. Several artifacts on display come from the Smithsonian's National Museum of American History.
The museum also helps shed light on the roles of the Lehigh Valley and Bethlehem Steel in the industrial boom. You can see equipment from the company's research labs and an original model of its steelmaking processes on display.
Address: 602 East 2nd Street, Bethlehem, Pennsylvania
4. Finish Your Holiday Shopping at Christkindlmarkt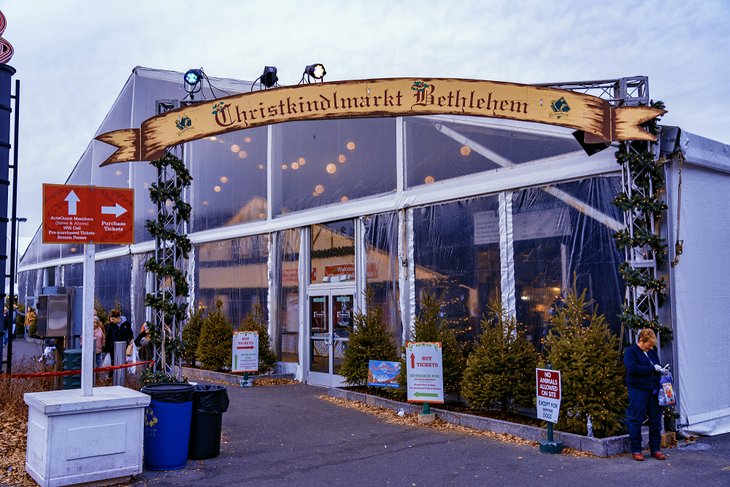 Christmas is a big deal in Bethlehem, and its annual Christkindlmarkt has earned recognition as one of the best holiday markets in the country.
The event, which takes place at the PNC Plaza at SteelStacks, features live holiday music; handmade crafts from fine artisans across the nation; and authentic holiday collectibles from Germany's Käthe Wohlfahrt, including ornaments and nutcrackers.
When you work up an appetite from all that shopping, you can refuel with traditional holiday fare, including Christmas cookies and strudel. The market takes place Friday through Sunday from mid-November until nearly Christmas. Throughout December, it runs on Thursdays, as well.
Also at SteelStacks this time of year is an authentic ice rink. The outdoor ice-skating rink has a unique vibe with the blast furnaces in the background.
Address: 101 Founders Way, Bethlehem, Pennsylvania
5. See the Historic Illick's Mill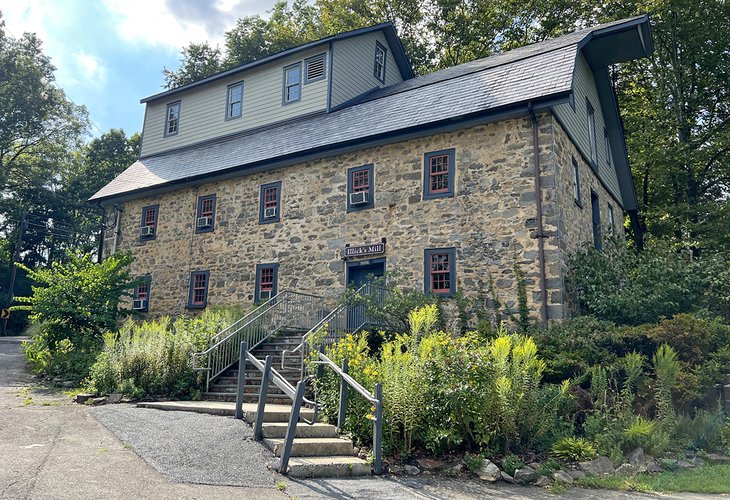 Ilick's Mill, which is located on the eastern edge of Monocacy Park, is a historic grist mill that dates back to 1856. The four-level stone mill structure was named to the National Register of Historic Places in 2005 and now houses the Appalachian Mountain Club's Mid-Atlantic office. It's also used for a mix of public and private events.
The mill and the surrounding park look like a Claude Monet landscape painting brought to life. There's a large grassy meadow, a gentle creek, and walking paths shaded by huge trees. It's the perfect place to visit to get some fresh air and take in beautiful scenery on your trip to Bethlehem.
Address: 100 Illick's Mill Road, Bethlehem, Pennsylvania
6. Walk around the Burnside Plantation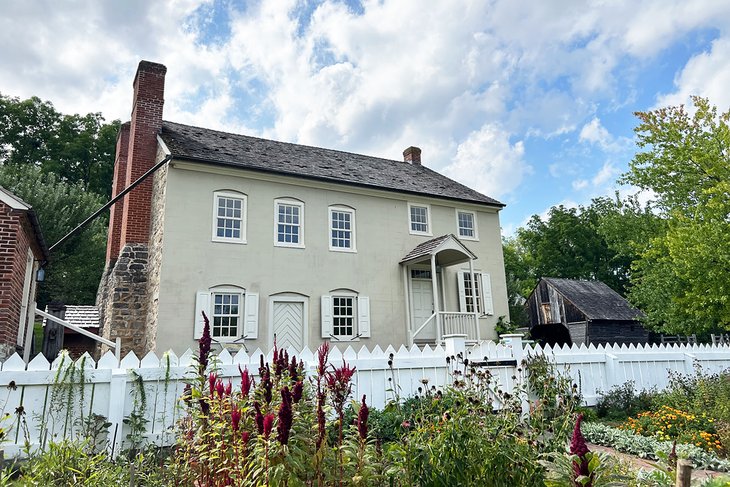 Just south of Monocacy Park, the Burnside Plantation is a 6.5-acre historic site that preserves what farm life was like in the 18th and 19th centuries for the Moravian community. The attraction, which is listed on the National Register of Historic Places, is home to one of the country's only remaining high horsepower wheels that still works.
There's also a farmhouse where early Pennsylvania organ builder David Tannenberg once crafted his famous instruments, a circa-1825 summer kitchen that now hosts colonial culinary experiences during special events, a corn crib and wagon shed, and two barns.
In the spring and summer, it's also worth visiting the Louse W. Dimmick Garden, just outside the farmhouse. The volunteer-run garden, which stands as an example of an early American kitchen garden, has earned several awards.
Address: 1461 Schoenersville Road, Bethlehem, Pennsylvania
7. Find Unique Souvenirs at the Historic Bethlehem Visitor Center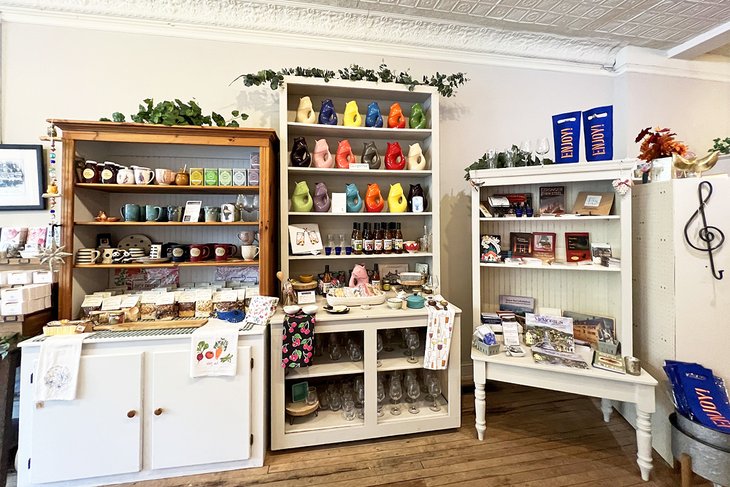 Visiting the Historic Bethlehem Visitor Center is one of the top things to do on your first trip to Bethlehem. It's housed in a structure that's believed to be one of the oldest brick homes in the town. Staff here can help you plan your itinerary, offer tips on seeing the top attractions, and provide useful brochures.
More than a stop to pick up brochures, though, this visitor center also has a museum store that is filled with crafts and artwork from local artisans, one-of-a-kind photography, books on local history, candles, soaps, and silver jewelry. It's the best place to shop for souvenirs in Bethlehem.
Address: 505 Main Street, Bethlehem, Pennsylvania
8. Travel through History in the Colonial Industrial Quarter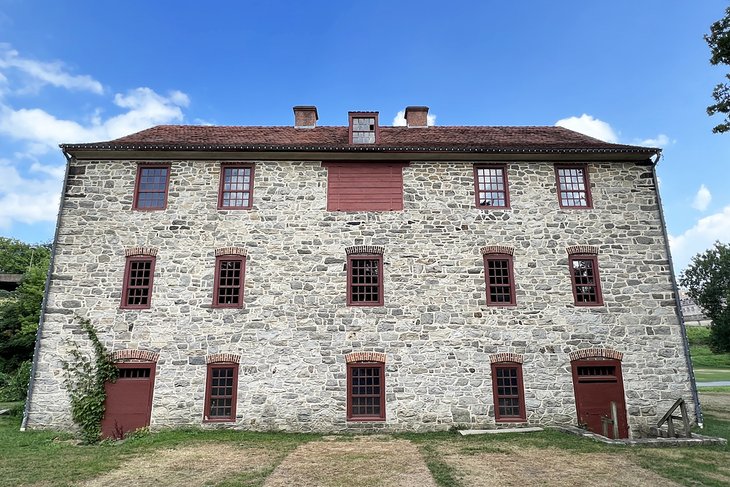 The Colonial Industrial Quarter is branded as America's earliest industrial park. Part of Historic Moravian Bethlehem (a National Historic Landmark District), this attraction features a number of structures erected by the Moravians as part of their effort to be a self-sufficient community.
Experts say that the streets and buildings are so well preserved that a Moravian from the mid-1700s would feel right at home in this district.
Within the Colonial Industrial Quarter, tourists can see the roughly 240-year-old Grist Miller's House and Garden and the nearby Springhouse, which is a reconstruction of a log building on the site of the original springhouse from 1764. You can also see the archeological ruins of several other structures, including a pottery, limestone dye house, butchery, and oil mill.
Guided walking tours are available from the Historic Bethlehem Visitor Center, but you're also free to explore the complex on your own.
9. Check Out Artists' Studios at The Banana Factory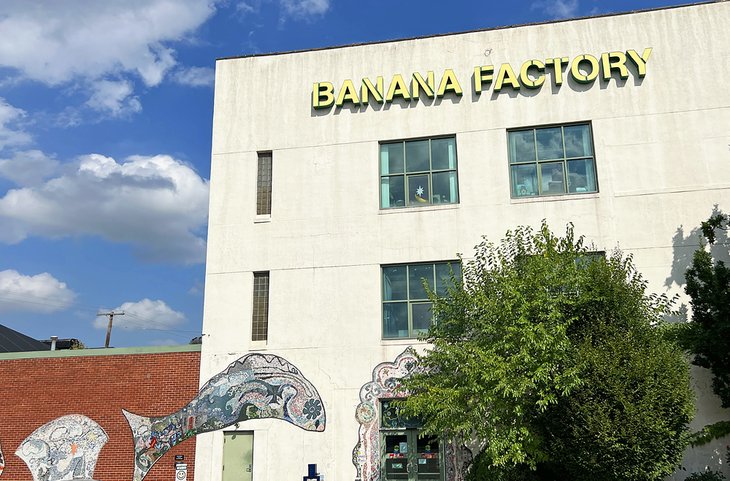 Assembled from half a dozen buildings (including a former banana distribution center), The Banana Factory is a mecca for arts.
Tourists can wander around several floors of rent-subsidized working studios for artists from the region and see displays of their work hung all over the hallways. There are also rotating art exhibitions throughout the year, along with special events (like artists' talks) on the First Friday of every month.
Outside the complex, you can take a look at the Banana Factory's large-scale public art, including giant whimsical flowers made from clay and the "Mr. Imagination Bus Shelter" embedded with hubcaps and colorful hands.
If seeing all that art sparks some creative inspiration, you can put it to good use in one of the Banana Factory's art classes. It offers a variety of workshops, some of which are completed in just one day, that can easily fit in a tourist's itinerary. Highlights include alternative photography, needle felting, rubber stamp carving and printing, make-your-own ornaments, and Bob Ross paint-along sessions. Free art classes are frequently available.
Address: 25 West Third Street, Bethlehem, Pennsylvania
10. Tour the Moravian Museum of Bethlehem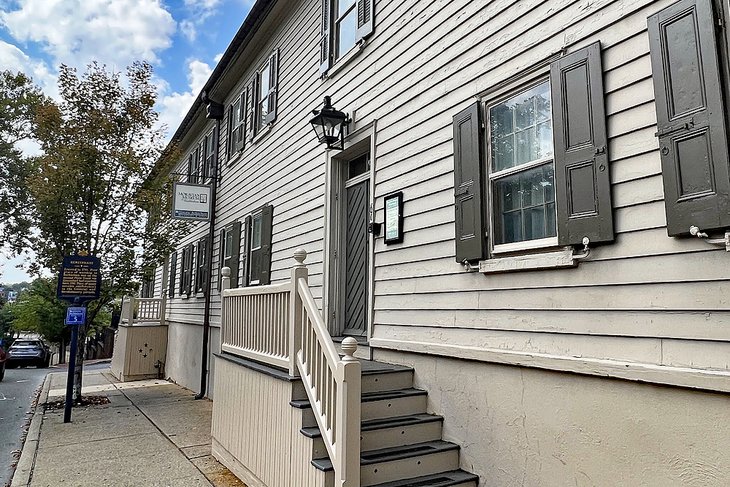 Just a couple of blocks away from the Kemerer Museum of Decorative Arts, the Moravian Museum of Bethlehem is a National Historic Landmark focused on the earliest history of Bethlehem.
The attraction is housed in the 1741 Gemeinhaus, Bethlehem's oldest building and the country's largest 18th-century log structure that's been in continuous use. Fun fact: It was also where Lewis David von Schweinitz, also known as the "Father of North American Mycology," was born.
The museum is part of a larger complex that also includes a 270-year-old apothecary and the Nain-Schober House, which is the only existing 18th-century building constructed and inhabited by Christianized Native Americans in Eastern Pennsylvania.
Visiting the museum and its buildings is through guided tours only, which are available on Saturday and Sunday afternoons, as well as by appointment during the week.
Address: 66 West Church Street, Bethlehem, Pennsylvania
11. Peek at Intricate Dollhouses at the Kemerer Museum of Decorative Arts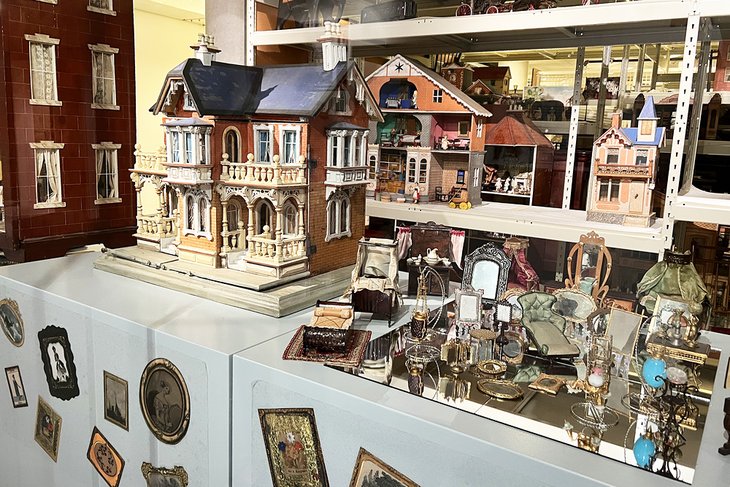 Bethlehem is home to Pennsylvania's only museum focused exclusively on decorative arts: the Kemerer Museum. The attraction was founded by art collector Annie S. Kemerer and contains many of her personal finds. It's housed in three interconnected Victorian-era homes just north of the Lehigh River.
Guided tours are required for all visitors. Within the museum, you can see one of the country's largest collections of antique dollhouses, many of which are completely set up and displayed with miniature furniture, dolls, and accompanying accessories.
There's also a Bohemian glass collection, period-era rooms, handmade furniture, antique Chinese porcelain, and temporary exhibits with contemporary art and more obscure parts of the permanent collection (like uranium glass).
Hot tip: The holiday season is perhaps the best time to visit this attraction. That's when you can see a unique Christmas tree in every room.
Address: 427 North New Street, Bethlehem, Pennsylvania
12. Dine and Shop at Main Street Commons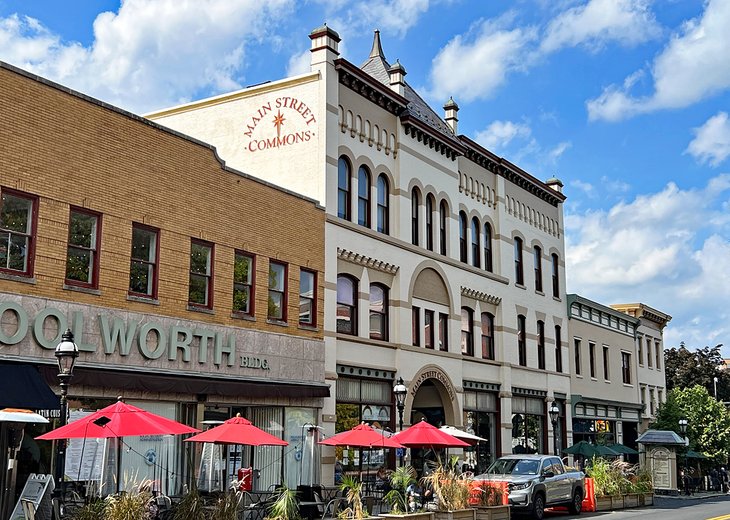 Occupying a historic building that was once home to Orr's Department Store, Main Street Commons is home to a variety of different storefronts on two levels. This low-key mall makes a convenient place to visit for a bite to eat and to do some shopping before or after visiting the Colonial Industrial Quarter.
Inside, you'll find a pizzeria, a sporting goods store, salon, and massage center. There's also an escape room, which is a particularly popular attraction among families with kids.
New stores occasionally open in this space, so it can be fun to pop in again on future visits to Bethlehem. Main Street itself has even more boutiques where you can fill your shopping bags.
Address: 559 Main Street, Bethlehem, Pennsylvania
13. Read a Book at the Linderman Library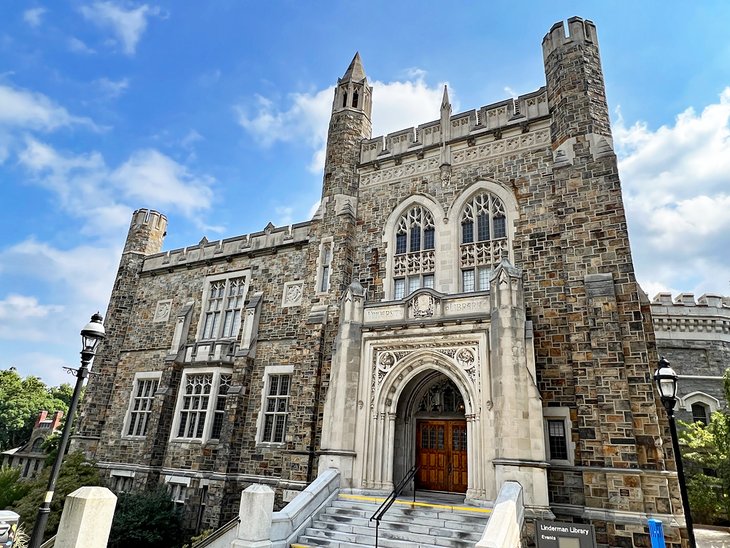 If sitting in a beautiful space and getting lost in a good book sounds like your idea of a perfect vacation, you'll adore the Linderman Library. Affectionately nicknamed "Lindy," this historic library on Lehigh University's pristine campus opened in 1873 and features Venetian architecture and a semi-circular layout inspired by the British Museum.
The Hogwarts-esque library houses an impressive collection of rare books, such as Darwin's Origin of Species and first editions of English and American literature from as far back as the 17th century.
But the real draw for literature-loving tourists are the reading spaces. The Victorian Rotunda is crowned by a spectacular stained-glass window, and features elegant archways leading to shelves of tomes and several reading chairs next to warmly lit lamps.
The Grand Reading Room, which was added to Lindy in 1929, is also magnificent, with its rows of wooden tables for studying and an ornate ceiling. You could easily spend the entire day immersed in a novel in these elegant, near-silent spaces.
Address: 30 Library Drive, Bethlehem, Pennsylvania
Official site: library.lehigh.edu/about/hours-and-locations
Map of Things to Do in Bethlehem, PA
Bethlehem, PA - Climate Chart
Average minimum and maximum temperatures for Bethlehem, PA in °C
J
F
M
A
M
J
J
A
S
O
N
D

2

-7

4

-6

9

-2

16

3

22

9

26

14

29

17

28

16

23

12

17

5

11

1

4

-4

PlanetWare.com
Average monthly precipitation totals for Bethlehem, PA in mm.

89

70

90

89

114

101

109

111

111

85

94

86

Average monthly snowfall totals for Bethlehem, PA in cm.

25

26

12

2

0

0

0

0

0

0

4

16
Average minimum and maximum temperatures for Bethlehem, PA in °F
J
F
M
A
M
J
J
A
S
O
N
D

35

19

39

21

49

29

60

38

71

48

79

58

84

63

82

61

74

53

63

41

51

33

40

24

PlanetWare.com
Average monthly precipitation totals for Bethlehem, PA in inches.

3.5

2.8

3.6

3.5

4.5

4.0

4.3

4.4

4.4

3.3

3.7

3.4

Average monthly snowfall totals for Bethlehem, PA in inches.

9.7

10

4.7

0.9

0

0

0

0

0

0.1

1.6

6.2