14 Top-Rated Beaches near Philadelphia
Author Freddy Sherman grew up in Philadelphia, spending his summers in Ocean City, New Jersey.
You might think of philadelphia as a typical East Coast city, but drive over the Ben Franklin Bridge, onto the Atlantic City Expressway, and 60 minutes later, you'll find yourself on the beaches of Atlantic City. Philly is within a 90-minute drive of most of the New Jersey beach cities and within two hours of many of those in Delaware and New York as well. These beach cities give visitors a wide variety of beaches and a real variety of environments in which to enjoy them.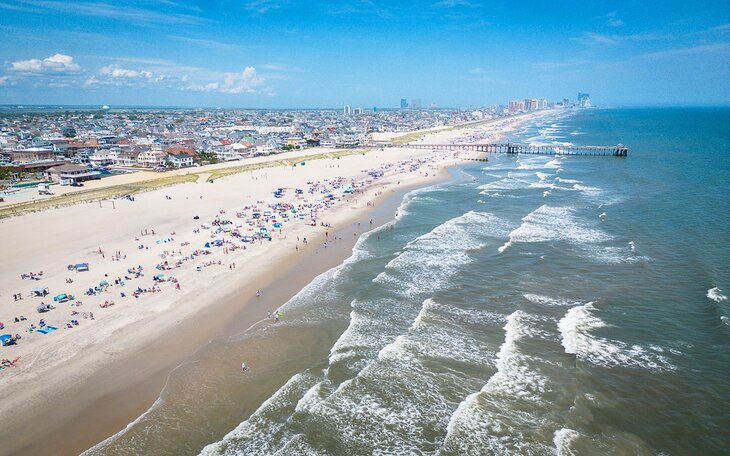 From the roller coasters of the Wildwood boardwalk to the Victorian mansions of Cape May, there's something for everyone. Whether you want your beach to have a carnival-type atmosphere, with crowds of people and a wide boardwalk, or be a remote, unspoiled location with miles of sandy dunes, you can find it all within an easy drive of Philadelphia.
Simplify your explorations with our list of the best beaches near Philadelphia.
1. Ocean City, New Jersey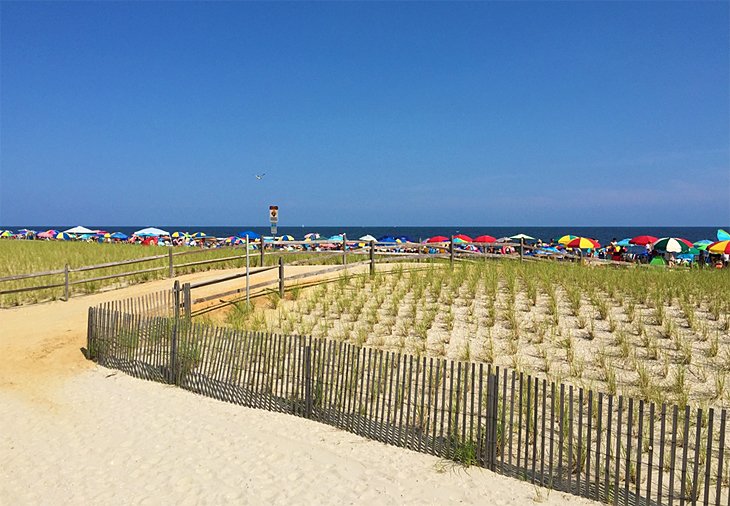 Highlights: Retains an old-school, family-first vibe, with no large resorts and no alcohol served or sold
The highlight of Ocean City is its long, wide, wood-planked, old-school boardwalk. The raised wooden boardwalk, as is found in many East Coast beach towns, offers miles of shops, stores, restaurants, cafés, and accommodations, with no roads or cars to separate them from the sand. Smaller than the city of the same name in Maryland, Ocean City, New Jersey is the best family beach near Philadelphia.
The original family beach town, founded by a church group, Ocean City retains some of its conservative family values: the town still has some laws that force shops to close on Sundays, and no alcohol is served or sold, anywhere.
Ocean City is on an island, with several bridges connecting it to the mainland. Like in many beachfront towns, there's a bay on one side and the beach and open ocean on the other. The core of the beach activity is around 8th Street, where the city's municipal music pier is located. The pier, and the auditorium that sits upon it, host concerts throughout the year. The main public beach area is wide and guarded by lifeguard stands every few hundred yards.
Beach fees are charged for visitors 12 and over, normally around $10 per day for adults or $20 for a season pass (if purchased before May 31). The Port-O-Call Hotel is the city's only high-rise, beachfront hotel, and it sits right on the boardwalk. Try for a room facing the beach as the other side faces the parking lot.
2. Avalon, New Jersey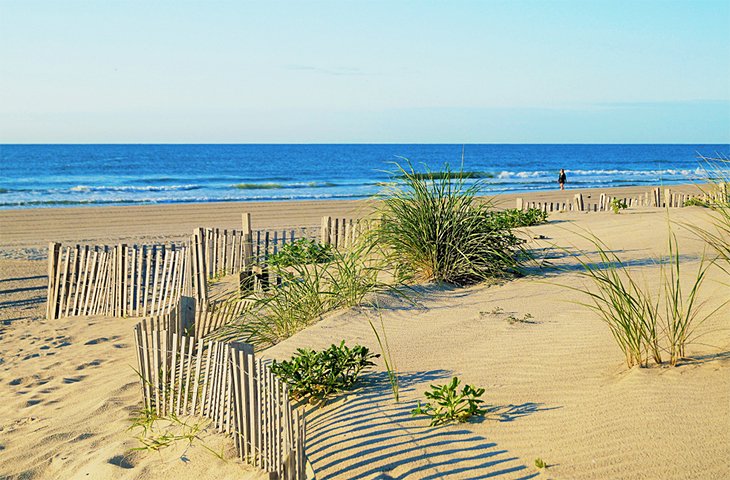 Highlights: More residential, with no boardwalk or beachfront businesses; the small town of Stone Harbor offers quaint yet luxe shopping and dining
Perhaps the wealthiest of all the South Jersey beach cities, Avalon is known for its wide, unspoiled beaches and sand dunes, as well as the huge mansions that line them. The town has a more laid-back, upscale feel and has more expensive shops and fine-dining restaurants than its other South Jersey neighbors.
Avalon's beaches are extremely clean, with grassy dunes separating the line of houses from the beach and then the water. The city bills itself as "cooler by a mile" because the land juts out into the ocean a mile farther than the other Jersey beach towns.
Avalon is mainly residential; the business area is known as Stone Harbor. The entire island is fronted by a seven-mile-long beach. There's no boardwalk, and most of the beach retains a beautiful, natural feel, especially because the dunes block out the houses.
Beach tags are required for both Stone Harbor and Avalon. There are designated surfing and rafting beaches, and there are basic facilities (bathrooms and outdoor showers) every half mile or so along the beach.
There aren't many hotel options within Avalon, but the ICONA Avalon is a bright and airy boutique beachfront resort right on the dunes. For years known as the Windrift Hotel, it's been transformed into a stylish shore getaway.
3. Wildwood, New Jersey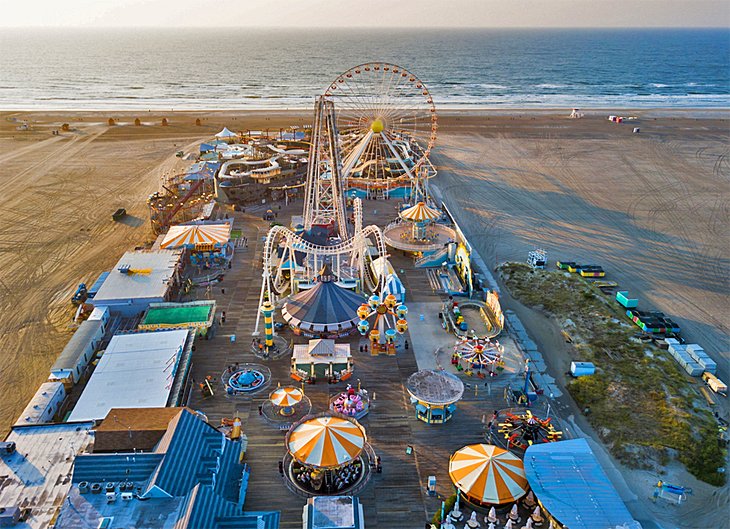 Highlights: Nightlife, musement piers, a big wooden boardwalk, and cheap accommodations
Like the Coney Island of the Jersey Shore, Wildwood retains its reputation as a place where the party goes on all summer long. The city sports a long, wide wooden boardwalk, which has multiple amusement piers. These are small amusement parks located on long piers jutting out into the ocean.
The five miles of wide, sandy beaches are free, which can mean big savings for families. The beach is very flat and huge, in that at low tide, it can take almost 10 minutes to walk from the edge of the boardwalk to the waterline. Like with most of the New Jersey beach cities, the sand is white and soft, and cleaned each morning.
Most of the hotel choices are small motels, a block or two away from the boardwalk. You can stay on the boardwalk at the Shore Plaza Beach Resort, technically located in North Wildwood. Most of the amusement piers are about a 10-minute walk away down the boardwalk. Rooms have private balconies, and those on the fourth and fifth floors have sea views.
4. Sea Isle City, New Jersey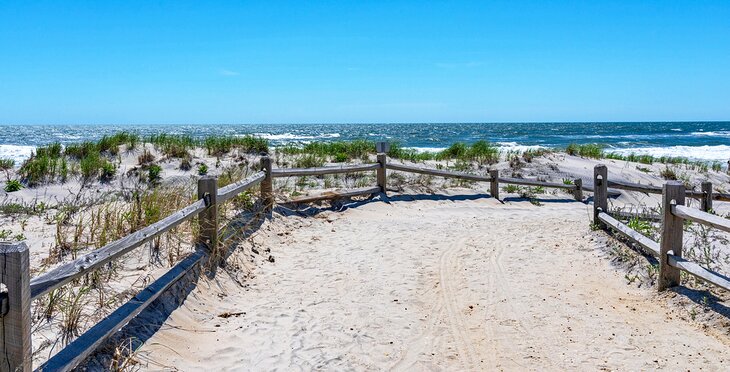 Highlights: Good combination of a small beach town with a vibrant nightlife and a cool downtown area
The next town over from Ocean City, Sea Isle City also offers a quaint, small-town beach experience with a bit of a nightlife scene.
There's a beachfront promenade lined with shops and cafés and miles of white, sandy beaches. The line of houses is separated from the beach by a raised, grassy line of dunes, which also helps protect against flooding.
Sea Isle City just redeveloped its bay front and marina area: there's a boardwalk here and a new pedestrian-only street connecting the bay to the beach. Locals are serious about outdoor activities – the area has designated beaches for kayaking, kiteboarding, rafting, and surf fishing. There are also volleyball courts on some of the city beaches.
5. Long Beach Island, New Jersey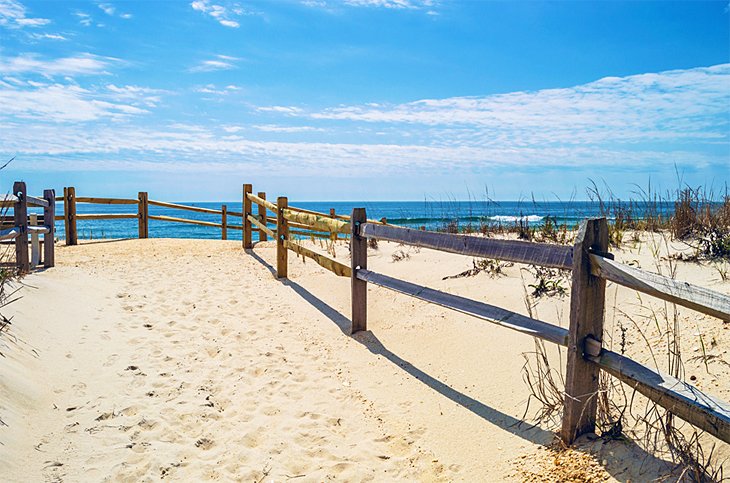 Highlights: Compact beach island with a combination of luxe summer homes and fancy marinas with fun amusement parks, mini-golf courses, and shopping
Long Beach Island is located off central New Jersey and has a lot of varied beach towns along its 18-mile length. Towns like North Beach and Harvey Cedar have ultra-luxury summer homes and marinas filled with expensive yachts, while towns like Ship Bottom and Beach Haven have amusement parks, miniature golf courses, and lots of things to eat and buy.
LBI, as it's known, is a popular destination for New York City weekenders - it's less than two hours from the city and less than 90 minutes from Philadelphia.
All along the island, the beach is wide (about 200 feet from the dunes to the sea) and separated from houses or development with a tall grassy line of dunes.
The Spray Beach Hotel puts you right on the sand in Beach Haven. It boasts a heated pool and hot tub and rooms with either pool or ocean views. A second annex across the street has efficiency units, junior suites with kitchenettes.
6. Cape May, New Jersey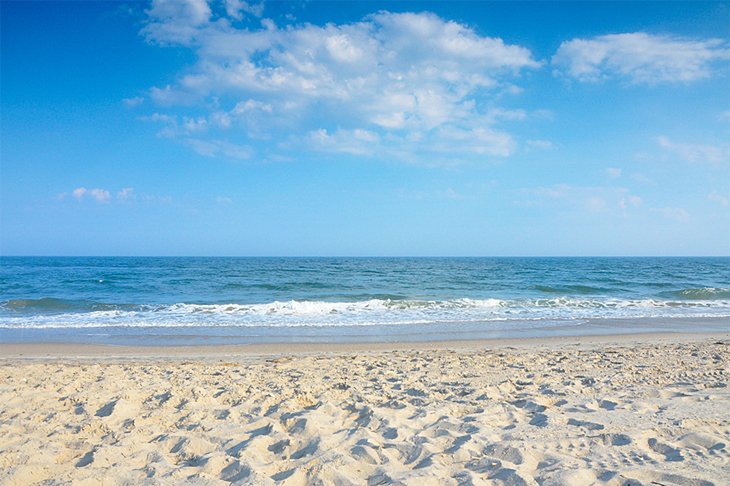 Highlights: A quaint family-friendly beach town with many restored Victorian mansion accommodations
Located at the southern tip of New Jersey, Cape May has been a popular summer resort destination since the Victorian era, and it retains many vintage Victorian gingerbread mansions. The city provides a unique environment for visitors and celebrates (and retains) more of its history than other New Jersey beach cities.
Cape May's beaches are clean and beautiful, and the resort is a great destination for families. It's also great for romantic getaways, and some bed and breakfasts cater to couples. There's a beachfront boardwalk and a pedestrian mall along Washington Street.
Congress Hall is the nation's oldest beachfront resort, first opened in 1816. Now totally rebuilt as a large, modern, beachfront luxury hotel, it recreates a Victorian seaside resort.
Accommodation: Best Resorts in Cape May
7. Asbury Park, New Jersey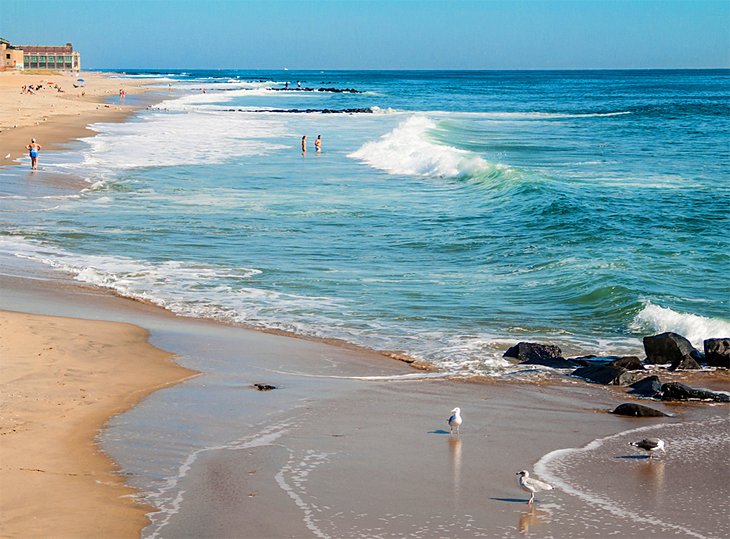 Highlights: A bit past its prime; best known for its beach, its music scene, and as the place where Bruce Springsteen established himself as a performer
If you're a Bruce Springsteen fan, a trip to Asbury Park makes a great combination of beach fun and music history (he played here frequently during his early years and named one of his most famous albums after the city). It's also still home to the music club he first played in, the Stone Pony, which still features performances from artists both new and established.
Asbury Park is on the New Jersey coast, about an hour from New York City, so it's a popular getaway for people who live in Manhattan. It's also a 90-minute drive from Philadelphia. There is a wonderful faded glory to the seaside resort, but it still has a popular and vibrant music scene.
The beach is fronted by a wide, wooden boardwalk, which is lined with shops, cafés, amusement parks, water parks, miniature golf courses, and other tourism-related businesses. There's a leash-optional dog beach at 8th Avenue, which is a fun experience whether you're a dog owner or not.
The Asbury is the city's only new hotel, opened as a place to stay for those stylish New Yorkers on getaway trips. It boasts an outdoor movie theater, a music venue, and a very popular six-lane bowling alley with a diner inside.
8. Rehoboth Beach, Delaware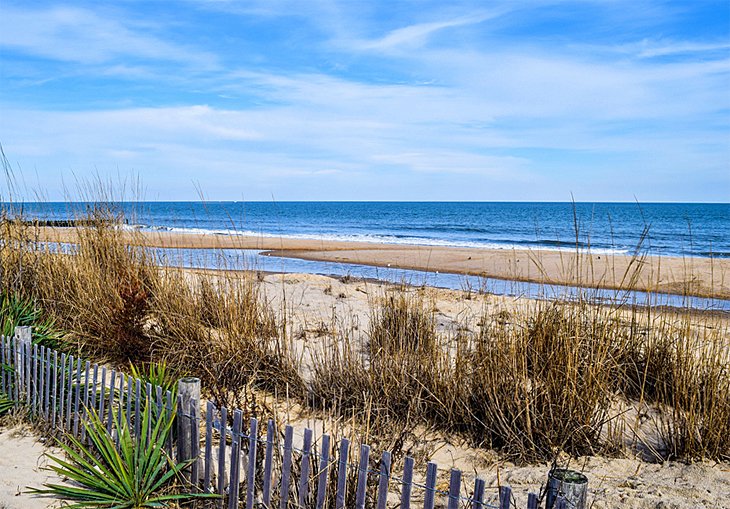 Highlights: President Biden's longtime summer home, with a wooden boardwalk, cool shops, and the cleanest water of any US coastal state
Now world-famous as the location of President Joe Biden's summer home, Rehoboth Beach, Delaware is a fun, extremely family-friendly beach city. There's a long, wide stretch of patrolled beach; an old-school wooden boardwalk; and miles of cool little local shops and cafés. It's an easy two-hour drive from Philadelphia.
The highlight of any visit is attending a concert at the open-air bandstand, located right on the boardwalk. The ocean off Rehoboth Beach is especially clean - the National Resources Defense Council rated it (and that of all the beaches in Delaware) the best water quality of any coastal US state and awarded it five stars, their highest rating.
Shoppers will like that there's a huge Tanger Outlet Mall just outside town with almost 200 name-brand retail outlets.
The Boardwalk Plaza Hotel is a large resort located right on the boardwalk, directly in the heart of the retail area. There's free parking, free Wi-Fi, and complimentary beach towels.
9. Margate, New Jersey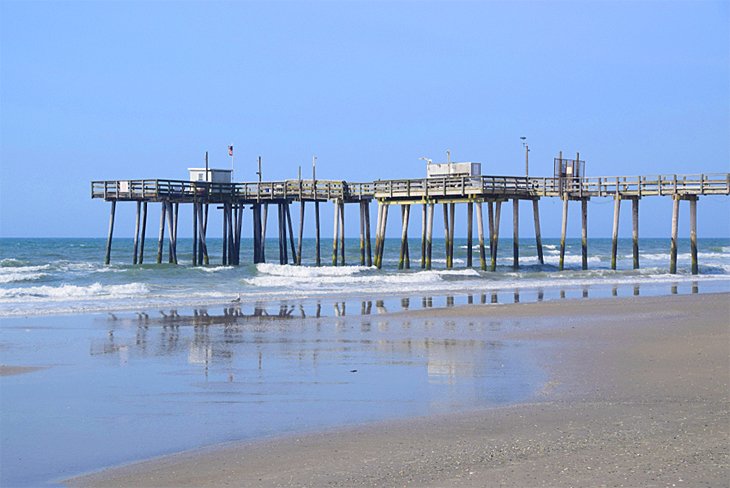 Highlights: Known for its kitsch giant elephant; no hotels means accommodations are limited as are crowds
Home of the only elephant on the Jersey Shore, Lucy, Margate is the town next to Atlantic City. Lucy is a 65-foot-tall wooden elephant, a restored beachside remnant of the city's Victorian history that can be toured.
When its neighbor, Atlantic City, began to develop in the late 1970s, Margate also began to develop as a residential community offering close proximity to the excitement of Atlantic City. The beaches here are huge. Hundreds of yards of flat white sand separate the boardwalk from the waterline. There's a nice business district, too, with shops and a range of restaurants.
By not allowing hotels, Margate retains a regular population of locals and returning summer residents. There is a small bed and breakfast, the Carisbrooke Inn, located in Ventor, the next town over. The inn (which does not welcome children under 14) provides a European experience with a complimentary breakfast and afternoon reception with snacks.
10. Seaside Heights, New Jersey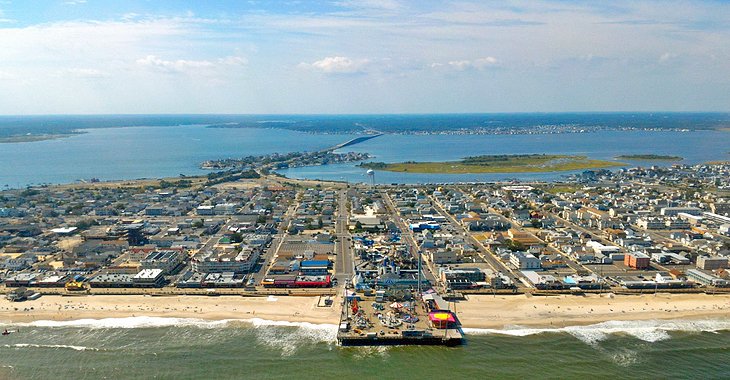 Highlights: Home of the Jersey Shore TV series; popular for weekend and summer gatherings; a big beach, a boardwalk, and amusements
Seaside Heights is another barrier island, north of Long Beach Island. The resort was featured on the MTV show Jersey Shore and can live up to the show's reputation for out-of-control singles. Its proximity to New York City makes it a popular weekend and summer getaway destination for New Yorkers.
There's a wide, wooden boardwalk; amusement piers; and plenty of fun things to see and do. The beach here is wide and flat with hundreds of yards of smooth white sand separating the ocean from the boardwalk area. Fees are required to use the beach, normally around $10 per day or $50 for a season.
11. Point Pleasant Beach, New Jersey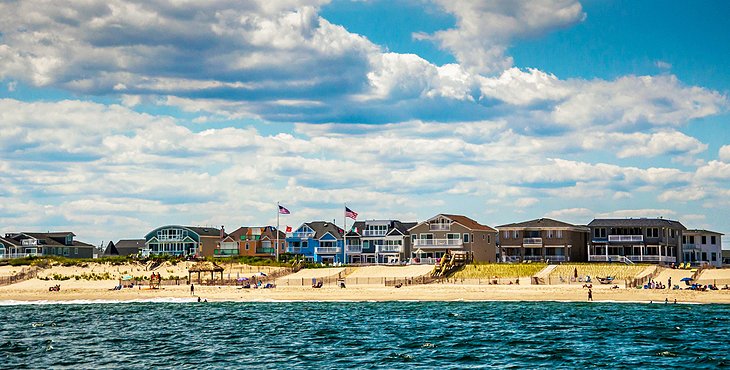 Highlights: Family-friendly with a wooden boardwalk, lots of pizza and ice cream shops, and mini golf courses
Also north of Long Beach Island, Point Pleasant Beach goes for a more family-friendly atmosphere compared to some of its neighbors. There are fun attractions along the mile-long, wide, wooden boardwalk, and the city's cafés offer little areas of boardwalk seating. It's great to watch the parade of people walk by as you eat.
The town is great for family vacations, especially during the summer, when the many rides, miniature golf courses, and plenty of pizza and ice-cream shops evoke a carnival atmosphere. As with other cities in this list, summer (Memorial Day through Labor Day) is the peak season, with some businesses and hotels closing during the off-season.
The White Sands Oceanfront Resort & Spa is a popular hotel located directly on the boardwalk, with more amenities than many of the city's other small hotels and motels. There is an outdoor pool, a heated indoor pool, a Jacuzzi, and even a full spa offering an extensive menu of beauty and body treatments.
12. Dewey Beach, Delaware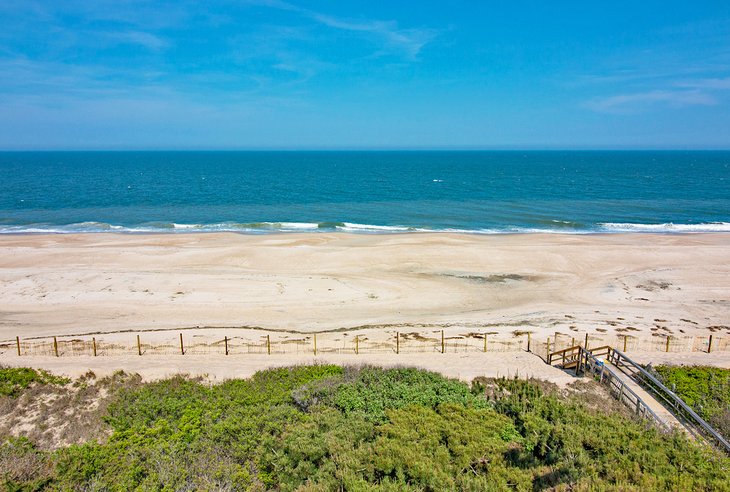 Highlights: Adult-friendly beach town next to Rehoboth, great for families, a more active nightlife scene
Dewey Beach, another Delaware beach resort town, is the adult alternative to Rehoboth Beach and the next town over. The entire town is less than two miles long and only two blocks wide, but it has a big beach, a lot of restaurants, shops, and an active music and nightlife scene.
While it has a lot of things for adults to do after dark, Dewey Beach remains a great family vacation destination. The beach is great for kids, and both accommodations and food are inexpensive. There are also some historic sites and monuments, so a vacation can include a bit of education.
The Beach House Dewey is a budget hotel, a few steps from the sand, a few blocks down from the city's nightlife area.
13. Brigantine Beach, New Jersey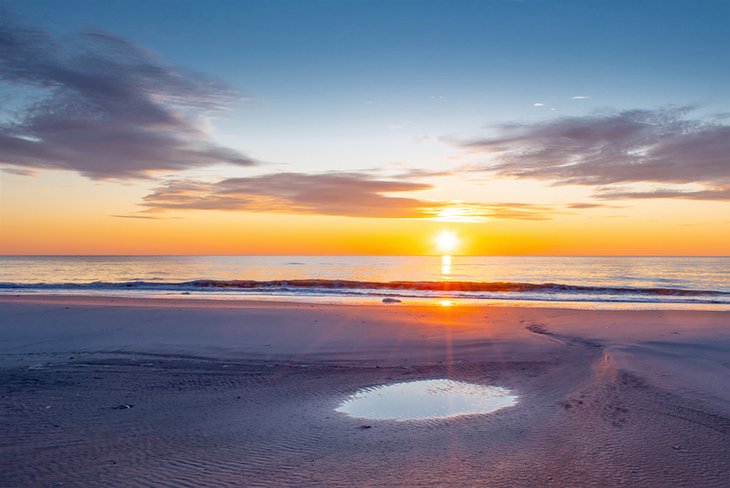 Highlights: Closer to Philly than Atlantic City, a small-town feel, a lighthouse, and a marine mammal center that is great for kids
This historic New Jersey beach island, called "The Island" by locals, is just outside Atlantic City. It retains a small-town feel with a lot of small motels and hotels. It's a barrier island, and throughout history has been the site of a lot of shipwrecks, some of which can be seen at low tide.
Aside from the big beach, popular tourist attractions include the city's iconic lighthouse and the state's only marine mammal stranding center. The marine mammal center has a sea life museum and an observation tank.
The La Sammana Resort is a stylish newer hotel on Brigantine Avenue in the city's shopping district (a few blocks from the beach). The studio, one-bedroom, and two-bedroom units each have a kitchenette, and the hotel has a nice rooftop pool and terrace with ocean views. For added value, there's free parking and free Wi-Fi.
14. Smithfield Beach, Pennsylvania
Highlights: River beach with a sandy shore area, cool water for swimming, and recreation areas
If you can't make it to the Jersey Shore, Pennsylvania has some beaches on its rivers. Smithfield Beach is in Smithfield, near the town of Delaware Water Gap, about 90 minutes from downtown Philadelphia. Aside from a sandy and grassy beach, there are picnic areas, restrooms, and a boat launch. You can swim in the river here or just enjoy the sunshine in a beach chair.
Map of Beaches near Philadelphia
Frequently Asked Questions
What's the best time to visit the beaches near Philadelphia?
Average minimum and maximum temperatures for Philadelphia, PA in °C
J
F
M
A
M
J
J
A
S
O
N
D

4

-4

6

-2

11

2

17

7

22

13

27

18

30

21

29

21

25

16

19

9

13

4

7

-1

PlanetWare.com
Average monthly precipitation totals for Philadelphia, PA in mm.

89

70

97

89

99

84

112

97

99

70

80

84
Average minimum and maximum temperatures for Philadelphia, PA in °F
J
F
M
A
M
J
J
A
S
O
N
D

39

25

42

28

51

35

62

44

72

55

81

64

86

70

84

69

77

61

66

49

55

40

44

31

PlanetWare.com
Average monthly precipitation totals for Philadelphia, PA in inches.

3.5

2.7

3.8

3.5

3.9

3.3

4.4

3.8

3.9

2.8

3.2

3.3
Most of the businesses and many hotels in New Jersey (and Delaware) beach towns close down for the winter. The season starts over the Memorial Day Weekend holiday (the last weekend in May) and goes through the Labor Day holiday (the first weekend in September).
May is a great time to visit beaches near Philadelphia, as beach town businesses begin to open on the weekends, especially if the weather is warm. With the season starting over the Memorial Day Weekend, most businesses are up and running by mid-May.
The official season ends Labor Day, but many businesses remain open for a week or two after that if the weather is warm, especially on weekends. September is also a great time to visit, as after Labor Day, especially during the week, there are no crowds.
The season usually starts off on the mild side, with temperatures in the high 60s or low 70s Fahrenheit during the day and 50s at night. As summer progresses, it gets hotter, with highs sometimes in the 90s by August, dipping into the 70s at night. Most summers are relatively rain-free with any rain usually lasting only a few hours.
How do I get to the beaches near Philadelphia?
New Jersey has a major north/south highway, the Garden State Parkway, which passes all the city's beach resorts. It's easy to reach from anywhere in the northeastern part of the U.S. The Delaware resorts are off DE-1, which connects directly to US-95.
The easiest way to reach the beaches is by car. Most hotels and resorts offer free parking, and it's easy to get there on major highways. Greyhound and Flixbus offer bus services to most of the resort cities.