16 Top-Rated Beaches in New York City & Nearby
Manhattan gets so sweltering in the summer, it's easy to forget that it's surrounded by water and that it has access to top beaches within a short distance. As Memorial Day rolls around, and the humidity rises, locals and visitors head to the trains and ferries, equipped with coolers and beach chairs, to escape the heat and make the most of summer days on beaches full of fun activities and water sports.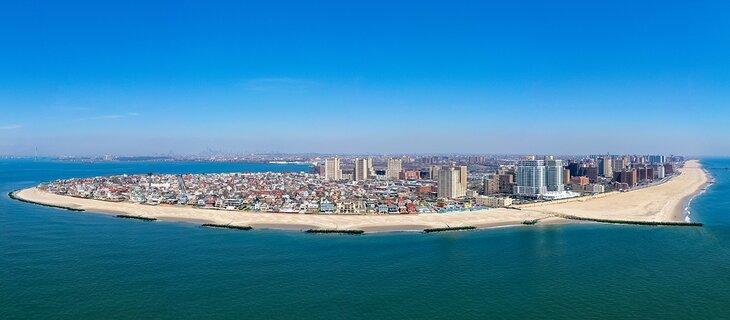 New York City has a number of options for beaches in and around it, fit for every type of traveler, from families and couples to singles and girlfriends looking to get away from the bustle of the city. Most of these beaches offer more than just excellent sunbathing and swimming. You can enjoy thrilling roller coaster rides, go sea kayaking, explore the wilderness on nature trails, take in seaside towns, and much more.
You'll find these beaches in the five boroughs, in the famed Hamptons, and on the Jersey shore. Whether you are visiting for pleasure or taking a break on your business trip, a welcoming beach is never too far from the city.
Keep in mind that NYC beaches are free and only allow swimming when a lifeguard is on duty. Beaches stay open from Memorial Day Weekend at the end of May through Labor Day in early September, from 10 am to 6 pm. You need a car to venture out to the beaches on Long Island and New Jersey, and they have their own rules and fees.
Plan your day by the sea with our list of the best beaches in the New York City area.
1. Coney Island Beach, Brooklyn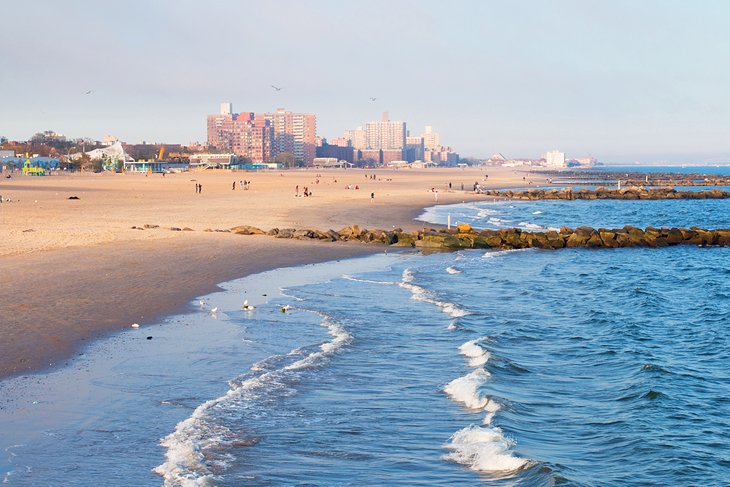 As one of New York's most popular beaches, Coney Island has it all. This beach at the tip of Brooklyn is easily accessible by subway trains and has two amusement parks (Deno's Wonder Wheel and Luna Park) featuring the Cyclone roller coaster and a boardwalk, and the iconic Nathan's Famous Hot Dogs. The original Nathan's Coney Island restaurant that opened in 1916 is still at the corner of Surf and Stillwell, home of the annual Hot Dog Eating Contest that takes place on July 4th weekend.
While the beach is still the main attraction, events like the famous Mermaid Parade in June draw crowds from all across the city. The parade is the largest art parade in the United States and celebrates the arrival of summer.
At the nearby New York Aquarium, you may not find mermaids, but you'll definitely get your fill of marine life. The aquarium, now part of the Wildlife Conservation Society, is the oldest aquarium in the United States and features 350 marine species, including 18 species of sharks from around the world. Regardless of the weather outside, the aquarium is open year-round.
2. Brighton Beach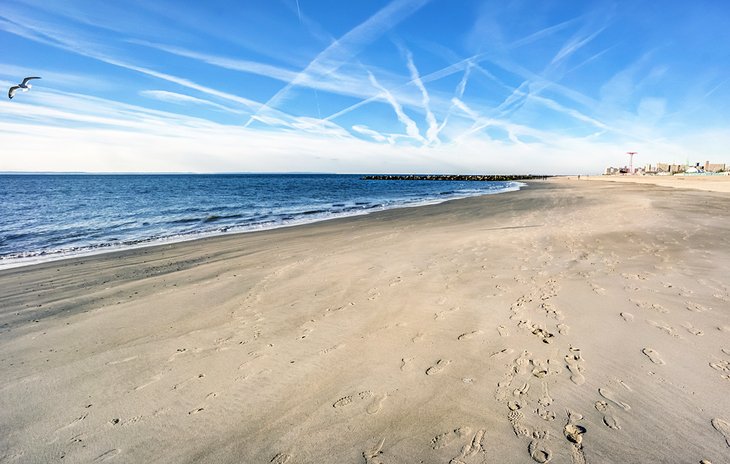 If you continue walking east from Coney Island and the aquarium, you'll come to Brighton Beach, located in a neighborhood of the same name facing the Atlantic Ocean. The beach is a little less crowded than Coney Island, and you'll find mostly locals enjoying the area with picnics and volleyball.
Brighton Beach area has the largest community of Eastern Europeans in the Eastern United States, which means grocery stores selling Russian and Eastern European foods, and delis and restaurants serving freshly made pierogies.
Within walking distance to Brighton Beach, you'll find the more secluded Manhattan Beach Park on the east end of the Brooklyn Peninsula. The park offers tennis, basketball, and handball courts and two baseball fields. Free movies are shown all summer long in the parking lot.
3. Jones Beach State Park, Long Island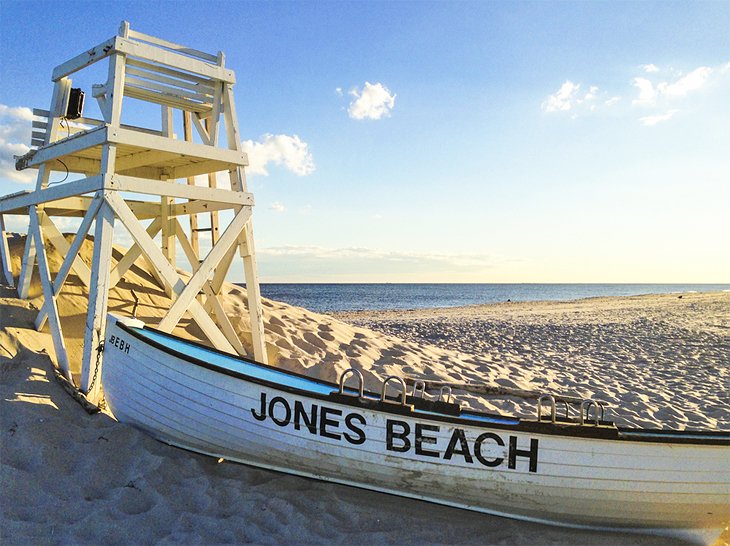 Jones Beach is one of New York metropolitan area's most famous beaches. Spanning 6.5 miles, this well-maintained public beach in the hamlet of Wantagh features a two-mile-long boardwalk, Art Deco bathhouses, several fields for parking, and plenty of fun activities ranging from mini-golf to shuffleboard.
You can catch summer concerts at the Northwell Health outdoor arena, which gets big names like Jimmy Buffett and Dave Matthews. Jones Beach State Park also hosts the popular Bethpage Air Show with the Blue Angels every Memorial Day weekend, a July 4th Fireworks show, softball and volleyball tournaments, and free entertainment at the bandshell.
Jones Beach is only accessible by car, boat, and bicycle, and there's a fee of $10 for vehicle use. If you have a New York State Empire Passport ($80), you can go for free.
Keep in mind that during peak summer season it gets extremely crowded; the best times to go are early in the morning and evenings around sunset. Swimming is only allowed when lifeguards are on duty. Stand-up paddleboarding, surfing, and windsurfing are also allowed along the beachfront at certain locations.
4. Long Beach, Long Island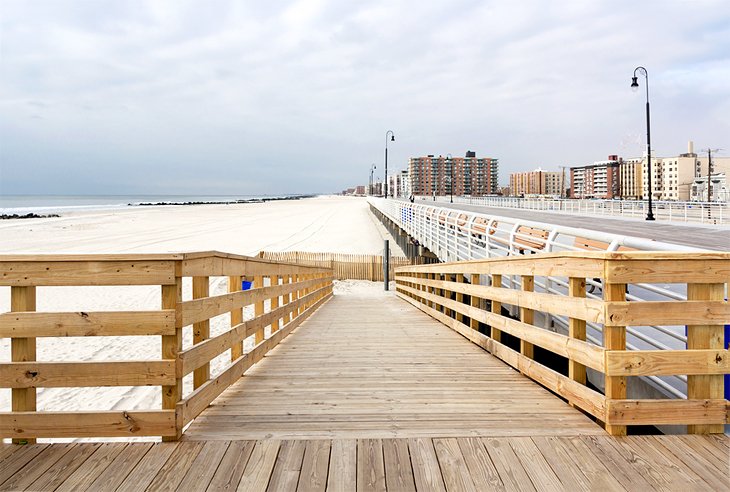 A 50-minute train ride on the Long Island Rail Road (LIRR) from Manhattan will bring you to the soft, white sands of Long Beach, where you can sunbathe, swim, and catch some waves. Chairs and umbrellas are available to rent from several outfitters.
The 2.2-mile Long Beach Boardwalk, rebuilt after Hurricane Sandy in 2012, is free to access and perfect for biking or walking. It has several eateries along the main road, including Brixx & Barley Italian restaurant and Tutti Frutti frozen yogurt.
In the summer, there's a free concert series, an Arts on the Boardwalk festival, and a farmers market at the Kennedy Plaza on Saturdays. If you want to take up surfing, Skudin Surf Long Beach is located right on the beach.
A day pass is required to access the beach in the summer for $12 for residents and $15 for non-residents. LIRR occasionally offers One-Day Getaway deals on weekends that include a beach pass and a coupon to participating local vendors along with the train ride.
5. Cooper's Beach, Southampton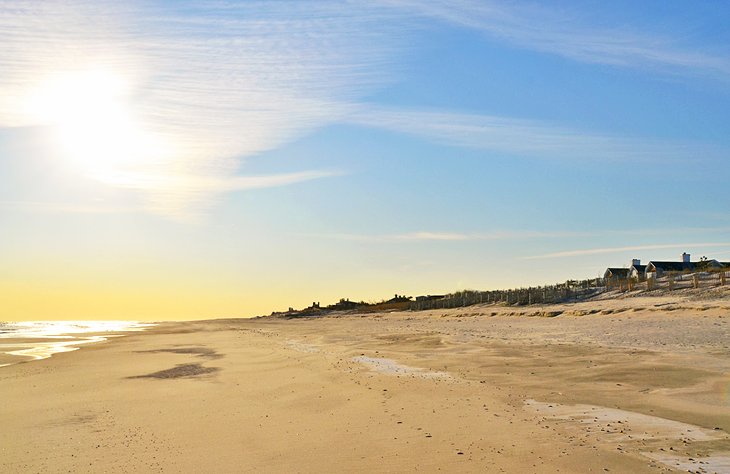 Cooper's Beach in the Hamptons is often ranked among the top beaches in America, and rightfully so. This 500-foot-long glistening stretch on the South Shore of Long Island offers a fun outing with a beautiful backdrop of historic mansions, undulating sand dunes, and expansive ocean views.
Lifeguards are on duty during summer. Families with small children will especially enjoy the soft sand, perfect for building sandcastles, and the gentle waves found at Cooper's Beach. There are beachside shower facilities with fresh water, so you can rinse off before heading home.
The beach has a $40 parking fee, as well as facilities such as a concession stand, bathhouse, and umbrella and chair rentals.
6. Main Beach, East Hampton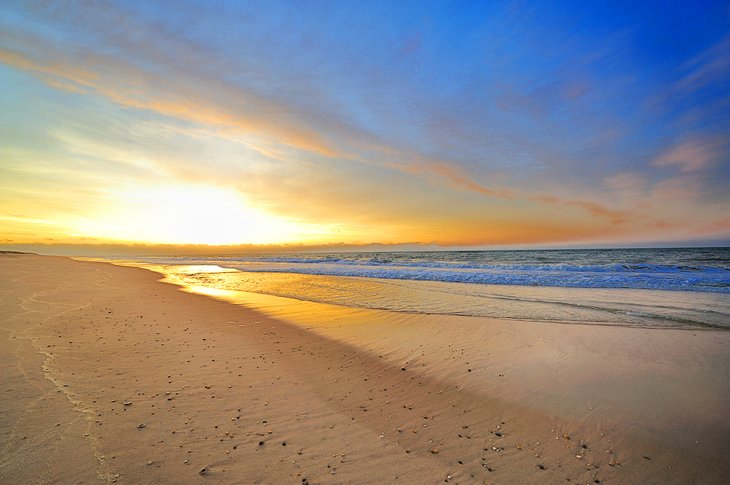 Along with Cooper's Beach, Main Beach has regularly topped the list of the nation's best beaches. This oasis in East Hampton is within walking distance of many accommodations in the area.
Main Beach offers bathrooms and lifeguards. At the Pavilion, relax in the shade, find a locker to store items, get refreshments, and grab a bite to eat at the snack bar. There are plenty of shops and restaurants on Main Street to explore, as well as local attractions like Home Sweet Home Museum and an old-fashioned windmill at Old Hook Mill.
If you are staying in the area, bike to the beach to avoid the hefty parking fee of $30. Kayak, surfboard, and paddleboard rentals are available from outfitters in town; some even offer lessons if you decide to hone your skills on the water.
7. Robert Moses State Park, Fire Island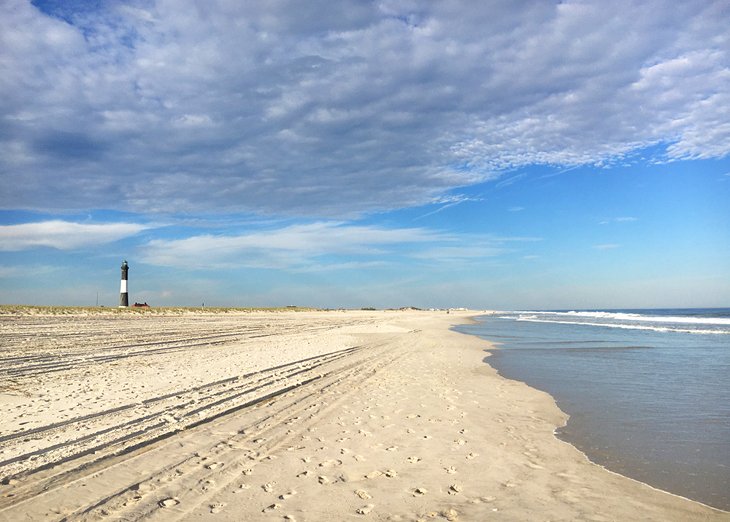 Colorful umbrellas stretch for miles on the sandy shore of Robert Moses Beach on the western end of Fire Island National Seashore, a barrier island paralleling Long Island in the Atlantic Ocean. This bike-friendly haven offers a closer beach-going opportunity than the Hamptons, and it is just as beautiful.
Visitors get ocean views along with sightings of the iconic 200-year-old Fire Island Lighthouse. A less-than-a-mile nature trail from Field 5 leads to the lighthouse, where you can climb the 192 steps to the top for panoramic views of the island and beyond.
On-site facilities include private outdoor showers, grills, and picnic tables. At Field 2, there's an expansive volleyball court and an 18-hole Pitch & Putt Golf Course (open from April to mid-November).
Robert Moses State Park can be reached via public transportation if you are willing to take the train to a bus.
8. Orchard Beach, Pelham Bay Park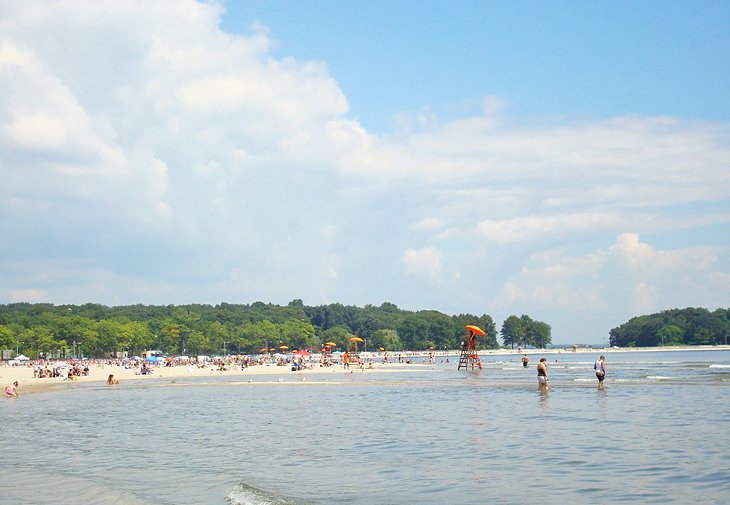 Orchard Beach in Pelham Bay Park is the Bronx's only public beach, and this "Riviera of New York" is a popular spot with many amenities. There are snack bars; picnic areas; playgrounds; and 26 courts of basketball, volleyball, and handball. This 1.1-mile crescent-shaped beach faces the Long Island Sound and offers a view of City Island. Showers and changing areas are also available.
Parking is $8 on weekdays and $13 on weekends during the beach season. This beach can also be accessed via public transportation. Barbecuing is allowed in the North and South Picnic Areas.
Combine your beach outing with a hike or leisurely walk in Pelham Bay Park, New York City's largest park property. The park, three times the size of Central Park, has many miles of bridleways and hiking trails ideal for spotting ospreys.
It also offers two golf courses, playgrounds, sports fields, and courts. The historic country estate of Bartow-Pell Mansion, located on the northern portion of the park, is a National Historic Landmark featuring the country's finest Greek Revival interiors.
9. Rockaway Beach and Boardwalk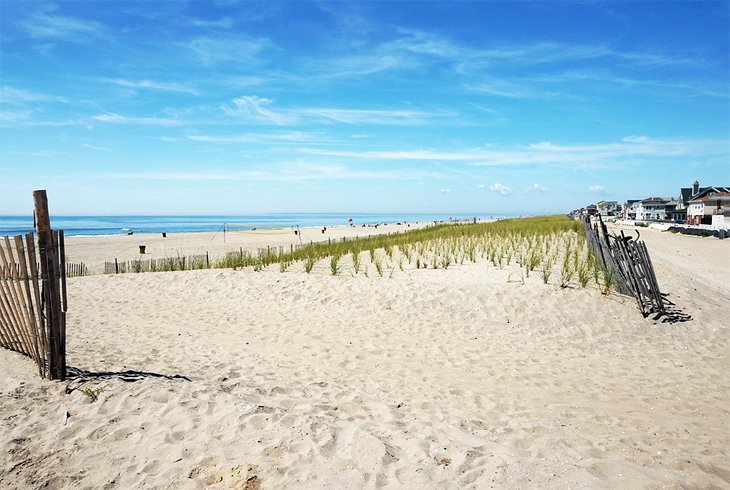 Rockaway Beach on the Rockaway Peninsula in Queens gets significantly less crowded than Coney Island, and that's part of the appeal. It's also the largest urban beach in the country, stretching from Beach 3rd to Beach 153rd Streets.
It also happens to be the only shoreline within city limits appropriate for surfing, which means the waves are rough. Beginners can learn to surf at Skudin Surf or New York Surf School nearby.
With eight playgrounds along the beach, the most impressive at Beach 30th Street, kids will have no trouble being entertained. The boardwalk, after a renovation following Superstorm Sandy, is ready for prime time. Grab a few tacos at the Rockaway Beach Surf Club, home to the popular food stand Tacoway Beach. Other concession stands sell burgers and hot dogs, Venezuelan arepas, and seafood rolls.
Hop on the Rockaway-Parkway-bound A train subway or the ferry from Pier 11 on Wall Street to get to this six-mile-long slice of paradise.
10. Jacob Riis Park Beach, Far Rockaway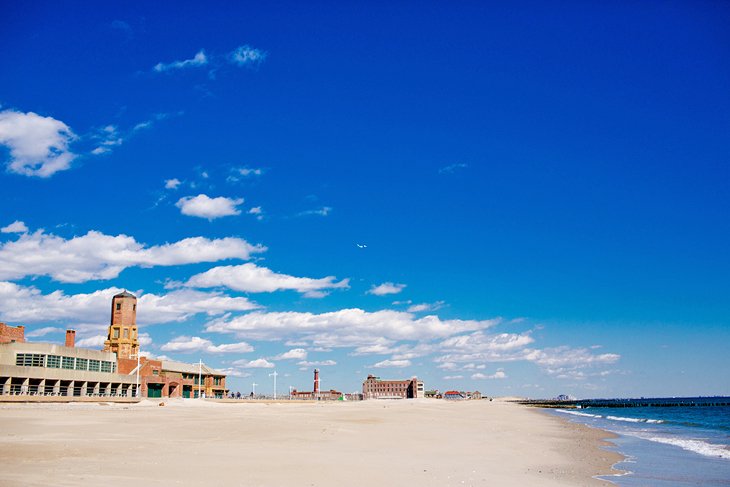 You can get more than a tan at Jacob Riis Park Beach, thanks to its new Bazaar and Art Deco boathouse. Three miles from Rockaway Beach, this clean stretch of sand, nicknamed "The People's Beach" for its access to public transit, can be reached by taking the A train to Broad Channel and catching a local bus, or by ferry.
The Bazaar, is one of the top attractions at Jacob Riis Beach, offering some of the best food in NYC, including the famous Ample Hills Ice Cream, Rockaway Clam Bar, and Oaxaca Tacos.
In the summer, visitors can take advantage of the golf center, ball courts, and concession stands, as well as vendors selling everything from bathing suits to vintage clothes. The Bazaar also hosts a number of live shows, games, and dance events.
11. Franklin Delano Roosevelt Boardwalk and Beach, Staten Island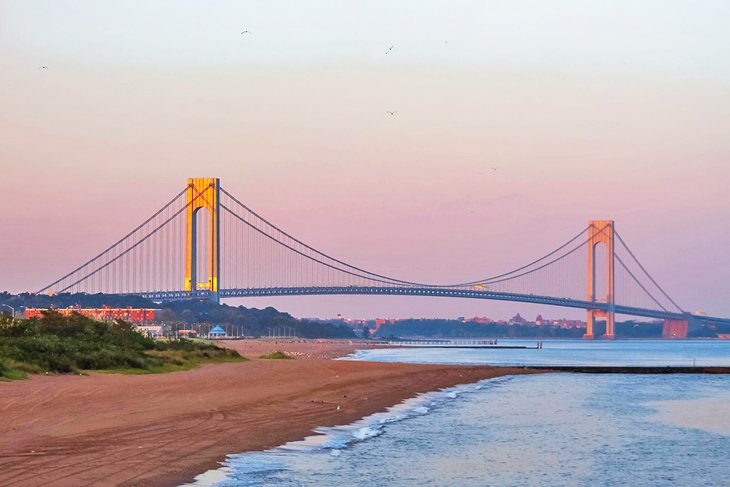 As part of the Franklin Delano Roosevelt boardwalk and beach area, South Beach and Midland Beach extend 2.5 miles from Staten Island's Fort Wadsworth to Miller Field's Gateway Recreational Area.
Just a short ferry ride from Lower Manhattan, these beaches provide endless fun in the sun for people of all ages. There's even a beach for seniors containing chess tables, benches, and bocce courts.
Beachgoers can take in lovely views of the Verrazano Bridge, jog along the boardwalk graced by The Fountain of The Dolphins, play tennis, go biking, and more.
At Midland Beach, the less crowded option, you can go fishing off the Ocean Breeze Fishing Pier, one of the largest in the city. The Sea Turtle Fountain and sprinklers and the playground are a big hit among youngsters.
12. Asbury Park, New Jersey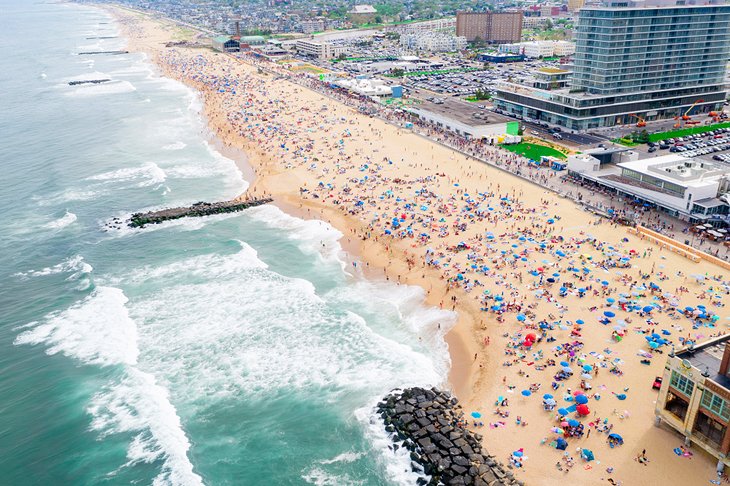 The historic shore town of Asbury Park, built in the late 1800s, features one of the best beaches in New Jersey. The mile-long revitalized boardwalk, lined with artsy shops and restaurants, ends with the main highlight-the beautifully restored Paramount Theater and Convention Hall. Here, you can catch a show, attend a festival, and even do a little shopping.
Asbury has something for everyone, including a glassblowing studio, Silverball Retro Arcade, Asbury Splash Park with plenty of kid-friendly attractions, and the newly opened Asbury Lanes bowling.
The beach costs $7 on weekends and $5 on weekdays, and it can be reached via New Jersey Transit Coast Line, with a change at Long Branch, and by grabbing an Uber or Lyft to the beach.
13. Barrett Beach Park, Fire Island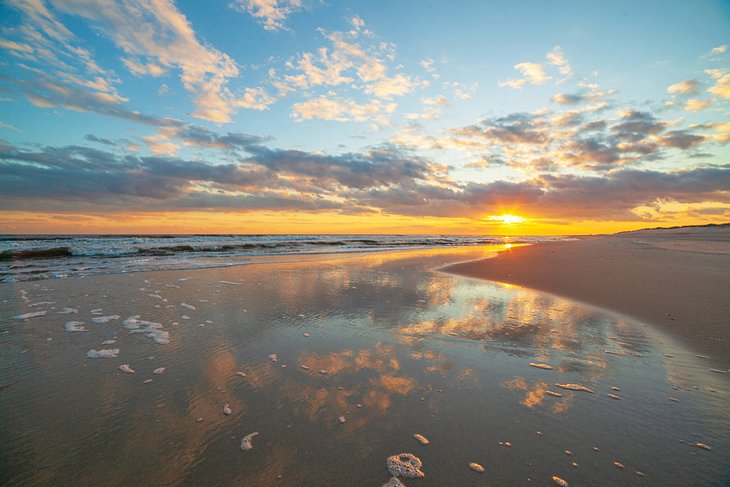 Fire Island may be a sliver of a barrier island, but its many different communities make it feel like it's much larger than it actually is. You'll find the beaches on Fire Island are very different, too.
One of the best beaches here is Barrett Beach Park, located between the neighborhoods of Fire Island Pines and Water Island. The wide, seemingly endless beach is only accessible by foot or private boat and has uninterrupted views.
The beach's history dates back decades. In fact, this beach was once a posh playground for tourists, full of concession stands and lifeguard posts. But after serious wear and tear on the beach, all areas were closed down. Today the beach is completely restored and is part of the Fire Island National Seashore.
You won't find concessions here anymore, but inside it's a pristine paradise of perfect seafront. It's also a great place to visit for architecture buffs, as the shoreline is lined with some truly remarkable mansions. You'll also find a playground and even a dock for private boating here.
14. Ditch Plains Beach, Montauk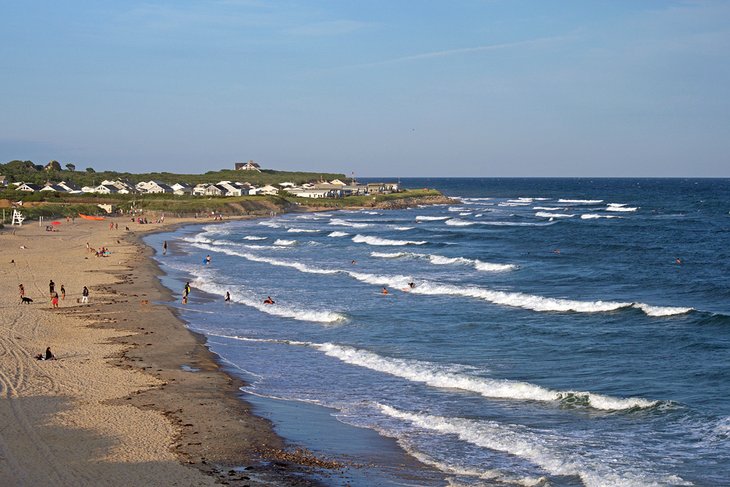 Montauk is one of the most beautiful gems in lower New York. Located all the way at the eastern tip of Long Island, about two and a half hours from New York City, is a swath of beautiful, windswept beaches and small coastal villages.
The beaches of Montauk are among the best beaches in New York, but if you have time for only one then it ought to be Ditch Plains Beach. Two miles from Montauk village, Ditch Plains is popular among surfers and sunbathers alike. In fact, it is one of the best surf destinations on the entire East Coast.
Because the beach is part of the East Hampton Town beaches, visitors will need a beach sticker to park. Those arriving on bike or by foot, however, can enter the beach for free.
Because it's one of the best beaches in New York, expect crowds in the summer. But the offseason is just as beautiful, with infinitely more places to sit and stroll. Everyone in town loves to grab a bite to eat at the Ditch Witch food trucks, so be sure not to miss that when you're in town.
15. Fort Tilden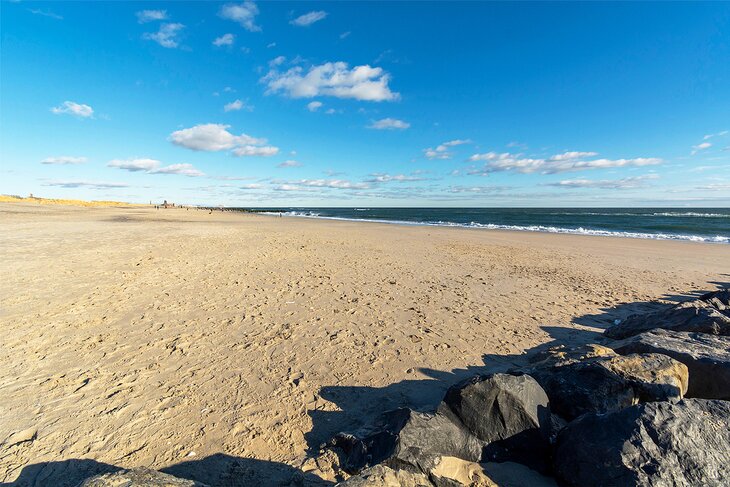 Perhaps one of the best-kept beach secrets in New York City is Fort Tilden Beach. Nestled between Jacob Riis Park and Breezy Point, Fort Tilden Beach is a former military site that has spectacular views of Jamaica Bay, New York Harbor, and the skyline of Manhattan.
It also has a stunning stretch of Atlantic-facing beachfront, a maritime forest, and ponds, and is listed on the National Register of Historic Places.
Many New Yorkers opt for Fort Tilden over Jacob Riis. While Jacob Riis may have flashier facilities and concessions, Fort Tilden has far fewer crowds and a tranquil energy that can't be found on many other beaches near the city.
Note that all parking at Fort Tilden requires a permit of some sort, so you'll have to park at Jacob Riis and walk or bike about half a mile to get to the heart of Fort Tilden. But its remote access is what makes it so serene, and reaching the beach is part of the fun.
16. Cherry Grove Beach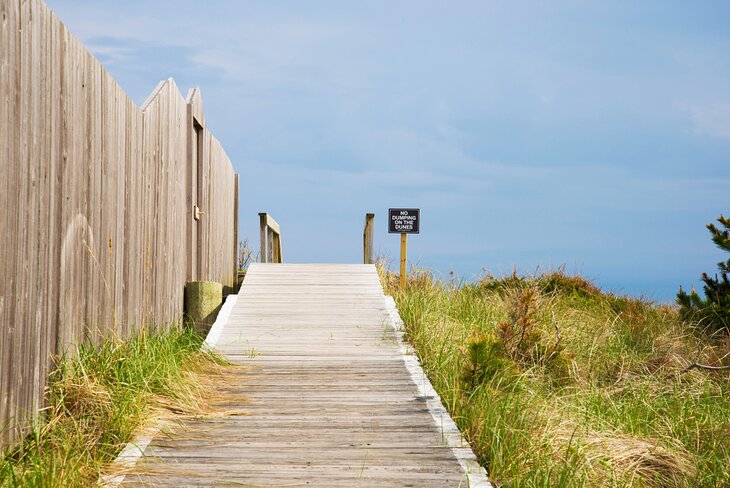 Among the many small towns and villages along Fire Island, Cherry Grove is one that is most popular among the LGBTQ community. Together with the neighboring Pines community, the beaches of Cherry Grove are the hottest destinations for LGBTQ city dwellers looking for a summer escape.
The beaches are, of course, open to everyone and are supremely beautiful. No cars are permitted in Cherry Grove so people move around via wooden walkways to get from beach spot to beach spot and great restaurant to great restaurant.
Note that while it's not officially a nude beach, the locals and visitors here abide by a clothing-optional policy.
Map of Beaches in New York City & Nearby
New York, NY - Climate Chart
Average minimum and maximum temperatures for New York, NY in °C
J
F
M
A
M
J
J
A
S
O
N
D

2

-5

4

-4

9

0

14

6

20

12

25

17

28

20

27

19

23

14

17

8

11

3

6

-2

PlanetWare.com
Average monthly precipitation totals for New York, NY in mm.

94

75

104

103

114

88

106

103

103

89

102

98
More Related Articles on PlanetWare.com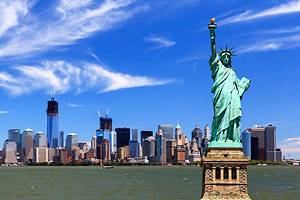 Explore More of New York State: If you are craving more beach time, check out our article on the Top-Rated Beaches on Long Island. To fill time in between beach outings, here's our guide to the top tourist attractions in New York City. New York doesn't just have great beaches to explore; here is a look at our top day trips from New York City and our best weekend getaways.