14 Top-Rated Beaches on Long Island, NY
Located a train ride away from Manhattan, the glitzy shores of the Hamptons get all the attention on Long Island. While this popular vacation destination back East boasts some of the most picturesque beaches in America, the rest of the island doesn't fall far behind in its offerings.
From long stretches of sandy beaches along the South Shore to the scenic, wooded bluffs overlooking Long Island Sound, there are a number of great beaches offering family-friendly activities, concerts, dog parks, and oceanfront hiking and biking all across Nassau and Suffolk counties.
Beach season officially begins the long weekend of Memorial Day in May and ends Labor Day weekend in September, however, beach lovers can be seen during spring and fall months, taking in the beautiful views and getting exercise on the boardwalks.
State parks begin charging for vehicle entry from April until the end of November, and have lifeguards available during the summer months. These beaches also accept the New York Empire Pass.
Bring your cooler, chair, and plenty of sunblock and enjoy New York's finest beach attractions with our list of the best beaches on Long Island.
1. Jones Beach State Park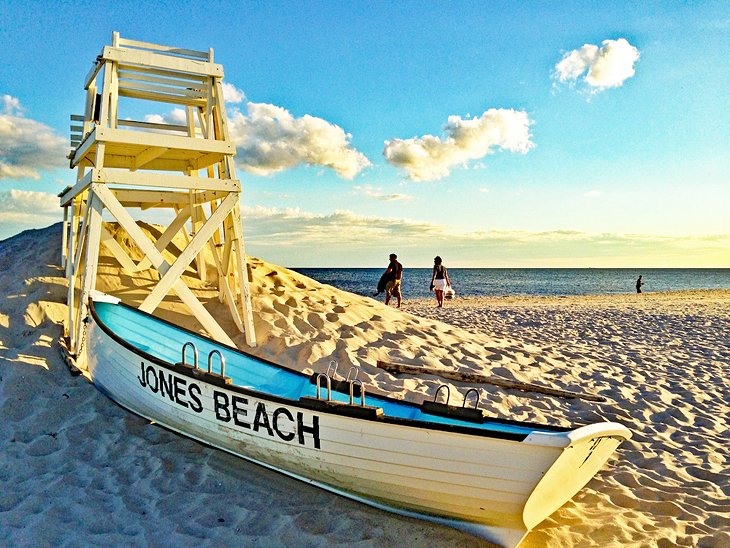 Stretching 6.5 miles along the South Shore, Jones Beach State Park is one of the busiest beaches on Long Island, hosting six to eight million visitors yearly. All these people have good reason to visit this all-in-one seaside destination: the sand is soft, the waves are calm, and you'll find plenty of things to do. On any given warm day, expect to find long stretches of white sand covered with sunbathers and picnicking families.
The beach is easily accessible via Long Island Rail Road (LIRR), and has volleyball, shuffleboard, and basketball courts; pools; and a golf course. Walk, run, or rollerblade along the two-mile boardwalk, catch a concert at The Northwell Health Theater on summer nights, and plan to visit during the spectacular air show on Memorial Day.
You'll not go hungry as there are plenty of eateries along the boardwalk, selling everything from seafood to refreshing milkshakes. Keep in mind that no pets are allowed on the beach or the boardwalk.
Locals and tourists alike can agree that the Boardwalk Cafe is one of the best places in Jones Beach to grab a bite to eat. Their menu features fresh seafood and local Long Island produce. The Salmon burger is particularly savory.
2. Coopers Beach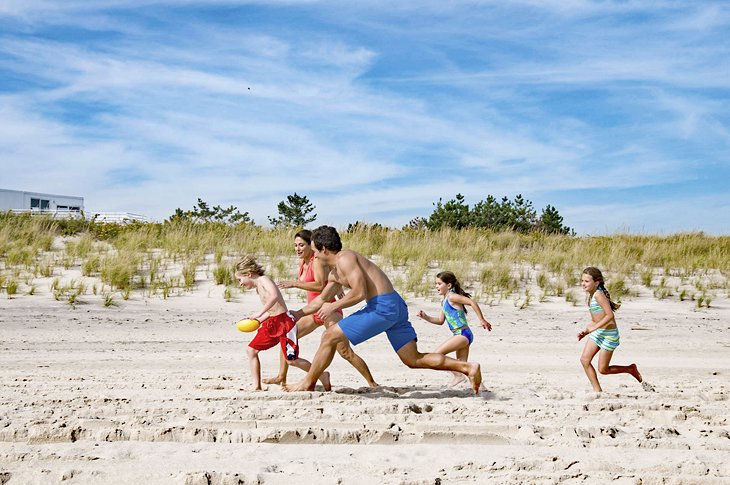 Southampton's Coopers Beach has been rated as one of the top ten beaches in the nation. The Atlantic Ocean beckons with gentle waves, and the soft-sand beach offers views of stately mansions along the dunes.
Parking is a bit pricey for non-residents ($50), so rent a bike or ride your own to avoid fees. Yearly passes for non-residents are available for $450. Chair and umbrella rentals are offered at the concession stand. Bring your own packed lunch for a picnic or enjoy refreshing drinks and food at Coopers Beach Cafe with a gorgeous view.
In the winter, partake in the Polar Bear Plunge to benefit Heart of the Hamptons, a non-profit helping those in need in the East End.
3. Long Beach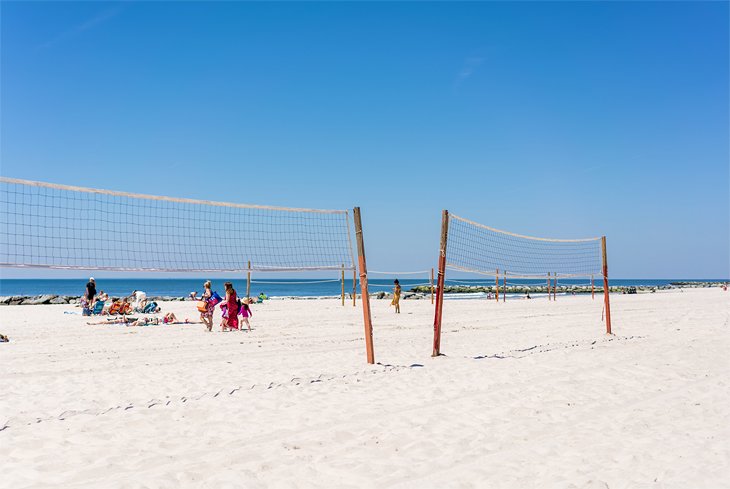 One wouldn't expect such a powdery beach so close to New York City, but a short train ride away lies one of the most beautiful beaches on Long Island. Known for its famed boardwalk, brimming with bikers, dog walkers, runners, and people simply taking in the views, Long Beach stretches for three miles on a barrier island on the South Shore, called Ocean Beach Park. And if you want to stay connected, the boardwalk even offers Wi-Fi.
The streets leading to the beach are lined with restaurants and shops, and if you so desire, you could even get pizza delivered right to the beach. Tip: The best pizza in Long Beach is at Gino's Restaurant and Pizzeria. Around since the 1960s, this beloved local joint has some of the best slices and Italian ice on Long Island.
Bring your friends to play a game of volleyball, let your kids build sandcastles, or simply lounge on your chair watching seagulls glide overhead. Skudin Surf offers lessons for kids and adults, so you can learn to catch the waves.
4. Ponquogue Beach
Ponquogue Beach, located on Westhampton Island, is marked by a broad swath of sand, lovely wooden boardwalks over brush-covered dunes, and endless Atlantic Ocean views. Westhampton Island runs for 15 miles from Moriches Inlet to Shinnecock Inlet throughout the Hampton Bayes and the villages of West Hampton Dunes. On Long Island, it is the easternmost barrier island.
Like most Hamptons beaches, Ponquogue Beach is exceedingly clean and beautiful, but this comes at a price. Daily passes for nonresidents are $30, while full season passes for nonresidents are $400 per vehicle. Those who live in Southampton can get passes for $40 per vehicle.
The lovely beach has its share of facilities including a pavilion with restrooms and a concession. Lifeguards are on duty from 10 a.m. to 5 p.m.
Beach aficionados say that this is one of the best beaches on Long Island for sunsets, as well.
5. Main Beach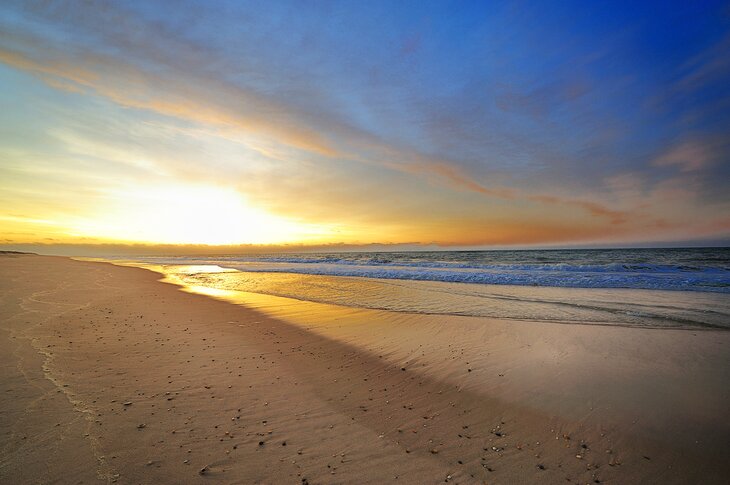 Main Beach sits about as far east as you can go in the Hamptons before you reach Montauk. Located on the Atlantic-facing side of the barrier island, Main Beach has powdery soft sand and plenty of amenities, making it one of the best beaches on Long Island.
The landscape here is particularly beautiful, thanks to its rolling dunes, panoramic ocean views, and stunning multi-million dollar homes nearby. The beach is a nesting ground for wild birds like piping plovers and other migratory birds, so bring your binoculars if you like to watch the wildlife.
Main Beach is a top beach on Long Island for surfers, too, as the waves can really sound off the closer you get to the eastern tip of Long Island. And when it comes to facilities, Main Beach has everyone covered, from the snack bar, the pavilion, public restrooms, and showers.
The beach can get very busy during the summer months, so if you want to park in the parking lot be sure to get there very early. You can also travel to East Hampton by train from the city, but the beach is about two miles from the train station.
6. Watch Hill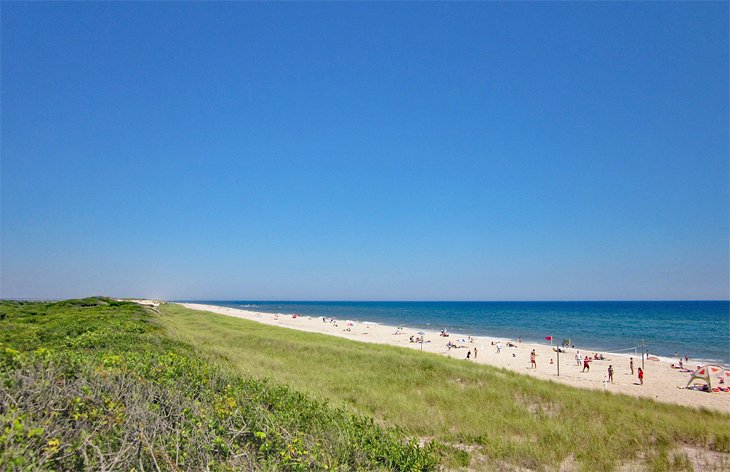 Ranked among the top 10 beaches in New York State, Fire Island National Seashore is operated by the National Park Service. A popular misconception is that Fire Island is the place to go party, but this car-free, 32-mile-long barrier island along the southern coast is breathtakingly beautiful and pristine. Deer graze in the undulating grassy dunes, and expansive beaches remain empty even in the peak of summer.
Watch Hill, located on the western edge of the Otis Pike Fire Island High Dune Wilderness, is a short ferry ride from the Patchogue LIRR train station.
The most appealing aspect of Watch Hill is the minimal amount of man-made structures, offering only one restaurant and bathrooms with showers for campers. A 183-slip marina with water, electricity, and a pump-out station is also available. Visitors can participate in guided canoe rides and hike or go bird-watching in the surrounding wilderness.
7. Ditch Plains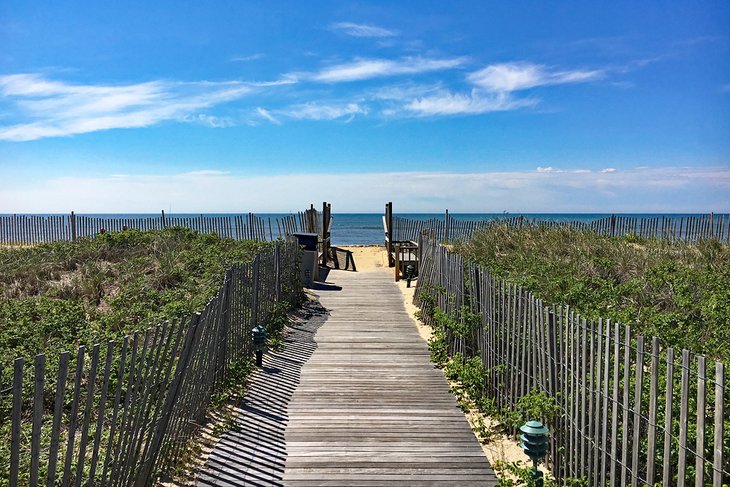 About as far east as you can go on Long Island will put you on the beautiful beaches of Montauk.
This cliffside community overlooks the wild Atlantic Ocean and is one of the best spots in New York for surfing. Here, you'll find Ditch Plains Beach, just two miles outside of Montauk proper. It's a magical stretch of shoreline, known for its heart-pumping waves, tasty food, and small-town charm.
What's great about Ditch Plains is that it is a free beach, provided you show up on foot or via bicycle. If you do plan to park, you will have to have a beach pass with you. It will be worth it, though, as the waves here are truly legendary in New York surfer circles.
Before leaving, don't forget to make a stop at the Ditch Witch food truck – a local icon and necessary refueling staple.
8. Sagamore Hill National Historic Site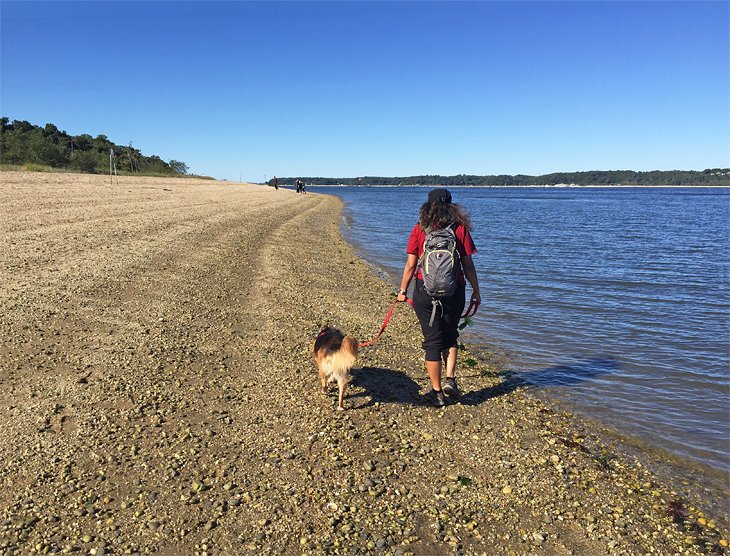 President Theodore Roosevelt's home, located in the Incorporated Village of Cove Neck on the North Shore, sits on 95 acres of forest and tidal salt march, with nature trails leading to the Eel Creek Boardwalk, which opens to a serene stretch of beach along the Long Island Sound.
Both a National Park and a museum, Sagamore Hill offers opportunities to explore the 26th U.S. president's charming Victorian-styled "Summer White House," as well as hike the meandering trails.
The house is home to a Junior Ranger Program that teaches kids about nature and preserving the natural beauty of Long Island.
The famous outdoorsman and conservationist loved his dogs, and visitors are welcome to bring their pooches, as long as they are on a leash.
9. Sunken Meadow Beach State Park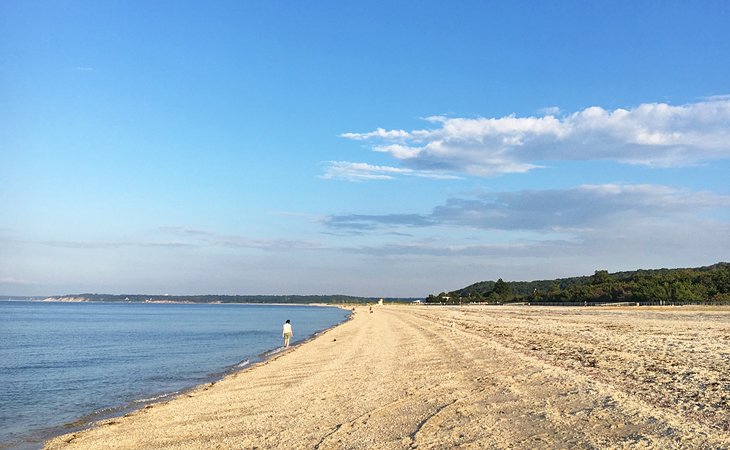 Backed by beautiful bluffs, Sunken Meadow Beach, in the Town of Smithtown in Suffolk County, is a popular spot on Long Island Sound. The three-quarters-of-a-mile-long boardwalk offers a lovely walk along the North Shore, with views of Connecticut in the distance.
The 1,287-acre state park has three playgrounds, baseball and soccer fields, a 27-hole golf course, and expansive lawns for picnicking. The calm waters along three miles of beaches are ideal for kayaking, canoeing, windsurfing, and paddleboarding. Nature lovers can split their day between hiking one of many nature trails and relaxing on the beach afterward. Pets are only allowed in undeveloped wooded areas, so keep a look out for sights.
And you'll not go hungry here - with concession stands offering delicious seafood and fries, and ice cream for the kids.
10. Robert Moses State Park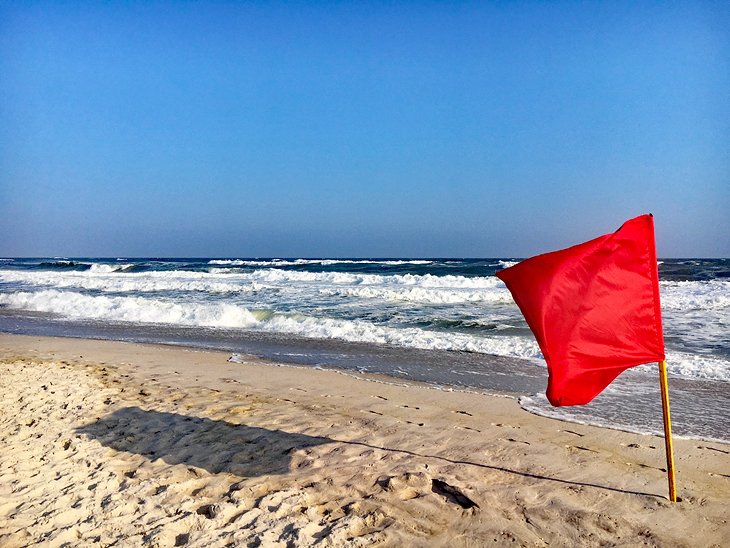 Previously named one of New York's best beaches, Robert Moses is a five-mile-long State Park located on the western part of Fire Island. It is popular with locals avoiding the crowded Jones Beach, and is easily accessible by car or from the Babylon train station.
Robert Moses has a pristine oceanfront, and ideal waves for swimming, boogie-boarding, surfing, and surf-fishing. Its historic Fire Island lighthouse makes for picture-perfect shots. It also has an 18-hole Pitch & Putt golf course and a volleyball court (open from early April through mid-November) in case you get bored from soaking up the sun on the beach.
11. Hither Hills State Park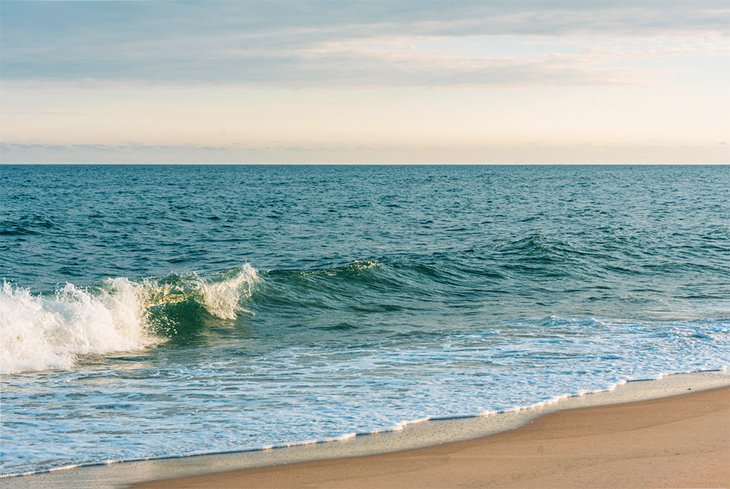 Sometimes a day at the beach isn't enough, and with 189 campsites and RV Parking, Hither Hills State Park offers a wonderful beach camping experience. Fall asleep to the soothing sounds of the crashing waves at this family-friendly 1,755-acre state park, located near Montauk on the eastern tip of Long Island's South Fork.
Explore the "walking dunes" of Napeague Harbor on the park's western side, and the nearby woodlands filled with Russian olive, oak, and pine trees. Kids can have fun at the playground or play ball in the playing fields. The Park offers year-round fishing, and cross-country skiing in the winter.
Hither Hills gets booked up early in the year, so make reservations at least six months in advance to secure your spot.
12. Orient Beach State Park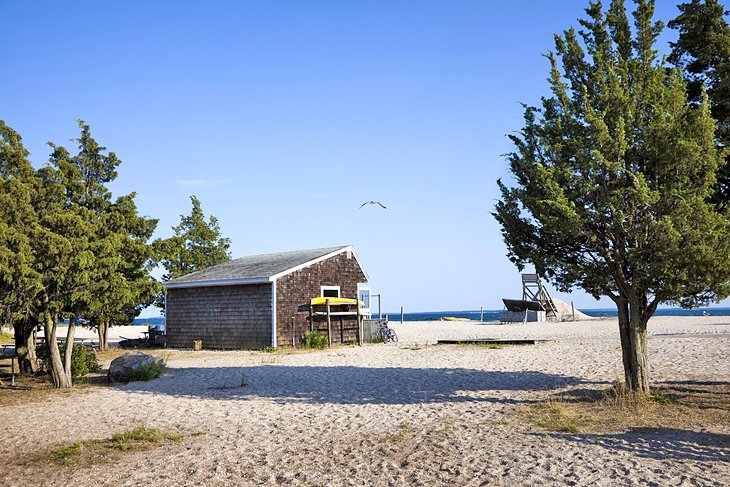 Orient Beach is unlike other beaches that line the south shore of Long Island and stays relatively crowd-free. Located at the tip of North Fork, Orient Beach State Park offers gentle surf, nature trails, and opportunities to enjoy water sports and fishing.
Its seaside maritime forest featuring prickly-pear cactus, red cedar, and black-jack oak trees bestowed the park National Natural Landmark status. Bird-watchers can find avian beauties like herons, egrets, and ospreys in abundance. Be sure to bring water shoes to walk the pebble-lined shoreline.
13. Gin Beach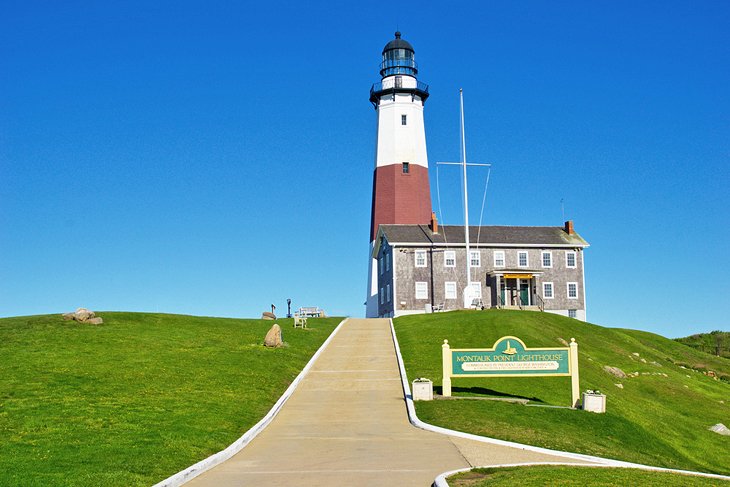 On the eastern side of the Montauk Harbor inlet lies Gin Beach, on the calm waters of Block Island Sound. The gentle waves make this a kid-friendly beach, and the nearby boats traveling in and out of the harbor provide entertainment for toddlers. The beach features roped-off areas for swimming, and restrooms and outdoor showers. With no houses or businesses on the stretch, you can enjoy the peaceful natural surroundings.
Families with pets don't have to leave their furry friends behind, as all areas of the beach allow dogs, even off-leash. Local hotels offer town parking permits to park at the beach. RV camping is available at the nearby Montauk County Park RV Beach, and showers are available on the premises.
14. Cupsogue Beach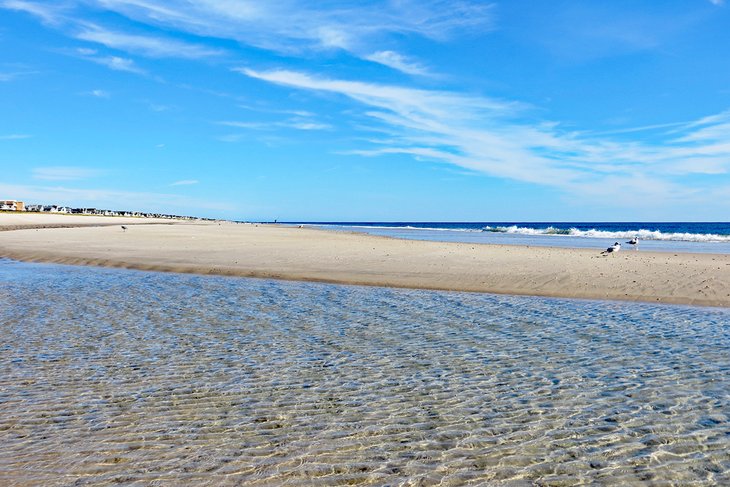 Clipped off the end of Fire Island, Cupsogue Beach is on a barrier island between the Atlantic Ocean and Moriches Bay, just before the Hamptons. It was all one long barrier island until the 1930s when a violent storm severed the two. Still, Cupsogue Beach County Park is so close to Fire Island, they are practically touching.
The beach here is what great Long Island beaches are made of – long licks of sprawling white sand perfect for sunbathing and fishing. The beach does not have much else to it, aside from bathrooms and a concession stand. That's what makes it so special – it's secluded and quiet. The beach even allows camping, provided you have a permit.
Depending on the time of year, you may even be able to catch a glimpse of humpback whales and dolphins that can sometimes break the water's surface to say hello.
Map of Beaches on Long Island, NY
Long Island, NY - Climate Chart
Average minimum and maximum temperatures for Long Island, NY in °C
J
F
M
A
M
J
J
A
S
O
N
D

3

-3

5

-2

10

2

16

7

22

12

26

17

29

21

28

20

24

16

18

10

12

5

6

0

PlanetWare.com
Average monthly precipitation totals for Long Island, NY in mm.

105

80

111

109

119

98

117

107

107

98

111

100
More Related Articles on PlanetWare.com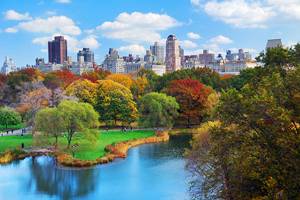 Exploring New York City: While you are this close, be sure to check out the sites of New York City, from Central Park to the outstanding museums. And if you want to venture further afield, see our article on the best day trips from New York City.