20 Best Places to Visit on the East Coast of the USA
We may earn a commission from affiliate links ()
America's East Coast is a marvel. From Maine in the north to Florida in the south, its rugged natural beauty and bustling cities beg to be explored. Whether you're a fan of skiing, kayaking, eating, shopping, or visiting museums, you'll find a slew of fun things to do in the best places to visit on the East Coast.
This stunning coastal region is home to some of the nation's most incredible attractions. We're talking alligator-filled canals in the Florida Everglades, winding trails and lakes in Maine's Acadia National Park, and the bright lights and thousands of stores in New York City. No wonder so many tourists flock to America's Atlantic shores.
From watching a musical on Broadway to visiting the White House to climbing one of the Smoky Mountains or lounging on the soft, Floridian sand, you won't ever get bored on America's East Coast, we promise!
For more sightseeing ideas, see our list of the best places to visit on the East Coast of the USA.
1. New York, New York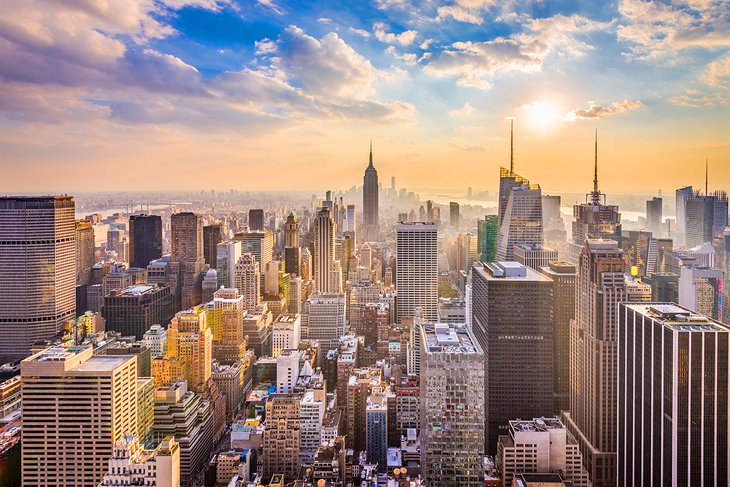 Gourmet restaurants, famous tourist attractions, fabulous street art, and designer duds – New York has them all and so much more. Whatever you're looking for, you'll find it in the Big Apple, guaranteed. The only problem you'll face is running out of time to do everything.
You'll want to sightsee (hello Empire State Building, Statue of Liberty, and Brooklyn Bridge), shop, see a show, and reward your palate with some of the world's tastiest food (we're salivating over Gramercy Tavern and Daniel). When you're through with all of that, you'll need to make time for the museums. The Metropolitan Museum of Art, MOMA, Guggenheim, and American Museum of Natural History all top the list.
Short on cash? There's plenty to do that won't dent your pocketbook. A few of our fave free activities include, watching the sunset from a rooftop patio, wandering the paths of Central Park, walking the High Line, window shopping in SOHO, and people-watching from a park bench in Union Square.
Our advice: plan your itinerary before leaving home. That way you won't waste precious seconds standing on a street corner deciding where to go next. Plus, if you buy your tickets online (i.e. to Broadway shows or major attractions) you'll find much better prices. With so many exciting things to do in New York, it's not surprising that it's been deemed one of the best places to visit on the East Coast.
2. Boston, Massachusetts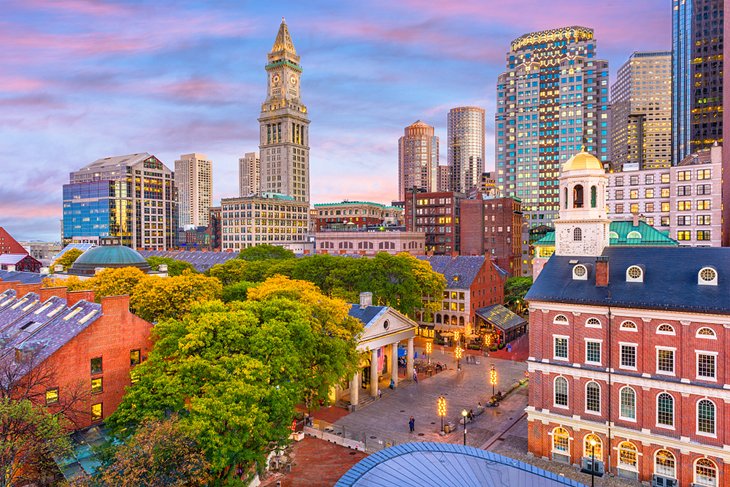 It's easy to fall in love with Boston. The city's cobblestone streets, historic buildings, and beautiful harbor beckon visitors to grab their cameras and stay a while. In the heart of the town center, charming Quincy Market invites tourists to sample delicious foods and practice a bit of retail therapy.
One of the top things to do in this revolutionary city is walk the Freedom Trail. Winding its way around the center, this famous path passes 16 important historic sites (like the Old State House, Paul Revere House, Boston Common, and the site of the Boston Massacre), all of which bring the past to life.
Faneuil Hall Marketplace is where it's at. With buskers, street performers, food stalls, and eclectic shops, you could spend hours in this fun spot. When walking around, don't miss out on Beacon Hill, the city's most captivating neighborhood.
3. Miami, Florida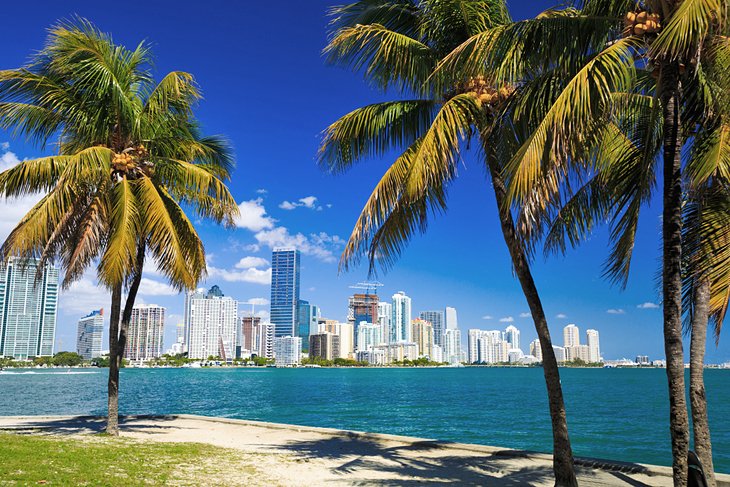 One of the top tourist destinations in the U.S., Miami is a place to see and be seen. Its streets are lined with funky and high-end shops, Art Deco buildings, and beautiful people. People flock to this coastal Floridian town for a variety of reasons.
Miami Beach is the top draw. Its soft, white sand beckons bathing-suit clad bodies to sprawl out for a day spent frolicking in and out of the warm turquoise water.
The boardwalk, situated behind South Beach, is a source of entertainment in and of itself. From rollerblading grandfathers wearing speedos to stiletto-clad fashionistas carrying dogs in their purses, anything goes.
4. Acadia National Park, Maine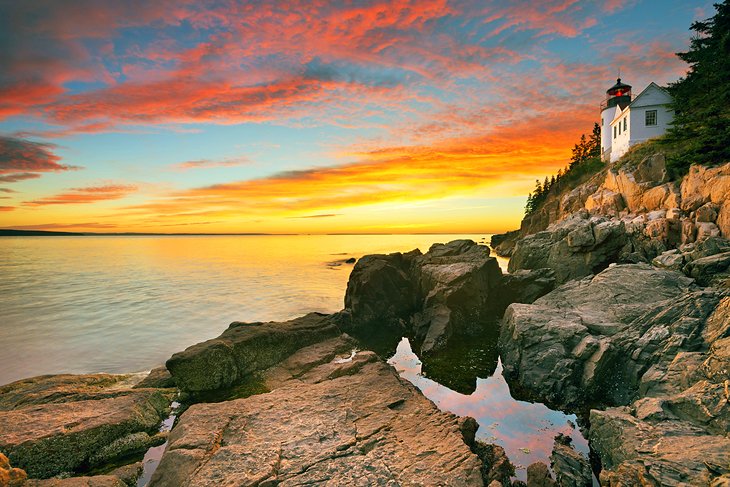 It's easy to lose yourself in Acadia National Park, and not just in the physical sense. The beauty on offer in this natural wonderland is so spectacular, you'll forget you ever had a worry.
The only national park in New England and the first national park in the east of the US, Acadia boasts immense forests and a dramatic coastline. No wonder it's become one of the top 10 most visited national parks in the country.
5. Washington, D.C.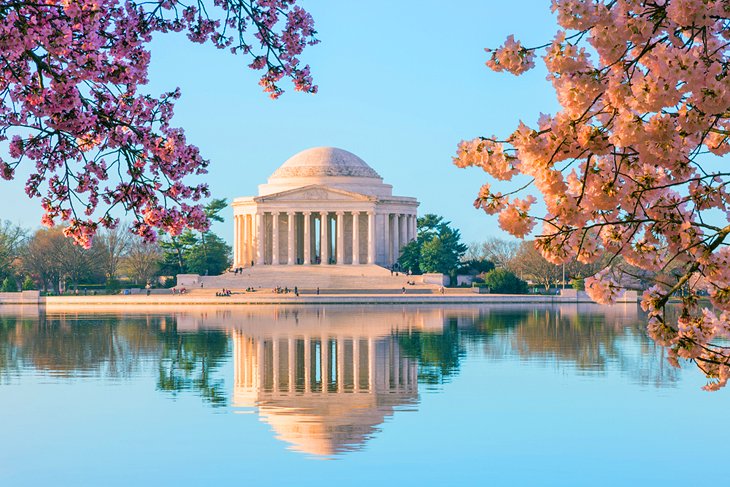 Best known for its role as the nation's capital, Washington is packed with iconic monuments and memorials. The city's top four tourist attractions include, the White House, Capitol Building, Washington Monument, and the Lincoln Memorial. You haven't really been to Washington if you haven't seen these.
There are a ton of other visit-worthy attractions, especially for those in search of first-hand political history. The vast National Mall houses most of the city's grandest icons, including the Vietnam Veterans Memorial, Vietnam Women's Memorial, Korean War Veterans Memorial, and American Veterans Disabled for Life Memorial.
6. Baltimore, Maryland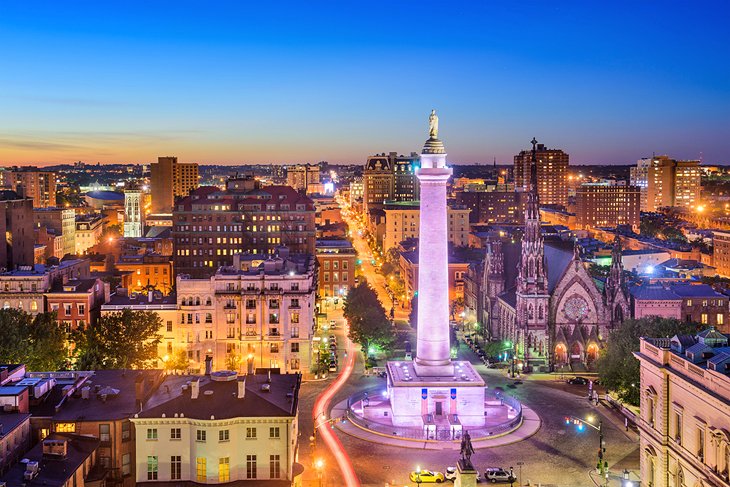 Nicknamed "Charm City," Baltimore may well be one of the friendliest places in the U.S. A port town featuring a good mix of the historic (like Fort McHenry, which inspired the National Anthem, The Star Spangled Banner) and trendy (like boutique hotels and eclectic shops), Baltimore is worth a visit at any time of the year.
7. Shenandoah National Park, Virginia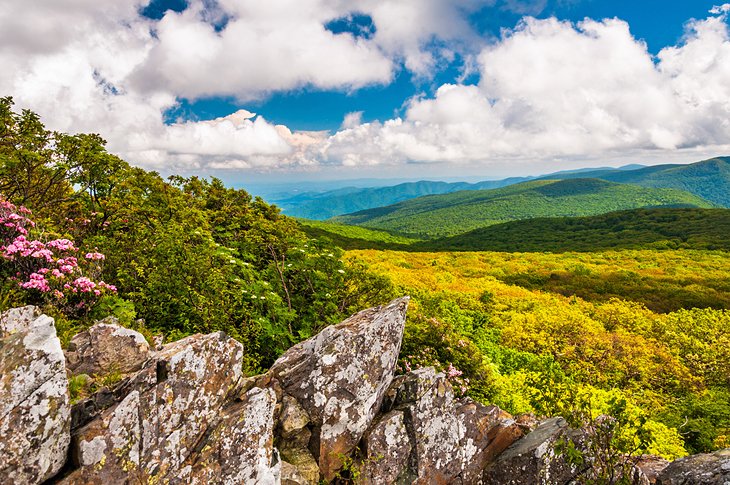 Nature's calling, and it wants you to get outside-now! That would be an easy feat if you lived close to Virginia's spectacular Shenandoah National Park. With beautiful wildflowers, giant rolling hills, cascading waterfalls, and verdant forests, there's nothing to dislike in this natural paradise. Keep quiet and look closely; you might even spot a deer, black bear, or bobcat.
Before settling in for one of Shenandoah's beautiful hiking trails, visit one of the park's two visitor centers: Dickey Ridge or Harry F. Byrd. The park covers a whopping 200,000 acres, so you'll want a map to help guide you.
Not big on hiking? Don't worry, there are 400 miles worth of trails to choose from in varying forms of length and intensity. Beginners will favor Traces, which is less than two miles each way, while a more advanced hiker may opt for the more strenuous White Oak Canyon (over nine miles return).
8. Charleston, South Carolina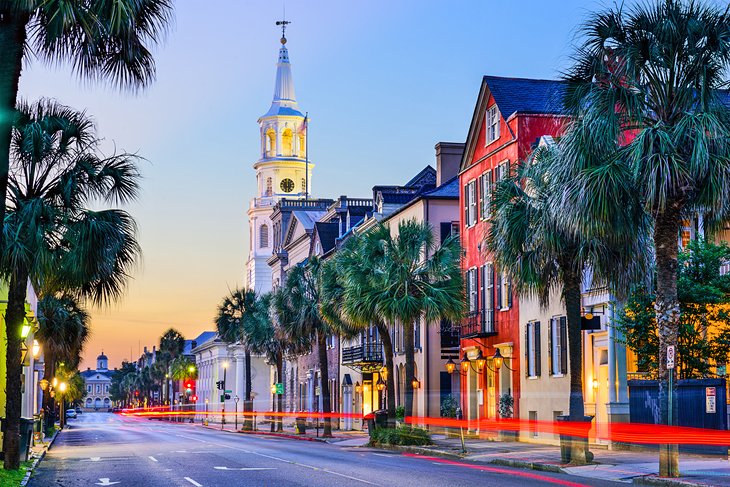 Charleston exudes old-world Southern charm that's so enjoyable you won't want to leave. Imagine spending a day with your kindest, most beautiful friend who happens to be an excellent cook. That's what it feels like to explore the quaint streets of this Southern belle. No wonder it's been dubbed one of the best places to visit on the East Coast of America.
Every local you meet seems to wear a smile that extends from ear to ear, and they speak in a Southern drawl that's utterly enticing. They'll direct you through the town's brick-laid streets to its most stellar attractions, like the harbor's Waterfront Park, Middleton Place Plantation, and Magnolia Plantation & Gardens.
9. Savannah, Georgia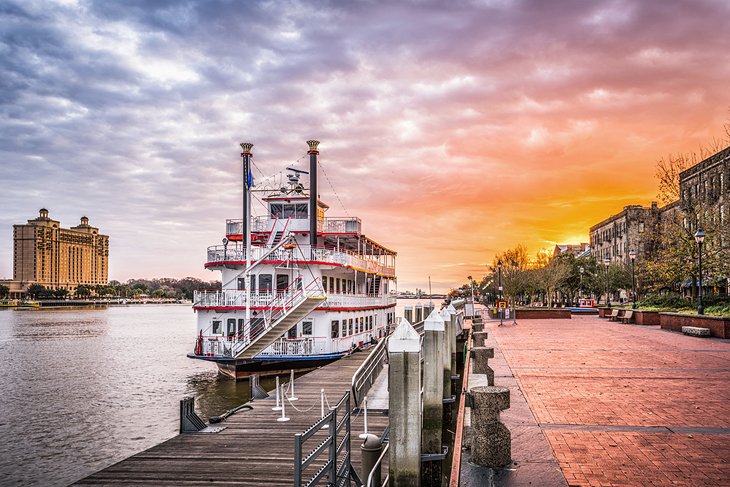 Walking through Savannah's tree-lined cobbled streets is akin to jumping out of a page in Gone with the Wind. Moss-laden oak trees usher you around the city's main attractions, offering a comforting piece of shade in the numerous public squares and parks.
Historic Bull Street, home to City Hall, also houses Chippewa Square, which you might recognize from the film Forrest Gump.
Don't miss Forsyth Park, a mid-19th-century marvel featuring a huge cast-iron fountain. You'll also want to add the National Museum of the Mighty Eight Air Force and Telfair Academy of Arts and Sciences to your "to-see" list.
10. Philadelphia, Pennsylvania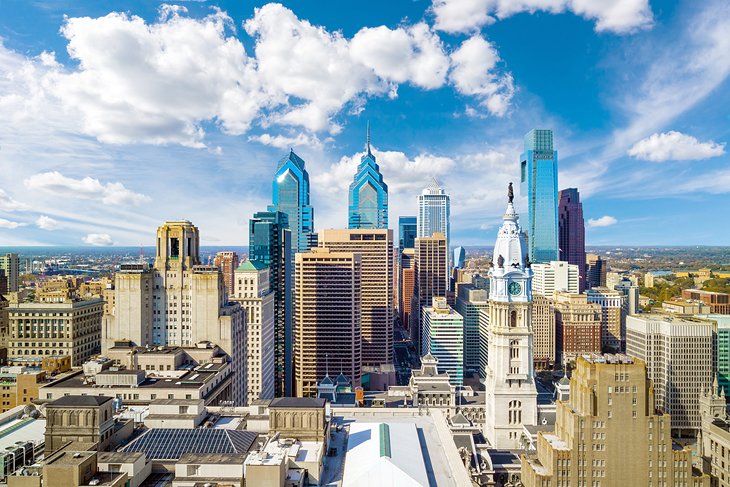 Like Washington, D.C., Philadelphia (a.k.a. Philly) is best known for its role in US history (in particular during colonial and revolutionary times). It was here that the Declaration of Independence was signed (at Independence Hall). Eleven years later, the Constitution was created right here.
Today, you'll find a wide mix of modern skyscrapers and bright art murals juxtaposed with historic redbrick terrace buildings and narrow cobblestone streets. The Liberty Bell Pavilion houses the liberty bell, a long-held symbol of freedom and independence. Philadelphia's Magic Gardens, an incredible immersive mixed media experience, features walls (and floors) covered in mosaics.
11. Charlotte, North Carolina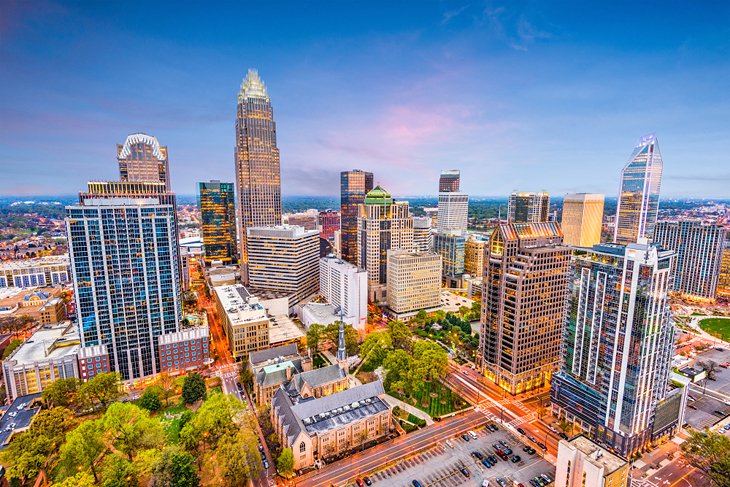 Uptown is where it's at when you're touring North Carolina's largest city. This modern section of town plays host to Charlotte's best shopping and dining options. It's also where you'll find many of the city's museums.
Racing fans won't want to miss the NASCAR Hall of Fame, while flying enthusiasts will covet time spent at the impressive Carolinas Aviation Museum. The younger, more energetic generation will love you forever if you take them to Paramount's Carowinds, an amusement and water park that boasts animatronic dinosaurs.
12. Myrtle Beach, South Carolina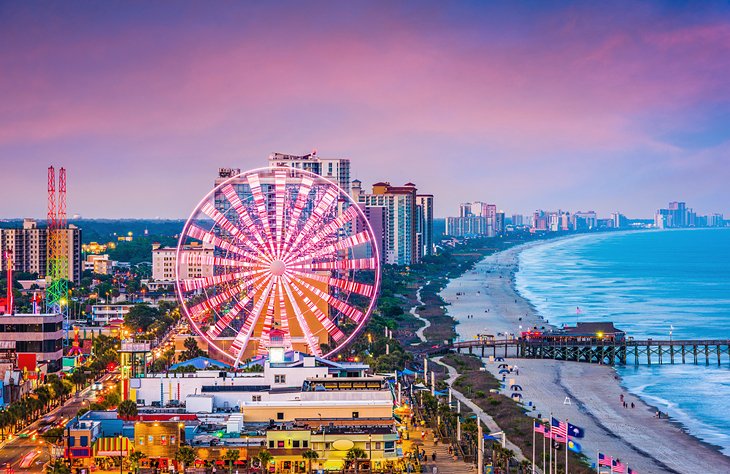 Myrtle Beach is the crowning glory of South Carolina. Its neon lights, constant musical entertainment, giant spinning Ferris wheel (a.k.a. SkyWheel), and boardwalk games feel (and look) as if a fairy lit them up with a magic wand. Basically, Myrtle Beach is like New York's Coney Island or England's Brighton Beach on steroids.
The fantastical stretch of beach is called the Grand Strand, and it proffers visitors 60 miles of sun-drenched sand on which to relax. When they become bored (which isn't likely due to the vast people-watching on offer), beachgoers can avail themselves of the multitude of kitsch – from mini putt courses to souvenir shops to WonderWorks Myrtle Beach.
13. The Outer Banks, North Carolina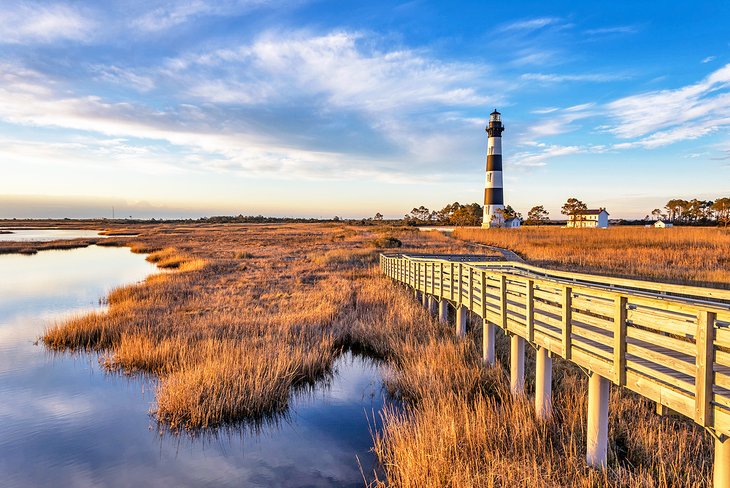 It's easy to see why so many people make the Outer Banks their summer holiday destination. Offering over 100 miles of quietly gorgeous coastal scenery, charming villages, adorable rental cottages, and authentic restaurants, this locale is both invigorating and revitalizing.
A string of slivered barrier islands are connected to the mainland by bridges, making their beaches feel more dreamy and exclusive. Also known as OBX, the Outer Banks is a perfect place to unwind and leave the hustle and bustle of busy city life behind you.
Climb the tallest sand dune you'll ever see at Jockey's Ridge State Park, take a boat cruise, visit the area's lighthouses, and try to reel in a big one off the Nags Head Fishing Pier on Nags Head – it's one of the longest (and oldest) on the OBX.
14. Orlando, Florida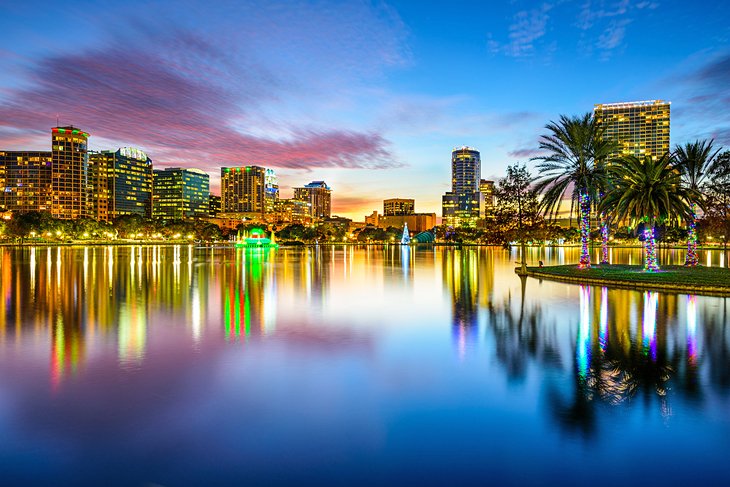 Who doesn't want to go to Orlando? Home to theme park giants Walt Disney World and Universal Studios, this top US vacation destination also houses SeaWorld Orlando, where visitors can pet a dolphin or hop on a manta ray-themed roller coaster.
Next to SeaWorld lies Discovery Cove, another top attraction where visitors can get up close and personal with marine life. Those with a penchant for biology will enjoy the Orlando Science Center, featuring the ever popular interactive "Kids Town" exhibit for those under 48 inches tall. Or get face to snout with an alligator at Gatorland.
15. Great Smoky Mountains National Park, Tennessee and North Carolina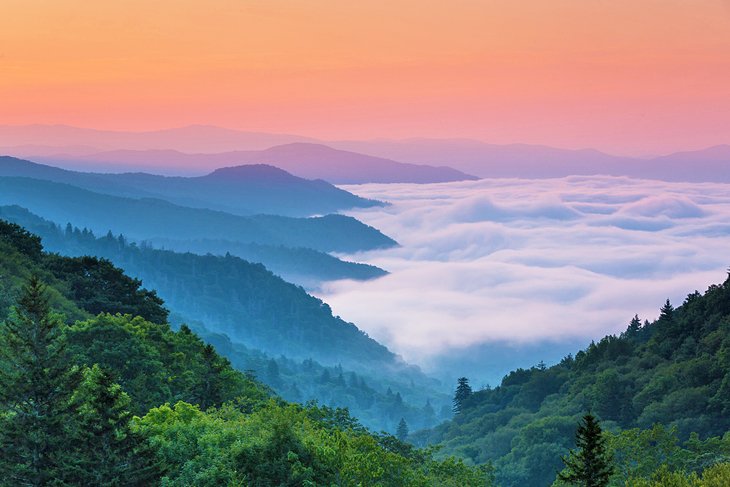 Those looking for a grand adventure will find it in Great Smoky Mountains National Park. With more than 500,000 acres to explore, this phenomenal wonder will leave visitors in awe of its natural beauty. Once there, it's easy to see why it's deemed one of the best places to visit on the East Coast of the USA.
The park's jagged mountain peaks, mist-covered summits, cascading waterfalls, verdant forests, and blossoming wildflowers join to create a magical utopia. With so many things to see and do, the park is wonderful to discover in every season – summer's lush grassy meadows, fall's festive foliage, winter's snow-covered trees, and spring's bright blooming azaleas are breathtaking. The best time to visit the Smoky Mountains really depends on what you want to do.
16. Everglades National Park, Florida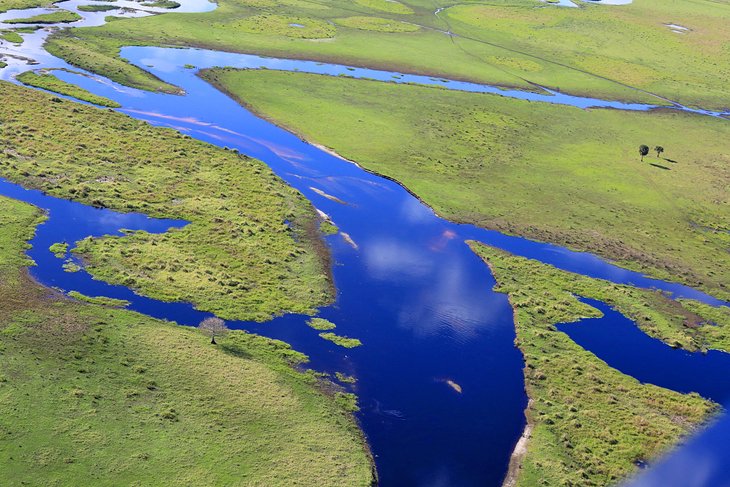 Were those eyes you spied peeking out above the murky waters of Everglades National Park? Probably.
The Everglades span 1.5 million acres across southern Florida and are home to a wide array of animals, including alligators, pythons, manatees, egrets, and the elusive panther. You'll never leave the Everglades without spotting some kind of fantastic creature.
The area is a biological marvel boasting numerous different eco-systems, as well as a wide array of flora and fauna. From freshwater sloughs to pinelands and cypress trees to mangroves, the mostly swampy Everglades is vital to the area's survival.
The best way to explore the Everglades is via an airboat, which whips through narrow channels winding around the region. Kayaking through the mangrove canals is another popular method of transportation, just try not to fall in! The park is one of the best day trips from Miami.
17. Lake Placid, NY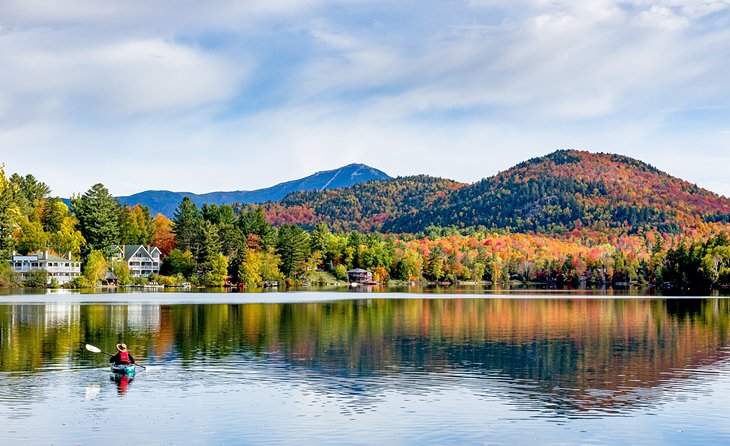 There's little as serene as sitting lakeside, admiring the Adirondack mountains in upstate New York. Add a steaming mug of tea, and you'll never want to get up. See, getting outside really is good for you!
Most famous for hosting the Winter Olympics twice (in 1932 and 1980), Lake Placid is an uber popular place to visit during the winter months. Beautiful Mirror Lake, which perfectly reflects colorful fall foliage, freezes during the coldest spurts, turning into a natural ice rink popular with tourists.
18. Niagara Falls, New York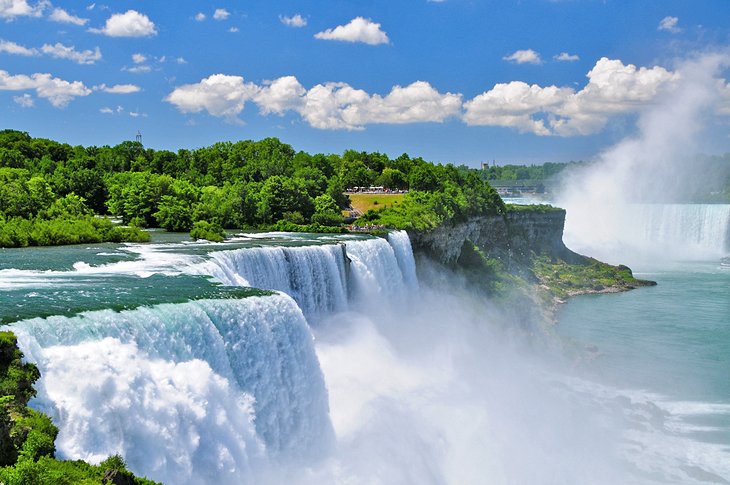 One of the most majestic Wonders of the World, Niagara Falls should be on everyone's bucket list. Standing beside the falls as its water thunders over the edge, spraying mist on everything in sight, is an extraordinary experience.
While in the area, visit more of Niagara Falls State Park than the three waterfalls you've come to see. With 400 acres of land to explore, there's plenty to keep you busy. For the best view, head to the Observation Tower.
One of Niagara Falls' most popular attractions is the Maid of the Mist boat cruise. Don a plastic blue poncho and prepare yourself for an up close and personal visit to the rushing falls on both sides of the border – the American Falls and Canada's spectacular Horseshoe Falls. There's really nothing like it.
19. Martha's Vineyard, Massachusetts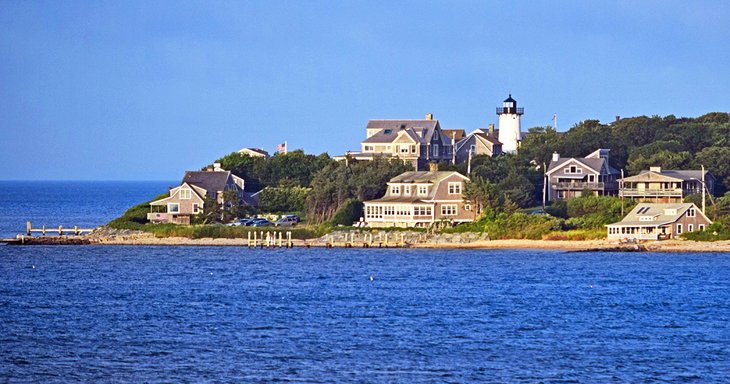 There's a lot to love about Martha's Vineyard: sparkling water, bobbing sailboats, quaint cottages, and bikeable roadways. A relaxing island located five miles off the south coast of Cape Cod, this is the place big city folk come to unwind each summer.
A family-friendly locale, this charming spot is a favorite for the uber rich and celebrities who want to indulge in a summer home. During the day, they spend their time playing on the soft sandy beaches, shopping at cute boutique stores, and dining in delectable restaurants. There are no chain eateries here, which is a refreshing sight.
20. Stowe, Vermont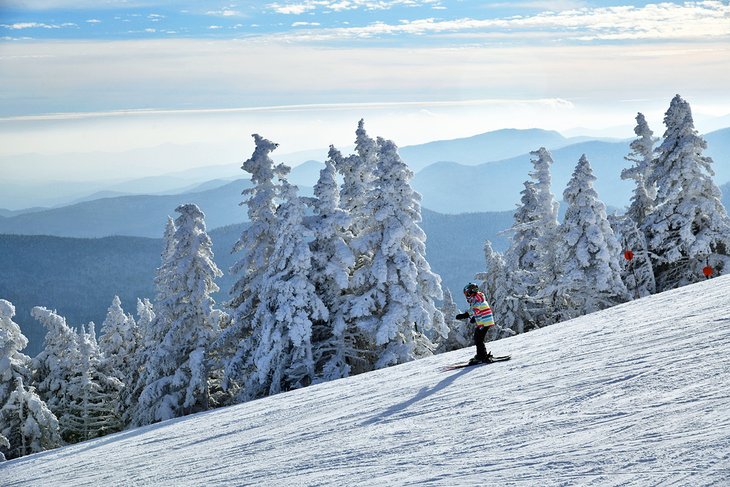 If you think Stowe is gorgeous in the summer – all verdant valleys and lush mountains –just wait until you see it during fall. Its picturesque Vermont landscape is painted in a kaleidoscope of the brightest reds, oranges, and yellows so vibrant, you'll be left breathless.
This quintessential New England town, though, shines best in winter. That's when it becomes bombarded with skiers from nearby states like New York, New Jersey, Massachusetts, and Connecticut. They come to enjoy the village, shops, restaurants, and of course, the epic slopes at the upscale mountain resort of Mount Mansfield.