Best Time to Visit New York City
No matter the season, New York City shines, and there is truly no wrong time to visit this bustling metropolis. The best time to go to New York City depends on what you want your vacation to be. If your idea of New York stems from movies like When Harry Met Sally and You've Got Mail, with idyllic strolls through Central Park as colorful leaves gently fall on your shoulders, autumn is an ideal time.
If seeing the Rockettes after a day of skating under the Rockefeller Christmas Tree and admiring holiday window displays is what you've always dreamed of, winter is a magical time to be in the Big Apple.
But if you are looking for a quieter and more budget-friendly getaway, with perfect weather, spring is your best bet. Locals, happy to be shedding their winter armor, have a spring in their step as they make their way to outdoor dining spots and markets on sidewalks carpeted with spring blossoms.
Summer is hot and humid, but if the balmy months are the only time you can travel with your family, you can still enjoy New York City's many attractions.
High season in New York is from June to August and November to December during the holidays, when you can expect to pay high prices for accommodations and flights. March to May and September to early November are considered shoulder seasons, and you will experience pleasant weather and relatively low prices. Low season is during January and February when it's chilly, but you will get cheap deals.
To help you plan the best trip possible, we've put together information on the best time to visit New York City and tips on making the most of your time there.
Best Time to Visit New York City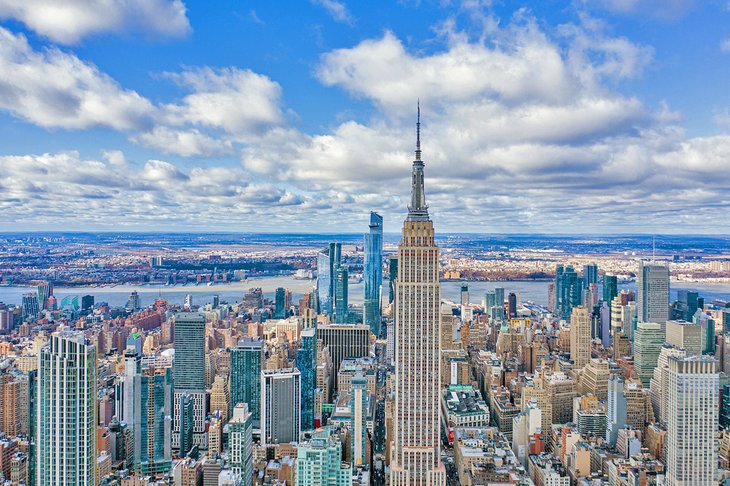 An ideal New York City vacation involves mild weather and fewer travelers, and the times that have both are spring and fall. Visit the city anytime between April to early June, or around September to early November, when the kids are in school and people aren't swarming major attractions.
Flights and hotels are also less expensive than the summer months and during the holidays in December. Take advantage of the nice weather to walk the streets, have a picnic in a park, and catch sports games.
Best Season to Visit New York City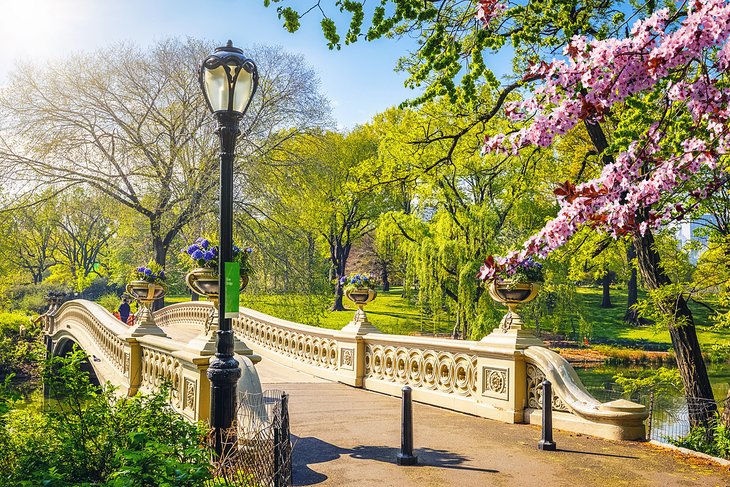 Spring is by far the best season to be in New York City, when the climate is near perfect and there are fewer visitors. Although spring officially starts in March, the weather can still be unpredictable, with occasional snow showers, so pack your raincoats and boots.
The Orchid Show at the New York Botanical Garden and the Macy's Flower Show officially kick off spring. The Brooklyn Botanic Garden puts on the annual cherry blossom festival in April. If you are visiting in May, you can enjoy Fleet Week events, meet with members of the Navy and Marines, and tour Navy ships.
Spring is also the time when the city's two baseball teams, the Yankees and the Mets, kick off the season at the Yankee Stadium in the Bronx and CitiField in Queens respectively. Basketball and hockey fans can catch the Knicks and New York Rangers at Madison Square Garden, or the Brooklyn Nets and New York Islanders at the Barclays Center in April.
Best Month to Visit New York City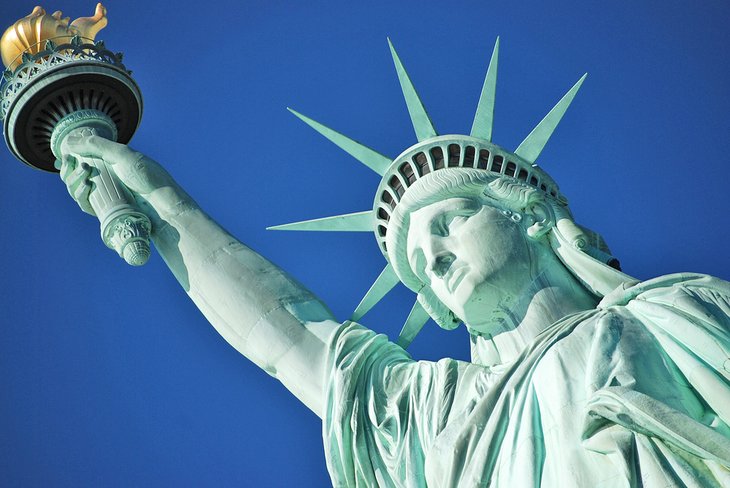 While spring is an overall best time to visit New York City in terms of weather and activities, you may still have to contend with showers. To avoid rain and still have pleasant weather, visit the city in September after Labor Day. You can delight in glorious sunny days with temperatures in the 60s and 70s Fahrenheit as you explore Gotham City.
Additionally, children are back in school, and the city isn't as crowded. You can also get good flight deals, even though the hotels can still be pricey. (Tip: If you are flexible with the type of accommodations, book your hotel room one or two weeks before your trip for cheaper rates, and check in on a Sunday, when hotel prices are the lowest.) Pack a light jacket as the nights tend to get cooler.
If you are a Jets or Giants fan, fall is a great time to catch a few football games at the MetLife Stadium in New Jersey. Baseball fans can also watch some games in September. Cultural buffs can watch shows on Broadway and at the Metropolitan Opera and NYC Ballet, all of which showcase their new seasons starting in September.
Worst Time to Travel to New York City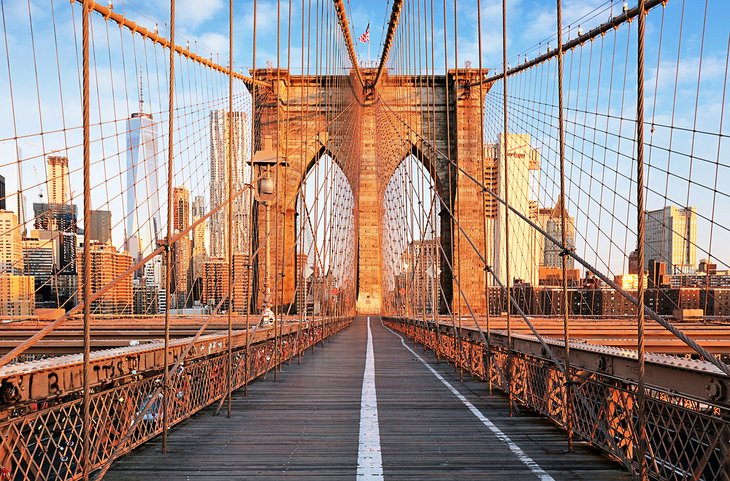 Summer is arguably the worst time to visit New York City, and it also happens to be the most popular time. The attractions, streets, and subways are overflowing with people, and the weather is swelteringly hot with temperatures in the 80s and 90s Fahrenheit and heavy humidity.
If you are visiting in July or August, expect to be rubbing shoulders with other tourists and families. Hotel prices are on the higher side. If you do decide to visit in the summer, you can cool down at New York City's public beaches or take the train out to Long Island for less crowded beaches, but bring sunscreen and plenty of fluids.
Summer isn't all bad if you love cultural events, concerts, and spending time at museums. The New York Philharmonic has free performances in parks throughout the city, and you can catch plays during Shakespeare in the Park at the Delacorte Theater in Central Park.
Also in the iconic park and other green spaces, you can take in free shows during City Parks' SummerStage, the city's largest outdoor performing arts festival, featuring artists from various genres representing the cultural melting pot that is New York.
You can also take refuge from the hot sun by browsing exhibits at any of the world-class museums or doing some retail therapy at the brand new shopping centers at the Oculus and Hudson Yards.
Cheapest Time to Visit New York City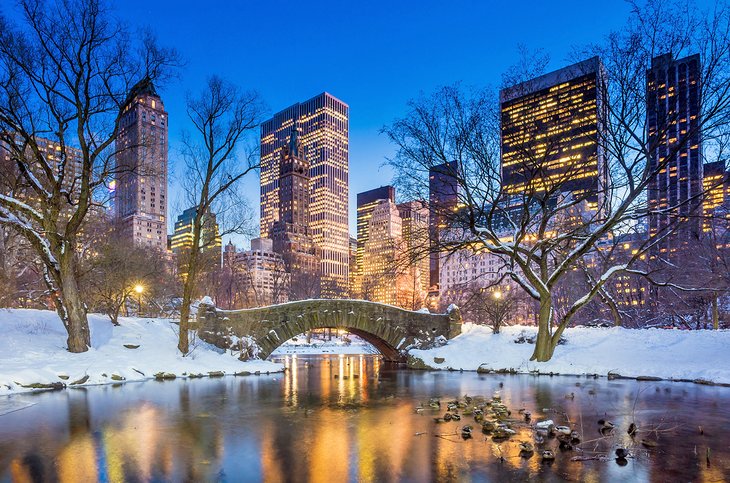 Although the weather is chilly, and snow storms are likely, you will find the best deals in January and February (barring Valentine's day weekend). The holiday masses are gone, with some lingering lights still on display as the city settles into the new year.
Broadway theaters offer discounted tickets during Broadway Week with two-for-one deals. There are plenty of basketball and hockey games to catch. Food lovers can take advantage of the Winter Restaurant Week to explore new cuisines from affordable prix-fixe menus. Be sure to get travel insurance if you are planning on visiting New York City in the winter in case of weather-related delays and cancellations.
Best Time to Visit New York City for Holiday Magic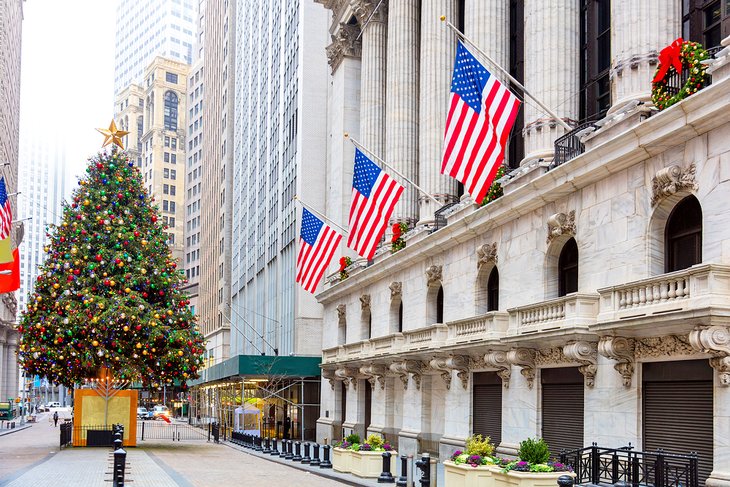 Holidays in New York City officially begin with the Macy's Thanksgiving Day Parade, with giant balloons parading through Midtown Manhattan, as bundled up parade-goers watch from the sidewalks. The festive season is arguably one of the most magical times to be in the City that Never Sleeps.
The twinkling lights adorning street lamps and trees, elaborate department store window displays, and the ringing bells of Salvation Army volunteers make up a quintessential New York holiday scene. Keep in mind that weather at this point is cold (30s and 20s Fahrenheit), and daylight doesn't last as long.
Start your days early to make your way to all the attractions, from the Rockefeller Center's massive Christmas Tree to the origami Christmas tree at the American Museum of Natural History. Book your tickets early to see the Rockettes at the Christmas Spectacular at Radio City Music Hall and NYC Ballet's The Nutcracker at Lincoln Center. Winter markets at Bryant Park, Columbus Circle, and Union Square offer a chance to buy seasonal souvenirs.
If you are staying for New Year's Eve, there are plenty of parties happening at luxury hotels, but the one that beats all parties happens at Times Square, with energetic concerts and the iconic ball drop.
Hotels are pricey during the holidays, so book early in the year if you know your plans ahead of time. You can also avoid crowds and still enjoy holiday decorations and shows when you visit the first week of December.
Best Time to Visit New York City for Honeymooners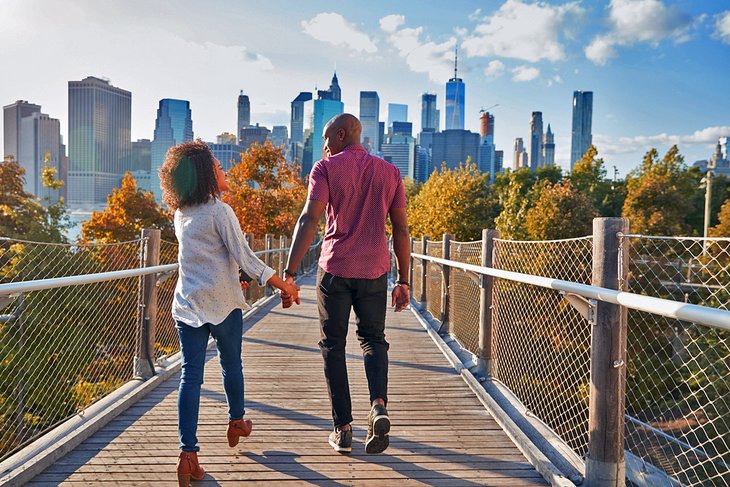 New York City is among the top destinations for honeymooners, offering luxurious hotels with spas, romantic rooftop restaurants and lounges, and cultural attractions like no other city in the world.
Steal a kiss at the top of the Empire State Building, with panoramic views setting a romantic backdrop; go on a canoe ride on a lake in the middle of Central Park; stroll the High Line or Battery Park hand-in-hand; and set sail on a cruise to see the Statue of Liberty. The best time to enjoy these activities in New York is during spring and fall.
If being cozied up next to your loved one with a frozen hot chocolate from Serendipity 3 after ice-skating under the stars and skyscrapers is appealing to you, then visit during November or December. It's best to plan a trip after Thanksgiving and in early December to avoid throngs of vacationers.
Best Time to Visit New York City for Cultural Activities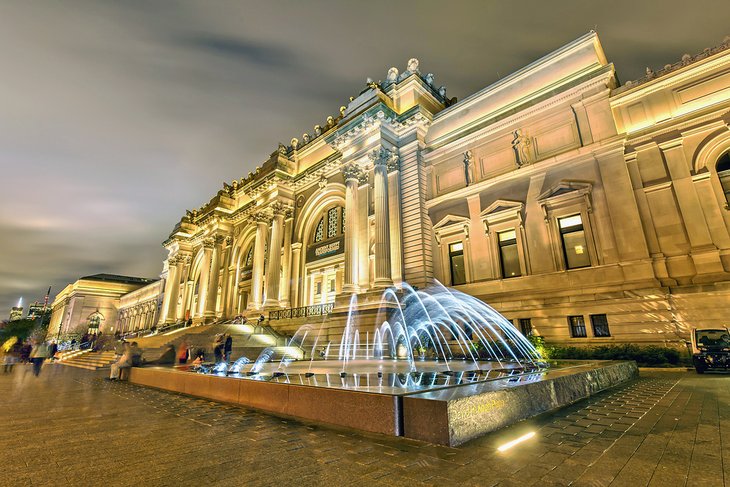 The cultural capital of the world can be experienced anytime of the year, but there are certain times you will get better deals. Theater show season starts in September, but you can watch the shows during the annual two-week Broadway Week at the end of January and beginning of February where you can get two-for-one deals.
Broadway Week happens again in September during the opening of new shows, but tickets sell out rather quickly. Avoid getting theater tickets during the holidays, as they are expensive.
The first couple of months of the year are also the cheapest time to visit New York City. It's frigid out, but when you are spending most of your time indoors taking in shows or museum exhibits, it won't matter if it's snowing outside.
The American Natural History Museum starts its annual Night at the Museum event beginning February, and kids and adults can enjoy sleeping over at the museum in the company of dinosaurs and whales.
For new museum exhibitions and shows, visit New York City between October and May (with the exception of the busy holiday season), when you will have your choice of museums, opera, ballet, and concerts.
For live tapings of TV shows, avoid the months of April and August, when they typically go on a break.
Visit in the summer for free live music performances and plays at various outdoor events, like Shakespeare in the Park and SummerStage.
Best Time to Visit New York City for Sports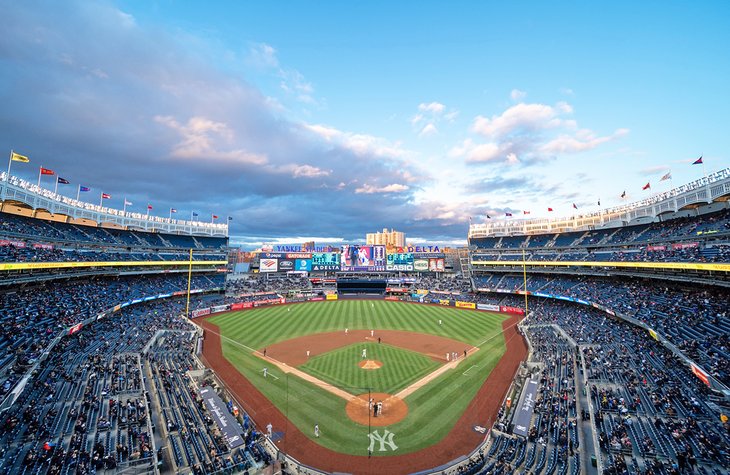 New York is home to several professional sports teams, from the World Series championship-winning Yankees and Mets to the Super Bowl champions of the Giants. Gorgeous ballparks and arenas like the Yankee Stadium, Citi Field, and Madison Square Garden are attractions unto themselves.
Baseball season officially starts in late March or early April and runs until late September/early October, with the Yankees playing at Yankee Stadium in the Bronx, and the Mets playing at Citi Field in Queens.
Basketball season runs from October through April, with the Knicks rousing fans up at Madison Square Garden in Manhattan and the Brooklyn Nets at the Barclays Center in Brooklyn. Hockey fans don't have to travel far if you are staying in Manhattan, as the New York Rangers play at Madison Square Garden from October through April.
Tennis enthusiasts can make the most of their New York City vacation when planning your trip around the US Open, which brings some of the top players in the world and 700,000 spectators to the USTA Billie Jean King National Tennis Center in Flushing Meadows-Corona Park, Queens in late-August and early-September.
Catch the four-time Super Bowl champions, New York Giants, and the New York Jets at MetLife Stadium, in East Rutherford, New Jersey from September through December/early January. If you want to witness the most sports games, come in April or September.