14 Top-Rated Day Trips from Philadelphia
A variety of attractions lie within a short drive of Philadelphia, and include important Revolution and Civil War sights, two of the nation's finest estate tours, an important industrial history site, and outstanding gardens.
Just a little farther afield, you can explore the peaceful countryside and villages where Amish, Mennonite, and other farm families live a life that seems worlds away from Philadelphia's busy streets. Along with the collections of fine and decorative arts that fill the du Pont estate of Winterthur, art lovers can visit the studio and home of artist N.C. Wyeth and admire his works at a dedicated museum.
But if Philadelphia has whetted your appetite for more city life, hop a train to New York City or the nation's capital of Washington, D.C. You can spend a day in either city, marveling at Manhattan's skyscrapers or absorbing the history and grandeur of the US Capitol and the monuments on the National Mall.
Plan your adventures and discover rewarding places to visit with our list of the best day trips from Philadelphia.
1. Gettysburg National Military Park, PA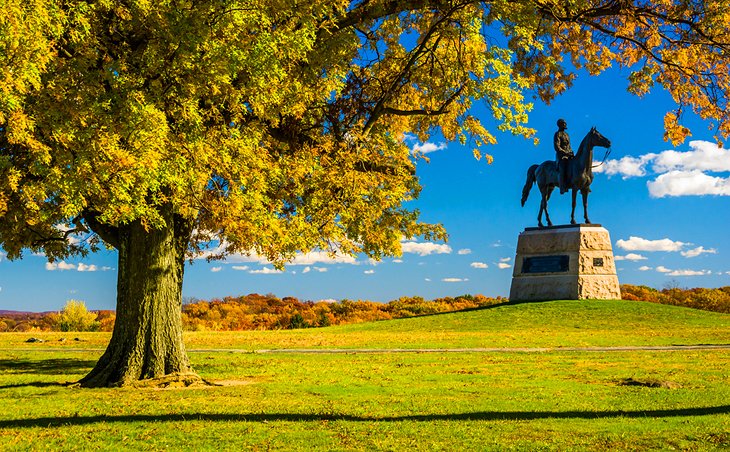 The three-day battle at Gettysburg in 1863 cost 51,000 lives and changed the course of the Civil War as the Confederate troops were forced to retreat to Virginia. Later that same year, scarcely six months after the battle, President Abraham Lincoln came here to speak at the dedication of Gettysburg National Military Park "as a final resting place for those who here gave their lives that that nation might live."
Today, the cemetery commemorates those slain in that and subsequent wars, as well as Lincoln's famous Gettysburg Address. Highlighting a visit is a tour of the battlefield, where nearly 1,400 monuments and statues mark the positions of various regiments; the museum exhibits explaining the war and its aftermath; and the home of President Dwight Eisenhower, where he entertained foreign heads of state.
Address: 1195 Baltimore Pike, Gettysburg, Pennsylvania
Official site: https://www.nps.gov/gett
2. Pennsylvania Dutch Country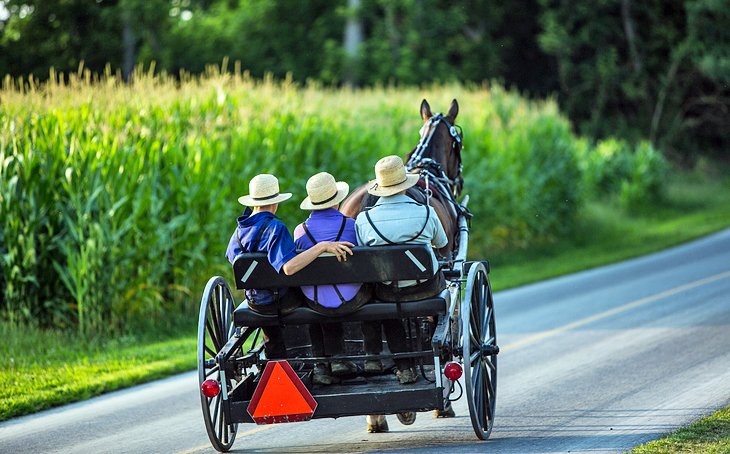 Several day trip options lie west of Philadelphia in Lancaster County, home of the Amish, Mennonites, and other cultures known popularly as the Pennsylvania Dutch. It's an area of gently rolling farmland, where you can recognize Amish farms by their tall windmills and where horse-drawn wagons and carts are a common sight. In villages such as Bird-in-Hand, you'll find shops selling beautiful Amish handmade quilts, straw hats, baskets, and delicious local food specialties such as shoo-fly pie.
At the Amish Village in Strasburg, you can experience the Amish way of life as you tour the 1840 farmhouse and a one-room schoolhouse, and you can take a 45-minute scenic ride through the countryside dotted with Amish farms, on a century-old steam train of the Strasburg Rail Road.
In the Railroad Museum of Pennsylvania in Strasburg, you'll see historic railroad artifacts and more than 100 vintage locomotives and cars. Get a hands-on lesson in pretzel twisting at the Julius Sturgis Pretzel Bakery in Lititz, and see beautiful examples of Amish handwork at the Quilt Museum in the town of Intercourse.
Lancaster's Central Market is the country's oldest continuously operating farmers market, and you can learn all about country life at the Landis Valley Village & Farm Museum, a living history village and farm.
3. Winterthur, Wilmington, DE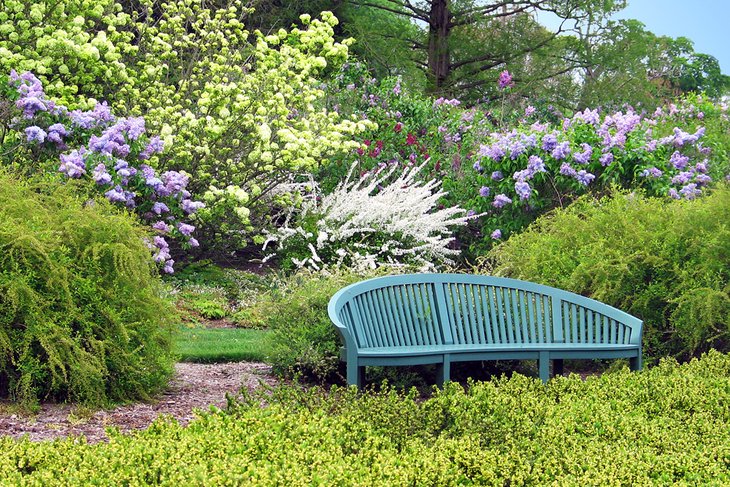 The nation's premier museum of American decorative arts was built as a home for Henry Francis du Pont and the treasures he and his family collected. Many of the estate's 175 rooms incorporate historic architectural features, and all are furnished with the du Ponts' outstanding collection of antiques and decorative arts.
In addition to the furnished rooms, galleries display more of the nearly 90,000 objects. These are arranged thematically to demonstrate historical styles and to compare artistic techniques, design, and materials. Collections include furniture, glassware, ceramics, textile arts, metal work, paintings, and prints, and the displays change on a regular basis.
Covering 1,000 acres, the gardens are filled with plants and trees collected from around the world. Arranged in a natural setting, plants are chosen to create a palette that changes with the seasons. Children will delight in the Enchanted Woods, a fairy-tale garden with a giant bird's nest to climb in, a fairy-flower labyrinth, a house carved inside a tulip tree, and a troll bridge.
Address: 5105 Kennett Pike, Wilmington, Delaware
Official site: www.winterthur.org
Read More: Best Things to Do in Wilmington, DE
4. Longwood Gardens, PA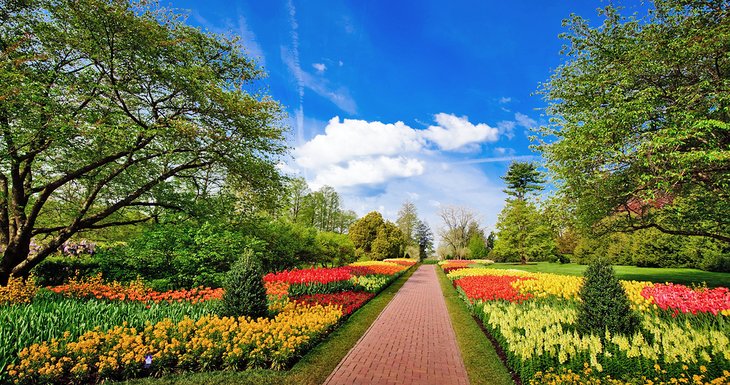 In the late 19th century, Pierre du Pont created this series of show gardens covering more than 1,000 acres of woodlands and meadows, and today it is one of the country's finest year-round horticultural displays.
The complex is made up of many different gardens, indoors and out: formal gardens, brilliant displays of flowering spring bulbs, children's gardens, water gardens, an arboretum of rare and exotic trees, a fruit garden, glass houses and pavilions, and a fantastic garden of topiary. In 2021, Longwood Gardens announced its $250-million Longwood Reimagined project, which includes the addition of a new 32,000-square-foot glass conservatory.
Perhaps the most spectacular is the Italian Water Garden, which was planned and designed in detail by Pierre du Pont to create an air of serenity and is based on Villa Gamberaia near Florence, Italy. The Topiary Garden is a wonderland of carefully sculpted yews that have been trained over decades to create the 20 different shapes.
In November and December, the gardens are aglow in the evening in a magical extravaganza of colored lights. Fountain shows are set to music, and half a million lights highlight trees, shrubs, and buildings. As tickets are timed and the numbers limited, it is a good idea to reserve in advance.
Address: 1001 Longwood Road, Kennett Square, Pennsylvania
Official site: www.longwoodgardens.org
5. Washington, D.C.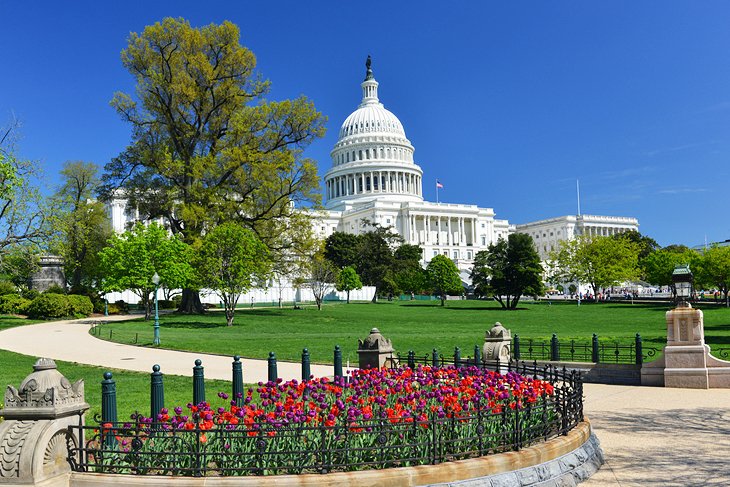 The fastest and most convenient way to visit the nation's capital is by train, which delivers you to the beautiful 1908 Union Station, a short walk from the Capitol Building. From the station, you can also board a sightseeing bus that allows you to stop at the major tourist attractions.
You can see a signed Declaration of Independence at the National Archives, see historic planes and spacecraft at the National Air and Space Museum, or tour any of the other Smithsonian Museums located conveniently along the National Mall, between the Capitol Building and the Washington Monument.
Farther along the Mall is the impressive Lincoln Memorial. The hop-on hop-off bus stops at the International Spy Museum; the National Holocaust Museum; Arlington National cemetery; and Ford's Theater, where President Lincoln was assassinated. As you tour on the bus, you will be able to spot other famous landmarks, including the White House and the Jefferson Memorial.
6. New York City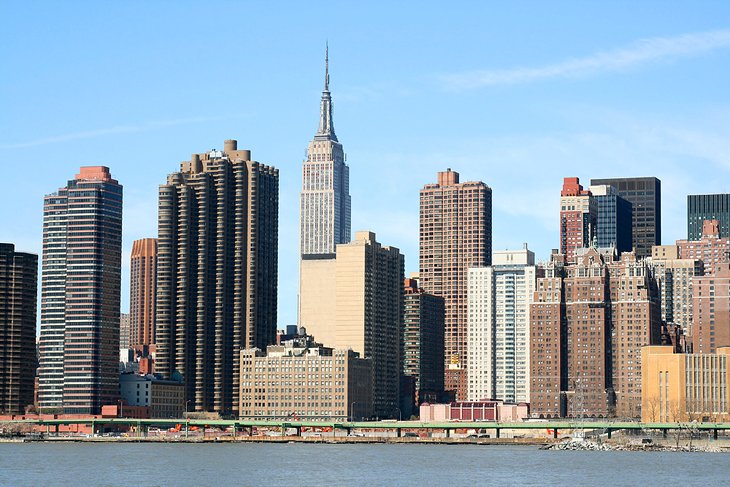 The train from Philadelphia takes you directly into the heart of Manhattan in 75 to 90 minutes, and you can tour around the city easily on one of the hop-on hop-off sightseeing bus routes, such as the Big Bus New York Hop-On Hop-Off Open Top Tour. These loop circuits allow you to see the Empire State Building, Statue of Liberty, Ellis Island, One World Trade Center Observatory, the 9/11 Memorial Pool, and other iconic sights, and you can hop off for dining and shopping, too.
You can stop to visit well-known museums such as the Metropolitan Museum of Art or lesser-known attractions such as the American Indian Museum and nearby Fraunces Tavern, where George Washington stayed during the Revolution.
7. Valley Forge National Historical Park, PA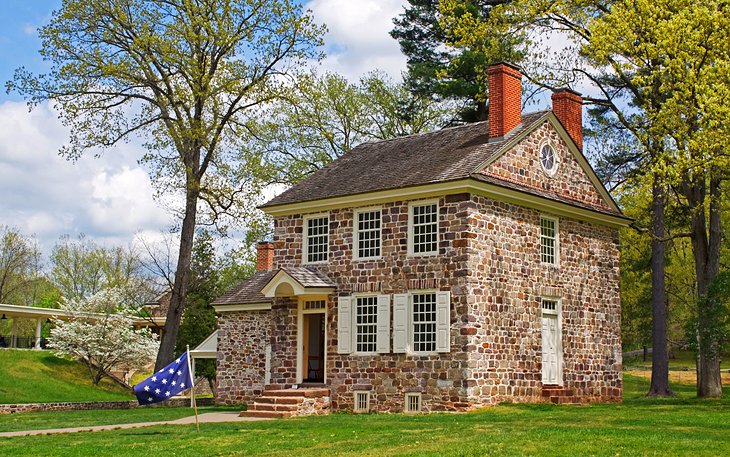 Throughout the winter of 1777 to 1778, American soldiers encamped at Valley Forge, enduring unbelievably harsh conditions of cold, hunger, and disease. British forces had destroyed a vital center of supplies for Washington's army, and the Continental Congress failed to provide funds for fresh supplies.
Without proper food, shoes, or clothing, the troops suffered nearly 2,000 casualties but emerged a strong and determined force under Washington's command. The story of this terrible winter is told through exhibits, tours, and a film, and you can see Washington's Headquarters and a National Memorial Arch, as well as walk the trails through the grounds of the encampment, where Washington's men constructed a village of 2,000 huts protected by miles of trenches and earthen redoubts.
Official site: https://www.nps.gov/vafo
8. Go to the Beach: Jersey Shore Beaches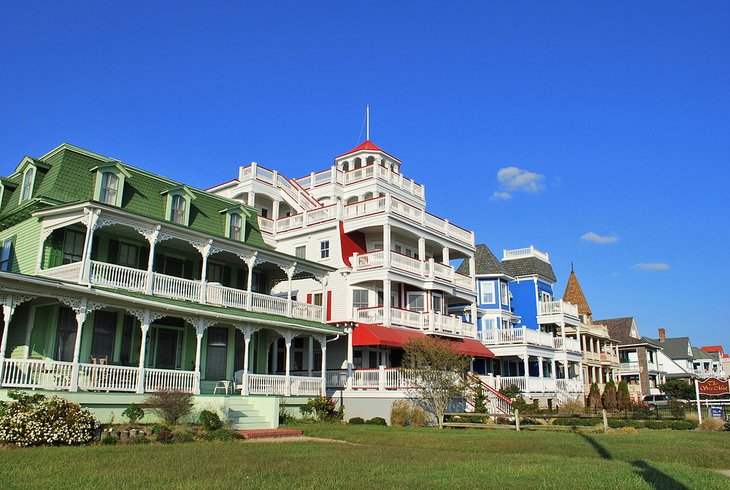 While both Delaware and Maryland beaches make good weekend getaways from Philadelphia, the closest beaches are those on the Jersey Shore. Reaching from Atlantic City to Cape May, these New Jersey beaches have something for every beachgoing taste, from the glitz of Atlantic City and the retro fun of Wildwood to the sedate and upscale Victorian atmosphere of Cape May, the nation's oldest seaside resort.
Wildwood is filled with old-fashioned beach favorites - a boardwalk that stretches for 36 blocks, amusement park rides, frozen custard stands - and glorious white sands. Asbury Park, where both Bon Jovi and Bruce Springsteen got their start, will appeal to lovers of '80s music. Long Beach Island is known for its July 4 fireworks.
Several of the beaches are about an hour and a half from Philadelphia; Atlantic City is the closest, at just over an hour, and can also be reached by train or bus from the city.
Read More: Top-Rated Beaches near Philadelphia
9. Nemours Mansion and Gardens, Wilmington, DE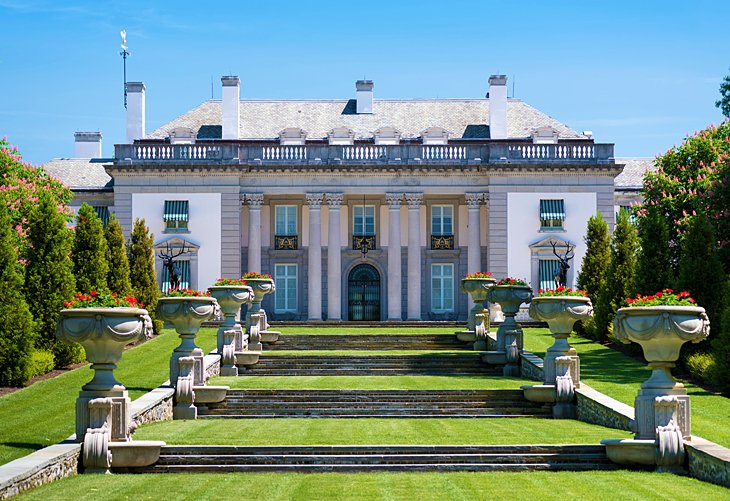 Rivaling the Newport mansions for its opulence and grandeur, Nemours Mansion in Wilmington, Delaware, was a gift from Alfred du Pont to his wife Alicia. Built in the early 1900s, Nemours was their home until 1970, so unlike some over-the-top mansions, this one seems quite livable, its furnishings and art arranged for use rather than show.
That in no way diminishes the spectacular interior and its priceless antiques and art treasures. But you sometimes need to look for the latter, often hung unpretentiously in a bedroom or hallway. Highlights are the Conservatory, Music Room, Dining Room, and Drawing room, but don't miss touring the Bowling Alley, Billiard Room, and the Mechanical Rooms with their ingenious early refrigeration equipment.
The grounds, which comprise the largest formal French gardens in North America, are as spectacular as the house itself, with multiple gardens, grand gates, colonnades, and pools. The best views of the intricately patterned parterre garden of immaculately trimmed boxwood is from the mansion's second-floor terrace.
Address: 850 Alapocas Drive, Wilmington, Delaware
Official site: http://www.nemoursmansion.org/
10. Hagley Museum and Library, Wilmington, DE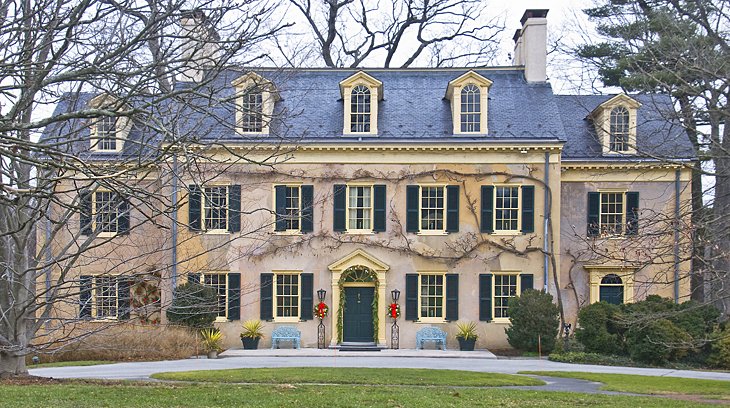 The Hagley Museum and Library spreads across 235 acres along the banks of the Brandywine River in Wilmington, Delaware. The river powered the gunpowder works founded by E.I. du Pont in 1802, which were to become the largest American manufacturer of this explosive essential to the construction of railroads and other necessities of an expanding nation.
You can tour these riverside powder works and follow the process with informative signs and live demonstrations of the equipment. Above is a group of workers' quarters, and you can also tour the du Ponts' home, Eleutherian Mills, furnished with family decorative arts and antiques. In the barn are antique cars, wagons, carriages, and a cooper shop.
There is so much to see in this large complex that you should plan at least half a day. Buses provide transport between the different areas, but the riverside grounds are beautiful and well worth walking.
Address: 200 Hagley Road, Wilmington, Delaware
Official site: www.hagley.org
11. Brandywine River Museum of Art and N.C. Wyeth House & Studio, PA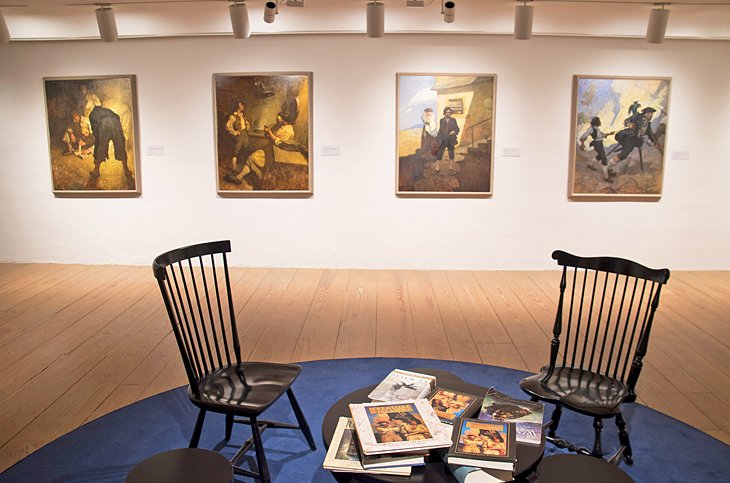 Artist N.C. Wyeth purchased the land overlooking the Brandywine Valley in 1911, with the proceeds from his illustrations for Treasure Island, and built a home and studio. It was here that he painted some of his best known works. Today, it is a National Historic Landmark, and seasonal guided tours provide a picture of his life and career, as well as other members of this extraordinarily talented family.
An extensive collection of works by N.C. Wyeth; his son, Andrew; grandson, Jamie; and others are featured in the Brandywine River Museum of Art, which manages the house and studio.
A large conservation area surrounds the museum property and is planted with native wildflowers, trees, and shrubs.
Address: 1 Hoffman's Mill Road (off U.S. Route 1), Chadds Ford, Pennsylvania
Official site: www.brandywinemuseum.org
12. Antique Shopping in Lambertville, NJ, and New Hope, PA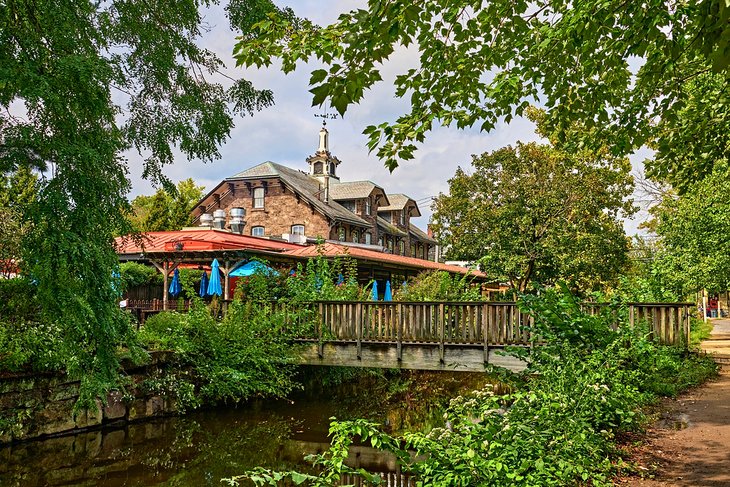 The twin towns of Lambertville, New Jersey, and New Hope, Pennsylvania, are joined by a bridge across the Delaware River, making it easy to browse through the clusters of antique shops and galleries that mark both main streets.
You're barely across the bridge into Lambertville when you encounter the first three antique shops, and you'll find more at every turn. Another cluster is two blocks away at Church and Union Streets, anchored by The People's Store. This collection of shops fills multiple floors with vintage finds, art, and serious antiques. Outside the center, on So. Main Street, is the Golden Nugget Flea Market.
Shopping for antiques is not Lambertville's only attraction for tourists; its attractive center is marked by well-preserved Victorian-era buildings, including a train station. For a respite between shops, choose a restaurant with a terrace overlooking the tree-lined Delaware River Canal.
Across the river in New Hope, antique shops are almost as plentiful. Close to the bridge, on No. Main Street are three shops selling Art Deco lamps, vintage clothing, and 1940s collectibles. On Bridge Street, you'll find everything from garden sculptures and wrought-iron ornaments to creepy artifacts. For a break from shopping, take a 45-minute ride through the Bucks County countryside on the New Hope and Ivyland Railroad.
13. Brandywine Battlefield State Park, PA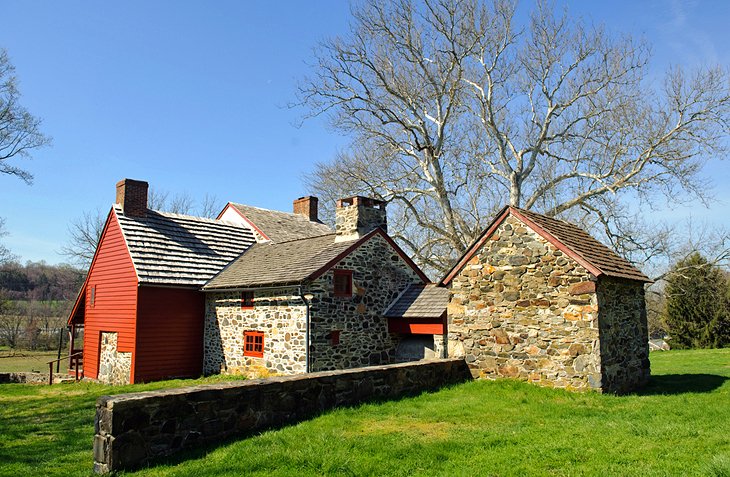 The Battle of Brandywine, which was fought on September 11, 1777, extended across more than ten square miles, or 35,000 acres, of which today's park covers the 50 acres where the Continental army camped before the battle.
It was a major engagement of the Revolution, as Brandywine Creek blocked British access to Philadelphia, where the Continental Congress was in session. The British broke through, however, and subsequently captured Philadelphia, a major victory for them but not one that ended the war as they had hoped.
On a visit to this National Historical Landmark, you can see the site of Washington's headquarters and take a self-guided tour of the battlefield, stopping at the Old Kennett Meetinghouse, Birmingham Friends Meetinghouse, Birmingham Hill, Sandy Hollow, and the 1704 Brinton House. The visitor center contains a small museum and a hands-on room where children can try out old tools and handle artifacts.
Address: Chadds Ford, Pennsylvania
Official site: http://brandywinebattlefield.org/
14. Brandywine Creek State Park, Wilmington, DE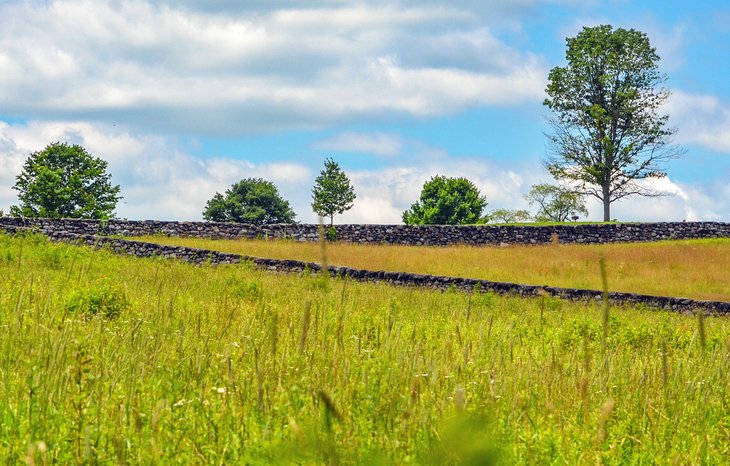 Covering nearly 1,000 acres that in the late 1800s was a du Pont family dairy farm, Brandywine Creek State Park includes the nature preserves of Freshwater Marsh and Tulip Tree Woods. The latter protects a majestic stand of 190-year-old tulip poplar trees, and the entire area is an important habitat for wildflowers, songbirds (including bluebirds), deer, and other wildlife.
From mid-September to mid-November, you can see a wide variety of hawks migrating. Along with 14 miles of hiking trails, fishing, canoeing, and tubing, the park is home to the Brandywine Zoo, specializing in endangered species from North and South America and Asia, including red pandas, monkeys, and condors. Visually-impaired visitors can enjoy nature on the Sensory Trail.
Address: 101 North Park Drive, Wilmington, Delaware
Official site: https://destateparks.com/brandywinecreek
Map of Day Trips from Philadelphia