11 Best Dog-Friendly Beaches in New Jersey
Dog lovers everywhere agree — vacations aren't complete without our four-legged friends. While most beaches on the Jersey Shore don't welcome pets, there are quite a few strands along New Jersey's 130-mile coast that allow pups to dip their paws in the pristine sand and surf.
Whether you're hoping to lounge quietly on the shore, splash in the waves, or make new canine friends, New Jersey has plenty of options to please both humans and dogs. These dog-friendly beaches stretch from Cape May in the south to Sandy Hook in the north, and they offer pet lovers a slew of fun options to enjoy year-round.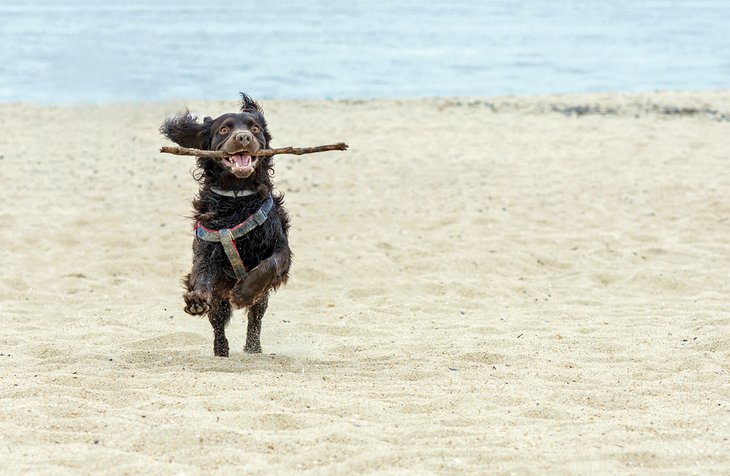 We've sniffed out the state's best pet-friendly beaches to make it easier to decide where to go. So, instead of taking your chances at a beach that may not welcome your pup, make use of our list of the best dog-friendly beaches in New Jersey.
Note: Some businesses may be temporarily closed due to recent global health and safety issues.
1. 8th Avenue Dog Beach (Off Leash)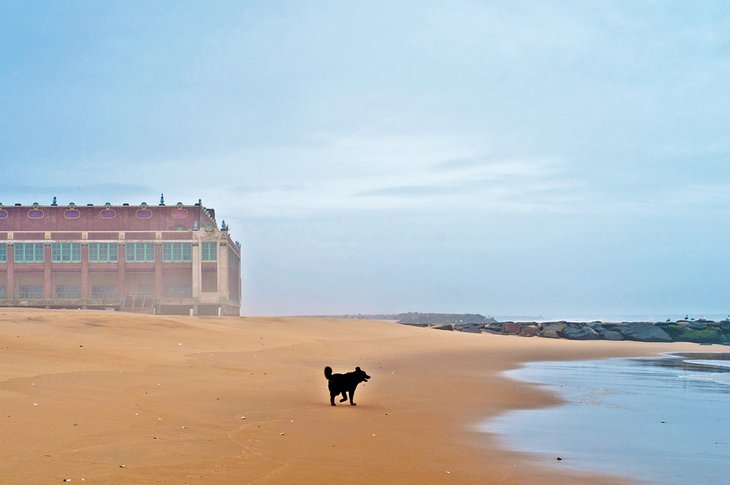 Dogs are free to run off leash through Asbury Park's 8th Avenue Dog Beach, and walk on leash along the adjoining boardwalk at any time between September 15th through May 15th. During the busier summer months (between May 16th and September 14th), pups are welcome on the beach only from 6pm to 8:30am.
Asbury Park is one of the best beaches in New Jersey, boasting soft tan sand, emerald green water, and a ton of 80s music blasting from stereos everywhere — Bruce Springsteen and Bon Jovi got their starts here.
A calm spot, this is a great place to let your pup dig into the soft, wet sand. The boardwalk is worthy of a wander (you'll have to visit off-season if you'd like your pup to join). It boasts a ton of boutique shops and restaurants, some of which welcome dogs.
While you're in the neighborhood, check out The Dawg Joint, a local pet shop featuring grooming services, as well as healthy natural food and toys.
Now for the rules: each dog must be licensed, vaccinated, and supervised by their owner. Owners are also responsible for cleaning up after their pet, and if the dog becomes aggressive, it will be asked to leave.
Address: 1740 Ocean Avenue, Asbury Park, New Jersey
2. Fisherman's Cove Conservation Area (On Leash)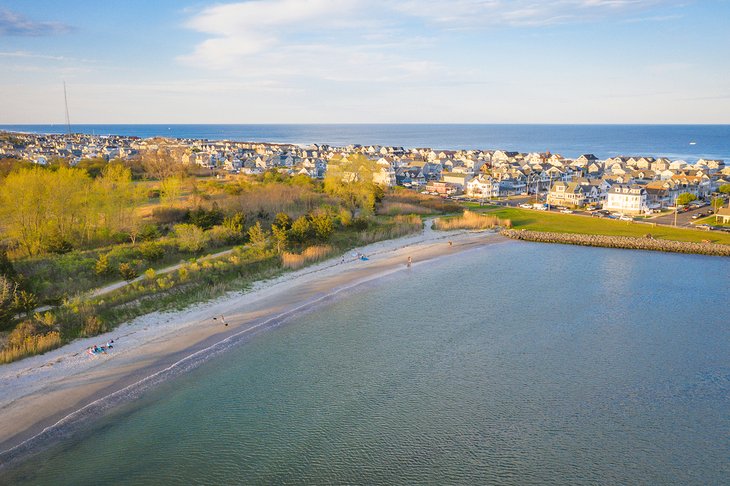 Fisherman's Cove Conservation Area boasts 55 acres of undeveloped beauty on the Manasquan Inlet in Ocean City. While the conservation area loves animals, it also wants to protect the local wildlife, so only leashed dogs are allowed.
The eastern portion of the area is dog-friendly, allowing pups to traipse through the golden (and somewhat rocky and shell-riddled) sand, splash in the waves, trot along the nature trails, and socialize with other canines. The water is shallow, and the view is lovely, especially during sunset.
Fishing is permitted here, so gear up if you're hoping to catch a big one. And be sure to clean up any loose hooks or tackle, so they don't get stuck in anyone's paw.
You won't find amenities here (including a restroom), so come prepared with water and treats for you and your furry pal, and remember to clean up after yourselves when it's time to leave.
Address: 383 3rd Avenue, Manasquan, New Jersey
3. Longport Dog Beach (Off Leash)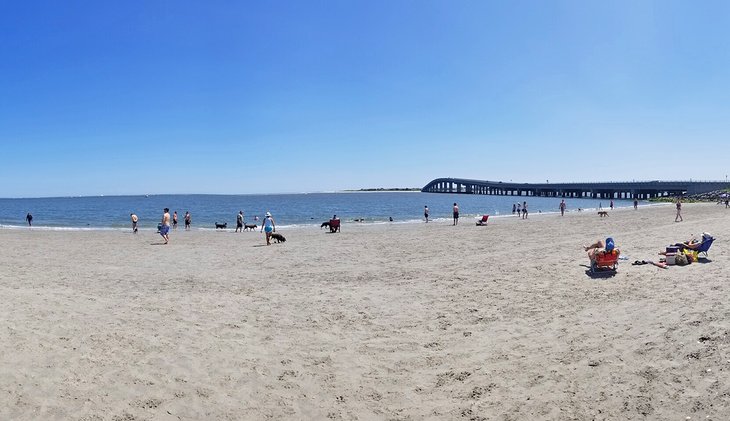 Longport Dog Beach sure loves canines. One of the best dog-friendly beaches in New Jersey, this wide strand is open to canines year-round. The best part? They don't have to wear a leash while digging in the sand and jumping through the water of the calm Green Egg Harbor Bay.
Also known as Somers Point Dog Beach, this fun spot is located in the lush, Malibu Beach Wildlife Area. It's a popular spot for dog lovers, and doesn't come with a lot of available parking, so plan to arrive early (before 9am is best) or late (after 5pm), especially if visiting on a weekend.
You'll have to be prepared with snacks, water, and poop bags when you visit Longport Dog Beach. And be sure to clean up after yourself and your pet. There aren't any trash cans on-site, so you'll have to take garbage with you when you leave.
Address: Route 152 andOcean Drive Bridge, Somers Point, New Jersey
4. Gateway National Recreation Area (On Leash)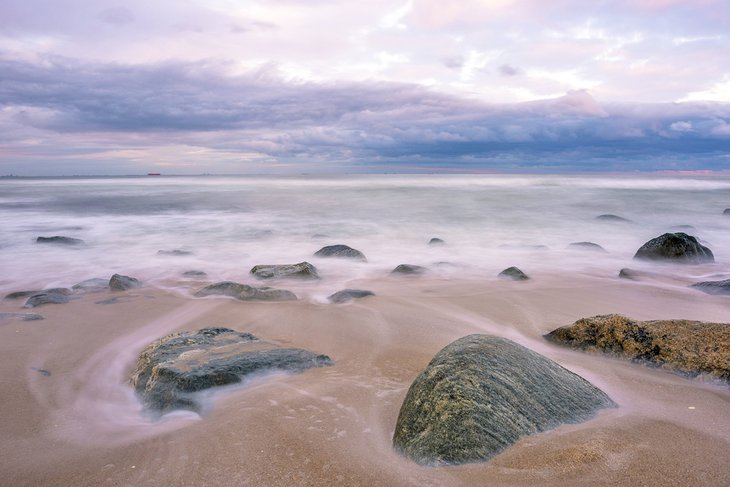 Northern New Jersey is graced with a section of the 27,000-acre Gateway National Recreation Area that stretches from New York's Staten Island to Sandy Hook. It's lush with green spaces, sandy beaches, and nature trails, and visitors and their pets love to swim, hike, bird-watch, and boat, among other fun activities.
While dogs are welcome year-round, not every area is accessible to pooches full time. The bayside beaches (found on Plum Island and Horseshoe Cove) are your best bets for an impromptu visit, as they allow dogs in every season.
The area's oceanside beaches, however, are open to canines only during the offseason (from September 15th to March 15th) in an effort to protect the endangered piping plovers that build their nests here.
Come prepared to take your trash with you, and bring water and poop bags. Insider's tip: Parking costs $15 from Memorial Day through Labor Day, or you can park for free at Fort Hancock.
Address: 128 South Hartshorn Drive, Highlands, New Jersey
5. Wildwood Dog Park & Beach (On Leash)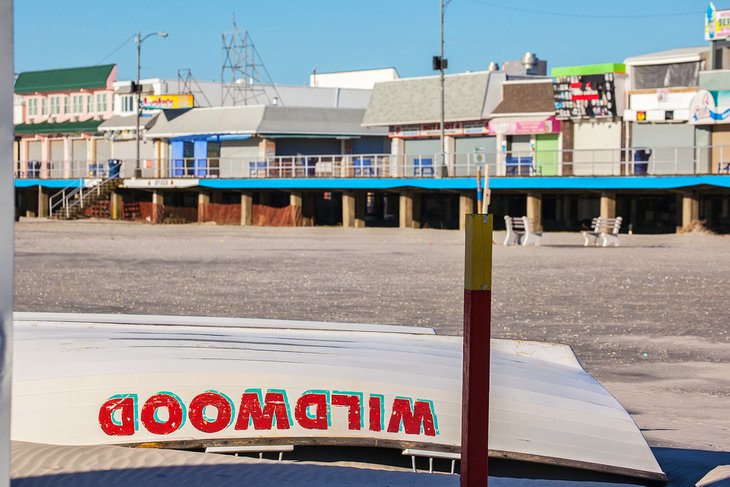 Marked by a 25-foot red fire hydrant, the dog beach at this popular Wildwood strand is one of the best in the state. Spanning nearly two blocks between Maple and Glenview Avenues, this pristine spot is believed by many to be one of the top dog beaches in the United States.
Complete with two fenced areas (one for large dogs and another for small ones), fresh water, and poop bags, Wildwood Dog Park & Beach is a fantastic find in New Jersey. Dogs don't need to wear a leash while in the fenced areas.
The beach is open to canines from dawn until dusk, and the park is open daily. While they aren't permitted (even leashed) to accompany humans on the boardwalk between Memorial Day and Labor Day, pups will love wandering this popular stretch at other times of the year.
Address: Glenwood Avenue and The Beach, Wildwood
6. Stone Harbor Beach (On Leash)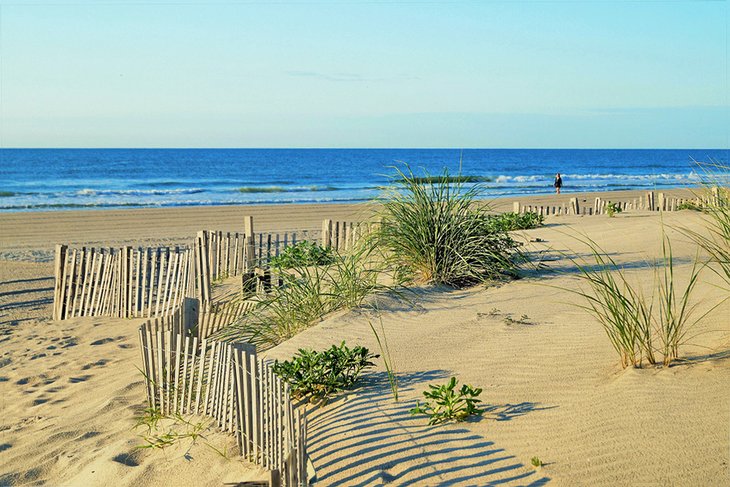 Leashed dogs are welcome to roam around this pretty beach throughout the year, as long as they stay between the boundaries of 80th and 83rd Streets. Dogs are welcome to get wet and sandy here between dawn and 9am and 6pm to dusk.
Other sections of the beach allow leashed dogs to wander the shore from 7pm to 9pm during high season (from June 1 through September 30th). Dogs are also permitted at nearby Sunset Beach, which is located at Cape May's southern tip.
Beach visitors must purchase a daily tag for $6 from Memorial Day through Labor Day. The tag only needs to be displayed between the hours of 10am and 5pm, so if you plan to make use of only the dog-friendly hours, you can visit for free.
Address: 1st Avenue, Stone Harbor
7. Brigantine North-End Beach (On Leash)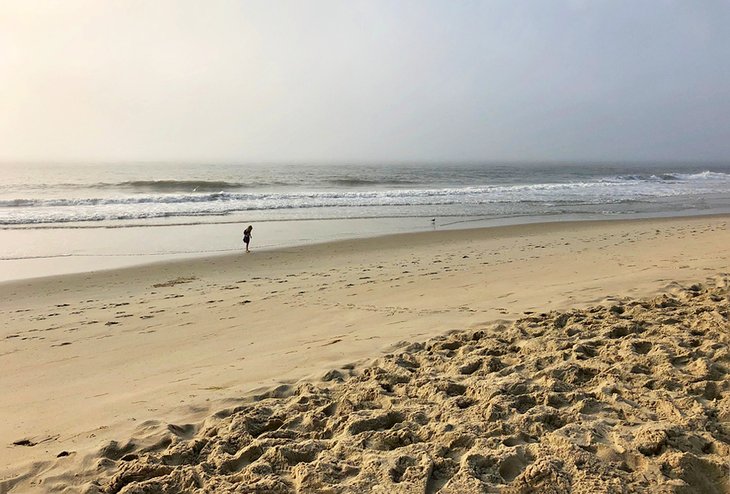 As is the case with many beaches along New Jersey's shore, leashed pets are welcome anywhere on the Brigantine Beach between October 1st and May 29th. Note that their leash must be no more than six-feet in length.
If you're hoping for a summertime visit, head to North-End Beach (at the north end of Brigantine beach). Dogs are welcome here year-round, as long as they're wearing a leash, and you pick up after them. You can enjoy swimming, fishing, and paddleboarding at this fun spot.
Featuring a wide expanse of soft tan sand backed by dunes covered in lush vegetation, this is a pretty beach to explore with your pup. You'll have to pay a $10 daily fee to get access, and you'll need a permit if you're hoping to bring a 4X4 or Jet Ski.
Address: 1500 East Brigantine Avenue, Brigantine, New Jersey
8. Barnegat Light Beach (On Leash)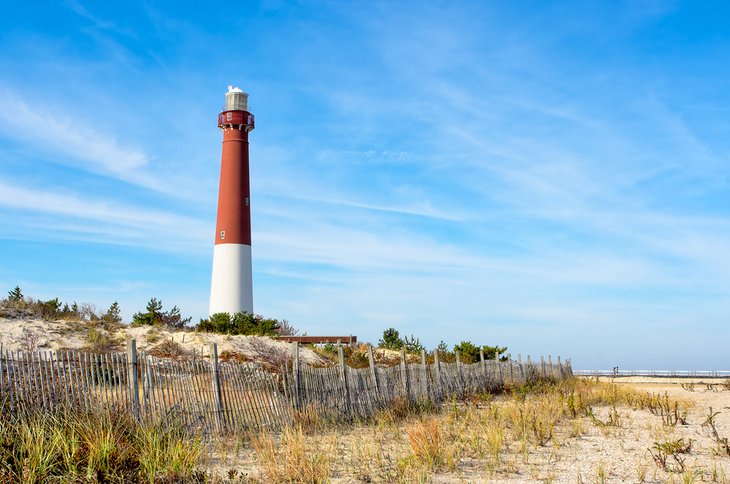 A $5 fee grants visitors and their four-legged pals entry to Island Beach State Park. It's an Ocean County gem located on the north of the undeveloped barrier island of Long Beach Island. Pups are free to run around (on a leash that is six feet or less in length) throughout most of the park.
While dogs aren't permitted on the beach between April 15th and September 15th, they'll love exploring the vast expanse of sand during the off-season. Off-limits areas include lifeguarded swimming beaches and Spizzle Creek Bird Trail.
Almost 10 miles of beach welcome humans and their canine pals to this pretty spot on Barnegat Bay. You'll also find the picturesque Barnegat Lighthouse, forests, sand dunes, and tidal marshes. Swimming, fishing, and surfing are popular here.
Address: 29 East 11th Street, Barnegat Light, New Jersey
9. Beach Haven Beach at Taylor Avenue (On Leash)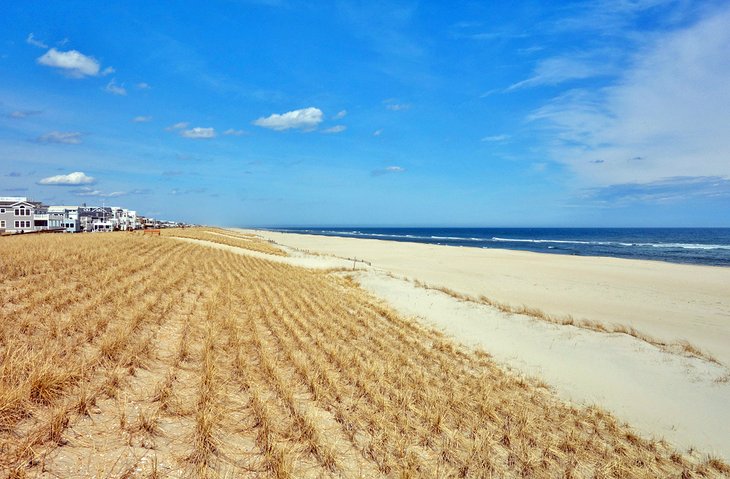 Ocean County is home to the charming maritime town of Beach Haven. This adorable spot boasts shopping, dining, and entertainment options to keep every breed of visitor happy, but most come here for its lovely beaches. Lining this Jersey Shore, you'll find soft, golden strands bursting with fun activities.
Like most of the beaches in New Jersey, dogs are not permitted on the beaches from May 15th through September 15th. If they're donning a leash that's less than six feet long, though, your dog can join you to frolic in the sand and jump through waves between September 16th and May 16th.
One of the most dog-friendly beaches in Beach Haven is found along the bay at Taylor Avenue. Pups are allowed on both the sand and in the water here.
Insider's tip: Don't forget to purchase a beach badge for entry. You can buy a seasonal pass or a daily badge, depending on your needs.
Address: Taylor Avenue, Beach Haven, New Jersey
10. Higbee Beach Wildlife Management Area (On Leash)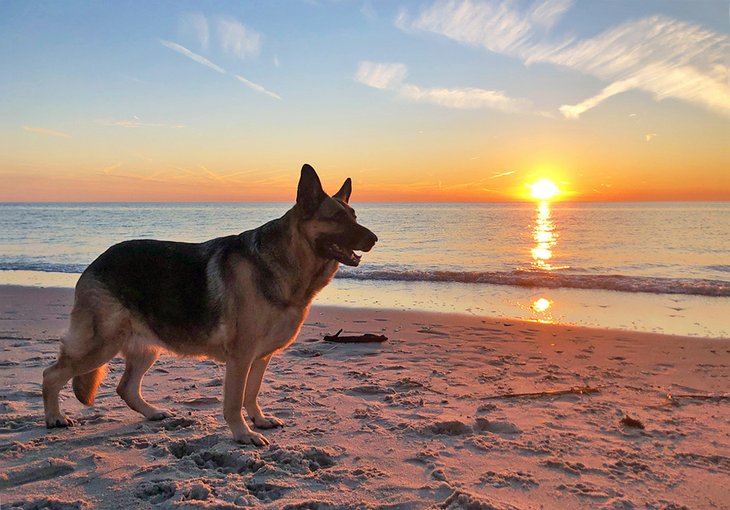 Over 1,000 acres welcome visitors to Higbee Beach Wildlife Management Area on the Atlantic Flyway in Cape May. From September 1st to April 30th, those visitors can include your four-legged friends, as long as they wear a leash to ensure the safety of the area's migratory birds.
The park boasts a mile and a half of beach backed by sand dunes, and it faces the glistening Delaware Bay. Higbee Beach Wildlife Management Area is open from dawn until dusk. When you've had enough of the sand, head to the forest for a lovely shaded walk.
Insider's tip: The area's parking lots may be closed during the summer months, so you'll have to be prepared to find an alternative parking option.
Address: County Road 641, Cape May, New Jersey
11. "Dog Beach" at Malibu Beach Wildlife Management Center (On Leash)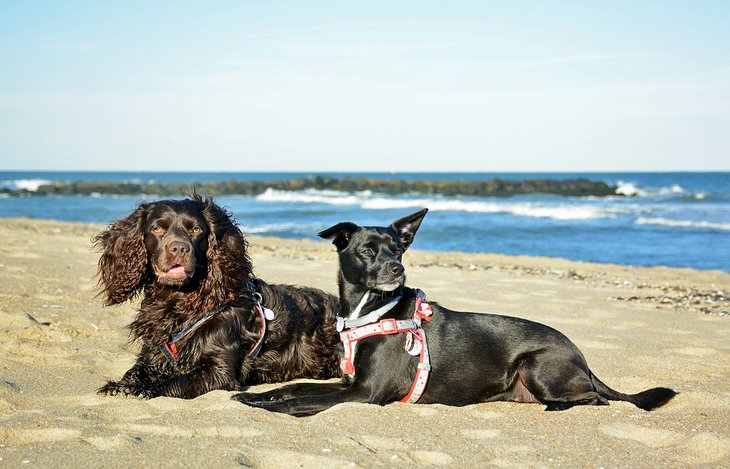 A doggy wonderland is located at the far end of Ocean City in Egg Harbor Township. Technically, the Malibu Beach Wildlife Management Center, this beautiful spot is known as "Dog Beach" by locals.
The area provides a nesting spot for endangered and migrating birds, so dogs must be kept on a leash to keep every creature (and human) safe. Despite this precautionary measure, pet owners are welcome to bring their furry friends to visit this small, undeveloped strand at all times of the year.
Anglers will love the fishing pier found by Ocean Drive Bridge. If you're not into catching flounder, sea bass, or bluefish, the pier will reward you with stunning views and a perfect bird-watching opportunity.
Address: Ocean Drive, Longport, New Jersey
More Related Articles on PlanetWare.com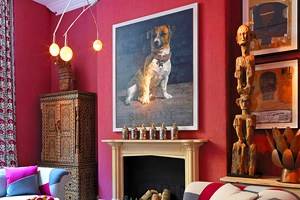 Other Dog-Friendly Vacations: Luckily, New Jersey isn't the only place to welcome dogs to its sandy strands. Florida has its own set of dog-friendly beaches, while pet-friendly hotels are available in New York and Las Vegas.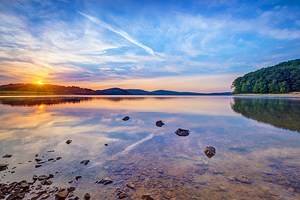 Other Places to Visit in New Jersey: New Jersey is a land filled with natural beauty, as is evidenced by the pretty dog-friendly beaches we described above. While visiting the Garden State, be sure to see some of its other incredible wonders, like rushing waterfalls and quaint and charming small towns.