10 Top-Rated Small Towns in New Jersey
New Jersey's small towns offer a pleasant retreat from the bustle of the major cities and suburban areas, many of which are rife with historic landmarks and fascinating stories. Often some of the earliest towns to be settled, most have witnessed the Revolutionary War, seen the evolution from an agricultural to an industrial society, and adapted to the modern era while maintaining a strong connection to the past.
In addition to historic sites, many of these towns have exceptionally active arts communities, home to not only museums but also numerous galleries, performing arts centers, and other cultural attractions.
Perhaps as a by-product of the strong connections with both art and history, they are also rife with unique artists' shops selling handicrafts and gallery art, antique shops, and specialty boutiques that offer unique finds.
Discover the best places to visit in this diverse state with our list of the best small towns in New Jersey.
1. West Cape May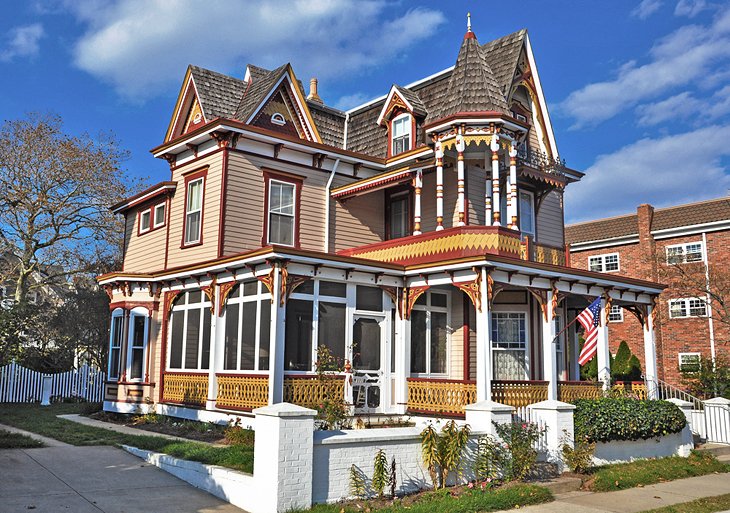 Although Cape May has plenty of seaside resort towns, the historic town of West Cape May is a peaceful change of pace from the bustling boardwalks and seaside amusements of the Jersey Shore.
You will find that most visitors (and residents) prefer walking and bicycling over driving, and even the beaches here are within walking distance of town and lack the crowds you would find elsewhere on the cape. This is one of the oldest resort destinations on the east coast, and has retained elements of its idyllic 19th-century charm.
The Cape May Historic District, a registered National Landmark, includes 600 of the original Victorian homes that were built during the town's heyday. Tourists can take a guided walking tour that highlights some of the finest examples, or explore the 30-block district's many treasures independently. Some of the homes are open to the public as museums, and the Emlen Physick Estate also has a lovely tearoom.
In the center of the historic district is the Washington Street Mall, a tasteful collection of locally owned establishments, including restaurants, boutiques, and confectioneries.
Located on the southernmost end of the cape, the town is adjacent to Cape May Point State Park. Here, tourists can climb the Cape May Lighthouse, explore the World War II Lookout Tower and bunkers, and enjoy the many trails and lookouts.
For a romantic evening stroll, visit Sunset Beach to watch the sun go down over Delaware Bay.
Accommodation: Best Resorts in Cape May, New Jersey
2. Haddonfield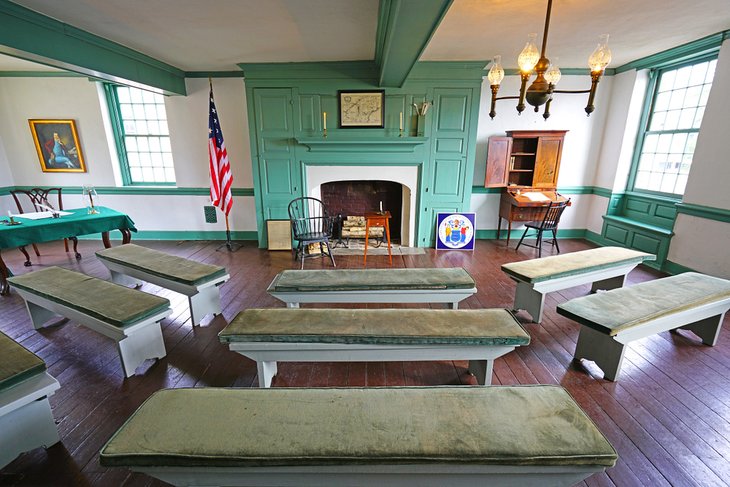 Located in southern New Jersey, under 10 miles from the Pennsylvania border, Haddonfield is a charming small town with a surprising number of historic attractions and things to do. Its most popular tourist attraction is the Indian King Tavern Museum, which was the site where the New Jersey legislature declared the state's independence in 1777.
The building, which was constructed in 1750, was the first historic site to be owned by the state, and is full of fascinating exhibits, as well as a tunnel once used on the underground railroad. Greenfield Hall is home to the Historical Society of Haddonfield, where visitors can find more information on the town's history.
Digging even further back in time, the skeleton of a Hadrosaurus foulkii was uncovered here in 1838. Paleontologists excavated the full remains in 1868, and it is now displayed in Philadelphia at the Academy of Natural Sciences.
A bronze replica of this duck-billed herbivore, "Haddy," stands like a mascot in the center of town at eight feet tall and 18 feet long. The Haddonfield Outdoor Sculpture Trust also has many pieces of sculpture on display throughout the town, a part of the Grounds for Sculpture organization in Hamilton, NJ.
In addition to its cultural attractions, Haddonfield has a surprising number of unique boutiques, gift shops, and locally owned stores within the central downtown area.
Downtown Haddonfield hosts special events throughout the summer months, and the small community is lively with sidewalk sales, farmers markets, and other events. There are also many dining options here, and the outdoor seating in the downtown area is a plus for those who enjoy people-watching.
3. Princeton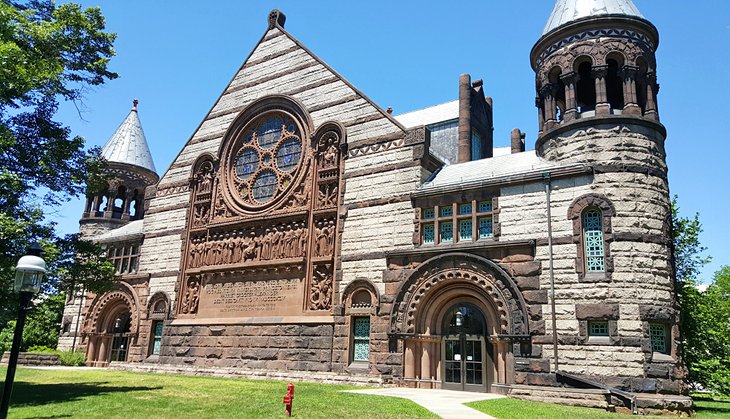 Princeton is known worldwide thanks to its ivy-league university, an institution that has turned out some of the world's greatest thinkers. The town also has deep roots as the site of a historic Revolutionary War battle, the Battle of Princeton in 1777. Princeton Battlefield State Park is a beautiful green space that commemorates the battle, as does the Princeton Battle Monument, a 50-foot sculpture of George Washington.
The Clarke House Museum is another attraction of historic interest, a building which functioned as a hospital for both American and British soldiers during the war.
One of the most important landmarks in Princeton is the university's Nassau Hall, the site where the British surrendered to General Washington at the end of this battle. The building is also remarkable for its immense stone walls – over two feet thick – which survived two fires and a central role in the war. Also on-campus, the McCarter Theatre Center is a top local attraction known for its award-winning stage performances.
Princeton University also operates Art @ Bainbridge, an art gallery located downtown on Nassau Street in the historic Bainbridge House. The exhibits within the gallery change frequently to showcase both emerging artists and pieces from the collections of the Princeton University Art Museum (closed until 2024).
Visitors looking for outdoor fun have plenty of options in and around Princeton. In-town, Marquand Park is a lovely 17-acre green space that is home to an arboretum, plenty of well-maintained walking paths, and a children's play area.
For a more immersive excursion into nature, the Delaware and Raritan ("D&R") Canal State Park offers plenty of space for both hiking and kayaking, as well as historic bridge tenders' houses from the 19th century.
4. Red Bank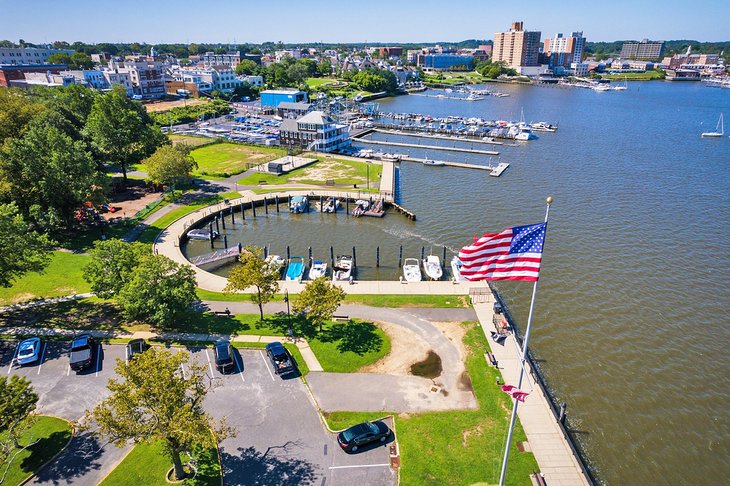 This small suburban town is best known for its arts community, and it is a top summer destination for those who enjoy live music, theater, and a welcoming atmosphere. The best-known venue is the Count Basie Center for the Arts, named for the jazz legend William "Count" Bassie who was, as his famous song title declares, "The Kid from Red Bank." This world-class performing arts center hosts musicians, theatrical presentations, and other performances and also conducts classes and seminars for the community.
Red Bank is also home to a unique community-based restaurant, the JBJ Soul Kitchen. Operated by the Jon Bon Jovi Soul Foundation, it has made headlines for its new approach to feeding the community while bringing people together. Anyone is welcome, and all meals are by donation.
Tourists looking for a peaceful place to stroll will enjoy Riverside Gardens Park, which sits on the shore of the Navesink River. This two-acre park has frequent events in the summer, a nice boardwalk, and a picnic area. Nearby, Marine Park has a jungle gym for youngsters who need to burn off some energy.
5. Lambertville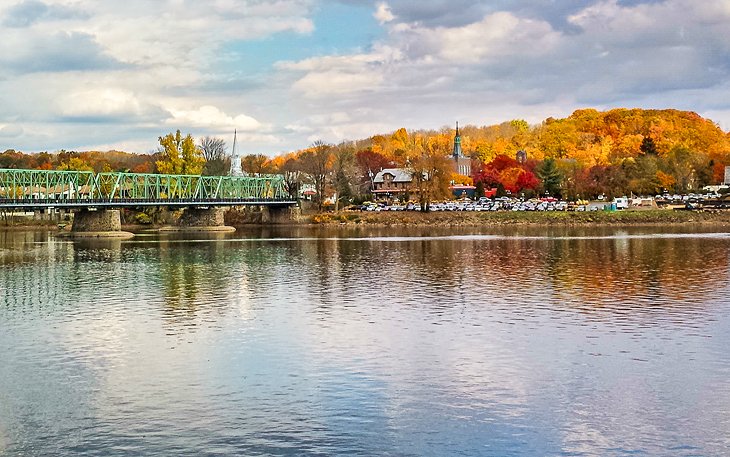 Known as "the antiques capital of New Jersey," the town of Lambertville is a laid-back place that sits right on the shore of the Delaware River on the state line. Across the water, New Hope Pennsylvania is often considered a sister-town, with the downtown areas separated only by the bridge, just a couple of minutes' walk away.
In addition to an abundance of antique stores, this cozy town is home to craft shops, galleries, and cafés, as well as many well-preserved 18th- and 19th-century homes.
Lambertville is also home to two excellent museums, which bring history to life. The Holcombe-Jimison Farmstead Museum is home to numerous restored buildings and recreations of 18th- and 19th-century life, including a blacksmith shop, a country doctor's office, general store, print shop, and an extensive exhibit of farm equipment. Exhibits also include domestic life, including tasks to support everyday needs, like candle-making and weaving.
Another fascinating historic attraction is the Howell Living History Farm, which focuses on agricultural life at the end of the 19th century. Here, they have routine demonstrations of horse-powered plowing, interactive activities including traditional crafts, and special events.
Tourists visiting on the weekend will want to first stop at the James Wilson Marshall House, an 1816 home constructed of brick in the Federal style. It is home to the Lambertville Historical Society, and has exhibits that highlight the town's history, with photos, informational displays, and period rooms. The museum is free, and this is a good place to get more information on other notable historic buildings and sites.
Neighboring New Hope is well worth a visit if you enjoy quirky boutiques, book shops, new age shops, import emporiums, and pretty much any type of shopping you can imagine. It is also home to many artists, and you can find plenty of galleries, as well as original and traditional performances at the Bucks County Playhouse.
6. Clinton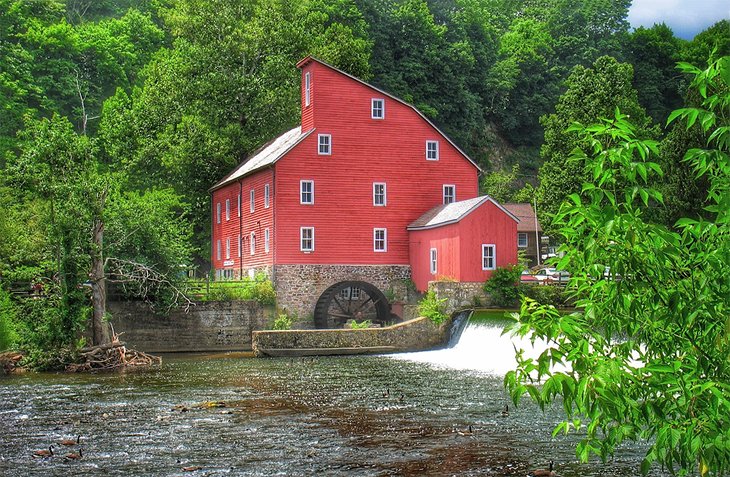 Picturesque Clinton has many charms, an idyllic town set by the Raritan River and home to several historic buildings and a thriving cultural community. Main Street Clinton is home to galleries, specialty shops, and eateries, and during the summer months you will often find outdoor events like music festivals.
Clinton's most prominent attraction is the Red Mill Museum Village, a collection of historic buildings and recreations that are centered around the picturesque Red Mill. Among the buildings you will find in the 10-acre village are a schoolhouse; blacksmith shop; carriage shed; tenant house; and several buildings dedicated to processing lime, including the dynamite shed, stone crusher, screen house, and lime kilns. These and other buildings include a total of over 40,000 artifacts, and the museum also hosts exhibits on loan from other institutions, including the Smithsonian.
In addition, many special events are hosted here, including the Winter Village Craft Market, which features heated outdoor tents and theatrical carolers.
The Hunterdon Art Museum in Clinton is an arts center featuring a permanent collection that consists primarily of 20th-century prints, as well as other works, including paintings, photography, and drawings. The museum also hosts multiple temporary exhibits at a time showcasing various artists, themes, and media. There are also numerous art classes and workshops, and they even teach yoga classes.
7. Cranbury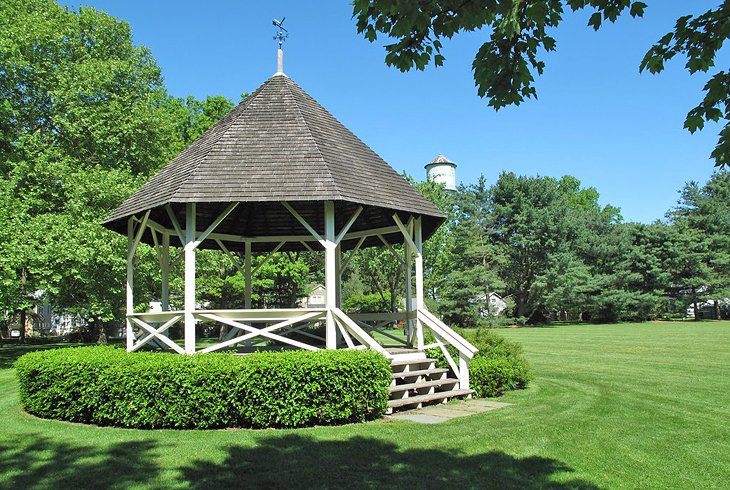 The historic Cranbury Township is one of New Jersey's oldest towns, settled in the late 17th century by immigrants from all over Europe. In the 1900s, Cranbury was a midpoint on the main route between Philadelphia and New York City. The Cranbury Historical Society provides a walking tour guide of the town's National Historic District, and also operated the Cranbury Museum, which features a variety of local artifacts.
Visitors will find an array of boutiques and antique shops in the central square, as well as several good cafés and restaurants. Here, you will also find the Cranbury Inn, a historic 1780 establishment with excellent food.
Another popular place to visit is Village Park, situated near Brainerd Lake and Dam, where the town presents summer concerts. In the winter, the lake is groomed to become a public ice rink.
8. Chester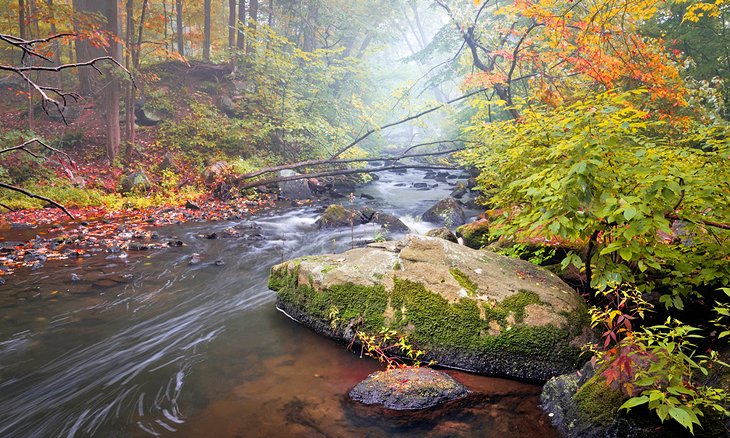 The town of Chester is located in northwestern New Jersey's Skylands region and is known best for its downtown shops and the historic Cooper Grist Mill. Visitors could shop all day and still not visit every store, with a variety of galleries, craft shops, jewelry stores, gift shops, and establishments selling jewelry, apparel, and other specialty items.
For a break, shoppers can get a pick-me-up at one of the coffee shops, bakeries, sweets shops, ice-cream parlors, or cafés, or enjoy a full-service meal at one of the excellent local restaurants.
The Cooper Grist Mill is an operational mill built here during the 1760s, and is open for tours April through October. Visitors will enjoy a small museum in the visitor center, which highlights the history of the town and surrounding area, and are then taken on a guided sightseeing tour by one of the millers. The tour concludes with a demonstration of the same methods that have been in practice for over 250 years; flour and cornmeal ground here at the mill are available for purchase.
Nature lovers who have a full day to explore will enjoy a hike on the Black River Trail, and those who have limited time can explore the scenery near the trailhead in Black River County Park.
9. Allentown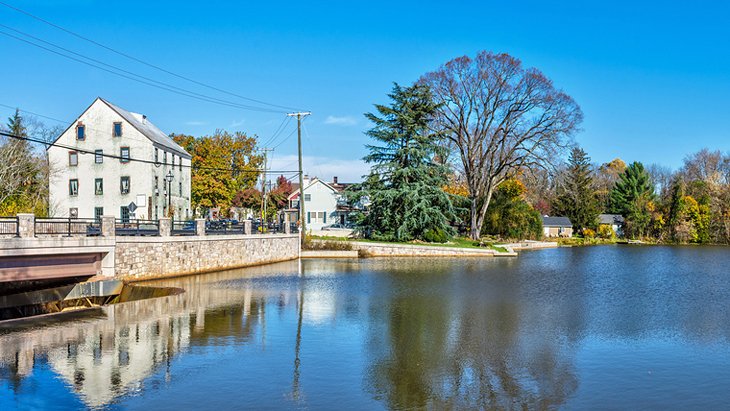 Founded in 1706, Allentown has a long and rich history as a town along an important route during the Revolutionary War, as well as a major stop on the Underground Railroad. The Old Mill, a former grist mill in operation from 1713 through 1963, is a historic landmark that is now home to craft shops and local restaurants. Tourists will find even more shopping in the historic John Imlay Mansion in downtown Allentown, including art galleries, gift shops, and specialty stores selling everything form vintage decor to new age items.
10. Ocean Grove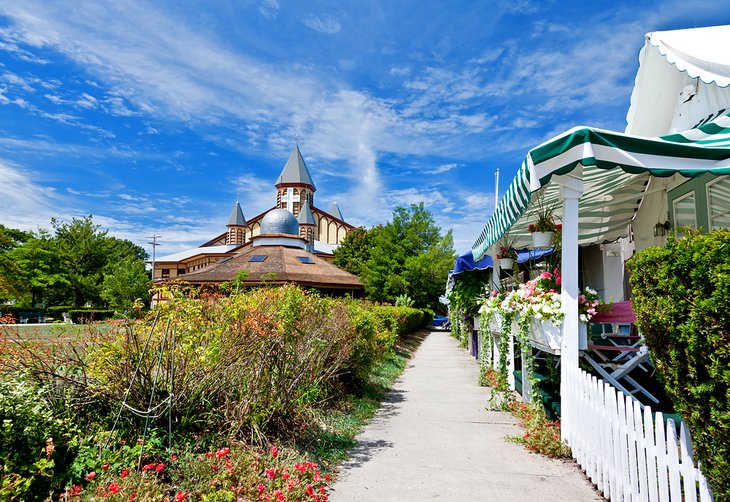 Vacationers looking for a more peaceful beach in New Jersey will love Ocean Grove. The laid-back town offers a nice sandy beach with a boardwalk, and a quaint downtown area that is only two blocks from the beach.
The town is known for its beautiful Victorian homes with artfully curated gardens, as well as its selection of locally owned shops and cozy cafés. Downtown is easily walkable and picturesque, with tree-lined streets.
The beach is staffed with lifeguards during the summer and hosts numerous special events and family activities, including a sandcastle contest and movie nights.
Map of Small Towns in New Jersey
More Related Articles on PlanetWare.com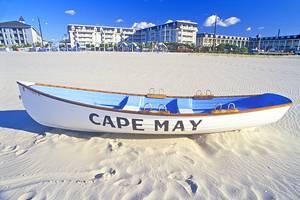 New Jersey Highlights: For more ideas on things to see and do while you're in the state, see our guide to the Top Tourist Attractions in New Jersey. Perhaps you just have a few days and want to plan a quick trip? If so, see our list of the Best Weekend Getaways in New Jersey. And if you are visiting in summer and have your heart set on some time at the beach, see our article on the Best Beaches in New Jersey.