New Jersey in Pictures: 20 Beautiful Places to Photograph
Let's be honest, New Jersey doesn't always have the best reputation. But, this Northeastern US state boasts over 700,000 acres of lush farmland and 127 miles of pristine beaches, all of which is photo worthy. No wonder it's called the Garden State.
But exploring nature and basking on the beaches are not the only things to do in New Jersey. Many of New Jersey's cities and coastal towns are chock-full of character and charm, with excellent opportunities for great pictures. Sometimes, though, you have to see the beauty to believe it.
Check out our list of the most beautiful places to visit in New Jersey.
1. Jackson Street Bridge, Newark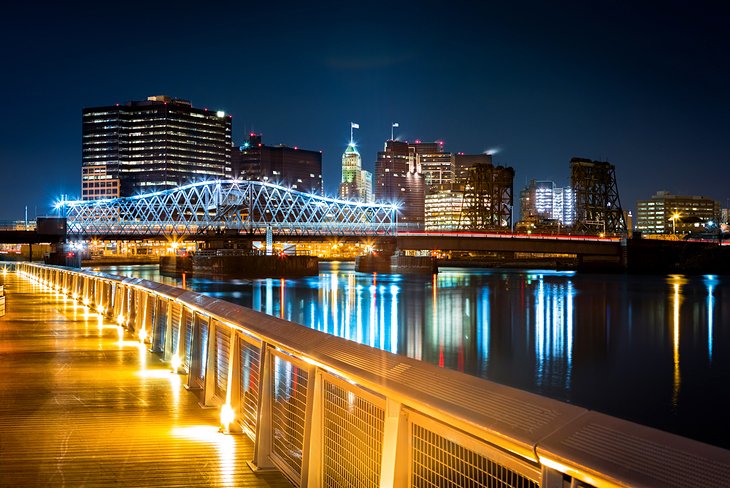 Jackson Street Bridge is a pedestrian swing bridge spanning the Passaic River between Newark and Harrison. One of three swing bridges in the city (Clay Street Bridge and Bridge Street Bridge are the others), it's rarely opened due to little traffic on the water.
This bridge was originally built in the early 1900s and revamped in 1991. While some bemoan the lack of original building materials, the unusual truss lines remain, which make it historically significant and a pleasure to look at when lighted at night.
2. Speedwell Waterfall, Morristown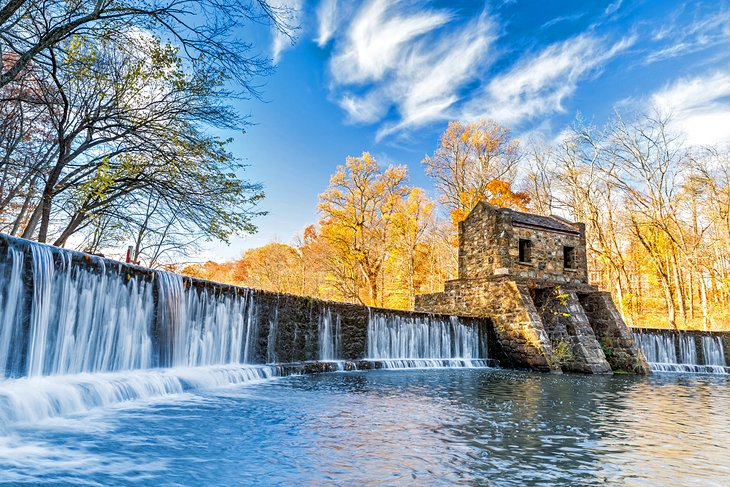 Step back in time at this idyllic spot. Speedwell Waterfall is located across the street from Historic Speedwell in Morristown. It's here that you can time warp into the Industrial Revolution, complete with well preserved buildings from the 18th century. This was also the spot where Samuel F.B. Morse and Alfred Vail first demonstrated an electromagnetic telegraph to the public (think Morse code).
Accommodation: Where to Stay in Morristown
3. Great Falls, Paterson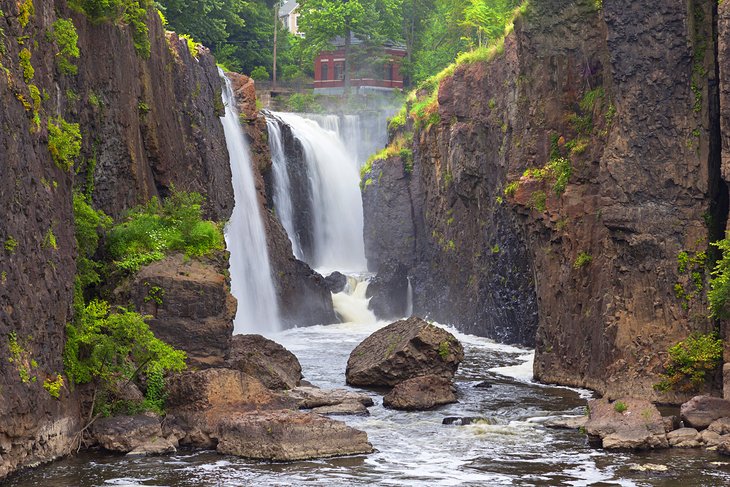 These dramatic falls are nestled in Paterson Great Falls National Historical Park and they serve as the heart of Paterson, "America's first planned industrial city." Situated on the Passaic River, the water flowing from the 77-foot-tall Great Falls was harnessed to help power manufacturing processes.
Today, you'll find remnants of life in the industrial era–from an early manufacturing mill to a three-tiered water raceway system. And if you're willing to listen, you'll hear a ton of interesting stories about Alexander Hamilton.
4. Ramapo Valley County Reservation, Mahwah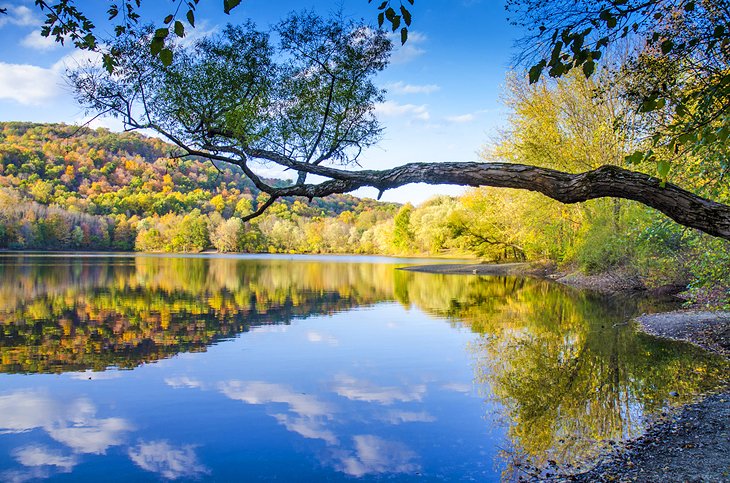 With 21 miles of hiking trails, Ramapo Valley County Reservation is a perfect spot to dust off the cobwebs you garnered from hours of sitting. It features five main trails of varying difficulty. One of the best is the Vista Loop Trail, which boasts picturesque panoramic views, as well as a waterfall and reservoir.
5. Cape May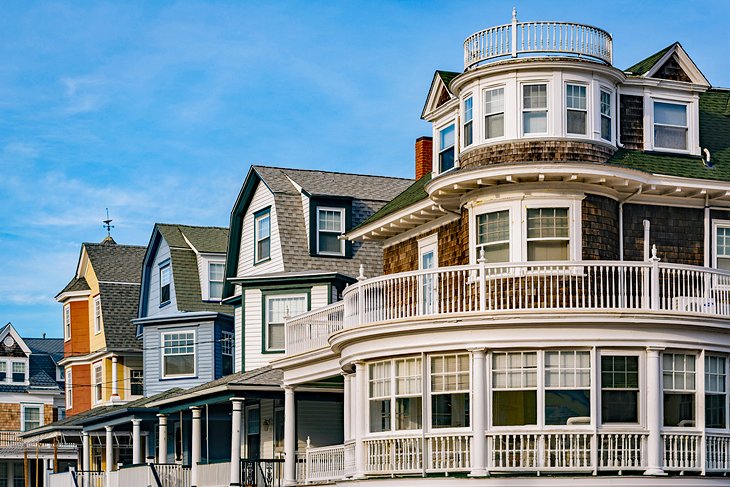 The newly restored East Point Lighthouse rests on the northern side of Delaware Bay in beautiful Cape May. An ideal spot for a summer vacation, Cape May sits at the most southern end of the Jersey Shore. It's well loved for its clean water; soft sand; and quaint cottages, shops, and restaurants. The laid-back holiday vibe in this part of the state is hard to beat.
6. Sayen House & Gardens, Hamilton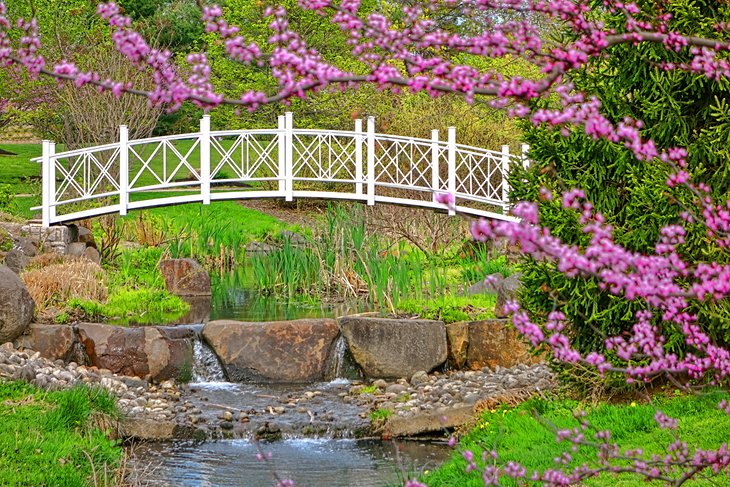 A quaint ornamental bridge pops to life when surrounded by fresh pink crab apple blossoms in Sayen House & Gardens. This tranquil spot in Hamilton Square is the perfect backdrop for photographs, a quiet walk, or an afternoon spent soaking up the impeccable natural surroundings. The house itself offers an extensive look into the history of Hamilton.
7. Exchange Place, Jersey City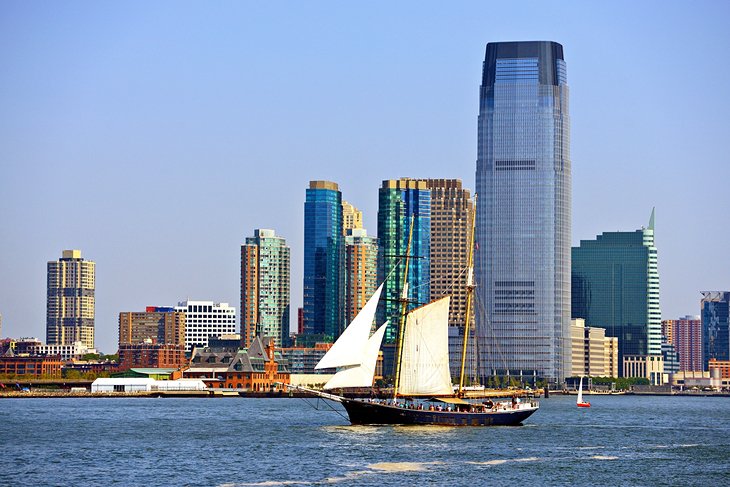 Downtown Jersey City is home to Exchange Place, the eclectic district captured in this skyline photo. Grab dinner at a rooftop patio, set sail on the Hudson River, or walk the boardwalk along the waterfront for unbeatable views of the New York City skyline. It also boasts a moving tribute to 9/11.
8. Ventnor City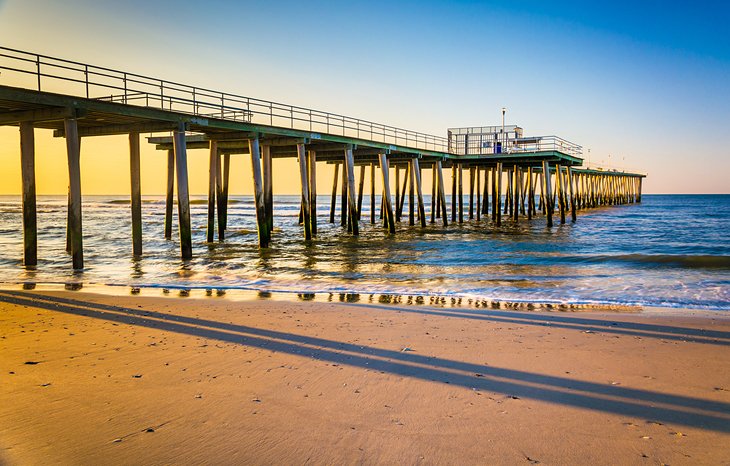 The enticing sand dunes on either side of this path encapsulate the easy-going pace of Ventnor City. The adorable historic church St. Johns By-the-Sea (the first built in Ventnor) adds to the town's charm. The main reason people visit, though, is to walk the boardwalk or dig their feet into the golden sand of Ventnor City Beach. It's a perfect place to enjoy the sun as it sets over the Atlantic Ocean.
9. George Washington Bridge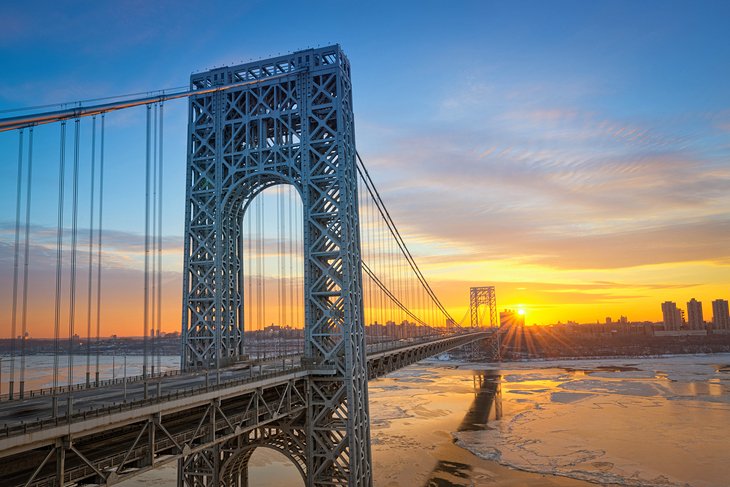 One of the main arteries into New York City, the double decker George Washington Bridge spans the Hudson River from Fort Lee, NJ to Washington Heights, NY. Each year, this famous bridge carries more than 103 million vehicles. If you've ever been stuck in its unforgiving traffic, take a moment to truly enjoy the striking architecture that surround you.
10. Atlantic City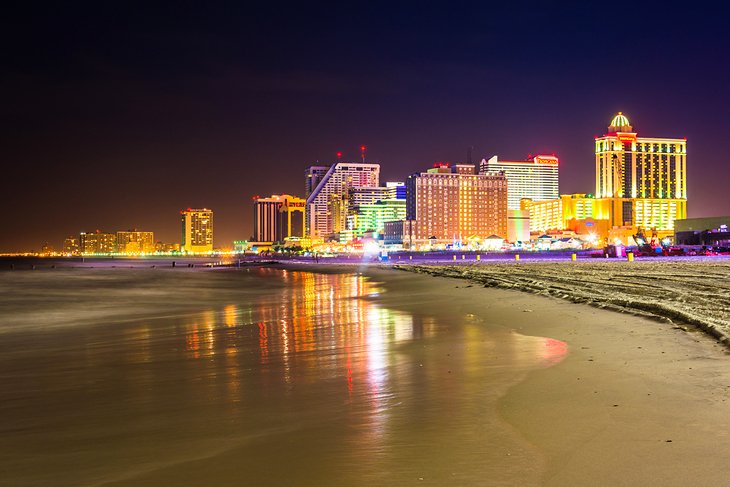 New Jersey's answer to Las Vegas, Atlantic City has swallowed many a person's paycheck. In addition to offering a thriving nightlife, endless entertainment, and top restaurants, this popular weekend destination offers spectacular views of the Jersey Shore. Atlantic City is technically a resort city, featuring a lengthy boardwalk that borders miles of white sand and the refreshing Atlantic Ocean.
11. Liberty State Park, Jersey City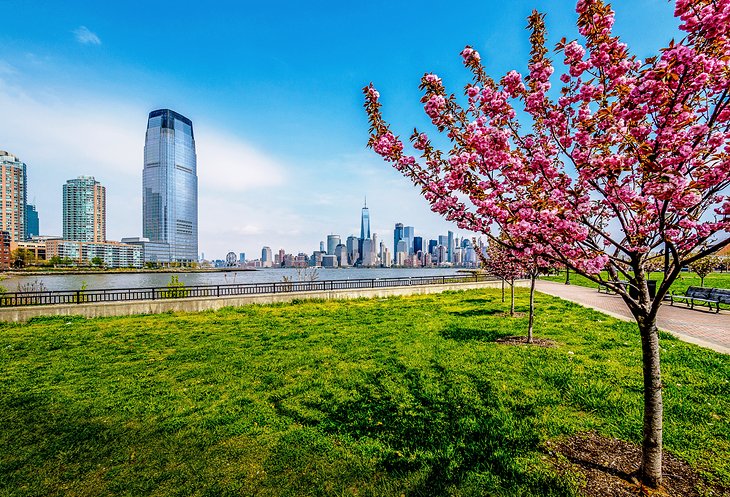 Talk about an impressive view of Manhattan! Where else can you catch a perfect view of the Statue of Liberty, Ellis Island, and New York Skyline? Seeing all of this from a two-mile-long, lush, green wonderland within a bustling metropolis makes it an even more worthwhile place to visit.
12. Cape May County Park & Zoo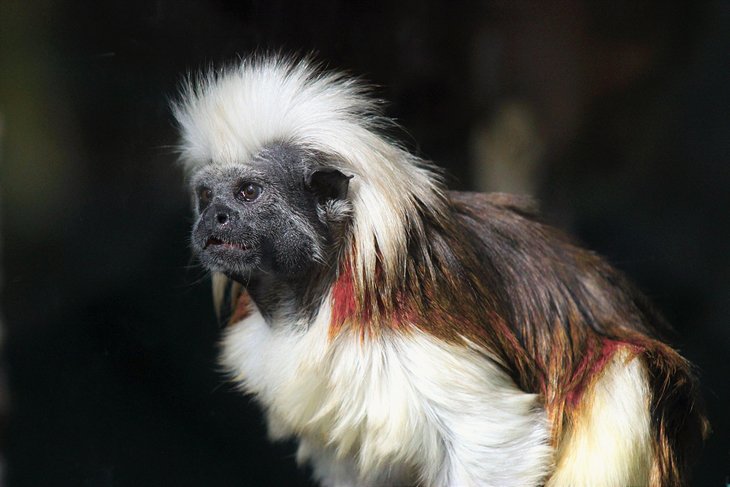 Located in the middle of Cape May County's Central Park, the zoo is home to everything from African lions to snow leopards to red pandas. Another perk: admission is free! The park itself encompasses more than 200 acres (including the zoo). Whether you're looking to picnic on the grass, traipse through a forest, or bike around a fishing pond, you'll find respite in this popular spot.
13. Princeton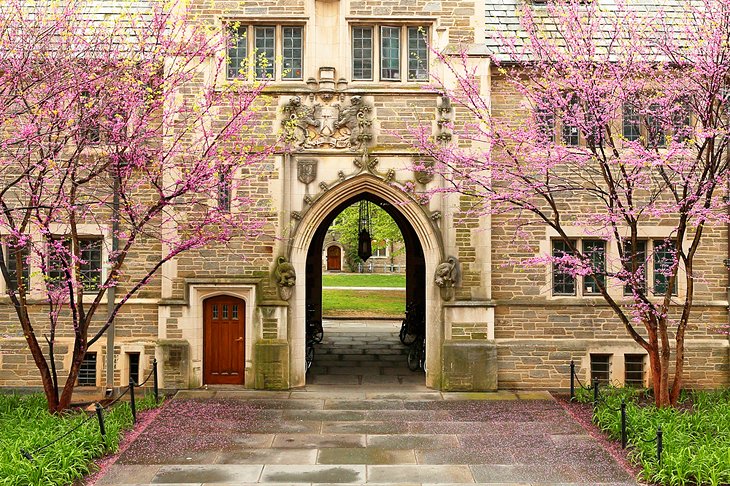 Even the snow can't dampen Princeton's beauty. Best known for its ivy league university, this quaint town lies in the Princeton-Mercer region of New Jersey. Flex your shopping muscles in its diverse stores, please your palate at the farmer's market, or pop in to see a show at the theater. No matter what you choose, there's plenty to keep you occupied.
14. Delaware Water Gap National Recreation Area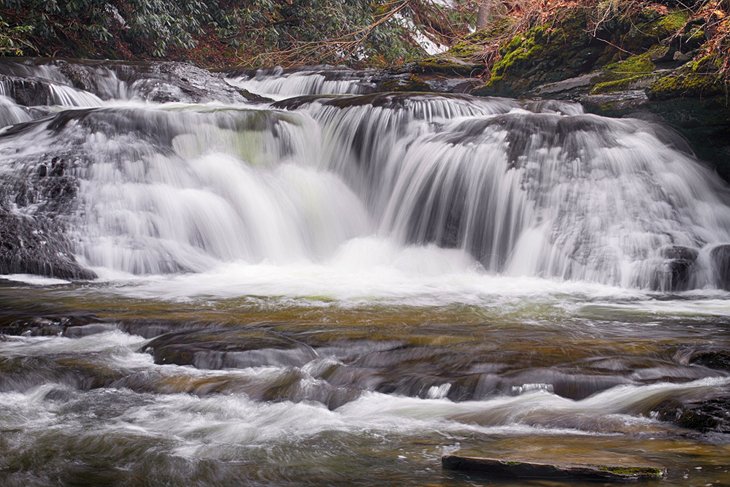 Outdoor adventurers revel in this 70,000-acre park set in both New Jersey and Pennsylvania. Forty miles of this expanse is covered by the Delaware River. Those who visit are astounded by the sweeping vistas, tumbling waterfalls, lush valleys, and opulent mountains. What a perfect place to enjoy nature–whether it's on your feet, a bike, or in a canoe.
15. Barnegat Lighthouse State Park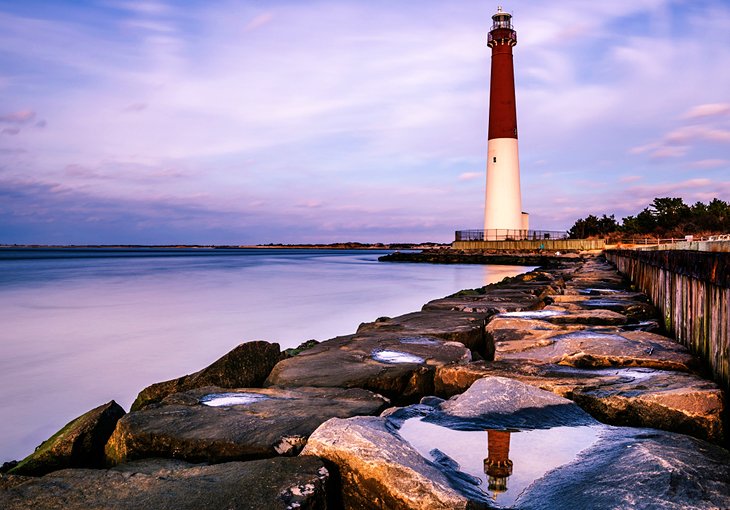 There's little more calming than watching the sun caress the Barnegat Lighthouse as it completes its daily descent. Situated on the northern end of Long Beach Island in Ocean County, the lighthouse is considered a point of interest on the New Jersey Coastal Heritage Trail. Get up close and personal with a trip inside. It's open every day from Memorial Day through to Labor Day.
16. Hudson River Waterfront Walkway, Jersey City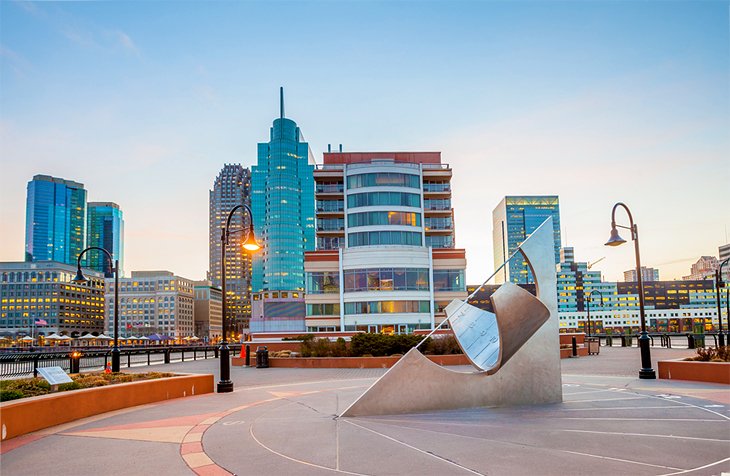 This little piece of heaven is located on the Hudson River's western shore. The 30-foot-wide, 18.5-mile-long path runs alongside the river from Bayonne to the George Washington Bridge. Who needs a gym membership when you've got that much space to run, bike, or rollerblade? Plus, this outdoor "gym" boasts impressive views of New York. It's also home to a boat and kayak launch, making it easy to set out on the water.
17. Hurd Park, Dover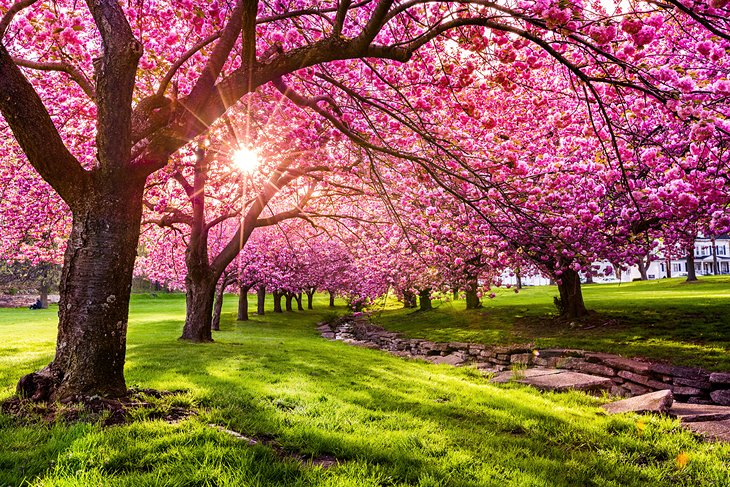 The only thing better than a cherry blossom in full bloom is a whole bunch of them bursting with life. These beauties line the walkways of Hurd Park, a scenic wonderland that begs to be photographed, especially in the spring. You won't find playgrounds here, but it's primed for walkers, so tie your laces and get going.
18. The Jersey Shore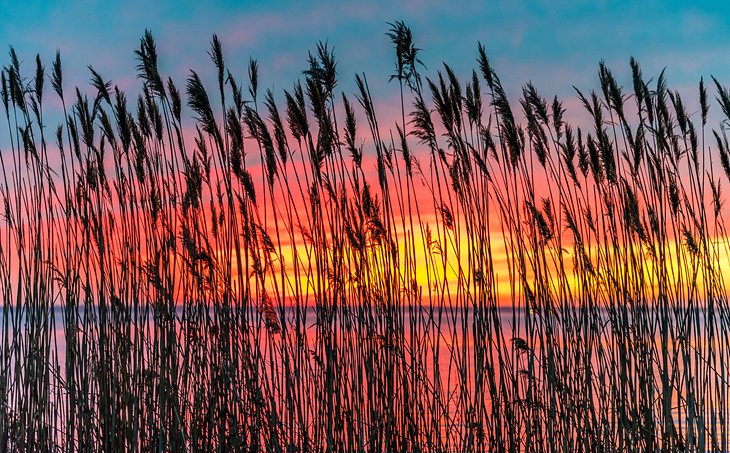 You may not think of New Jersey as a beach destination, but its impressive Jersey Shore will change your mind. Lined with sandy beaches, expansive boardwalks, and top-notch restaurants, the "shore" as it's called by locals, is not to be missed. Spanning 127 miles of the Atlantic coast-from Sandy Hook in the north to Cape May in the south–the Jersey Shore is a place where summer memories (and lots of sandcastles) are made.
19. Plainsboro Preserve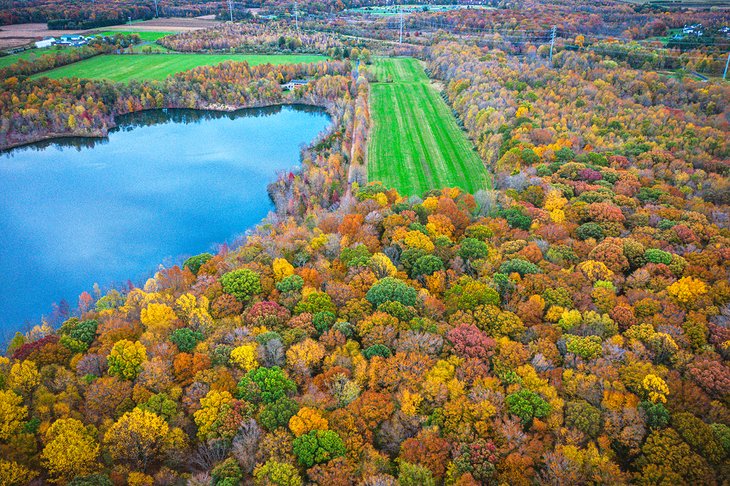 Five miles of trails wind their way through the almost 1,000-acre Plainsboro Preserve. Home to the area's largest lake, this gorgeous preserve offers visitors a chance to trade the hustle and bustle of life for a quiet respite. Spend the day frolicking in the wildflower meadows, running through beech tree forests, and splashing on the shoreline.
20. Smithville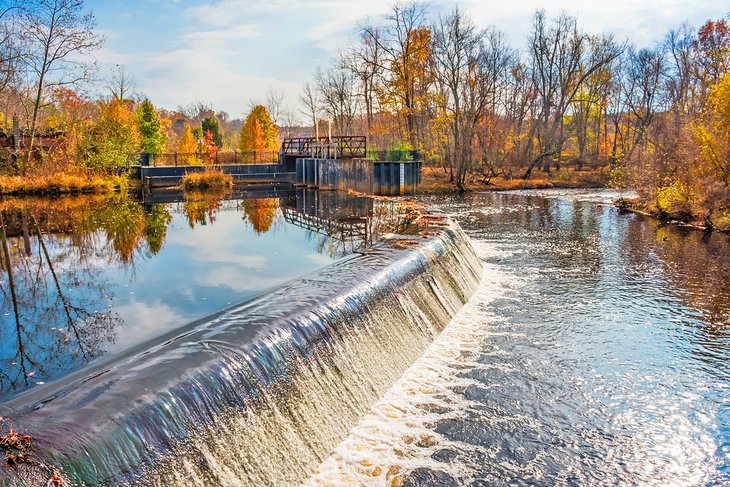 Step back in time with a visit to historic Smithville. Located in Atlantic County, this quaint village is peppered with cobblestone streets, wooden foot bridges, eclectic boutiques, and adorable restaurants. It's a wonderful place to spend a weekend. Kids will love the carousel, train, and paddleboats. Lake Meone is particularly picturesque.