14 Best Things to Do in Princeton, NJ
We may earn a commission from affiliate links ()
Princeton may be best known for its Ivy League university, but this charming New Jersey town has a lot more to offer than a great education and stellar architecture. It's home to a slew of noteworthy attractions. Visitors can enjoy everything from art exhibits to theater productions to kayaking.
With a convenient location between New York City and Philadelphia, Princeton is an ideal place to visit for a weekend getaway in New Jersey.
Here, history buffs will learn about its most famous event: the 1777 Battle of Princeton. Walk around Princeton Battlefield State Park to get an idea of what the battle would have looked like, visit the Princeton Battle Monument to see a 50-foot sculpture dedicated to George Washington's victory, and then head to the McCarter Theatre Center for some excellent entertainment.
Looking for some retail therapy? You're in luck! The adorable Palmer Square boasts an eclectic mix of shops and restaurants, which line multiple streets jutting out from its downtown borders.
With so many options, it can be tough to decide what to do first. Plan your trip with our list of the best attractions and things to do in Princeton, NJ.
1. Enjoy an Ice Cream in Palmer Square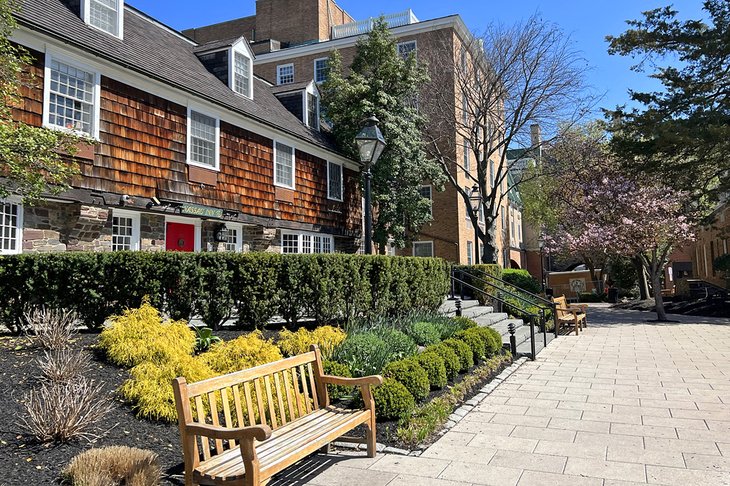 Palmer Square sits in the heart of Princeton's downtown, anchored by the historic Nassau Inn. A hub of activity year-round, the square's innate charm lies in its collection of two- and three-story Colonial Revival-style buildings dating to the late 1930s.
The dreamchild of Edgar Palmer, this attractive town square serves as a hub for everything from shopping to dining to entertainment. The boutique stores and restaurants entice visitors to spend time window shopping, food sampling, or people-watching from well-shaded benches and picnic tables.
On warm, sunny days, you'll find customers lining up for tasty treats, especially those of the frozen kind. The small batch, artisanal ice creams from Bent Spoon are worthy of a second scoop. Insider's tip: Bring a blanket to enjoy your sweets on the Green.
Speaking of the Green, this is where you'll find all the action, including, art exhibits, concerts, and movie nights, especially during summer.
Address: Palmer Square, between Hulfish Street and Nassau Street, Princeton, New Jersey
Official site: https://www.palmersquare.com/
2. Watch a Show at the McCarter Theatre Center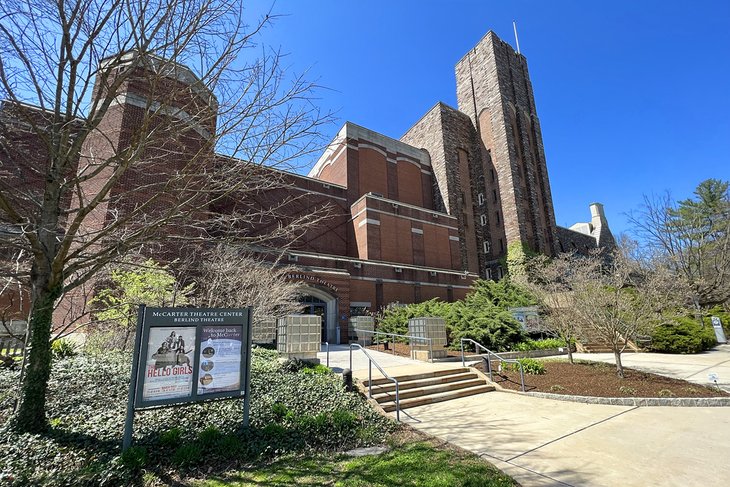 Visitors to the McCarter Theatre Center are in for a treat, no matter what type of entertainment they enjoy. Transport yourself to a new world while watching a musical; bob along to the funky tunes of a concert; or get inspired by a dance performance. With over 200 shows and events annually, you'll never be at a loss for something to see.
Set in a historic stone building on the Princeton University Campus, this Tony-award-winning theater is one of the top attractions in Princeton for good reason. A proponent for fostering new works, the theater's play development program helped spark and encourage the idea for the award-winning play, which premiered here.
The theater originated in the 1930s as a playhouse for the Princeton Triangle Club, which still performs on its stages. Since then, the theater has evolved into what it is today: a large performance house featuring the Matthews Theatre, which boasts 1,100 seats; the Berlind Theatre, which seats 360; and the spacious Richardson Auditorium.
Across the street, you'll find the Dinky Bar & Kitchen, a gem that has served theater-going folk tasty, locally sourced food in what was once the station house (in 1918) for the Dinky train line.
Address: 91 University Place, Princeton, New Jersey
Official site: https://www.mccarter.org/
3. Get Outside at Marquand Park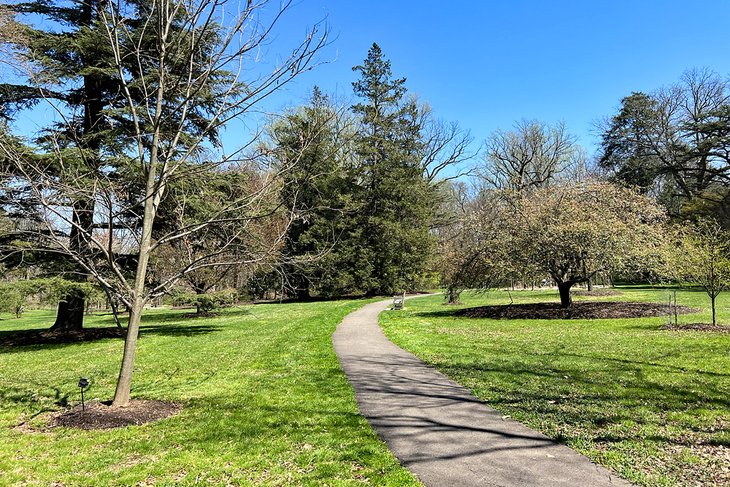 There are 17 acres of a historic nature and forest preserve to explore at Marquand Park. A popular arboretum also calls this area home, offering guests a chance to get nose to leaf with some of the region's most gorgeous species, like Autumn Purple white ash and Mockernut hickory.
Marquand Park is a wonderful place to visit for a family-friendly day out. A playground, large sand box, and children's arboretum will keep little ones occupied, and they'll love the handmade free library. Pack a picnic, so you can spend even longer enjoying the fresh air at this beauty.
Also on-site are a baseball diamond, multiple walking paths, and plenty of picnic tables. The warm, summer months bring a well appreciated addition of port-o-potties.
Address: 48 Lovers Lane, Princeton, New Jersey
Official site: https://www.marquandpark.org/
4. Step Back in Time at Princeton Battlefield State Park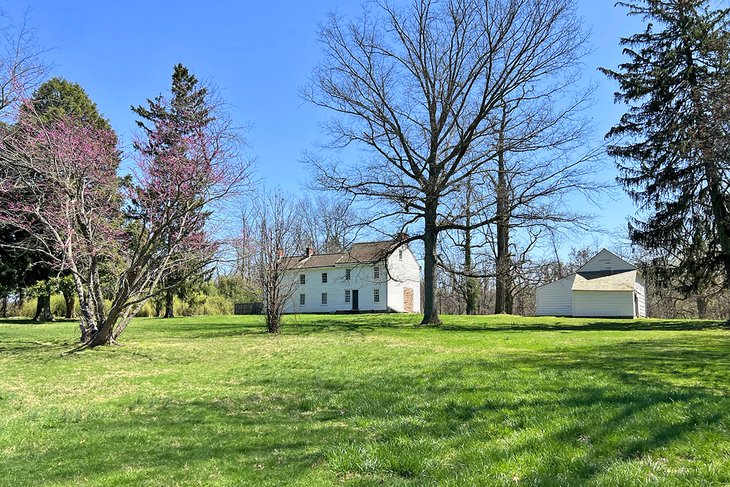 A famous battle took place on this field; hence, the name of Princeton Battlefield State Park, one of the top tourist attractions in New Jersey. It happened on January 3, 1777 and marked the first field battle won by George Washington over British troops.
Visitors will also find the quaint, white home once belonging to Quaker, Thomas Clarke here. Not surprisingly, it is known today as Thomas Clarke House. Inside, visitors can peek into life during the Revolution.
It was upon the fields belonging to Clarke and his brother, William, that the fierce Battle of Princeton was fought and won. A large oak stump lies in the field, reminding visitors of the ancient Mercer Oak, which stood stoically during the battle. It lies next to a younger tree grown from its acorn in 1981.
5. Take a Hike at Delaware and Raritan Canal State Park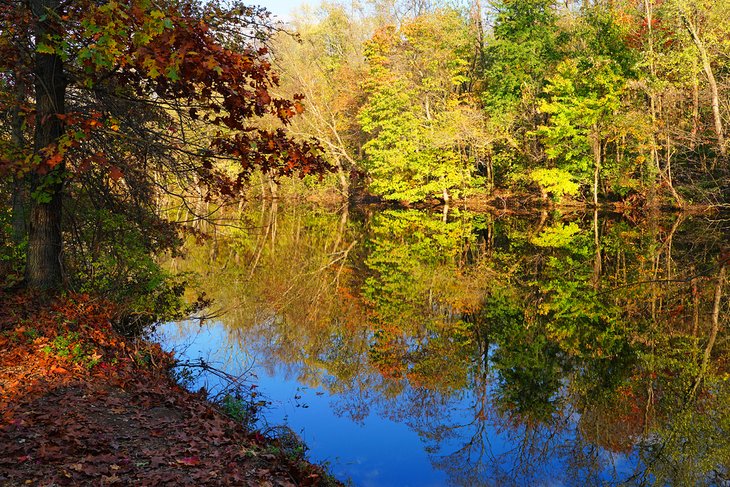 Known locally as the D&R Canal State Park, this expansive natural space is the place to be if you're a fan of the outdoors. Spanning 70 miles, this is one of the state's most popular attractions for activity seekers. In addition to ancient locks, wooden bridges, and, of course, a sparkling canal, there are a slew of things to do in this beautiful New Jersey State Park.
From fishing to canoeing to kayaking to hiking to jogging to horseback riding, you'll never be at a loss for fun activities in this spectacular spot. And you'll want to be sure to pack comfy gear, a change of clothes, and plenty of snacks and water because it's hard to tear yourself away once you've experienced this oasis.
History lovers will enjoy the bridge tender houses dating to the 19th century, as well as the adorable villages that are dotted along the water. Blackwell Mills is a must-see, as is the Bulls Island Natural Area, which can be reached easily by a bridge. Port Mercer also boasts a bridge tender's house that's worthy of a visit.
Insider's tip: If you're here in spring or summer, sign up for a guided Wednesday Evening Walk. Also, pack binoculars, as you're sure to spot some impressive wildlife, especially birds.
Address: 14 Mapleton Road, Princeton, New Jersey
Official site: https://www.dandrcanal.com/
6. Step Back in Time at Morven Museum & Garden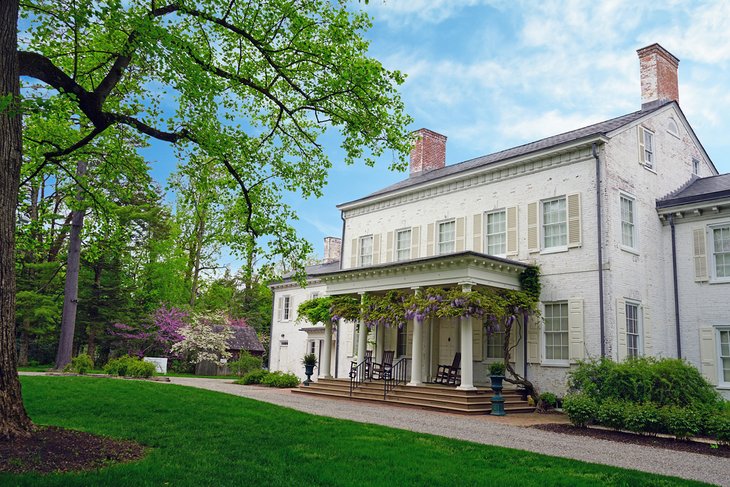 Morven Museum & Garden is beautiful no matter when you visit, but the end of spring will bring blooms so lovely, your camera will go into overdrive. A historic home dating to the 1750s, it has been deemed a National Historic Landmark.
Five acres greet visitors to this pretty place, which once served as the state's Governor's Mansion, housing five New Jersey governors after its founder and first tenant, Richard Stockton, a signer of the Declaration of Independence.
In 1999, the mansion was restored and the gardens remarkably improved, making this an ideal place to learn about the area's history. The second floor hosts an exhibit space that features new shows every few months.
For a more modern take on things, head next door, to the museum's larger and more contemporary space, the Stockton Education Center. This is where you'll find most of the museum's exciting events.
Morven Museum & Garden is open from 10am to 4pm Wednesday through Sunday.
Address: 55 Stockton Street, Princeton, New Jersey
Official site: https://www.morven.org/
7. Ogle the Architecture at Nassau Hall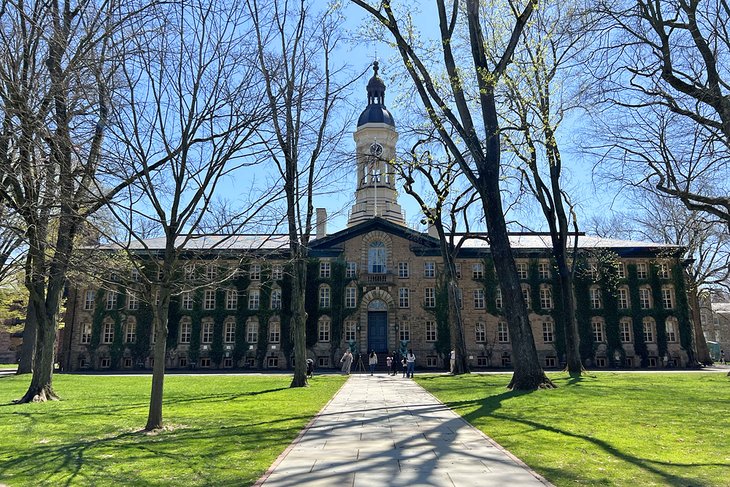 It's impossible to miss Nassau Hall. Fronted by a lush Green and massive iron gates, this architectural masterpiece is home to Princeton University's administrative offices. Historically, this gem has hosted everything from a library to dormitories to classrooms to barracks for British and American soldiers. It has survived a tumultuous past, rocked by battles of the American Revolution and two fires.
Inside, you'll find the Memorial Atrium, which is imprinted with the names of Princetonians who died in various wars. The Faculty Room is also impressive. Today, it serves as the meeting place for the university's Board of Trustees and faculty, but this two-story beauty once served as a prayer hall and portrait gallery, as well as a museum of natural history.
The building was erected in 1756 as home of the former College of New Jersey and named for King William III of England.
Address: Princeton University, Princeton, New Jersey
8. Get Inspired at Art @Bainbridge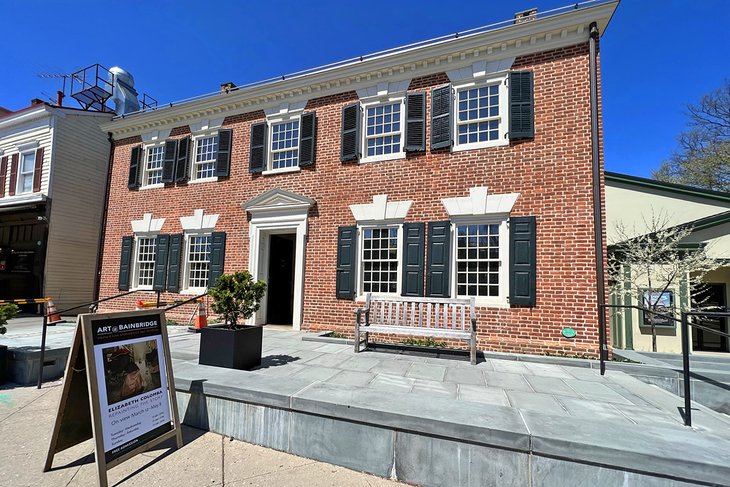 Art @ Bainbridge is a worthy spot to visit, especially if you love to feel inspired. A gallery project of the Princeton University Art Museum, this downtown venue is held in the historic Bainbridge House on Nassau Street.
While visitors won't be able to admire the over 112,000 works held by the Princeton University Art Museum (these are under wrap as the museum undergoes a massive renovation and modernization project due to reopen in 2024), they will find rotating exhibits featuring works of all kinds.
The Bainbridge House, itself, is a work to be admired. Build in 1766, it's one of the few well preserved structures of this time period still standing in downtown Princeton. The unique installations are held on the ground floor and curated by the Art Museum, so you know you're in for a visual treat.
The works highlight emerging artists in the contemporary field, and they change frequently, so check with the organization to ensure it's open when you're planning to visit.
Address: 158 Nassau Street, Princeton, New Jersey
Official site: https://artmuseum.princeton.edu/artbainbridge
9. Find a Book at Princeton Public Library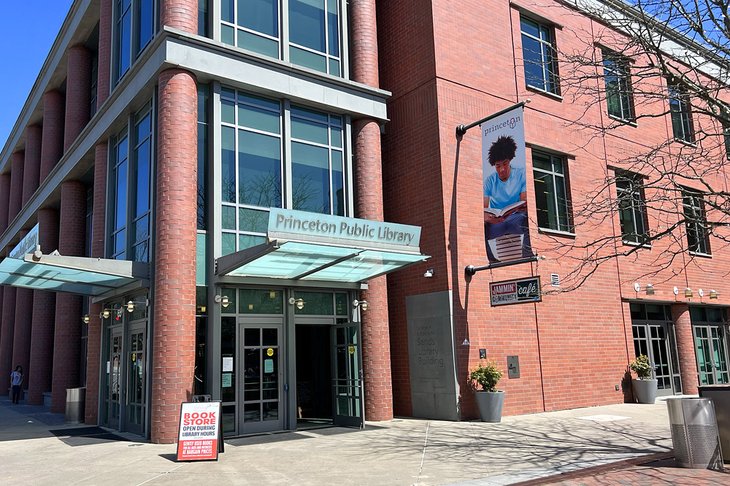 While visiting a library may not top your list of things to do on vacation, you'd be amiss if you skipped a trip to the Princeton Public Library.
Located a short walk from Palmer Square, in the heart of downtown, this interesting spot is filled with everything you'd expect from a Princeton library: highbrow educational materials, tech classes, and film and book festivals. The library offers access to over 145,000 books, so if you're a resident, it could take a century to check them all out.
Outside lies a courtyard and streets lined with shops and eateries, including restaurants that sell tasty treats like bubble tea and cupcakes. Grab a bite and enjoy a book–is there a better way to enjoy an afternoon?
The Sands Library Building was built in 2004, serving as the library's most modern venture.
Address: 65 Witherspoon Street, Princeton, New Jersey
Official site: https://princetonlibrary.org/
10. Find Peace and Quiet on Lake Carnegie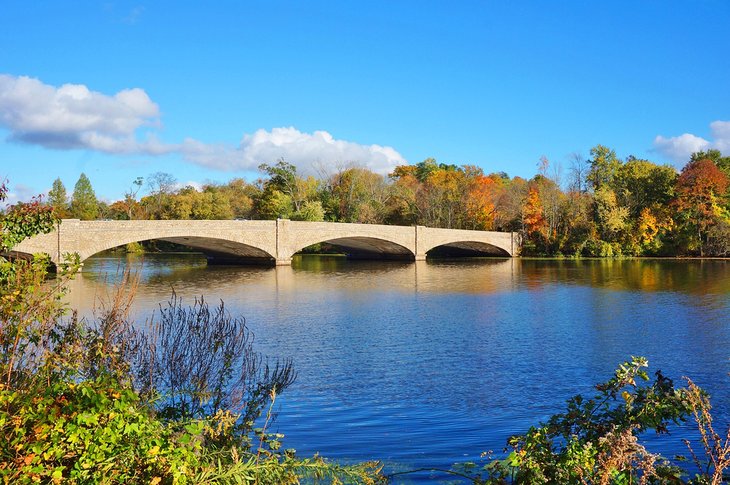 Did you know it was possible to gift a lake? It is–as long as you're a steel magnate living in the early 20th century, that is.
In the early 1900s, Andrew Carnegie heard about the poor rowing conditions on the Delaware and Raritan Canal–it was much too narrow for ideal rowing, apparently. Carnegie was bothered by this and determined to create positive change.
He bought land over the next couple of years and paid for crews to build bridges and dams, thus creating Lake Carnegie, which opened in late 1906.
While created primarily as a course for competitive rowing by Princeton students, locals and visitors alike are free to use this lovely lake at their own risk. It's easily accessed by the public via a boat launch just south of Kingston.
Today, the nine-foot-deep lake (well, technically it's a reservoir) attracts not only Princeton rowers, kayakers, and anglers, but also flora and fauna of all types. In winter, visitors can skate and play hockey on its frozen surface.
A caveat: no swimming or gas-powered boats are allowed on the lake.
11. Take Time to Reflect at the Princeton Battle Monument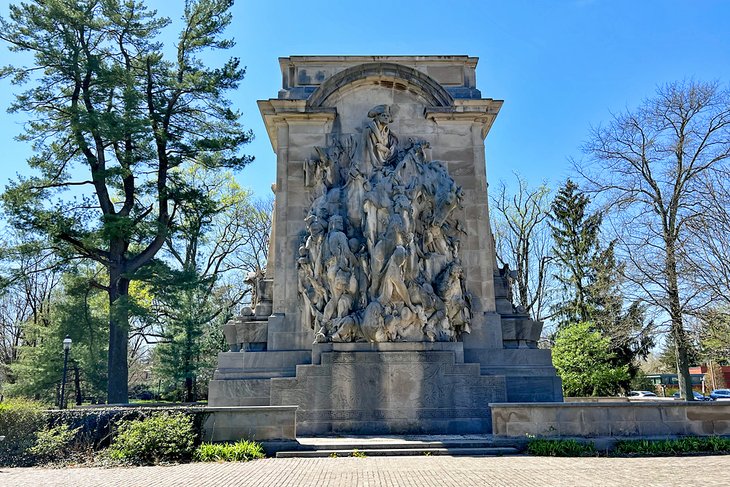 It's impossible to miss the massive Princeton Battle Monument. Located downtown, this 50-foot-tall masterpiece features a giant limestone carving of George Washington and his troops during their first victory at the Battle of Princeton. It also shows the death of Washington's friend and fellow soldier, General Hugh Mercer.
Don't be surprised if this impressive monument looks familiar; it was inspired by Paris's Arc de Triomphe. Be sure to get up close to admire the intricate details.
Take a moment of reflection while seated on one of the many benches lining the monument, or wander around to admire the surrounding plaques and smaller monuments. They commemorate Colonel John Haslet, the continental marines, Captain Daniel Neil, and the "New Jersey Patriots who served on land and sea during the American Revolution."
Address: 55 Stockton Street, Princeton, New Jersey
12. Princeton University Art Museum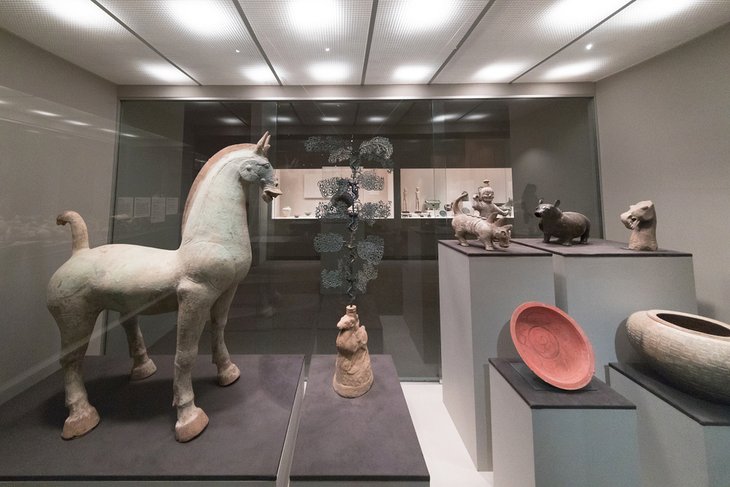 The museum, which lies at the heart of the Princeton University campus is in the midst of a major upgrade and is currently inaccessible. Construction began on a new building in 2021, and the museum is set to reopen in late 2024.
In the meantime, visitors can see works on display at Art@Bainbridge, which lies downtown in the historic Bainbridge House, an easy walk from the construction site that serves as the current Princeton University Art Museum.
Official site: https://artmuseum.princeton.edu/
13. Take a Tour of Drumthwacket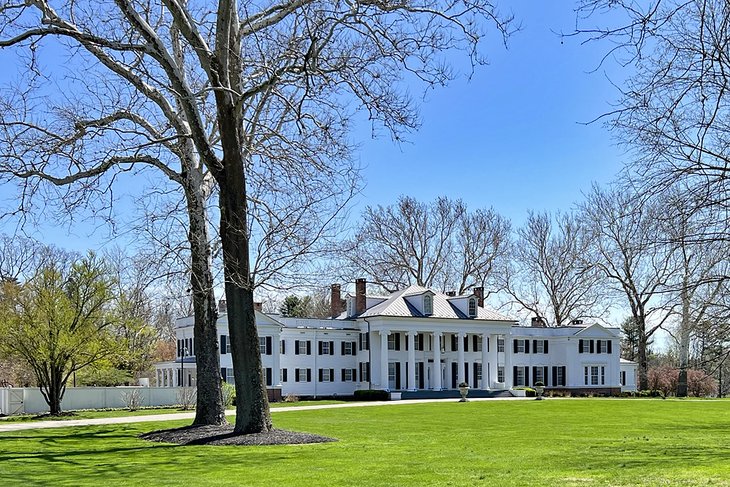 It's not easy to get into Drumthwacket, home to the Governor of New Jersey. That said, it's worth peeking through the gate at this spectacular building that lies on the National Register of Historic Places. Or, if you're really dying to get in, visit on a Wednesday, when tours are offered at 1pm. Insider's tip: always check before you go, as certain Wednesdays don't offer the tours.
Once on this Drumthwacket Foundation property, you'll learn about the home's impressive former residents, the history of the Battle of Princeton, and the historic art and furnishings that lie inside. You'll likely also be told the meaning behind the building's interesting name, a Scottish Gaelic word that translates to "wooded hill."
Don't miss a tour of the gardens, especially if you're visiting in late spring or summer.
Address: 354 Stockton Street, Princeton, New Jersey
Official site: https://drumthwacket.org/
14. Catch a Flick at Princeton Garden Theatre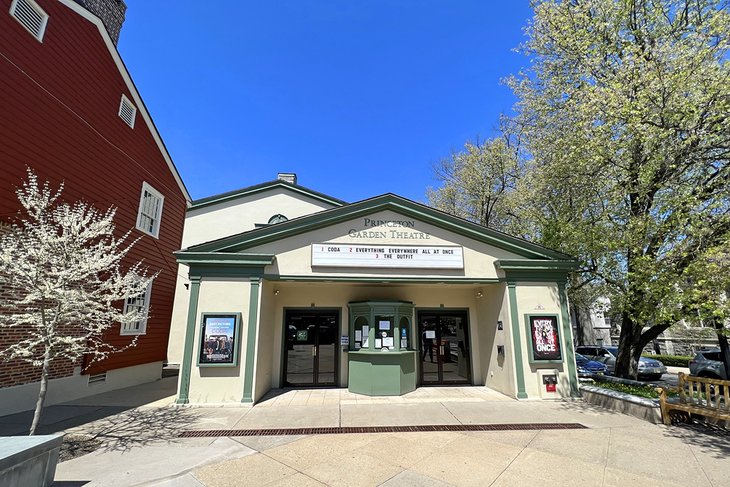 The Princeton Garden Theatre lies across the street from the main university campus, just steps from Nassau Hall and beside Bainbridge House. A charming landmark, this small venue shows films with a bit of a brainier edge than your classic Blockbuster. This is Princeton, after all!
Don't worry, current films are on offer, as well as foreign flicks and indie movies. The theater also boasts events like Saturday matinees for kids, Hollywood summer nights, deep focus seminars, and an outdoor cinema series. This golden age theater prides itself on showing "first-run films of high artistic quality."
Although the building is leased from Princeton University, the theater operates on a non-profit basis and is run by Renew Theaters. It has graced this downtown location since 1920.
Address: 160 Nassau Street, Princeton, New Jersey
Official site: https://princetongardentheatre.org/