12 Top-Rated Attractions & Things to Do in Atlantic City, NJ
We may earn a commission from affiliate links ()
Atlantic City, perhaps the best-known seaside resort in New Jersey (if not on the east coast of the USA), was founded in the 1850s and offers long sandy beaches and an immense range of entertainment and amusements. It's also widely known as the "Las Vegas of the East," largely due to the numerous revue theaters found here, which stage shows around the clock, as well as events such as boxing matches and beauty pageants.
Most restaurants, boutiques, and entertainment venues are located on the Boardwalk, a five-and-a-half-mile-long, 60-foot-wide seafront promenade. Although Atlantic City began as a quiet fishing village, by the late 1800s, it had blossomed into a leading resort, and for decades has been a popular place to enjoy water sports such as surfing, swimming, and sailing.
Since 1870 when the Boardwalk was built, Atlantic City has become one of America's leading tourist destinations, with 37 million people spending upwards of four billion dollars at its attractions. To learn more about one of the best places to visit in the US for a fun seaside vacation, be sure to read through this list of the top things to do in Atlantic City.
See also: Where to Stay in Atlantic City
Note: Some businesses may be temporarily closed due to recent global health and safety issues.
1. Stroll along the Boardwalk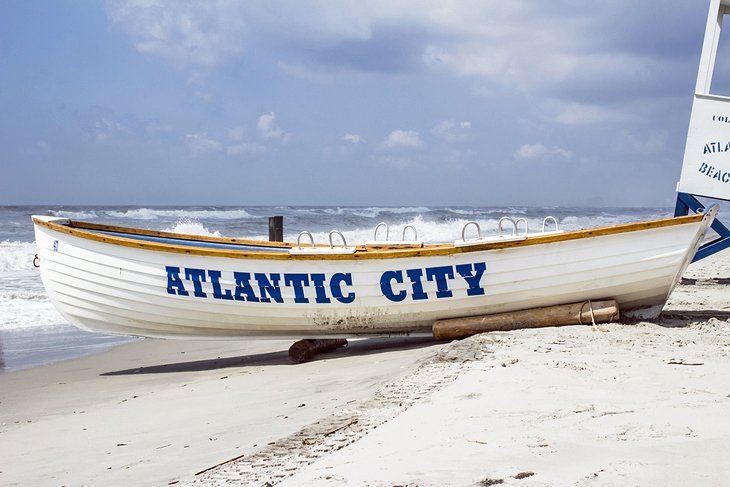 The Boardwalk is the most famous and most popular attraction in Atlantic City, and is packed with fun things to do. Just about everything worth seeing in the city lines the main four-mile-long stretch of wood originally built in 1870, most of which survived 2012's Hurricane Sandy.
Easily explored on foot, in the iconic electric tram, or in a famous rolling chair - large wicker chairs pushed like a rickshaw - it's a wonderful place to see and be seen as you catch a sea breeze, take in a show, or enjoy a meal or some shopping while the kids blow off steam at the arcades.
Among the attractions on the Boardwalk is the famous Entrance to the Stars, Atlantic City's version of Hollywood's Walk of Fame. Here, you'll see handprints from such stars as Johnny Carson, Cher, Stevie Wonder, and Frank Sinatra.
Address: 3109 Boardwalk, Atlantic City, New Jersey
2. Enjoy the Rides at the Steel Pier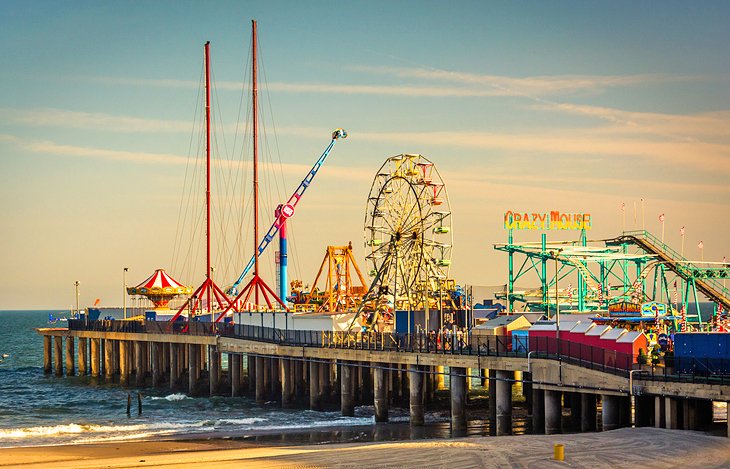 The Steel Pier is Atlantic City's answer to Coney Island in New York. Built in 1898, this wonderful old amusement pier – once one of the nation's most visited tourist attractions – juts 1,000 feet into the sea and has found a new lease on life after being rebuilt in 1993.
There are a variety of rides for all ages, including teacups and tiny trains for kiddies and more adventurous rides like the swing carousel and roller coasters for older kids and adults. The most daring visitors will get a thrill on rides like the Flyer, the MIX, or the Slingshot.
Those who want to catch amazing views over the Boardwalk and Atlantic City will want to ride the latest addition, The Wheel. This impressive Ferris wheel stands at a height of 227 feet and carries 240 passengers in its temperature-controlled gondolas, allowing it to be operated year-round (weather permitting). Admission to rides are ticket-based, and there are also plenty of carnival-style games for the whole family to enjoy.
A little farther along the Boardwalk is another old pier, Ocean One. This historic pier has attracted visitors since 1906, when Captain John Young opened his famous Million Dollar Pier at this location. The pier has since become a high-end shopping mall, the Pier Shops at Caesars. A highlight of a visit is seeing its spectacular musical fountain.
Address: 1000 Boardwalk, Atlantic City, New Jersey
Official site: https://steelpier.com/
3. See the Views from Absecon Lighthouse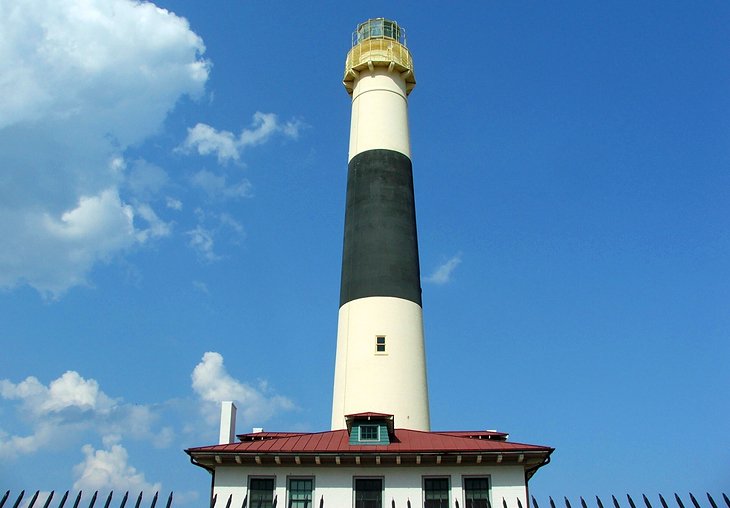 Located at the north end of Atlantic City, the 228-step Absecon Lighthouse is notable for still having the original First-Order Fresnel lens installed when the structure was built in 1857. At 171 feet, it's the tallest lighthouse in New Jersey and the third tallest of its type in the US.
Renovated to commemorate New Jersey's 300th anniversary, the lighthouse is made of granite blocks, brick, and iron and painted in its original black and yellow. The climb is well worth it for the superb views over the Atlantic.
Other highlights include the lighthouse keeper's quarters and an interesting museum that includes exhibits about the history of lighthouses and their keepers, local maritime history, and shipwrecks.
For a truly memorable experience, check out the attraction's Keeper Sleeper sleep-over events, which include a nighttime climb to the lantern.
Address: 31 South Rhode Island Ave, Atlantic City, New Jersey
Official site: www.abseconlighthouse.org
4. Visit Ocean City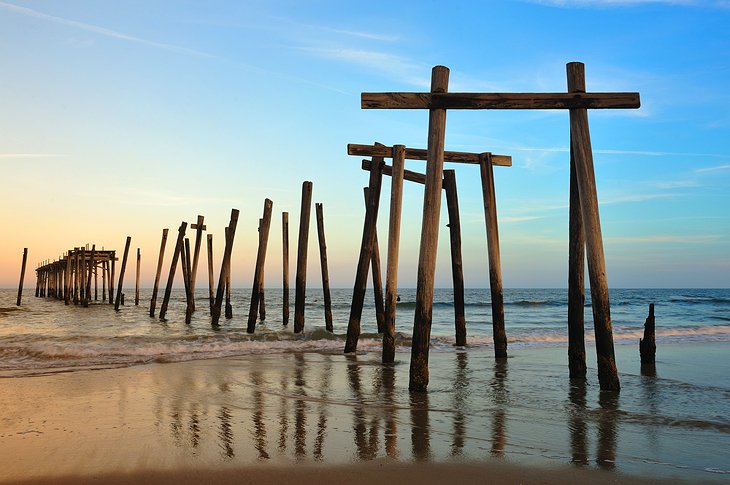 Just 11 miles south of Atlantic City, Ocean City is an extremely popular destination for those traveling with kids. Not only does this seaside destination offer some of the best beaches on the Atlantic coast, it has been completely alcohol-free since its establishment by church ministers in 1879.
Like its big cousin to the north, Ocean City also has an excellent Boardwalk, this one stretching for two-and-a-half miles with an eclectic mix of shops and dining options in a picturesque downtown core. Attractions include several amusement parks, as well as theaters and the Ocean City Historical Museum.
Here, you'll find many interesting displays depicting the city's early history through period furniture, artifacts, and vintage clothing, as well as displays of old photographs and postcards.
Other things to do in Ocean City include bicycling on the city's numerous bike paths, or playing some golf at the 12-hole municipal course. Popular water-based activities include fishing, boating, and water sports rentals, from kayaks to kiteboarding.
Address: 1735 Simpson Ave, Ocean City, Maryland
5. Lucy the Margate Elephant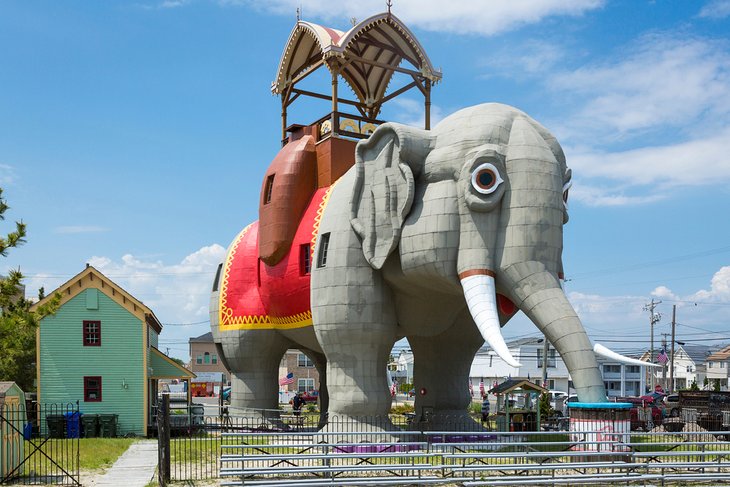 Few seaside attractions are as iconic as Lucy, a 65-foot, six-story-high wood and tin elephant built in the small coastal town of Margate in 1881 to attract prospective buyers to summer homes in the area. Since then, Lucy has been a tavern, a summer home, and an observation deck.
After being rescued from near demise in the 1960s, today Lucy stands proud in Josephine Harron Park and has been listed on the National Park Registry of Historical Landmarks. Highlights of a visit to the oldest surviving novelty architecture in the US includes climbing the spiral staircase up to the "howdah," the small cabin-like structure on her back, with its wonderful panoramic views. Fun guided tours are available.
Traveling with kids? Try to time your visit for July 20, when Lucy's birthday is celebrated with a free party kids are encouraged to attend.
Address: 9200 Atlantic Ave, Margate City, New Jersey
Official site: www.lucytheelephant.org
6. Jim Whelan Boardwalk Hall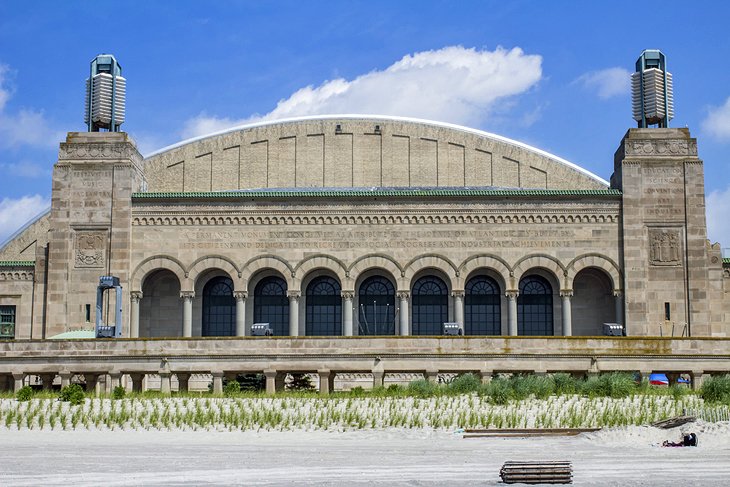 If you're planning on staying in Atlantic City, be sure to check the concert line-up at the famous Jim Whelan Boardwalk Hall. Opened in 1929, it remains the city's most popular concert and event venue, and is particularly famous as the home of the Miss America finals.
This historic venue is also where you'll find the largest musical instrument in the world, a pipe organ with 33,000 pipes, eight chambers, and 1,000 stop keys. (The organ is currently the subject of a major restoration project expected to be completed in 2023.)
Address: 2301 Boardwalk, Atlantic City, New Jersey
Official site: www.boardwalkhall.com
7. Atlantic City Aquarium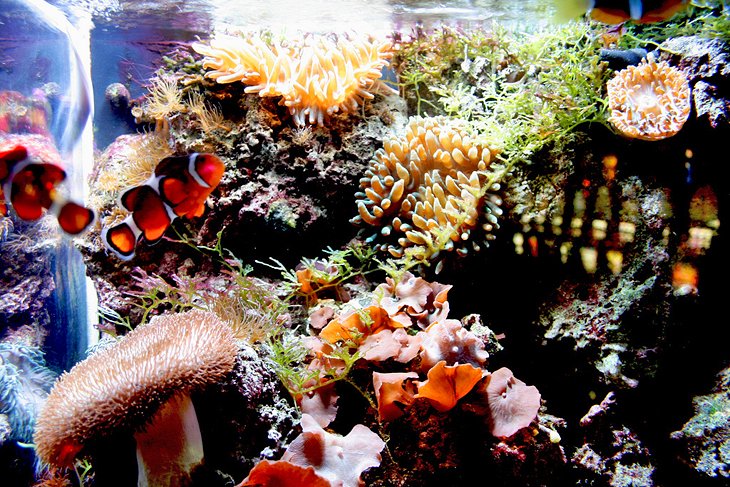 The Atlantic City Aquarium has many fun hands-on, interactive exhibits showcasing marine life from across the world. Highlights include sea life from the New Jersey coast, such as sea bass, sand tiger sharks, and northern stingrays to creatures from coral reefs, as well as predators.
Kids love the tropical shark and stingray touch tanks, as well as the numerous species of reptiles and amphibians on display. Twice daily, there is an exotic animal show that introduces some of the aquarium's more interesting residents and provides information about their eating habits, habitats, and more.
Address: 800 North New Hampshire Ave, Atlantic City, New Jersey
Official site: www.cityofatlanticcity.org/pages/acaquarium/
8. Atlantic City Historical Museum
Located in the Jim Whelan Boardwalk Hall, the Atlantic City Historical Museum chronicles the history of the city's conversion from a small fishing village to one of the busiest resort destinations in the US.
Exhibits include artifacts, costumes, photographs, song sheets, postcards, and an array of Miss America memorabilia. There are also archival Thomas Edison beach shots, fascinating footage of the Miss America Pageant, and the world famous high-diving horse of Steel Pier.
Also of interest is the Atlantic City Experience, a series of collections and research materials related to the city's unique development, on display at the Atlantic City Free Public Library (Wed-Thurs only).
Address: 600-698 Boardwalk, Atlantic City, New Jersey
Official site: www.atlanticcityexperience.org
9. War Memorials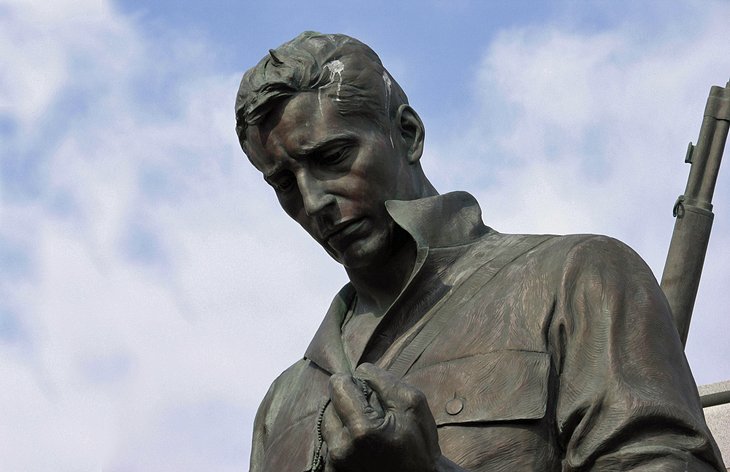 Perhaps surprisingly for a city with a reputation for fun, Atlantic City is home to two excellent war memorials. The oldest is the World War I Memorial, built in 1922 and dedicated to those who lost their lives in the Great War of 1914-1918. It features an impressive rotunda that houses Liberty in Distress, a nine-foot bronze statue.
The other notable monument is the New Jersey Korean War Veterans Memorial. Constructed as a reminder of those who died in the name of democracy while fighting in the Korean peninsula from 1950 to 1953, ensuring a better future for the people of South Korea, it's a lasting tribute to those who died in the conflict.
Official site: www.state.nj.us/military/korea/
10. African American Heritage Museum of Southern New Jersey
The African American Heritage Museum of Southern New Jersey provides an important and fascinating look at the struggle of African Americans through the centuries. Highlights include interesting displays and more than 11,000 historical and cultural artifacts.
The museum also houses a collection of memorabilia of soldiers from Atlantic County spanning WWI to present day conflicts. Permanent exhibits include a look at how stereotypes in media and marketing have had a lasting negative effect on African Americans, as well as furniture and housewares from early African American life, and the story of the African American entertainers who held prominent roles during Atlantic City's glory days.
Address: 661 Jackson Road, Newtonville, New Jersey
Official site: www.aahmsnj.org
11. Historic Gardner's Basin
Historic Gardner's Basin is a maritime village and waterfront park with a variety of interesting features that make it a worthwhile destination for travelers. Highlights include original maritime exhibits such as the Steel Pier Diving Bell, once used to lower guests to the seabed.
Gardner's Basin is also a popular spot from which to embark on a fishing or dolphin-sighting cruise, or just to explore as you visit the unique shops of the Crafters Village. It also offers waterfront dining with fine views over the Atlantic, and is where you'll find the Atlantic City Aquarium.
Address: 800 North New Hampshire Ave, Atlantic City, New Jersey
12. Atlantic City Art Center
The Atlantic City Art Center, once the country's only gallery built on a municipal pier, has also moved to the Jim Whelan Boardwalk Hall. Despite having relocated, the gallery is a popular attraction and is noted for its exhibits of art from both national and regional artists.
A respite from the commercialism and excess of the city, the museum features constantly changing exhibits that include photography, sculpture, and paintings among other media.
The Art Center also offers concerts, gallery talks, artist demonstrations, and literary readings throughout the year, so be sure to check ahead to see what's on.
Address: 2301 Boardwalk, Atlantic City, New Jersey
Where to Stay in Atlantic City for Sightseeing
Where to stay in Atlantic City really comes down to personal preference. Some people may prefer to stay near the ocean for easy access to the Boardwalk with its Walk of Fame, the Steel Pier, and, of course, the beautiful sandy beach. Alternatively, hotels nearer the main marina offer exceptional amenities and are closer to attractions like the aquarium. Below are some highly rated hotels in good locations:
Luxury Hotels: The Borgata

Hotel

is one of the new hotels in Atlantic City, located near the aquarium. This hotel features modern rooms with upgraded bathrooms, including oversized showers.

Nearby, The Water Club by

Borgata

offers an upscale accommodation option with luxurious rooms and one of the finest spas in the city.

Caesars Atlantic

City

, right on the beach, has exceptional rooms with beautiful ocean views, and the boardwalk is right outside the front doors.
Mid-Range Hotels: The Resorts

Hotel

is a good beachfront option in this category. A short stroll from the Steel Pier and all its attractions, this smaller hotel has comfortable rooms and an indoor/outdoor pool.

Recently renovated, The Claridge - A Radisson

Hotel

is an iconic Atlantic City property that has hosted famous celebrities, including Marilyn Monroe and Frank Sinatra.

The hotel restaurant has a 1920s theme. Also recently upgraded is the Club Wyndham Skyline

Tower

. The hotel is set back from the beach but offers large one- and two-bedroom suites, some with balconies.
Budget Hotels: In the center of the action, just a block off the beach, is the BEST WESTERN Atlantic City

Hotel

. Rooms come with a complimentary breakfast.

The Quality Inn

Flamingo

is a low-rise hotel and has standard rooms, some with mini fridges, and also provides a complimentary breakfast.