13 Dog-Friendly Beaches in Florida
No one wants to exclude their best friend from a vacation. If that friend happens to be an adorable fluff ball with paws, it's even harder to leave them behind. Luckily, Florida offers a slew of dog-friendly beaches to enjoy with your four-legged pals.
Whether you're looking for a busy beach close to a vibrant city scene (we're looking at you, Miami Beach) or hoping to enjoy a little quiet seaside R&R with your furry pet (hello, Sanibel Island), Florida boasts dog-friendly beaches to suit your every whim.
Worried you'll get all the way to Florida only to find your dog won't be allowed to frolic in the waves or run along the sand? Don't! We've done the research to find pet-friendly beaches your dog will love as much as you do.
Choose one of these best dog-friendly beaches in Florida and get ready for a fab vacay. Ready, set, fetch!
1. Fort de Soto Park Paw Playground, St. Petersburg (Off-Leash)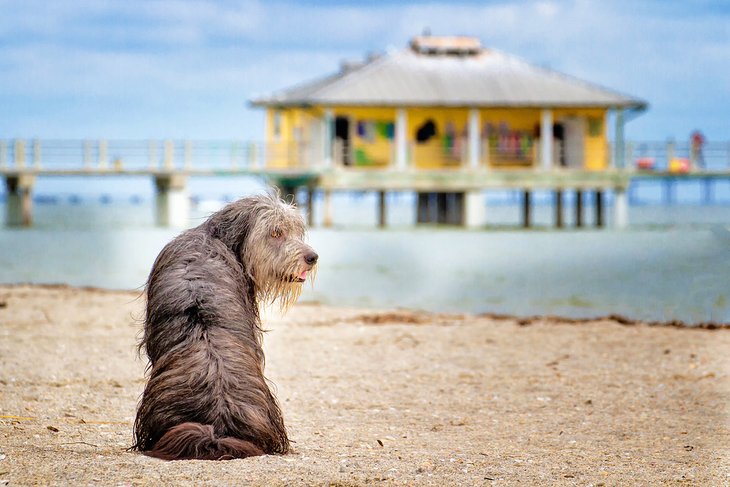 It's clear that Fort de Soto Park loves dogs. From freshwater hoses for showering to doggie water fountains to 300 yards of soft, sandy beach, your four-legged pal won't want to leave the Paw Playground. Did we mention that they are free to be off-leash in all of these areas?
Located just south of St. Petersburg, this lovely park has been voted numerous times as one of the best dog beaches in the United States. It boasts two large fenced grassy areas designed to contain canine fun: one for big pooches and the other for small dogs.
Pack a picnic, dog toys, and a chair, and you'll be set for the day at this beautiful beach. While you're there, be sure to explore one of the region's top attractions, the Spanish fort.
Forgot your poop bag? No worries, there are plenty on offer at no charge. Speaking of fees, the beach is free to enter.
Address: 3500 Pinellas Bayway S, Tierra Verde, Florida
Accommodation: Top-Rated Resorts in St. Petersburg
Read More: Top-Rated Tourist Attractions in St. Petersburg, FL
2. Jupiter Beach (Off-Leash)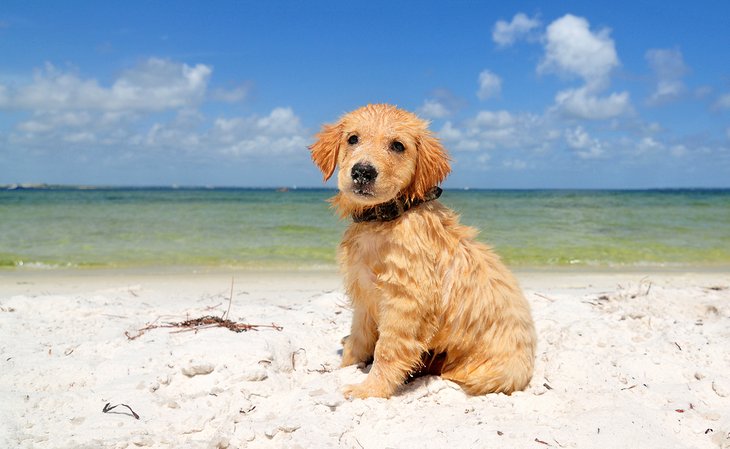 The Friends of Jupiter Beach love canines so much they provide free poop bags for visitors to their dog beach. Exciting, right? Upping their fun factor even more, they allow pups to roam leash-free along 2.5 miles of luscious sand in Palm Beach County.
What's more fun for a dog than running up and around sand dunes at the beach? Playing in the cool waves of the Atlantic Ocean, of course. Stretching north from Marker #25 at Marcinski Road to #57 at Carlin Park, there's plenty of room for your little mongrel to entertain herself.
The rules at Jupiter Beach are simple: keep your dog leashed until you reach the off-leash section, clean up after your pup, supervise your dog, and be considerate of others (especially children) at the beach. Also, beware of the undertow, which can be quite strong.
Address: 2188 Marcinski Road, Jupiter, Florida
Read More: Top-Rated Things to Do in Jupiter, FL
3. Dog Beach at Pier Park, Panama City Beach (On-Leash)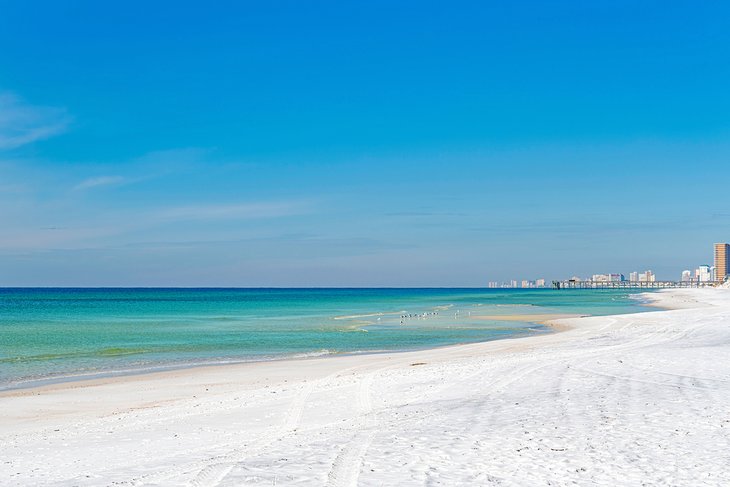 While they can't run free through the white sand of Panama City Beach, leashed dogs are welcome to visit Dog Beach, located on the southern end of the shopping and entertainment mecca, Pier Park.
Found to the right of Russell-Fields Pier, dog beach boasts 400 feet of Gulf Coast shoreline for furry friends to enjoy. You'll also find poop bags aplenty and a slew of trash cans to ensure the area remains clean. Note: only three dogs are allowed per person.
Speaking of clean, a freshwater hose on the boardwalk can get your pet virtually sand-free for its visit to one of Pier Park's many pet-friendly restaurants and outdoor shops. You can literally stay out all day with your pooch in this fun, dog-loving locale.
Address: 16230 Front Beach Road, Panama City Beach, Florida
Accommodation: Top-Rated Resorts in Panama City Beach
4. Bonita Beach Dog Park, Fort Myers (Off-Leash)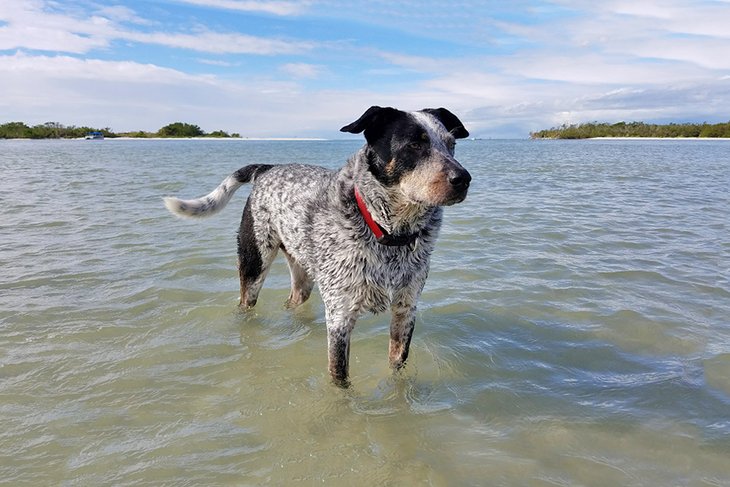 Dogs are free to run and play from 7am until dusk at Bonita Beach Dog Park in Fort Myers. It's located near the Bonita Springs border at the south end of Lovers Key State Park, which boasts one of the best beaches in Fort Myers. Your four-legged buddy will love the warm, shallow water that laps this Gulf of Mexico shore.
You won't be able to spot this hidden gem from Estero Road. Luckily, there are signs posted near the trees to show you where to go. Don't worry, it's only a short walk. During high tide, expect to trudge through some shallow water to reach the sand.
You'll need to pack your own poop bags, snacks, and drinking water for all parties (those with fur and those without), but porta-potties are available for humans. On-site doggy showers make cleanup a breeze.
Address: 8800 Estero Blvd, Fort Myers, Florida
Accommodation: Top-Rated Resorts in Fort Myers, FL
Read More: Top Attractions & Things to Do in Fort Myers
5. Canova Dog Beach, Indialantic (On-Leash)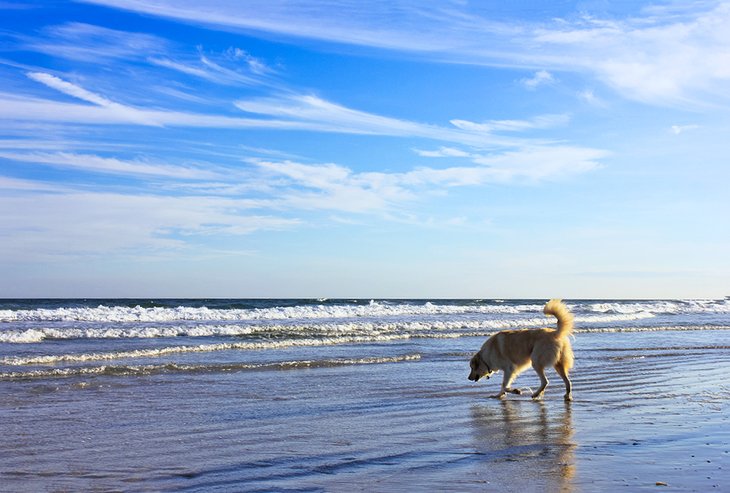 Your pup will have to wear a leash while hanging out at Canova Dog Beach in Indialantic on Florida's Space Coast. He'll also have to sport a tag depicting his vaccinations and a current dog license.
Despite this lack of freedom, and the fact that dogs can only roam around a small section of the 9.1-acre Canova Beach Park, you and your pet will be more than pleased with the pristine sand. The fact that it's the only dog-friendly beach in Brevard County makes it even more attractive.
Water dishes, poop bags, and trash cans are on offer to help keep things clean and tidy, and you'll find a grill, pavilion, shaded picnic area, restrooms, outdoor showers, and a drinking fountain on-site.
Address: 3299 North Hwy A1A, Indialantic, Florida
6. Honeymoon Island State Park Dog Beach (On-Leash)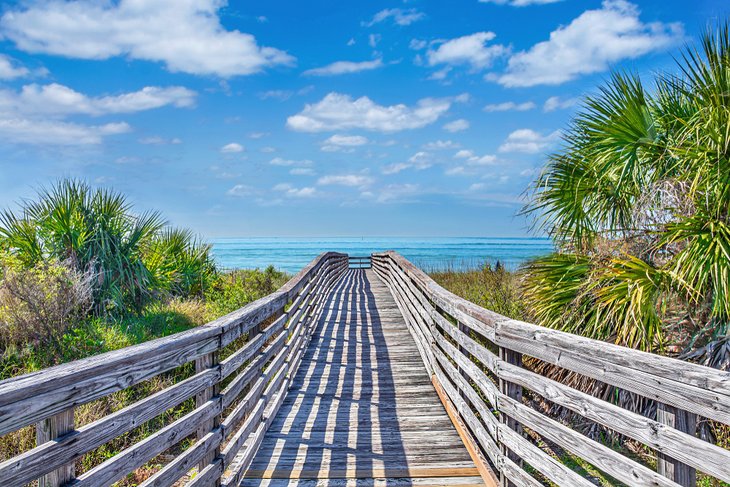 The southern tip of Honeymoon Island offers pet lovers a perfect place to spend an afternoon with their four-legged counterparts. Pooches will love the soft, white sandy shore of the dog beach in Honeymoon Island State Park. The water is calm and clear, making it easy for wave jumping.
The walk to the beach is longer than you'd think, and the sand can get hot, so you might want to carry smaller dogs part of the way. It's worth it when you arrive to the clean shore speckled with gorgeous shells.
Although your pooch will have to be leashed during his visit, he's welcome to use the nearby nature trail while he's here. Note: leashes need to be a minimum of six feet or you can be issued a fine.
There is an entry fee and you can rent chairs and umbrellas, as well as kayaks on-site. There's also a concession stand for food and drinks and restrooms.
Honeymoon Island is a barrier isle just off the coast of Dunedin, which boasts plenty of pet-friendly attractions when you've had enough of picking sand from your pooch's paws.
Address: 1 Causeway Blvd, Dunedin, Florida
Read More: Top-Rated Things to Do in Dunedin, FL
7. Smyrna Dunes Park, New Smyrna Beach (On-Leash)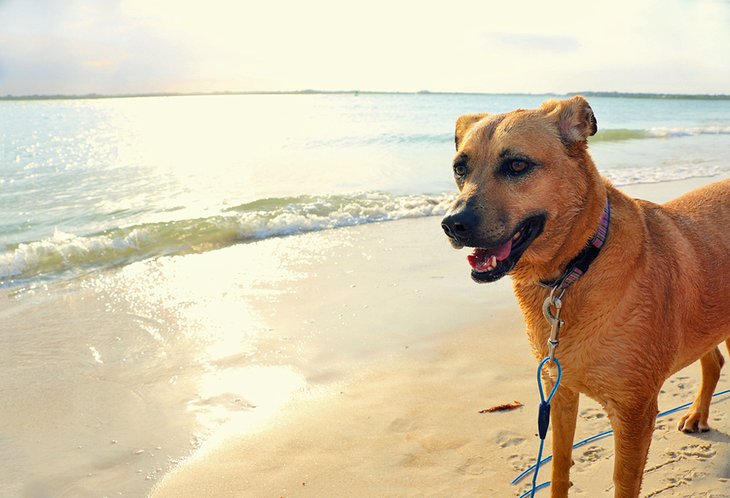 On the northern tip of New Smyrna Beach, on the edge of the 73-acre Smyrna Dunes Park, lies a dog-friendly beach perfect for pooch play. The only pet-friendly beach on this barrier island, it offers the soft sand and turquoise waters we all crave. Dogs must stay leashed while visiting.
While dogs aren't permitted on nearby Ocean Beach, they are free to roam (while leashed) through the river, inlet, and other areas of this vast park from sunrise to sunset. There is an entry fee per car, and there are restrooms, showers, and vending machines on-site.
More good news: many of the local hotels, B&Bs, and restaurants welcome pets. Head to Canal Street or Flagler Avenue to find dog-friendly patios and eateries offering water bowls for your pup. The local Dairy Queen even boasts "doggie sundaes."
Address: 2995 North Peninsula Avenue, New Smyrna Beach, Florida
8. Davis Island Dog Beach, Tampa (Off-Leash)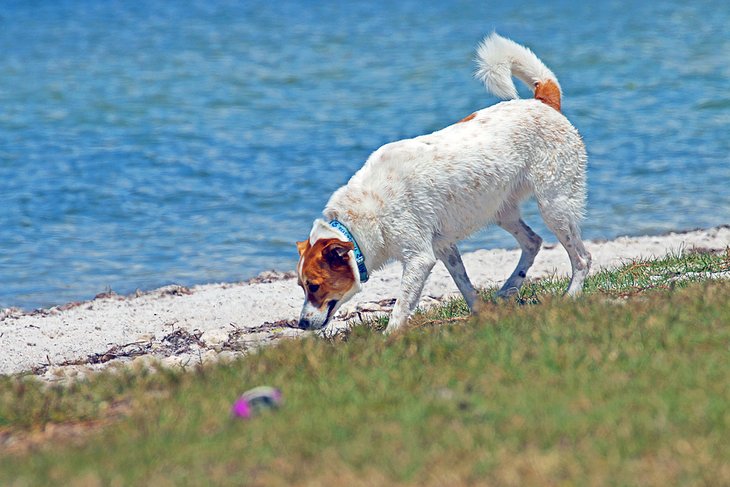 Looking for an easy place to let your pup run free? Davis Island Dog Beach is it. One grassy acre of the beach is fenced, so you can rest easy knowing little Fido will have fun playing off leash without running off. The other section is pure beachy goodness.
In terms of swimming, there's ample space (200 feet of waterfront to be exact) for dogs to splash about in the waves. Insider's tip: Although you'll find a few picnic tables, you'll want to bring your own beach chair or towel to sit on if you're planning to stay for a while.
The dog beach is located on the southern tip of Davis Island, just a few minutes' drive from downtown Tampa. It's conveniently separated from the "human" beach, which is located across the street, so you won't have to suffer annoyed stares from non-pet-lovers.
Davis Island Dog Beach boasts multiple trash cans and extra poop bags. Another plus: freshwater hoses make it easy to keep your pet hydrated and a cinch to clean up before heading home.
Address: 1002 Severn Avenue, Tampa, Florida
Accommodation: Top-Rated Resorts in Tampa, FL
9. Haulover Beach Park, Miami Beach (Off-Leash)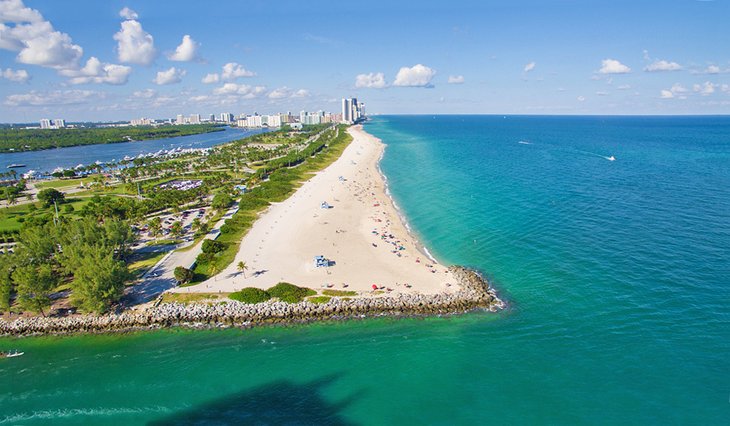 Looking to let your pooch get his paws wet and sandy in Miami? Head to Haulover Beach Park, one of the best beaches in Miami. Sandwiched between the Atlantic Ocean and Intracoastal waterway, this 177-acre park is a lovely spot to spend a day with your pup.
The dog-friendly section, called Bark Park, lies between lifeguard towers 2 and 3. Here, you'll find separate parks for small (less than 35 pounds) and large (over 35 pounds) dogs. They're enclosed and shady. There's also a section of the beach open for pups to play freely.
The beach is open to dogs from 8am to 3pm, so there's plenty of time for you and your pup to splash in the surf, dig in the sand, or frolic with new friends. The dog park is open from 8am to sunset.
A small fee per car gives you all-day access to the park. Other bonuses include water fountains (for dogs and humans), poop bags, picnic tables, and benches.
Address: 10800 Collins Avenue, Miami Beach, Florida
Accommodation: Top-Rated Resorts in Miami, FL
Read More: Top-Rated Tourist Attractions in Miami
10. Key West Dog Beach (Off-Leash)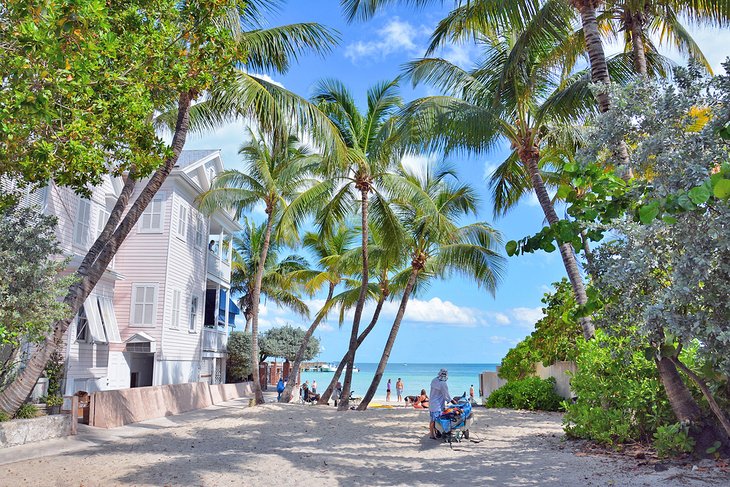 Dogs are free to roam off-leash on this pretty, palm-lined beach in Key West. It's the only dog-friendly beach in the region, you and your pup won't be alone when you visit this canine playground. But that's a good thing, especially if she's looking for a new friend.
Canines love running through the turquoise water and chasing each other upon the shore. A quick word of caution: the sand can be a bit rocky, so keep an eye on your dog's paws.
When you're aching for some nourishment, visit Louie's Backyard, a cute, dog-friendly restaurant next door.
Insider's tip: Washed up seagrass can make the water a bit stinky at times, so you'll want to wash Fido off before heading home.
Address: 1500 Vernon Avenue, Key West, Florida
11. Bark Beach, North Beach Oceanside Park, Miami Beach (Off-Leash)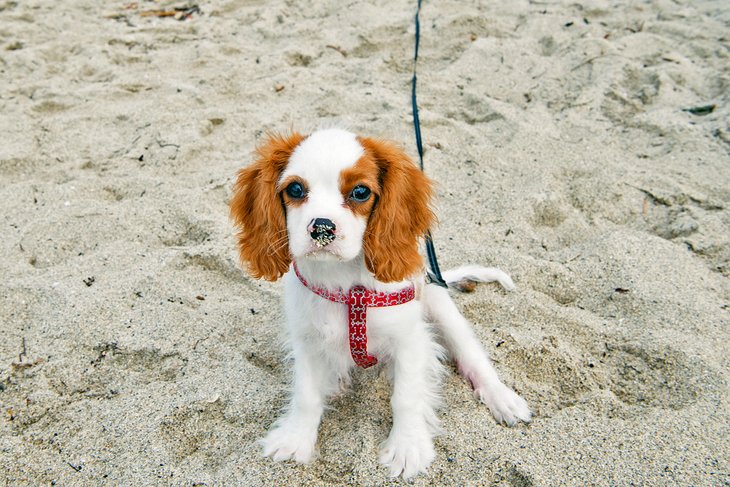 Just east of Miami's North Beach Oceanside Park, on the quieter end of Miami Beach, you'll find the popular Bark Beach. Located between 80th and 81st streets, and open from 1:30pm to 5:30pm on Fridays through Sundays, this strand is a hot spot for people with pups.
Dogs are permitted to be off-leash in this section, but their owners must have the leash visible at all times. Also, each owner is only permitted to bring two dogs at a time, and each dog must have a collar and up-to-date vaccination records.
The park itself runs between 79th and 87th street and welcomes leashed dogs on its green spaces, jogging trails, and picnic areas. There are two enclosed dog runs within the park where dogs are free to play off-leash.
Address: 8232 Collins Avenue, Miami Beach, Florida
Accommodation: Top-Rated Resorts in Miami, FL
12. Bayview Dog Park and Beach, Pensacola (Off-Leash)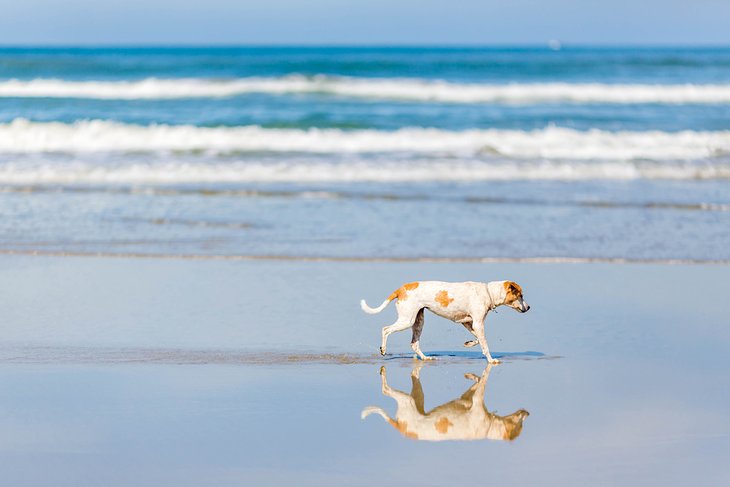 One grassy, fenced-in acre of fun welcomes your furry friends to Bayview Dog Park and Beach in Pensacola. When they've had enough fun rolling and jumping about in the dog park, let them roam free on the sand. Before long, your pups will jump into the surf at the inlet, Bayou Texar, lapping the water and splashing with joy.
There's plenty of shade to be had in the covered picnic area, and water bowls are on offer for when your mongrels are parched. Poop bags are also accessible, and you'll find multiple trash cans to ensure the area is kept clean.
When it comes time to leave, head to the showers (for dogs and humans) to clean off, so you don't track sand into the car.
Address: 2001 East Lloyd Street, Pensacola, Florida
Accommodation: Top-Rated Resorts in Pensacola, FL
Read More: Top-Rated Attractions & Things to Do in Pensacola
13. Vilano Beach, St. Augustine (On-Leash)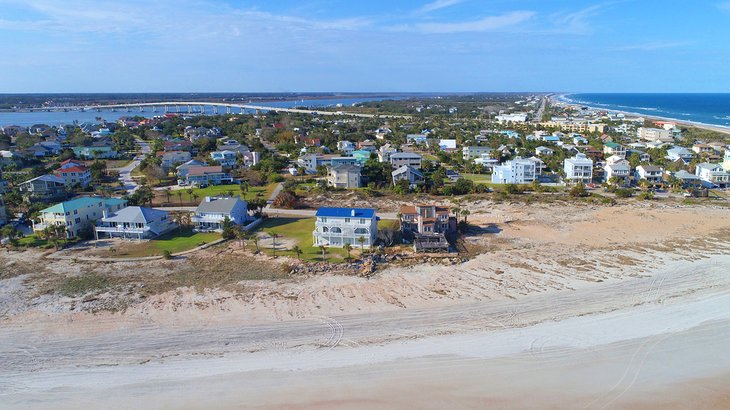 Vilano Beach is a beauty on Florida's northeast coast. Located on a barrier island just two miles north of St. Augustine, this pristine sandy beach is an epic place to bring your pooch. It's a hot spot for surfers when the tide rolls in, and many enjoy fishing off the Vilano Beach Pier throughout the day.
Dogs are welcome here on-leash. Just be sure you pick up after them, obviously. Poop bags are offered at most beach entrances. The surf can get pretty rough and has steep drop-offs in places, so it's best to keep your dog close, and avoid swimming when it's noticeably rough.
One of the best and most popular of St. Augustine's beaches, Vilano Beach is often crowded, especially during high season. A bonus of this beach's popularity is the plethora of dog-friendly restaurants and hotels in the vicinity.
A small dog park lies at North Shore Park, offering fluffy friends a comfy grassed area to run through. The beach has restrooms and showers for humans, so it's easy to spend a lot of time here.
Address: 2750 Anahma Drive, St. Augustine, Florida
Accommodation: Top-Rated Resorts in St. Augustine, FL
Read More: Best Attractions in St. Augustine, FL
More Related Articles on PlanetWare.com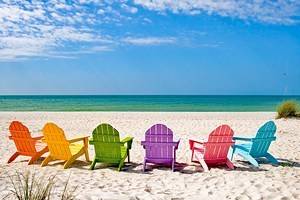 More Beaches to Explore in Florida: Face it, most of us visit Florida for its soft, sun-drenched shores. With so many sugar-sand beaches to choose from, the Sunshine State is a popular beach destination. Whether you're looking for the best Florida beaches for families or hope to visit one of the most beautiful beaches in the state, you're sure to find something you love in this gorgeous state.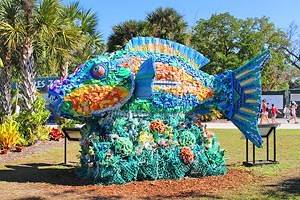 Florida Destinations with Endless Fun: Don't limit yourself to theme parks and giant sandy strands on your visit to Florida. While both of these attractions are more than worthy of a visit, you'd be sad to miss beautiful hot spots like Naples, Hollywood, and the most gorgeous of Florida's islands.