12 Top-Rated Attractions & Things to Do in Fort Myers, FL
For vacationers, it's almost impossible to think about Fort Myers without considering nearby Fort Myers Beach. Although they are two separate municipalities, jointly, they offer a mix of history, small-city charm, and a beach culture like you won't find elsewhere in Florida. Together, these two areas offer a long list of things to do for people of all ages and various interests.
In Fort Myers' River District, you'll find streets of interlocking brick, as well as boutiques and fantastic restaurants with street-side dining. Nearby are tourist attractions like the historic Ford-Edison Winter Estate.
In Fort Myers Beach, think surf shops; casual outdoor restaurants; a fishing pier; and a huge stretch of beach, where you can choose from an action-packed area with volleyball and water sports, or find a quieter section where the kids can play in the shallow water. And nature lovers looking to bird-watch or see some alligators will find parks and natural areas spread around the cities.
For a complete look at the most interesting places to visit, see our list of things to do in Fort Myers and Fort Myers Beach.
1. Spend a Day at Fort Myers Beach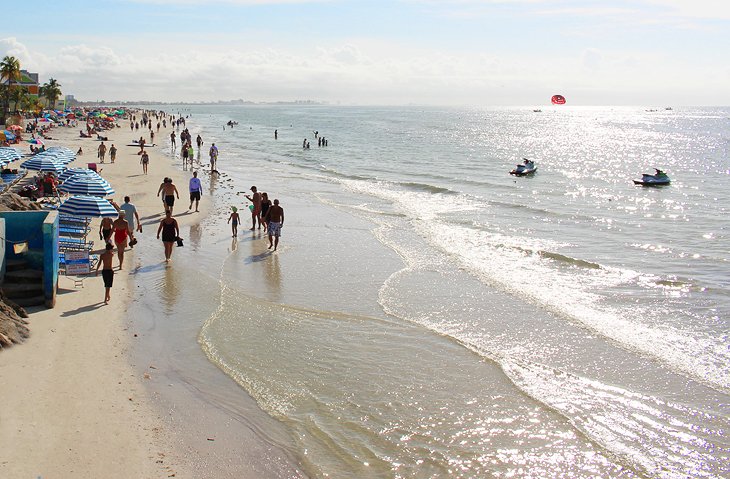 Fort Myers beach, on Estero Island, is a seven-mile-long golden strip of sand with shallow, warm water, backed by homes and a small selection of hotels and restaurants. This is a perfect area for swimming, walking, and spotting dolphins, which frequent the area and can sometimes be seen as close as just a few feet off shore.
The beach runs from Bowditch Point Park in the north all the way down to Lovers Key State Park in the south, but most of the action is centered around the pier and the area known as Times Square.
The area south of the pier is the liveliest stretch of sand, where you'll find crowds of sun-seekers on hot days. You can rent beach chairs, and some places offer food service, creating a trendy beach scene. For a more sedate scene, check out the area north of the pier. Here, you'll find the beach backed by Lynn Hall Beach Park with picnic tables, barbecues, showers, and washroom facilities.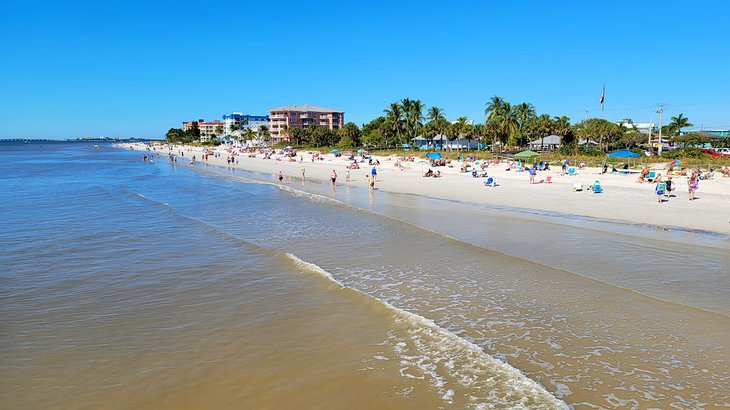 The main street through Fort Myers Beach is Estero Blvd, located a very short stroll from the beach. Parking can be at a premium on busy weekends, but if you go early, you should be able to find a spot at one of the many lots or street meters throughout the area. Private lots are available but tend to be expensive.
A better bet is to park your car for free in the Beach Park and Ride lot, and bypass the traffic by taking the shuttle into the beach area (Route 490). Don't worry about getting around without a car, another trolley (route 410) runs from Bowditch Park in the north down to Lover's Key State Park. Not to be confused with the trolleys, this is a free tram service. It also starts at Bowditch Park, but the route ends at the Matanzas Pass Preserve.
2. Walk through Times Square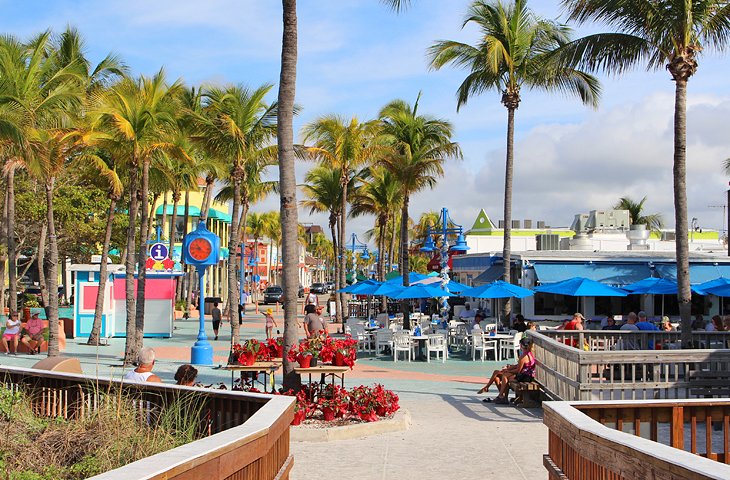 Located directly behind the pier is lively Times Square. This area is home to a multitude of restaurants with patio seating, ice-cream shops, and all manner of beach and souvenir stores and surf shops. When you need a break from the beach or just want to grab some lunch, wander up to this area.
Right off the beach behind the pier is a pedestrian-only area, but farther back are streets where traffic is permitted and some parking is available. This is where you'll find T-shirt and beach shops. In the evenings, street performers entertain crowds.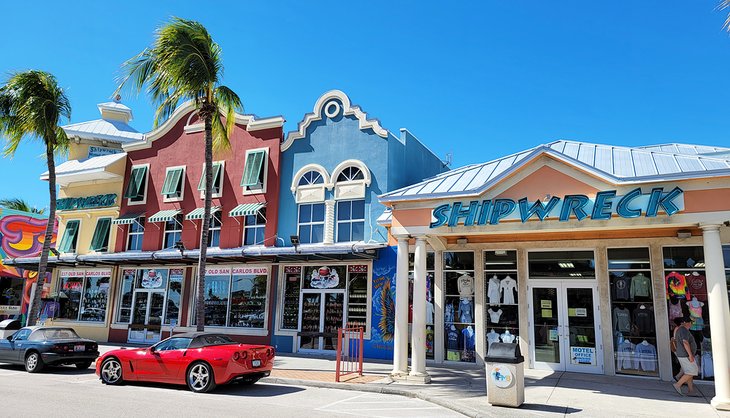 Times Square is a compact area, which can be easily explored on foot. The scene here is incredibly casual, with many people walking around in beach wear. The area is easily identified by colorful painted bricks.
For a pleasant stroll, walk northeast of Times Square along Old San Carlos Blvd to Matanzas Pass. This street is lined with a decent assortment of fast food and sit-down open-air restaurants and shops.
3. Tour the Edison Ford Winter Estates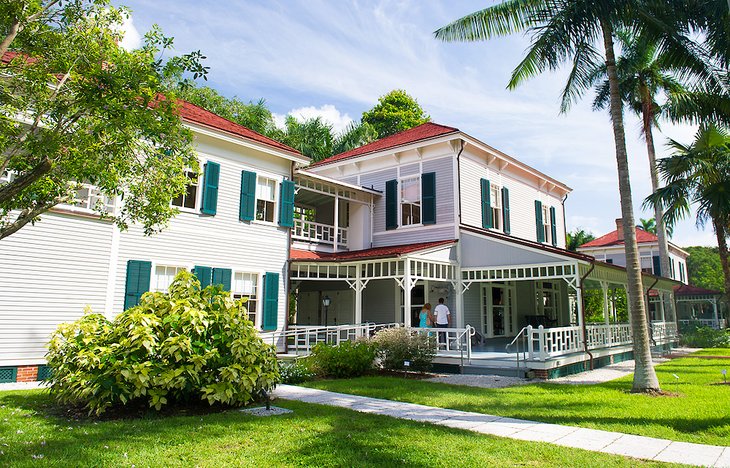 Located just north of downtown Fort Myers in a beautiful neighborhood are the Edison & Ford Winter Estates. These homes are now a National Historic Landmark and operate as a museum open to the public for tours. Spread over 21 acres, this waterfront site features the historical homes of these two fascinating men who were friends.
On a tour, you can see the expansive grounds, laboratories, and a modern museum with seven galleries, complete with vintage cars and displays on electricity. Also of note are the botanical gardens and an amazing Banyan Tree, reportedly the largest in North America, dating from 1925, which covers an acre of ground and is 65 feet tall.
Address: 2350 McGregor Boulevard, Fort Myers, Florida
Official Site: www.edisonfordwinterestates.org
4. Explore the Fort Myers River District/Downtown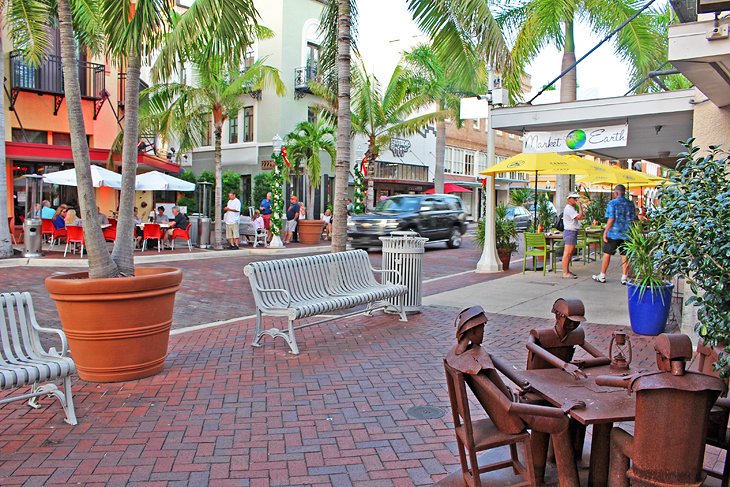 Fort Myers has done an excellent job of preserving its historical downtown. This area, denoted by the red interlocking roadway, is full of restaurants, theaters, and interesting boutiques. Art Deco buildings dating from the 1920s act as a backdrop for the area, which comes alive in the late afternoon and early evening. Patios fill with diners enjoying some of the fine fare on offer, and pedestrians stroll up and down the wide sidewalks.
One of the iconic restaurants along here is Ford's Garage, decorated in a 1920s service station theme and displaying vintage Ford vehicles and related items.
5. See the Action from Fort Myers Beach Pier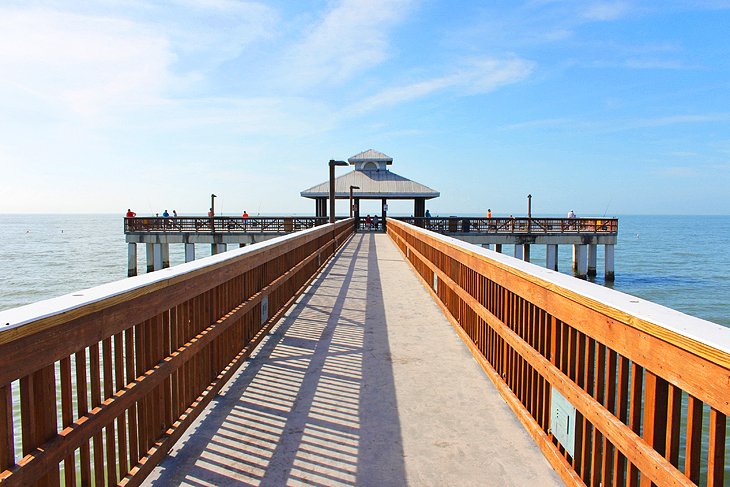 Dating originally from 1921 but fully rebuilt, the Fort Myers Pier juts out 560 feet into the Gulf of Mexico and is one of Southwest Florida's premier sunset spots. The pier is also known locally as Pelican Pier, owing to the fact that pelicans frequently line the pier and keep a close eye on people fishing.
The pier is free to walk on and has a large partially covered viewing area at the end, along with a small kiosk selling drinks, fishing supplies, and souvenirs halfway along the deck. From the pier, you can often see dolphins swimming parallel to the beach, not far offshore.
During the day, you'll see the lively beach scene to the south, people parasailing in the sky, and all kinds of boats racing back and forth just offshore. In the evening, the pier is all about sunsets. Join the crowds to see the sun dip below the horizon into the Gulf of Mexico and then grab a bite to eat on Old San Carlos Blvd.
6. Enjoy Nature at J.N. Ding Darling National Wildlife Refuge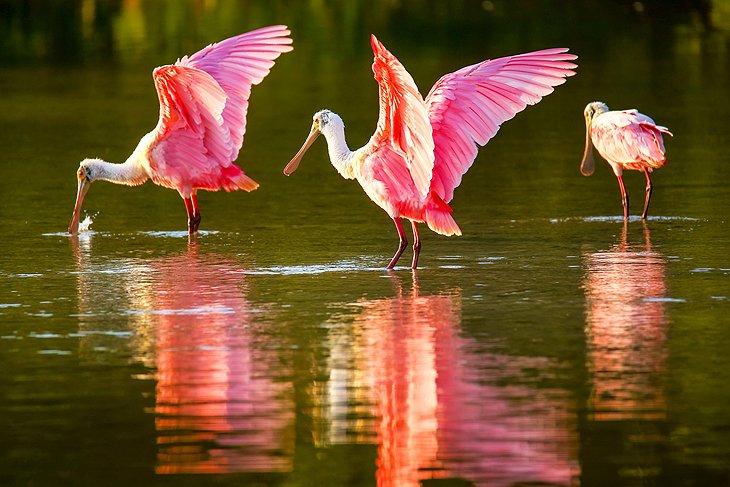 Just 45 minutes from downtown Fort Myers, J.N. Ding Darling National Wildlife Refuge offers a wonderful look into the wildlife and ecosystems that define this area of Florida. The visitor center provides information on the refuge's wildlife and habitats, and gives background on its founder, Jay Norwood "Ding" Darling.
One of the highlights is a 90-minute, open-air tram tour led by a certified naturalist, with opportunities to spot alligators, wading birds, and if you are really lucky, a bobcat or otter. You can drive the same routing in your own car, and there is a charge to enter.
You can also see some of the park on foot along any of the four hiking trails. Other popular activities include fishing, stand up paddleboarding, canoeing, kayaking, and bird-watching. The refuge is located on Sanibel Island, just a short drive over the impressive Sanibel Island Causeway (toll charged) from the mainland.
Official site: https://www.fws.gov/refuge/jn_ding_darling/
7. Hit the Beach at Lovers Key State Park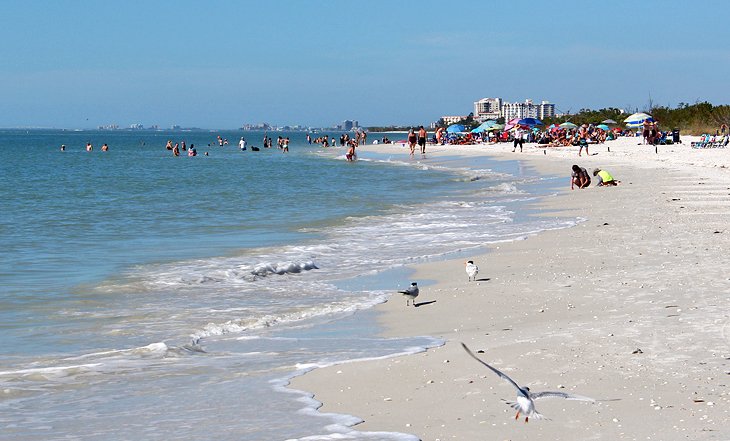 Lovers Key State Park has one of the finest stretches of beach in the Fort Myers area and can be a pleasant escape from the traffic and craziness of Fort Myers Beach on busy days. The beach is reached via a short walk over a couple of bridges, where you have a chance of seeing alligators and other aquatic wildlife. If you have lots of beach gear, a free open-air shuttle runs on a regular basis from the main parking lot.
Lovers Key is a popular spot for canoeing, kayaking, and stand up paddleboarding due to its protected inland waterways. This is also a good spot to look for shells, as quite a few varieties wash up on the shores, and the competition among shellers is less intense than on Sanibel Island.
Lovers Key is located over a large bridge at the southern end of Estero Island. The best beaches are on the gulf side. At the south end of the park is a dog beach. It's a wonderful spot for those with four legs to play in the shallow waters with all their newfound friends.
Parking is easy here, with plenty of spaces; the cost is included with your daily admission.
Official site: https://www.floridastateparks.org/parks-and-trails/lovers-key-state-park
8. Kayak through the Mangroves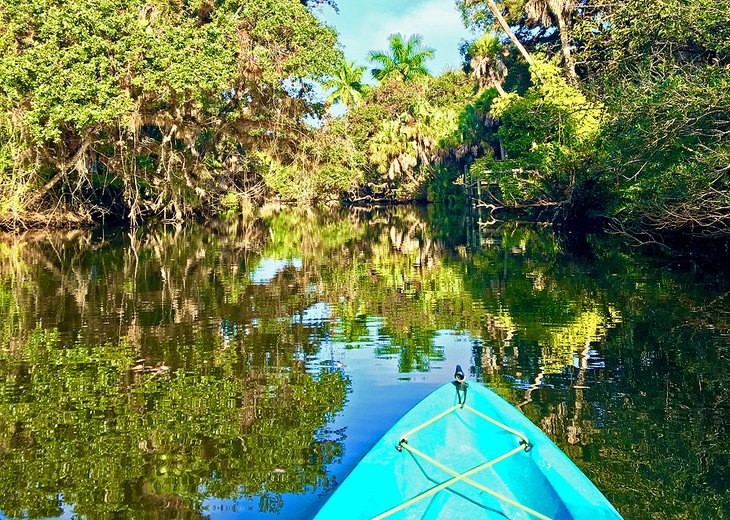 The mangrove forests on Florida's Gulf Coast are an important and unique environment, home to countless animals. The only way to truly experience them is on the water, and the best way is by paddling through the multitude of twisty waterways. Bring your own kayaks and go exploring, or join a tour. One of the best spots is at Lover's Key State Park.
If you don't own kayaks and want to give this unique experience a try, take a two-hour Guided Eco Tour -Mangrove Estuary. Led by a knowledgeable guide, this tour takes you deep into the mangrove canopy, where you'll have an excellent chance of seeing manatees, dolphins, and sea turtles.
This is an easy tour and a fun thing for families to do on an outing. You'll have your choice of single or tandem kayaks, and stand up paddleboards. Tours start and leave from Lover's Key Park.
9. Six Mile Cypress Slough Preserve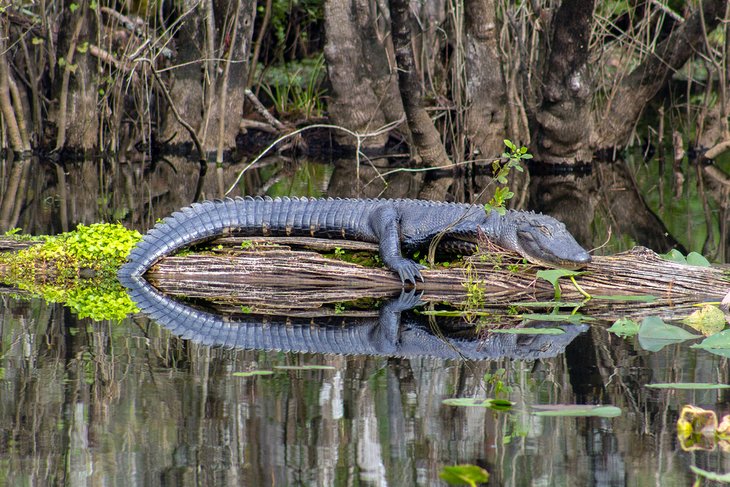 The 3,500-acre Six Mile Cypress Slough Preserve is a wonderful haven for wildlife, including alligators, otters, and turtles. It is also one of Fort Myers' best birding locations. You'll likely see wading birds like blue herons, ibis, snowy egrets, and if you are lucky, roseate spoonbills.
One of the highlights of a visit is a walk on the 1.4-mile-long boardwalk. This looping trail, complete with interpretive kiosks, takes you past a variety of flora, including red maple, wood ferns, and young cypress trees. The preserve is located at the eastern edge of Fort Myers and is a free attraction, although there is a modest fee to park.
10. Catch a Game during Spring Training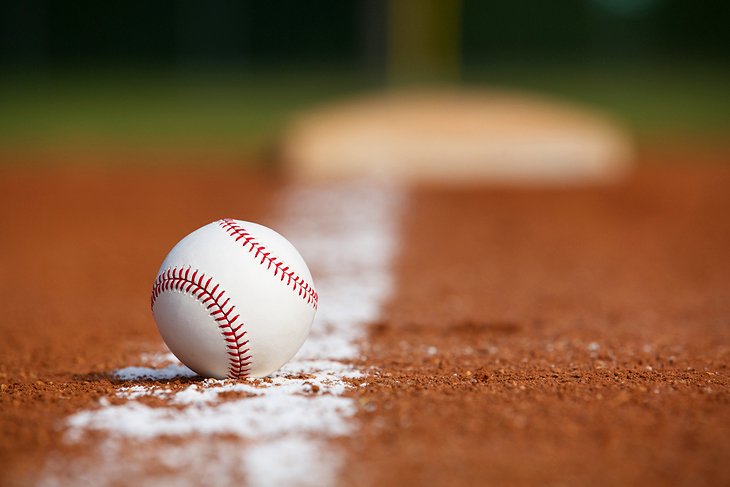 Every spring, jetBlue Park and Hammond Stadium come alive with the crack of the bat and the shout of the umpire as Major League Baseball's Spring Training, also known as the Florida Grapefruit League, comes to town.
The Boston Red Sox and the Minnesota Twins are the two teams that call Fort Myers home. The first game is usually in the 3rd week of February and wraps up about four weeks later. Games take place almost every day, so securing tickets is never an issue, but the schedule is released each November if you want to plan.
11. Take a Sunset Cruise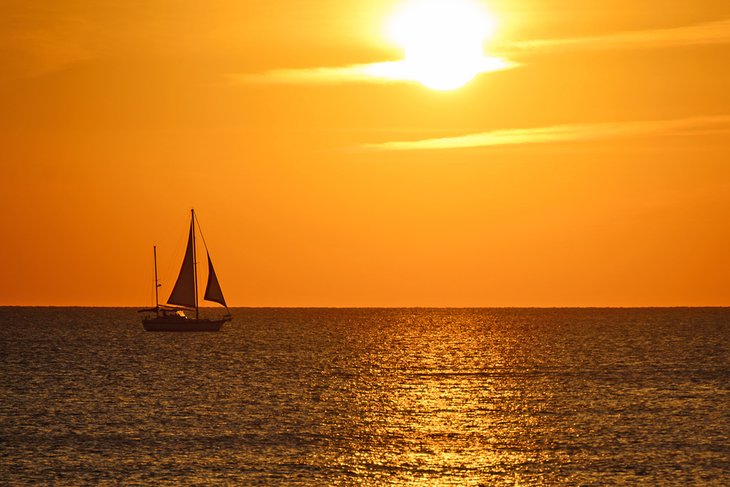 The west side of Florida is renowned for its spectacular sunsets. The feeling of warm sand on your toes as you stand on the beach and watch the giant orb of yellow descend into the Gulf of Mexico is nothing short of wonderful.
If you want to get away from the crowds, it's best to get out on the water. The wind gently blowing in the sails, and the water gliding silently past the hulls is the best way to truly experience a magical sunset. If you are lucky, dolphins and sea turtles will cruise along with you.
The Sunset Sail is a two-hour cruise on a 36-foot catamaran cruise offshore along the beaches of Fort Myers. The personable captain will regale you with stories about the boat and area, and ideally position the boat for the most amazing sunset photos.
The boat leaves from the dock area by Hurricane Pass, just over the bridge from Times Square. Water and soft drinks are included.
12. Take the Kids to Lakes Regional Park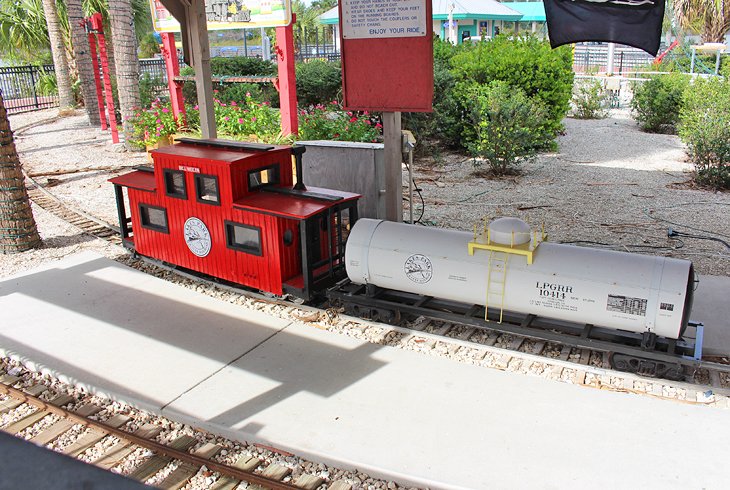 This former gravel quarry has been transformed into a 289-acre park and is a popular family destination and outdoor recreation area. Visiting Lakes Regional Park is also one of the free things to do in Fort Myers.
For the kids there is a splash pad and a playground, but one of the park's major highlights is the miniature train. The train, 1/8th the size of a real one, is driven by an engineer and runs on a 1.5-mile loop that passes by lakes, small recreated villages, and tropical woods. The loop takes approximately 15 minutes to complete, and the trains run every 30 minutes on the hour, seven days a week. Nearby the ticket office is a 3,200-square-foot train museum with interactive exhibits.
Those not interested in trains will enjoy the man-made lake. You can rent a boat or launch your own watercraft (no motors allowed), fish, or just enjoy watching the fountains. Bike rentals are also available, and a number of trails run through the park. If you want to get more active, there are several volleyball courts and fitness stations. Picnic sites in the park can be booked.
Map of Attractions & Things to Do in Fort Myers, FL
Fort Myers, FL - Climate Chart
Average minimum and maximum temperatures for Fort Myers, FL in °C
J
F
M
A
M
J
J
A
S
O
N
D

24

12

25

13

27

15

29

17

32

20

33

23

33

23

33

23

32

23

30

21

27

17

25

13

PlanetWare.com
Average monthly precipitation totals for Fort Myers, FL in mm.

57

53

70

42

87

248

228

242

200

66

43

40
More Related Articles on PlanetWare.com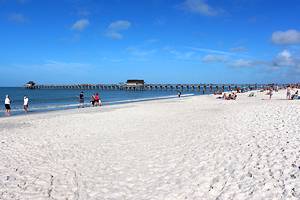 Places to Visit Nearby: If you are in this area of Florida, you may also want to consider taking a short drive south to see the attractions in Naples. Better yet, spend a night or two and stay at one of the top resorts in Naples. Alternatively, take a quick trip over to the Atlantic side to see Miami, and play your excursion with our guide to the top attractions in Miami.