6 Best Beaches on Siesta Key
Just the name Siesta Key makes you think of a place where time slows down, the temperature is hot, and living is easy. Fortunately, Florida's Siesta Key delivers on all fronts. This eight-mile-long barrier island is home to some of Florida's best beaches and as a result, Siesta Key has long been a destination for locals and northern visitors alike.
The six beaches on Siesta Key are all a bit different from one another, and that's what makes a vacation here special. In general, the farther south you go, the beaches become narrow, and the sand changes from powdery-white to a mix of black and white, what is commonly referred to as a salt and pepper beach. Mid-point on the island is the unique Point of Rocks beach, where a limestone shelf extends into the water making for great snorkeling at high tide, and tidal pool discoveries at low tide.
The best beaches for day-trippers are mid-island at Siesta Beach and in the far south at the spectacular Turtle Beach. Crescent Beach is primarily for those staying in the beachfront condos and nearby hotels owing to the scarcity of parking.
Siesta Key has a delightful town center at Siesta Key Village, located at the north end of the island. Here, you'll find restaurants, unique and unusual shops, and a farmers market on Sunday mornings.
Access is easy. Just head up and over the Siesta Key North Bridge or across Stickney Point Road in the south. Unlike other beaches farther north, beach parking is free in the public lots. Find a place to lay down your towel with our list of the best beaches on Siesta Key.
1. Siesta Key Beach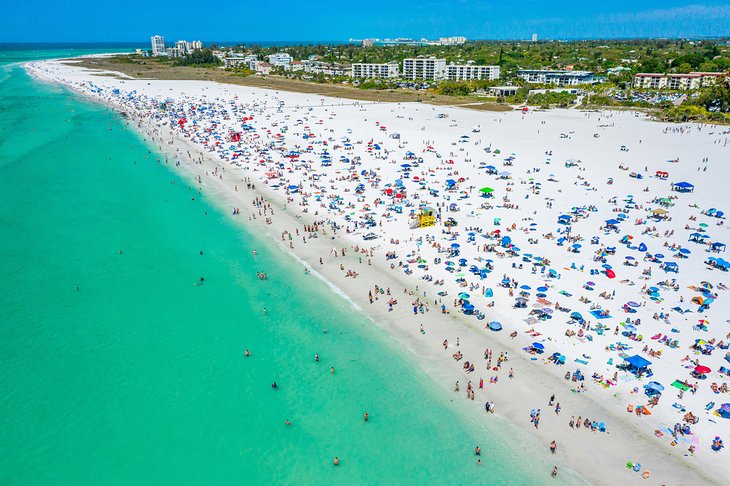 This incredible stretch of beach has been consistently rated as one of the top beaches in the United States. Unlike other beaches on nearby keys, the sand at Siesta Key is white, powdery, and soft. This incredible sand is washed by warm Gulf of Mexico waters that just beg you to dip a toe (or more) into their embrace. Those that don't like waves can rejoice, the ocean here is generally quite calm with the prevailing wind coming over the land from the East.
Siesta Key is the best beach for day-tripping from inland cities such as Sarasota, Bee Ridge, and others. The beach has a huge parking lot that rarely fills up, except on the busiest of weekend or holiday weeks.
Siesta Key beach is exceptionally large, with plenty of sand to spread out and soak up the sun. No matter how busy it may be, you'll have no trouble finding your perfect patch of sand. Lifeguard towers are placed at strategic points in order to keep a close eye on all bathers. Parents can rest assured that their young ones are being well taken care of, and if something goes wrong, lifeguards are on duty. A sheriff's office is also on-site just to make sure the crowds behave themselves, but it's generally a pretty tame situation, and incidents are rare.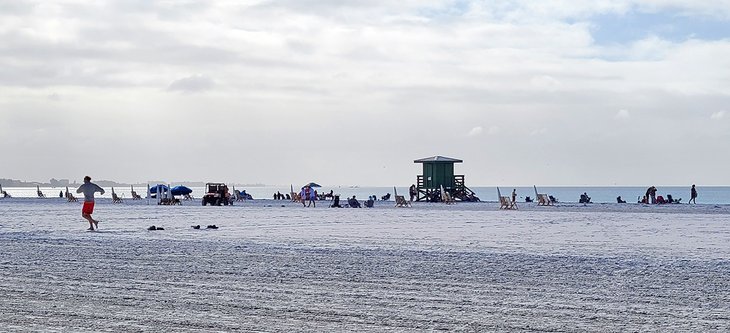 Depending on what kind of beachgoer you are, you'll need to decide which part of the beach you want to set up on. The northern end of the beach is the quietest, filled mostly with folks who have walked or taken the trolley to the beach. Parking at this end is limited to street-side spots.
A more lively scene starts to take shape where the main parking area is located. This area is dominated by folks coming in to hit the beach for a day. In this area, you'll find volleyball courts, restrooms, and picnic areas. The main area also has a shop selling beach gear and souvenirs.
Should you work up an appetite, head to the Siesta Beach Pavilion to grab a bite. The restaurant serves up typical quick service fare. Be sure to grab a seat on one of the elevated covered patio spots.
The southern end of the beach is similar in nature to the north end, as it's more tranquil and quiet. The chances of getting a parking spot at the south end of the beach are greater than getting street parking at the north end. The only drawback is that it's a longer walk to the water.
2. Sarasota Beach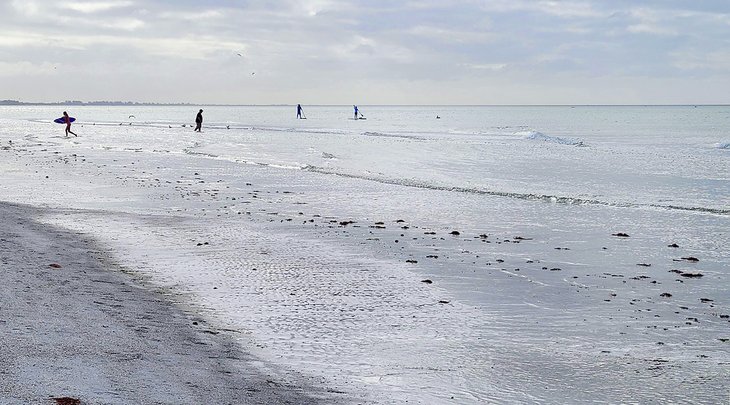 Sarasota Beach is a delightful stretch of beach that has a very natural feel despite being on a fully developed resort island. Park at Beach Access #7 and walk the wonderful and quiet trail through the sea oats and cabbage palms to where the sand starts. Sarasota Beach has a unique location on the northern end of Siesta Key, and its natural vegetation cover keeps the sand in place and allows for the wider beaches farther south to develop.
Unlike beaches farther south on Siesta Key, the homes and condos are set well back from the beach, allowing for a more relaxed and natural beach experience. Set up at the water's edge with all your gear and considering that Sarasota Beach bulges out slightly, you'll have fantastic views up and down the island. If a cool north wind has arrived, Sarasota Beach is one of the best spots to go. Place your chairs and umbrellas away from the water's edge tucked in behind the vegetation, and you'll be toasty and warm.
Beach walkers should head north to Sarasota Point, where they'll find good views north to Lido Key with Longboat Key off in the far distance. Bring all your gear with you; no beach vendors offering chairs or umbrellas operate in this area. Also, you may want to invest in a beach wagon or chairs with carrying straps if you have lots of gear. The walk from the access point to the water's edge will likely take you about 10 minutes, some of which will be across soft sand.
Parking at the access point is fairly limited, but that said, this is one of the lesser known gems along Siesta Key, so you will have a good shot at securing a spot. Parking is free.
3. Turtle Beach Park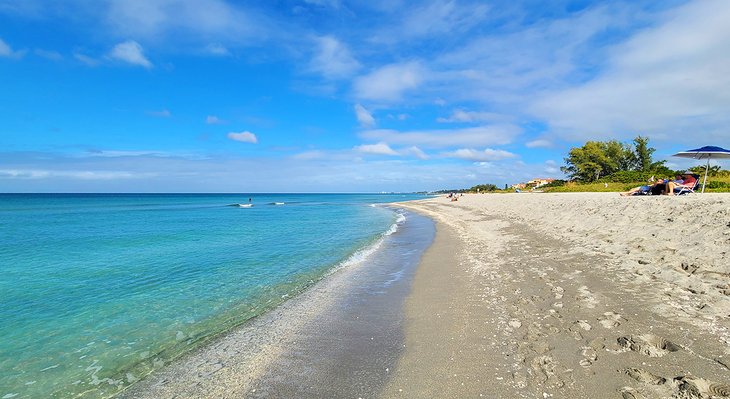 Turtle Beach is the most underrated beach on Siesta Key, and those who love it are happy to keep the secret to themselves. Located at the far end of Siesta Key towards Casey Key, Turtle Beach is nature at its best. The park itself consists of half a mile of beach frontage; however, you can continue north and south for many miles.
Turtle Beach is unlike other Siesta Key beaches because it has black and white "salt and pepper" sand. It's also unique in that the beach has small coves created by the action of the waves. It's an ideal beach for swimming and relaxing, but the nature of the beach with its coves and relatively steep descent to the water make it a tough place to walk. However, if you plan to walk at low tide, the going can be much easier.
The beach tends to be pretty quiet, so find your perfect spot, pop up the umbrella, and rest assured that no one is going to splash or kick sand your way. Turtle Beach is also an excellent place to go kayaking. In behind the beach is the boat launch for Blind Pass Lagoon, which provides access to the Intracoastal Waterway and the wonders of Jim Neville Marine Preserve.
A relatively large parking area and the obscurity of Turtle Beach mean that you'll likely be able to snag a parking spot without too much difficulty.
Turtle Beach has sheltered picnic tables complete with barbecues back near the parking lot. If you can't get enough of this amazing beach during your visit and love camping, consider booking in at the Turtle Beach Campground. Set up at one of the shady 39 sites that feature water and electricity. The beach is a two-minute walk away. Reservations are essential and need to be made well in advance. Note that the campground does not allow pets of any kind.
If you are up for an adventure and crave even more beach wilderness, walk south to Palmer Point Beach Park. This park is only accessible via the beach or by boat, so there's an excellent chance you'll have the place to yourself.
4. Point of Rocks Beach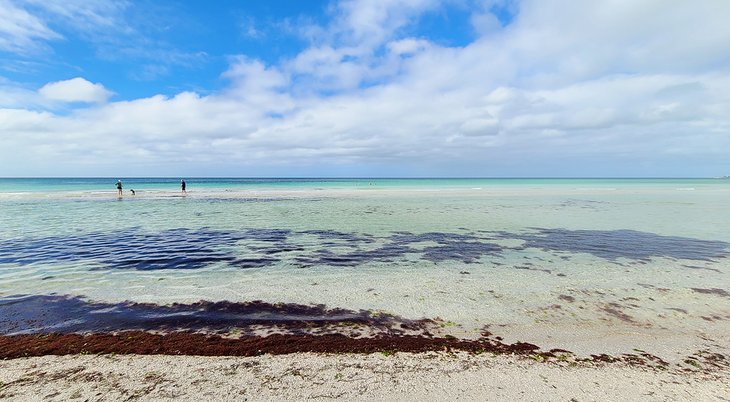 One of the more unique beaches in southern Florida is Point of Rocks. It's here that a giant limestone shelf extends a half-mile out into the Gulf of Mexico. This unique formation is over 4,000 years old and was integral in the formation of Siesta Key itself. Although the beach itself is merely okay, tending to accumulate sargasssum seaweed, the main attraction is offshore, where an underwater oasis of colorful fish and other marine life await you.
The trick with Point of Rocks Beach is the tide. If the tide is out, you'll have an intertidal zone that you can walk (with water shoes) out on and around and see small fish, starfish, mollusks, and other reef inhabitants in small tidal pools. When the tide is in, you'll need a mask, fins, and a snorkel to explore. At this time, larger fish roam about, and the area comes alive with activity. Visibility is generally better in the morning and when the waves are small.
Parking is a hassle for Point of Rocks Beach. You'll find only 20 spots at beach access 12, so if you are early in the day, you'll have a chance of snagging a spot. If not, consider taking the trolley and getting off at beach access 13 (no parking at this access). However, once you are on the beach, finding the snorkeling area is easy. Just walk until you run out of sand and come to the concrete breakwater with all the graffiti. Swim or walk out to the end of the breakwater, turn left, and then you'll soon start to see the marine life.
5. Sunset Beach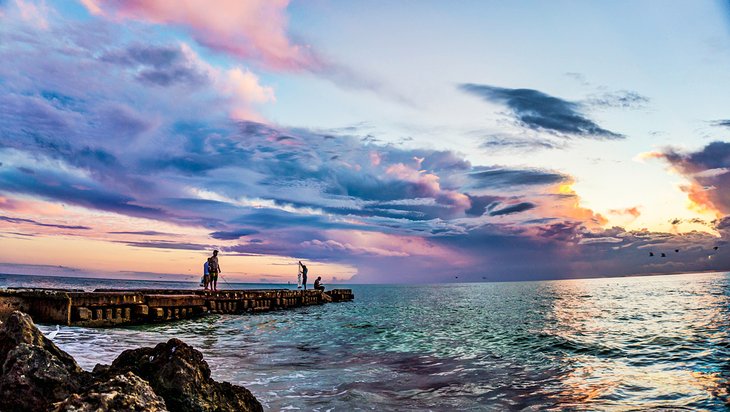 The appropriately named Sunset Beach is indeed one of the best places to catch the sun descending into the Gulf of Mexico. Located a short stroll down Columbus Boulevard from Siesta Village, it's a wonderful place to spend the day. Set up your beach towel and umbrella, and enjoy the expansive views, or settle into a good book. If you feel the need for a bit of activity, walk a bit north and check out the historical Broken Pier
After you catch the sunset, wander back up into town and settle in on a patio with a cold drink, or grab an early dinner.
6. Crescent Beach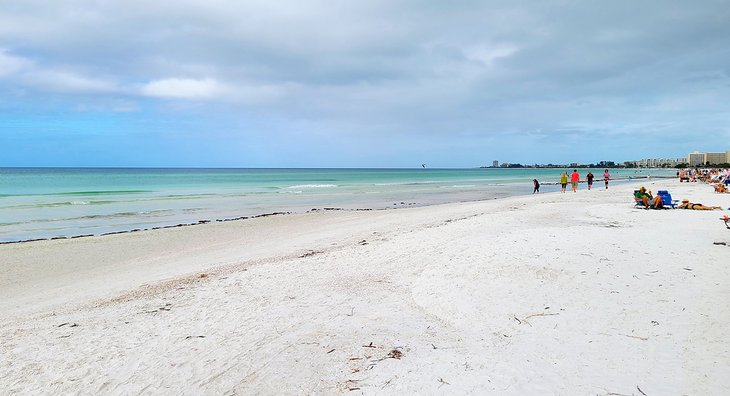 Just south of Siesta Beach is Crescent Beach. This beach is primarily for the condo dwellers and hotel guests staying either on or just back from the beach. Considerably narrower than Siesta Beach, Crescent Beach has similar sand and waters, and extends south to Point of Rocks Beach.
The unfortunate part of Crescent Beach, especially near the southern end, is the insistence of the hotels and condos lining the beach to rope off areas that they designate exclusively for their guests. You can still walk along the beach at the waterline, but you'll be hard-pressed to set up any beach gear.
An upside of Crescent Beach is the lively townsite in behind. Leave your towel and umbrella, and stroll up beach access #12 to find restaurants, convenience stores, and beach shops.
Best Time to Visit Siesta Key for the Beaches
When you plan your trip to Siesta Key, it's important to keep the seasons in mind. Don't plan to come here in December, January, and February expecting to lay out on the sand every day. If the high for the day breaks 70 degrees Fahrenheit, you'll be lucky, and the overnight lows are in the 50s. However, if you just want to escape the cold northern temperatures and like walking on the beach and other activities, Siesta Key is an excellent destination. The best times to visit and hit the beach with full sunshine and low humidity and rain are: mid-March through to early May, and late September through to early November.