12 Best Things to Do in Bradenton, FL
The pleasant city of Bradenton offers a wide range of things to see and do. Beaches, museums, natural areas, walking trails, and historical sites make a visit here well worthwhile.
Easily reached via a spectacular drive up and over the Skyway Bridge south from St. Petersburg, the city is well positioned for day trips to some of Florida's top tourist attractions and some of the state's best beaches.
Bradenton has long been known to snowbirds escaping brutally cold winters, who decamp here in large numbers starting every December, and stay until mid-April. But it's also a great place for a vacation or quick getaway.
Plan your trip with our list of the best things to do in Bradenton.
1. Robinson Preserve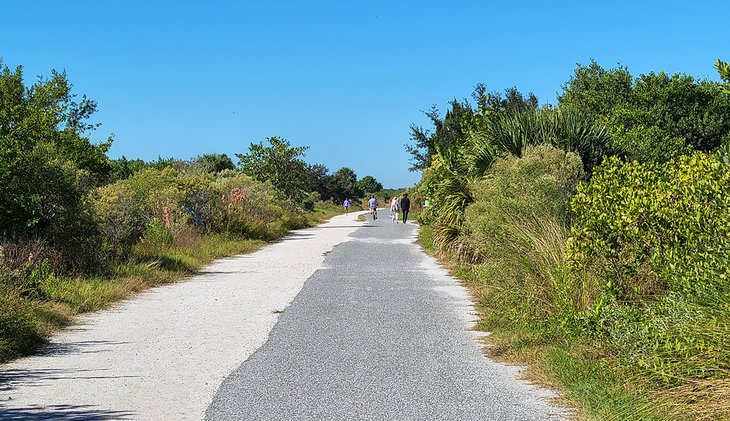 Robinson Preserve can easily be considered Bradenton's outdoor playground. This multi-use park is huge, and activities here are across the board. Generally, everyone is able to find something enjoyable to do here.
Robinson Preserve has recently expanded and is now an amazing 682 acres of mangroves, lakes, former farmland, and tidal marshes. This expansion was made possible by the addition of two new tracts: the Winston and the appropriately named Expansion.
Things to do in the Robinson Preserve are varied. Extensive walking and hiking trails wind their way through the tract, offering up 9.2 miles of exploration. Most trails are multi-use and allow bicycles, the only exceptions being the Tern Trail and the Eagle Loop. Along the trails, you'll find interesting exhibits explaining the natural surroundings.
Kayaking in the Robinson Preserve is a special experience, with calm inland waters and abundant wildlife spotting. You'll likely spot roseate spoonbills, white pelicans, and least terns. Bald eagles may perch nearby on a dead tree. Be sure to check out the mangrove tunnels along the way. A kayak trail leads you from Palma Sola Bay all the way out to Tampa Bay. Launch areas are near both park entrances.
Combine a visit here with the pleasant Palma Sola Botanical Garden. You'll pass it on your way to the park.
Address: 1704 99th Street NW, Bradenton, Florida
2. Bishop Museum of Science and Nature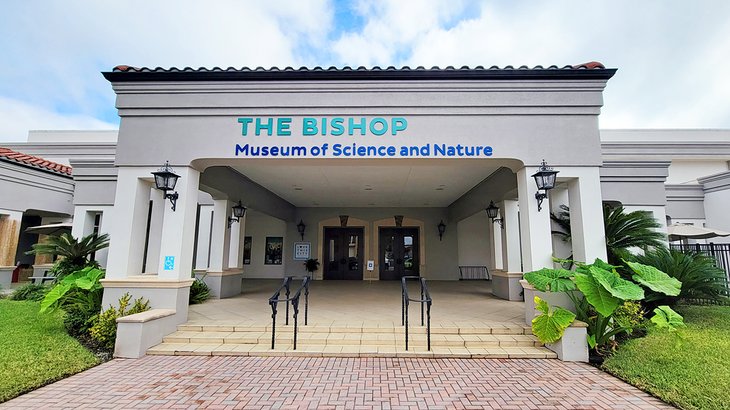 If you find yourself in Bradenton on a rainy day and need something indoors to entertain the kids, head to the Bishop Museum of Science and Nature. This first-class facility has a good assortment of educational displays that will leave you and your family smarter than when you arrived.
Highlights of a visit include a show at the recently upgraded planetarium to learn about the stars and planets above. Shows take place throughout the day, and admission is included with your main ticket to the museum.
Two other must-sees are the 60,000-gallon Parker Manatee Rehabilitation Habitat and the Mosaic Backyard Universe.
Address: 201 10th Street, W Bradenton, Florida
Official site: https://bishopscience.org/
3. Bradenton Riverwalk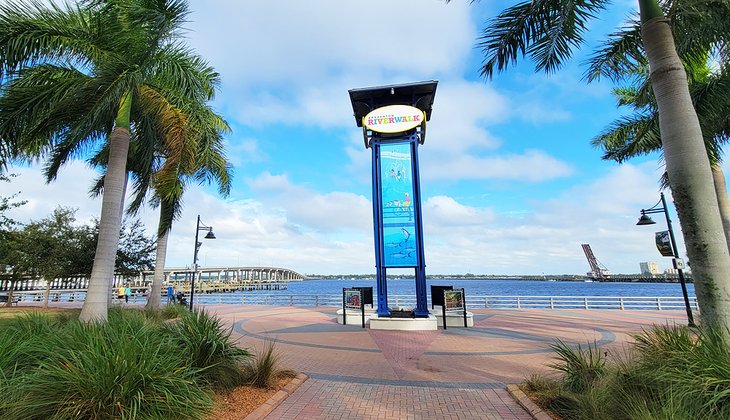 Bradenton has done a good job of ensuring its waterfront area is accessible to its citizens, and the Riverwalk is an excellent example of this. Running along the Manatee River for 1.5 miles, this multi-use trail is the perfect place to visit for a walk, jog, or bike ride.
Prefer something a bit more relaxed? Grab one of the many lounge chairs along the way and soak up the view. Or, bring your fishing rod and try your luck catching one of the many species of fish, including snook, redfish, and trout, lurking below the expansive fishing pier.
Although only 1.5 miles long, the Bradenton Riverwalk packs a lot into a small area. Other features found along the way include beach volleyball courts; a skateboard park; splash pad; and the Great Lawn, an ideal area for playing a pickup game of Frisbee or football.
A fun family activity on the Bradenton Riverwalk is the Tidal Discovery Zone. Here, you and your kids can learn about the various ecosystems dependent on the river for their survival.
4. De Soto National Memorial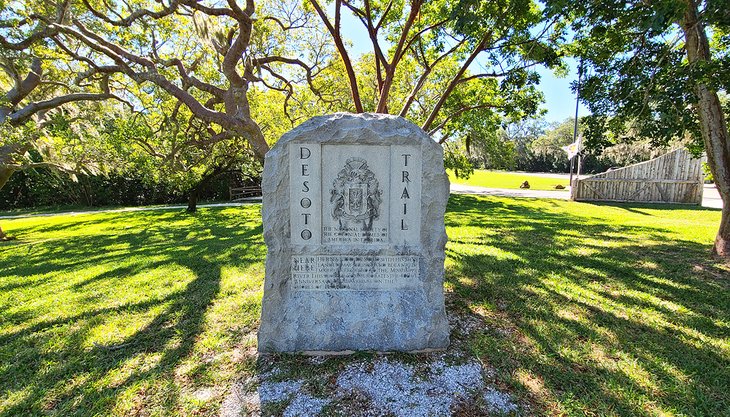 The De Soto National Memorial historical site is well worth a visit for its wealth of information on this Spanish explorer who in May 1539 spent time in and around Tampa Bay. Spend some time walking around the grounds and take in the recreated structures from Camp Uzita, the landing place of De Soto and his ships.
The interesting and informative De Soto Expedition Trail winds its way along the coast for three quarters of a mile through upland forests and mangroves out past De Soto Point. Along the way, you'll pass the remains of the Tabby House.
Scattered throughout the memorial are informational displays on De Soto and his travels, along with background on the original Indigenous inhabitants. Also on-site is a small museum showcasing interesting items found in and around the memorial area.
Address: 8300 De Soto Memorial Hwy, Bradenton , Florida
Official site: https://www.nps.gov/deso/index.htm
5. Palma Sola Botanical Park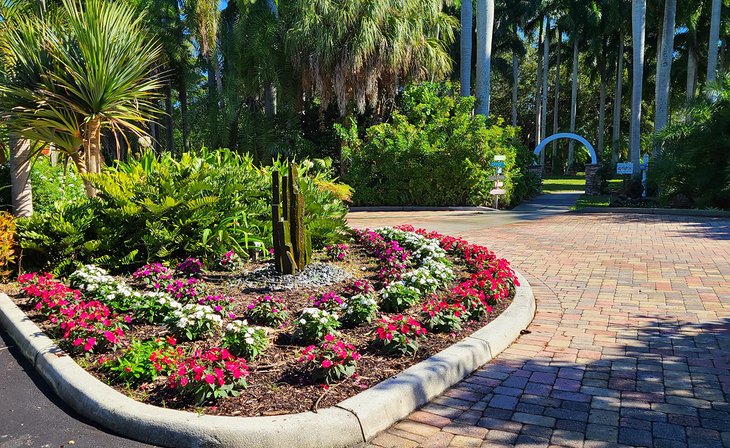 The delightful Palma Sola Botanical Park is a must-see for gardeners of all stripes but more specifically, those especially interested in rare palms and flowering trees. Once home to a nursery, the 10-acre site was saved from development by concerned local citizens and turned into the oasis it is today.
Wander along the curving pathways under beautiful trees and past interesting water features keeping a close eye out to see if you can spot a hummingbird or two zipping about. Of special note is the grove of plumeria trees in the Lei Garden, some of which are from far-flung destinations around the world.
Another worthwhile area to wander is the exotic fruit tree section planted by the volunteers at the Manatee Rare Fruit Council. For more information on each tree, look down near the ground for a post for details on the tree. Admission is free.
Address: 9800 17th Ave NW, Bradenton, Florida
Official site: https://palmasolabp.org/
6. Anna Maria Island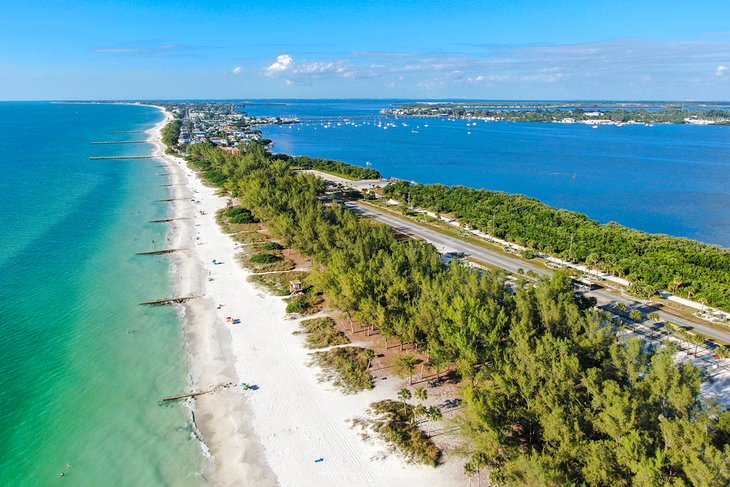 Bradenton is lucky to have just offshore one of the best beach destinations in Florida, Anna Maria Island. This barrier island is home to no less than seven spectacular beaches, and a relaxed vibe permeates the island. You won't find any tall condo towers here; it's all low-rise places, restored cottages, and private homes.
Easily reached from Bradenton, Anna Maria Island is a popular day-trip destination from Bradenton and other surrounding cities.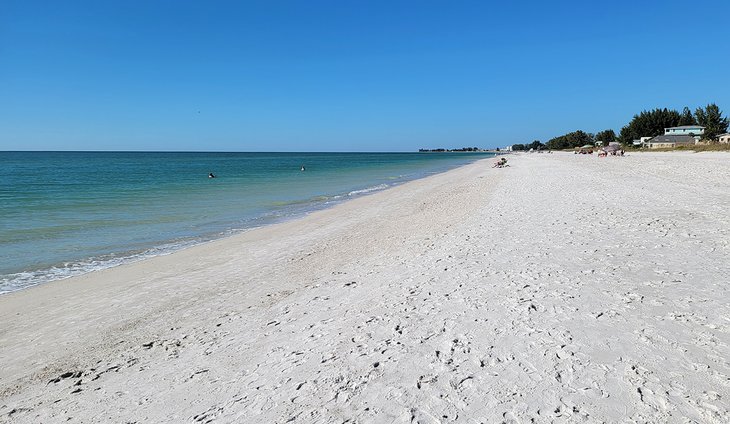 The biggest problem you'll have when visiting is what beach you want to visit. Cocina Beach is spectacular, with a long stretch of sand backed by towering Australian pine trees. Manatee Public Beach is the place if you want to get active; no less than five sand volleyball courts await you.
Perhaps solitude is more your thing? In that case, head to Bean Point and soak up the huge views out across the Gulf of Mexico with shorebirds as your only friends.
Accommodation: Top-Rated Resorts on Anna Maria Island, FL
7. Bradenton Beach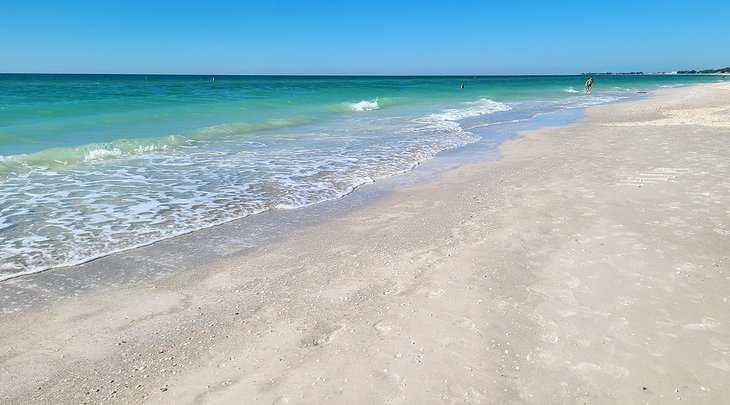 Long a destination for the weekend beach crowd, Bradenton Beach is a fun small town with a funky vibe.
Activities here include spending some time at the beach at the end of Bridge Street, soaking up the amazing views out over the Gulf of Mexico. The water is shallow and warm, and the sand soft and white. If you're a surfer, the break near the concrete piers to the south is a local hot spot.
After, or during, your beach time, wander up to the main hub of activity along Bridge Street. This is where a wide variety of restaurants, shops, and other retail outlets line the sidewalks. Grab an ice cream or burger, or stop in at the candy store for a sweet treat.
Later on in the day, perhaps you might find yourself strolling over to one of the beachfront restaurants nearby to grab a late afternoon snack or dinner followed up by a sunset watching session.
8. Red Barn Flea Market
Hunting for that one unique thing you can't seem to find anywhere else? Well, you'll probably be able to find it, and a whole lot more, at the Red Barn Flea Market. A Bradenton institution, this giant flea market has been in operation by the same family for over 40 years.
Plan to spend a morning or afternoon here perusing the unique offerings from 600 booths, and if you run out of energy or need a recharge, grab a bite to eat or a coffee at any one of the food-court-style restaurants.
In addition to general merchandise, the Red Barn Flea Market also has a section for fresh fruit and vegetables, perfect for your beach cookout.
Although the market is open weekdays, generally Wednesday in the winter months, you'll find more of the booths open and a better vibe on Fridays, Saturdays, and Sundays. The market is free as is the parking.
Address: 1707 1st Street, Bradenton, Florida
Official site: https://www.redbarnfleamarket.com/
9. Ringling Museum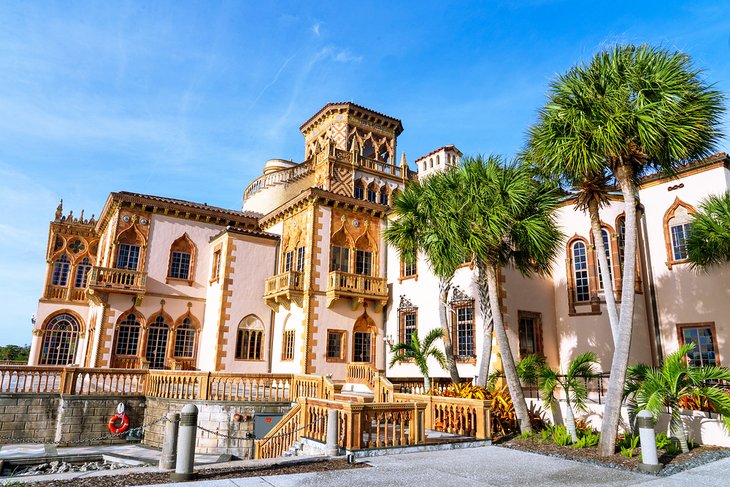 If going to the circus was fun when you were a child, heading to the Ringling Museum as an adult will keep those memories alive. The Ringling Estate, home to John and Mable Ringling, has been transformed from their Florida retreat to now contain two museums and their home, named Ca' d'Zan.
The Circus Museum is spread out over two buildings with all manner of memorabilia, working circus equipment, and a very impressive scale model of a circus.
The other museum is the Museum of Art, and a visit here is a bit of a mind-bending experience after visiting the Circus Museum. It's stuffed full of 16th-century religious art by ancient masters. Most people tour the galleries relatively quickly.
Be sure to walk around the Ringling's home, Ca' d'Zan. This replica canal-side home from the waterways of Venice, Italy, is set beautifully on the waterfront. It is clad in unique and colorful glazed tiles that are a sight to behold.
The Ringling Museum is on the way to Sarasota; count on a 20-minute drive south on US 41.
Address: 5401 Bay Shore Road, Sarasota, Florida
Official site: https://www.ringling.org/
10. Gamble Plantation Historic State Park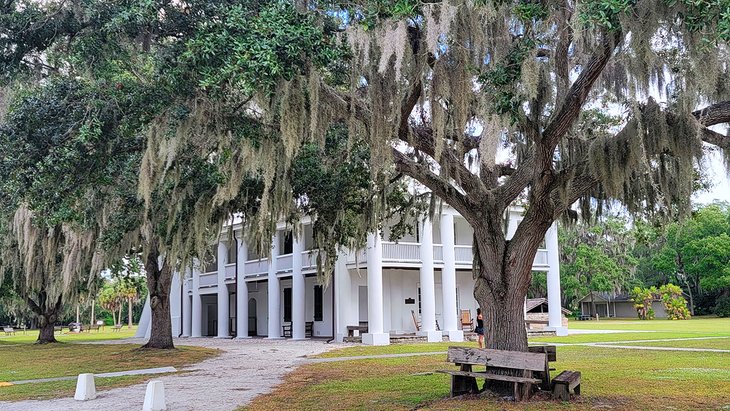 Step back in time at the Gamble Plantation, where you'll be able to explore the grounds and home of Major Robert Gamble. This rare South Florida Antebellum mansion dates from 1856 and has been brought back to life by the concerted efforts of the United Daughters of the Confederacy and the State of Florida.
Inside the mansion are period pieces, and the interior appears much as it did in the mid-19th century. Outside the home are 18 acres of expansive grounds, with historical implements used in the harvesting of sugar cane. Guided sightseeing tours are available several times a day and on demand if it's quiet.
The park is also home to the Judah P. Benjamin Confederate Memorial. Details of his time sheltering from the authorities at the mansion are explained here.
A note about getting here: Although the official address is off Patten Avenue, this entrance is closed. Do not use your GPS to get here, as it will take you to the Patten Avenue entrance. To access the park, follow the signs on US 301 and enter off this roadway.
Address: 3708 Patten Avenue, Ellenton, Florida
11. Florida Railroad Museum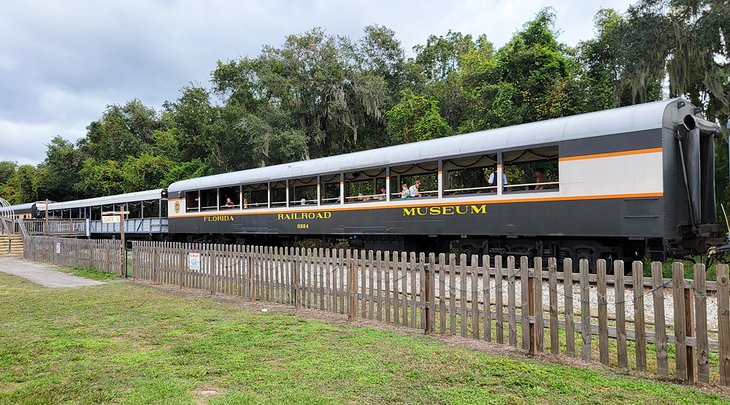 All aboard for an adventure at the Florida Railroad Museum! Every weekend, the Florida Railroad Museum comes alive with the sounds of trains and shrieks of glee from children. Train rides take place twice daily and make the 13-mile, 1.5 hour journey from Parrish to Willow.
You'll be treated to a ride in a restored coach, many of which are upwards of 50 years old. In fact one coach, since converted for passenger use, was once used by the Barnum & Bailey Circus to transport elephants.
At the depots in Parrish and Willow, you'll be able to see and tour other rolling stock, including locomotives, coaches, and cabooses, some in use, some not.
Address: 12210 83rd Street E, Parrish, Florida
Official site: https://www.frrm.org/
12. Neal Preserve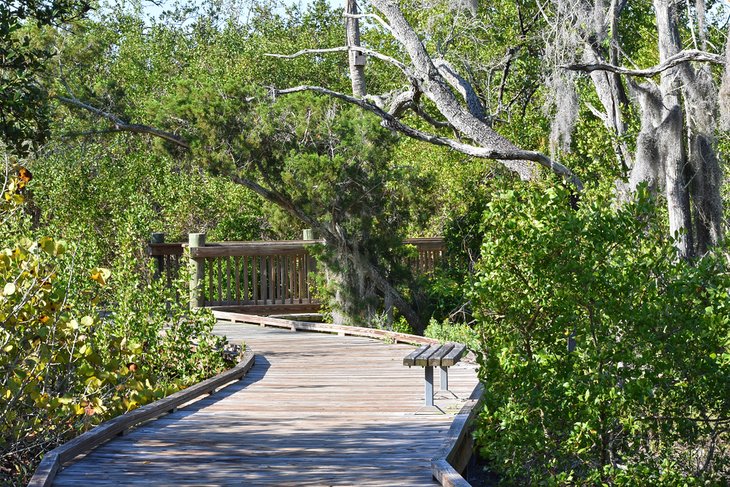 Bradenton residents and visitors are lucky to have access to a wide variety of natural areas, and the Neal Preserve is an excellent example. Spread out over 120 acres, the preserve is home to a wide variety of plants and animals in their natural environment.
Free to enter, the Neal Preserve is a pleasant place for a stroll along its short third-of-a-mile trail, leading to a 20-foot-high observation tower. Make the trek up to the viewing platform, and bring your binoculars. Interesting wildlife is often spotted here, especially in the morning.
Along the walkway are recreated burial mounds from the local Indigenous population, who lived here during the period of 3000 BCE to 1400 CE.
Owing to the sensitive nature of the area, dogs are not permitted.
Address: 12301 Manatee Ave W Bradenton, Florida
Map of Things to Do in Bradenton, FL
Bradenton, FL - Climate Chart
Average minimum and maximum temperatures for Bradenton, FL in °C
J
F
M
A
M
J
J
A
S
O
N
D

22

11

23

12

25

14

28

16

31

18

32

22

33

23

33

23

32

22

29

18

27

15

23

12

PlanetWare.com
Average monthly precipitation totals for Bradenton, FL in mm.

75

68

85

47

72

188

221

240

184

73

60

62