7 Best Beaches near Dunedin, FL
Dunedin has long been a popular destination, not only for snowbirds fleeing northern winters but also for casual visitors looking for an affordable place to stay in southern Florida. With two incredible beaches mere minutes away, and others within a short drive, it's a perfect place to visit if you don't need to stay right on the beach.
This small city, with a year-round population of 38,000, really comes alive during the late October through April timeframe, with fun things to do, including markets, food festivals, and the annual St. Patrick's Day party.
Plan your sunny vacation with our list of the best beaches near Dunedin.
1. Honeymoon Island State Park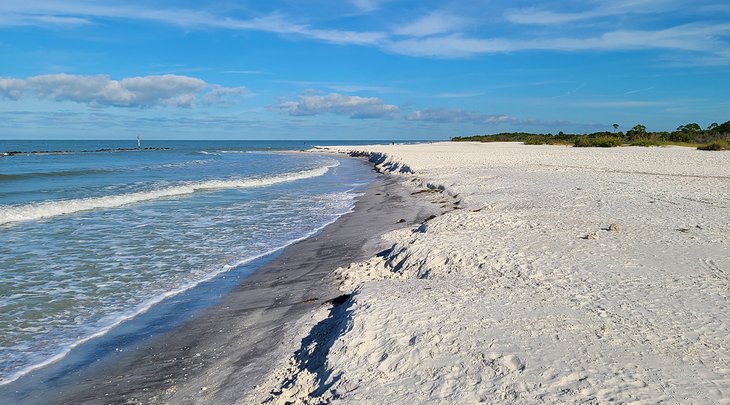 Miles and miles of wonderful beaches are what you'll find when you visit Honeymoon Island State Park. Once slated to become a development, much like Marco Island, chockablock with thousands of homes for over 15,000 residents, it was saved from this fate by the concerted efforts of locals. This effort in the late 1960s ensured that future generations are able to enjoy this beach oasis so close to Dunedin.
Honeymoon Island State Park has three main beach areas: Main Beach, North Beach, and Dog Beach. At one time, Main Beach was the place to go, with its concession stand, boardwalks over the sand, and a huge parking lot. Sadly, due to coastal erosion, this beach is no longer suitable for swimming due to its rocky shoreline.
However, North Beach remains intact and may have even benefited from the demise of Main Beach. Here, you'll find an amazing stretch of sand extending northwards to the tip of the island, at which point it transforms into a sandspit. The beach, for the most part, is wide and backed by small scrub brush. Chances are that if you walk just a short distance northwards, you'll have the place all to yourself.
The sand is soft and golden, just perfect for setting up an umbrella and chair. If you get hot, take a dip in the crystal-clear water, which remains relatively shallow for quite a distance out. Honeymoon Island is also a decent place to surf. Although the locals would prefer to keep it quiet, the best break is near bathhouse number three.
Unlike many other Florida Gulf beaches where parking can be a real problem, at Honeymoon Island, you'll likely have no trouble finding a spot. Huge parking lots are just steps from the sand, making it easy to haul all your gear to the water's edge. The parking areas are also where you'll find showers and restrooms.
One thing to note is that picnic tables and shelters, along with barbecues, are not by the beach, they are near the Nature Center on the far side of the island and by the playground. Depending on how busy the park is, you might find a beach volleyball game going on at the courts near North Beach.
Honeymoon Island has one of the best dog beaches in South Florida. The only other one that comes close is on Lover's Key near Fort Myers. Located at the south end of Main Beach, the beach has lots of room to roam, frolic, and splash. The beach is especially good at low tide, when the shallow water recedes and the beach grows in size.
The park has thoughtfully installed a doggie shower near the entrance by the parking lot. Although you may get most of the sand off, you'll still be challenged to get Rover into the car before he or she rolls in something to dry off!
2. Caladesi State Park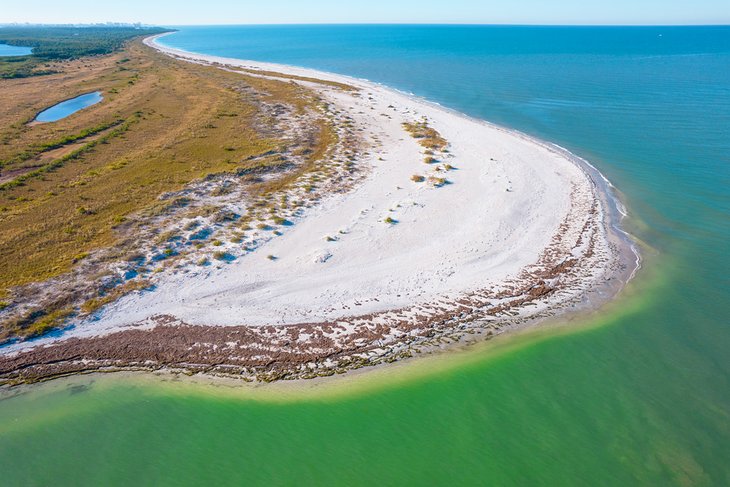 Very few cities in the world can lay claim to having a deserted tropical island just offshore from their downtown area. Fortunately Dunedin is one of them. Caladesi State Park lies only a few miles from the city and is a wonderful escape from the hustle and bustle of everyday life. It's an ideal place to visit for a family day trip. Pack up the cooler, grab some beach chairs, an umbrella, towels, and a sense of adventure, and you are guaranteed a good time.
Caladesi Island was formed when a destructive hurricane in 1921 sliced the former Hog Island in half, creating Hurricane Pass. Nature's fury was to humans' benefit, as Caladesi was created and has been preserved in its original state.
As the island is accessible only by water or a long walk from Clearwater, Caladesi looks much the same as it did prior to 1921. Long, curving beaches backed by small slash pine trees and scrub have shallow water extending into the Gulf of Mexico. The water gets warm here, making the beaches ideal for swimming and splashing about for beachgoers of all ages.
Beach walkers are in their element here, as you can walk for miles along quiet shorelines that extend out to a remote sandspit end. Not only are the beaches loved by beach walkers for their beauty, but also for the fantastic shelling on offer. Fewer visitors mean better finds.
Bring all your gear as mentioned above, or rent from the concession stand. You'll also be able to grab a bite to eat at the small restaurant on the island if hauling a cooler isn't in your plans or abilities.
Getting to the island is easy. If you have your own boat, a large marina with docks offers moorage. Alternatively, you can take the daily ferry that leaves from Honeymoon Island State Park. You can also walk from Clearwater, but it's not recommended.
3. Clearwater Beach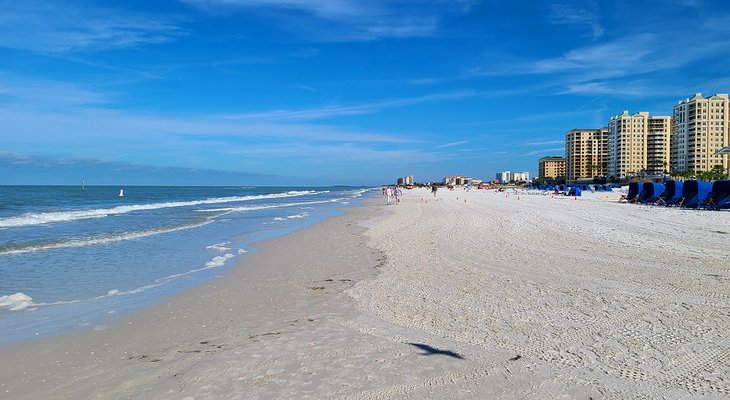 One of the best beaches in Florida lies about 15 minutes south of Dunedin in Clearwater. Frequently mentioned on lists of top Florida beaches, this incredible stretch of sand has been drawing sunseekers for generations.
Here, the beach is exceptionally wide for its three-mile length, giving you lots of room to plunk down your gear on your perfect patch of sand. If you don't have or want to carry your gear, an extensive selection of loungers with sunshades can be rented.
Backed by huge resorts, Clearwater Beach is a lively place, with lots of people having a good time day and night. During the day, beach walking is a fun pastime, with a seemingly never-ending parade of people walking up and down the shoreline enjoying more than just the beautiful natural scenery. In the evening, the streets come alive with people strolling the sidewalks heading out to any one of the many restaurants available.
The water is shallow and warm with attentive lifeguards keeping an eye on all the action. If you've had enough sun and sand and need a break, take a stroll out onto the Clearwater Pier, also a perfect place to catch the sunset.
Parking for the beaches can be a bit tricky and expensive. Plan to go early if you want to secure a good spot.
4. Sand Key Park Beach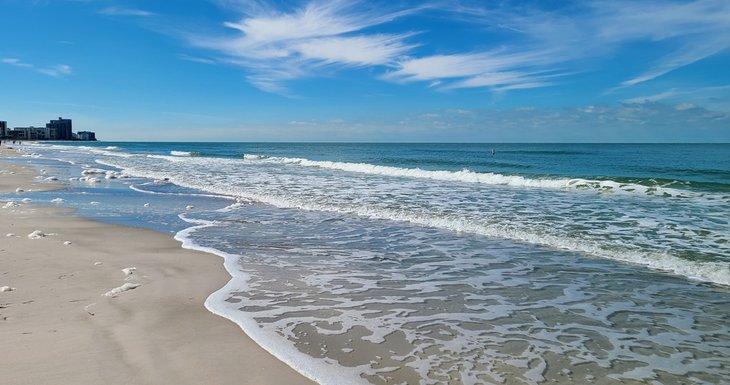 For a wonderful beach without the crowds and expense, head over the bridge at the south end of Clearwater to Sand Key Park. This low-key beach is where the locals go and is the best bargain around. Just because it's affordable doesn't mean it isn't good; in fact, it's great. You'll find a wide-open beach that leaves the park and extends south nearly 15 miles to Johns Pass. Beach walkers will run out of energy before they ever run out of beach.
The beach is lifeguard-patrolled, and although the sand back from the beach can be a bit gritty, the sand near the shoreline is soft and golden. It's a casual scene here, with beachgoers generally spread out over the vast beach area, most with their own umbrellas, chairs, and cooler. However, if you are visiting for a short period of time and don't have chairs or loungers of your own, rentals are available.
Parking at Sand Key is cheap, easy, and plentiful at $5 a day, unlike Clearwater Beach, where a day of parking can run you close to $30. As you lay out your towel, look south to the resort towers and think about all the money you've saved. The people laying nearby will have paid several hundred dollars to access the same patch of sand.
Off the beach are two bathhouses, restrooms, showers, picnic shelters, and barbecues. Farther back is a dog park, and several nature trails through unique and rare habitats. A concession stand sells snacks and drinks and can coordinate gear rentals.
5. Howard Park Beach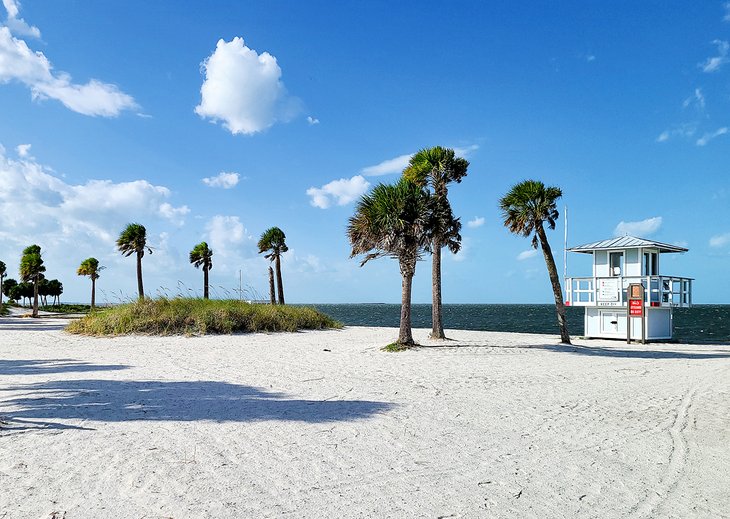 The city of Tarpon Springs, just north of Dunedin, has several good beach options, one of which is Howard Park Beach. Here, you'll find four beaches, one of which fronts the Gulf of Mexico. All are backed by palm trees.
With four beaches to choose from, you may be at a loss to pick the right one. If the winds are calm, pick the main beach. It's the nicest of the group, with the most sand and space, bathhouses, and lifeguards. If the winds are up from the west, consider the beaches on the eastern or southern side. Here, you'll be protected from the sea breezes. No matter what beach you end up on, you'll find white sands, perfect for lazing about or for playing a game of Frisbee.
Howard Park Beach has extensive parking, and the lots are located right at the edge of the beach, making hauling all your gear to the sand easy and quick. The parking is also an excellent deal: only $5 for the entire day.
Kayak and canoe rentals are available near the launch located to your right when you first exit the causeway to the beach area. If you are a kiteboarder, Howard Park Beach is a decent north county location, but most people prefer Sunset Park just across the water to the south.
Read More: Top Things to Do in Tarpon Springs
6. Sunset Beach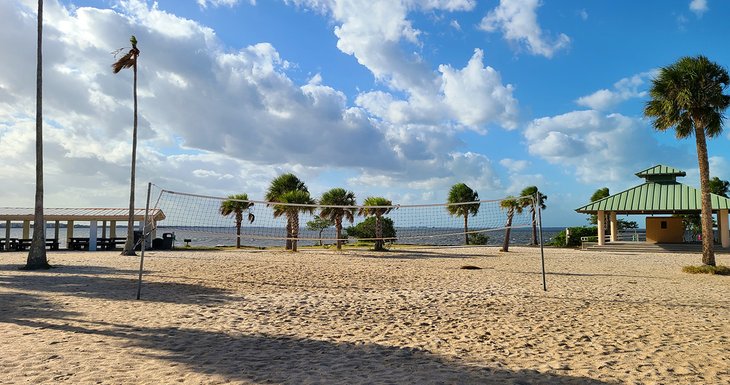 As the name implies, Sunset Beach is an ideal place to watch the glowing orb of the sun sink into the Gulf of Mexico. However, it's also a great place to sample some great sun and sand while visiting Dunedin.
The beach stretches almost the entire way around the island, allowing you to pick your favorite spot depending on the wind, tides, or sun location. The beach has golden sands and palm trees in behind.
You'll find a bathhouse, restrooms, and showers. Lifeguards are on duty most of the time. Ample parking is a bargain at $5 a day.
If the winds are up, you may see kiteboarders zipping across the water on the north side heading across the open water towards Howard Beach.
7. Anclote River Park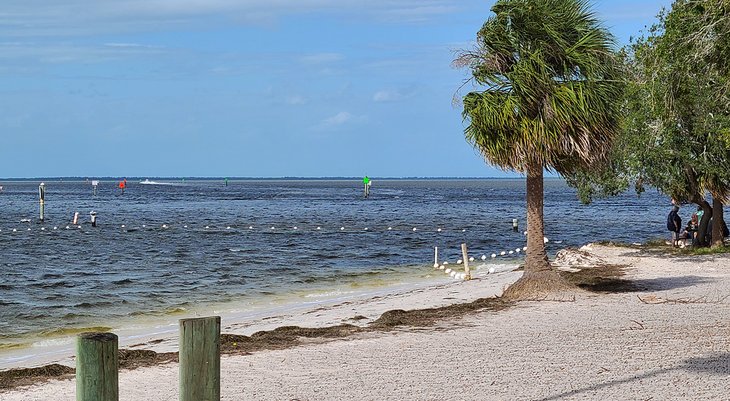 An undiscovered gem of a beach is located in Tarpon Springs' Anclote River Park. This small beach faces out onto the Anclote River and is uncrowded, well set up and perfect for a quiet day at the beach. Although you don't have big Gulf of Mexico views here, what you do have is exceptionally warm and calm water.
If you love beach picnics, this is the place to come. Just a few steps off the sand is a wonderful picnic pavilion complete with tables and BBQ grills. The 300 feet of swimming area is lined with buoys marking the main area. Note that no lifeguards are present.
Map of Beaches near Dunedin, FL
Dunedin, FL - Climate Chart
Average minimum and maximum temperatures for Dunedin, FL in °C
J
F
M
A
M
J
J
A
S
O
N
D

22

10

23

11

25

13

27

16

31

19

32

22

33

23

33

23

32

22

29

18

26

14

23

11

PlanetWare.com
Average monthly precipitation totals for Dunedin, FL in mm.

81

80

98

50

77

147

180

215

184

85

60

76