21 Top-Rated Things to Do in Tampa, FL
We may earn a commission from affiliate links ()
Tampa, once known for theme parks and zoos, is now evolving to a place where old is new. Historical buildings have been brought back to life and now house trendy restaurants, shops, and attractions. With all this urban renewal, the innovators have followed, and the city has one of the best foodie scenes in Florida.
Tampa has some fun things to do, particularly for families. At Busch Gardens, families get the thrill of an amusement park and zoo all in one place. You'll also find several other popular places to visit in the area dedicated to animals and wildlife, including a zoo, aquarium, and a public manatee viewing area. With all this, plus an excellent science museum and children's museum, Tampa is an ideal place for vacationing families.
Downtown Tampa is an area of high-rise office blocks, but the city also has historic old quarters, such as Ybor City and Old Hyde Park. Franklin Street is the pedestrian center of downtown Tampa, where you will find plenty of shopping, restaurants, and things to do.
See also: Where to Stay in Tampa
1. Busch Gardens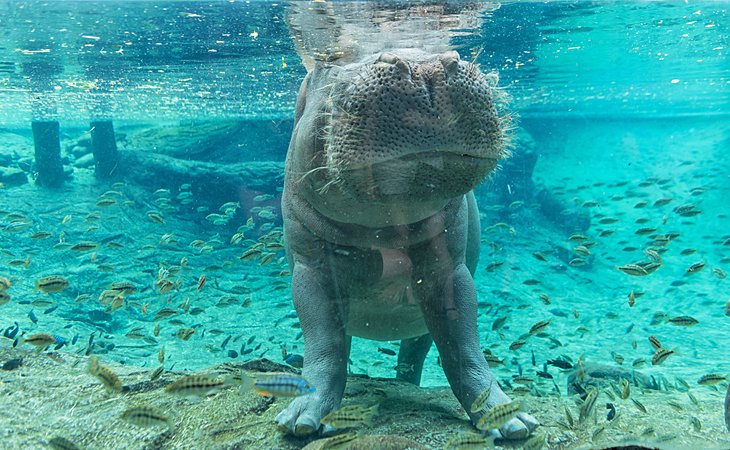 Busch Gardens is a 335-acre, African-themed family entertainment and adventure park featuring thrill rides, live music, performances, and a multitude of exotic animals in natural habitat settings.
You can take a safari to see animals grazing on the plains with reproductions of African villages and camps, and the Serengeti Night Safari is one of the most popular options. Several special animal encounters are available, including the opportunity to hand-feed kangaroos and giraffes; watch as park staff members tend to their patients at the Animal Care Center; and get up close to some of the favorite residents, including sloths and flamingos.
2. Florida Aquarium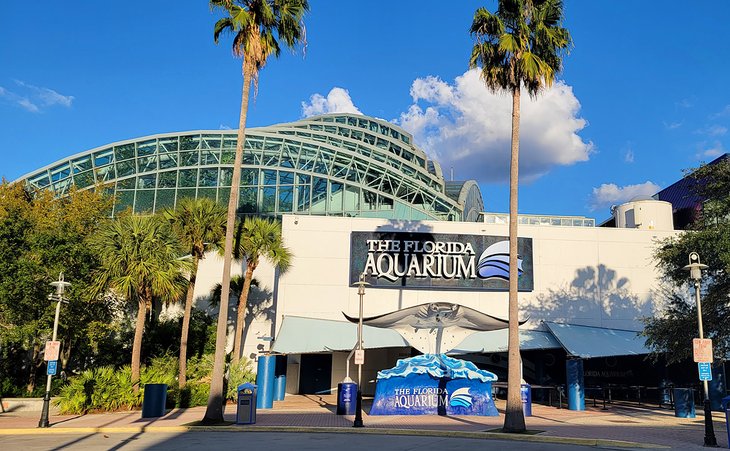 Tampa's Florida Aquarium has an exciting variety of animal habitats, exhibits, and activities to educate and entertain all ages. The habitats are arranged to accurately represent a watershed area similar to the Tampa area so that visitors can see the wide variety of fish and ocean life.
You'll have the chance to get hands-on with invertebrates like starfish and anemones and even visit some land-dwelling residents like the lemurs.
Florida Aquarium admission allows you to skip any lines, and includes the outdoor Splash Pad, where kids can cool off. Also included are shows at the 4-D theater, where sensory elements are added to a 3-D film for a completely immersive experience.
3. ZooTampa at Lowry Park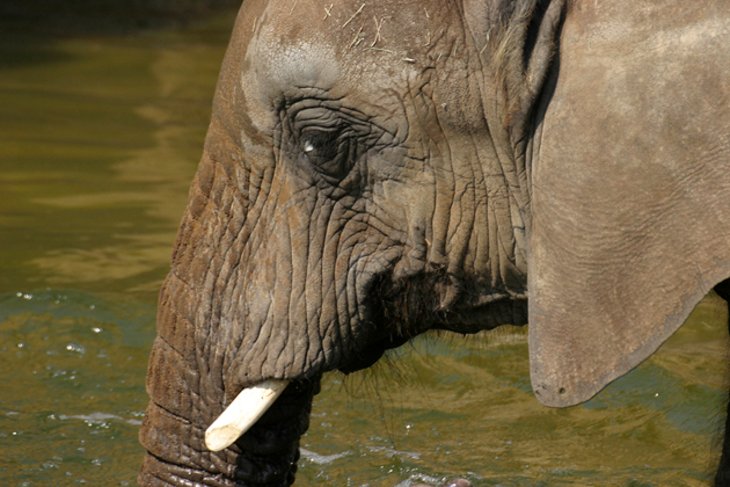 The facility formerly known as the Tampa Zoo at Lowry Park has been renamed, ever so slightly, to the ZooTampa at Lowry Park. Here, you'll find more than 2,000 animals in natural habitats, including animals from Africa, Asia, and Australia, as well as native Florida habitats, a primate area, and an aviary.
Also on-site is a large aquarium and three pools that are used to treat local manatees who are injured or ill. Get up close to some of the zoo's residents, including "backstage" opportunities with penguins and tortoises, as well as the chance to feed an Indian rhino.
Popular residents at the zoo include the African elephants, African penguins, Florida panthers, and the Bornean Orangutan. The park has some rides as well, including a safari ride through the African habitat, a mini-train ride, and a family-friendly roller coaster.
4. Ybor City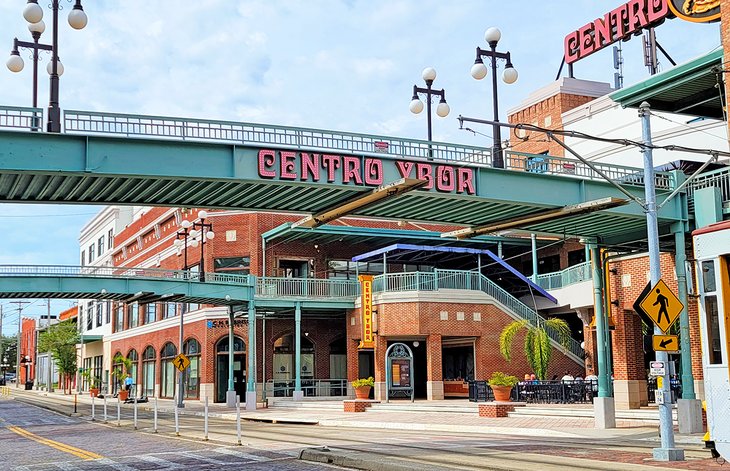 The center of Tampa's Latino community, Ybor City is a National Historic Landmark District. It is named for its founder, cigar baron Vicente Martinez Ybor. He came to the region in the mid 1880s, after workers at his Key West plant threatened to unionize.
At one point, the Ybor cigar factory was the largest in the world with over 4,000 people hand-rolling more than 900,000 cigars a month. However, the Great Depression and machine rollers brought an end to the boom, and most factories were closed and demolished.
In more recent years, the area has experienced a revival and is home to many shops, galleries, restaurants, and cafes. Seventh Avenue in Ybor City, known in Spanish as "La Septima," features some of the district's most historical buildings, several of which are listed on the National Register of Historic Places.
5. Tampa Riverwalk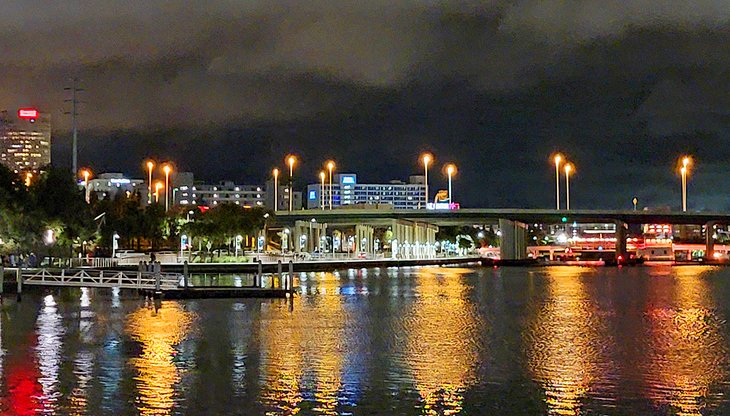 If you are staying downtown and are looking for a pleasant place to stretch your legs, head over to the Tampa Riverwalk. This 2.4-mile walkway winds its way along the waterfront, providing fantastic views out over the Hillsborough River. The Riverwalk starts at Sparkman Wharf and ends at the Armature Works – or the reverse, it just depends on where you start or finish.
The Riverwalk has a wonderful collection of public art along its length, ranging from murals to sculptures. Key Tampa attractions are also located on the walk, including the Florida Aquarium and the Tampa Museum of Art among others. For the kids, four playgrounds are available, two of which have splash pads.
6. Museum of Science and Industry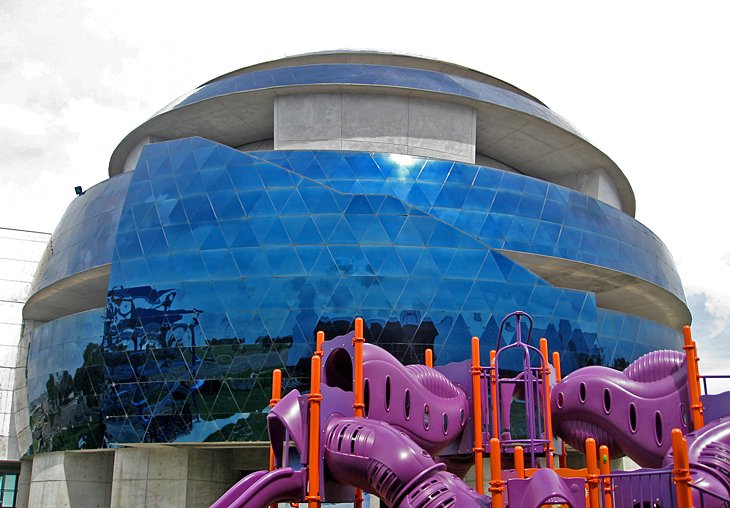 The Museum of Science and Industry invites visitors to explore, learn, imagine, and immerse themselves in every aspect of science and technology. Starting with the basics of physics, math, and other scientific principles, exhibits expand into various subject areas.
Kids will love playing a giant game of "operation" as they learn about how the human body works and how technology helps people live longer, better lives. The Idea Zone has hands-on projects, and the Connectus exhibit gives visitors the chance to use cutting-edge technology before it is revealed to the general public.
7. Dining in Tampa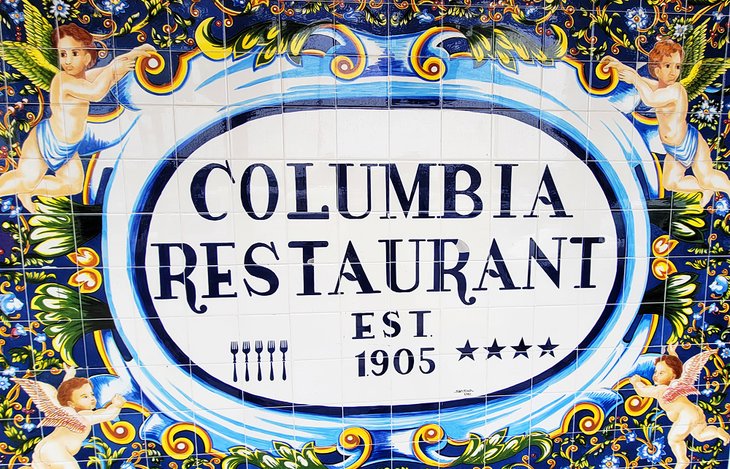 Dining in Tampa is a different experience than dining in other parts of Florida, and it's worth spending the time to find a few interesting places. The city is a cultural melting pot, and this is reflected in the cuisine. Spanish, Cuban, Italian, and other cultural influences, brought to Tampa through the immigrants that shaped the city's history, have created a dining experience that you won't find in other parts of the state.
Head to Ybor City for a taste of Sicilian at Casa Santo Stephano, set in a recently renovated building with a comfortable atmosphere. Dine on the main floor or head upstairs for an indoor and outdoor experience, where you can enjoy the sunset from the patio.
Less than a block away, don't miss a chance to see the Columbia Restaurant, a cultural institution in Tampa since 1905. This restaurant is one city block but still offers a quaint dining atmosphere with intimate and uniquely designed rooms, which combined can seat up to 1,700 people. The historic building's tiled floors and walls, balconies, chandeliers, historic photos, and daily flamenco shows, create a one-of-a-kind atmosphere. Despite the name, the food here is a mix of Spanish and Cuban.
Also worth checking out in Ybor City is La Segunda Central Bakery, another longstanding establishment in Tampa, which supplies locals and many of the best restaurants with breads and baked goods.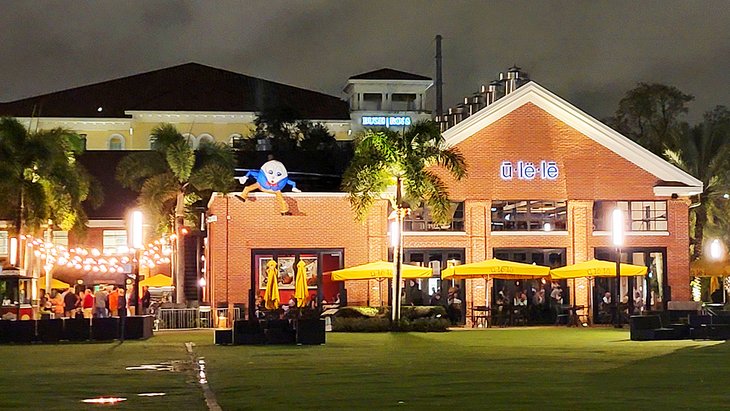 For fun and casual along with a great outdoor relaxed atmosphere, try the container restaurants at Sparkman Wharf for some takeout. You can find mouthwatering dishes, from hearty mains to gelato and ice cream. This area also has dine-in restaurants, and looks out over the water. Another area for great casual dining options is the Armature Works.
Located on the Tampa Riverwalk near Armature Works, Ulele Restaurant is another great find. Set in the old Tampa Water Works building, the open and airy interior has a fantastic vibe and tasty offerings.
For more ideas and a full range of dining experiences and fun, head to Armenia Avenue and Water Street in Tampa.
8. Sparkman Wharf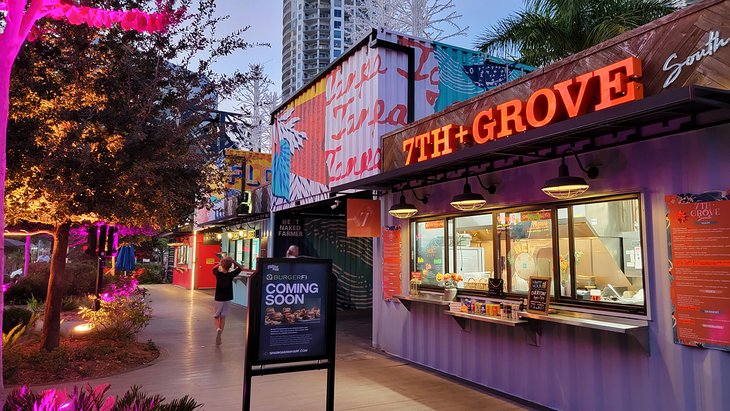 Sparkman Wharf is a wonderful waterfront gathering spot near the Tampa Aquarium. You'll find some of Tampa's most up-and-coming restaurants operating out of containers. Stroll by the containers and find what you want to eat, and then take your meal to the central courtyard and enjoy. One of the most innovative (and tasty) places is the Naked Farmer. Be sure to try one of the bowls of fine, locally sourced, fare.
Depending on the day of the week, you may find a yoga class going on, a movie being shown, or live music being performed on the main stage. This is an outdoor space that locals use like a backyard, bringing their pets and enjoying a picnic while soaking up the atmosphere.
9. Armature Works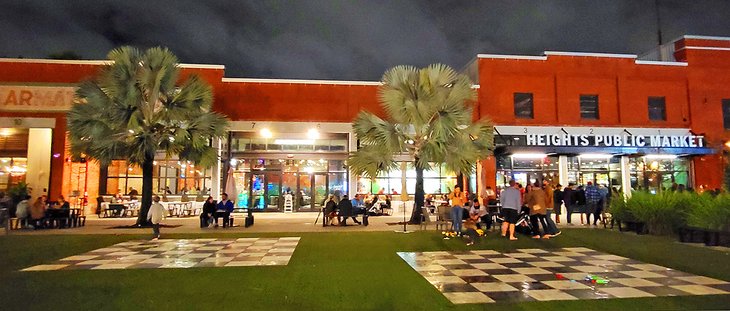 The delightful Armature Works area is a must-see when visiting Tampa. Housed in a wonderfully restored tram car warehouse here, you'll find restaurants and a variety of eclectic shops. This is much more than a run-of-the-mill food court; the dining options here are home-grown, varied, and innovative. In fact, the Armature Works bills itself as a "neighborhood food hub."
Step inside and gaze around this former industrial building, and it's hard to believe that it's been transformed into the hip and happening place it is today. Wander past the various offerings, find something you like, and grab a table inside or, if you prefer, set up outside and soak up the wonderful views of the Hillsborough River.
10. Enjoy Gasparilla Season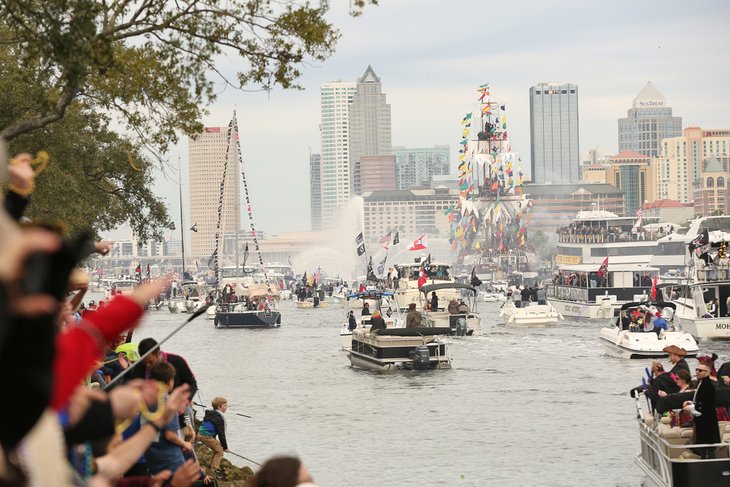 Tampa Bay, and Florida in general, has long had an association with pirates. In Tampa, they celebrate this history for two months every year. In February and March, the city comes alive with parades, music festivals, a film festival, a marathon, and a festival of the arts.
Two of the major highlights are the Gasparilla Pirate Festival and the Sant'Yago Knight Parade. During the Gasparilla Pirate Festival, a parade of boats make their way through the waterways of Tampa eventually coming ashore with their "Krewe" looking to take over the city. This parade is typically witnessed by over 300,000 people. The Sant'Yago is a night parade through the streets of Ybor city, where parade floats toss out treats and beads.
11. J.C. Newman Cigar Co. Museum & Factory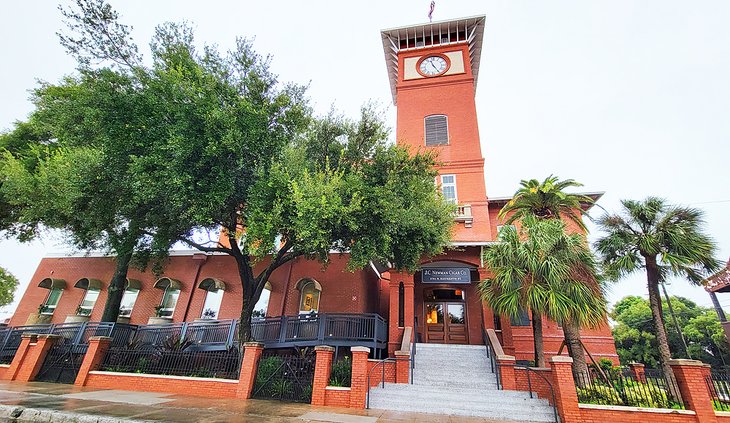 The J.C. Newman Cigar Co. Museum & Factory is one of the most fascinating attractions in Ybor City. Housed in a beautifully restored factory dating from 1910, this free attraction showcases the history of cigar production in the Tampa area.
Of the 150 former cigar factories operating in Tampa, this one, El Reloj, is the only one still operating. In its day, it was the largest cigar factory in the world.
12. Glazer Children's Museum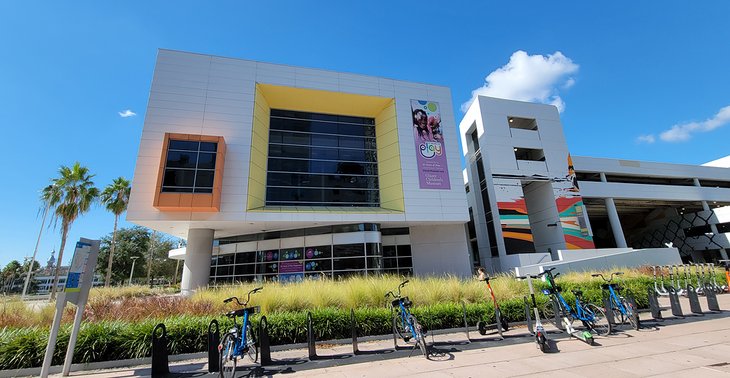 The Glazer Children's Museum focuses on giving kids a fully interactive experience so they can learn and explore through play, using their imaginations to bring the many kid-sized exhibits to life. Kids can learn about saving money and commerce at the bank, and slide down a fire pole on their way to save lives in the fire station.
13. Go Ziplining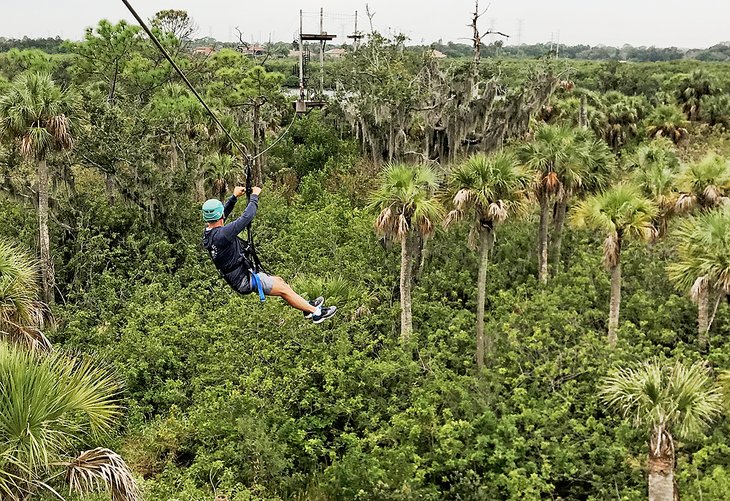 Always dreamed of going ziplining but haven't had the chance, or been too afraid to give it a try? Well, a solution to your problem is located in Tampa at Empower Adventures. These friendly, well-qualified folks will get you sorted out and racing across the treetops along 3,000 feet of ziplines in no time flat.
14. Tampa Electric Manatee Viewing Center at Apollo Beach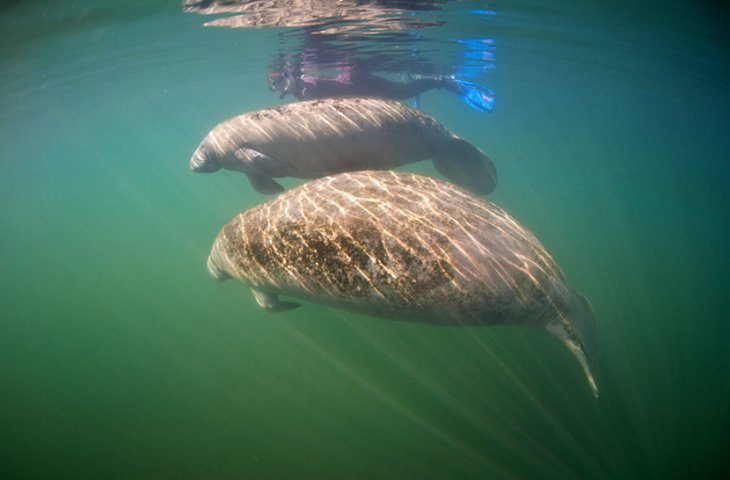 Although it may seem like an odd place, this manatee sanctuary is located across from a Tampa Electric power plant. The manatees are drawn here by the warm water produced by the power plant and can sometimes be seen in very large numbers. This is a wonderful family educational thing to do in Tampa, and it's free.
You'll have the best chance of seeing the manatees when the surrounding water temperatures are cold, dipping below 68 degrees Fahrenheit. At the facility, you will find a tidal walkway showcasing a variety of Florida plants and birds, butterfly gardens, as well as an observation platform for the manatees. Picnic tables are available if you want to pack a lunch.
15. Tampa Bay History Center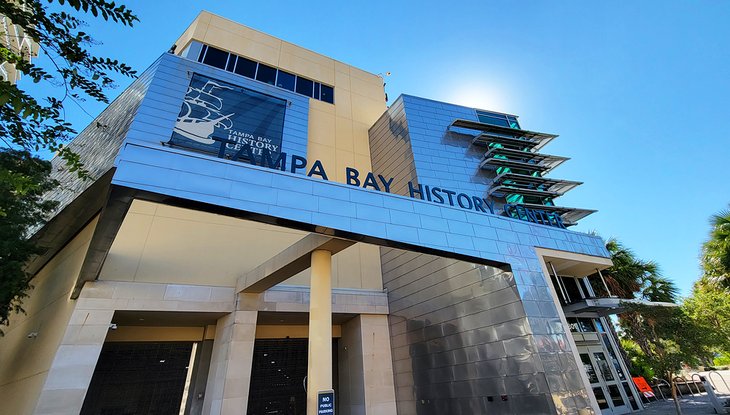 The exhibits at the Tampa Bay History Center trace the rich history of the Tampa Bay area going back 12,000 years. Early inhabitants of the region such as the Seminoles, the multicultural influences of the last five centuries, the railroad and shipping era, and regional geography are highlights of the Tampa Bay History Center.
One of the newest exhibits is the Treasure Seekers Gallery. Inside this multimedia display area, you'll find a re-created pirate ship and historical items from the 1600s, including cannons, navigation instruments, and pottery. One of the most interesting exhibits is a hologram of a pirate engaged in a sword fight.
If you want to experience one of Tampa's favorite restaurants without having to make the journey to Ybor City, swing by the Colombia café. Grab a seat in this small version of the sprawling restaurant, and enjoy some of the most famous dishes.
16. Henry B. Plant Museum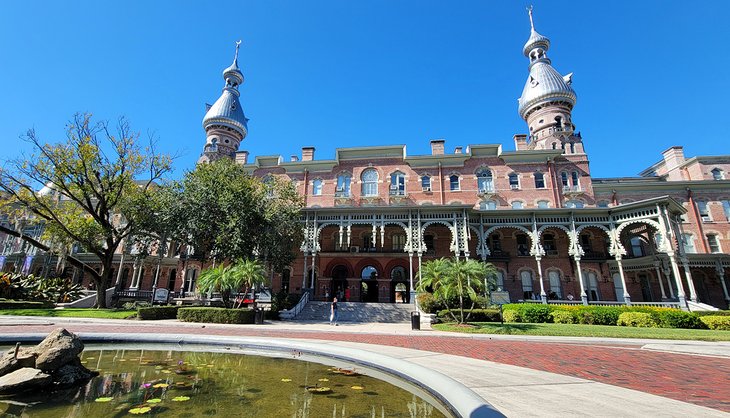 Part of the former Tampa Bay Hotel, once owned by railroad tycoon Henry Plant, was turned into a museum in 1933. It is a luxurious Victorian palace with distinctive Moorish features. The Henry B. Plant Museum traces the history of the hotel and Plant's contribution to the development of Tampa and Florida.
The various rooms, such as the Grand Hall, the Reading and Writing Room, and the Garden room feature fine period furnishings and offer a glimpse into the lifestyle of Henry B. Plant.
17. Take an Evening Dinner Cruise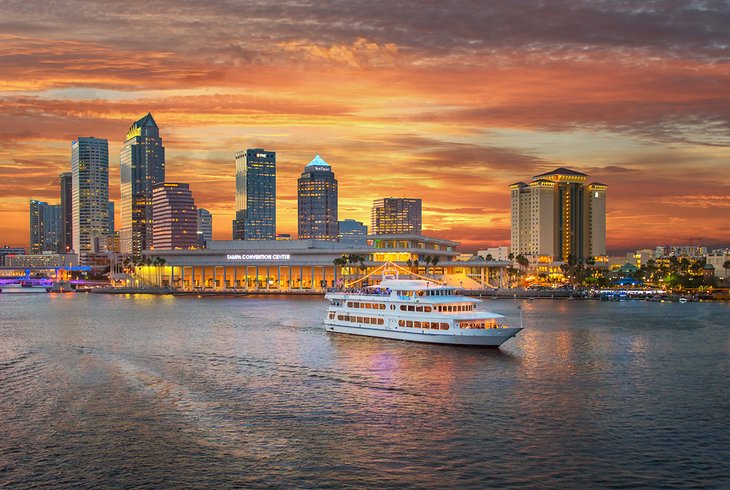 One of the best things to do in the evening in Tampa is to take a dinner sunset cruise on the Yacht StarShip. This large triple-decked ship sails out from its berth at Sparkman Wharf into Tampa Bay. Catch the sunset and watch the city lights come on as you enjoy a fine dinner.
18. Activities & Things to Do with a Group
If you're in the city with the family or a group of friends and wondering how to entertain everyone, you'll find several fun things to do with a group in Tampa.
A great afternoon or evening in Tampa can be had at Topgolf. Don't worry if you've never swung a club, it's more than just a place to hit a golf ball. Lounge around in comfortable chairs looking out over the driving range, and take turns up at the tee. Tap the machine, and out pops a golf ball. Try to hit it into one of the catch basins out in the field, all while your friends watch you either hit the ball cleanly or dribble it off the tee. If you really have trouble, just give up and settle in with a plate of nachos on the very comfortable couches.
If you are looking for something with a bit more of an adrenaline rush, head next door to iFLY Tampa. Here, you can experience the sensation of skydiving in the safety of a vertical wind tunnel. Step into the wind zone, and your personal instructor will make sure you fly straight and safe all while your friends and family can view the action through plate-glass windows.
19. Adventure Island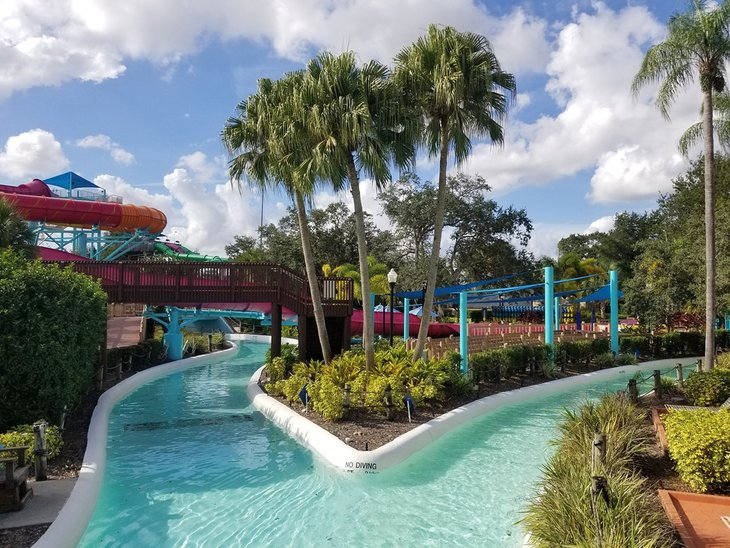 Florida can be hot most of the year and what better way to cool off as a family than hitting Tampa's most popular water park, Adventure Island. Here, you'll have your choice of nine major waterslides.
How brave are you? You may find out after reviewing the names of the waterslides: Vortex, Aruba Tuba, Caribbean Corkscrew, Colossal Curl, Vanish Point, Water Moccasin, Calypso Curl, and Riptide.
New in 2022 are the Rapids Racer and the Wahoo Remix. The brand-new Rapids Racer is a side-by-side dual raft run, where you can compete against your friends to see who can get to the bottom first. The Wahoo Remix is an audio assault on your senses. As you pass through the tunnels, you'll be treated to a synchronized light and sound show as you slide to the bottom 600 feet away.
20. Sunshine Skyway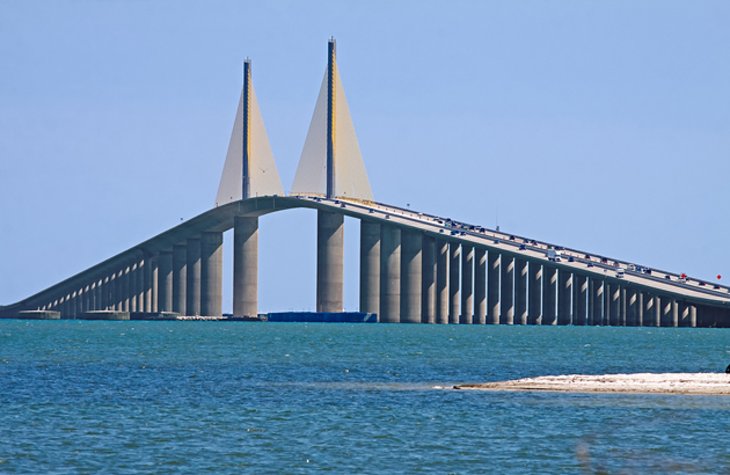 Sunshine Skyway is a toll bridge located on I 275/US 19. This multi-lane "highway on stilts" is 12 miles long and curves gracefully across the entrance to Tampa Bay. Its most impressive feature is a 4.25-mile-long, high-level bridge, the middle section of which is suspended from two gigantic pylons, allowing the passage of large ocean-going vessels beneath.
The previous bridge was rammed by a cargo ship in 1980 and partly collapsed, and parts of the old bridge now serve as piers for anglers.
As you drive over the new bridge, check out the beautiful views over the ocean. The bridge itself is also an impressive sight and often photographed by tourists. If the wind is up, keep an eye out for kiteboarders racing across the water beneath their colorful kites. The beaches to the east and west of the Skyway by the northern rest stop are hot spots for the local kiteboarding community.
21. Tampa Theatre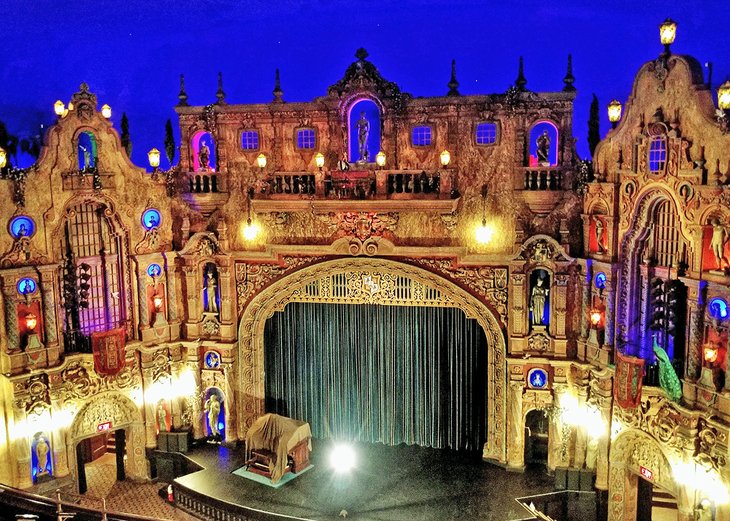 Built in 1926, the Tampa Theatre is a luxurious movie palace featuring a unique mix of architectural styles including Italian Renaissance, Byzantine and Greek Revival. It presents foreign and classic films regularly along with specialty concerts and other programs.
Where to Stay in Tampa for Sightseeing
There are several good areas to stay in Tampa, depending on your reason for visiting. Staying downtown is a good option for sightseeing and entertainment. You may want to stay closer to Busch Gardens if this is the primary reason for your visit or near the stadium if you are coming to see a football game. Below are some highly rated hotels in these prime areas.