16 Best Things to Do in Clearwater, FL
We may earn a commission from affiliate links ()
Clearwater is a top beach destination in Florida for vacationers and also a popular retirement community. People are drawn here by Clearwater Beach, a wide stretch of soft sand, connected to the city by a two-mile-long causeway. In addition to sun and sand, Clearwater has a wide variety of things to do, including museums, an aquarium, boat tours, and hiking or walking in one of the numerous parks and wildlife areas.
Most people think about Clearwater and instantly think of the beaches; however, that's selling this mid-size city short. Clearwater is also a hive of culture. A constant stream of musical performers, symphony performances, and Broadway shows in world-class venues keep visitors and locals entertained well into the evening. It's also just 22 miles west of Tampa, where you'll find even more places to visit if you're interested.
Plan your vacation or getaway with our list of things to in Clearwater.
1. Clearwater Beach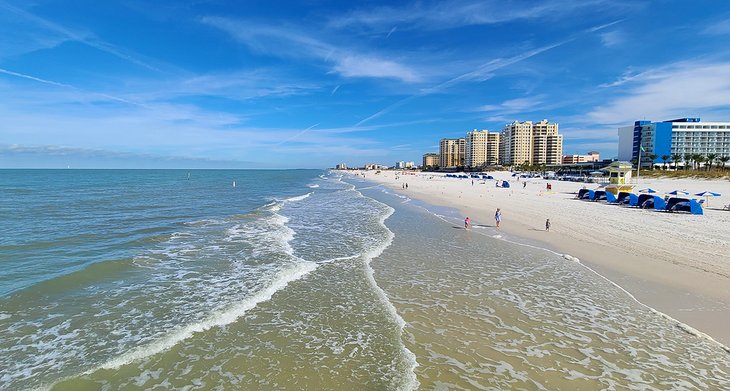 One of Florida's best beaches, Clearwater Beach extends for around three miles along the Gulf of Mexico. Soft, stunningly white sands lapped by clear, warm water draws legions of vacationers from the United States and around the world.
A wide variety of things to do for couples, families, and everyone else are on offer here. A number of Clearwater's top resorts look over this beautiful beach. For more information and to orient yourself, swing by the Clearwater Beach Visitor Information Center located just north of the pier.
The beach is wide, especially near the pier, so finding a patch of sand all your own is never a problem. Bring all your beach gear with you, or if you'd rather not bother, just rent a lounge chair and sunshade from one of the many vendors.
Beach walking is a popular pastime here. Join the procession along the water's edge observing the scenery both natural and manmade. At the back of the beach runs a half-mile-long paved walkway that's suitable for walking, running, or cycling. Along this stretch, you'll also find most of the restaurants, some located on rooftops, and shops selling anything you'd need for the beach.
The only issue you may face during your trip to the beach is finding parking. It's limited and expensive. Your best bet is to try for one of the 450 spaces at the North Beach Parking Plaza, also known as lot 66. This is north of the main roundabout as you come onto the island. From this parking lot, it's about a five-minute walk to the beach. If convenience trumps cost, just park in one of the hotel parking lots for a flat rate, and walk across the street to the beach.
2. Sand Key Park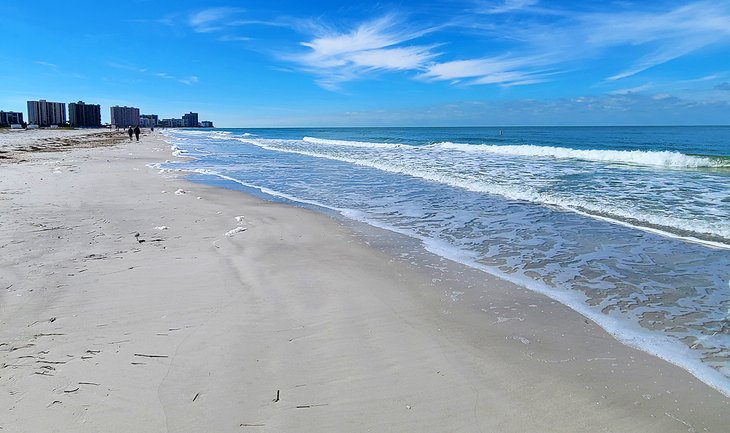 If you'd prefer a less busy and substantially less costly day at the beach, head a few minutes south to Sand Key Park. This low-key park, spread out over 95 acres, is just across a bridge from the frenzy of Clearwater Beach. Extensive and affordable parking (700 spaces) ensures you'll find your way to the water and a great day at the beach.
The sand here is more grainy than Clearwater Beach, especially back from the water's edge. You'll find a good range of amenities, including lifeguards during the summer months, change rooms, showers, and a concession stand. Beach loungers and sunshade rentals are available, as are kayaks and bicycles. Plan for a BBQ lunch at the beach, free grills, picnic tables, and shelters are all available.
Back from the beach are walking trails through the salt marsh, where some of Florida's most amazing birds are found, including roseate spoonbills, great horned owls, and herons. Fido will be happy to be off his or her leash in the dog park, and the kids can burn off some energy in the well-equipped playground.
Address: 1060 Gulf Blvd, Clearwater, Florida
Official site: https://www.pinellascounty.org/park/15_sand_key.htm
3. Pier 60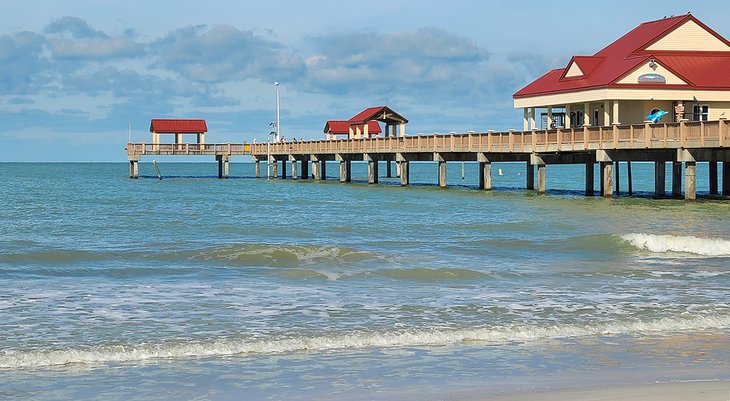 A Clearwater institution, Pier 60 is the destination for fun at the beach. Extending 1,080 feet out into the Gulf of Mexico, the pier offers exceptional views up and down the coastline. The $1.00 daily walk-on fee is a worthwhile investment.
Pier 60 is a fishing hot spot with variety of fish caught, including Spanish mackerel, redfish, tarpon, and flounder to name just a few. The pier isn't all about strolling and fishing though, each evening from 6 to 9pm, the area comes alive with "Sunsets at Pier 60." Street performers, musicians, and vendors selling arts and crafts create a fun and festive atmosphere as the sun sets into the Gulf of Mexico.
The pier is open 24 hours a day.
4. Clearwater Marine Aquarium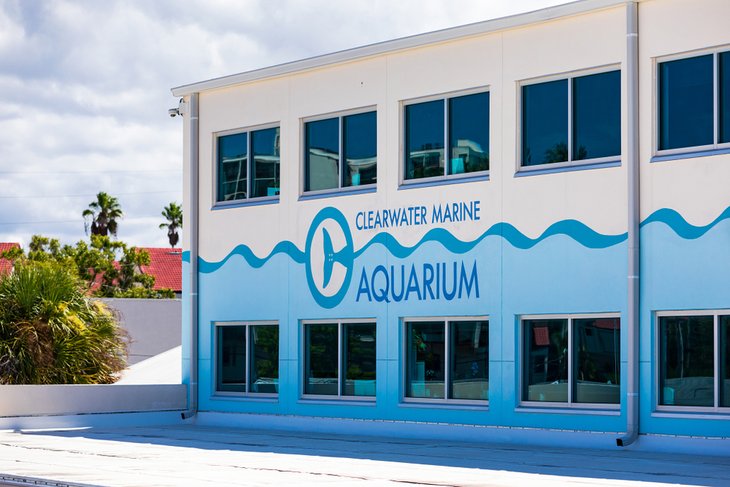 The Clearwater Marine Aquarium is one of the most popular tourist attractions in the city. Home to a significant number of dolphins and other sea creatures, the aquarium has recently completed a huge expansion. The new Ruth and J.O. Stone Dolphin Complex is a wonderful new habitat for the dolphins and features a 16 x 40-foot window, allowing for incredible viewing of these gentle creatures.
The aquarium is a rescue center and works to rehabilitate marine animals and release them back into the wild. In addition to this work, the aquarium also offers animal interactions (for an additional fee), where you can get right up close with dolphins, sharks, turtles, and stingrays. Educational presentations included with your admission feature a variety of animals, ranging from otters to sea turtles, and are posted on electronic boards throughout the facility.
5. Catch a Ballgame at BayCare Ballpark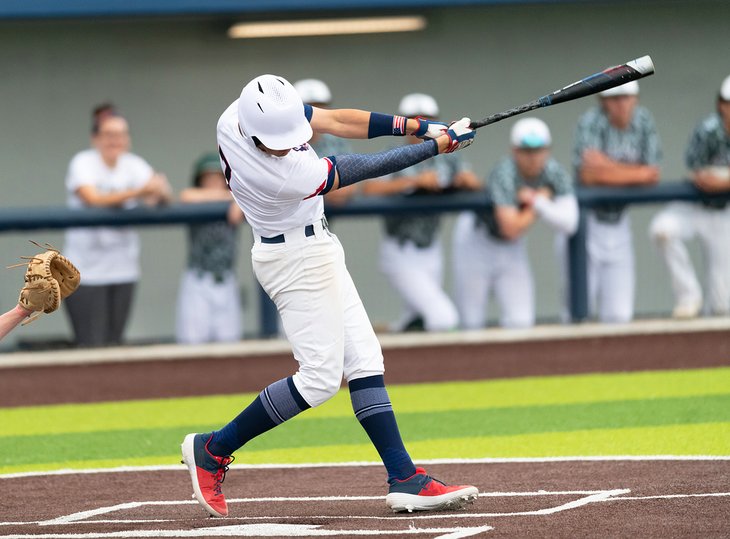 Formerly known as Spectrum Field, BayCare Ballpark is the winter home of the Philadelphia Phillies baseball team. For a fun and affordable family thing to do in Clearwater, pick a sunny day and head to the ballpark for an enjoyable afternoon. Spring training baseball games here take place each March and April.
Tickets are cheap, and with a seating capacity of 8,500 people, you'll almost always be able to get tickets. Outside the spring training games, the Florida State League Clearwater Thrashers play here on a regular basis.
Address: 601 Old Coachman Road, Clearwater, Florida
Official site: https://www.mlb.com/phillies/spring-training/ballpark
6. Caladesi Island State Park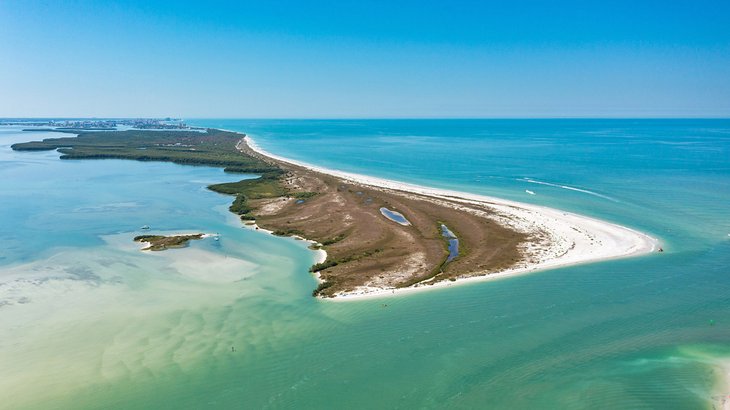 If you've ever wanted to park yourself on a desert island with a shoreline lapped by azure waters, all you need to do is take a 20-minute ferry boat ride from Clearwater. It's hard to believe such a place exists right next door to a metropolitan center, but it's true, and it's one of the best things to do in Clearwater.
Around four miles of beach greet you and with so few visitors, you'll most likely have the place to yourself, especially mid-week. The park does provide lifeguards in select areas, so if you are not a confident swimmer or you have small children, set up in these areas.
Other things to do on Caladesi Island State Park include shelling, hiking on a three-mile loop through the scrub and salt marsh, kayaking (rentals available at the marina), and fishing. Bring your own picnic lunch and use the free barbecues and tables, or grab a bite at the local café.
Access to the island is by the aforementioned ferry, private boat, or kayak, or you can make the approximately six-mile return trek along the shoreline from Clearwater North Beach. A fee is charged to access the park no matter which way you arrive.
7. Honeymoon Island State Park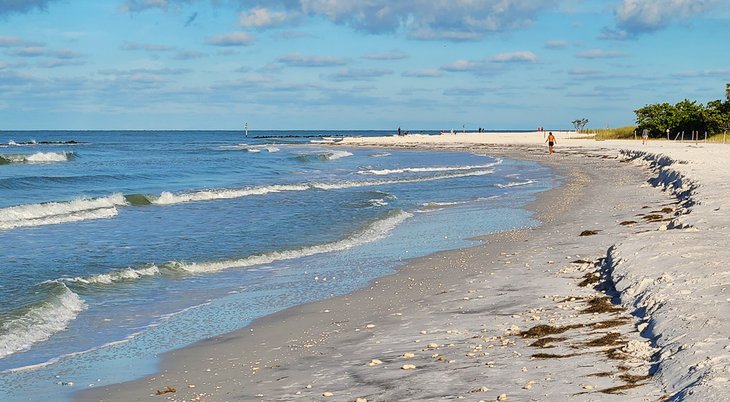 Just across Hurricane Pass from Caledesi State Park is Honeymoon Island State Park. Easily accessible via the Dunedin Causeway, this large park has some of the most accessible beaches near Clearwater.
Long stretches of beach extend from the North Beach parking area right through to the northern tip of the island. Note that the first main parking lot you come to is South Beach parking. Don't be tempted to pull in here, as you'll see a pavilion and other services. The beach has been badly eroded and is just chunks of coral. Continue on to the North Beach parking lot near the end of the road.
Off the beach, you'll find a three-mile trail through slash forest, where some of the trees are over 200 years old. When walking this route, keep your camera handy to snap a shot of a gopher tortoise or an armadillo. For a bit of park history, swing by the Rotary Centennial Nature Center.
Honeymoon Island has one of the few beaches in the area where dogs are allowed to run free on the sand and in the water. The park has thoughtfully provided a dog wash station near the parking lot. Additional sand is nearby for Fido to roll in once you have him all cleaned up!
Official site: https://www.floridastateparks.org/honeymoonisland
8. PSTA Suncoast Beach Trolley and the Jolley Trolley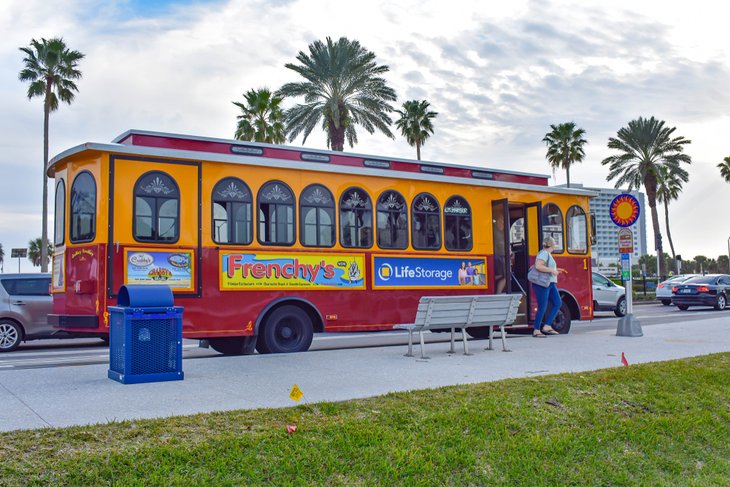 Clearwater, and the entire offshore beach area, can get quite busy at peak season. One of the best ways to save yourself some money on parking and reduce the level of stress is to hop on the PSTA Suncoast Beach Trolley. Running from St. Pete Beach in the south all the way to downtown Clearwater, this beach trolley will get you to all the hot spots on the coast.
The other option is the Jolley Trolley, easily identified by its yellow and red color. This trolley follows two routes: one is specifically focused on the Clearwater Beach area; the other runs inland and all the way up to Tarpon Springs.
A cash fare is payable on the PSTA Suncoast Beach Trolley and the Jolley Trolley. A good way to save money is to purchase a day pass on the Jolley Trolley for $5. Both services offer an app that will track the trolleys, so you can save yourself waiting time at the stop. With the Jolley Trolley, you can also just wave the driver down, and he'll stop if it's safe.
9. Take a Dolphin Spotting Tour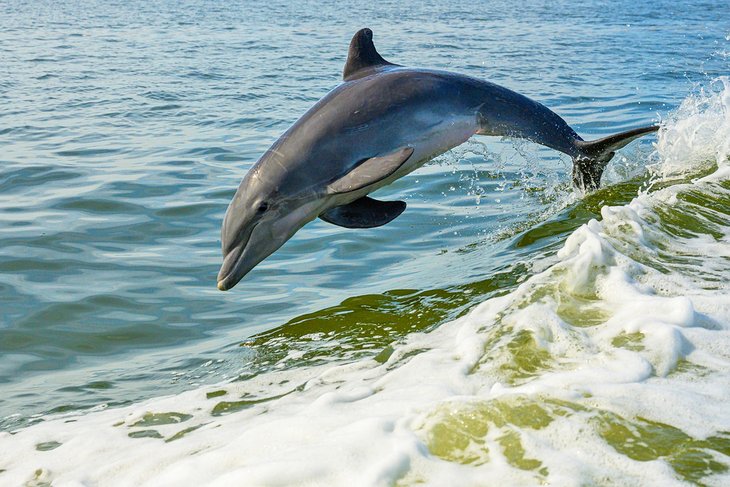 One of the most popular family excursions in Clearwater is a dolphin tour. Departing from the Clearwater Marina, the Clearwater Encounters with Dolphins Tour will head out on the water with your knowledgeable captain on a quest to spot these amazing animals. Once spotted, these curious creatures will most likely approach the boat and enjoy frolicking in the wake.
This 1.5-hour narrated sightseeing tour travels through Clearwater Harbor with a stop at Compass Island, where you have 20 minutes to explore this sandy spot. Go for a swim, do a bit of snorkeling with the provided equipment, or spread your towel and soak up the sun. The tour then returns to Clearwater Marina, where you'll disembark.
10. Set Sail on a Sunset Cruise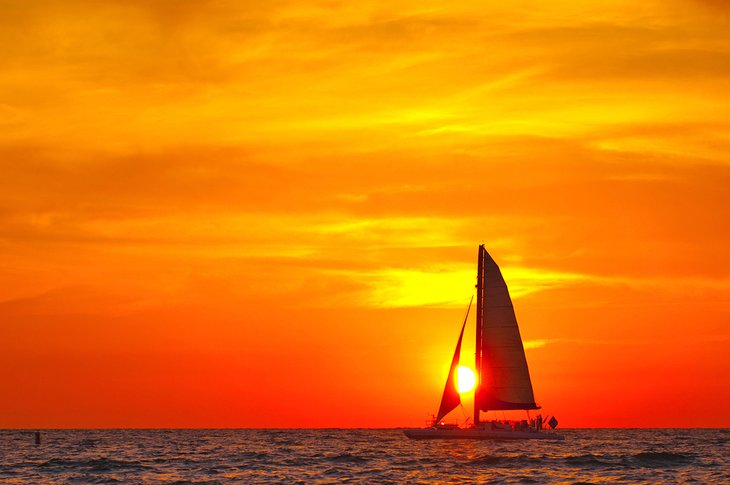 What better way to cap off your day with your friends and family in Clearwater than a sunset cruise. Departing from the marina located near Pier 60, the Clearwater Sunset Cruise, heads out into the Gulf of Mexico, with the captain providing a running commentary on the sights.
This nearly two-hour tour provides amazing views out into the Gulf of Mexico and back towards Clearwater Beach. As sunset approaches, the captain positions the double-decker catamaran to ensure you get the best sunset picture. Once the sun sets, the ship returns to the harbor, as the city lights come on and light up the sky.
11. Florida Botanical Gardens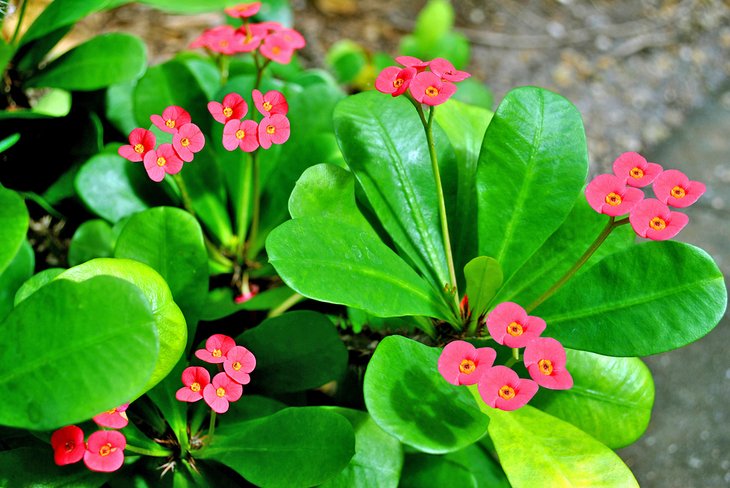 The Florida Botanical Gardens are one of the few in the state that do not charge admission, making it an ideal excursion for those on a cheap vacation. Stroll through the 150 acres of trees, bushes, palms, and flowering plants, all the while keeping an eye out for fast moving hummingbirds.
Self guided brochures are available at the gardens, or download a copy to your phone before visiting. In addition, the TaleBlazer app is available. It provides additional insight and information on the gardens.
Address: 12250 Ulmerton Road, Largo, Florida
Official site: http://www.pinellascounty.org/flbg/
12. Fun Family Day Trips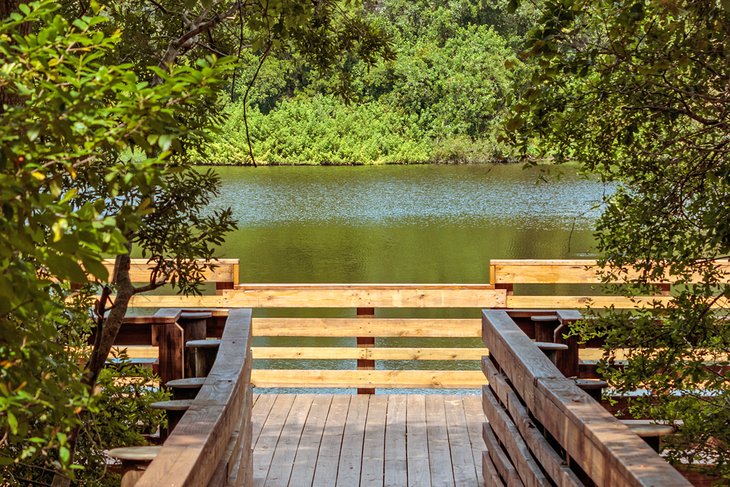 Clearwater is ideally positioned allowing for easy day trips to some of the region's most popular attractions. One of the highlights for many family vacations to Florida is a trip to Busch Gardens. This theme park has some of the most intense roller coasters and thrill rides, while at the same time showcases unique animals from around the world. Busch Gardens is an approximately 45-minute drive from downtown Clearwater.
Another fun, adrenaline-filled outing is Ziplining at Empower Adventures. Sign up for a two hour Zipline tour, where you'll fly through the air over 3,000 feet of ziplines. Empower Adventures is 30 minutes from downtown Clearwater.
If you crave a bit of nature and are watching your dollars, head to Moccasin Lake Nature Park. Spread out over 51 acres, this wonderful park is free to enter and an ideal place to visit with the family to do a bit of wildlife spotting. Visit the nature center to see raptors and other birds being rehabilitated. In addition, the park features extensive walking trails that wind their way underneath large trees, past ponds and streams.
13. Ride the Clearwater Ferry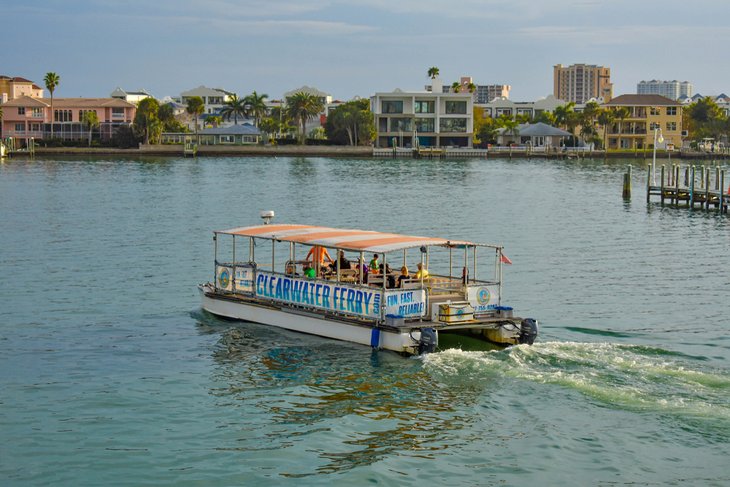 One of the most delightful ways to experience the waterfront areas of Clearwater and the surrounding areas is to take the ferry. No need to sign up for an expensive multi-hour tour, just jump on the ferry to enjoy the sights. With the free parking at the terminal areas, it's the best bargain around.
The ferry has two routes: one to Clearwater Beach; the other to Dunedin. These open-air watercraft offer excellent views out over the water and back to the city. Keep your eyes peeled — you may even see some dolphins or manatees.
The route to Dunedin is especially pleasant, as it runs for a long way along the inner coastline past beautiful homes and parks.
Official site: https://www.clearwaterferry.com/
14. Take a Day Trip to the Tarpon Springs Sponge Docks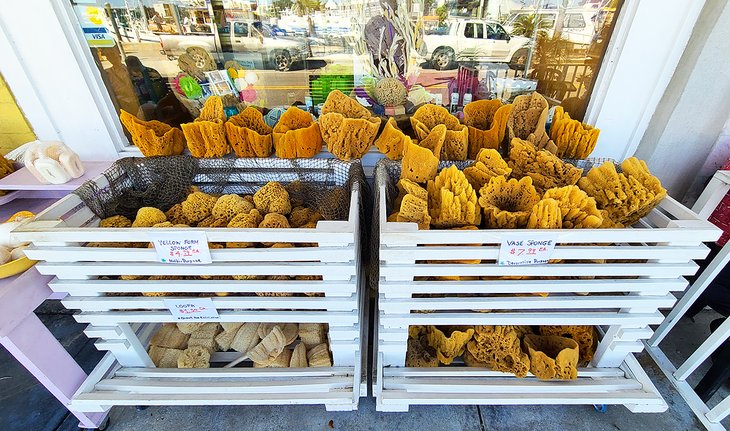 A fun outing for the whole family is an afternoon excursion up to the Tarpon Springs Sponge Docks. The main area is chock-full of restaurants (many of them serving fine Greek food), eclectic shops, and public artwork.
Take some time to stroll up and down Dodecanese Boulevard. The main docks are about halfway down on the right-hand side. If you are lucky, you may see the sponge boats unloading and sorting their harvests. Wander into a few shops. One of the most popular is Spongeorama; they claim to have the "world's largest selection of natural sponges."
After or during your wanderings, grab a seat at any one of the outdoor patios, and indulge in some freshly prepared Greek delicacies.
Note that parking can be a bit tricky on busy days, and the daily fee is relatively steep. It's best to drive past the first parking lot to ones further down the main road that may be a bit cheaper and closer to the action. Alternatively, take the Jolley Trolley, and step off in the heart of the action.
15. Ruth Eckerd Hall
Part of the Richard B. Baumgardner Center for the Performing Arts, Ruth Eckerd Hall is the cultural heartbeat of Clearwater. A steady stream of famous personalities and performers take to the stage in front of up to 2,180 patrons. Entertainment ranges from musicians and Broadway theater, right through to symphonies and even comedians.
Each year, nearly 350,000 people pass through the doors at this state-of-the-art facility. Architectural enthusiasts take note: the building is a Frank Lloyd Wright-inspired design, with swooping, curved lines and extensive windows.
Address: 1111 McMullen Booth Road, Clearwater, Florida
Official site: https://www.rutheckerdhall.com/
16. Nancy & David Bilheimer Capitol Theatre
Saved from foreclosure and possible demolition by a concerted community effort in 2009, the Nancy & David Bilheimer Capitol Theatre is now a proud Clearwater cultural institution. Dating from 1921, the theater was brought back to life through an extensive and expensive renovation and restoration process.