8 Best Beaches in Venice, Florida
The Italian themed city of Venice, Florida offers a wide variety of beach options for those who love sun, sand, and surf. The beaches around Venice run for miles up and down the Gulf of Mexico and have been, and continue to be, a popular destination for those living in Florida and from points farther north. Some of the beaches are within the city limits, and others are slightly further afield in Nokomis.
The beaches surrounding Venice are known for their rich collection of prehistoric shark's teeth that wash up every day. Just offshore from the city is a fossil bed that gives up its treasures on a regular basis and particularly after a storm.
You'll be able to find a lively scene at the main beach. Other beaches offer quieter, more family oriented experiences; some beaches are all about nature and discovery. The beaches in Venice are all a short drive from the lovely historic downtown area, and extensive accommodation options are available if you want to be beachfront.
One great thing about Venice beaches: the parking is free! Pack your beach bag and head to the sand with our list of the best beaches in Venice, Florida.
1. Brohard Beach North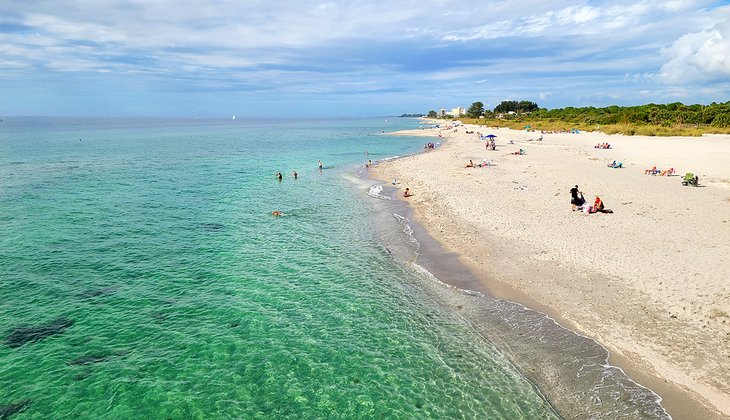 This incredible stretch of sand is, by most accounts, the best beach in Venice. Stretching northwards from the Venice Pier, its white sands and warm waters attract beachgoers from far and wide. Plus, with lots of free parking and great facilities, it ticks all the boxes for a good time.
Although access is easy, the beach rarely gets too crowded, and if it seems a bit tight for you when you first walk out, just head a bit northwards from the pier, and the crowds will thin out quickly. Beach walkers will love strolling along the water's edge, and those who are really keen could make arrangements to be dropped off here and easily walk along the shore and up to downtown Venice.
Lay out on your beach towel under your umbrella and enjoy the view and lively scene, and if you get hungry or thirsty, just wander over to the pier and pop into Sharky's On the Pier to satisfy your craving. With drink or snack in hand, wander out to the end of the 700-foot-long Venice Pier and look back at the amazing beach you just left.
Behind the beach are showers, changerooms, restrooms, picnic tables and shelters, along with boardwalks.
2. Brohard Beach South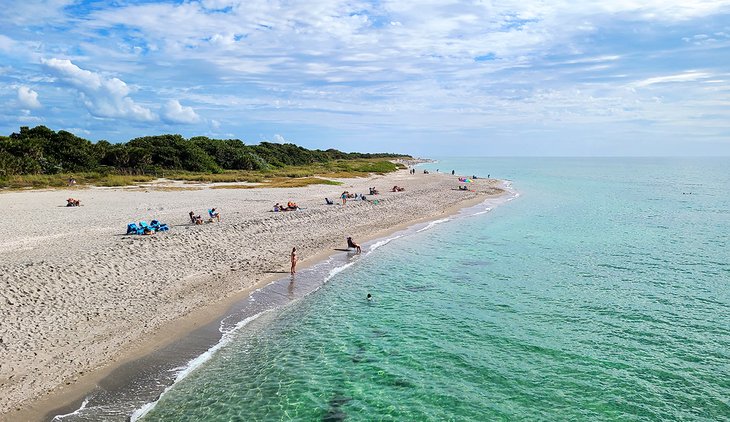 Another one of Venice's fantastic beaches is Brohard Beach South. Named after the mayor who ruled the city from 1958 to 1971, Smyth Brohard, this wonderful stretch of sand is not to be missed. Owing to the parking lot location, Brohard Beach South tends to be quieter than its cousin to the north, and although the walk is farther from the parking lot, the reward is worth the extra effort.
Once you've made the walk to your perfect patch of sand, you'll find uninterrupted natural vistas to the south as Maxine Barritt Park ensures no high-rises or homes along this stretch of beach. If you turn your gaze northwards, you'll see the famous Venice Pier.
Peel yourself from your beach chair and wander down the beach southwards. With less people here, your chances of finding a prehistoric shark's tooth are pretty good. If you walk far enough, you'll pass by the Paw Park and end up at Caspersen Beach, where the locals say shark tooth hunting is even better.
Stroll back from the beach and explore Maxine Barritt Park. Here, you'll find paved walking trails and a manmade lake surrounded by shade trees. If you are planning a barbecue or picnic, this is where you'll find the picnic tables and grills along with restrooms. A children's playground, known as the "tot lot" is also located here.
3. Venice Beach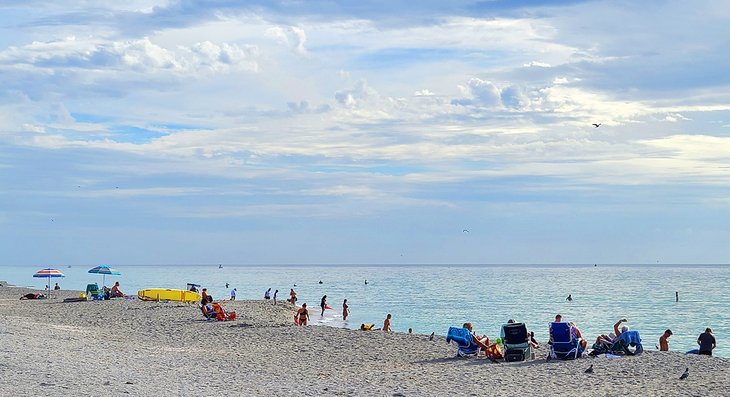 The beach, named after the city, is one of the best in town. It's easily accessible from the city center. Just drive straight down West Venice Avenue for half a mile until you hit the park and beach area. Walk the short distance from the parking lot to the beach and be prepared to be amazed. A wide-open panorama of the Gulf of Mexico, soft white sands, and cobalt waters await you.
Set up your beach gear near the water's edge and settle into a good book, pausing at the appropriate moment to hopefully catch a glimpse of a dolphin surfacing nearby. Those who prefer a bit of activity during their beach day can stroll along the beach for miles in either direction. Or, join in the fun if a game is going on at one of the two beach volleyball courts.
Pack a picnic lunch or alternatively, buy a burger, hot dog, or other fast food at the small concession stand located in the historic pavilion. The beach has lifeguards on duty, so rest assured that someone is keeping an eye on you or your crew.
You may notice scuba divers setting up on the sand or diving from boats just offshore. A reef is located a quarter mile from the shoreline and is a hot spot for marine life.
4. Nokomis Beach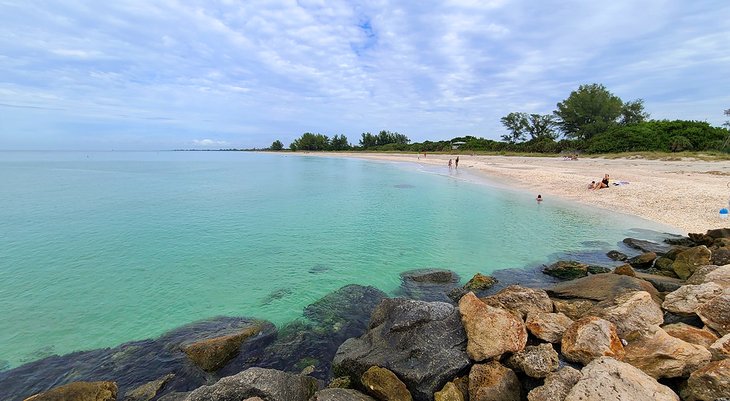 Although technically not in Venice, Nokomis Beach makes the list for its sheer beauty and size. Also, Nokomis Beach is a bit closer to downtown than some of the beaches within the Venice city limits. Running for miles and miles from the North Jetty, this spectacular beach is one of the best in South Florida.
Rarely, if ever, crowded, the beach has everything you could ever want. Crystal-clear water, soft white sand, easy access, and great facilities to boot. If you are a beach walker, this is the place to start your sojourn, you'll run out of energy before you run out of beach.
Shellers should take note that the south end of Nokomis Beach can offer amazing finds. The beach dead-ends against the North Jetty, and it's here where huge piles of shells accumulate.
Nokomis Beach has several access points, but the two main ones are at Albee Road and near the end of South Casey Key Road. Both points have large parking lots; the south lot also has a large playground for the kids and multiple picnic shelters with BBQs.
5. Caspersen Beach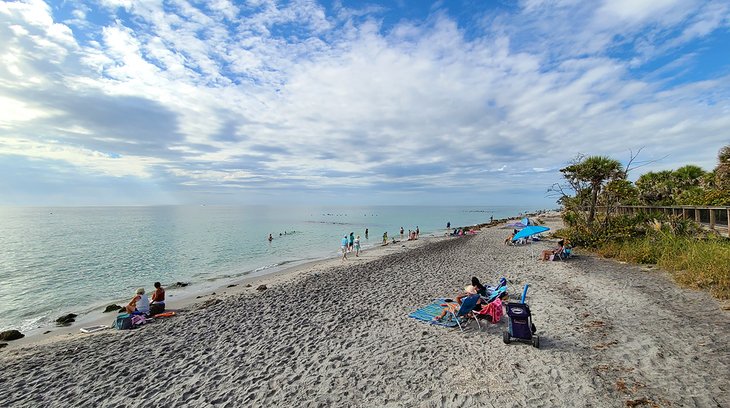 Caspersen Beach is, of all the beaches around Venice, the one that retains its original form. Wide, soft sand in some areas and in others, a rocky shoreline give beachgoers different options for exploration.
Of all the beaches around Venice, locals will tell you that Caspersen is the place to visit in your quest for prehistoric shark's teeth. Stroll along the beach and keep your eyes peeled for black triangular objects. If you spot one, chances are you've found a tooth.
Insider tip: Buy, or rent a Florida Snow Shovel to improve your chances. Ask at the local bait shops or at Papa's on the Pier, and they'll get you hooked up with what is really a cage at the end of a stick.
Access to the beach is easy across boardwalks; however, parking can be a challenge at times, so if you want to be assured of enjoying the best part of the beach, plan to go early. Mix a bit of exercise in with your sunbathing by walking along the multi-use trail that runs behind the beach.
Facilities here are excellent, with showers, restrooms, picnic shelters, and a covered children's playground.
6. South Jetty Beach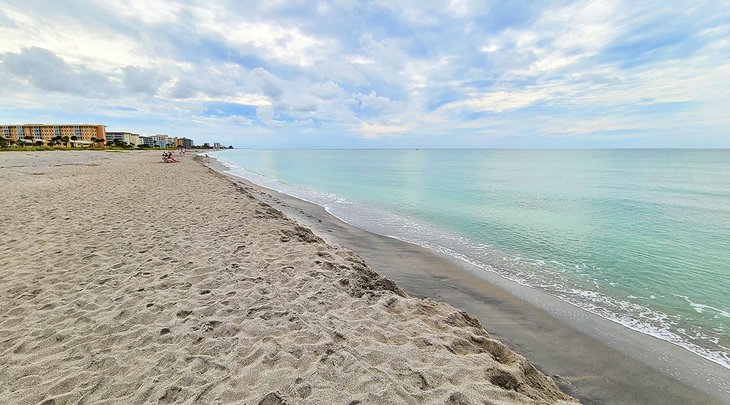 This delightful beach is the place to go if you are looking for a bit of peace and quiet away from the crowds at other spots. This tranquility does come with a bit of a price, though. The walk to the beach from Humphris Park takes about five minutes across soft sand; however, the walk is underneath shady trees.
Once you get to the beach, you'll be glad you made the effort. Commanding views southwards are your reward, as are views out to the jetty to the north. You won't find any services here, just sand backed by low-rise condominiums. The folks living at the back of the beach might consider this their own private domain, but with a little effort, you can use their little piece of paradise.
To access South Jetty Beach, park at Humphris Park, where you'll find plenty of spots. This is also an ideal place to stock up on any snacks or drinks so you won't need to make the trek back should you work up an appetite or thirst.
7. North Jetty Beach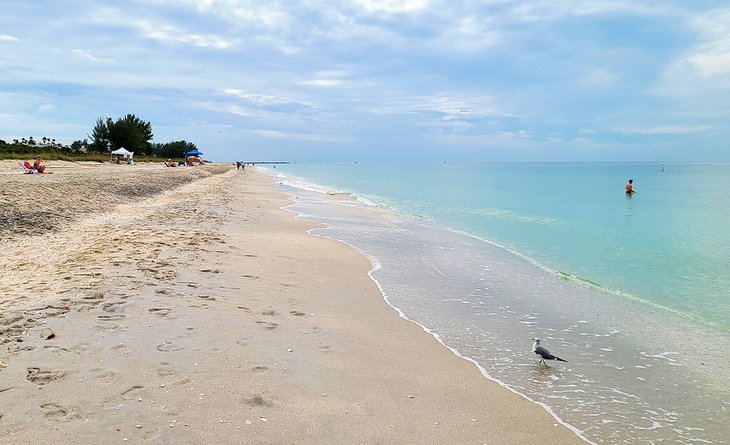 North Jetty Beach is a small beach that is ideal for those who don't like the rough water that can sometimes be an issue on the beaches facing the Gulf of Mexico. The beach faces eastward towards Turner Key and is protected from any rough stuff. The only waves you might encounter would be from a passing pleasure boat.
The sand is generally hard packed and the water quite shallow. Both sides of the beach are protected by mangroves and shrubs, making this a good escape from the wind. This is one of the few east Florida beaches that you can actually drive right up to and on. Park your car and have a beach day within reach of everything you need.
North Jetty Beach is an ideal place to launch your kayak or stand up paddleboard. The inland waterways and bays are fun to explore, and a sandbar frequently appears to the north of the beach area. Bring your own gear, or rent from the concession. In this same area, you'll also find a bait shop, restaurant, and other services.
It's easy to confuse North Jetty Beach with Nokomis Beach and nearby North Jetty Park. The easiest way to find North Jetty Beach is to drive to the end of South Casey Key Road and turn left.
8. Brohard Paw Park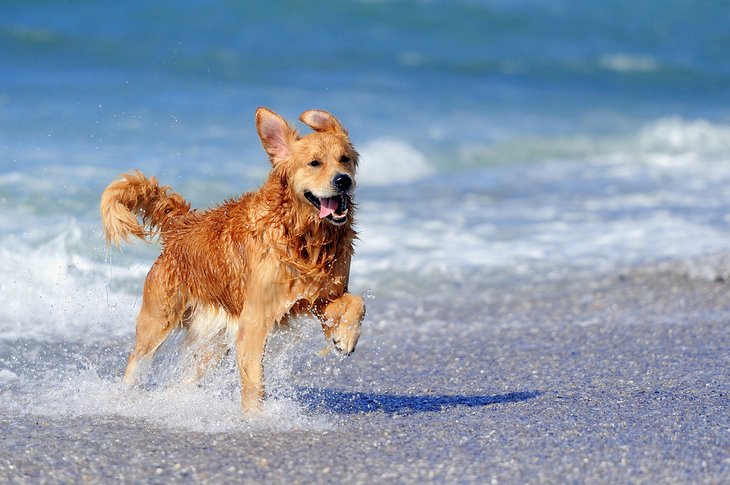 Traveling with your four-legged friend and need to cool off? Head to Brohard Paw Park, where you and your canine companion can enjoy the ocean blissfully leash-free. This is the only dog park in the area that allows off-leash access to the ocean, and as result draws furry beach fans from far and wide.
Exciting activities for Fido include sniffing all your friends, frolicking in the surf, chasing crabs, and of course, rolling in the sand to get as much of that lovely white stuff deep into their fur. Access to the beach and Paw Park is at the south end of Maxine Barritt Park. Showers are available for humans and dogs, as is drinking water.
For those less inclined to go swimming or visit the beach, a fenced off-leash area is available by the parking lot.
Map of Beaches in Venice, Florida
Venice, FL - Climate Chart
Average minimum and maximum temperatures for Venice, FL in °C
J
F
M
A
M
J
J
A
S
O
N
D

23

11

23

12

26

14

28

16

31

19

32

22

33

23

33

23

32

22

29

19

27

16

23

12

PlanetWare.com
Average monthly precipitation totals for Venice, FL in mm.

68

55

86

49

56

171

170

206

188

80

53

59