10 Top-Rated Attractions & Things to Do on Sanibel Island
Beaches, wildlife, and nature are some of what draws visitors to Sanibel Island. As you drive over the Sanibel Causeway, you can almost feel yourself begin to relax. The busy roads of Fort Myers, just 30 minutes away, transform into small two-lane roads as you drive through the lush vegetation to beautiful beaches, wildlife preserves, and funky restaurants.
Leave the car parked and take the extensive network of bike trails to many of the tourist attractions or even out to dinner. You won't find typical high-rises or high pressure on Sanibel. Life here is about living and slowing down.
Step out of life for a while and discover the best things to do on Sanibel Island.
1. See the Animals at J.N. Ding Darling National Wildlife Refuge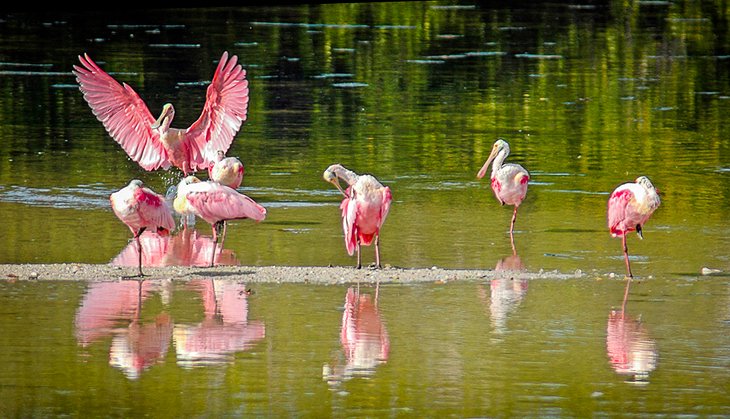 J.N. Ding Darling National Wildlife Refuge is the premier destination in the area for seeing nature and wildlife. The visitor center, open to the public free of charge, is a great spot to learn about the ecosystems and animals, as well as the history of the refuge's founder, Jay Norwood "Ding" Darling. Informative displays, large picture windows, and the latest wildlife spotting information will get you right up to speed on everything nature related on Sanibel. Still have questions? Just ask the rangers on duty - they are a fountain of information.
To actually get out and see the refuge, take a 90-minute trip on an open-air tram led by a certified naturalist. These guides know where the alligators, wading birds, bobcats, and otters hide out. If you prefer, you can self drive the same route as the tram.
The refuge is noted for its four hiking trails, including the short Indigo Trail and the Wildlife Education Boardwalk. One of the most unique experiences is kayaking or stand up paddleboarding through the mangroves. Bring your own, or rent at one of the gear shops on the island. Other popular things to do include fishing and bird-watching. Note that the nature drive is closed on Fridays to allow the wildlife to roam.
2. Explore Sanibel Lighthouse Beach Park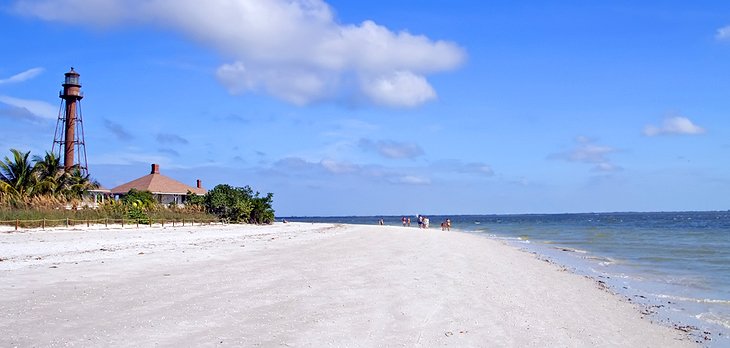 Visible for miles around, the historic 112-foot-high Sanibel Lighthouse will likely pique your curiosity. Head to the eastern tip of Sanibel Island for a visit. Not only will you find the lighthouse dating from 1884, you'll also find a beautiful white-sand beach, one of the finest on the island. The beach wraps around a point, with one small section looking out towards the Sanibel Causeway and another much larger and longer stretch of beach facing the Gulf of Mexico.
The park has picnic tables, large trees that provide shade, restroom facilities, and showers. Also in the park is the Sanibel Fishing Pier, where you'll have a good chance of catching small fish. There are two parking areas: If you are interested mainly in the lighthouse or fishing, use the northern lot. If you are only going for the beach, use the larger southern lot.
3. Search for Shells on Bowman's Beach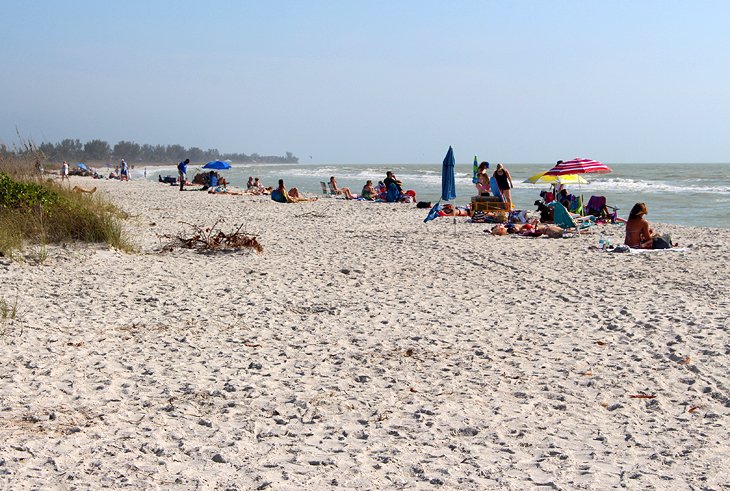 Bowman's Beach is a stunning stretch of white sand backed by a lovely natural area. The beach is a perfect place to visit for a family outing. You'll have no problem finding your own perfect patch of sand to set up.
Shelling, swimming, and generally lazing in the sun are the most popular things to do here. Stop by the local grocery store and stock up for a full day of fun. The park offers shaded picnic tables, barbecues, restrooms, and a children's playground in the forested area behind the beach.
The beach is in full sun all day, so you'll need to bring your chair and umbrella. Be prepared to carry your gear about a quarter mile from the parking lot. The trail is easy, and shaded part of the way, but it can feel long if you are carrying equipment. There is plenty of parking here, and the parking fee is per hour.
4. Grab Lunch on a Patio at Blind Pass Beach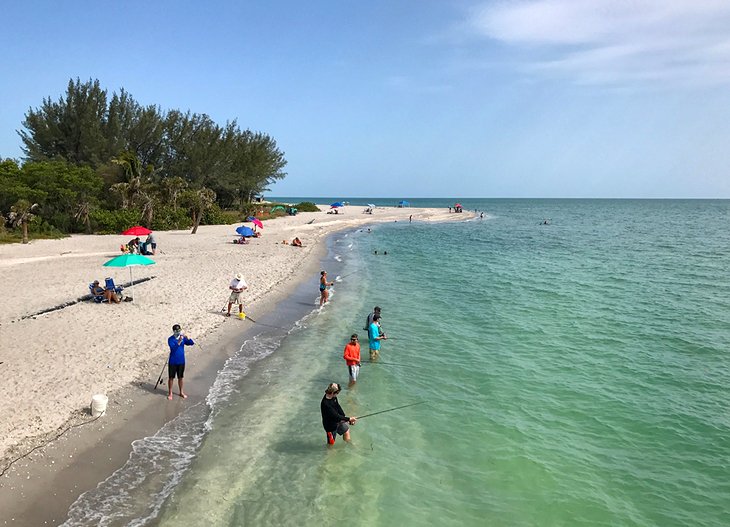 If you like spending time on the beach, grabbing lunch on a patio under the palms, and then wandering back to your beach chair, the beautiful stretch of beach at Blind Pass is the place for you. You might barely notice the small cluster of buildings at Blind Pass as you drive along, except the beach houses and retail are painted in colorful hues, making it hard to miss this little area. Be sure to pull off before you hit the bridge to Captiva Island.
This is one of the best spots on Sanibel for beach walking for the distance you can cover. Blind Pass Beach runs for miles eastward, and gets wider the farther east you go, eventually meeting up with Silver Key Beach, and beyond to Bowman's Beach.
If you are interested in shelling, you may want to cross the bridge to Captiva Island and check out the piles of shells that wash ashore at the breakwater on Turner Beach.
5. Visit the Bailey-Matthews National Shell Museum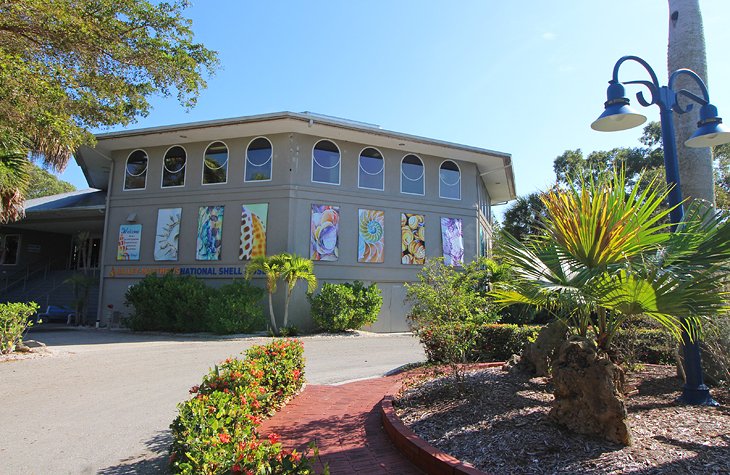 If you've always wondered what creatures created and lived in all the shells you see along Sanibel's wonderful beaches, the Bailey-Matthews National Shell Museum is a great place to find out. The museum displays over 30 exhibits showcasing not just the shells of Sanibel, but amazing shells from all over the world.
One of the most fascinating displays is titled Record Breaking Shells, where you can see a massive Goliath Conch. In addition to the shells, the museum also has live tanks in the basement in a classroom setting, where naturalists work with live animals and the audience has a chance to participate.
Official site: https://www.shellmuseum.org/
6. Sanibel Historical Museum & Village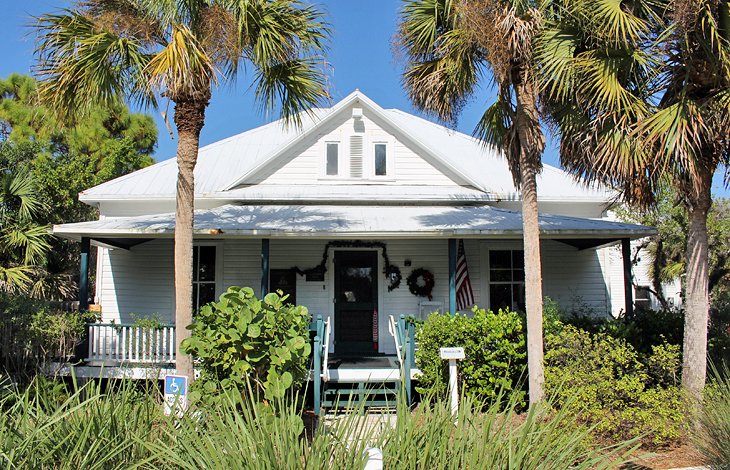 Had enough sun for the day? A great option away from the beach is the Sanibel Historical Museum. Centrally located on the island, the museum has a wonderful collection of items from Sanibel's past, starting from the Calusa Indians to the Spanish era, the pioneer families from the 1800s, right through to more recent history.
The museum consists of nine historical buildings from the late 1880s to the early 1920s, including a post office and school. These buildings have been meticulously restored to their original condition and inside are interesting artifacts and memorabilia displayed with information panels providing background. Also on show is a fully restored 1927 Model T truck.
Official site: https://sanibelmuseum.org/
7. Sanibel Causeway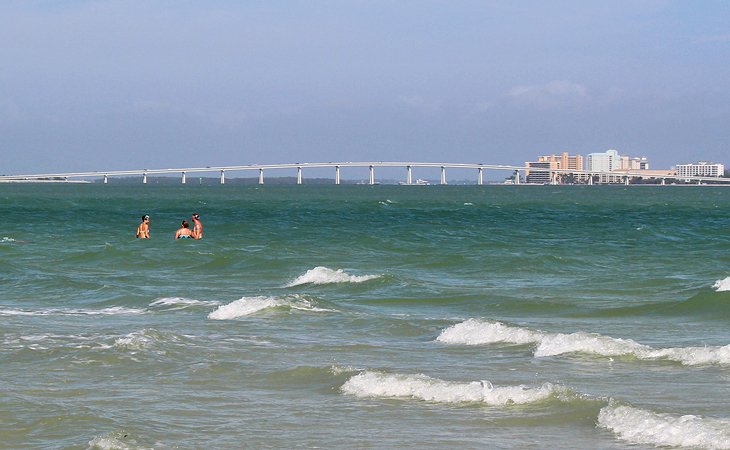 This three-mile-long causeway provides vehicle access to Sanibel Island, but it's also an impressive site. The roadway rises up 70 feet over beautiful San Carlos Bay and offers views over the aquamarine waters.
The causeway consists of three separate bridges and in between, you'll find Causeway Islands Park. The park is spread over two islands, A & B, and has sandy beaches and is a popular place for stand up paddleboarding. Restroom facilities are available on Island B.
If the wind is up, you'll likely see kiteboarders and their colorful kites high in the air racing back and forth across the water. The conditions here are perfect for this adrenaline-fueled sport, with shallow warm water, consistent winds, and lots of room to run.
Note that there is a one-way toll for traffic heading towards Sanibel.
8. Sanibel-Captiva Conservation Foundation Nature Center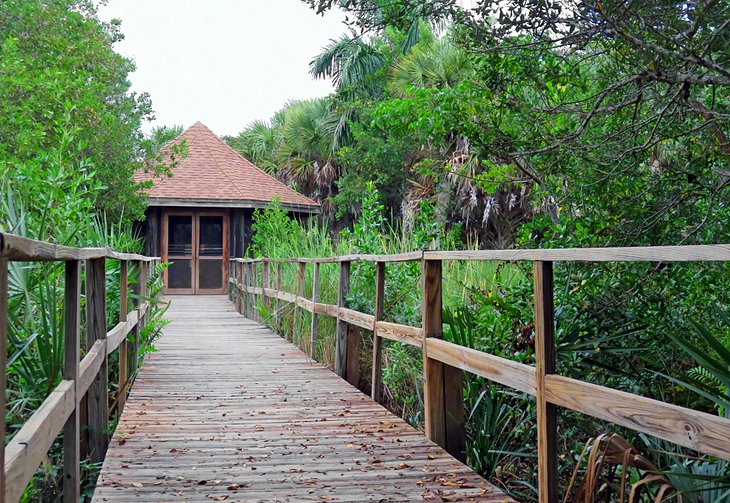 Just past the National Shell Museum is the SCCF Nature Center. This is an ideal spot to get an understanding of the ecosystems on Sanibel as you walk along the Sanibel River and above the wetlands on raised boardwalks.
The boardwalks form a four-mile maze of trails that feature frequent sightings of turtles, snakes, alligators, and wading birds. Inside the nature center, you'll find displays and aquariums, maps, and all kinds of information on local animals that occupy the islands. Children are admitted free.
Official site: http://www.sccf.org/
9. Clinic for the Rehabilitation of Wildlife (CROW)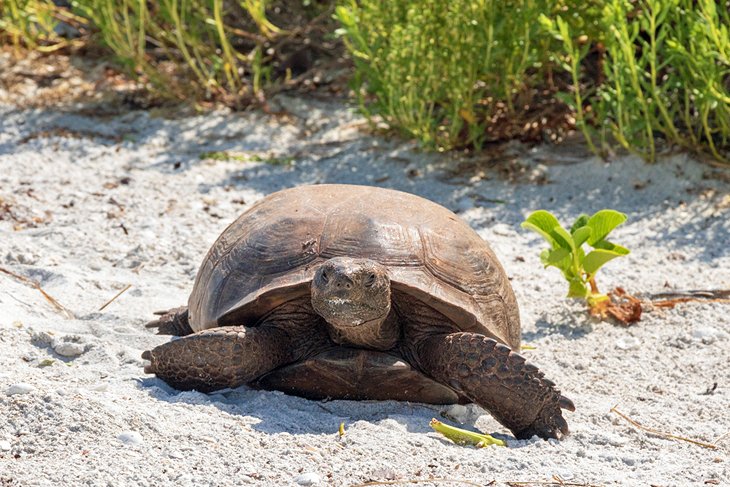 CROW is located in the same area as J.N. Ding Darling National Wildlife Refuge and the Bailey-Matthews National Shell Museum, and a visit to this attraction is worthwhile if you are visiting either of the other two. A visitor center provides a variety of interactive displays on the wildlife of Southwest Florida along with live animal displays consisting mainly of snakes, turtles, frogs, and an armadillo.
The best way to experience CROW is to time your visit to arrive for a daily presentation, happening most days at 11am. During these presentations, naturalists work with live animal "ambassadors" and speak about how they have been injured and subsequently rehabilitated by the doctors.
Official site: http://www.crowclinic.org/
10. Grab Dinner Fixings at the Sanibel Island Farmers Market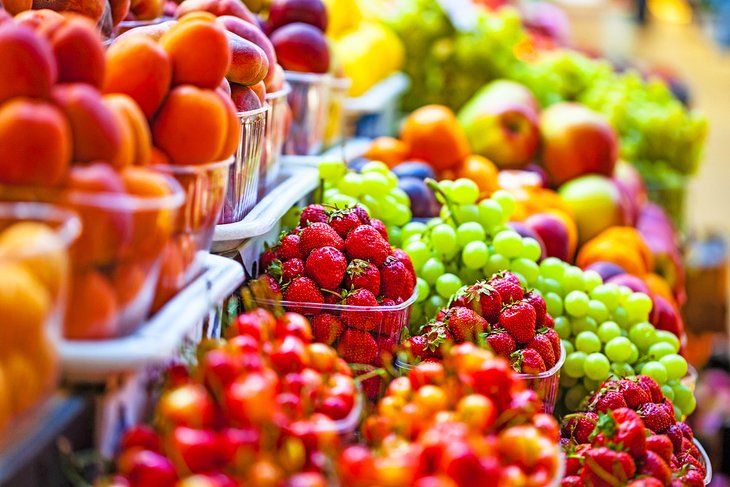 If your long beach walk has got your tummy rumbling and thinking about what is for lunch or dinner, consider a visit to the Sanibel Island Farmers Market. Every Sunday morning from October through May, this lively outdoor event is the place to search out the freshest veggies, baked goods, seafood, meats, cheeses, and flowers.
The market takes place at Sanibel City Hall on Dunlop Road. Ride your bike or park your car at City Hall, the library, BIG Arts, or the Schoolhouse Theater.
Where to Stay in Sanibel
Sanibel Island is 12 miles long and three miles wide. Accommodation options tend to be independent hotels or resorts, and small inns. Most places offer condos with kitchens and are considered mid-range.
Luxury Hotels:
Sanibel

Moorings

has a prime beachfront location, not far from Lighthouse Beach Park, and is ideal for families and longer term vacationers. One-, two-, and three-bedroom condos have screened balconies and are set around a lush garden area with a large pool and tennis courts.
Offering beachfront hotel rooms and suites, along with airy cottages ideal for large groups or families is the Island

Inn.

The hotel has a popular restaurant along with a whole host of amenities, including a heated and cooled pool, kayaks, paddleboards, and bike rentals.
Newly renovated, the West Wind

Inn

has rooms with kitchens or kitchenettes and balconies. All rooms have ocean views and are set around a courtyard pool and sundeck. Keep an eye out for the resident rabbits hopping around. Two beach-side restaurants offer al fresco dining.
Mid-Range Hotels:
Fans of mid-century modern will appreciate the Seaside

Inn

. Restored 1960s-style cottages are set around a pool, and the beach is just steps away. Some rooms have full kitchens, others have small appliances, including fridges and microwaves. A daily breakfast is included in the room rate.
A romantic option is the quaint and cozy Song of the Sea

Inn

. Here, you'll find 30 rooms with screened balconies, and kitchens overlooking an outdoor pool and hot tub area. Breakfast is served on the outdoor patio and is included with the room rate.
The Shalimar Cottages and

Motel

is perfect for a group with different accommodation needs. Accommodation options include motel units, one-bedroom cottages, and two-bedroom apartments. It's located right on the beach and has a lovely pool fringed by towering palm trees.
More Related Articles on PlanetWare.com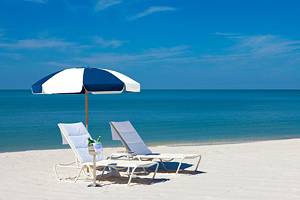 Around Sanibel Island: If you are in the area, be sure to check out the sites and beaches of nearby Fort Myers and Fort Myers Beach. Less than an hour south, it's also worth while taking time to explore Naples and this city's glorious beaches. And, if you decide you want to spend a couple of nights here, dining along 5th Avenue or strolling the glorious beaches, have a look at our article on the Top Resorts in Naples.