8 Best Beaches on Sanibel Island, FL
Sanibel Island and neighboring Captiva Island are home to some of the most scenic beaches in the world. These barrier islands are also considered to be among the top shelling locations in North America.
Visitors also enjoy the area for its variety of wildlife, especially the birds who live within the wildlife preserves. The J.N. Ding Darling National Wildlife Refuge is a prime attraction for nature lovers and a good place to learn more about the island's unique ecology.
The islands can be accessed by car from the mainland at Fort Myers via the Sanibel Causeway, a route that extends the length of Sanibel Island and extends via Blind Pass onto the narrow Captiva Island to the north. Nearly all the popular beaches are located on the western side of the islands, facing the Gulf of Mexico, and these are the best beaches for shell collecting and sunset-watching.
Find the perfect beach for swimming, sunbathing, shelling, fishing, or sunsets with our list of the best beaches on Sanibel Island.
Note: Some businesses may be temporarily closed due to recent global health and safety issues.
1. Sanibel Lighthouse Beach Park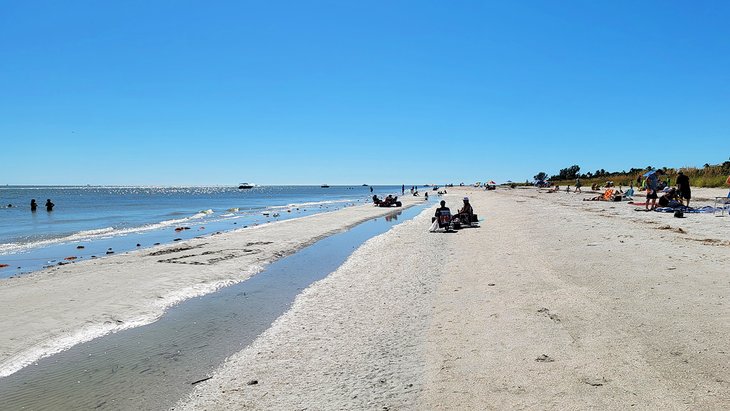 Located at the eastern tip of Sanibel Island, this is the first beach visitors pass once they have crossed the causeway from the mainland. Due to the ease of access, it's often the most crowded beach on Sanibel. The beach itself is large, wrapping around the point with its longest section facing the Gulf of Mexico. Although its location lends to large numbers of shells washing up, they are often picked off quickly, leaving only the most common varieties.
The park includes not only the soft-sand beach but also the Sanibel Fishing Pier and a historic lighthouse. The fishing pier is a popular place for locals and tourists alike, and used not only for fishing but also for sightseeing.
The park is also home to a nature trail that winds via a boardwalk through the surrounding wetlands, home to some of the island's unique wildlife. The lighthouse, built in 1884, stands at 112 feet tall and is still in use today. Unfortunately, it is not open to the public, and can only be admired from the ground.
There are two parking areas: the northern one is best for visits to the pier and the southern one most convenient for beachgoers. Parking spaces for visitors with disabilities are free, and the bicycle rack is also free of charge. The park offers basic amenities, including picnic tables in a shaded area, restrooms, and outdoor showers.
Address: 110 Periwinkle Way, Sanibel, Florida
2. Bowman's Beach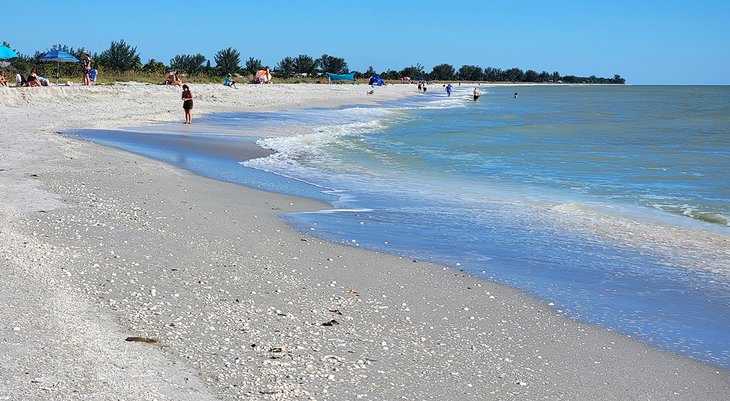 This beach is a favorite due to its somewhat secluded location, more distant from the mainland and more difficult to reach. Visitors will find ample parking, but it's about a five-minute hike across a bridge and over the dunes to reach the sand. The beach itself is several miles long, providing ample space to spread out, and there is a canoe and kayak launch.
Despite its remote location, Bowman's Beach Park offers a good amount of amenities, and this is the only beach on the island that has barbeques available for use. There are no vendors here, though, so be sure to bring your lunch and plenty of water; there are picnic tables in a shaded area and a playground as well.
Dedicated shellers will find Bowman's Beach a treasure trove once you stray from the stretch of sand closest to the trail to the parking lot. The sand stretches for miles, and the entire area north of the entrance is devoid of development. There is also a nature trail that runs along the ridge above the beach, with periodic trails that lead down to the water.
Address: 1700 Bowmans Beach Road, Sanibel, Florida
3. Blind Pass Beach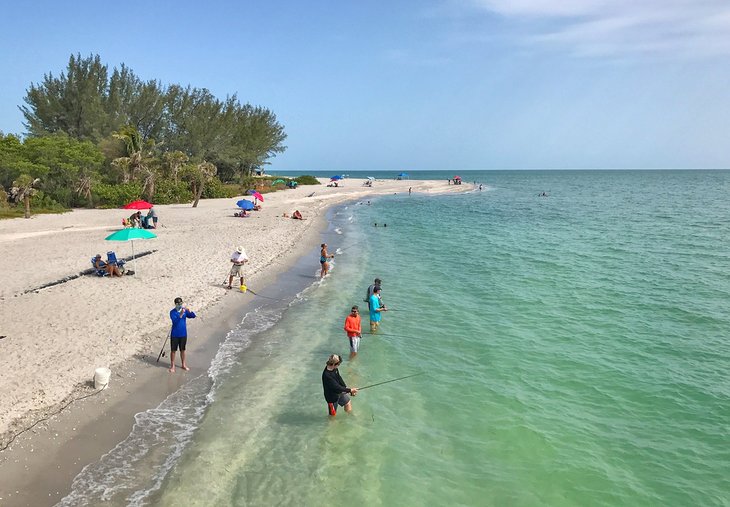 Located at the western tip of Sanibel Island along the channel between Sanibel and Captiva Island, Blind Pass Beach has strong currents and is not safe for swimming. Those same currents, however, deposit large quantities of shells, making this small beach one of the most popular with shellers.
There is parking, but no other amenities here. Sunbathers and shellers will find several small restaurants just on the other side of Sanibel Captiva Road however, as well as some shops. Blind Pass Beach is also a great spot for fishing, and there is a bait shop nearby if you are in need of supplies.
Address: 6491-6499 Sanibel Captiva Road, Sanibel, Florida
4. Turner Beach at Blind Pass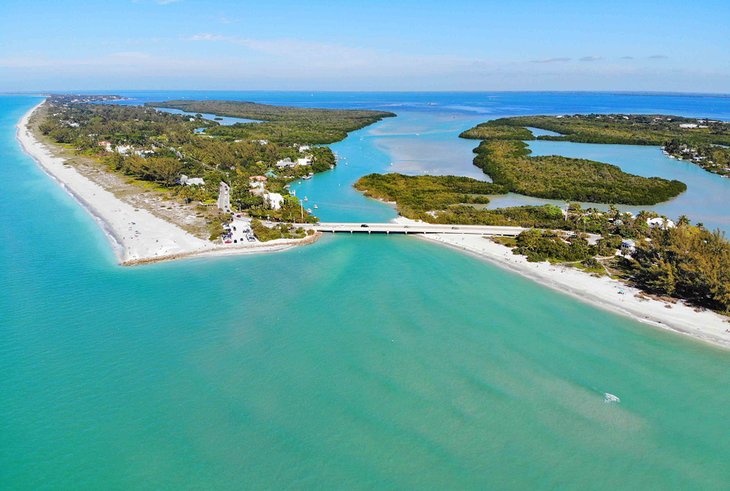 Turner Beach sits across the water from Blind Pass Beach, occupying the southern end of Captiva Island just off the bridge over Blind Pass. Like its sibling, Turner Beach experiences strong currents and is not a good place to swim, but it's a dream for those who want to wade a little while looking for prize shells.
Thanks to its distance from the mainland, this prime shelling location is not terribly crowded most of the year. The rock jetty that extends from Turner Beach also creates a convenient depository for shells, making them easily accessible. The jetty also makes a handy place to fish from, and this is a favorite spot for the sport. It's also an excellent vantage point for photographs and the beautiful Gulf Shore sunsets.
There is paid parking available at Turner Beach, and there are also restrooms and outdoor showers.
Address: 17200 Captiva Drive, Captiva, Florida
5. Causeway Islands' Park Beaches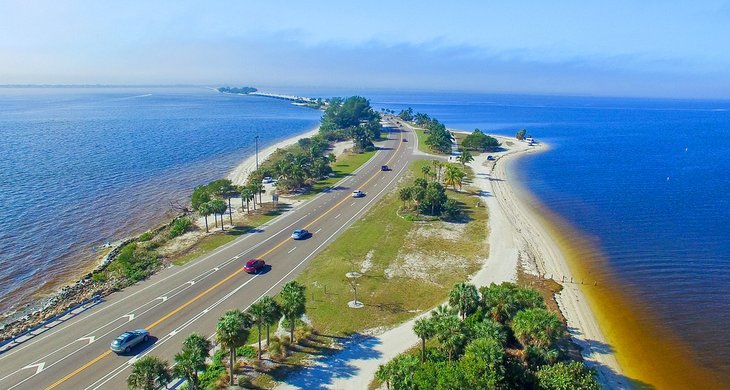 These two narrow islands are located along the Sanibel Causeway, which reaches from Fort Myers to Sanibel Island, named simply "A" and "B" in the order they appear from the mainland. Together, they total about 10 acres of sandy beach that are easily accessible from the road at several spots.
Drivers can pull off almost anywhere on either island, from either side of the road, and as an added bonus, there is no parking fee.
These beaches are popular for non-motorized water sports like stand up paddleboarding, kitesurfing, and kayaking. Beachgoers will also find shells along the shore, and the water is calm enough for wading and swimming. Fishing is also permitted here, and visitors are welcome to bring grills for use on the beach.
Island A has no amenities other than parking, but Island B does have restrooms, picnic tables, and drinking fountains. Leashed dogs are welcome as well.
Address: Sanibel Causeway, Sanibel, Florida
6. Gulfside City Park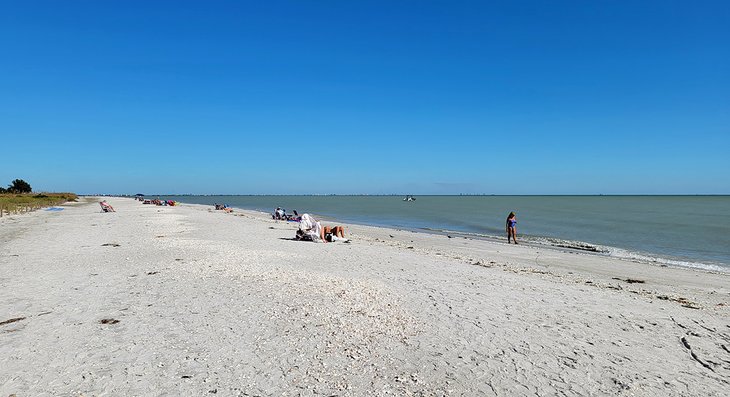 Located along the Gulf-facing shore close to halfway up the island, Gulfside City Park is a lovely place to catch some sun and waves. It's not a terribly crowded spot despite its location between resorts, making this a good choice for those who want a relaxing day at the beach.
The park offers a large grassy area in addition to the white-sand shore, and plenty of parking. Park amenities include restrooms, an outdoor shower, picnic tables, and barbecue grills for public use. There is also a bicycle rack that is free to use, and the beach is within cycling distance of several hotels.
Address: 2001 Algiers Lane, Sanibel, Florida
7. Tarpon Bay Beach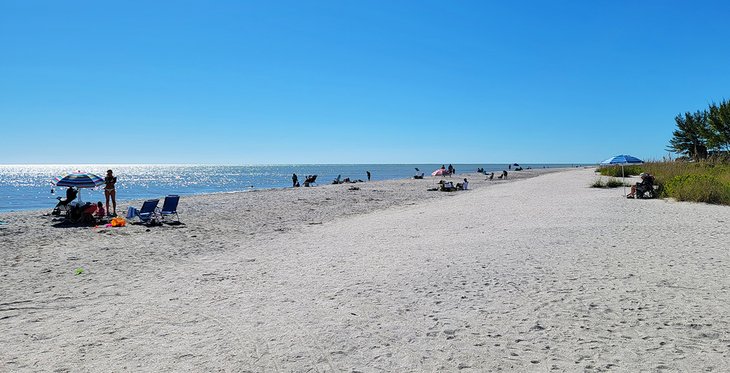 Tarpon Bay Beach, also sometimes simply called Sanibel Beach, is another mid-island public beach facing the Gulf of Mexico. There is a good amount of space for parking here, and this is one of the few areas that has spaces large enough for recreational vehicles over 20 feet. Visitors will find the showers and restrooms at the entrance to the beach path, as well as a bike rack.
The trek to the beach is easy thanks to a brick-paved walkway from the parking lot. Along the way, visitors will find picnic tables and benches set back in shady areas. The beach itself doesn't have any shade, though, so be sure to bring your sun umbrella.
Address: 2475 W. Gulf Drive, Sanibel, Florida
8. Captiva Island Beaches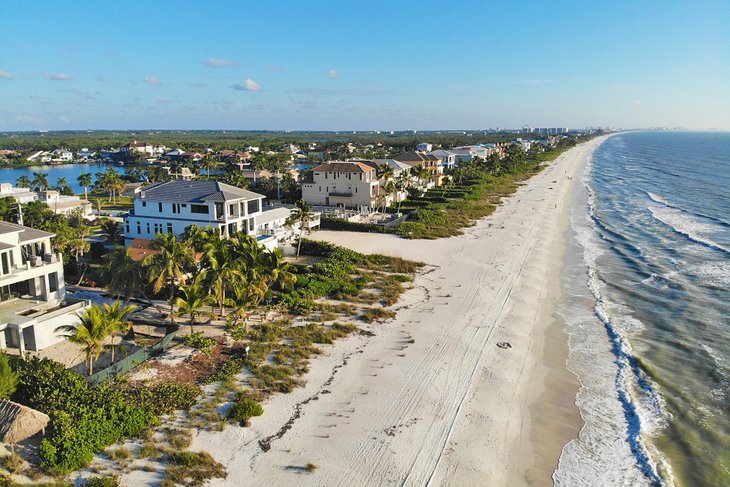 Although they are technically not on Sanibel Island, the beaches that line its smaller sibling island deserve a spot of their own. The entire long stretch of Gulf-facing sand is known simply as "Captiva Beach," but public access points vary in price and amenities. Tourists who have bought a Lee County parking pass should remember that these are not valid for parking on many Captiva Island beaches.
Bonita Beach Park is located on the expansive Bonita Beach and is a great place for those who are looking for a place with more beach amenities than most of Sanibel's public beaches. Located in a developed area, this beach can get a little crowded in high season but there is plenty of room to spread out.
Facilities here include restrooms and showers, as well as concessions, picnic shelters with charcoal grills, a boardwalk, and a sand volleyball court. There is also a launch for small non-motorized craft, as well as a great place to go if you want to take out the kayak or paddleboard. Parking is also far more affordable here than other beaches on either island. Bonita Beach Park is located at 27954 Hickory Blvd, Bonita Springs, Florida.
Alison Hagerup Beach Park has a small parking lot that's a bit costly, but the benefit is that the beach is far less crowded than most in the area. The small park has restrooms and picnic shelters, and this beach is popular for shore fishing. Alison Hagerup Beach Park is located at 14790 Captiva Drive, Captiva Florida.
Frequently Asked Questions:
What is the best time of year to visit Sanibel Island?
For the best weather, December through April is the ideal time for a visit, but this is also the most crowded and expensive time of year. May is a good time to take advantage of lower hotel rates before the heat of the summer sets in, and October and November are the best time of year for shelling. If you don't mind high humidity and temperatures in the 90s, June through August is the least expensive and far less crowded.
Are there rules about collecting shells on Sanibel beaches?
Yes. It is against the law to collect any shells that still have an inhabitant – even if you don't think it's still alive. Beachgoers are also not allowed to collect starfish, sea urchins, or sand dollars. Shell collectors should always check state and local regulations before setting out.
When is the best time to collect shells?
The best shelling is done at low tide, and it will be even better if you are visiting on a full moon or a new moon. Low tide right after a Gulf storm will result in the most shells, but the pros know it, and the best beaches will be crowded. October and November have the lowest tides, making this the best time of year for shelling.
What kinds of shells will I find on Sanibel beaches?
Among the most common shells found on Sanibel and Captiva beaches are the lightning whelk, lace murex, tulip, lettered olive, alphabet cone, and Florida fighting conch. Shellers can also find several varieties of cockle shells, limpet, top snail, cerith, horn snail, worm snail, periwinkle, risso, and vitrinella, as well as many other varieties.
Are there any places where I can't collect shells?
Shelling is prohibited in the J.N. "Ding" Darling National Wildlife Refuge. It may be prohibited or limited on private beaches, so always keep an eye out for postings.
How expensive is parking on Sanibel Island beaches?
Parking at most of these beaches is up to five dollars per hour, but the Sanibel Island parking sticker is accepted at most beaches. This is the best option for anyone planning on visiting Sanibel for more than one day, although these Sanibel Island passes are not valid for parking on Captiva. Both Sanibel and Captiva parking facilities do accept credit cards.
Are dogs allowed on the beach here?
Leashed dogs with responsible humans to pick up waste are welcome on most Sanibel beaches, however dogs are not permitted on any beaches on Captiva Island. Pet parents will find that there are several hotels and resorts that allow well-behaved dogs as well.
Can I go fishing at Sanibel Beaches?
Fishing is allowed at most of Sanibel and Captiva's beaches, but non-Florida residents must purchase a saltwater fishing license before casting off. These can be purchased online in advance via the state's website.