8 Best Beaches in Fort Myers, FL
NOTE: On September 28th, Hurricane Ian roared ashore as a Category 4 storm. Packing winds of 150 miles per hour and a 15-foot-high storm surge, the storm decimated the beach areas of Fort Myers. Almost all critical infrastructure was destroyed, as were private homes, hotels, and restaurants.
North of Fort Myers, Sanibel and Captiva Islands were also badly damaged, and the massive bridge connection was partially destroyed. South of Fort Myers, Lover's Key State Park and Delnor Wiggins State Park were also flattened and remain closed.
The area is slowly reopening. The good news is that the beaches themselves have recovered well; it's mainly almost everything back from them that is destroyed. Some beach accesses are now open as indicated at the beginning of the beach descriptions below, and the city has an interactive map, allowing you to see where you can access the water.
The Fort Myers area has long been a tourist attraction for its sun-soaked beaches and warm, clear waters lapping at soft white sands.
Fort Myers is located on the Gulf of Mexico, in an area of Florida that is almost always guaranteed to have warm weather, even in the darkest days of winter. The best beaches are found in Fort Myers Beach on Estero Island, about a 30-minute drive from downtown Fort Myers. You can also find beautiful stretches of sand on several other barrier islands nearby.
Each beach area has its own personality and characteristics. Some are quiet, a few are lively and action-packed, and others are ideal for families with small children. And large stretches have no one around.
The beaches here tend to be narrower than those on the Atlantic side but have warmer water and smaller waves.
Enjoy the sun and sand with our list of the best beaches around Fort Myers.
1. Lynn Hall Memorial Park Beach and The Pier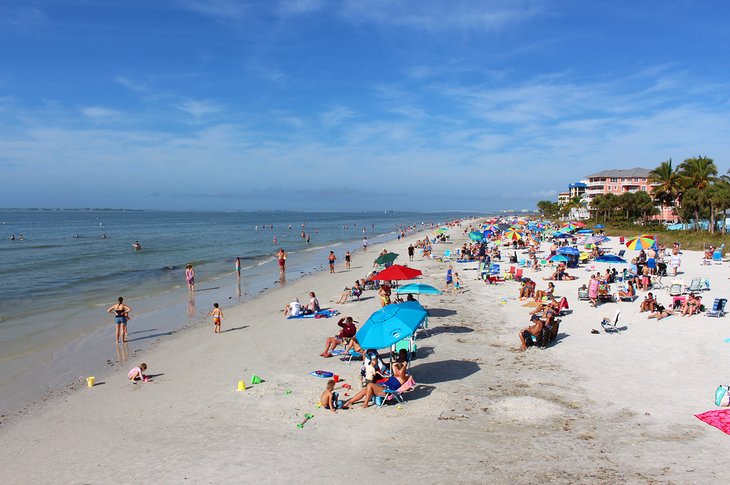 Lynn Hall Memorial Park is open following Hurricane Ian, but no facilities are available.
If you want to find the most happening stretch of sand in Fort Myers Beach, head to Fort Myers Beach Fishing Pier, in front of Times Square. This is the most popular beach in the Fort Myers area. On the north side of the Pier is Lynn Hall Memorial Park, which makes a perfect base for a day at the beach.
Each day, large crowds descend on this golden stretch, and although it's busy, it's not overwhelming, as it's often families and couples that are either day-trippers or those who have walked over from the hotels nearby. If you're here in March when spring breaks are happening, expect a younger and more lively crowd.
Lynn Hall Memorial Park has pay parking, showers, restrooms, and changerooms. On the grassy areas, you'll find picnic tables and charcoal grills. This is an ideal place to set up for a beach cookout. The parking lot fills early, so be sure to plan ahead if you want to secure a spot and a table. If you are traveling with young children, you are in luck. The city has recently installed a brand new playground in the park, with all kinds of fun climbing structures.
Just back from Lynn Hall Memorial Park is a fun retail area called Times Square. This pedestrian-only spot is full of restaurants with patios, unique retail shops, and street performers. Grab an ice cream and wander around to soak up the scene. Just north of Times Square, the retail establishments continue. It's well worth a stroll along Old San Carlos Boulevard to First Street.
One of the major bonuses of visiting the beach at Lynn Hall Memorial Park is the nearby Pier. The Fort Myers Beach Fishing Pier extends out 560 feet into the Gulf of Mexico and is a great place for a walk. Fishing is popular here, and rod, bait, and tackle are available from the concession on the pier. No fishing license is required. Typical species of fish caught here include Spanish mackerel, flounder, black drum, bluefish, sheepshead, and many others. Be sure to wander back down to The Pier at sunset. This is one of the best places in Fort Myers to catch the sunset.
A pleasant walk is to head north from this beach and continue outwards to Bowditch Point Park. Along the way, be sure to keep an eye out for interesting shells that tend to wash ashore in this area.
2. Crescent Beach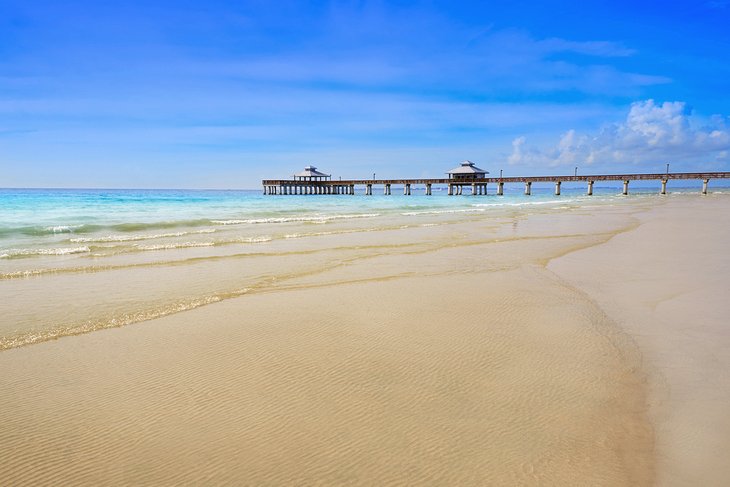 Crescent Beach is slated to reopen in May 2023, although no facilities will be available.
Just to the south of The Pier is the 2.5-acre Crescent Beach Family Park. This beach area is where you'll find a more active sporting scene. Beach volleyball courts are set back from the seashore, and most afternoons, games will be taking place.
Facilities here include picnic tables set under sunshades, washrooms, and handicap parking. The beach out in front is 400 feet wide and a great spot to set up an umbrella and beach chair. This is a wide-open area and a good place to toss a football or have an impromptu game of soccer in the sand.
A short stroll to the north will take you to The Pier, and just back from the park is lively Estero Boulevard, full of interesting and unique shops. Parking is limited at Crescent Beach Family Park, but back across Estero Boulevard you'll find metered street parking, or park at the remote lot and take the beach trolley.
3. Lani Kai Beach Area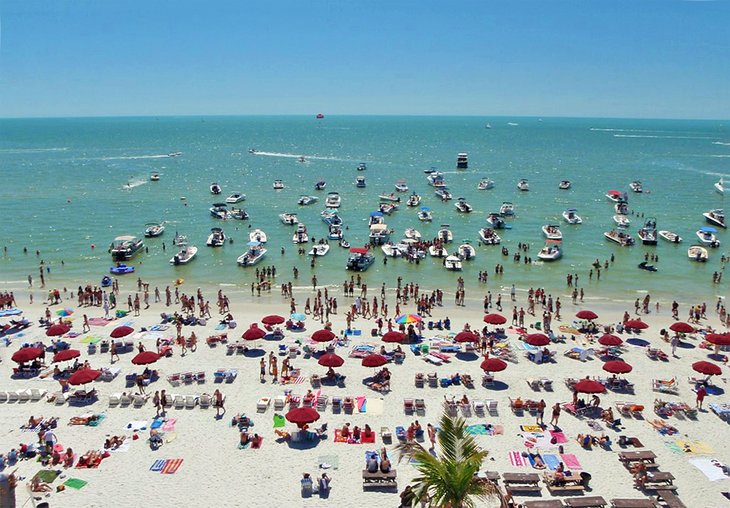 This area of the beach will reopen when Crescent Beach Park reopens in May. The Lana Lai Resort remains closed.
This beach area is roughly defined as the area in front of the Lani Kai Resort and On The Sand hotel between Canal Street and Avenue C. This is where the young and beautiful crowd hangs out. Loud music, games, and good people-watching are all on offer here.
Out in front of the hotels, a sea of lounge chairs and umbrellas are available for rent. Food and beverage service are available right to your chair, so you can focus on getting your best tan and looking good. Just offshore, a flotilla of pleasure craft is moored, while Jet Skis zip around.
Strolling along the beach here is a major pastime, and crowds wander back and forth with no particular destination in mind.
4. Lover's Key State Park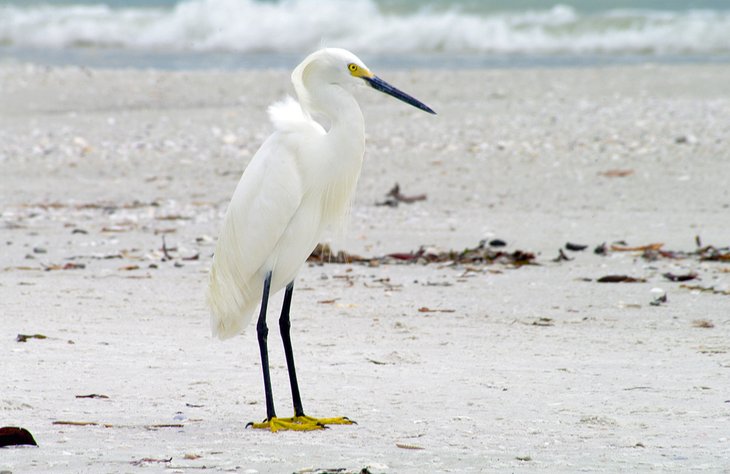 Lover's Key State Park is closed on the Gulf of Mexico side; however, some bayside areas have reopened.
Lover's Key State Park is a short drive to the south of Fort Myers and home to one of the most beautiful beaches in the entire area. This can be a good alternative to the scene in the Fort Myers Beach area.
The beach is two miles long and rarely crowded. The farther you move away from the main access areas, the more secluded it becomes. Walk far enough, and it will just be you and the seagulls soaking up the warm Florida sun while an osprey circles overhead. The sand is soft, and the water is warm and shallow. The beach is backed by natural vegetation that provides some cover from the wind and sun.
Canoe, kayak, and stand up paddleboards are available for rent from the concession in the park. If you have your own equipment, a boat launch is also available.
Looking for a good place to go shelling near Fort Myers? You have come to the right spot. Lover's Key beach is one of the hot spots for shelling in the area. The beach is generally level at the water's edge, so strolling here is easy and provides incredible views.
Off the beach are five miles of trails through the natural vegetation, great for spotting wildlife, including the ubiquitous gopher tortoise. In amongst the greenery, butterfly sightings are common, and egrets and herons are always on the hunt.
A fee is charged to enter the park, but that includes your parking and a free shuttle to the beach from the parking area should you wish to use it.
In addition to the two-mile main beach, a separate beach reached through a different turn-off is exclusively for dogs. Here, amongst the mangroves and wide, shallow sandy areas, dogs can run off-leash to frolic in the water with all their newfound four-legged friends. Although the Dog Beach is technically part of Lover's Key State park, access to the Dog Beach is free.
5. Newton Park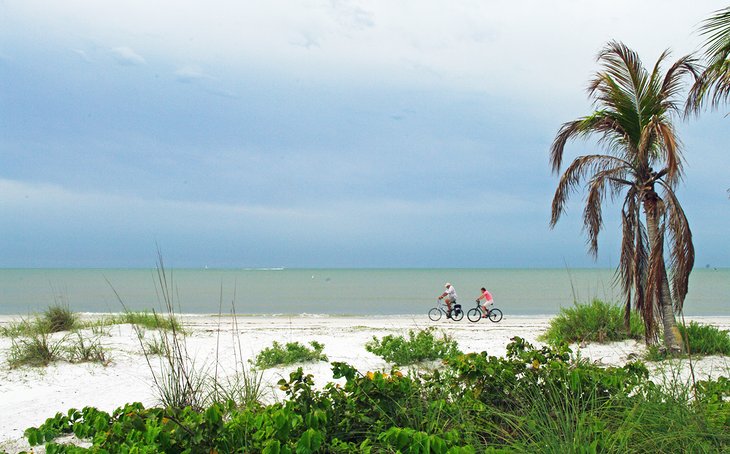 The beach area south of the Lani Kai Resort continues for another four miles. After a while, the hotels give way to private homes, and as you go farther south, the beach becomes less and less populated. An ideal place to access this wonderful stretch of sand is at Newton Park.
Once home to Jim Newton, a local Fort Myers legend, this area now provides public access to the beautiful sandy beach out front. Facilities include picnic tables, shelters, showers, restrooms, and drinking fountains.
The park is located at 4650 Estero Boulevard and is across the street from the large Publix grocery store. Stock up here with cold drinks, snacks, and beach toys prior to hitting the beach.
6. Bowditch Point Regional Park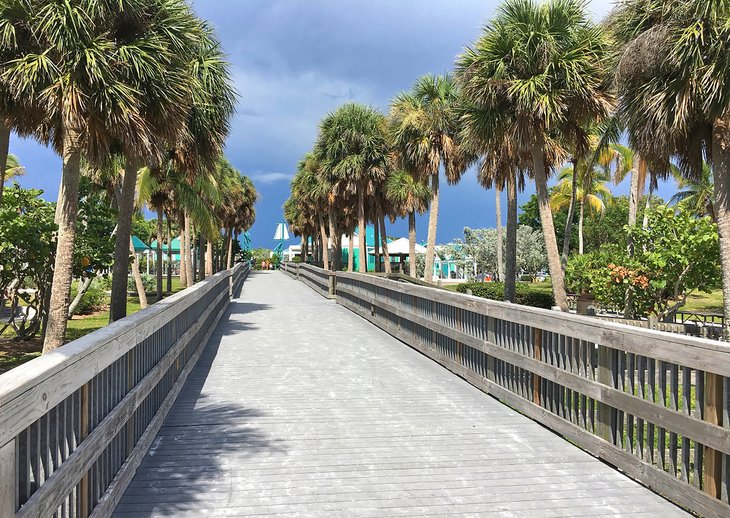 Bowditch Park is expected to reopen in late May 2023.
At the northern tip of Estero Island is Bowditch Point Park. This oasis of calm and nature is opposite the scene in the Lana Kai area. Spread out over 17 acres, this park is a mix of beach, inland vegetation, and bay. It's ideal for those looking to escape the crowds and have a quiet coastal experience.
This park has many covered picnic sites complete with charcoal grills. Access is a bit easier here, as Bowditch Point Regional Park has more paid parking than many of the other parks and beach access points.
The beach here is very wide and backed by natural vegetation. Views out over the Gulf of Mexico are incredible, with Sanibel Island off in the distance. You will be able to find your own patch of sand and accompanying tranquility without any issues. Be prepared to carry your beach gear a couple of hundred yards to the water, although this task is made easier with boardwalk access from the main parking area.
Showers, changerooms, restrooms, and a concession stand selling snacks and cold drinks are in the main picnic area. If you find you've had enough sun and sand, the park has an extensive trail system through the natural areas. These trails are one of the top spots in Fort Myers for bird-watching.
Bowditch Point Regional Park also has docking facilities for daily moorage. The moorage is free; vessels up to 28 feet in length are accommodated. Note that fishing is not allowed from the docks.
7. Causeway Islands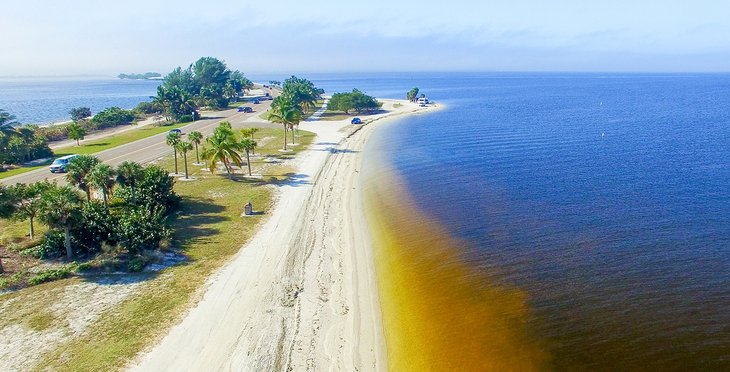 The Causeway Islands beaches remain closed, with no timeline to reopen.
For a completely different beach experience, head towards Sanibel Island and pull off at one of the two Causeway Island beaches. You'll be treated to fantastic views of San Carlos Bay and the impressive Sanibel Causeway bridge. There are two areas to visit: Island A and Island B. The former has no facilities; the latter has restrooms, picnic tables, and drinking water.
This is one of the few beaches in Fort Myers that allows leashed dogs, and as a result is a popular place for owners and their four-legged friends. The water here is shallow for a long way out which makes it ideal for wading and for families with young children.
The shallow water also makes this a fun place for kiteboarding on breezy days. Launching a kite here is easy, and the shallow water makes relaunching easy. The area is wide-open, and you can mow the lawn here all day long or practice your jump turns to the appreciative audience on the shore.
One of the best things about Causeway Islands is the fact that you can park your car right on the beach and have all your gear, your tunes, and basically everything you need to have an awesome day by the water.
Canoeists and kayakers along with stand up paddleboarders should also head for the Causeway Islands. Paddling around the area is enjoyable; manatees, dolphins, and other creatures of the deep are regularly spotted in the crystal-clear water.
Note that you will need to pay a fee to access the bridge when coming from the Fort Myers side; access to the islands is free.
8. Little Hickory Island Park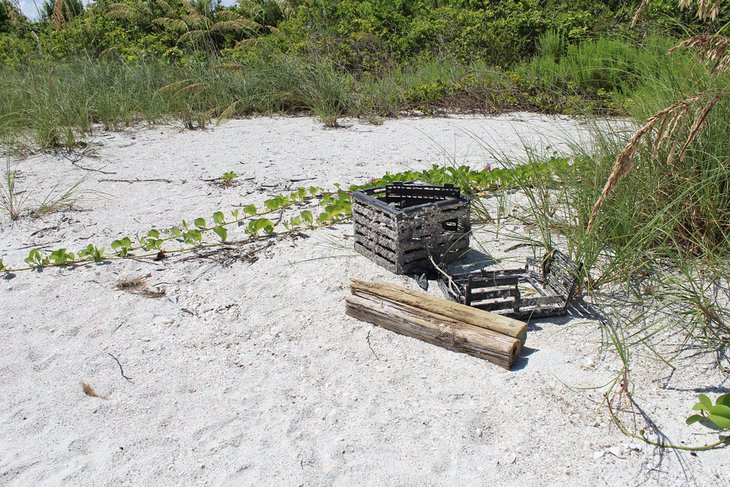 Little Hickory park has reopened to the public; no facilities are available.
This little gem of a park gets missed by most visitors to Fort Myers, and many people like it this way. Just a bit farther south than Lover's Key State Park, Little Hickory Island Park is a little oasis of sand and surf away from the hustle and bustle of Bonita Beach farther south.
The park facilities are basic, with just restrooms and picnic tables, and a few shelters. Parking is available, and a fee is charged. The beach area in front of the actual park is fairly small, but that doesn't matter, as it's part of the main beach that runs just over two miles to the south and about half a mile to the north.
Map of Beaches in Fort Myers, FL
Fort Myers, FL - Climate Chart
Average minimum and maximum temperatures for Fort Myers, FL in °C
J
F
M
A
M
J
J
A
S
O
N
D

24

12

25

13

27

15

29

17

32

20

33

23

33

23

33

23

32

23

30

21

27

17

25

13

PlanetWare.com
Average monthly precipitation totals for Fort Myers, FL in mm.

57

53

70

42

87

248

228

242

200

66

43

40