11 Best Things to Do in Venice, Florida
Florida is full of interesting places to visit, and Venice is certainly one of them. Although there's no Grand Canal or palaces slowly sinking into the sea here, what you will find is a tidy, small town with a bit of an Italian flair.
A cute downtown that is wonderfully walkable replete with small independent shops, along with wonderful gardens and an abundance of shade trees, make this a place where you can easily lose an afternoon on a patio with a good friend.
And the beaches — we can't forget about the beaches! Venice has an amazing assortment of wonderful beaches within the city limits that are both fun to explore and laze about on.
Plan your Venice vacation with our list of the top things to do in Venice, Florida.
1. Look for Shark Teeth on Caspersen Beach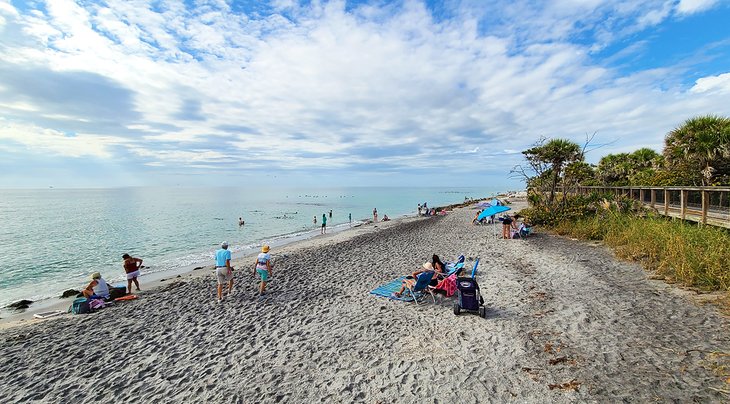 Few things could be more enjoyable and fun for a family than walking down the beach on the hunt for prehistoric shark teeth. Venice is blessed with many fantastic beaches where these treasures wash up; however, it's Caspersen Beach where the majority of them seem to be found. This is local lore; there could be other beaches that are better, but they aren't saying!
Located at the south end of Venice, Caspersen Beach is unique for its variety of shorelines. Some areas are lovely, with white sand stretching back to small scrub trees, while other areas are rocky and rough, not at all suitable for lounging under an umbrella. What you most definitely won't find are mansions and high-rises. This is a beach, for the most part, in its original natural form.
Here's a tip: Stop by one of the local beach shops and get your crew outfitted with a special sand scoop that will help you filter out the teeth and other interesting shells from the sand. This implement will greatly increase your chances of success.
2. Soak Up the Scene at the Venice Fishing Pier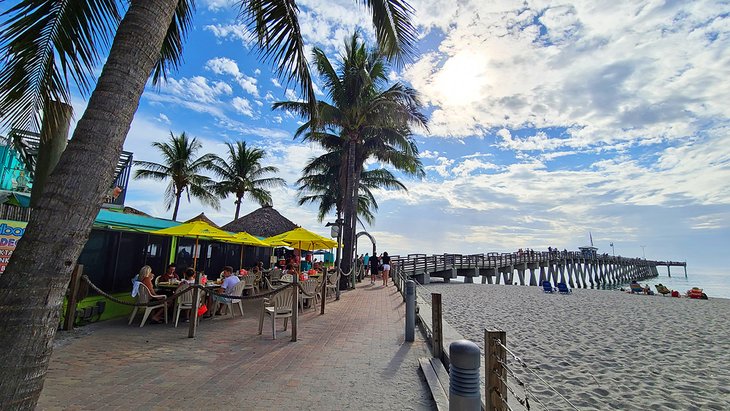 There are few better ways to see the beaches of Venice than from 700 feet out to sea on the Venice Fishing Pier. This impressive structure is the third pier installed in this location since 1966. Unlike many other piers located throughout Florida, the Venice Fishing Pier is free.
Gaze out at the ocean, catch a sunset, or try your luck with the denizens of the deep lurking below the pier. Catches here are frequent and fun. Species you'll have a chance at include grouper, redfish, and snapper; other species are available depending on the season. Check with Papa's Bait Shop on the pier for the latest news. Don't have fishing gear but want to try? Don't worry, Papa's will outfit you with everything you'll need for a day of fun. Another great reason to fish here? You don't need a license.
After you've walked along this top tourist attraction, a popular pastime is to snag an oceanfront table at the iconic Sharkey's on the Pier restaurant. Here, you can dine on the freshest catches of the sea while gazing out at the incredible Gulf of Mexico vista.
3. Enjoy Time in the Sun at Brohard South & North Beaches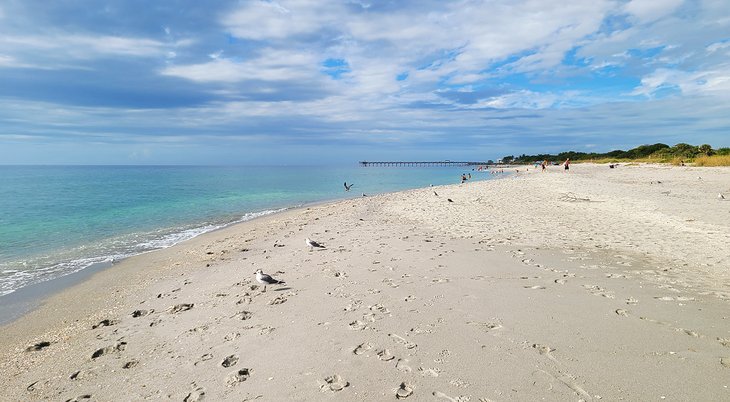 As you stroll along or cast your line from the Venice Pier, the beaches to your left and right are two of the best beaches in Venice. The appropriately named Brohard South and Brohard North beaches stretch for miles in either direction and have long been favorites of Venice visitors and residents.
Soft, white sand with crystal-clear water coupled with the added benefit of the Venice Fishing Pier and Sharkey's On the Pier restaurant make a day at the beach here hard to beat. Extensive free parking is just back from the beach, so lugging your beach gear to the sand is an easy exercise. Grab lunch at Sharkey's or bring your own gear for a beach picnic at one of the nearby shelters.
Both beaches are spectacular, if you want a livelier scene, head to Brohard North, if you crave a bit of solitude or a quieter experience, make the longer trek to Brohard South. Beach walkers love both beaches for the seemingly endless miles of coastline. For a walk that is a bit more urban, with homes and condos, head north, where you'll pass by Venice municipal beach. For a more natural experience, head south — eventually you'll end up at Caspersen Beach.
4. Hit the Sand at Venice Beach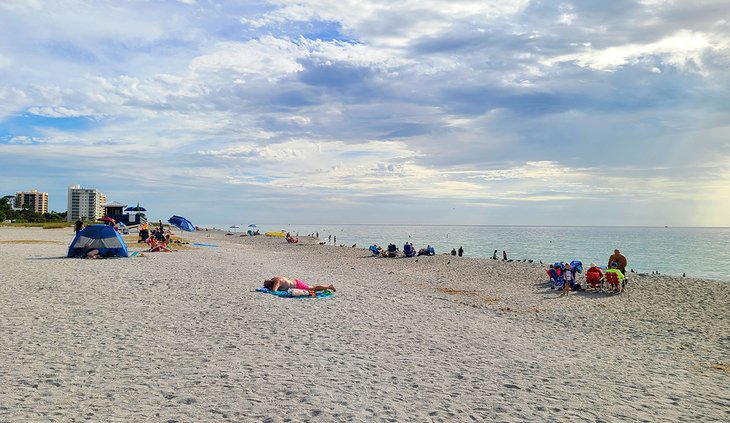 Few cities in the world can boast about having a fantastic beach right at the end of their main streets; however, Venice is one of them. Only half a mile from the lovely historic downtown along the delightful West Venice street, with its towering shade trees, you'll emerge at the beach.
Ample free parking and wonderful facilities make a day here with the family or friends easy and fun. Grab your gear and walk out onto the beach, where you'll find plenty of space to set up for a fun afternoon of sun, sand, and surf. Dive in and enjoy the clear, warm waters while lifeguards keep an eye on you and your family.
If you've packed a picnic, set up the food and treats at one of the picnic shelters, and chow down on a tasty snack while sitting in your sand chair. Or, if that sounds like too much work, stroll over to the concession and have them cook something tasty up for you.
Watch the athletic types play a game of beach volleyball on one of the two sand courts, or join in — the games are usually pretty friendly, and newbies are always welcome.
5. Stroll through Historic Downtown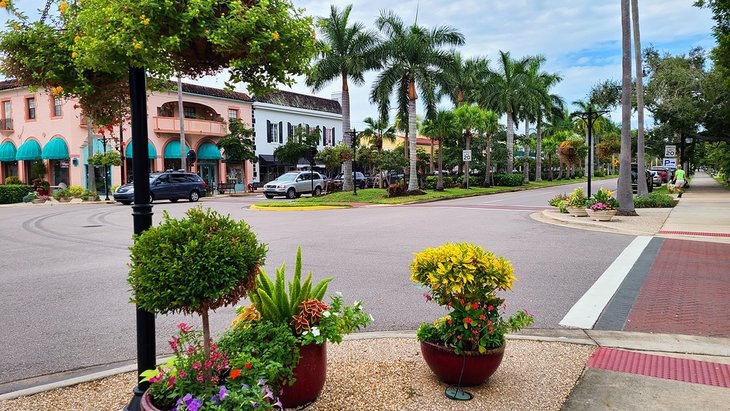 Downtown Venice is a reminder of what Old Florida used to be like. Many buildings date from the 1930s, when the area was laid out by master city planner John Nolen. Stately palm trees and oaks with hanging moss line the downtown streets and give the place a genteel air that encourages lingering.
A wide variety of locally owned shops line the streets, and it's easy to pick up a new dress, grab a coffee, and then get your hair done all in one easy trip.
Some notable buildings in downtown worth checking out include the Triangle Inn building dating from 1927, the Venice train station from 1920, and the San Marco Hotel from 1926. Other buildings from this era can also be found by picking up a self-guided map at the information kiosk in Centennial Park, or signing up for a docent-led sightseeing tour through Venice Florida Tours.
The centerpiece of downtown is Centennial Park, with its wonderful gardens, shady walkways, children's splash pad, and extensive free parking.
6. Shop at the Venice Farmers Market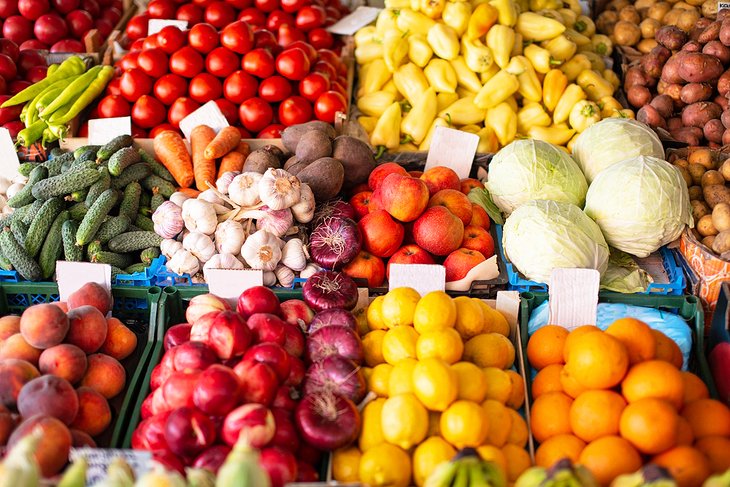 Looking for the freshest ingredients for that summer salad or specialty cheese for afternoon snacks? If this is the case, make a beeline to the Venice Farmers Market. Held every Saturday, it starts at 8am in the City Hall parking lot.
Approximately 40 booths operate each Saturday, and offerings include the freshest fruits and vegetables, meats, cheeses, nuts, and baked goods. However, it's not all about food. Other vendors sell artwork, jewelry, fresh flowers, sandals, pet supplies, and much more.
This popular thing to do in Venice runs year-round, and has become a popular Saturday morning pastime for many people that involves purchasing fresh-baked goods and a coffee while perusing the items on offer.
7. Stop by Ideal Classic Cars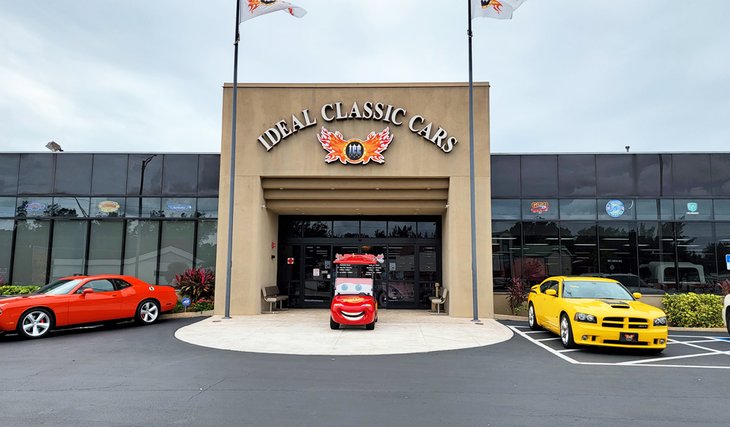 Fans of perfectly preserved and restored cars should plan a pit stop at Ideal Classic Cars. This interesting place to visit will get your heart racing as you stroll around the vintage cars imagining what it would be like behind the wheel. And should your pocketbook match your desires, all the cars in Ideal Classic's museum are for sale. If you see what you like, you can buy it on the spot.
A majority of the cars are from the 50s, 60s and 70s and include classic collector cars like Corvettes, Mustangs, Camaros, and Chargers. The museum is always changing, with cars coming and going, so true aficionados will want to make more than one visit.
The museum is free to enter; just answer a quick four question survey at the front entrance.
8. South Jetty Beach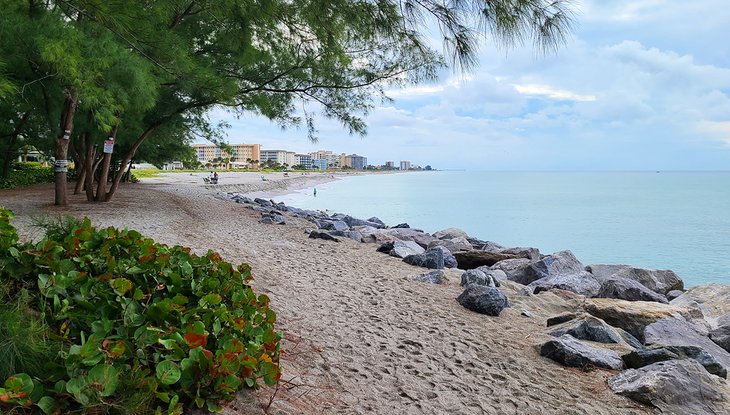 Although the north and south Brohard beaches draw most visitors and have the easiest access, those that crave true solitude know to head to South Jetty Beach. This perfect patch of sand, located adjacent to Humphris Park, is quiet and usually deserted. Not only will you most likely have the place to yourself, you'll also have fantastic views of the South Jetty and good views southwards towards the Venice Fishing Pier.
Acquiring solitude does take a bit of effort. You'll need to walk about five to seven minutes from Humphris Park along the shoreline to get to the beach, but once you are here, you'll be glad you made the effort. Bring everything you need. The beach has no services; however, cold drinks and light meals are available at the concession in Humphris Park.
9. Monty Andrews Arboretum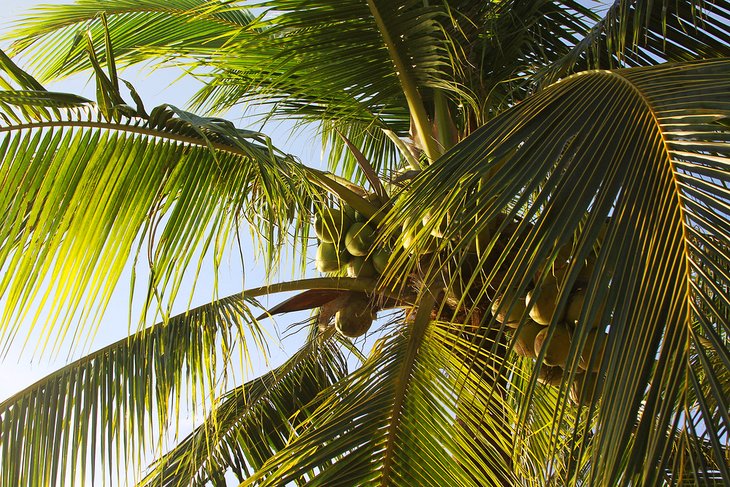 For a small place, Venice has wonderful gardens located throughout the city, especially in the downtown area and at West Blalock Park, where the Monty Andrews Arboretum is located. Take a stroll through this well-laid-out park and look up at the trees. Over 100 trees and palms are located throughout the property, all with descriptive plaques providing information on what you see before and above you.
The Monty Andrews Arboretum is spread out over 4.5 acres, with pleasant walkways suitable for walking, jogging, or pushing a stroller. Grab some takeout at one of the nearby restaurants, and stroll through the park under the shade of large trees. Picnic tables and benches encourage quiet contemplation, and the butterfly garden is a photographer's delight.
In addition to all the trees and other interesting plant life, the arboretum has a number of life-sized sculptures of a manatee, Florida panther, sea turtle, and tarpon. These beautiful works of art were created by the renowned artist Thomas Prochnow.
10. Venice Theatre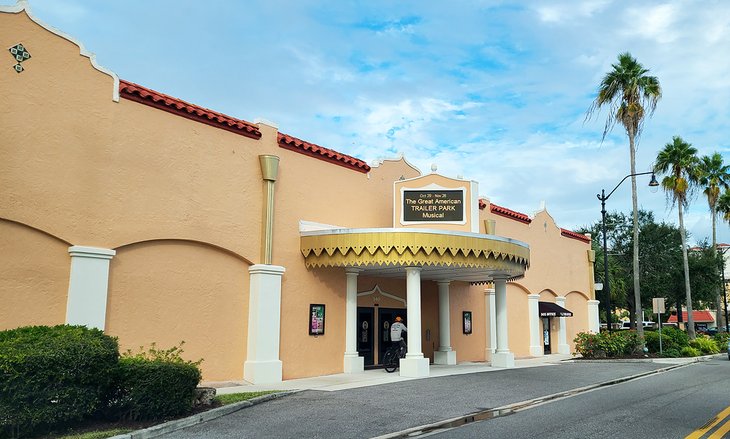 The cultural heartbeat of Venice exists at the Venice Theatre and has done so since the early 1950s. It started out small, but today the Venice Theatre, with its four-million-dollar budget, is the largest community theater project in the country.
An ever-changing roster of events, including plays, tribute bands, comedians, musicals, and other performers, lights up the stage in this historical building throughout the year. Always wanted to be up on stage? Well, here's your chance. The Venice Theatre offers a variety of classes to get you on your way, with the ultimate goal of having your name on the marquee.
11. Venice Area Audubon Rookery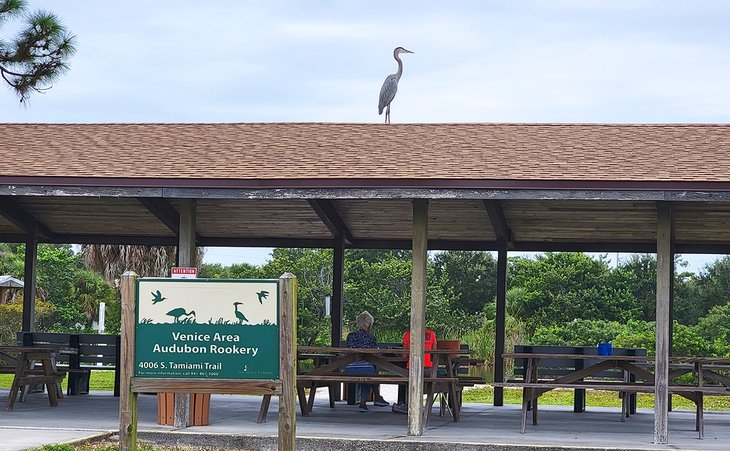 For a bit of nature during your vacation or for an educational experience the whole family will enjoy, consider the Venice Area Audubon Rookery. A small lake attracts nesting birds. Some of the species you'll have a good chance of seeing include three types of egrets: great egrets, snowy egrets, and cattle egrets.
Herons also call this rookery home. Point your camera and hope to snap a shot of a stately great blue heron, a sometimes elusive green heron, and the spectacular tricolored heron.
The best place to photograph the birds is from the pavilion at the water's edge. This is a small but free attraction in Venice.
Map of Things to Do in Venice, Florida
Venice, FL - Climate Chart
Average minimum and maximum temperatures for Venice, FL in °C
J
F
M
A
M
J
J
A
S
O
N
D

23

11

23

12

26

14

28

16

31

19

32

22

33

23

33

23

32

22

29

19

27

16

23

12

PlanetWare.com
Average monthly precipitation totals for Venice, FL in mm.

68

55

86

49

56

171

170

206

188

80

53

59