22 Top-Rated Islands in Florida
When you dream of an island vacation, you probably envision tall palms drooping over impeccably soft, white sand. The sea in the foreground is multihued with vibrant blues. What you might not know is you only need to head to the islands in Florida to find this utopia.
An archipelago of over 4,500 islands lies in the Sunshine State, waiting to be discovered. With so many isles on offer, it can be tough to decide which to visit.
Florida's islands each have their own attraction and unique vibe. Whether you're looking for a serene private island or one bursting with charm and culture, you'll find the perfect holiday on this list of the best islands in Florida.
1. Anna Maria Island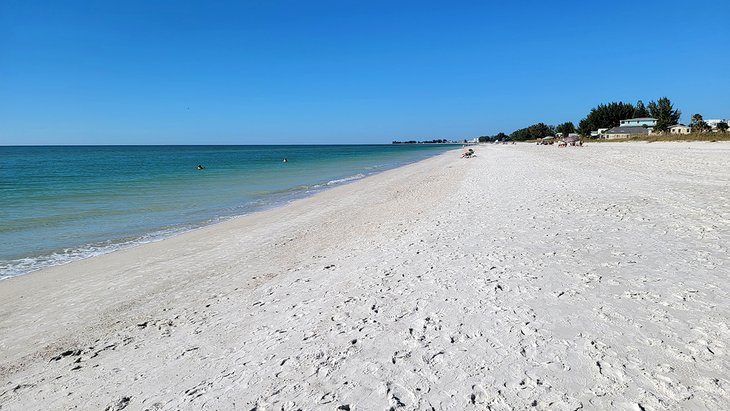 Seven miles of splendid and beautiful sandy beaches greet visitors to Anna Maria Island, located about 50 miles south of Tampa in the mouth of Tampa Bay. With three quaint cities, Bradenton Beach, Anna Maria, and Holmes Beach, there are plenty of options for places to stay, shop, and eat. All of them offer a feeling of "Old Florida" charm, boasting colorful houses, adorable stores, and a welcome lack of high-rises. That said, the island does have some low key, but luxurious resorts that are well worth checking into.
The main reason people flock here is to experience the most remarkable sunsets. You'll never be alone when watching the horizon at dusk on this Florida Island's Gulf Coast beaches.
Insider's tip: The island boasts a free trolley to take visitors from one beach to the next.
2. Key West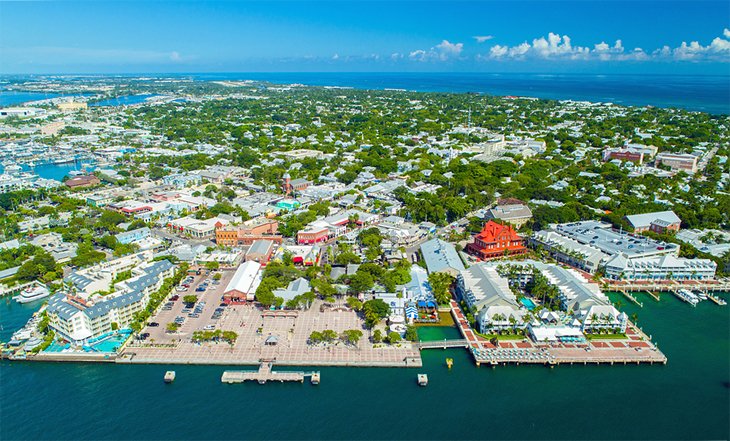 Key West is no stranger to visitors. In fact, millions of people spend their holidays at this southernmost point of the US. This includes multiple presidents like Harry S. Truman, who conducted business here in a "Winter White House," and famed writers such as Tennessee Williams and Ernest Hemingway, who both found inspiration (and houses) in this sunny locale.
Yes, Key West has a happening nightlife and vibrant arts scene. There's plenty to do, see, and spend your money on. One of the best things to do in Key West, though, is less commercialized: head to the beach. A mere seven miles off the coast lies the world's third largest coral reef, the Great Florida Reef, teeming with active marine life. It stretches for hundreds of miles along the east coast of the US.
Watching the sun set is another popular thing to do. Head to Mallory Square to enjoy a spectacular view of the horizon along with live music, food stalls, and street performances every night.
Accommodation: Top-Rated Resorts in Key West
3. Marco Island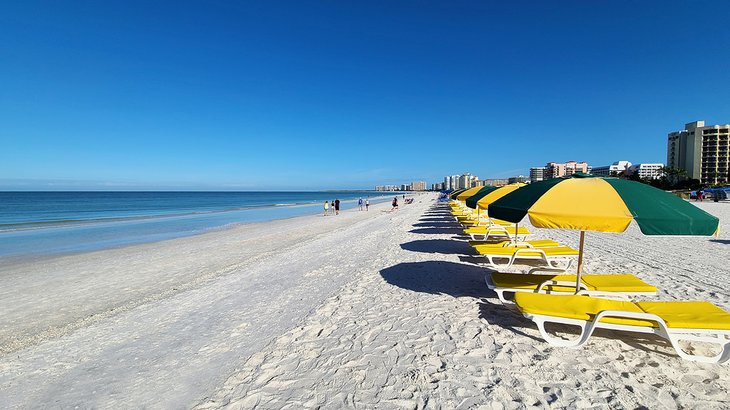 Looking for gorgeous shells? How about soft, white sand and rave-worthy food? You'll find them all at Marco Island. A short drive over the bridge from the lovely city of Naples, this luxuriously developed isle is the largest of the Ten Thousand Islands Chain; an archipelago extending into the Everglades.
Marco's crowning features are its beautiful beaches, including South Marco Beach (head here for a sunset) and Tigertail Beach (its powdery sand serves up amazing shells). Both of these are convenient for day trippers.
Marco Island is lined with condos and offers visitors plenty of options in terms of accommodation. You can find luxury resorts on Marco Island that allow direct access to the beach. No need to leave the property!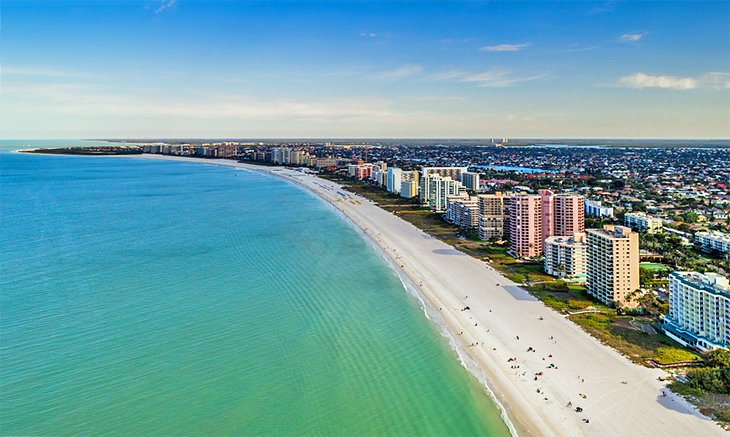 Another bonus: Marco's multiple golf courses and diverse selection of shops and restaurants.
Hop on a cruise to explore Marco Island from the water and try your rod at deep sea fishing. If you're lucky, you'll come face to fin with a dolphin frolicking nearby.
Read More: Best Beaches near Naples
4. Sanibel Island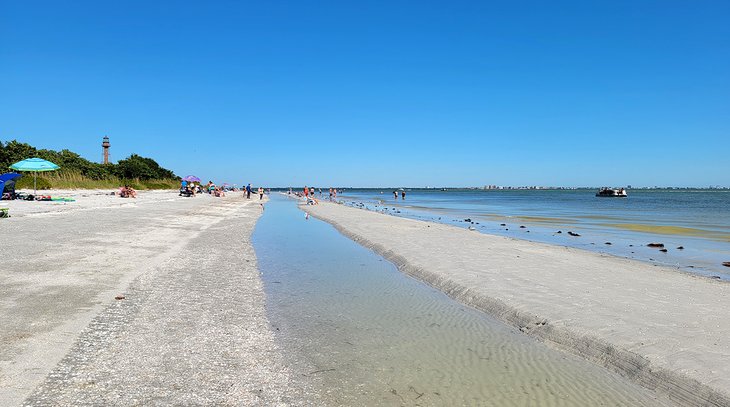 Families have flocked to this west coast hot spot for centuries, and for good reason. Sanibel Island, which lies in the Gulf of Mexico, offers a much quieter beach setting than its east coast cousins Fort Lauderdale and Miami Beach.
Sanibel's beaches are some of the most beautiful on the Gulf Coast. You can find stretches that are perfect for families looking for shallow waters and endless stretches of soft sand to set up your chair and umbrella.
A few of these beaches are also good places for shelling. Situated in an east-west direction, with little urban development, Sanibel collects hundreds of shell species that were carried to its coast from the Gulf of Mexico. Shells are such a big thing here that Sanibel (along with the beaches of Fort Myers) helped create National Seashell Day to mark the first day of summer (on June 21st). It's also home to the Bailey-Matthews National Shell Museum.
Accommodation: Top-Rated Resorts on Sanibel Island
5. Santa Rosa Island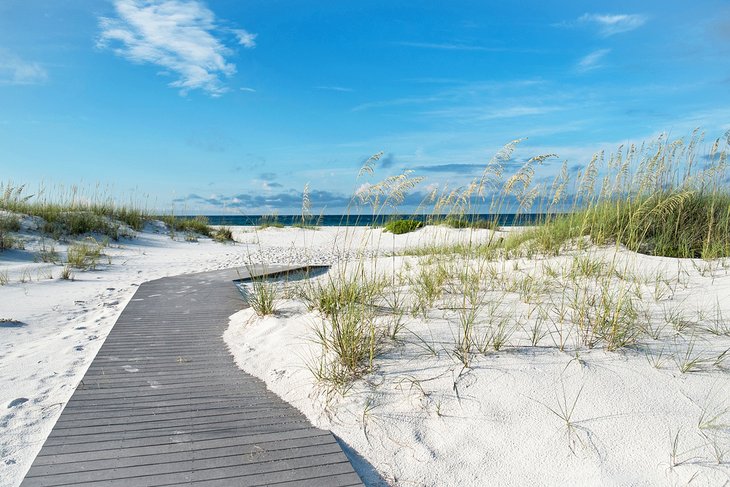 Santa Rosa Island is a beach lover's paradise. Home to many of the Florida Panhandle's best beaches, this long barrier island is a must-do. Emerald-green crystalline waters lap some of the most blindingly white sand beaches you've likely ever seen. Some of the best ones to visit include Pensacola Beach, Opal Beach, Navarre Beach, and Elgin Matterhorn Beach.
In addition to spectacular beaches, Santa Rosa Island is also home to historic Fort Pickens. Dating from 1833, this fort is well worth a visit for the huge cannons and amazing views from atop the walls.
Santa Rosa Island is also home to two fun beach towns, including Pensacola Beach and Navarre.
Read More: Best Beaches in Pensacola
6. Siesta Key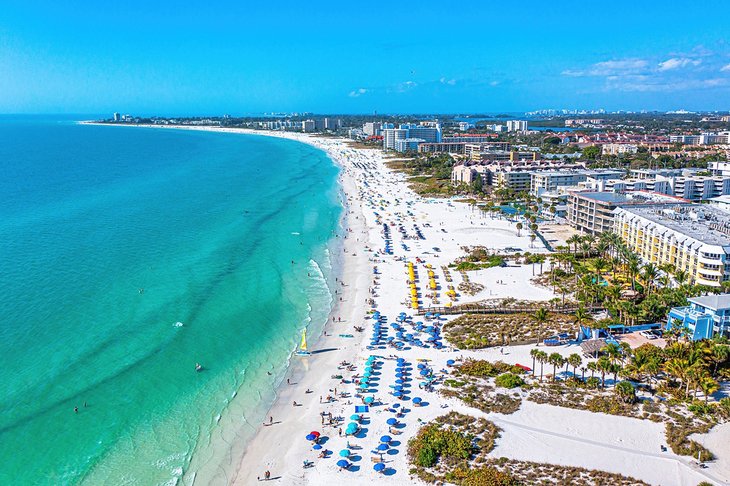 Is eight miles of beach of interest? If so, head south from Sarasota and across the North Bridge to Siesta Key. As you drive onto the island, it will become decision time. Do you and your crew want a lively beach with white sand, volleyball courts, and lots of people? If so, head to Siesta Key Beach. Looking for something a little quieter and especially beautiful? In that case keep a close eye out for Beach Access #7 and walk the trail out to Sarasota Beach.
Love snorkeling and exploring under the waves? Jump on the trolley and get off at Beach Access #12 and head to Point of Rocks Beach. Just walk out along the concrete barrier to find underwater limestone ridges teeming with fish.
Looking for a secret beach that few people find? Head all the way south down to Turtle Beach. Here, you'll find salt-and-pepper sand and miles of beach to the south.
Maybe you aren't even interested in the beach and just want to catch one of the famous Florida sunsets. That's easily accomplished. Just pry yourself off your patio perch in Siesta Village and stroll down to Sunset Beach. Try and incorporate the old pier into your shot for a little added interest to your picture.
7. Amelia Island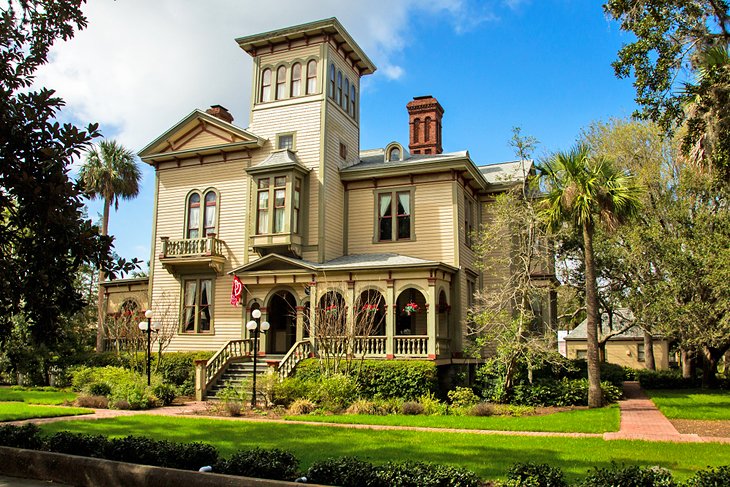 Amelia Island is often overlooked by travelers destined for Florida's warmer, southern coast. This wild northern beauty, though, really shouldn't be missed.
A barrier island in the Sea Islands Chain, Amelia is a tranquil playground for the wealthy, featuring a few of Florida's most luxurious beach resorts. Its main town, Fernandina Beach, ups the charm factor dramatically. History abounds within its streets, lined by Victorian buildings and eclectic shops and restaurants housed in fishing cottages.
Considering the clientele, there's no shortage of perfect fairways, and its 13 miles of sand-dune-lined beaches are pristine. Whether you're planning to shop, dine, paddle, swim, or relax beachside, Amelia Island is one of Florida's most lovely and underrated gems.
8. Gasparilla Island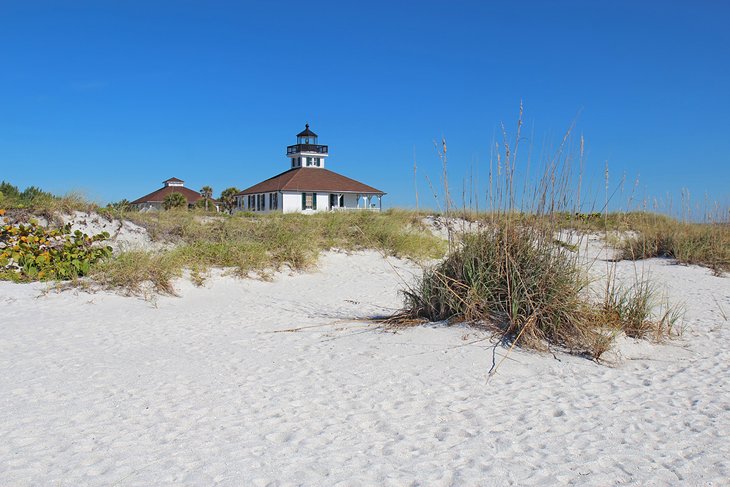 A relatively small but wildly beautiful barrier isle spots the Gulf Coast just northwest of Fort Myers. It's called Gasparilla Island, and boy is it ever charming (and refreshingly undeveloped).
Gasparilla Island State Park is a great family destination. Its phenomenally soft sand, crystal-clear water, and sweet lighthouse are worth a look-see. Insider's tip: Keep your eyes peeled for the often-evasive manatees swimming offshore, as well as dolphins playing nearby.
Boca Grande is this Florida island's main attraction. The town itself is quaint and charming; a fishing village filled with pastel-colored buildings, fun shops, and tasty restaurants. The favored mode of transportation in this laid-back locale is twofold: golf carts and bicycles.
9. Little Gasparilla Island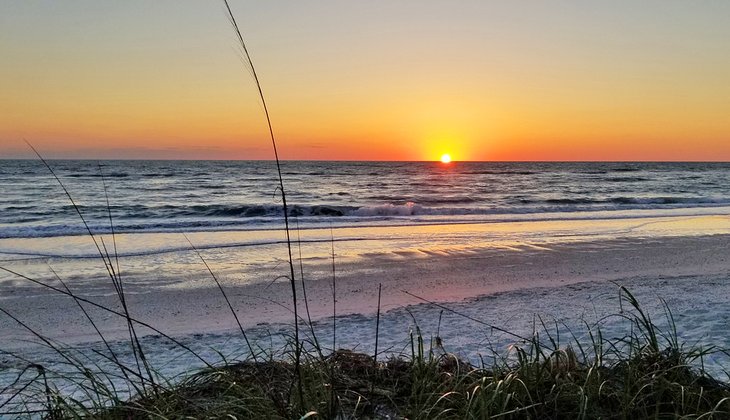 A hop, skip, and short boat ride north of Gasparilla Island lies its smaller and undeveloped cousin, Little Gasparilla Island. Situated at the mouth of Charlotte Harbor, about halfway between Sarasota and Fort Myers, Little Gasparilla presents the idyllic, serene beach vacation you've been dreaming of. There are no high-rises in sight!
With no roads or cars on the island, you'll have to rely on your own two feet to get around. That won't be a problem considering the sumptuous feel and cleanliness of its sugar-white sand. Beware where you step in the summer, though, this is where sea turtles come to nest.
10. Key Biscayne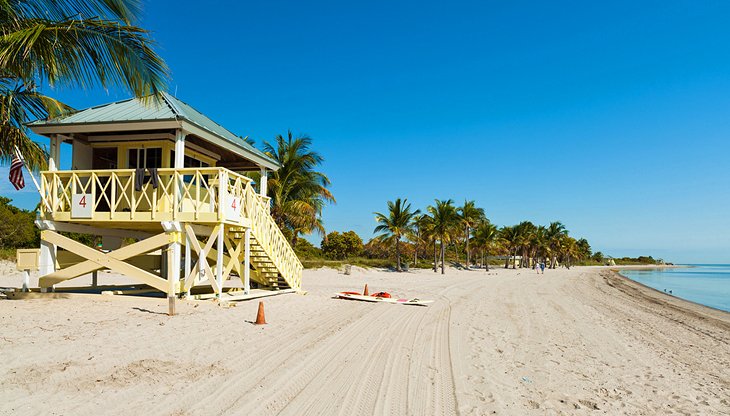 When the noise and drama of Miami become too much, head to nearby Key Biscayne. A barrier island with a remarkably quiet vibe and phenomenal beaches, Key Biscayne is a perfect place to unwind. Crandon Park offers three miles of soft, sugar-white sand on which to rest your weary self or have a sandcastle build-off with the kids.
Looking for a bit of adventure? Head to the island's Bill Baggs Cape Florida State Recreation Area. Here, you can do everything you ever dreamed of on land and in the sea (well, almost everything). From kayaking to snorkeling to biking to rollerblading, or even climbing to the top of a historic lighthouse, there's no lack of things to do in Key Biscayne.
11. Bahia Honda Key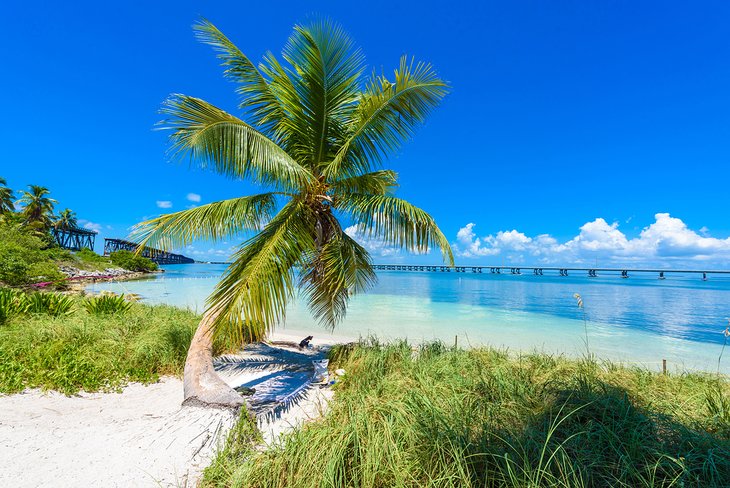 To many travelers, the fact that the Florida Keys do not generally have very good beaches may come as a surprise. The offshore reefs prevent the required wave action to bring sand to the shorelines. The one major exception is at Bahia Honda Key. Here, you'll find spectacular beaches, warm clear, and shallow water.
It's a veritable paradise that few people know about, most people whiz right by with their minds focused on getting to Key West. Although you may be drawn to the beaches initially, the history of the key relating to the historical Overseas Railway will definitely pique your interest. Be sure to walk out on the remains of the old bridge for fantastic views out over the nearby waters.
Bahia Honda Key is still recovering from Hurricane Irma. The best beach, Sandspur, remains closed, but restoration efforts are ongoing.
12. Crab Island, Destin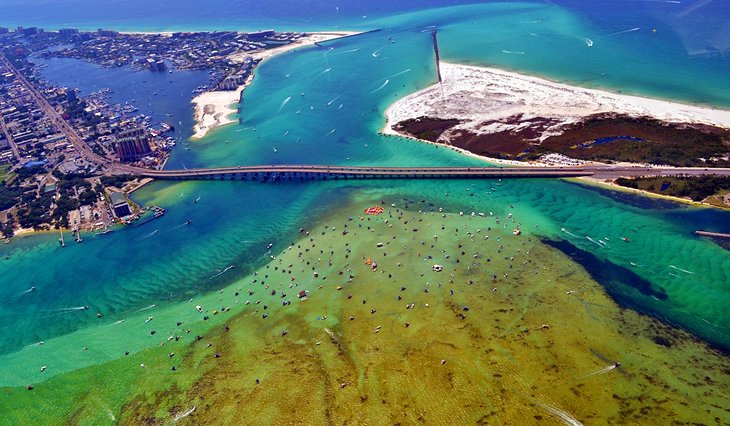 Located in Destin, just south of Marler Bridge, Crab Island is more of a sandbar than a true isle. The only way to get here is by sea, so you'll have to head out in some sort of seaworthy contraption (i.e. boat or kayak) to explore this unique natural wonder.
Crab Island is best known for its (yep, you guessed it) crabs! This crab-shaped sandbar is home to thousands of the little creatures who roam the ocean floor. It's a fantastic place to lay anchor and spend a day walking, splashing, or frolicking in the warm, turquoise water.
Although a bit of a party haven, this interesting locale is a fun, safe spot for those traveling with kids. Insider's tip: If you're traveling as a family, spend the morning here and then leave, before the adults turn this into party central.
There are no buildings here — this is a sandbar, after all — so head into Destin to take advantage of its many attractions, shops and restaurants. That said, due to Crab Island's popularity, vendors have been cropping up in droves lately, so you'll still be able to source everything from sunblock to a burger to an inflatable trampoline on-site.
Accommodation: Top-Rated Resorts in Destin
13. Islamorada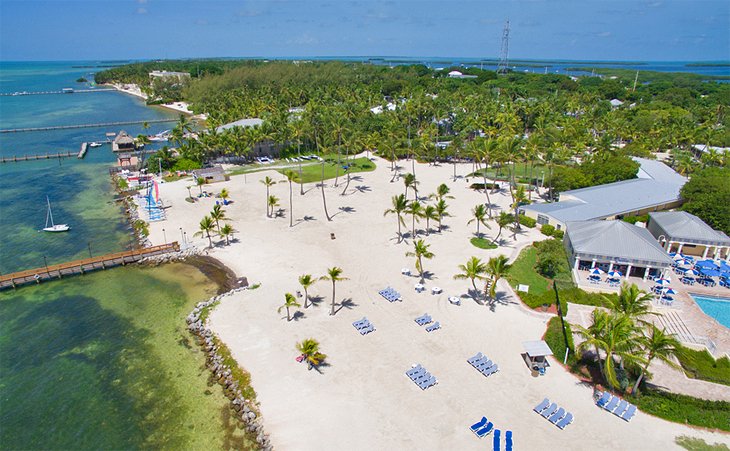 Technically a collection of six islands, Islamorada is known as "The Village of Islands." This pretty achipelago blends the region's tropical magnificence with urban offerings like funky restaurants, vibrant galleries, and historic sites. Stretching for 20 miles on Tea Table Key, Shell, Plantation Key, Lignumvitae, and Lower and Upper Matecumbe Keys, Islamorada is a truly unique place to spend a holiday.
Popular with anglers, it's been deemed by some as the "Sport Fishing Capital of the World." If that doesn't float your proverbial boat, there are plenty of sandy beaches to explore, warm azure waters to snorkel, and a Theater of the Sea to visit.
Accommodation: Best Resorts in Islamorada
14. Dry Tortugas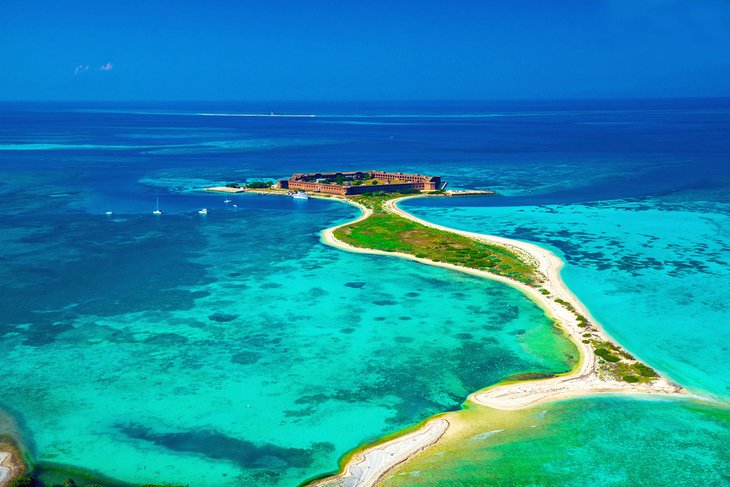 The unusually named Dry Tortugas, part of the National Park system, is not only a beautifully preserved fort dating from the mid to late 19th century, but also an excellent spot to go snorkeling, swimming, and diving. Accessible from Key West by ferry, private boat, or seaplane, the setting for the Dry Tortugas is truly spectacular.
Although the entire area is spread out over 100 square miles, only seven major islands make up the land mass. Take some time to tour the fort and then hit the beach either on Garden Key or Loggerhead Key. Bring your snorkeling mask, the Little Africa Reef off Loggerhead key is home to a thriving marine ecosystem.
15. St. George Island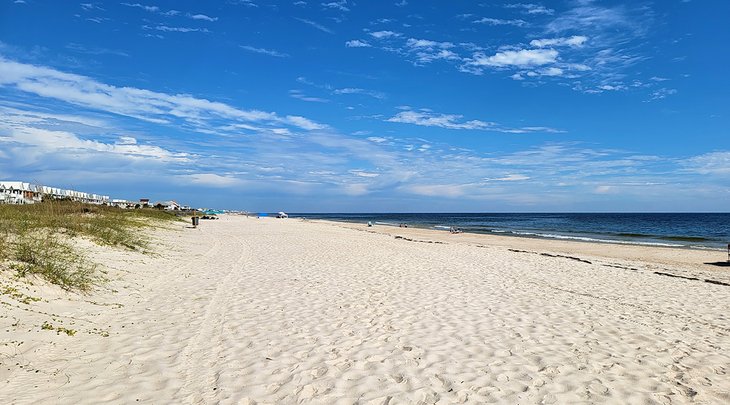 Home to what many consider one of the world's best beaches, St. George Island is a tropical paradise worthy of a visit. Crystal-clear water, velvety sand, and miles of shoreline populated only by shells helped cement the Island's place on this list. A favorite vacation spot for families and pet-lovers, St. George Island is both tranquil and resplendent.
Peppered with unobtrusive homes and lacking the thumping nightlife found on other Florida Islands, visitors can concentrate on the isle's main draw - its dazzling natural landscape. Salt marshes, sand dunes, and impeccable beaches beckon the weary and heal them with their beauty.
16. Honeymoon Island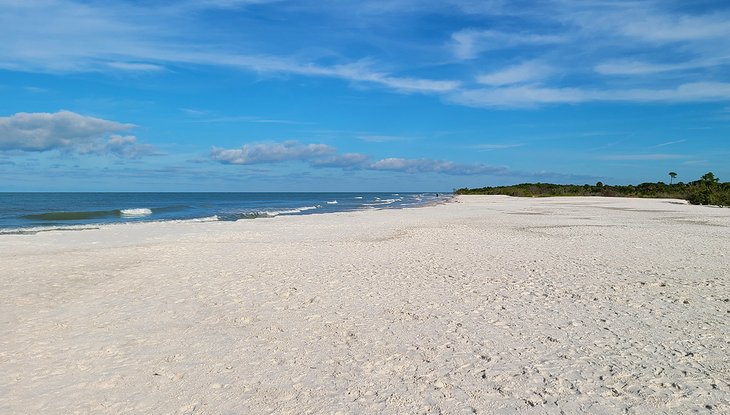 Once slated for large-scale development, Honeymoon Island was saved from condos and vacation homes and today is one of the best state parks along Florida's Gulf coast. A visit to the park is a bit like a honeymoon from your daily cares. Originally named for a developer's dream project, the park is easily reached via a causeway from Dunedin.
Long beaches that are rarely if ever crowded are the norm here and are perfect for a variety of pursuits. Those pursuits range from lying on the sand with the latest best seller to walking for miles along the beach, or perhaps a game of water football. Don't forget swimming as an option. The water is shallow and warm with occasional waves suitable for bodysurfing or boogie boarding.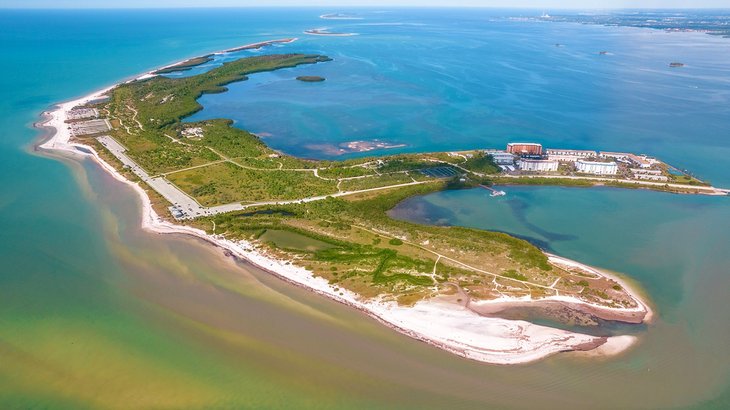 In addition to the aquatic-based activities, the park has an extensive roadway and trail system ideal for walking, jogging, pushing a stroller, or pedaling a bike. Traveling with Fido? The park has a designated off-leash pet area at the southern end complete with a doggie shower.
17. Caladesi Island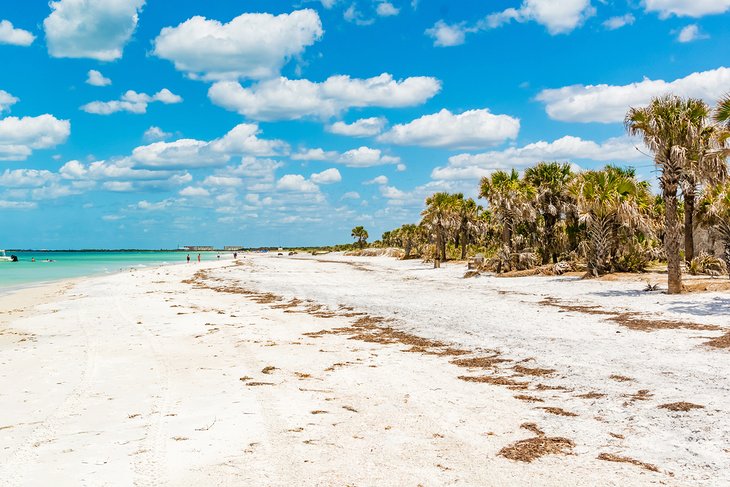 If Honeymoon Island is to your liking but you crave even more nature, take the short ferry ride over to Caladesi Island. The entire island remains almost intact, untouched by any major development or infrastructure.
If you try hard enough, and this is not difficult, you could imagine yourself all alone on a deserted island in the ocean. Miles of beach, backed only by small scrub and small bushy palm trees are practically deserted, making it easy to get lost in your own thoughts.
Shellers should take note: Caladesi State Park is a hot spot for finds. The relative lack of visitors ensures the beaches are not picked over by the early risers. Kayakers should check out the three miles of mangrove tunnels on the east side of the park.
Caladesi Island is accessible by the aforementioned ferry, your own boat, or via kayak or canoe. If you want to walk to the park, you can, but be prepared for a six-mile return trek with no shade. Be sure to check the tides if you choose this option.
18. Pine Island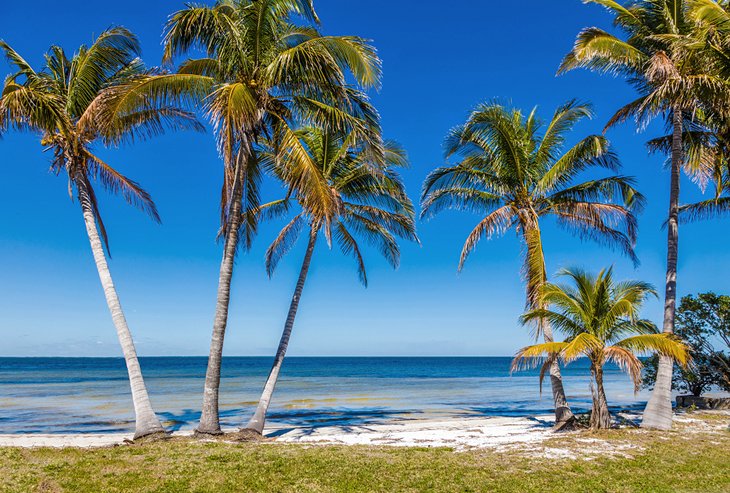 Fishing and swimming and kayaking, oh my! The largest of the islands off Florida's Golf Coast, Pine Island is a quaint haven for those looking for a charming and intimate natural retreat away from cities bustling with tourists.
Dripping with mangroves and bursting with lush pine forests, this island features nature at its best. A haven for artists from near and far, Pine Island is comprised of four distinct and eclectic communities: St. James City, Bookeelia, Pineland, and Matlacha. The latter is Pine Island's central town. It gushes with a multihued Bohemian vibe that screams "tropical vacation." You'll find fun shops, restaurants, and a beautiful park here.
19. Longboat Key Island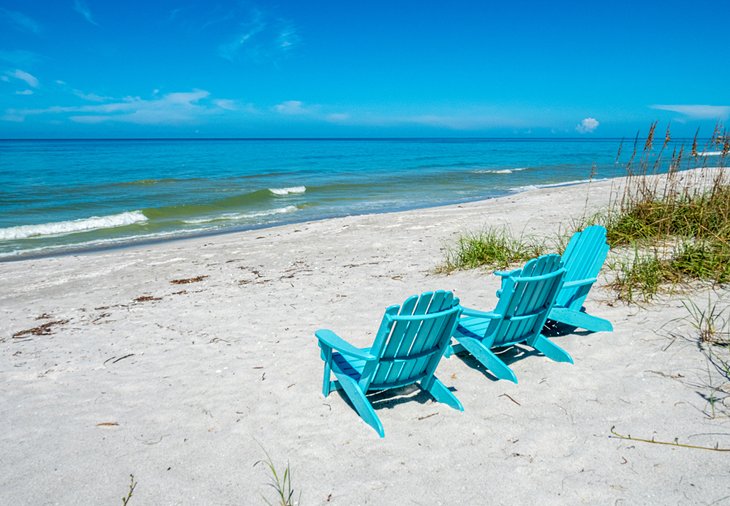 Populated by retirees who know a good thing when they see it, this 12-mile slice of paradise was once a quiet fishing village. Today, its former serenity has fallen prey to those same retirees who longed for upscale condos, a golf course, and tennis club. That's not necessarily a bad thing. Along with the modernization came decadent restaurants and lovely stores to entice those with a penchant for shopping.
If you're hoping to spend a relaxing day wandering through mangroves and lying on a quiet, isolated spot of sand, Longboat Key isn't it. If you're a fan of hobnobbing with the moneyed and don't mind fighting for a parking spot near the beach, you've found the right place.
Insider's tip: Nearby Greer Island (located at the northern end of Longboat Key) is remarkably beautiful and quiet.
20. Cedar Key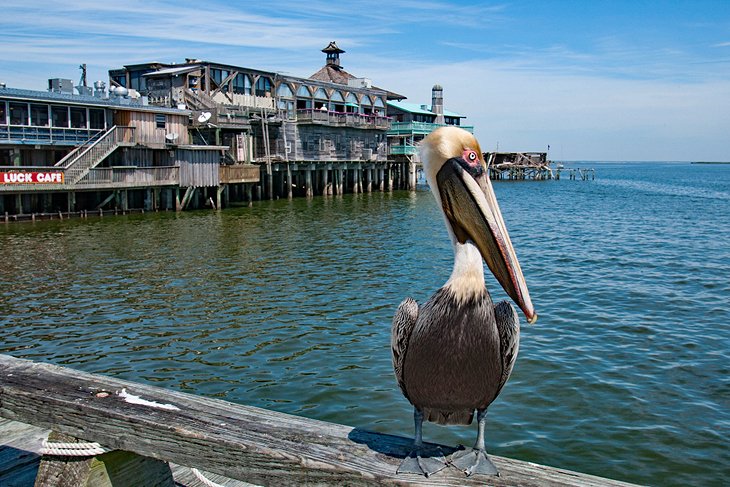 If you're looking for Old Florida charm, Cedar Key won't disappoint. One of a cluster of Islands about an hour southwest of Gainesville, this isolated isle is packed with historic buildings and shines with a rainbow of slightly ramshackle shops. Many teeter above the Gulf of Mexico on stilts, adding to the town's charisma.
Once a key player in the trans-Florida railroad in the late 1800s, Cedar Key also played a major part in the Eagle Pencil Factory. As a result, the area was deforested, and what little remained was destroyed by hurricanes. The current trees are 100 years old and home to some incredible wildlife, much of which can be appreciated from within the Cedar Keys National Wildlife Refuge.
21. Hutchinson Island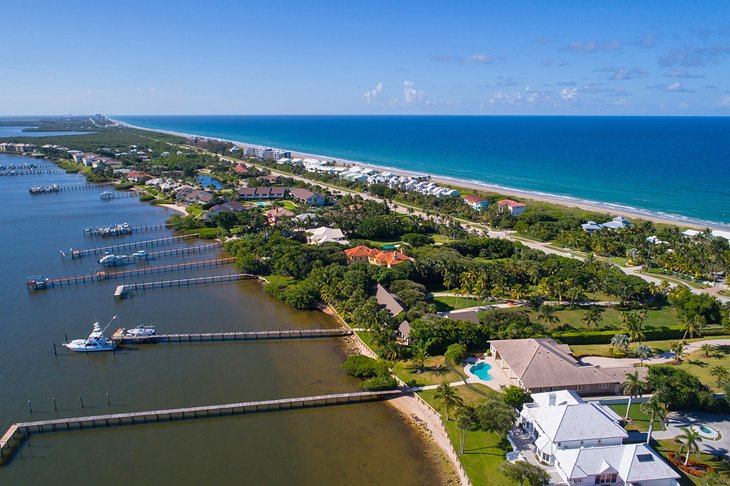 It's surprising that Hutchinson Island, a hidden beauty stretching from Stuart to Fort Pierce, isn't more popular. Its impeccable coast is lined with pristine sandy beaches, offering plenty of options for whiling away a day in the sun. Shelling, sandcastle building, sunbathing, swimming, beachcombing, and SUPing are a few oceanside faves that will entertain the whole family.
Not enough action for your crew? The island's also home to historic towns which boast shops, restaurants, museums, and water parks. Head out on a boat tour to try your luck at deep sea fishing, hit the links for a round of golf, or take a surfing lesson. We guarantee you'll never be bored.
22. Little Palm Island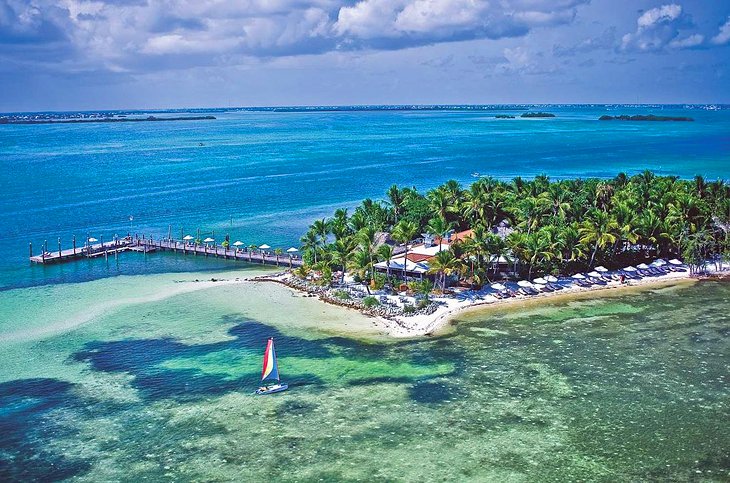 As you might have guessed, Little Palm Island isn't very big. This tiny slice of paradise is a luxurious and exclusive spot reserved for high profile celebs, presidents, and others who enjoy the high life.
A private island getaway, Little Palm is the US's answer to the Seychelles, dripping with the exquisite thatched-roof bungalows of its only inhabitant - the Little Palm Island Resort & Spa. Everywhere you turn are spectacular ocean views and sparkling paths made of crushed seashells (you'll want to wear sandals). Lush foliage abounds, and the waves crash gently onto the shore, lulling visitors into a much-needed state of relaxation.
One more reason you need to visit Little Palm Island: you'll never have to fight a crowd for a stellar spot on the beach. Talk about an ideal spot for a romantic beach vacation.
Map of Islands in Florida
More Related Articles on PlanetWare.com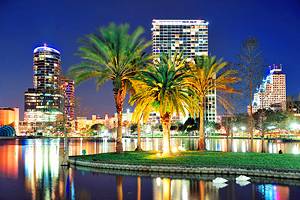 More Fun Places in Florida: More than 126 million people visited Florida in 2018. While many flock to the theme parks and other attractions of Orlando, others favor top-rated attractions, like The Everglades and Busch Gardens, in other parts of the state. Still not sure where to go? Try one of these best places to visit in Florida.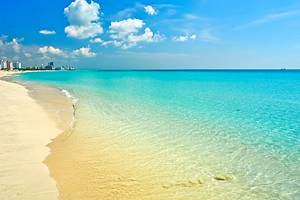 Where to Relax in Florida: If you're traveling with kids, and unwinding is a must on your vacation, check out these best Florida beaches for families. For those looking for a quick getaway (with and without little ones in tow), choose from one of these top-rated weekend getaways.