7 Best Things to Do in Navarre, FL
Navarre may not be on everyone's radar as a top beach destination in Florida's Panhandle, and those who come here year after year are just fine with that. They are more than happy to keep the miles and miles of uncrowded white-sand beaches all to themselves. They are also keen to keep the secrets about Florida's longest (and some say best) fishing pier, good diving, and great dining.
The main activities here revolve around the beach, be it swimming, lounging, fishing, or snorkeling. However, just back from the beach on the mainland, reached via a scenic causeway, you'll find a great selection of additional fun things to do as a family, including a zoo and a day trip to Blackwater River State Park.
The other main attraction in Navarre Beach is Santa Rosa Sound. This protected area of calm water is an excellent place for pleasure boating and sailing. A popular excursion on the sound is nearshore fishing with one of the many charter boats.
Plan your trip with our list of the top things to do in Navarre Beach.
1. Spend Time on Navarre's Beaches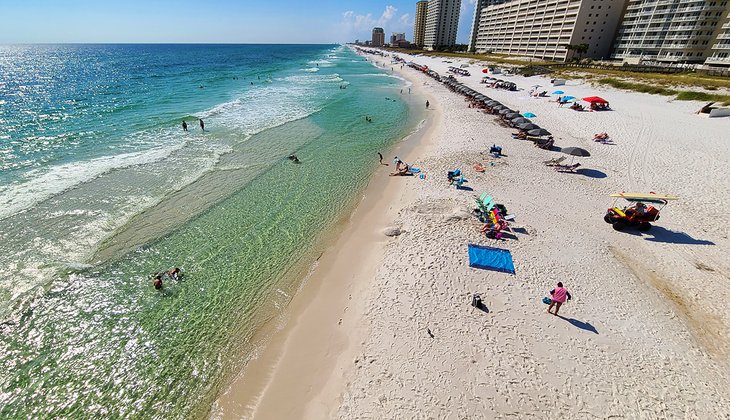 Navarre's beaches are, in a word, stunning. East and west as far as you can see, the emerald green waters of the Gulf of Mexico lap gently at the white-sand shoreline. As you walk along the beach, and the sugar soft sand squeaks under your feet, you may wonder to yourself, how can I extend my vacation here in Navarre?
Of the five main beaches near Navarre, three of the best are right in town. The most popular is simply called Navarre Main Beach or Pier Beach. Here, you'll find the liveliest scene, with beach vendors offering lounge and umbrella rentals, and several excellent restaurants with large patios just back from the beach.
A bit farther east, is the appropriately named East Beach. Complete with pavilions, barbecues, and showers, it's well set up for a day at the beach. For those who love to beach walk, head east along the shoreline; you'll have eight miles of undeveloped beach to yourself.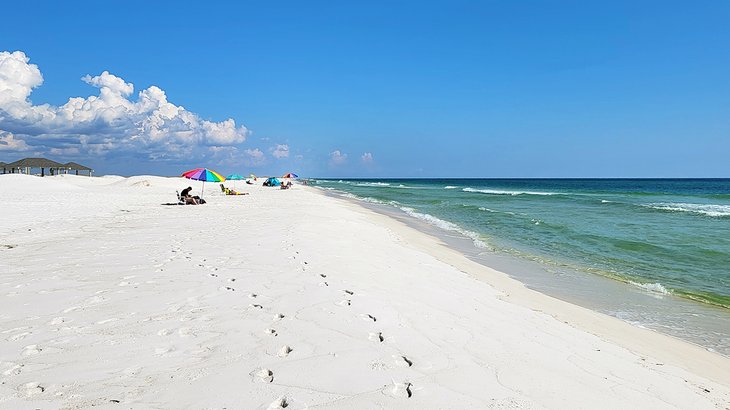 If waves and the big water of the Gulf of Mexico aren't your thing, head to the Soundside Beach. The shallow water is bathtub warm, and this beach is ideal for families with small children.
For the most natural beach experience, head west to Opal Beach. Out here, it's just you and the birds and maybe a few other beachgoers. You'll be able to walk for miles east and west and basically have the place to yourself.
2. Navarre Beach Fishing Pier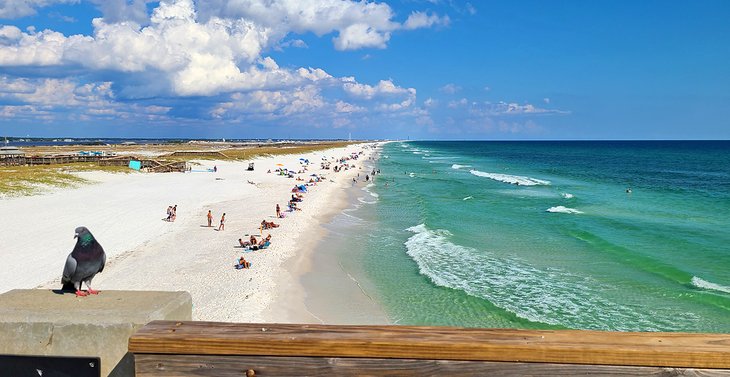 The Navarre Beach Fishing Pier holds the title of the longest fishing pier not only in Florida, but in the entire Gulf of Mexico. One of the most popular tourist attractions in town, this impressive pier extends out nearly a third of a mile (1,545 feet) into the azure waters of the Gulf of Mexico. Situated 30 feet above the water, the views from the deck are as impressive straight down as they are east and west.
Frequent sightings of stingrays, dolphins, and even sea turtles are common, along with an extensive collection of sea birds, including pelicans, herons, and seagulls. The main attraction here is fishing, with catches consisting of two types of mackerel, pompano, and cobia among others.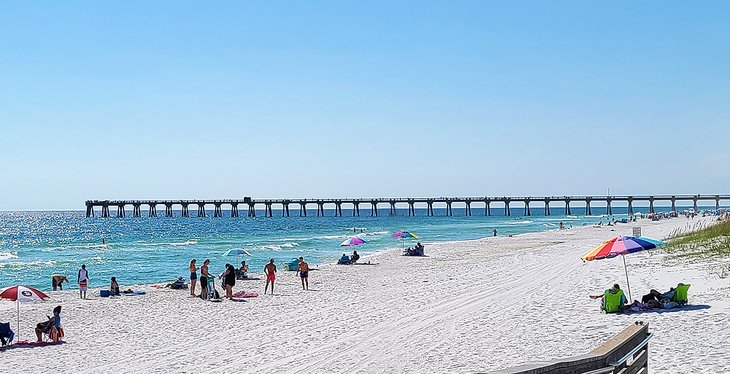 If fishing isn't your thing, perhaps a pleasant walk followed by a leisurely lunch is more your style. Fortunately, the pier is a perfect place to visit for both. Stroll out to the end and back, soak up the views and fishing action, then settle in at Windjammers on the Pier for the freshest locally caught seafood around.
3. Tour the Navarre Beach Sea Turtle Conservation Center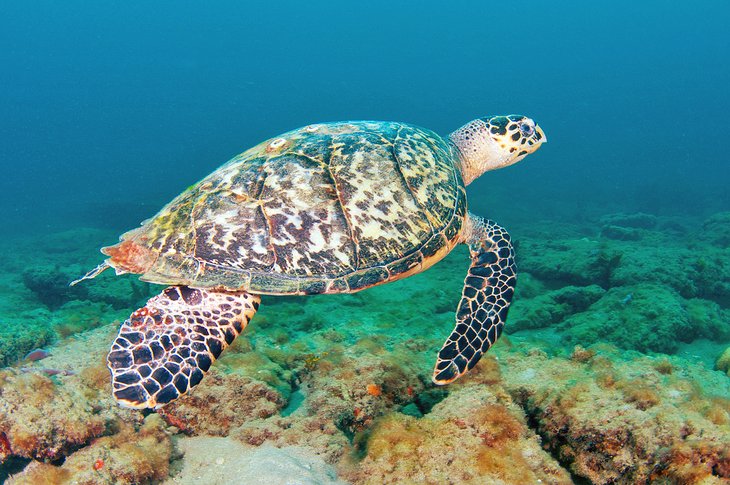 If you are traveling in a large group of 10 or more and are interested in sea turtles, plan an afternoon at the Navarre Beach Sea Turtle Conservation Center (NBSTCC). Accompanied by a conservation animal care expert, you'll get to meet a variety of marine life that inhabit Florida's waters ranging from seahorses to lionfish, and of course, turtles.
One of the highlights of any visit is a green turtle named Sweet Pea, who is always excited to see new visitors. Throughout the tour, you'll pass through several interesting interactive displays dealing with the earth and its oceans.
The tour concludes outside, with two tortoises, Safari and Flip Flop, and time to find the perfect souvenir in the gift shop.
Address: 8740 Gulf Boulevard, Navarre Beach, Florida
Official site: https://navarrebeachseaturtles.org/
4. Gulf Breeze Zoo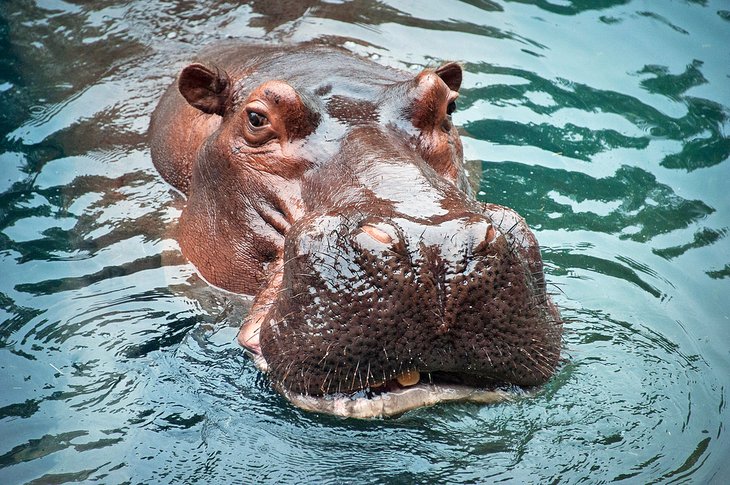 Just a 15-minute drive west of Navarre Beach is the Gulf Breeze Zoo. An ideal family outing on a cool or cloudy day, the zoo has over 800 animals from around the world. Some of the most popular animals are the gorillas, giraffes, orangutans, and, of course, the hippos.
The Gulf Breeze Zoo is spread out over 50 acres, so a bit of walking on an elevated boardwalk is involved; however, if you'd rather have someone else shuttle you around, just jump on the Safari Express Miniature Train. This narrow gauge railway runs on the hour through the animal enclosure, allowing you to see them in their natural environment. The train ride takes 15 minutes and is included with your admission.
If you'd like to get even closer to the animals, feed them, and learn a bit about their lives, sign up for an animal encounter. For an additional fee, you can get one on one with a giraffe, hippo, sloth, and Galapagos tortoise.
5. Golfing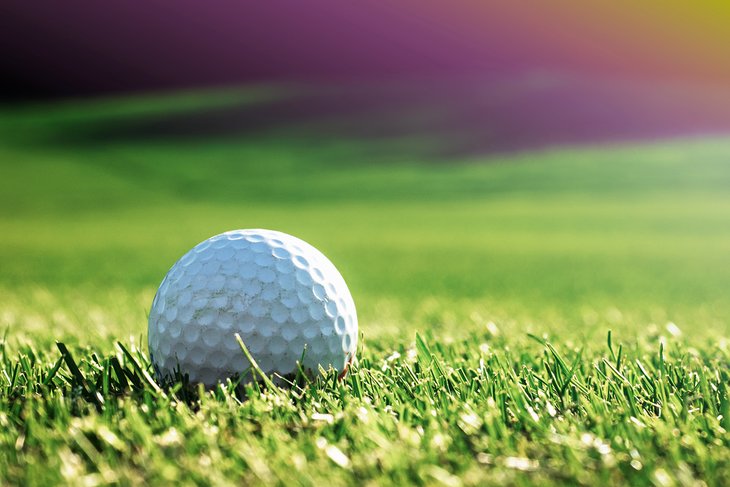 Not everyone is enamored by a day at the beach. Others, especially frozen northerners who love golf, would much rather be out on the links soaking up the sun. Fortunately, if you stay in Navarre you'll have the best of both worlds: amazing beaches at your doorstep for some of your crew, and five championship golf courses nearby for the rest.
One of the closest is The Club at Hidden Creek. This rolling course, designed by Ron Garl, will test your skill set as you navigate its 6,873-yard distance. A mix of tricky doglegs and extensive water features coupled with seemingly perfectly placed bunkers will have you smiling or cursing.
6. Nearshore Fishing on Santa Rosa Sound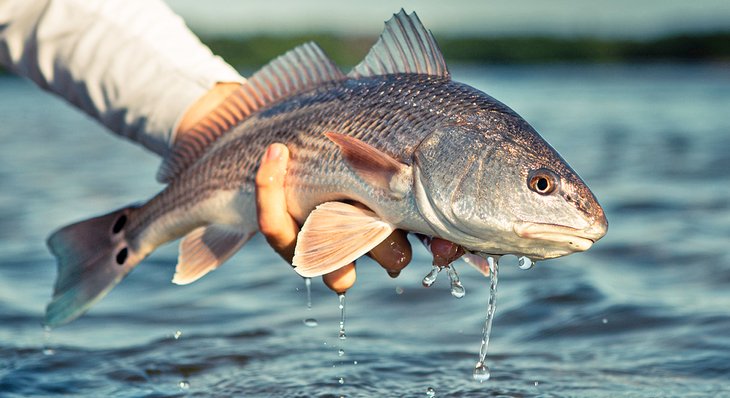 Navarre's location on Santa Rosa Sound makes for ideal nearshore fishing. This type of fishing avoids the rough seas of the Gulf of Mexico and is an ideal family trip. Charter a boat, complete with captain and crew, and not only enjoy the chance to test your luck but to also find some hidden spots along the sound.
Species that you'll encounter include flounder, redfish, sheepshead, bull reds and many others. Most captains practice catch and release, but if you'd like to keep one for the barbecue later on, they'll clean and fillet it for you.
Options for outings include full-day fishing charters for up to four people or shorter outings. Most captains are pretty flexible and will work with you to arrange something fun. Charter boats leave from Juana's Boat Ramp in Navarre Beach.
7. Nature at Blackwater River State Park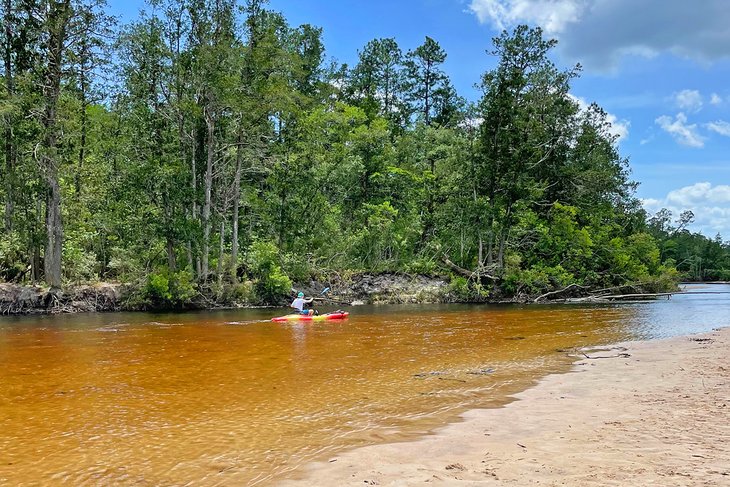 For something completely different from the beach, head 40 minutes inland to Blackwater River State Park. A wide variety of things to do are on offer and depend what gear you own.
If canoeing is your thing, paddle up and down the Blackwater River and marvel at the sandy shoreline and bottom. One of the top things to do while canoeing the river is to beach the canoe on a sandbar and take a refreshing dip in the shallow tea-colored water. If you don't have a canoe, don't worry; an inner tube is also a popular way to float gently down the river. Just be sure to exit the river at the Deaton Bridge.
Although the river is the star of the show here, non aquatic-based activities are also popular and include hiking along one of the three trails winding their way through the rare longleaf pine and wiregrass ecosystem.
Official site:https://www.floridastateparks.org/parks-and-trails/blackwater-river-state-park