Deep Sea Fishing in Panama City Beach: 7 Things to Know
Author Anietra Hamper is an avid angler and has spent time fishing for a variety of species in the waters around Panama City Beach.
There is no greater angling anticipation than with deep sea fishing, especially in a destination like Panama City Beach in Florida, which sits on Gulf Coast waters. The possibilities of what to catch are endless regardless of the species that you set out to target. Generally, when it comes to deep sea fishing in Panama City Beach, the farther you go offshore and the deeper the water, the bigger and wider variety of fish to experience.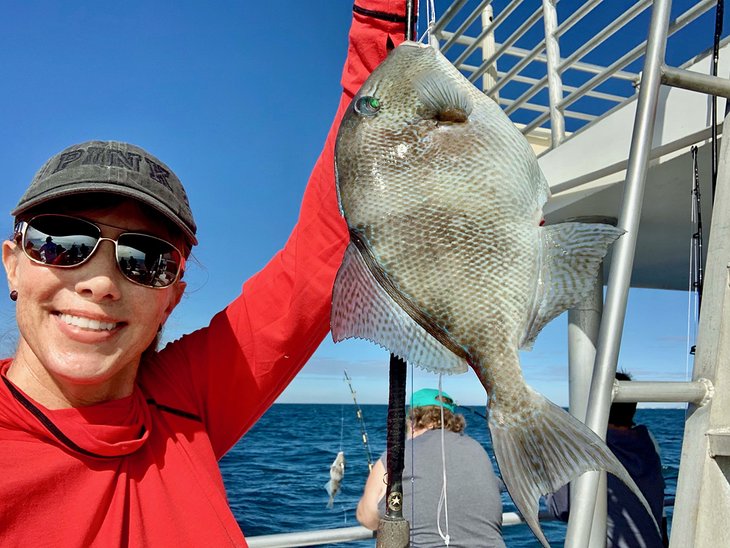 Many pelagic fish like cobia, king mackerel, Spanish mackerel, blackfin tuna, wahoo, mahi-mahi, and sailfish are common when the waters are warm offshore. Inshore fishing in the bay is productive for redfish, speckled trout, Spanish mackerel, flounder, and pompano.
Panama City Beach fishing is ideal, not just because of the variety of species to catch in the Gulf waters, but because of the many ways to fish and be productive. Offshore, inshore, pier fishing, beach fishing, and using fly or spinning reels from a kayak or paddleboard are just some of the options.
Bottom Fishing
The most common way to fish in the northwest Gulf of Mexico is bottom fishing using traditional spinning reels. To try some of the deep sea fishing in Panama City Beach, I headed out with the crew from Jubilee Deep Sea Fishing Charters. We headed to the reefs in 90 to 100 feet of water, targeting small and medium-sized fish.
"We typically fish natural limestone reefs commonly known as live bottom," said William Richard, aka "Chops," my deckhand for the day. "Those provide a lot of natural hiding places for smaller species that draw in the fish that we target that feed on them."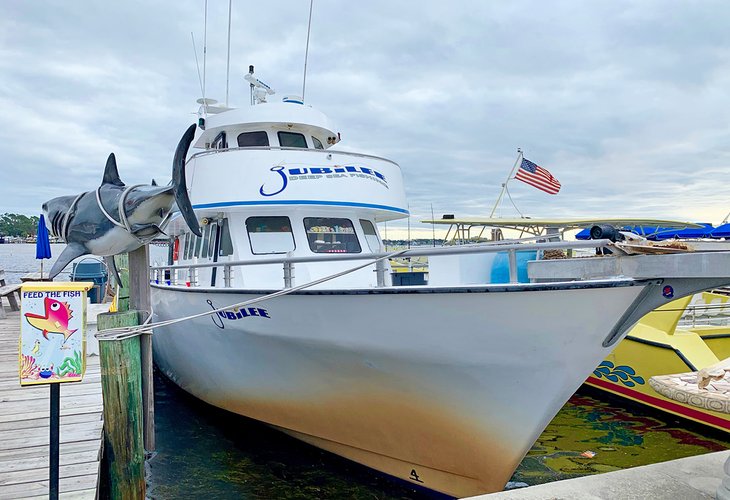 Since the waters do not stay warm year-round, and the corals do not flourish as much as they do in more tropical climate zones, a number of artificial reefs exist off the coast of Panama City Beach.
"These artificial reefs include bridge spans, chicken coops, tire graveyards, rubble piles, tanks, airplanes, army barracks, shipwrecks, and much, much more," Chops tells me.
Charter Fishing in Panama City Beach
Our fishing charter heads out in the early morning. The air is cool, requiring several layers of comfortable clothes and a light windbreaker, but the Florida panhandle coastal sun warms the temperatures quickly. Captain Brandon gets on the loudspeaker to say that the one- to three-foot seas and a slight wind out of the northwest will make for a pleasant day on the water as we head an hour and a half to our first location.
Species like snapper, porgy, grunt, triggerfish, vermillion snapper, and bonita will likely be what we catch, but it is the ocean with a complex food chain, so you never know what could be on the end of the line. We use cut bait of squid on a common rig, referred to as a chicken rig with a swivel followed by two hooks and a bank sinker.
Chops positions me on the back of the boat as we prep for our first stop over a reef. I release my line, dropping it all the way to the ocean floor where we are confident that schools of fish are congregating. The seagulls flying overhead are a good sign, as that usually means schools of fish are in the area. Within seconds, there's a tug on my line. I hold the line tight, with my rod and reel fast but steady, feeling the tension from the fish and the water as I pull the line to the surface.
"Fish on!" I yell. Chops runs to the back of the boat excited to see what was on the line.
"Ladyfish," Chops shouts out loud. I had two red mouth tomtates on the hooks. They are nicknamed ladyfish because of the stark red coloring around their lips that resembles lipstick. Many species like these, especially smaller species, have nicknames, which makes them easier to identify when there's quick action on the boat. I'd never seen this species before, but Chops assures me that they make great fish tacos.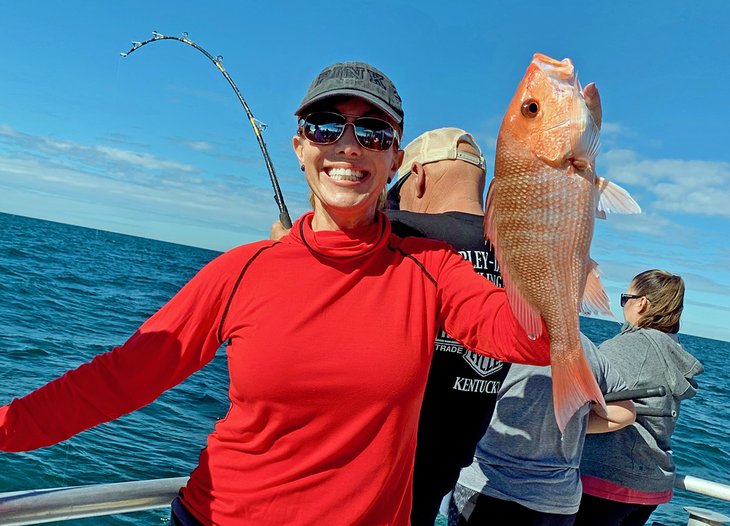 Just as Chops turns around, I shout, "Fish on" again. I can hardly believe the swift bite action, making me want to unload and reset as quickly as possible. This time a stunning red snapper glows its brilliant color through the water long before I get it to the surface. These are some of the prized fish of Panama City Beach waters. Since red snapper is out of season, it must go back, but not before a quick photo.
The moment feels like a circus, and that angling anticipation never subsides. In fact, it only becomes more powerful with each fish that I reel into the boat. We switch locations several times, and with each stop, my resume of new catches grows. We pull in rock bass, vermillion snapper, sand perch, white snapper, triggerfish, many tomtates, and bonita.
Besides several beautifully large snappers that were catch-and-release, my favorite surprises were the multiple triggerfish that stole my bait with the chomping action of their outrageous human-like teeth. These, too, were out of season and were released back into the water, but they were worthy of an up-close look at their natural tools used to snag and sneak off with food in the deep water.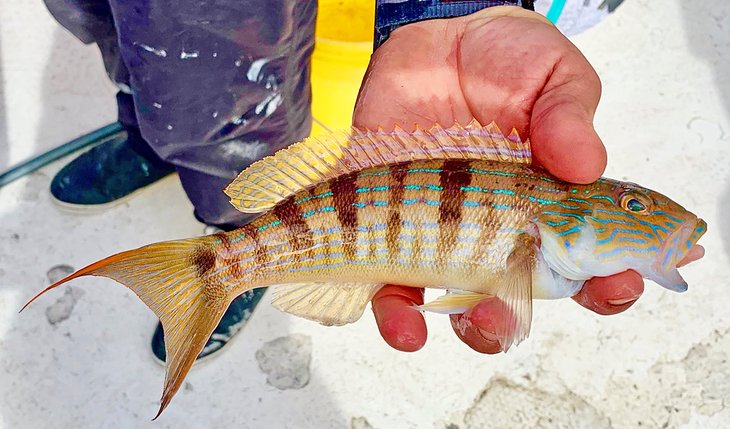 For anglers unfamiliar with Florida deep sea fishing, narrowing down where to go and when can be daunting. There are so many great locations for deep sea fishing in Florida but Panama City Beach has its own appeal.
"There is always something good in season," says Chops. "You can generally expect to catch red snapper, a number of snapper and grouper species, grunts, porgies, and triggerfish, along with pelagic species."
Whether you are a hardcore angler wanting to head offshore for sailfish for a day, or you're looking for fish to enjoy at a local hook-and-cook restaurant, there are some key things to know so you can plan a successful deep sea fishing trip in Panama City Beach.
1. What to Know Before You Go
The first thing to consider about deep sea fishing in Panama City Beach is what species you want to target, and that will determine the time of year you should go. The waters off the coast can fluctuate from 59 degrees Fahrenheit in January to 84 degrees Fahrenheit in August, which impacts the types of species that are feeding or migrating.
As you review your desired species, you will want to consider the fishing seasons, particularly for snapper, grouper, snook, amberjack, and triggerfish. There are catch-and-release regulations and size limits for most species, so it is important to know that ahead of time. Booking a fishing charter takes the guesswork out of it, as the captains will know what is currently in season.
Just as important as the tackle is for fishing, so is the apparel that you wear or take with you so you are prepared for all of the potential elements. Panama City Beach can be hot, chilly, wet, humid, or serve up a combination of these during a day on the water. You might be leaving in the early morning when it is cold, and still out on the water in the midday sun. You will want to wear comfortable clothing that you can layer and that you do not mind getting dirty.
Some basics include a long-sleeve shirt, fleece sweatshirt, a windbreaker, old tennis shoes or lightweight boots, and rain gear if you have it. Don't forget to pack sunglasses and a wide-brimmed hat, too.
2. How to Hire a Deep Sea Fishing Charter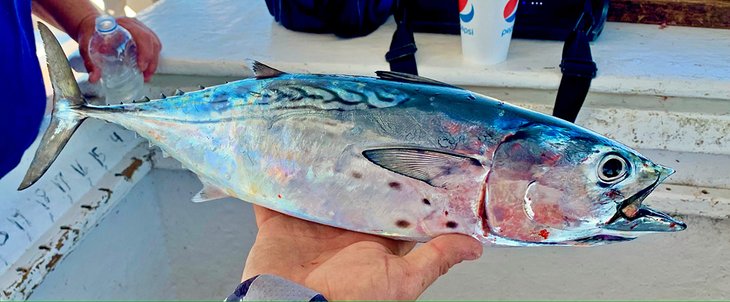 There are a variety of fishing charters available in Panama City Beach that can accommodate any level of experience, any size group, and your preference for how long you want to be on the water. The advantage of hiring a fishing charter versus fishing on your own is that charter prices cover everything you need for the day, including terminal tackle, bait, and a fishing license.
When it comes to fishing charters, you get what you pay for, so keep in mind your goals for going out on the water. Are you after large trophy fish? If so, you will want to hire a private charter that can take you farther offshore into deeper water. Be prepared to spend quite a bit of money on this type of charter, but if you are looking to catch a mahi-mahi, marlin, or sailfish, it is the best way to do it.
Head boat charters are much less expensive if you are looking for a fun day on the water deep sea fishing with the chance to bring home dinner. They are cost-effective, which makes them easy to consider, especially if you have inexperienced anglers in the group or are fishing with a family. These charters do not go out as far, but far enough to catch a wide range of deep sea species.
Before booking a fishing charter, you will want to decide whether to go out for a half-day or full-day of fishing and review local operators, as each has different offerings in terms of boats, hours for fishing, and specialties.
3. Panama City Beach Fishing Seasons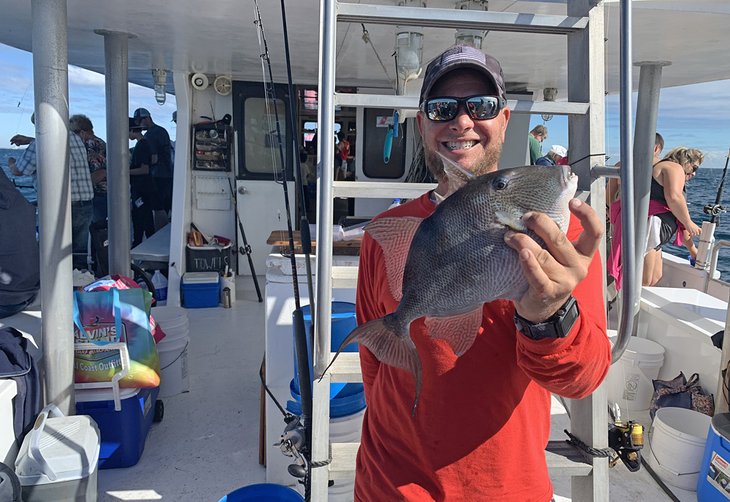 Panama City Beach has year-round fishing, so something is always in season and there is never a bad time to get on the water.
Spring is when the bigger migratory fish like tarpon, cobia, and king mackerel make their way through the Panama City Beach waters. It is not uncommon to see them in the clear water just off the beaches. Late spring is when triggerfish and amberjack come into season, and by late spring Spanish mackerel are present, and cobia and king mackerel begin migrating north. By the middle of May, mahi-mahi are on the move.
Summer is snapper season and when to go for tarpon, as they migrate through the area. You can also find plenty of action with barracuda, kingfish, pompano, large redfish, and jack crevalle. It is easy in the summer to fish close to shore in shallower water, where speckled trout, redfish, and even mangrove snapper are plentiful and active, especially near structures.
The fall months bring shorter days but still plenty of fishing opportunities. Schools of baitfish scatter the cooler water, and species like ladyfish and Spanish mackerel are busy feeding on them. The months from September through December are great for redfish, amberjack, the occasional tarpon, and even sharks. Flounder will be heading out of the bays in the fall, moving towards the Gulf of Mexico, so they are plentiful.
Winter waters are not as consistent as other times of the year in Panama City Beach, but they can still be productive. Winter fishing, especially offshore, requires closer attention to the weather forecasts and frontal systems. Inshore winter waters are great for catching black drum, gag grouper, and bull redfish from December through March.
4. What to Catch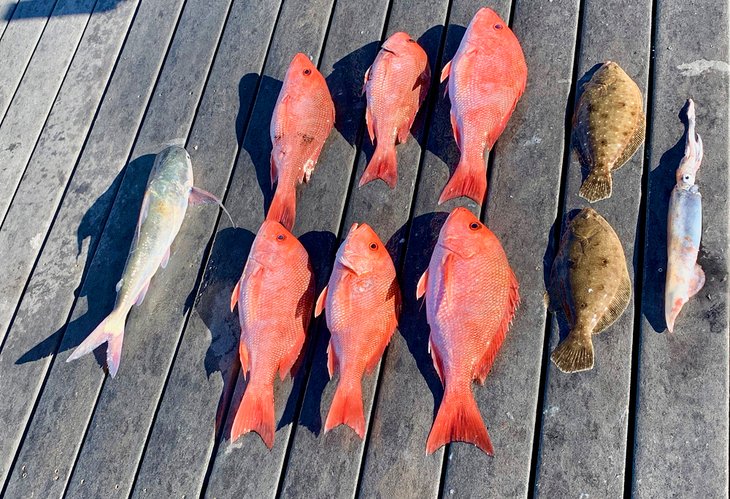 It is easier to mention what is not caught in Panama City Beach than what is available to catch. The variety is outstanding because of the Gulf waters, the panhandle location of Panama City Beach, and the changing water temperatures throughout the year. While there are different fishing seasons for when to target a particular species, there are many to consider.
The types of fish to find offshore at Panama City Beach include pelagic fish like cobia, blackfin tuna, king mackerel, amberjack, wahoo, permit, red snapper, snook, triggerfish, Spanish mackerel, mahi-mahi, sailfish, and sharks.
Inshore fishing in the bay is productive for redfish, speckled trout, Spanish mackerel, flounder, and pompano.
5. Ways to Fish in Panama City Beach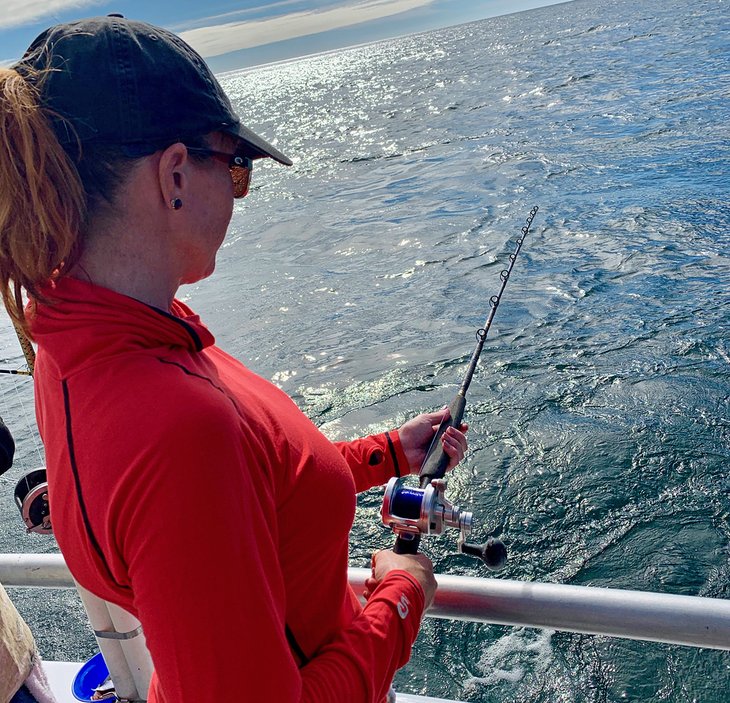 While deep sea fishing by charter is one of the top ways to fish in Panama City Beach, it is always a good idea to have a backup plan in case of inclement weather or other reasons that deep sea fishing may not be an option.

Inshore fishing by charter is a suitable option for many anglers, as there is a wide variety of species that stay closer to shore, like redfish and spotted trout. Spanish mackerel, sheepshead, and pompano are often found in some of the inlets.
Fishing from the pier is popular in Panama City Beach and not just for the locals. Russell-Fields Pier jets 1,500 feet out into the Gulf of Mexico, where you can fish for flounder, cobia, king mackerel, redfish, Spanish mackerel, blue liners, and other species. Fishing off the pier is fun, but you can also find plenty of fish around the pier structures below. You can rent fishing rods and tackle right at the pier and obtain a day fishing license for $7.
Surf fishing is a popular way to fish in the area, with many options in the bays and calmer water. Some of the species you can catch from shore include pompano, Spanish mackerel, and, sometimes, amberjack, cobia, or even sharks.
With 27 miles of white sand beach to choose from, there is plenty of space to try your hand at fishing in the surf. Don't have your own tackle to use? Many of the bait shops in Panama City Beach rent gear that you can use along with great local advice about what is in-season and biting.
Kayak fishing around the inshore waters is growing in popularity, and it's a fun way to enjoy the Gulf waters around Panama City Beach that other watercraft cannot reach. If you are new to the area, it is a good idea to hire a kayak fishing guide at least for your first time out. The shallower waters and flats let you get right on top of fish, plus you can broaden your fishing knowledge by learning to cast and retrieve species like redfish from the kayak. When you are ready to try it on your own, finding local kayak rentals is easy.
6. How to Plan
It is smart to research fishing charters before you plan your trip to ensure availability and lock in your day for fishing. It is easy to find excellent resorts and hotels just a short drive from the marinas and within walking distance of the beach for your non-fishing time.
As you budget for your trip, be sure to plan ahead to tip the deep sea fishing charter deckhands. They want you to have a successful outing, and they work hard to make sure your day on the water is memorable. It is important to tip well, as that is a majority of their income, and the charters are an important part of the Panama City Beach experience.
While most deep sea fishing charters provide most of what you will need for the day, be sure to check if snacks and water are available. If not, bring some. Be sure to pack motion sickness pills or patches and plenty of sunscreen, even for the overcast days, as the sun's rays on the Gulf are brutal on the water.
7. Hook-and-Cook Restaurants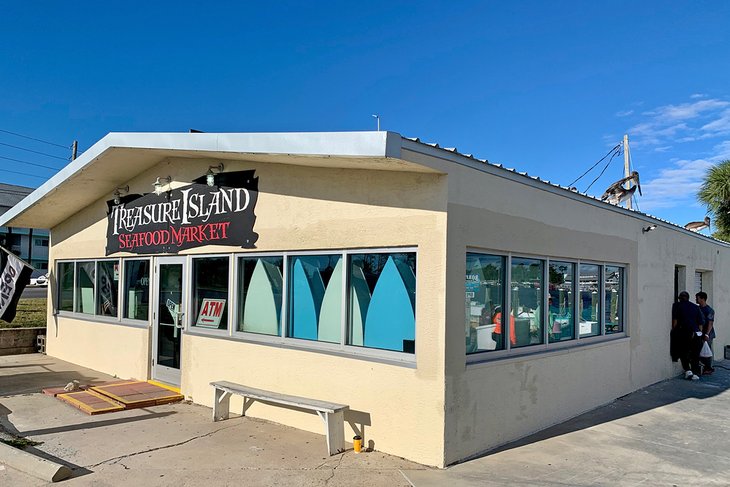 One of the great joys of deep sea fishing in Panama City Beach is being able to take your catch to a hook-and-cook restaurant area to prepare your fish in a variety of ways. You can find places like the Treasure Island Seafood Market that will fillet your fresh catch right when you step off the fishing charter.
Restaurants like J. Michaels The Original will grill or fry your catch with some sides for a delicious dinner after a long day of fishing.
It is wise to take a cooler with you for the day if you plan to catch fish to eat for dinner. For a small fee, you can get your catch professionally filleted and ready to take to a local hook-and-cook restaurant.
More Related Articles on PlanetWare.com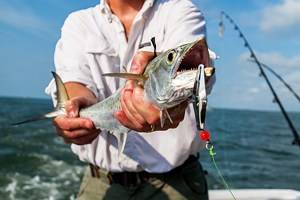 More Fishing Hot Spots: If you are looking for other prime destinations for deep sea fishing, you will want to review our articles on the Top Places for Deep Sea Fishing in Texas, including the Gulf of Mexico out of Galveston, and the Top Places for Deep Sea Fishing in North Carolina, where the Outer Banks reigns supreme for offshore large sportfishing.