5 Best Beaches in Navarre, FL
Just a short and very scenic drive east along the coast from Pensacola Beach is the small waterfront town of Navarre. Here, you'll find a cluster of hotels and resorts along with a few restaurants and one of the most beautiful stretches of beach in Florida.
Navarre beaches are set on the barrier island of Santa Rosa Island, easily reached via bridge access. Several access points offer a variety of options for setting up, although most of the action is focused around Navarre Main Beach, also known as Pier Beach.
Navarre Beach is an affordable day trip destination if you are staying in nearby cities, like Pensacola or Fort Walton Beach. Parking is free everywhere, unlike many other beach towns in the area.
Plan your day on the sand with our list of the best beaches in Navarre.
1. Navarre Main Beach (Pier Beach)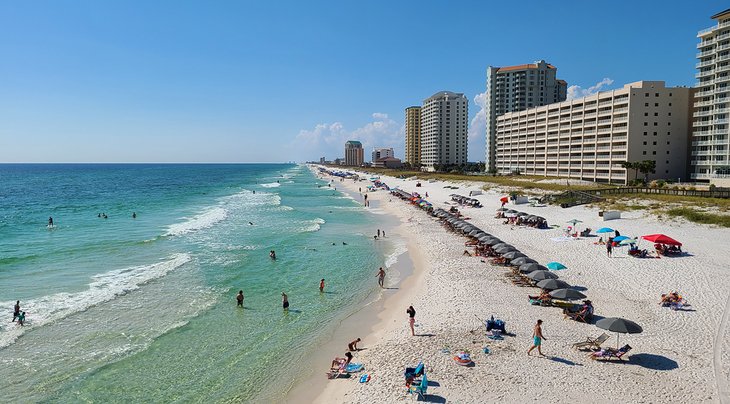 As you arrive in Navarre Beach from the mainland on the Navarre Beach Causeway, the first beach you come to is Navarre Main Beach. The beach is also colloquially known as Pier Beach, an apt name considering the pier extends from the west side of the beach. Navarre Beach Fishing Pier is known for being the longest fishing pier in the Gulf of Mexico.
This is the most lively beach in town and where most day trippers end up. Windjammer's Restaurant on the waterfront provides good seafood, and farther back, Broussard's of Navarre Beach will get your inner Cajun going as they have been since 1996.
Set up your beach gear and settle into a good book, or just partake in some serious people watching. Should you feel the need for a stroll and more action, head west towards the pier. If you crave a bit more serenity, head away from the pier; after a while the people thin out, but the beach remains just as beautiful.
2. Navarre East Beach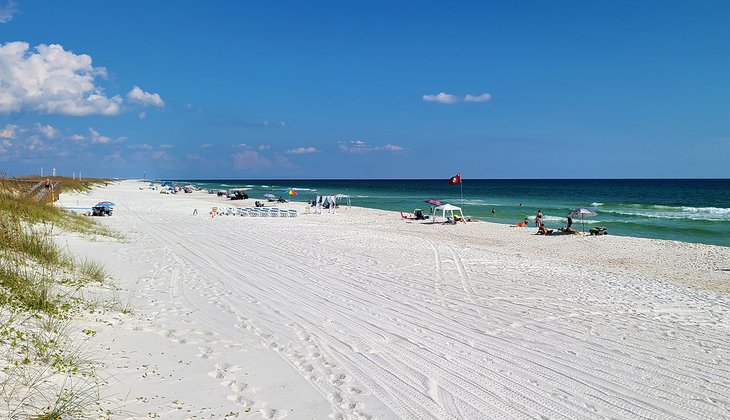 Navarre is home to some of Florida's most spectacular beaches, and one of the best is East Beach. As you cross the causeway, take a left onto Gulf Boulevard, then take a right at the first parking lot you come to. If that lot is full, a rare occurrence, continue onwards to the next lot two hundred yards ahead.
Here, you'll find a series of beach pavilions with authentic names like Manta Ray Pavilion, Sea Turtle Pavilion, and Dolphin Pavilion. Boardwalks lead from the pavilions across the dunes to blindingly white, soft sand lapped by clear, warm water.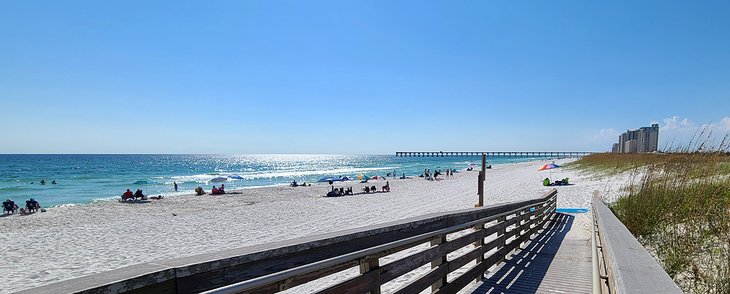 Access to the beach is easy from the parking lot, so pack all the beach gear you want and set up for your day in the sun. Smart beachgoers will also pack a lunch or the fixings for a beach BBQ. Picnic tables and grills are located near the pavilions.
Beach walking here is spectacular. If you walk east, it will soon be just you and the shorebirds. The entire coastline from here to Okaloosa Island, roughly eight miles, is undeveloped and natural. If you turn the other way, you'll head back to the main area of Navarre Beach and the action at the Fishing Pier.
3. Opal Beach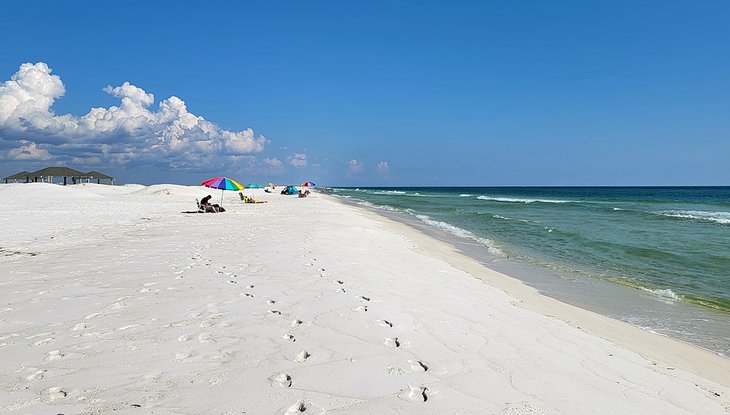 If you truly desire a deserted beach and miles of untrammeled sand, head to Opal Beach. This gem of a beach is primarily only known to locals who are happy to keep it a secret. A gorgeous stretch of white sand runs for roughly eight miles, with nary a condo tower in sight.
It's a mystery why more people don't come to this beach, and perhaps that's one that is best left unsolved. Restrooms, showers, and picnic shelters with picnic tables make this an ideal place to spend a day.
It's a short walk over the sand dunes along a boardwalk to the beach. As you stroll to the water's edge, you may hear a squeak as you walk. That's the quartz sand grains rubbing against one another. That wonderful soft sand is actually miniature pieces of the Appalachian Mountain range far to the north washed down to the Gulf of Mexico.
As this is part of the Gulf Islands National Seashore an admission fee is charged; however, it's good for a week and will get you into all the other beaches and parks nearby, including Fort Pickens.
4. Soundside Beach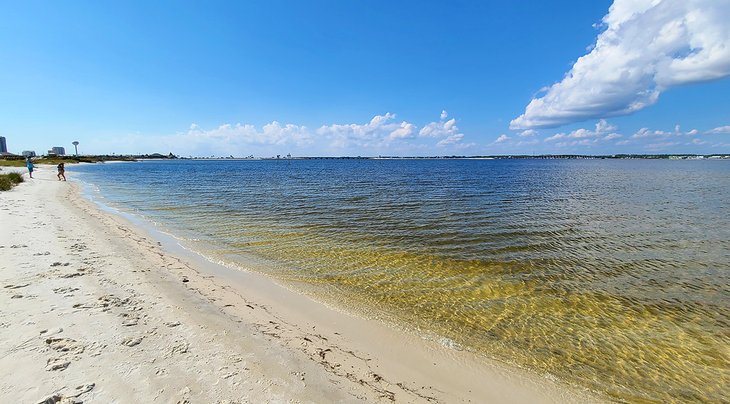 Soundside Beach is one of the lesser known beaches in the area; however, it's a hot spot for those who enjoy bathtub-warm water with no waves. The beach here is much narrower than on the Gulf of Mexico, but also much shallower and ideal for families with small children. This beach is rarely crowded; chances are you'll have the place all to yourself.
Soundside Beach is also a popular place for kayaking. Launch your watercraft and head east to discover small inlets and sandy coves. Or, if it's really calm, paddle over to the East or West Sound reef and look down to try and spot some colorful fish.
5. Navarre Beach Marine Park (Snorkeling and Diving)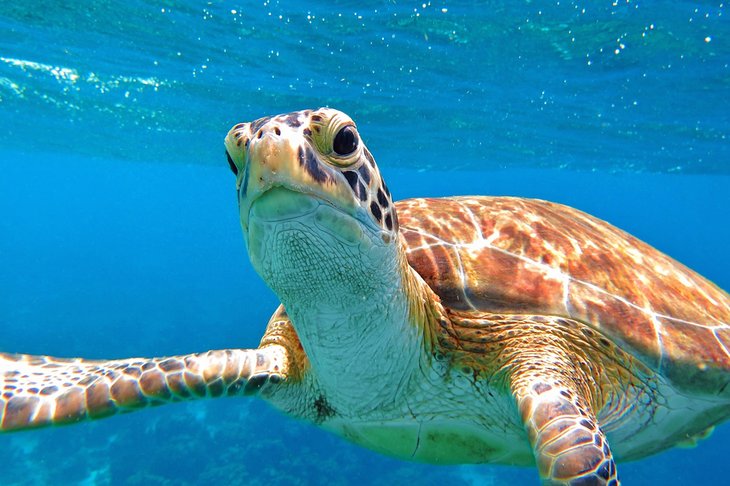 Navarre Beach Marine Park has a beautiful stretch of beach, but it's of particular note to those interested in diving and snorkeling. Local volunteers and the Santa Rosa County have created several artificial reefs in the Navarre Beach Marine Park. Two are located in Santa Rosa Sound; two are located in the Gulf of Mexico. These innovative manmade structures attract all manner of sea life and make for ideal places to snorkel or SCUBA dive.
If you are primarily interested in snorkeling, it's best to head to the East Reef. The structure is approximately 150 feet offshore from the Sandpiper pavilion and is well marked by pontoons with signage.
Divers will want to head to either the West Reef, the Gulf Reef, or the very impressive "One Mile Out Reef." These structures, some the size of football fields, make for an impressive and unique underwater experience. To locate the Gulf reefs from shore, just look for the large PVC poles on the shoreline near the sand dunes.
Official site: https://navarrebeachmarinesanctuary.org/