8 Best Beaches in Panama City Beach, FL
Panama City Beach has a variety of beach experiences along its 27 miles of coastline. You can find beaches that are suitable for families, ideal for shell collecting, beaches that are natural and isolated, or you can hit a different sandy spot each day of your vacation and go home with a range of experiences.
Panama City Beach is located in northwest Florida with the warm waters of the Gulf of Mexico and the relaxing Gulf breeze to go with it. The fine white-quartz sand and clear Gulf waters are the hallmark of Panama City Beach's oceanfront.
Getting to the beaches is convenient, with more than 100 clearly marked public access points to the oceanfront.
There are plenty of tours and excursions available, from snorkeling and dolphin tours to parasailing and fishing. You can conjure up the full beach vibe by taking sandcastle-building lessons from Beach Sand Sculptures, and learn how to take your sand art skills up a notch.
If your beach preference is more about relaxing, you can rent a beach setup that includes a bonfire, hammock, and s'mores from Endless Beach Rentals and create a personalized beach setting — you just show up. Bonfires are prohibited on Panama City Beaches without a permit, but a bonfire rental comes with a permit included.
Oceanfront lodging is easy to find here, from condominiums to hotels and Panama City Beach resorts. Most beachside resorts have direct beach access and pools on the property.
Each beach has a unique appeal, so it is best to sample several of them during your stay. Find the best options with our list of the top beaches in Panama City Beach.
1. Panama City Beach & Pier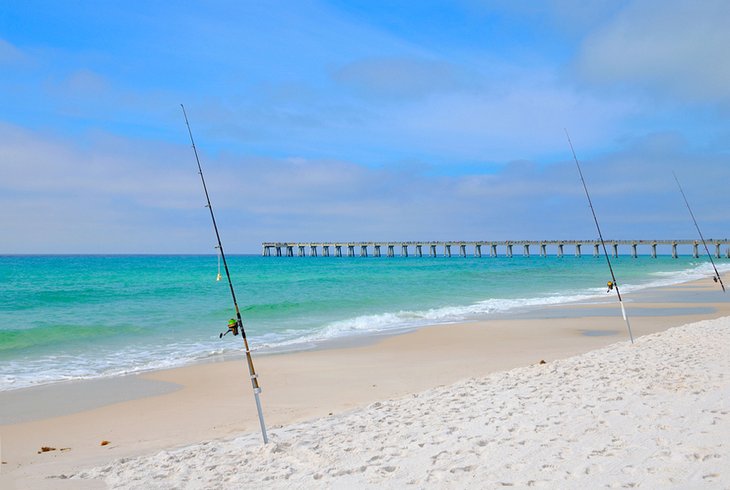 The eight-mile stretch of Panama City Beach is one of the most active and popular oceanfront scenes in the city. It is located on the Gulf of Mexico, so the water is clear and blue, with ocean breezes coming in as often as the tide. This beach is perfect if you like to be in the center of the activity and close to conveniences like beachside restaurants.
It is also a perfect first beach to experience in Panama City Beach if you have never been before because it is so centrally located. Panama City Beach is fairly active with swimming and surfing. It is ideal for beach people-watching from under an umbrella, soaking in the ambience of laughter from vacationers building sandcastles and jumping in the waves.
The Pier and Fishing
One of the central landmarks of Panama City Beach is Russell-Fields Pier. For a daily fee of $3, you can stroll along the pier after a beachside meal to watch the seagulls and pelicans or catch a sunset. The pier sits 1,500 feet into the Gulf of Mexico, so it is a popular spot for anglers who can purchase a daily fishing license and rent rods and buy tackle on-site. The pier is open all year.
Some of the fish caught in-season from the pier are Spanish mackerel, cobia, flounder, blue liners, king mackerel, and pompano. The other highlight of this beach is Pier Park, which is a pedestrian area located behind the beach with more than 100 shops and restaurants.
Address: 16101 Front Beach Road, Panama City Beach, Florida
2. Shell Island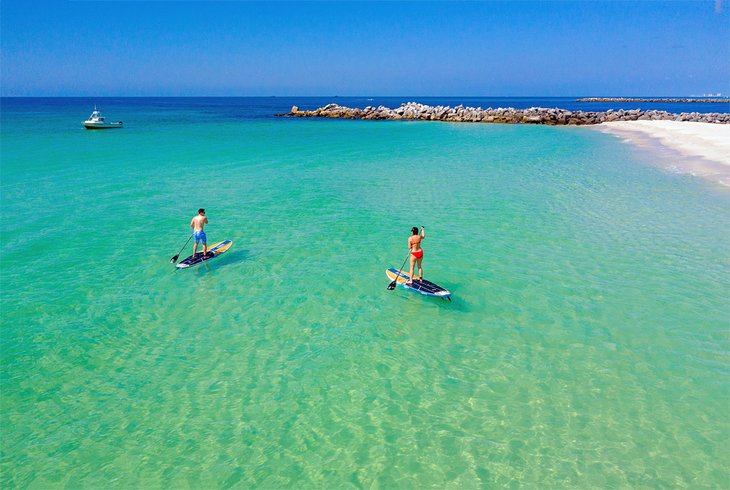 The natural environment at Shell Island lends itself to more than just playing in the water. You can walk around the island and explore the habitat to search for ghost crabs, deer, and endangered green sea turtles. Both the loggerhead sea turtle and the green sea turtle live on Shell Island and are endangered.
You have an opportunity to spot them at night during nesting season, which is from May to October. It is important to observe the markers surrounding the nests and appreciate their natural emergence as they head to the nests to lay eggs.
You can also find an array of seashells and sand dollars on the beach and the occasional conch shell. While the primitive and undisturbed environment of Shell Island is what makes it appealing, you will need to bring everything with you for the day. You will want to pack drinks and food and take trash with you when you leave, as there are no concession stands or trash receptacles.
Beyond its natural beauty, Shell Island has an impressive history that includes Spanish explorers, Native American Indians, and pirates, and it has been the backdrop in several movies. Part of the west side of the island is in St. Andrews State Park and the east side is home to Tyndall Air Force Base.
Getting to Shell Island
There are several ways to get to Shell Island. The easiest way is to go on the Shell Island Shuttle, which operates out of St. Andrews Park during the spring and summer. Check the shuttle and ferry schedules and fees before you go to see when they are operating.
3. Camp Helen State Park Beach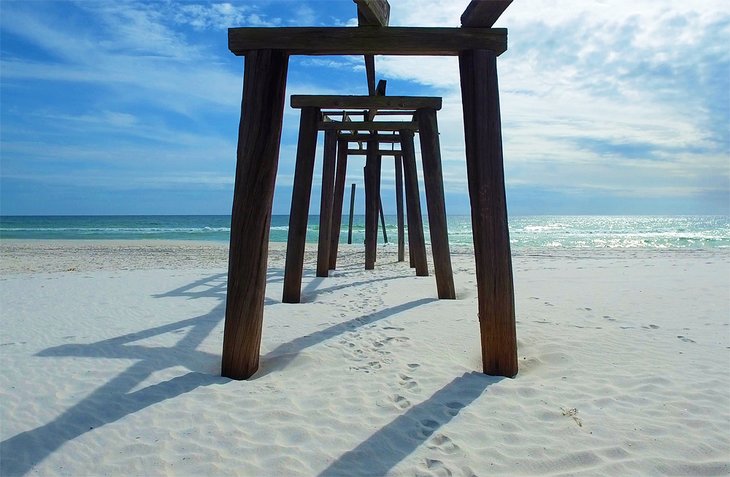 Camp Helen State Park offers a unique beach experience different from others in Panama City Beach. It is an ecologically impressive beach with the combination of freshwater and saltwater coming from the Gulf of Mexico, Lake Powell, and Phillips Inlet, which surround the park on three sides. Those who enjoy white-sand beaches with undisturbed natural beauty will appreciate this beach.
Swimming

The 183-acre park is a day-use area with plenty of activities, like swimming, bird-watching, and nature study. While swimming is allowed at the beach, there are no lifeguards on duty, so caution is advised while in the water. Most people enjoy Camp Helen State Park beach for the sand and sun and walking along the picturesque sand dunes.
Trails and Fishing
Hiking and biking are also done at this park to break up the beach day. The trails throughout the park go through a variety of habitats, like a salt marsh, wetlands, sand pine scrub, and coastal dunes. Fishing is another popular activity at this beach because of the diverse species that exist in the freshwater, saltwater, and brackish water that surrounds it.
History
There is a great history associated with this beach, identified by the remnants of the mounds left from inhabitants nearly 4,000 years ago. In the 1920s, a hotel occupied the property, but it was torn down after a fire and replaced with a private residence in the 1930s. The land became a resort for employees of a textile company between 1945 and 1987 before it became a Florida State Park in 1996 and opened to the public.
Address: 23937 Panama City Beach Pkwy., Panama City Beach, Florida
4. Schooners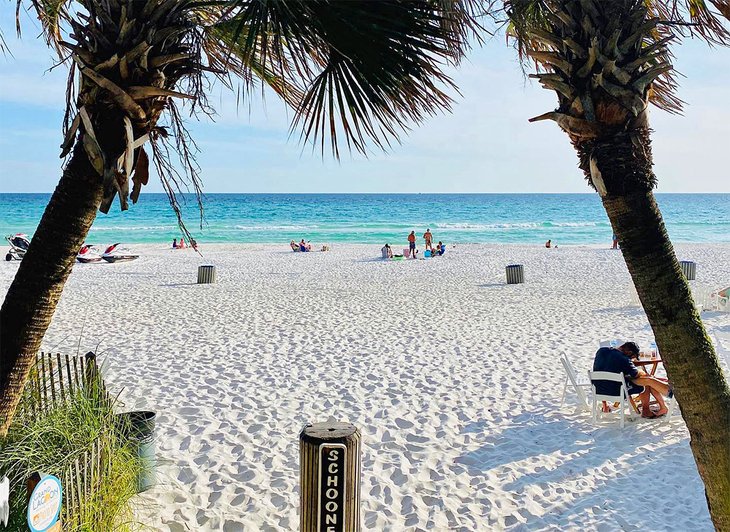 The beach scene at Schooners is laid-back, with beach volleyball, socializing on the deck of the oceanfront patio, and hanging out by the water. Located on the east end of Panama City Beach, there is a regular roster of bands playing oceanside, and it is the place to go for live music and dancing.
Swimming
Schooners is as popular for its social setting as it is for the clear blue water washing onto its shoreline that is great for swimming, daydreaming, or being lulled into a nap by the rhythmic sound of the waves. This beach spot is known for its regular public events and themed festivals throughout the year.
Restaurant
Schooners restaurant is open seven days a week, with people enjoying the beach from sunrise to sunset. Sunset is a special occasion every night of the week, when you can get spectacular photos of the colorful sky, and stick around for the cannon-firing ritual that happens right on the beach.
To get a sense of the Schooners beach scene, you can watch the live webcam to check out wave conditions, recent sandcastle creations, and see how many people are at the beach.
Address: 5121 Gulf Drive, Panama City Beach, Florida
5. St. Andrews State Park Beach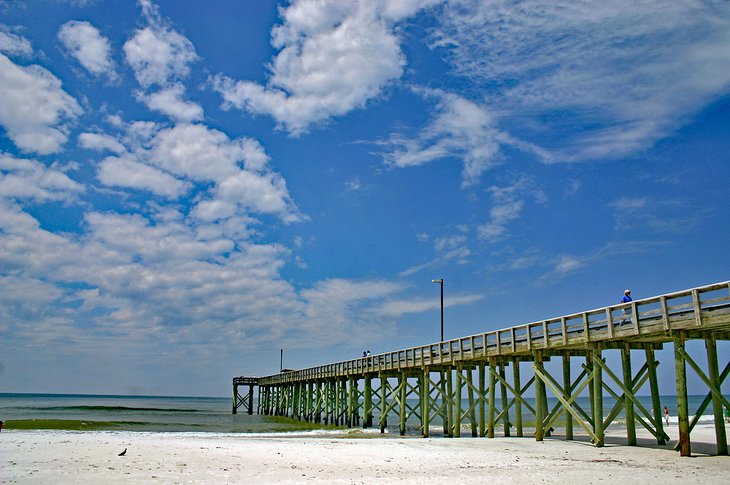 Water sports enthusiasts enjoy St. Andrews State Park beach for the abundance and variety of ocean activities available from one spot. The former military reservation, now a state park, encompasses more than 1,200 acres and 1.5 miles of beaches.
Swimming and Activities
Besides swimming in the Gulf waters, St. Andrews State Park Beach is great for snorkeling in the clear shallow waters behind the jetties.
This beach is popular for visitors who want to head out for a day of scuba diving, canoeing, and kayaking. The beach is relaxing and is known for its sugar-like sand and clear jade-colored water. A pavilion is available for shade and picnics, and a concession stand is on the beach serving snacks and water.
You can rent a bike from a local shop and bike through St. Andrews State Park, or take a stroll along its two nature trails. This is a preferred bird-watching spot in Panama City Beach due to the diversity of coastal plants and nature. Keep an eye out for wildlife like alligators, herons, and a variety of waterfowl.
Fishing
Fishing is a popular activity at St. Andrews State Park Beach, with several options. Anglers can fish in the Gulf from Tiller Pier or from the pier at Grand Lagoon. There is also decent fishing in the water near St. Andrews Pass or in the jetty.
Camping
St. Andrews State Park has full facility campsites available for those who want to stay overnight. There is a small fee required to enter St. Andrews State Park.

Address: 4607 State Park Lane, Panama City Beach, Florida
6. Dog Beach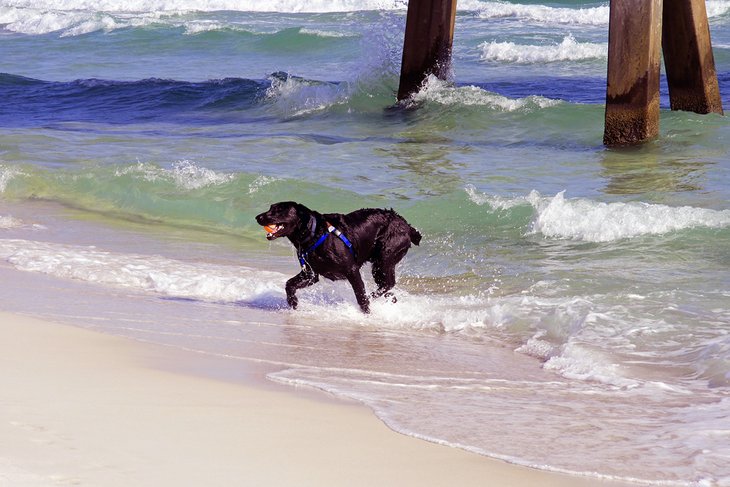 If you plan to bring your dog on vacation to Panama City Beach, you will have no problem locating the best pet-friendly spot for water recreation because Dog Beach is easy to find. The beach is located near Russell-Fields Pier, with 400 feet of white sand and oceanfront space dedicated to dogs and their owners who are out to enjoy the sun while on vacation.
The fall is the best time to take your dog to Dog Beach because the weather is cooler and the days are still sunny. If you visit in the summer, be sure to have extra water available for your pet to drink. The Gulf waters are an easy way for them to cool off in between running and playing in the sand.
If you are planning to take your dog to Dog Beach, you will want to pack a few extra essentials in your beach bag besides sun lotion and water to drink. Be sure to take a leash, clean-up bags, and a towel to wipe the sand off your dog's feet. Don't forget to snap a few photos of your dog enjoying a beach day, too.
Address: 16230 Front Beach Road, Panama City Beach, Florida
7. Rick Stelzer Park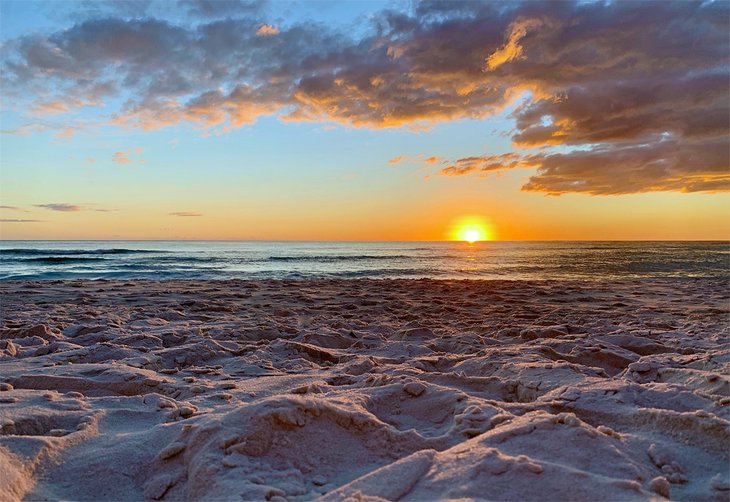 Rick Stelzer Park, with public beach access, is ideal for visitors who enjoy experiencing natural dunes. One of the nice features of this beach is that it feels like a secluded beach but you are still close to restaurants and shopping.
The beach and park offers swimming and picnic areas, as well as restroom facilities and park benches. The 4.75-acre park has a section of undeveloped beach that is preserved for education about the gulf dune system and how it interacts with the beach environment.
Walk along the beach and through the park to experience some of the interactive and educational displays. Though you may not spend a full beach day at Rick Stelzer Park, it is worth a visit while you are in Panama City Beach.
The undisturbed beauty of the Rick Stelzer Park beach is an example of why the "Leave No Trace" effort in Panama City Beach is so important. The local ordinance encourages beach-goers to take away anything that they bring to the beach, including trash, chairs, and umbrellas. The effort is designed to help preserve and protect the natural elements of pristine beaches like this one.
Address: 7419 Thomas Drive, Panama City Beach, Florida
8. M.B. Miller Pier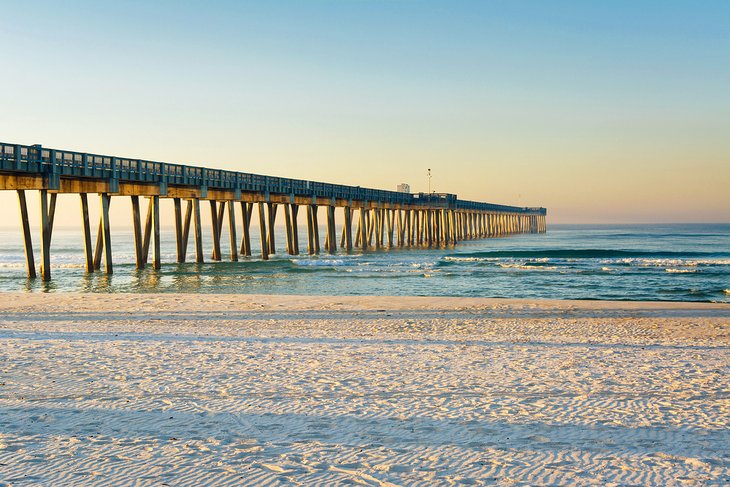 The beach at M.B. Miller Pier is a family-friendly beach with lots of lodging accommodations and public beach access. The Gulf waters here are great for swimming and surfing and you will find lots of beach activities like sand volleyball, beach yoga and sandcastle building.
There are beaches on both sides of the pier where you can set up for the day and be close to restroom facilities and a sundry shop for sunscreen and drinks. There are several restaurants located within walking distance.
The pier itself is one of the reasons visitors like this beach because you can walk it with a day pass (small fee) and have the best seat in the city for the Panama City Beach sunsets. A pier pass allows you to come and go for the entire day.
The Pier
The pier extends 1,500 feet into the Gulf of Mexico, making it a nice diversion during the day. It is a popular spot for fishing, bird-watching, and looking below to see marine life, including the occasional dolphin. Anglers can fish from the pier with a day license to target flounder, hardtails, pompano, redfish, cobia, and other species. Bait and rod rentals are available from the pier office.
Address: 12213 Front Beach Road, Panama City Beach, Florida
Panama City Beach, FL - Climate Chart
Average minimum and maximum temperatures for Panama City Beach, FL in °C
J
F
M
A
M
J
J
A
S
O
N
D

17

4

18

5

22

8

25

12

28

16

31

20

32

22

32

22

31

19

26

13

22

8

18

4

PlanetWare.com
Average monthly precipitation totals for Panama City Beach, FL in mm.

146

120

158

95

98

153

222

191

156

89

115

103
More Related Articles on PlanetWare.com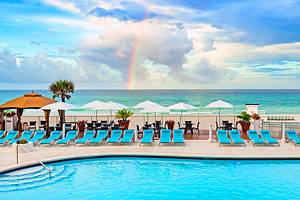 Exploring Panama City: If you are looking for other activities during your Florida vacation review our top tourist attractions in Panama City Beach, which include Gulf World Marine Park and options for boat tours. While there are plenty of lodging options, you may want to explore the best resorts in Panama City Beach to find one that suits your needs, whether it is a family-friendly resort, or you are looking for amenities that enhance a honeymoon vacation.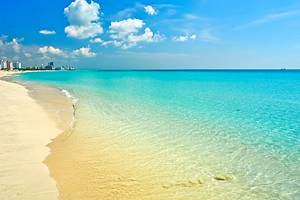 Exploring Other Florida Beaches: If you are looking to extend your vacation and check out other beaches in Florida you might want to consider Pensacola, which is about 90 miles west of Panama City Beach, or beaches on the Florida Gulf Coast, like Clearwater Beach in Clearwater or Siesta Key Beach in Sarasota.