17 Top-Rated Tourist Attractions in Alabama
We may earn a commission from affiliate links ()
Alabama is home to a range of tourist attractions and things to do for all ages and interests. Brush up on your history at several Alabama cities, where you'll find some of the most important Civil Rights monuments, museums, and historic sites. This includes the Civil Rights Institute and Sixteenth Street Baptist Church in Birmingham, Montgomery's Civil Rights Monument and National Memorial for Peace and Justice, and Selma's Voting Rights Museum.
Alabama is also a culturally rich region. You can see the birthplace and former creative workspace of musician W.C. Handy, admire architecture and design at the Frank Lloyd Wright Rosenbaum House Museum, and view impressive collections at major art museums in both Montgomery and Birmingham.
Alabama is also full of beautiful natural attractions, especially along the shores of the Gulf of Mexico in Mobile Bay, where tourists will find state parks, nature reserves, and gorgeous sandy beaches. In addition to history and nature, the curious can explore science at the family-friendly McWane Science Center, or behold some of the world's most advanced technology at Huntsville's U.S. Space and Rocket Center.
Find the best places to visit in the state with our list of the top tourist attractions in Alabama.
1. Birmingham Civil Rights Institute and the Civil Rights Historic District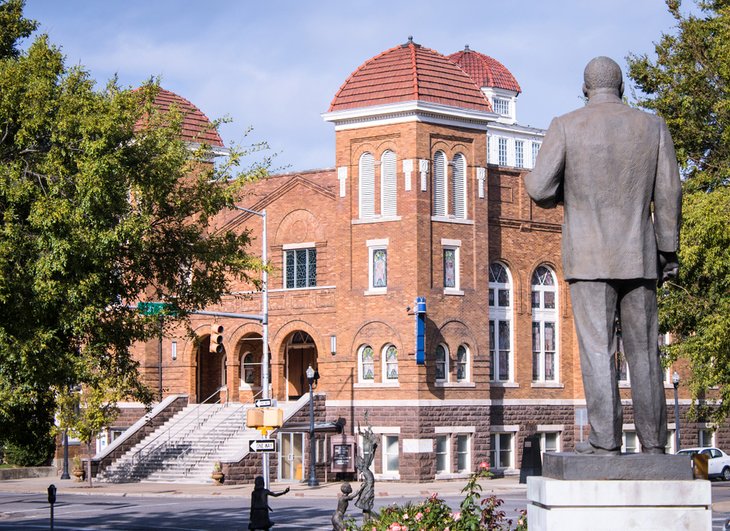 The Birmingham Civil Rights Institute provides an in-depth look at the events of the Civil Rights Movement of the 1960s in both Birmingham and the United States, as well as continuing issues that African Americans have faced since. The galleries feature permanent and temporary exhibits on a variety of topics from violent conflict to segregation.
The struggle that began here in Birmingham was part of a larger social movement that eventually led to changes, and a defining moment was the bombing of the Sixteenth Street Baptist Church on September 15, 1963. This bombing, orchestrated by the Klu Klux Klan, killed four girls and was a tragic catalyst for change, adding urgency to pass the 1964 Civil Rights Act.
2. USS Alabama Battleship Memorial Park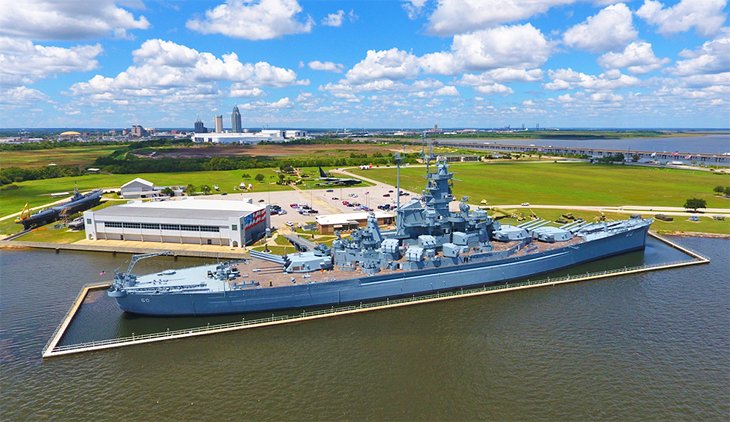 The star attraction of the Memorial Park in Mobile is the 1942 USS Alabama Battleship docked along the waterfront. This BB-60 battleship is nicknamed "the Mighty A," and was decommissioned after the end of WWII. You can tour many parts of the ship, including the captain's cabin, bridge, mess hall, and turrets.
The park is also home to the USS Drum, a submarine used during the second World War, which can be toured as well.
3. Gulf State Park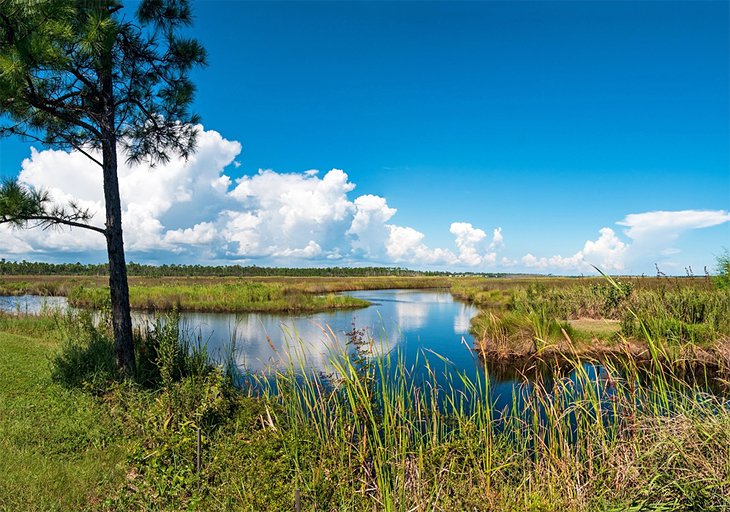 Gulf State Park in Gulf Shores is popular with both campers and day-trippers, offering a wide variety of facilities and more than two miles of white, sandy beaches.
The Nature Center provides free classes and activities, including guided nature walks, animal encounters, fishing lessons, and other fun and educational programs led by naturalists and rangers. Recreational facilities include volleyball, tennis courts, horseshoes, and a swimming pool with a splash pad, as well as bicycle, kayak, and paddle-board rentals and guided Segway tours.
The park also features 25 miles of paved walking trails, also open to bicyclists, and a championship golf course. Tourists making a day trip to Gulf State Park can enjoy all of these amenities for a very low vehicle entrance fee.
The campground, which has nearly 500 full-hookup sites for RVs, is a favorite family vacation spot thanks to its many amenities and things to do.
4. Civil Rights Memorials of Montgomery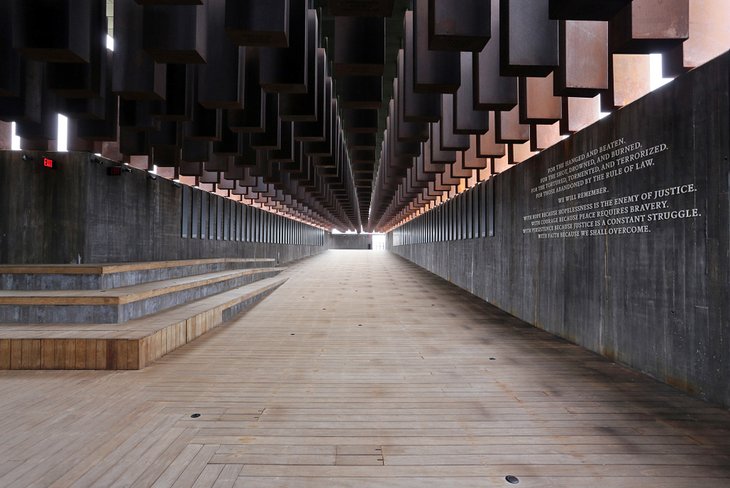 The Civil Rights Memorial in Montgomery features an exquisite black granite sculpture commemorating those killed during the struggles of the Civil Rights Movement. The memorial stands in a square next to the Civil Rights Memorial Center, where tourists will find educational displays and exhibits, including the Wall of Tolerance.
5. U.S. Space and Rocket Center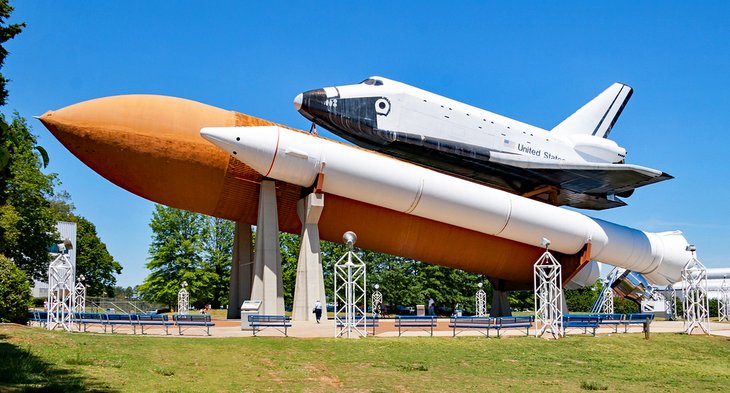 The U.S. Space and Rocket Center in Huntsville is an exciting attraction for all ages, providing exhibits, interactive experiences, presentations, and one of the world's largest collections of spacecraft on display. A Smithsonian affiliate, the center's exhibits provide visitors with information on everything from the history of the space race and NASA's growth since then to the International Space Station and beyond.
Tourists can experience multimedia presentations at the National Geographic Theater or the Spacedome IMAX, and explore a model of the International Space Station. Visitors also have the chance to see Rocket Park, where 27 rockets and missiles are on display, as well as the gigantic launch vehicles that propel the rockets into space.
Perhaps the most popular things to do at the Space Center, however, are taking turns in one of the museum's simulators. There are two launch simulators, one of which allows the astronaut-in-training to experience 4 Gs of force, a few seconds of weightlessness, and then a free-fall. The kids' version of this gives young astronauts a less intense version, then "lands" on the surface of the moon.
6. Montgomery Civil Rights Landmarks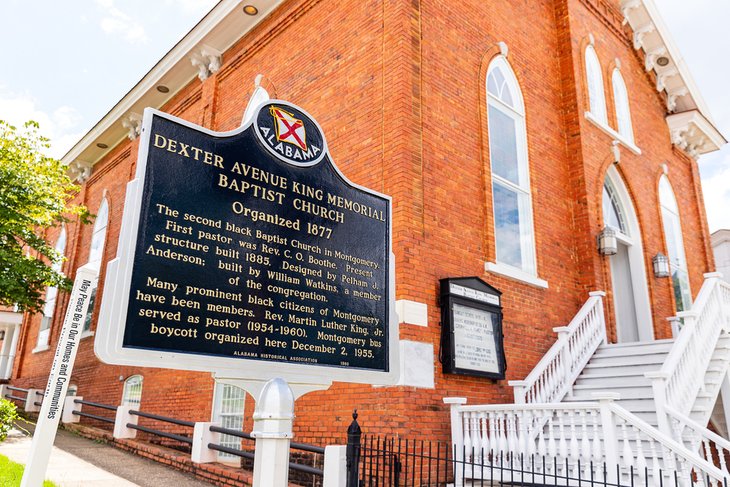 Montgomery is home to several important Civil Rights landmarks, which commemorate places and events that were instrumental in the movement. The most famous of these is the Dexter Avenue King Memorial Baptist Church, which was the meeting place of early Civil Rights activists and once the parish of a young Martin Luther King, Jr., who lived with his family in the parsonage from 1954-1960. Today, it has been restored to display a great deal of their original belongings, and is open to the public as the Dexter Parsonage Museum.
The Rosa Parks Library and Museum is located near the site of Parks' arrest in downtown Montgomery. It contains exhibits that tell her story and outline the public transportation boycott that resulted from her brave act of defiance. Artifacts on display include her original fingerprints from her arrest records, court documents, photographs, and a 1955 Montgomery City Bus, as well as one of the station wagons used during the boycott to transport protesters.
Another important historic site is the Freedom Rides Museum, located in the former Montgomery Greyhound station, which was the site of the 1961 attack on the Freedom Riders who were continuing the movement that Parks began.
7. McWane Science Center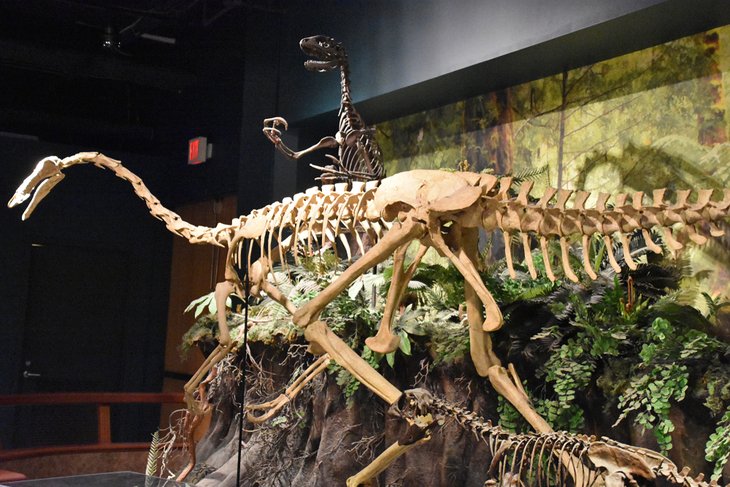 Birmingham's McWane Science Center is home to a variety of exhibits and interactive experiences, which encourage both kids and adults to learn through hands-on activities. This popular family tourist attraction explores topics from the natural sciences to the latest technology and allows visitors to participate in their own experiments.
One of the most popular areas of the museum is its aquarium, which is home to many species of ocean and freshwater life, especially those native to the region. This section also looks at the importance of water and water-related science like erosion.
8. Mobile Bay
Set along the Gulf of Mexico, Mobile Bay is a scenic area of Alabama's coastline. The area has beaches and historic areas, which attract both locals and tourists year-round.
Dauphin Island, located in the Bay, is a barrier island with a small town, which is also called Dauphin Island. This island has several things to see and do, including the historic Fort Gaines, which was established in the early 1800s and became an important outpost during the Battle of Mobile Bay. The island is also home to a freshwater lake, which is popular with swimmers, as well as an Audubon bird sanctuary.
The town of Fairhope is another tourist destination along Mobile Bay, located along its eastern shore. Fairhope Pier is popular for fishing, and the town has many outdoor recreational activities, including golf, tennis, and bicycling.
Nearby, the Weeks Bay National Estuarine Research Reserve provides amateur naturalists with the opportunity to explore diverse habitats. Elevated boardwalks and trails can be explored with a guide or independently.
9. Frank Lloyd Wright Rosenbaum House Museum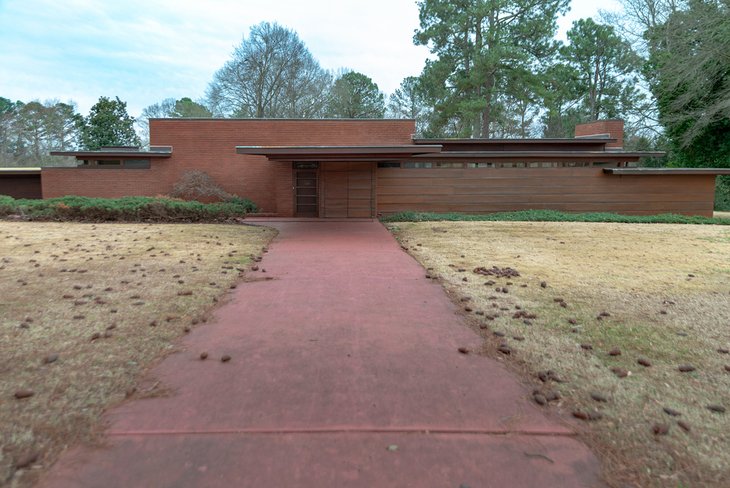 Rosenbaum House was built by Frank Lloyd Wright in 1939 for newlyweds Stanley and Mildred Rosenbaum. Located in Florence, the house is the only structure in Alabama designed by Wright. It is constructed of cypress, glass, and brick. The Usonian design features a flat, multi-level roof, and board and batten walls.
10. W.C. Handy Home and Museum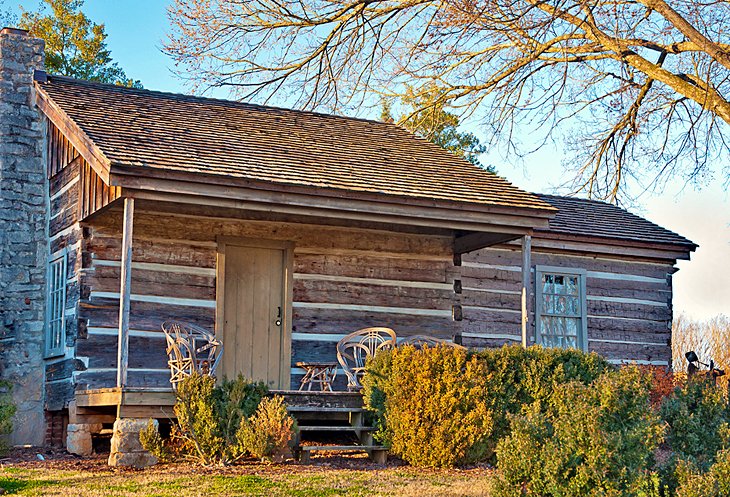 Located in Florence, the W.C. Handy Home and Museum is housed in the log cabin where this iconic musician was born and lived. Known as the "father of the blues," Handy lived here when he wrote several of his most famous songs, including Beale Street Blues and Memphis Blues.
11. National Voting Rights Museum and Institute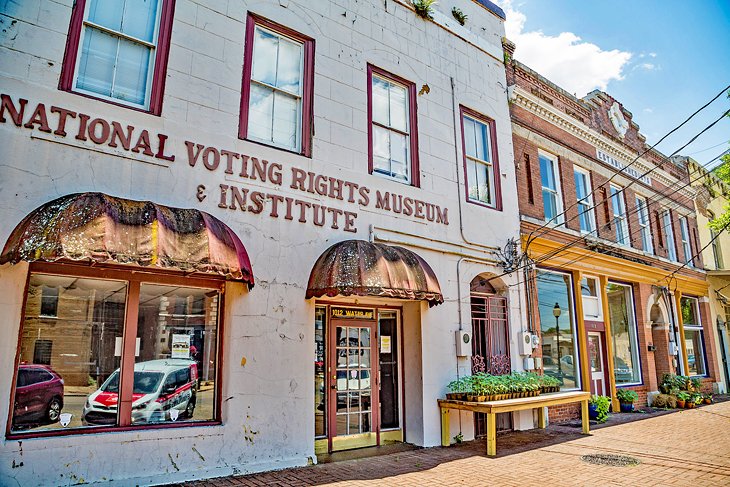 National Voting Rights Museum and Institute, located in Selma, explores the struggle for voting rights for American citizens, namely women and African-Americans. The museum is located at the site of the tragic 1965 "Bloody Sunday" attack on protesters who were marching from Selma to Montgomery.
Exhibits highlighting the lives and accomplishments of important African-American political and social figures are featured throughout the museum, including Reverend Martin Luther King, Jr., Reverend Jesse Jackson, and President Barack Obama. Additional exhibits focus on specific locations where monumental vote-related Civil Rights events occurred, like Albany, GA; Greenwood, MS; and Selma.
12. Barber Vintage Motorsports Museum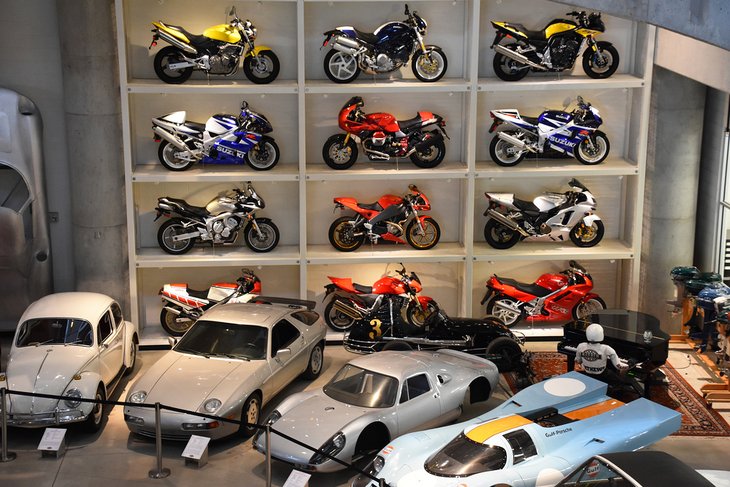 The Barber Vintage Motorsports Museum is home to a collection of more than 1,400 motorcycles, from some of the earliest and rarest models to modern machines. Around half of the collection is on display in the museum, and it is regularly rotated, so true aficionados will want to consider a repeat visit.
The collection, formed by former race car driver George Barber, gained notoriety shortly after the museum's opening in 1995, when several bikes were loaned to the Guggenheim Museum in New York for their exhibit, "Art of the Motorcycle."
13. Birmingham Museum of Art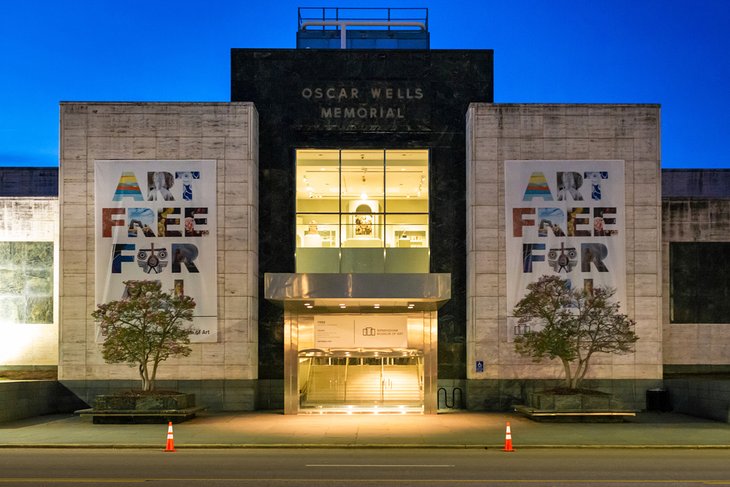 Regarded as the finest art museum in Alabama, The Birmingham Museum of Art features an extensive permanent collection, as well as changing exhibits. Among the permanent collection are examples of ancient and international folk art and fine art, including decorative arts.
The African gallery contains a variety of historic and contemporary work, ranging from traditional figures and ritual headdresses to fine beadwork and batik. The Asian gallery includes some of the museum's oldest artifacts, including bronzes and ancient earthenware.
The largest part of the permanent collection is European art, including fine art by artists like Pissarro and van Rijn and a huge selection of decorative arts, including silverwork, furniture, and porcelain.
14. Montgomery Museum of Fine Art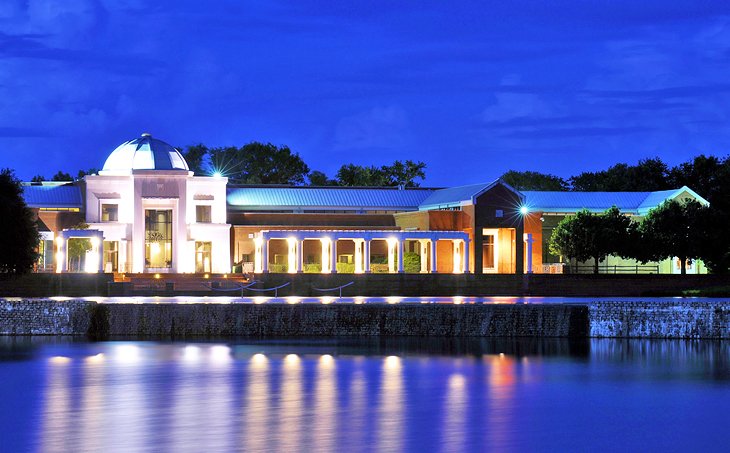 The Montgomery Museum of Fine Art is home to a large permanent collection, which focuses on American art. Among its most prized works are examples of etchings, watercolors, drawings, engravings, and woodcuts, which are remarkable for their preservation, a difficult task for paper-based media.
Prominent American artists like John Marin and Winslow Homer are featured, and there is an extensive exhibit dedicated to regional art and folk artists, with examples ranging from crafts to paintings.
15. University of Alabama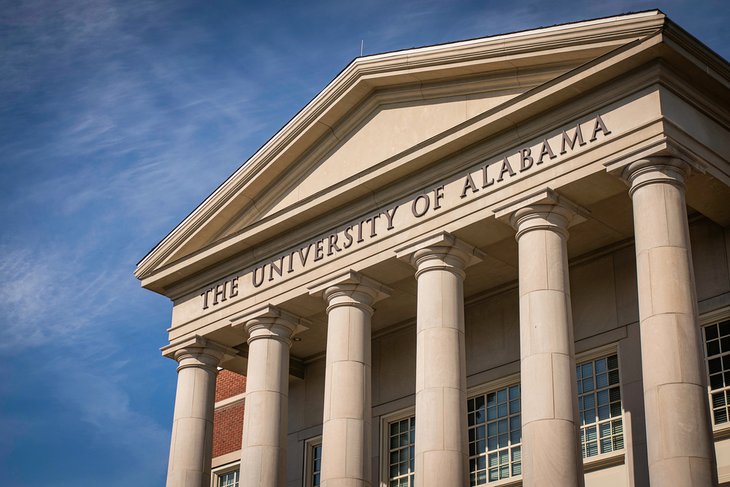 The University of Alabama in Tuscaloosa began in 1827 and by 1831 had seven buildings on campus. Today, the campus is home to an art gallery; 50-acre arboretum; pre-Civil War classroom; two museums; and the Gorgas House, which now serves as a museum.
The Gorgas House, named for a former university president, General Josiah Gorgas, was built in 1829 as the first structure completed on the campus by renowned architect William Nichols. It is also one of only four structures that survived the burning of the university during the Civil War. Today, the house serves as a museum with collections of antiques and Gorgas family memorabilia.
The Alabama Museum of Natural History is located on campus in Smith Hall. Exhibits include displays from the Age of Dinosaurs, the Coal Age, and Ice Age. Visitors can also view the Hodges meteorite, the only meteorite known to have struck a human.
16. Cheaha State Park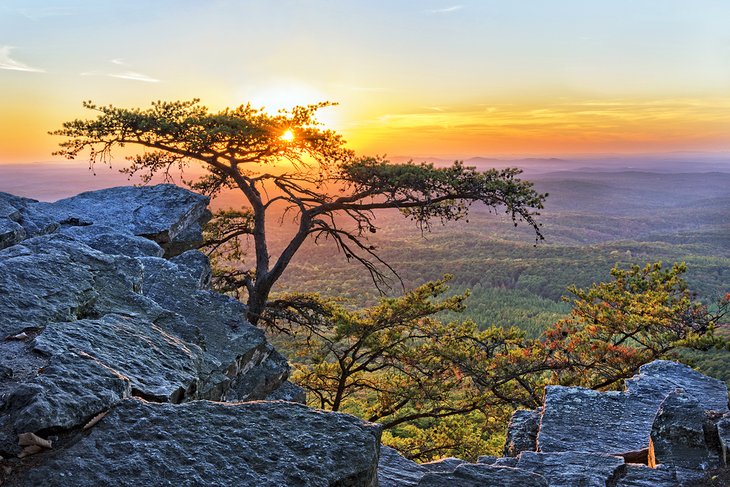 Most people think of the Gulf of Mexico and beaches when they think of recreational opportunities in Alabama, but the inland areas and their unique ecosystems are well worth a look. Cheaha State park, Alabama's oldest park, is a wonderful place to visit to experience the hill country of Alabama.
Home to the state's highest peak, Cheaha Mountain (2,407 feet), this nearly 2,800-acre area is full of recreational opportunities. Camping, RVing, hiking, biking, and ATVing all top the list of things to do in the park.
Cheaha State Park is also chock-full of waterfalls just waiting to be explored on a steamy summer afternoon. The park is adjacent to the 392,567-acre Talladega National Forest, and several major trails traverse both areas.
17. Alabama Gulf Coast Zoo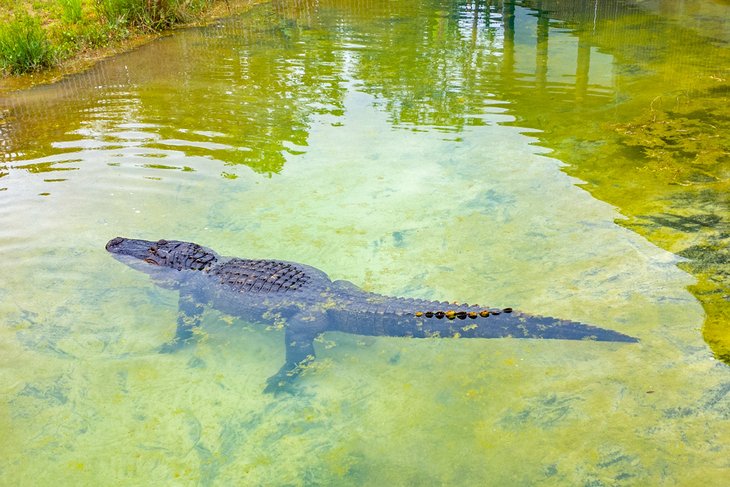 This small zoo is home to over a hundred species, and is emerging as a respected safe-haven for endangered and threatened species. The residents here represent a surprisingly diverse population of mammals, birds, and reptiles, many of which were once abandoned animals who needed a second chance.
The primate exhibit is a top attraction, featuring more than 50 animals including spider, squirrel, and Capuchin monkeys, as well as Hamadryas baboons and marmosets. There are also several big cats including two Bengal tigers, a black leopard, and an African lion among others. Other mammals include an American black bear, an American alligator, a Eurasian lynx, and camels.
The zoo is also home to a selection of birds, from species like the umbrella cockatoo and Australian kookaburra, to flamboyant peacocks. Reptiles include tortoises, snakes, lizards, and iguanas.
Among the zoo's most popular programs are its Animal Adventure experiences, which give visitors the opportunity to get up close to some of the zoo's most popular residents. Ages three and older are welcome to sign up to meet kangaroos, lemurs, and two-toed sloths. Guests opting for the lemur adventure can even cuddle with the friendly critters – that is, if they aren't using you as a jungle gym!
More Related Articles on PlanetWare.com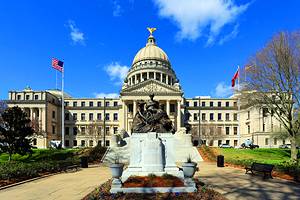 Civil Rights in the South: Tourists can also find several historic sites in the neighboring states of Georgia and Mississippi, which each have many landmarks found on the Civil Rights Trail. Among the top tourist attractions in Atlanta, Georgia are the King Center, the Martin Luther King, Jr. Birth Home, and the National Center for Civil and Human Rights. Jackson, Mississippi is also home to several major attractions, like the Medgar Evers Home Museum, the Mississippi Civil Rights Museum, and important sites along the Mississippi Freedom Trail.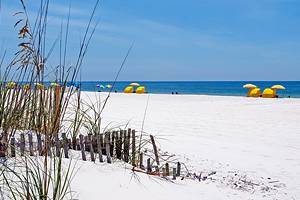 The Gulf Coast: You may not immediately think of white-sand beaches when you think of Alabama, but the southern coast is home to some of the best resorts in the state. Many of these can be found in the vacation paradise of the Gulf Shores, where families and couples alike can find a wide range of things to see and do, including boat tours in the Gulf of Mexico. Beach lovers can also explore the sandy shores and attractions in Pensacola, Florida, where tourists flock for both day trips and ocean-side vacations.