10 Top-Rated Things to Do in Fort Walton Beach, FL
The city of Fort Walton Beach is primarily known for its beautiful beaches and good times, but back off the beach is a community with a variety of things to see and do. The attractions are varied and range from historic archaeological sites to Buddhist temples, right through to the retired war machines of the Air Force.
Many of the tourist attractions are close together, so it's easy to see a majority of them in a morning or afternoon. Save these attractions for a cloudy or rainy day, and head directly to the wonderful white sands and warm waters of Okaloosa Island. These are what make Fort Walton a wonderful family destination.
For a look at the best places to visit, have a read through our list of things to do in Fort Walton Beach.
1. Enjoy the Beaches on Okaloosa Island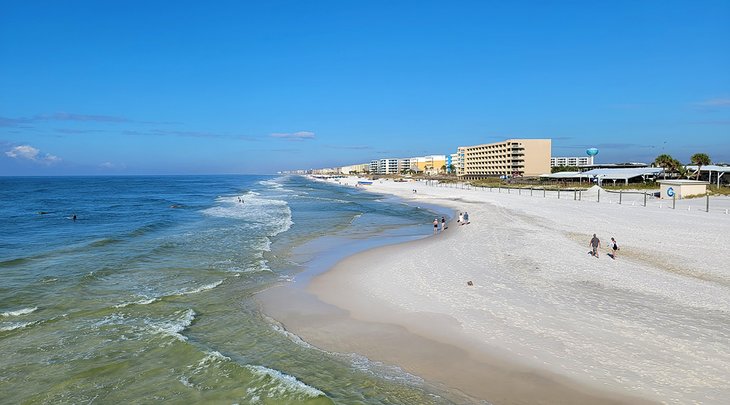 Okaloosa Island is just a short bridge crossing from the city of Fort Walton Beach. Out here is where most visitors to Fort Walton Beach spend their time, and the reason for that is the incredible white-sand beaches that line the eastern shoreline.
Condo towers and resorts stretch along the western part of the island; however, the eastern section is wide open, with state and national parks making for easy access to the stunning beaches.
Okaloosa Island has several sections that are owned by the US Military and, as a result, are completely undeveloped and remain in their natural state. Some areas are open to the public with free passes; others are restricted.
2. The Island Pier and The Boardwalk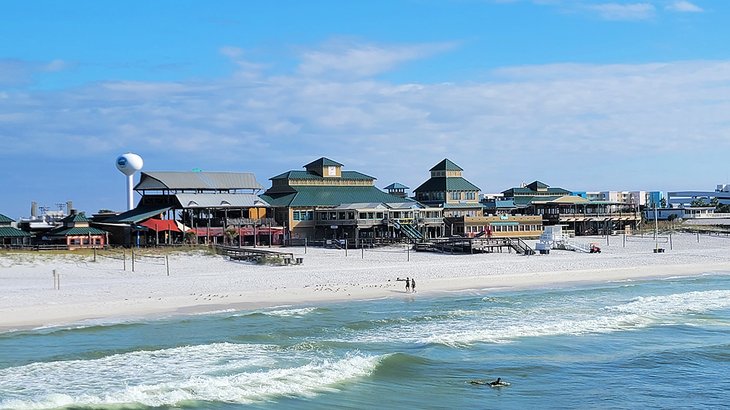 One of the top attractions in Fort Walton Beach is the Island Pier (formerly known as the Okaloosa Island Fishing Pier). It's an ideal place to visit if you are an avid angler. Catches here include blue runner, lady fish, pompano, redfish, black drum, and many others. It's one of the hot spots for fishing along Santa Rosa Island.
However, it's not all about fishing, the pier is an ideal place for early birds to catch a sunrise. If you are less ambitious than that, consider a relaxing 1,262-foot stroll out to the end – you'll have covered nearly half a mile by the time you return to shore. Along the way, pelicans, seagulls, and herons will keep you company, and if you are lucky, you might even spot some dolphins cruising the waves.
Immediately to the north of the pier is a spectacular beach backed by a funky area known as The Boardwalk, with shops and restaurants, and right next door is the Gulfarium. This is the most active area of Okaloosa Island. Spread your towel on the sand, or set up your beach chairs and umbrella and soak up the scene.
Address: 1030 Miracle Strip Parkway SE, Fort Walton Beach, Florida
Official site: https://www.theislandpier.com/
3. Air Force Armament Museum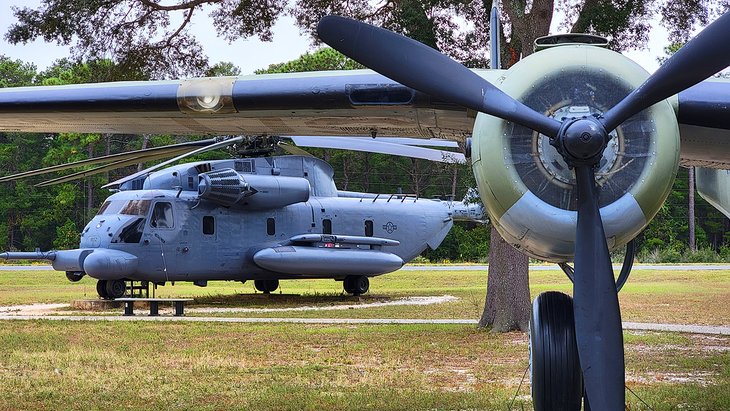 The Air Force Armament Museum is easily spotted off highway 85, just look for a huge, sleek, black plane; a giant helicopter; or the huge B-52 Bomber resting peacefully on the large lawns. However, the planes outside are just part of the collection of 29 aircraft located at the museum. Over two million people have visited the Air Force Armament Museum since its inception in 1976.
In addition to the planes outside, aircraft are also located inside the large museum building. The museum is also home to several hundred bombs and other armament used in the theater of war. One of the most interesting is the GBU-43/B MOAB. The acronym stands for "massive ordinance air blast" but is also known by its nickname "mother of all bombs." Considered at one time to be the most powerful non-nuclear bomb in the United States, it gives one pause to stand and look at it mounted on the sidewalk outside the museum building.
Inside the museum building are additional aircraft and aerial munitions, some of which are hung from the ceiling. Of particular interest is the Fat Man nuclear bomb, one of only 120 ever made. It is identical to the same Fat Man bomb that was exploded over Nagasaki in World War II.
The museum building is open Monday to Saturday; however, the grounds, where a majority of the aircraft are located, is open every day.
Address: 100 Museum Drive, Eglin Air Force Base, Florida
Official site: http://www.afarmamentmuseum.com/
4. Gulfarium Marine Adventure Park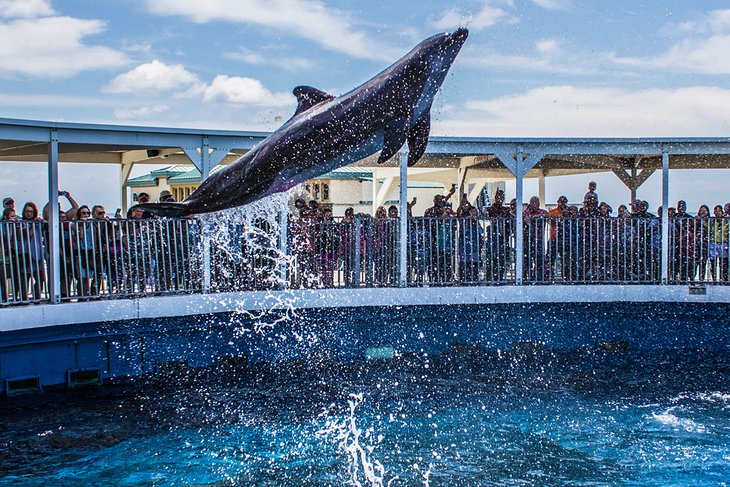 The Gulfarium Marine Adventure Park, located right on the beach on Okaloosa Island, is a must-see if you are a family looking to entertain the kids for an afternoon. Here, you'll find all kinds of marine mammals performing shows and interacting with guests. First opened in 1955, the adventure park has been thrilling millions of visitors for nearly 70 years.
Shows change throughout the year, but generally at least seven shows take place each day. These include a dolphin show where they fly through the air and do amazing tricks, a fun and interactive California sea lion show, and perhaps the cutest show of them all: amusing Asian otters being themselves and having a good time.
For an additional fee, the animals are available for private or group interactions. Some of these interactions include snorkeling with stingrays, swimming with dolphins, and feeding and touching African penguins; another includes holding baby alligators. All encounters are fully supervised with a specially trained Gulfarium staff member.
Address: 1010 Miracle Strip Parkway SE, Fort Walton Beach, Florida
Official site: https://www.gulfarium.com/
5. John C. Beasley Park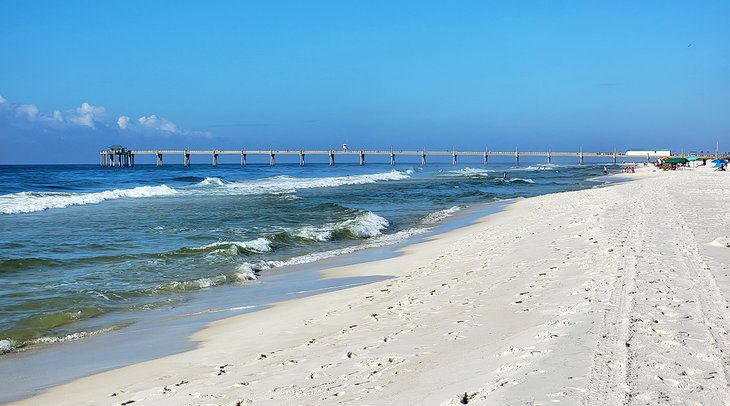 For a less commercial and busy beach on Okaloosa Island, head just a short distance east to John C. Beasley Park. Here, you'll find wide-open spaces and the ability to find your perfect patch of sand. The beach is especially beautiful, and there's a good chance you may be sharing your beach day with a wedding party posing for pictures.
The water is clear and shallow for a fair distance out, making it ideal for wading and wallowing. Lifeguards are on duty to keep an eye on the young ones and those who are not strong swimmers.
The stretch of beach to the east is undeveloped, as it's owned by the US military. It's one of the few places where you can walk along and see what the beaches used to look like before many of them sprouted condos and resorts.
Unlike many other beaches along this coastline, John C. Beasley Park features extensive free parking. This can be a real bonus on busy summer weekends. Facilities here include restrooms, changerooms, and showers. A food vendor usually operates when the park is busy.
6. Wild Willy's Adventure Zone
If you've had enough of the sun, sand, and surf and are looking for something completely different to do, head to Wild Willy's Adventure Zone. A trip here is almost guaranteed to engage and excite children of all ages with rides and activities.
Race tracks, bumper boats, mini golf (putt-putt), laser tag, and even a 4D theater provide a non-stop entertainment assortment. For those that are brave enough, an elevated rope course 60 feet in the air with five levels of difficulties is also an option.
Address: 1306 Miracle Strip Parkway SE, Fort Walton Beach, Florida
Official site: https://wwazone.com/
7. Wat Mongkolratanaram Buddhist Temple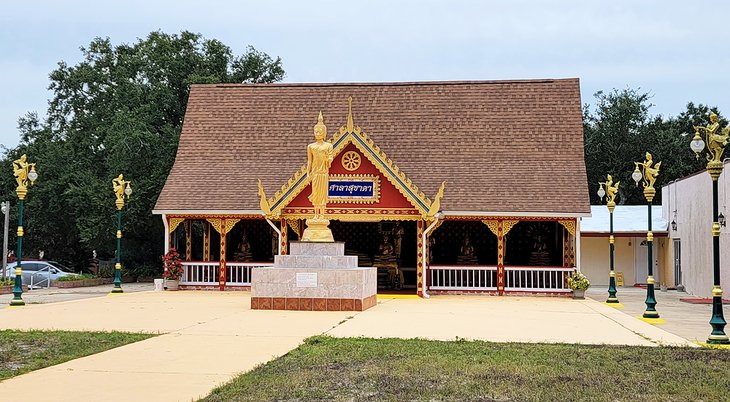 Located in the heart of a residential area, the Wat Mongkolratanaram Buddhist Temple is worth making the drive to visit. The temple grounds are a pleasant and shady place to spend some time relaxing with friends and family. The temple and Buddha are clad in gold paint, and the bright colors make for interesting photography.
If you find yourself here in Fort Walton Beach on a Sunday morning between 9:30am and 2pm, the smells originating from the kitchen behind the temple will make your mouth water. Grab some cash, head around back, and you'll find multiple vendors serving up some of the city's best Thai food. Exchange your money for tokens and then decide what you'd like to eat as you walk around.
The temple has set up picnic tables under large trees, where you can feast on your selections. Don't be afraid to go back for more – the money goes back to supporting the monks and the upkeep of the temple.
Address: 741 Mayflower Avenue, Fort Walton Beach, Florida
8. Fort Walton Beach Heritage Park and Cultural Center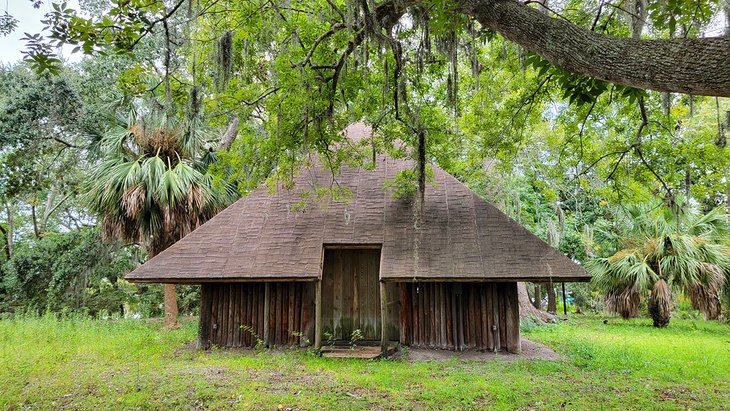 Indian Temple Mound Museum
It may seem odd that an archaeological site dating from the 12th century is located at the junction of two busy roadways, but Florida is always full of surprises. Easily missed, the Indian Temple Mound and associated museum is well worth a stop to learn about the people who first lived here.
The mound itself is 12 feet high and is covered at the top by a small wooden building. Access is from the museum entrance area (the original street side access is closed) and up a series of steps and platforms. The mound contains approximately 100,000 cubic feet of shells, mud, and sand. Researchers feel that the mound was once used as a religious center from 700 to 1500 CE.
Inside the museum building are over 1,000 artifacts and a more detailed description of the people who once lived here over the past 12,000 years. Other exhibits showcase the booty of pirates and interesting items from early European settlers.
The Indian Temple Mound is located close to the Camp Walton Schoolhouse, and both can be easily visited in one stop.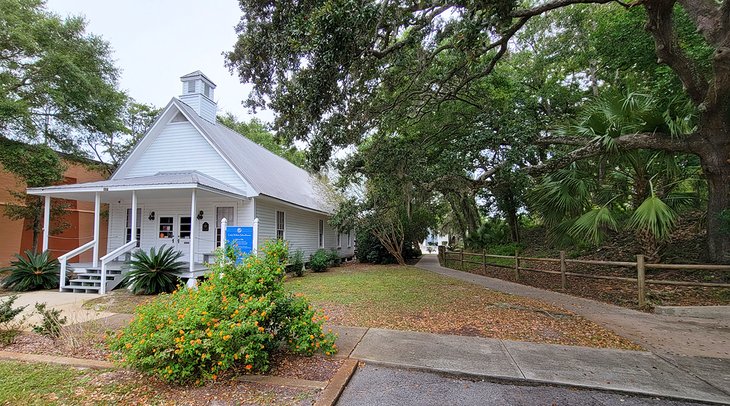 Camp Walton Schoolhouse
For a bit of local Fort Walton history and to understand what going to school in the early 20th century was like, swing by the Camp Walton Schoolhouse. Located on the same grounds as the Indian Temple Mound, in Fort Walton Beach Heritage Park and Cultural Center, the school was the main educational center in the region, and housed 15 students in its two rooms. Grades one through eight were taught by a single teacher.
In behind the schoolhouse are additional buildings, one of which is the Garnier Post Office Museum. Inside are displays detailing the history of the postal service in the local area from 1918 to 1956. The second building houses exhibits relating to the US Civil War.
The schoolhouse, Garnier Post Office Museum, and Civil War Exhibits building are all included with your admission.
Address: 139 Miracle Strip Parkway SE, Fort Walton Beach, Florida
Official site: https://www.fwb.org/parksrec/page/heritage-park-cultural-center
9. Liza Jackson Park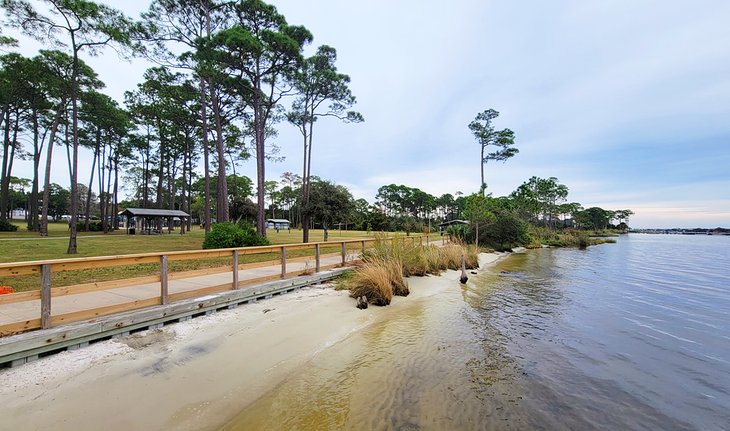 Liza Jackson Park is a pleasant place to hold a large outdoor family gathering. Set up your picnic under the large trees or in one of the sheltered gazebos. You'll find plenty of space for an impromptu game of football or Frisbee or even a game of tag for the little ones.
Liza Jackson Park is one of the best places in the area to launch your boat. A wide and smooth launch and docks provide a great spot to access Santa Rosa Sound and the Gulf of Mexico.
The park is also popular with dog owners – the waterfront is shallow and sandy and an ideal place for Fido to go for a swim.
Address: 338 Miracle Strip Parkway, Fort Walton Beach, Florida
10. Day Trip to Pensacola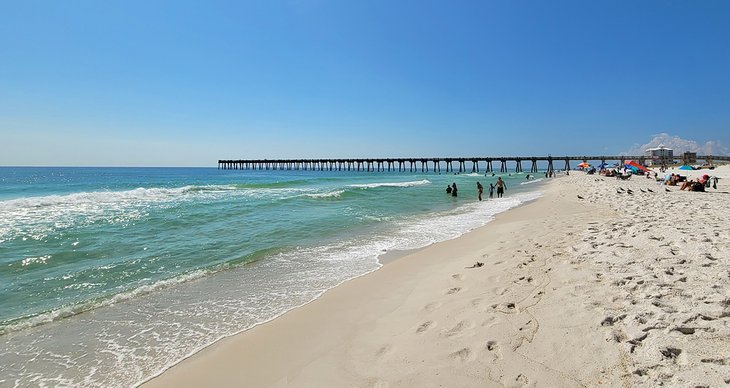 If the weather isn't cooperating, or you just feel you need a change of scenery, consider a day trip to Pensacola. This lively city has plenty to offer for sightseeing, including the perfectly preserved Old Pensacola Historic Village, one of the very first settlements in the United States; a vibrant downtown scene on Palafox Street; and musical history along the Blues Trail in North Hill.
Just outside of town, the Civil-War-era Fort Pickens is not to be missed. Climb up on its old walls and see the cannons that, at the time of their manufacture, were some of the largest in the world.
Finish your day off with dinner at The Grand Marlin restaurant, home to some of the best seafood in the region.
Pensacola is approximately an hour away from Fort Walton. Take scenic Highway 399, which runs right along the ocean, past an unending series of spectacular beaches (be sure to turn at Navarre). After dinner, take the new bridge back to Pensacola and then turn right to take Highway 98 all the way back. Count on an hour each way minimum, likely longer on the way there because you'll probably find you need to stop to soak up the beauty along Highway 399.
Map of Things to Do in Fort Walton Beach, FL
Fort Walton Beach, FL - Climate Chart
Average minimum and maximum temperatures for Fort Walton Beach, FL in °C
J
F
M
A
M
J
J
A
S
O
N
D

16

3

18

4

22

8

26

11

29

16

32

20

33

22

33

22

31

19

27

12

22

8

18

4

PlanetWare.com
Average monthly precipitation totals for Fort Walton Beach, FL in mm.

147

137

166

108

110

154

239

176

171

115

119

116