12 Top-Rated Attractions in Gulf Shores, Alabama
We may earn a commission from affiliate links ()
Gulf Shores, along with neighbouring Orange Beach, is an unforgettable destination that offers one of the most well-rounded vacation experiences in the United States. With its culinary diversity, tourist attractions, and extensive options for both water and land-based activities, this resort community appeals to couples, families, and solo travelers equally.
Toss your flip-flops into the sand on your way to the beach to enjoy the pristine white sands that the area is known for. Take advantage of the diversity of marine life on a dolphin-watching tour or fishing charter, or catch an adrenaline rush from a zipline course high above the attractions. Customizing your perfect vacation is easy with our list of the top attractions in Gulf Shores.
See also: Where to Stay in Alabama's Gulf Shores
Note: Some businesses may be temporarily closed due to recent global health and safety issues.
1. The Beach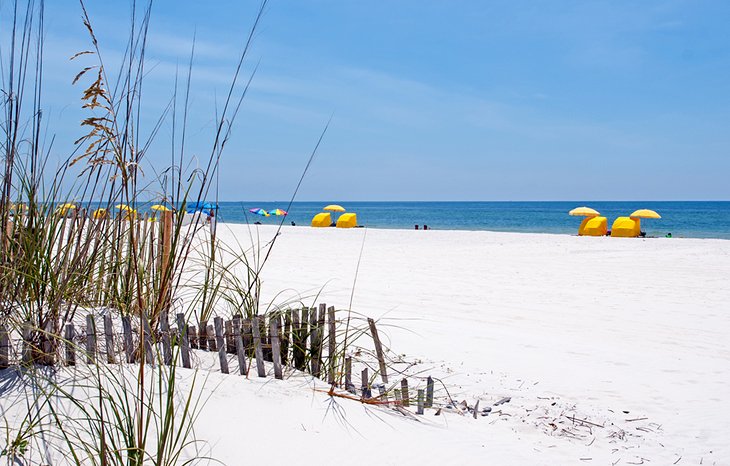 The Gulf Shores beaches are distinctive, with sand the color and consistency of sugar, and spending a day in the surf or just enjoying the salt breeze beneath a canopy are popular things to do. Though Gulf Shores and Orange Beach are beach communities, you will find the beaches uncrowded, even during peak times of the day. If you enjoy beachcombing at sunrise, take a bag to collect some of the sand dollars that wash up on shore. Photographers will delight in the angles of the sun at sunrise and sunset that offer perfect light for family photos or capturing pelicans settling in on the pier.
Most condominiums along the beach offer lounge chair and umbrella rentals. If you plan to spend a day at the beach, a packed lunch and snacks is recommended, as you will not find many eating options on the beach side of the condos where most tourists stay.
2. Gulf State Park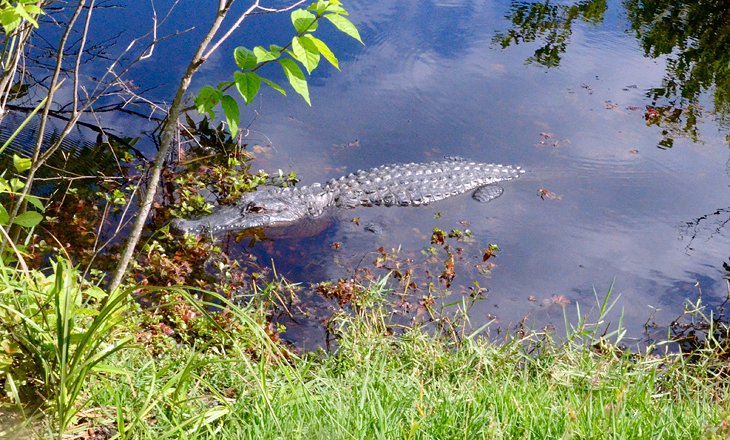 It's easy to plan a full day at Gulf State Park, where the main draw is outdoor recreation. The park maintains a weekly activities calendar, which you can review before your visit to find out about organized activities, or you can explore on your own. The well-maintained park offers hiking trails, a pier, and beaches. For added outdoor adventure, you can rent trail or beach bikes, kayaks, Segways, and paddleboards to use in the park.
Paddleboard lessons are also available. Keep your eyes open as you walk or ride on the trails, as you may see a residential alligator or two among the abundance of wildlife. The pier is also a popular attraction, whether you want to sit on the beach below or try your hand at fishing. If you don't know how to fish, you can sign up for the new Angler Academy.
The Gulf State Park Nature Center has hands-on activities, including live animal demonstrations, guided beach walks, telescope viewing, and educational programs for kids. Yoga enthusiasts can strike their poses during morning programs at the Beach Pavilion.
Campsites are available, as well as a popular RV park, but RV owners are advised to make reservations as far in advance as possible. Pet owners can bring Fido to Lake Shelby, which has a dedicated dog park.
Address: 20115 State Highway 135, Gulf Shores, Alabama
Official site: http://alapark.com/gulf-state-park
3. Gulf State Park Pier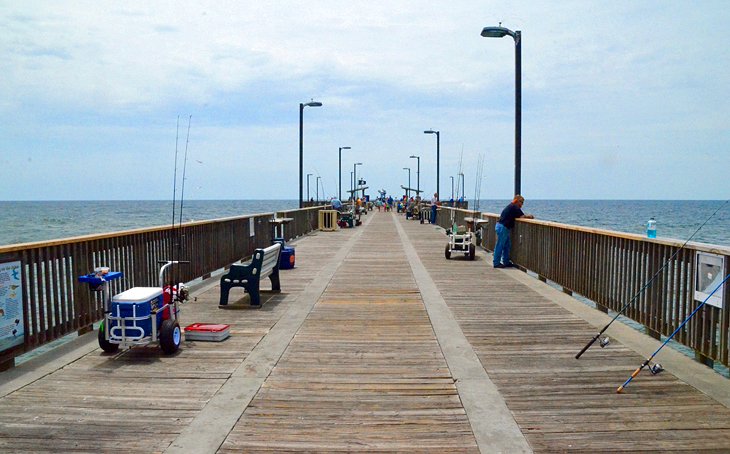 It's easy to spend several hours at the Gulf State Park Pier, which is popular for fishing and people watching. For a few dollars you can come and go from the 1,540-foot-long public pier all day. On the two miles of beaches, you can watch surfers and swimmers and relax in the Gulf breeze.
The pier restaurant makes it easy to stay for several hours. You can grab a bite to go or enjoy the above-beach perspective, with seating that faces the water.
Local and out-of-town anglers flock to the pier daily. Fishing equipment is available for rent if you do not want to bring your own. Some of the best Gulf Shores entertainment is watching other fisherman and the pelicans that compete for the catch. It is not uncommon to see sharks in the water below the pier prowling for the leftovers of fish that are cleaned on-site. Keep your eyes peeled, as you might just see a shark breach the water.
Address: 20115 State Highway 135, Gulf Shores, Alabama
Official site: https://www.alapark.com/gulf-state-park-fishing-and-education-pier
4. Sailaway Charters Eco-Tours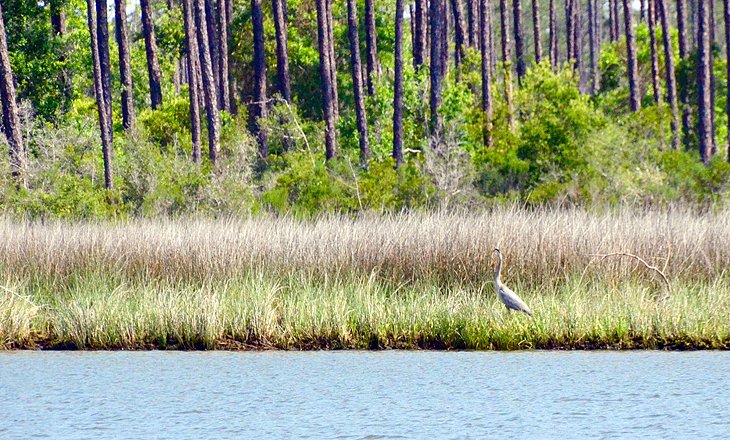 You can learn about crabbing, shrimping, and oyster tonging aboard Sailaway Charters with Captain Skip as you navigate the backwaters of Longs Bayou and Wolf Bay. This small-group adventure provides intimate insight into the ecosystem of the region, waters, and wildlife. Find out why Alabama produces more than 1.5 million bushels of blue crabs annually and learn about the life cycle of oysters that come from these waters.
During your educational trip, watch for dolphins that like to swim alongside the small boat and the herons and other animals that call the estuaries home.
Address: 24231 Gulf Bay Road, Orange Beach, Alabama
Official site: http://www.sailorskip.com/
5. Alabama Gulf Coast Zoo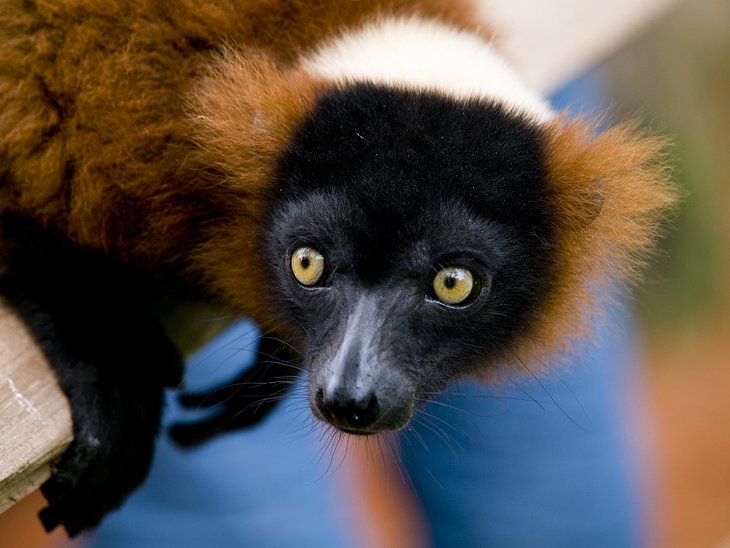 The Alabama Gulf Coast Zoo is a growing attraction and has a new home as of the fall of 2019. Some of the popular exhibits include primates, lions, bears, leopards, and an aviary. Educational talks and animal shows are also on the schedule, and a shaded picnic area offers a comfortable retreat from the hot Alabama sun.
For an additional fee, you can enjoy one of the zoo's new animal encounters with kangaroos, lemurs, sloths, and tamanduas, or the Animal Enrichment Program that lets you go along with a zookeeper to learn how to care for some of the animals.
Official site: http://www.alabamagulfcoastzoo.com/
6. Coastal Segway Adventures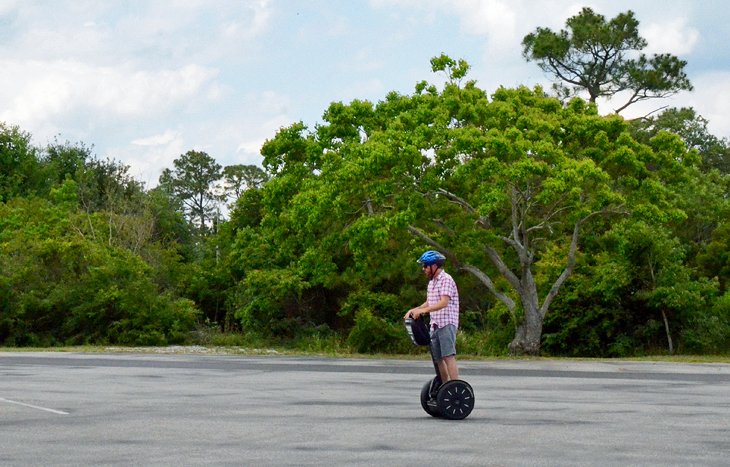 Guided Segway tours through the Hugh S. Branyon Backcountry Trail in Gulf State Park is one of the most enjoyable ways to explore Gulf Shores nature and wildlife. The two-hour tours take you through seven trails as your guide explains the varied ecosystems that exist in the park.
Tours start with a brief lesson on how to use the Segway and practice in the parking lot, so even first-timers can feel comfortable booking this excursion. Once on the trails, keep your eyes peeled for impressive wildlife, like eagles, alligators, and bobcats.
Address: 20115 State Highway 135, Orange Beach, Alabama
Official site: http://www.coastalsegwayadventures.com/
7. Fishing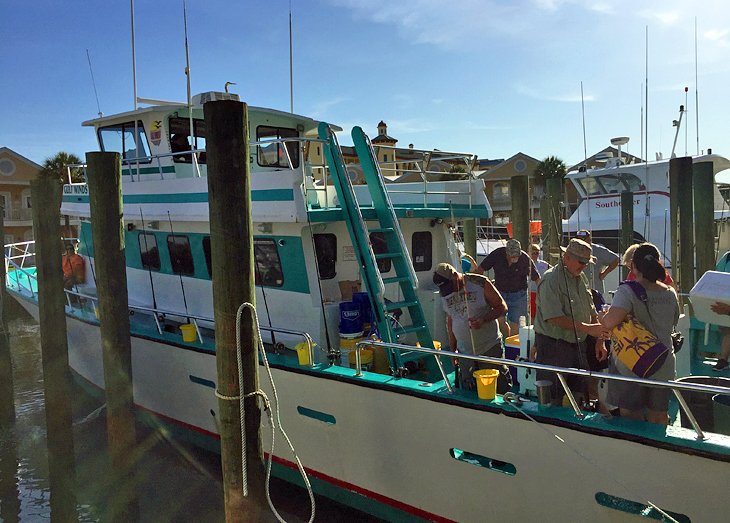 From deep sea fishing and inshore fishing to bow fishing and everything in between, the options for anglers are second to none in this area. Experienced anglers like the challenge of full-day fishing, targeting species like marlin, while first-timers can cast a line inshore or on a shorter offshore trip.
You can always book private charters. A relatively affordable option that is great for families and first-timers is deep-sea fishing with Reel Surprise Charters. More people are on the boat, but professional guides are on hand to help you hook species like triggerfish and red snapper. Nighttime fishing is an exciting way to explore all the bay waters have to offer. Fishin' Dixie Inshore Fishing offers several types of trips, but targeting speckled trout under the moonlight with an experienced guide is a unique fishing experience.
True outdoor enthusiasts can kick things up a notch with Intercoastal Safaris. They can customize trips for inshore fishing, saltwater bow fishing, and even trips that combine duck or wild hog hunting and fishing.
If you fish in Gulf Shores and Orange Beach, you must take advantage of the Hook & Cook experience supported by many local restaurants. You pay a small fee to have your captain fillet your catch and take it to a participating local restaurant, which will prepare it any way you like, from Mediterranean-style to fried.
8. Sunset Cruise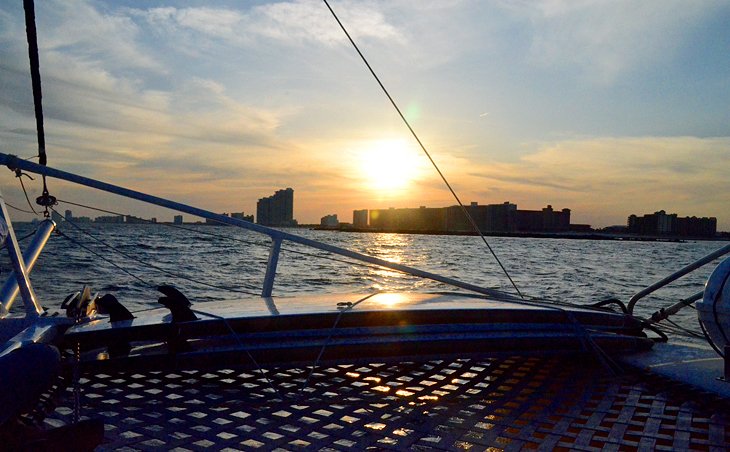 One of the best ways to wind down from a busy day is with a Sail Wild Hearts' Sunset Cruise. This is a great leisure evening activity to do with a small group as you coast the Gulf waters on an open-ocean catamaran. Complimentary refreshments and snacks are onboard (such as water, soft drinks, and hors d'oeuvres), as well as restrooms. The open cabin and comfortable front deck give you plenty of space to stretch out and enjoy your company while taking in the warm breeze.
Sunset cruises average one-and-a-half to two hours and offer wonderful views of the white-sand shoreline.
Address: 27200 Perdido Beach Blvd., Orange Beach, Alabama
Official site: http://sailwildhearts.com/
9. Dolphin Watching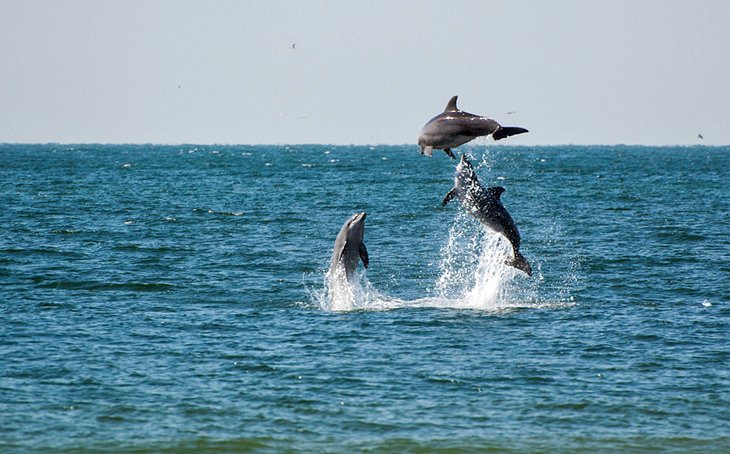 The playful dolphins in the Gulf Shores are a big draw for visitors looking for a different kind of recreational water activity. Several companies in the area offer traditional dolphin-watching tours.
Some of the best ways to take part in dolphin-watching experiences is from a glass-bottom boat with Dolphins Down Under or with a WaveRunner tour, where you can see the dolphins swimming next to you. There is also a Dolphins and Wildlife Kayak Experience with Wild Native Tours, which enables novice and experienced kayakers to take a three-hour paddle along the coastline.
10. Hiking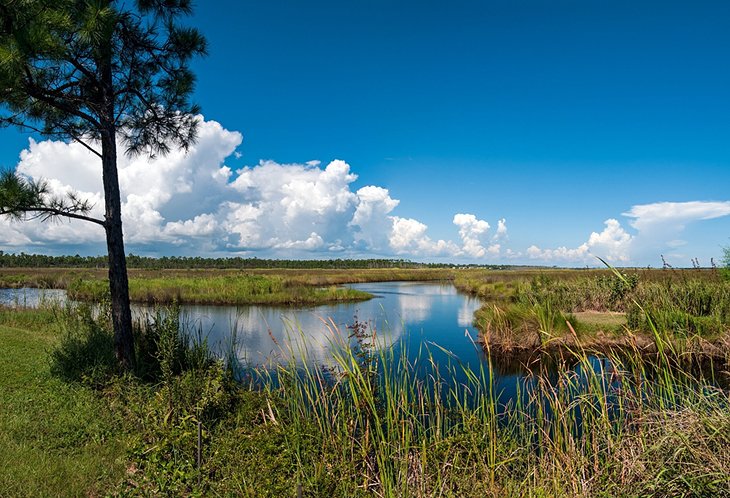 Gulf Shores, Alabama is famous for its pristine white beaches, but hiking trails give landlubbers plenty of flora and fauna to find in the area. The Hugh S. Branyon Backcountry Trail in Gulf State Park covers more than 28 miles that take you through nine different ecosystems. Your options range from freshwater marshes to butterfly gardens, with plenty of wildlife roaming as you hike. Due to the expansive trails, it is recommended to plot out where you want to hike before you arrive. Maps are easy to find online and at the state park.
If you are a nature photographer or birding enthusiast, you will be impressed by the Alabama Coastal Birding Trail, where you can observe regional species like the blue heron in its natural environment. Signage along the trail makes it easy to navigate and provides educational information about the area and birds that you might see on your hike.
11. Bon Secour National Wildlife Refuge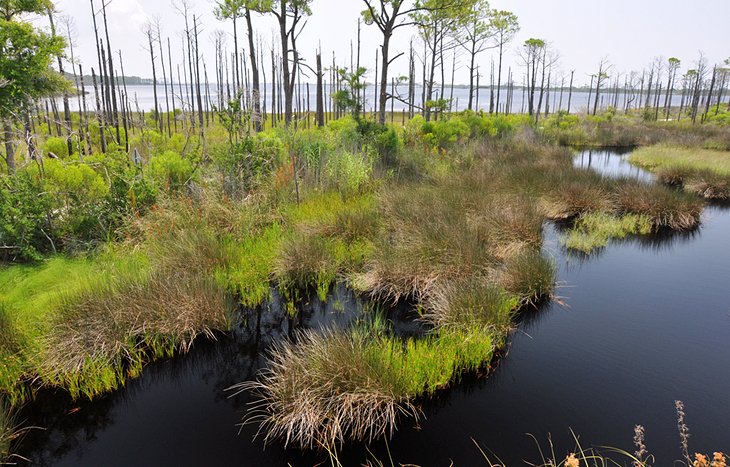 If you want to see some of the rich wildlife in the Gulf Shores region, it is worth a visit to the Bon Secour National Wildlife Refuge. The refuge was established to protect threatened species in the area, so you will have exposure to wildlife that you may not otherwise encounter.
The refuge has a thriving turtle nesting program, where you can learn about how the Gulf Shores is reviving the sea turtle population. The tiny Alabama beach mouse is under watch at an undisturbed area of the refuge, where you can observe its natural habitat in the shrubs of the shoreline. If you visit in the spring or fall, you will have the chance to see many species of migratory songbirds that stop here to enjoy the habitat that was established to attract them.
Address: 12295 AL-180, Gulf Shores, Alabama
Official site: https://www.fws.gov/refuge/Bon_Secour/
12. Hummingbird Zipline Course
The Hummingbird Zipline Course at The Wharf in Orange Beach features eight ziplines, which take you soaring above the treetops over wetlands. The course spans more than 6,000 feet, with the highest of the eight towers at 115 feet, and you can zip along at speeds of more than 30 miles per hour. Expert guides provide instruction on how to use all the gear, and you'll have a chance to try out your skills on a practice zip near ground level before you take to the skies.
During your adventure, the guides will also share information about the beautiful coastal environment. The entire course takes about 2.5 hours.
Address: 4830 Main Street, Suite G-114, Orange Beach, Alabama
Official site: https://zipthegulf.com/
Where to Stay in Alabama's Gulf Shores for Sightseeing
We recommend these great-value hotels a short stroll or drive from the fabulous beaches of Alabama's Gulf Shores:
More Related Articles on PlanetWare.com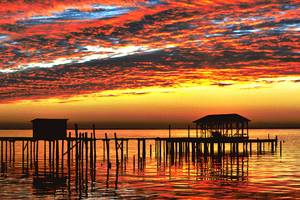 Explore Alabama: As you plan your beach vacation in Alabama be sure to explore some of the regions beyond Gulf Shores for more of the best beaches in the state. If you want to supplement your beach vacation with some historical excursions plan time to visit Montgomery, Mobile, or Birmingham during your stay.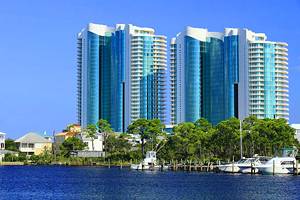 Where to Stay in Alabama: If golf, spa services, and relaxation are on the agenda, you may want to book your trip at one of the top resorts in Alabama that provide a more luxurious kind of getaway and can even put you on the Robert Trent Jones Golf Trail.