12 Top-Rated Things to Do in Destin, FL
Destin, with its stunning white beaches, fun boardwalk, and extensive hotel and resort options is one of the top places to visit in Florida's Panhandle region. Just down the road from Pensacola, this small resort city has something for everyone.
Beachgoers will love the soft sand and warm waters, fishermen will be waking up at the crack of dawn to head out on the Gulf of Mexico, and those more interested in shopping and dining will find many spots willing to take their cash in exchange for souvenirs and great meals.
Plan your vacation days here with our list of the top things to do in Destin.
1. Henderson Beach State Park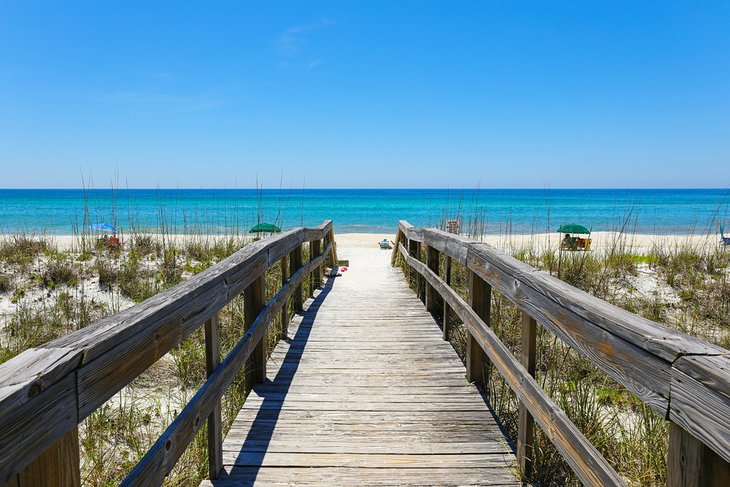 For many people, the city of Destin equates exclusively to beaches. The reason for this is likely the fact that it is surrounded by amazing beaches stretching for miles and miles east and west of the city.
One of the best, practically located right in the city, is Henderson Beach State Park. This large park is home to one of the most stunning beaches on the Florida Gulf Coast. Blindingly white sand tickles your toes as you stroll to the water's edge. Here, you'll find emerald green water so clear that you can see small fish and other aquatic creatures swimming along quite happily.
Load up on supplies at the giant Walmart Supercenter across the highway, and set yourself up for a big cookout or picnic at one of the six large pavilions. Need a break from the sun and sand? Take the shady three-quarter-mile hiking trail to the top of one of the 30-foot-high sand dunes just back from the beach.
A nominal fee is charged to enter the park.
Official site: https://www.floridastateparks.org/parks-and-trails/henderson-beach-state-park
2. Destin Harbor Boardwalk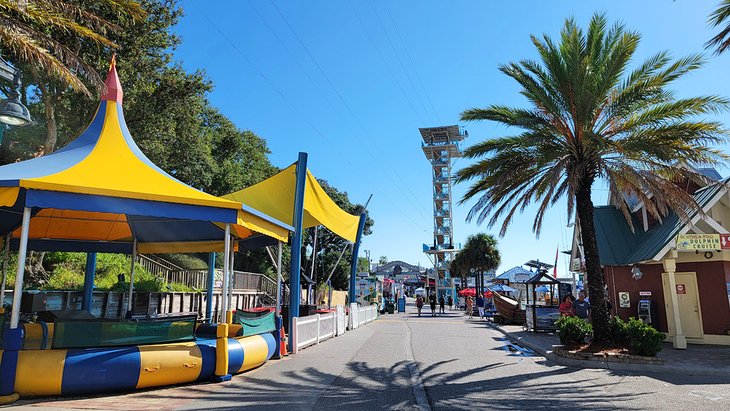 After a day at the beach, your crew may look at you and say "what now?" Well the answer is easy, head down to Destin's Harborwalk Village. A highlight of the village is the quarter-mile-long Destin Boardwalk, chock-full of great restaurants, shopping, and things to see and do.
Entry to the Harborwalk Village area is free, and a large parking lot is located just up the hill from all the attractions. Head west along the boardwalk towards the Destin bridge to find the most built-up area and the charter boat docks. If you've booked a dolphin watching or some other kind of tour, this is likely where your boat will leave from.
If you head the other direction, you'll technically leave the Harborwalk Village and enter another area. This, somewhat down-market area has a bit of a circus midway feel, with games of chance, small booths selling things you never thought you needed, and a few open-air establishments.
Other things to do along the boardwalk include an attraction featuring giant water balls that you can climb inside and roll about in a pool of water. For high speed adventure, try out the zipline. More sedate options include fish feeding off the docks or catching the nightly fireworks show.
3. Deep Sea Fishing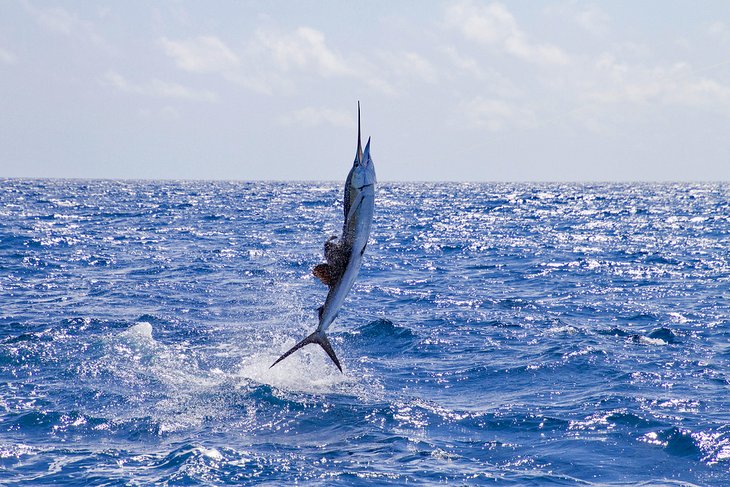 Destin, with it's easy access to the Gulf of Mexico, is one of the best places to try and catch a trophy fish. Many of the fishing charters leave right from the main docks just off the waterfront, and you'll have a wide selection to choose from.
A day with a captain and crew doesn't come cheap, but the experience of hooking into a big fish and reeling them in is something everyone should experience. If you don't have six people in your group, captains will generally try and pair you up with others. That helps defray the cost, which generally runs at $240 an hour.
Three different kinds of fishing are available: Bottom fishing, Inshore Trolling, and Offshore Trolling. Each type of fishing produces different catches. Bottom fishing will get you red snapper, amberjack, and grouper. Inshore fishing typically results in mackerel and mahi-mahi. Offshore is where the real adventure begins and the fish are much larger; species like blue marlin and the spectacular sailfish are the prizes. Boat sizes range from 25 feet right through to 65 feet; the offshore boats tend to be larger.
4. Village of Baytowne Wharf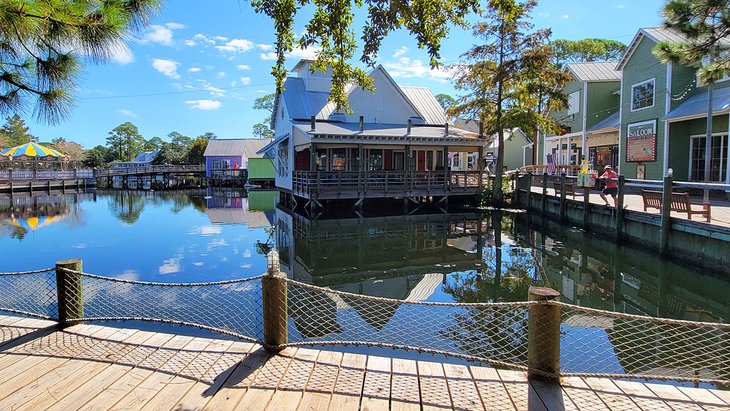 If you've got some vacation spending money set aside and are looking for a place to spend some of it, head to the shops and restaurants of Baytowne Wharf. Located in the gated community of the same name, this recreated Florida theme town is set back from Choctawhatchee Bay.
Wander the winding streets that encircle several small ponds, and you may find yourself drawn to a lively patio, clothing store, or some sort of other eclectic retail shop. Come Florida's version of winter (November, December, and January), an outdoor skating rink emerges. In the highly likely event that you've forgotten to pack your skates, don't worry, rentals are available.
Baytowne Wharf is home to an active special event schedule, ranging from a Gumbo Festival, Mardi Gras Parade, Wednesday Night Concert Series, and a fireworks program called Boomin' Tuesdays in the summer.
Baytowne Wharf is a gated community; however, visitors to the retail areas are more than welcome. Just tell the guard at the gate that you are heading to the shops, and they'll issue you a free pass to be displayed on your dash.
5. Shopping in Destin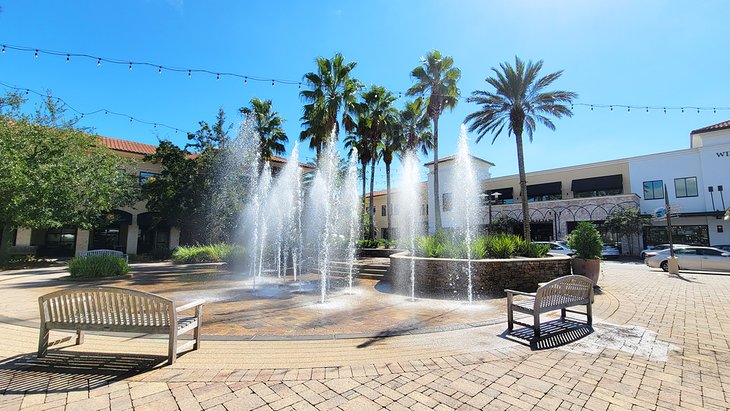 If you didn't find what you were after at the shops of Baytowne Wharf, perhaps you'll be luckier at one of the main shopping centers in and around Destin. Destin Commons Mall, Silver Sands Premium Outlets, and the Grand Boulevard at Sandestin are all popular haunts for those with a clothing, shoe, or home décor agenda in mind.
Name brand retail stores populate the three malls include Clark's, Coach, Bass Pro Shops, H&M, Lowes, The Disney Store, and Billabong, just to name a few. Basically if you need something, chances are that you'll find it at one of these temples to consumerism.
The malls are more than just shopping centers; they also feature restaurants, including the ever popular Carrabba's Italian Grill, and Which Wich, home to what many people consider the very best submarine sandwiches in the United States.
6. Gulfarium Marine Adventure Park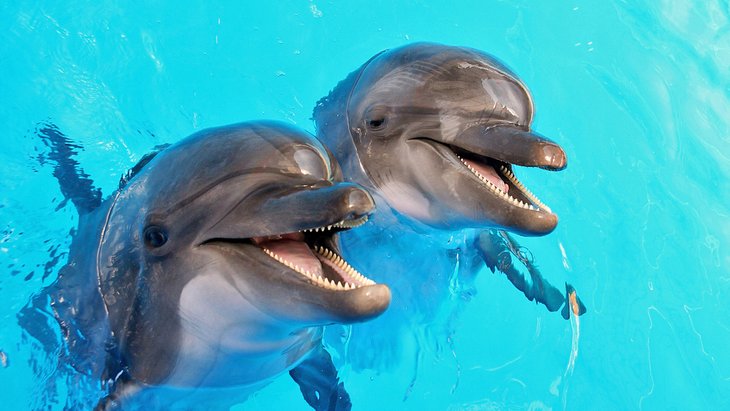 The Gulfarium Marine Adventure Park is one of Destin's top tourist attractions. Home to a variety of marine mammals, fish, and other critters, the park is a fun family destination. Shows take place throughout the day and include a dolphin performance and the antics of a sea lion.
Smaller chats with the trainers and the various animals also happen on the half hour. These more intimate gatherings feature animals that include otters, penguins, seals, sharks, and reptiles, among others.
If you'd like to get up close and personal with an animal, supervised encounters are available with dolphins, seals, penguins, turtles, stingrays, and even alligators.
Official site: https://www.gulfarium.com/
7. Crab Island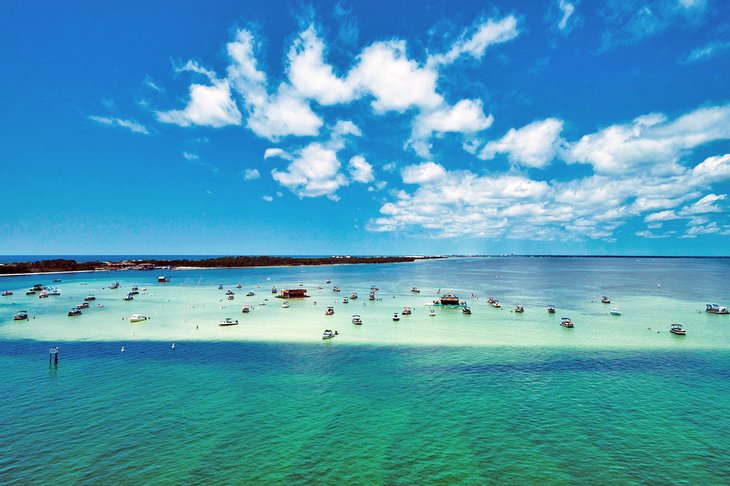 Crab Island is one of the hot spot destinations for boaters visiting Destin. Technically not an island but a submerged sandbar, Crab Island attracts hundreds of boaters, paddleboarders, kayakers, and day trippers to its shallow warm waters.
Located just inland from the large bridge linking Destin to Okaloosa Island, Crab Island is a fun and sociable place to visit. You'll find folks wading, swimming, playing water games, and lounging on their boats or inflatable floaties.
Bring a lunch with you, or buy from one of the many mobile floating food service providers. Food offerings are diverse and range from authentic BBQ right through to hot dogs, burgers, and even ice cream.
8. Crystal Sands Beach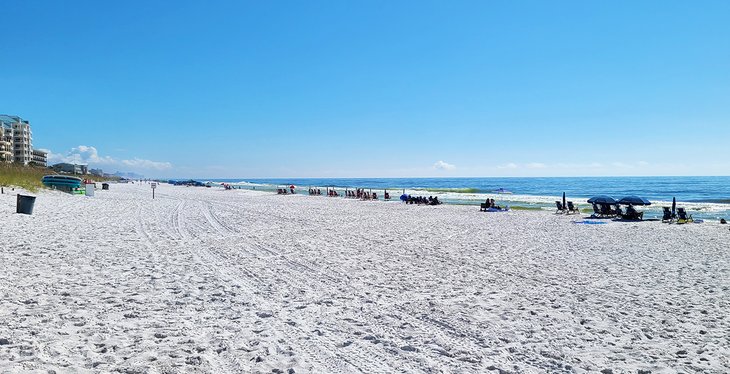 Crystal Sands Beach is one of the lesser visited beaches near Destin, not because it has issues, in fact, it's amazing, but just simply because people don't know about it. Just a bit east of James Lee Beach, Crystal Sands Beach is generally used by folks who are staying in one of the beachfront condos or back in one of the delightful cottages.
If the nominal fee to enter Henderson Beach State Park deters you from going there, Crystal Beach might be a good option; it's the first beach you come to past the park, and it's free to use.
9. Destin History and Fishing Museum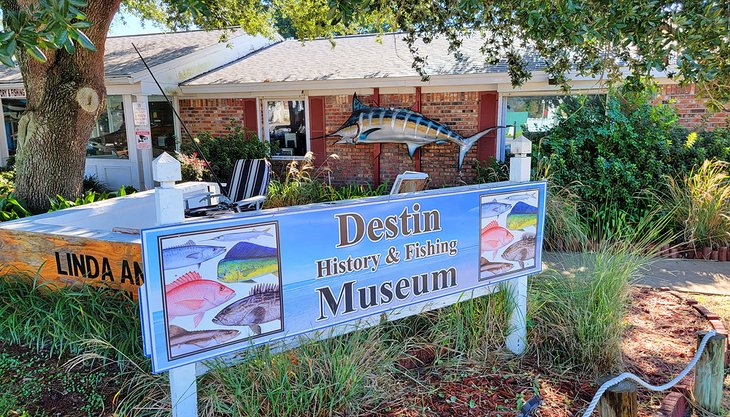 A great option for a rainy day, the Destin History & Fishing Museum is well worth a visit. It's full of interesting exhibits inside and out, and after a stop here, you'll be an expert on the local area. Two of the highlights include a display showcasing 75 mounted local fish and a detailed overview of the history of Destin from the earliest inhabitants right through to modern times.
One of the exhibits not to be missed is titled "The Science of Why Destin's Sand is White." This fascinating overview shows how the quartz of the Appalachian Mountains far to the north has ended up on Destin's beaches.
Even if you don't go inside, take a wander through the free outdoor exhibits featuring several historic local boats, namely the Primrose and the 'Lil Jimmy. Also out front is the historic Post Office.
Official site: https://www.destinhistoryandfishingmuseum.org/
10. Topsail Hill Preserve State Park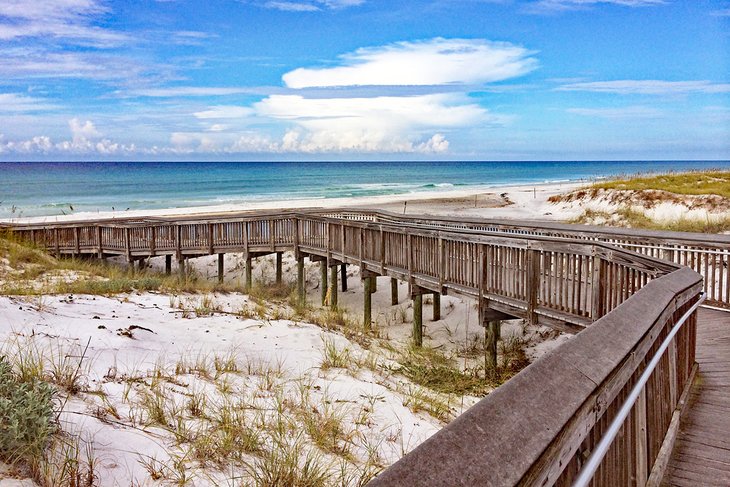 A visit to Destin doesn't have to be all about hitting the beach or the boardwalk. For some people, it's about getting back to nature. One of the best places to do this near town is at Topsail Hill Preserve State Park.
This fantastic park spread out over 1,640 acres is home to sand dunes, old growth long leaf pine forests, a freshwater lake, and wetlands. Winding through all this wonderful greenery is an extensive 15-mile network of hiking and walking trails. One of the more interesting trails leads to the remains of a turpentine facility that operated in the park around the turn of the 19th century.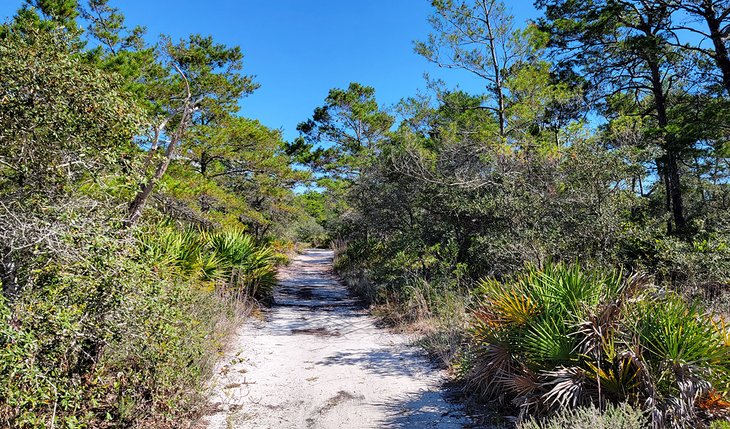 If you are looking for a cheap Destin vacation, consider camping in the park. The campground has 156 RV and tent sites, along with 32 cabins/bungalows, two glamping sites, a pool, laundry facilities, and a shuffleboard court.
Another highlight of the park is the natural beach. Stretching for 3.2 miles, this spectacular beach area is completely undeveloped with only sand dunes and trees. Note that to access the beach, you need to either walk, cycle, or take the beach tram along the roughly one mile paved trail.
Official site: https://www.floridastateparks.org/parks-and-trails/topsail-hill-preserve-state-park
11. Take a Dolphin Cruise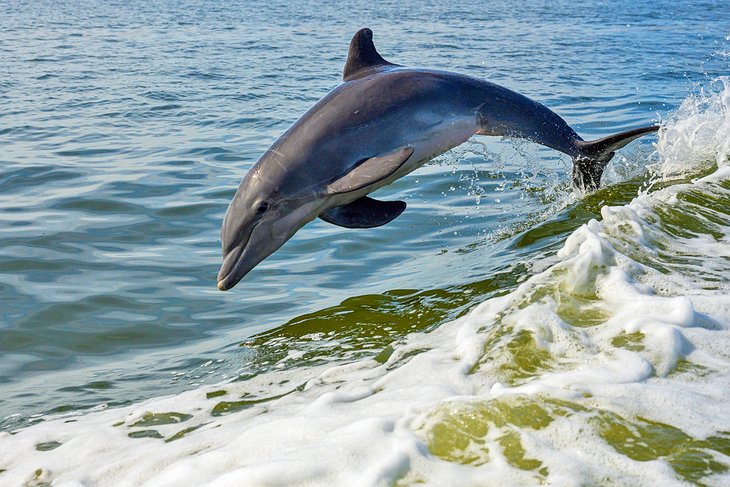 One of the best ways to see these fascinating creatures that live under the emerald-green waters of the Gulf of Mexico is to go on a dolphin cruise. These fun family or group outings generally involve a cruise out onto the Gulf of Mexico to areas that the captain knows dolphins frequent.
You'll find lots of different dolphin cruises available. Some cruises are on large boats with glass bottoms that make viewing the underwater life easy; some cruises leave in the evening and incorporate a sunset photo opportunity. Most cruises leave from the docks located in the Destin Boardwalk area.
12. Sign Up for a Snorkeling Cruise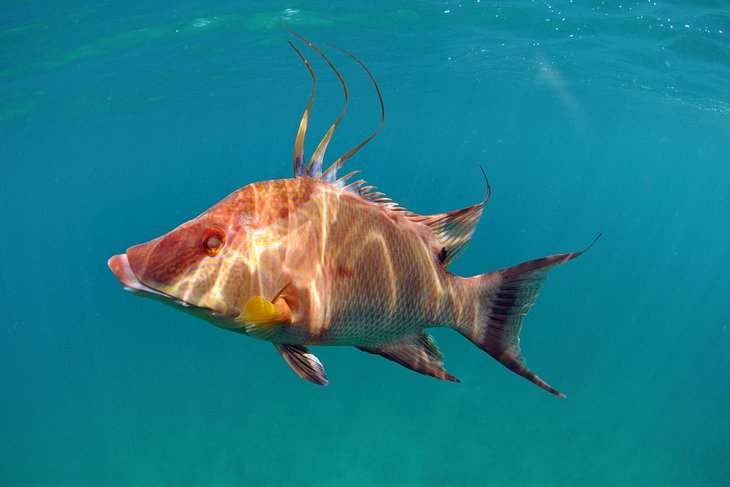 If you want to get in the water and see the colorful fish hanging out down there, consider taking a snorkeling cruise. These two-hour tours are family-friendly and generally take place in shallow water, making them ideal for swimmers of all ages.
All the snorkeling gear is provided. All you need to do is bring a sense of adventure, a bathing suit, towel, and sunscreen. Boats are equipped with sun shades, restrooms, and all the required safety gear.
In addition to snorkeling, most cruises take you to Destin's shelling hot spots. You can keep what you find just as long as no one is living inside.
Destin, FL - Climate Chart
Average minimum and maximum temperatures for Destin, FL in °C
J
F
M
A
M
J
J
A
S
O
N
D

16

3

18

4

22

8

26

11

29

16

32

20

33

22

33

22

31

19

27

12

22

8

18

4

PlanetWare.com
Average monthly precipitation totals for Destin, FL in mm.

147

137

166

108

110

154

239

176

171

115

119

116