14 Top-Rated Attractions & Things to Do in Panama City Beach, FL
Turquoise waves lapping at the gleaming white-sand beaches lining the oceanfront of Panama City Beach create a picture-perfect summer scene. From spring until fall, this small city on the Florida Panhandle is transformed into a true American beach town.
Families flock here from the inland areas of Florida and nearby states to lounge on the beaches and enjoy the numerous attractions and activities found here.
Since this is largely a summer resort area, most of the attractions are outdoors or water-related, and many of them are only open seasonally. Winter in Panama City Beach is quiet but has a more relaxed feel.
Start your trip with our list of things to do in Panama City Beach.
1. Spend a Day on the Beach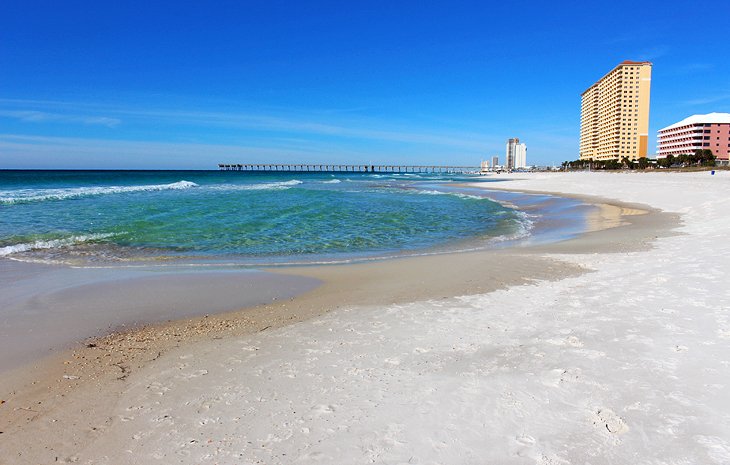 Panama City's beautiful beach is the centerpiece of the city and loved by locals and tourists of all ages, who come here to swim, play, relax, socialize, and soak up the sun.
Twenty-seven miles of dazzling white sand stretches along this section of the Gulf of Mexico at Panama City Beach, and the shallow waters are perfect for younger kids, inviting beyond belief in the summer heat.
One of the major landmarks along the waterfront is City Pier, where much of the hottest beach scene is centered, with beach volleyball games and young people hanging out and socializing.
Across the street from the wooden pier is Pier Park, with shops and restaurants. This can be a good place to break for lunch or catch some shade.
The beachfront hotels and condos that run up and down the shore fill up from spring until fall. If you are coming in the off-season to enjoy the view or the tranquility, these hotels offer steep discounts.
2. Wander through Pier Park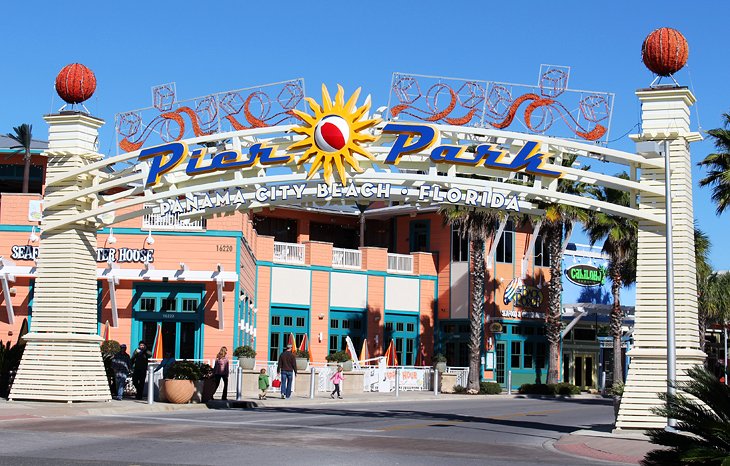 Pier Park, directly across from Russell-Fields Pier, more commonly known as City Pier, is a shopping, dining, and entertainment complex, with a tourist-oriented twist. If you are looking for a break from the beach, Pier Park is a convenient and pleasant distraction. It's also the best place to visit on a cold or rainy day.
Pier Park is a lively place and a perfect place to shop and go for lunch or dinner. Most restaurants feature outdoor patios where you can catch the sea breeze.
Shopping options range from beach-themed apparel shops to high-end chain and department stores. Also on-site is the Pier Park Amusements, which features a variety of things to do, including rides and an IMAX theater.
3. Take a Ride on the SkyWheel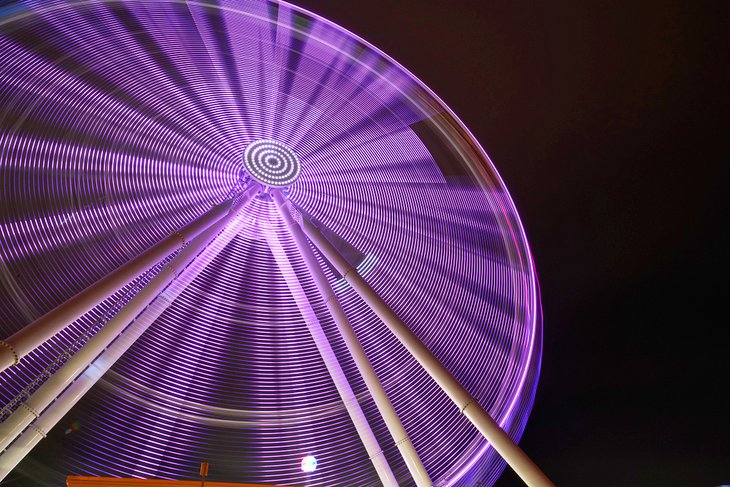 One of the newer attractions in Panama City Beach is the SkyWheel, a giant 170-foot-high Ferris wheel. Amazing views are enjoyed from any one of the 30 gondolas, all fully air-conditioned. Each gondola seats six people, except for the VIP glass-floored one, which seats only four.
In addition to the SkyWheel, the entertainment complex also offers a ropes course called the SkyTrail that loops you around a series of obstacles high in the air. Don't worry, you'll be firmly secured to a safety line at all times.
If you've ever wanted to try ziplining, the SkyRail is worth a try. This short zipline will give you a taste of what larger courses may be like and whether you'd like to give them a try as you travel around.
A fun mini-golf, also known as Putt-Putt in the southern United States, is also available, and its unique and challenging holes are guaranteed to bring a smile to you and your kids' faces.
Address: 15700 LC Hilton Jr. Drive, Panama City Beach, Florida
Official site: https://www.skywheelpcb.com/
4. Walk on Russell-Fields Pier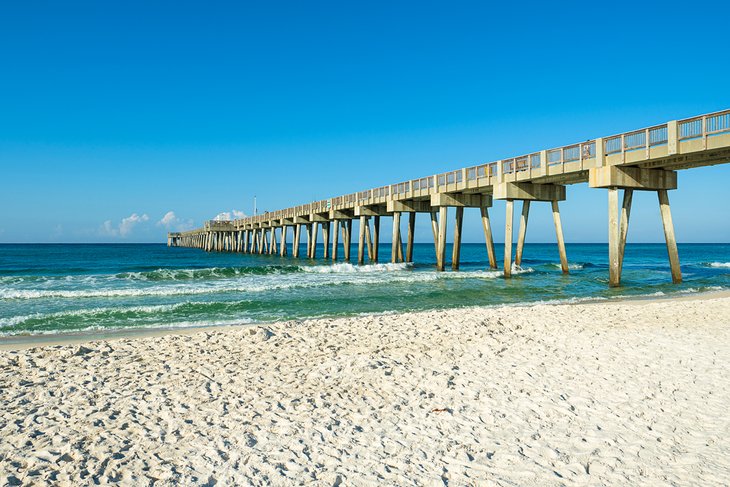 Russell-Fields Pier, just across the street from Pier Park, juts out 1,500 feet into the sea. This pier, one of the longest along the entire Gulf of Mexico, is an excellent place to wander out to soak up amazing views up and down the coast. It's also a popular place to visit to catch the sunset.
Look over the side of the pier as you walk out to the end. There's a good chance that you'll see a passing dolphin or perhaps a manta ray skimming along the bottom. The pier attracts all kinds of birdlife, from pelicans to gulls, right through to herons. These patient avian observers stand at the ready to help out the fishermen in exchange for a piece of bait.
If you are into fishing, the pier is one of the best spots in Panama City to try your luck. Some of the common catches are pompano, mullet, grouper, cobia, and many others, depending on the season. A small admission fee is charged to access the pier and is good for the day. A higher fee is charged to fish.
The pier is open 24 hours a day, seven days a week.
If you'd like to visit another pier that is a bit more low-key, consider heading to M.B. Miller County Pier. It's about 15 minutes north along Highway 30, just past the SpringHill Suites Panama City Beach Beachfront hotel.
Location: Across from Russell-Fields Pier on Pier Park Drive, Panama City Beach, Florida
5. Gulf World Marine Park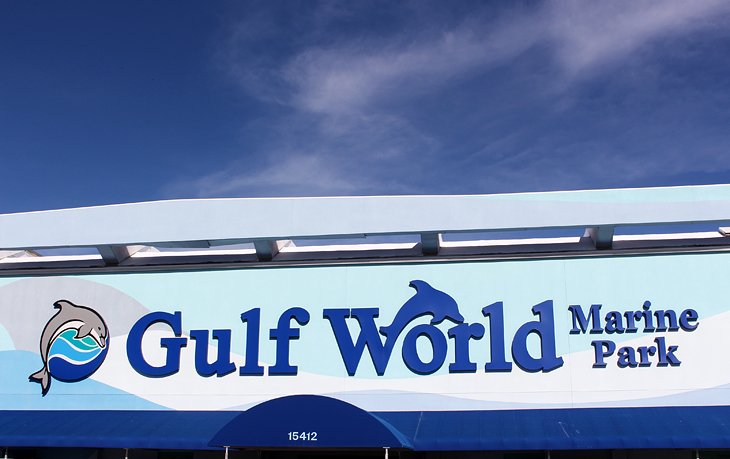 Gulf World Marine Park is one of Panama City Beach's top fun family attractions. The park has all kinds of sea life and free daily shows featuring dolphins, sea lions, and a variety of birds. Park residents include alligators, penguins, sharks, and many other exciting critters.
The park also offers exclusive hands-on and interactive experiences, including a 20,000-gallon stingray pool where visitors can not only pet the smooth, graceful fish but actually get to wade in the pool and snorkel beside them.
Interactive programs include the ever-popular swimming with the dolphins and the opportunity to get up close with adorable harbor seals or participate in a sea lion training session. If you've ever wanted to get a wet, sloppy kiss from a dolphin, this is the place to do it.
The park is open seasonally and closed between Thanksgiving and Christmas.
Address: 15412 Front Beach Road, Panama City Beach, Florida
Official site: www.gulfworldmarinepark.com
6. St. Andrews State Park and Shell Island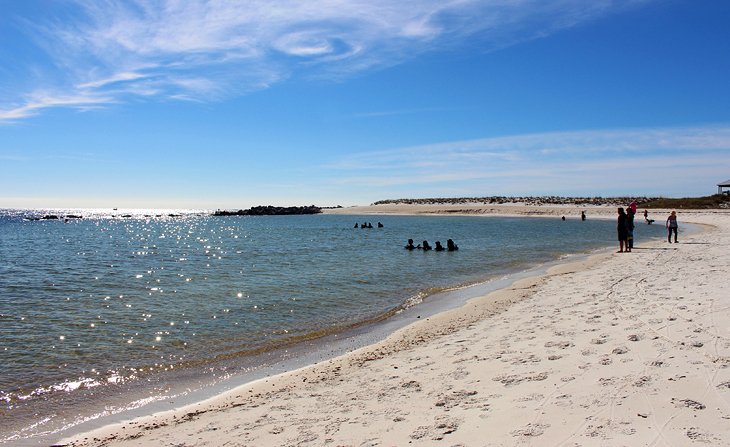 St. Andrews State Park is a diverse area with a little of everything when it comes to beach activities along the Gulf of Mexico. Featuring shallow, protected areas for a relaxing swim or snorkel, and sections with larger waves for playing in, St. Andrews is the perfect place for anyone looking to enjoy the beach and ocean.
One of the most popular things to do in this park is exploring Shell Island, a 700-acre barrier island with a glorious stretch of beach. The Shell Island Shuttle runs every half hour during the summer, picking up and dropping off passengers. You can also rent a pontoon boat to get to Shell Island, a great option for families who want to explore the island at their own pace and do some snorkeling.
St. Andrews State Park is a popular place to camp, with 60 sites, all with water and electricity. Maximum RV size is 45 feet. The state is in the midst of a significant upgrade to the campground facilities. This project is expected to be finished at some point in 2022.
Location: Three miles east of Panama City Beach, off State Road 392, on Thomas Drive
Official site: www.floridastateparks.org/park/St-Andrews
7. Go Boating, Kayaking, Canoeing, and Stand Up Paddleboarding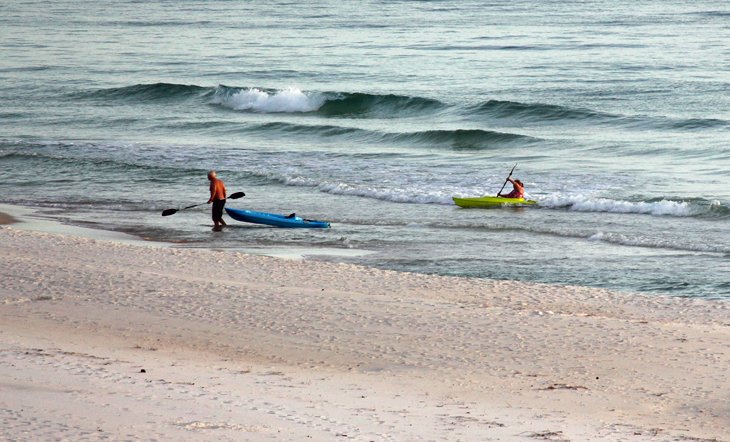 To add a little fun and excitement to your holiday, boat tours are a great way to see some marine life, access snorkeling sites, or do some sailing. Excursions range from dolphin sightseeing tours to Sea-Doo, canoe, kayak, and stand up paddleboard rentals.
Fishing charters are offered by several companies, and catamaran sailing trips are also popular, particularly sunset sails. For families, the Sea Dragon Pirate Cruise is a kid's themed pirate ship with two-hour sailings and on-board activities for children. Again, many of these are season specific and are not offered in the low season, and reservations are highly recommended.
A particularly good boat excursion is the Sunset Catamaran Sail, popular with families but also an incredibly romantic outing for couples. The sail departs late in the afternoon on a Privateer catamaran, and guests can enjoy a complimentary beverage while enjoying the ambiance of island music and keeping an eye out for dolphins. As the sun goes down, passengers get an unparalleled view of the colors as it dips beneath the horizon over the Gulf.
8. Ripley's Believe It or Not!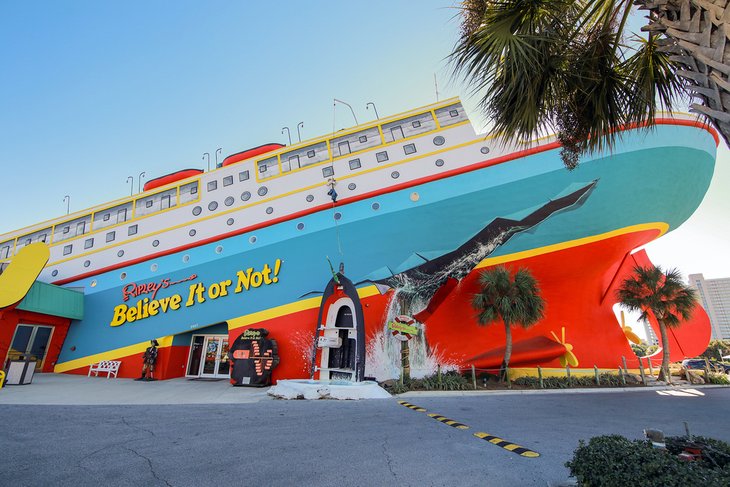 The newly renovated Ripley's Believe It or Not! is a great rainy day outing or a break from the sun, and one of the more quirky things to do in Panama City Beach.
This facility, designed in the shape of a ship, has four main attractions: the Odditorium, with traditional Ripley's oddities; the 7D Moving Theatre, which is more of a ride than just a movie-watching experience; the Impossible LaseRace, with a laser obstacle course; and the Marvelous Mirror Maze, where lights and creatively placed mirrors make finding your way out more than just a minor challenge.
Ticket prices vary depending on what attractions you want to participate in, but combo tickets for all four attractions are available.
Address: 9907 Front Beach Road, Panama City Beach, Florida
Official site: www.ripleys.com/panamacitybeach
9. Shipwreck Island Park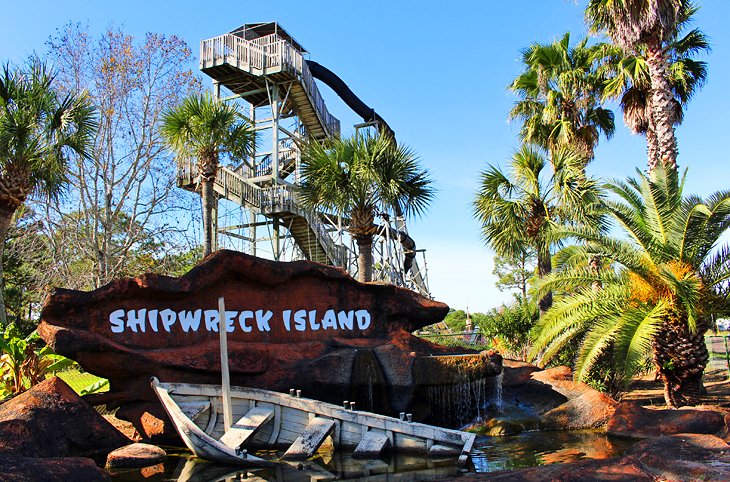 On a hot summer day, this water park is a welcome treat, with a lazy river, raging river, and wave pool, as well as all kinds of water-based rides and slides. One of the highlights of a visit here is the short zipline that whizzes you above a pool before unceremoniously dropping you when you least expect it.
Skull Island features a family pool with a kiddie slide, racing slide, and a giant tipping bucket, while Tadpole Hole is a children's pool with activities for younger kids. Shipwreck Island has been in business here for decades and is a great family outing, designed to satisfy children of all ages.
Next door, Goofy Golf is a fun place to play while you dry off, home to two 18-hole mini-golf courses. A local family attraction since 1959, it is also one of the least expensive family attractions on the Miracle Strip and doubles as a play-park with huge statues that children can play on and climb.
Address: 12201 Hutchison Boulevard, Panama City Beach, Florida
Official site: www.shipwreckisland.com
10. Coconut Creek Family Fun Park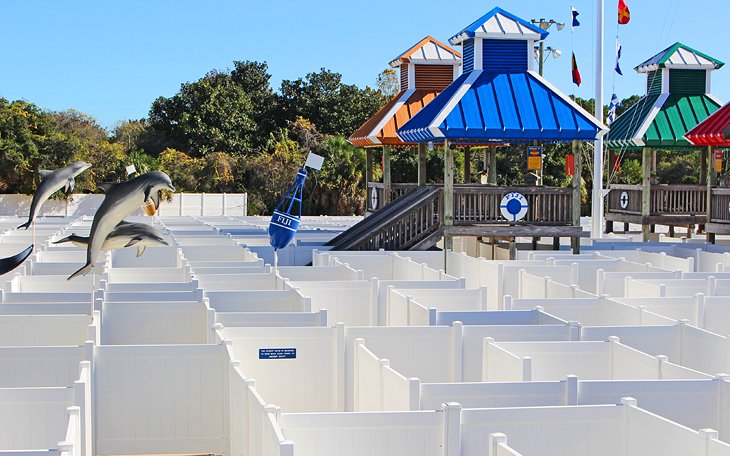 An outing to Coconut Creek Family Fun Park is a great off-the-beach option for families visiting with children. The park has mini-golf, with two 18-hole courses, and a large outdoor maze.
The mini-golf courses are two of the best in town, with extensive water features and enormous African animal statues. If you've never had the experience of being in a giant maze, the outdoor version here will more than fulfill the need. Viewing platforms over the maze let observers watch the action from above.
In the same vicinity are Ripley's Believe It Or Not!, in the design of a ship, and WonderWorks, with their signature upside down building.
Other nearby family attractions include Race City, a carnival-style amusement park with ticketed rides, including a Ferris wheel, bumper boats, and kiddie rides. Cobra Adventure Park is a smaller family park, which offers mini-golf and a roller coaster for younger children, and both parks feature go-karts, thrill rides, and video game arcades.
Address: 9807 Front Beach Road, Panama City Beach, Florida
Official site: https://coconutcreekfun.com
11. Water Planet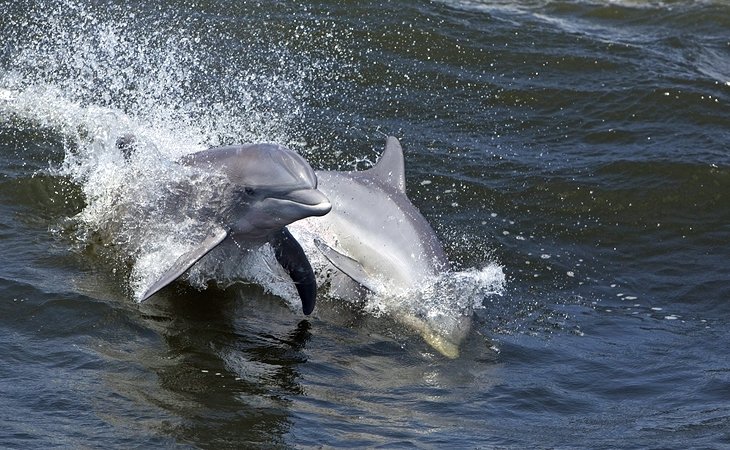 Water Planet offers full-day swim-with-the-dolphin programs, which include an educational aspect, a boat tour, and a side trip to Shell Island.
Unlike Gulf World Marine Park, participants swim with the dolphins in their natural ocean habitat rather than in enclosures. Staff members, who include interns, take time to educate guests on the dolphins and safety precautions before getting in the water.
This is a particularly good activity to do with kids, who get to learn about sea life while having fun. A favorite part of these excursions is helping spot pods of dolphins, then jumping in the ocean to interact with these friendly mammals. Tours also visit a few other sightseeing spots in the area for snorkeling or shelling.
Address: 203 Greenwood Drive, Panama City Beach, Florida
Official site: www.waterplanetusa.com
12. Panama City Beach (PCB) Conservation Park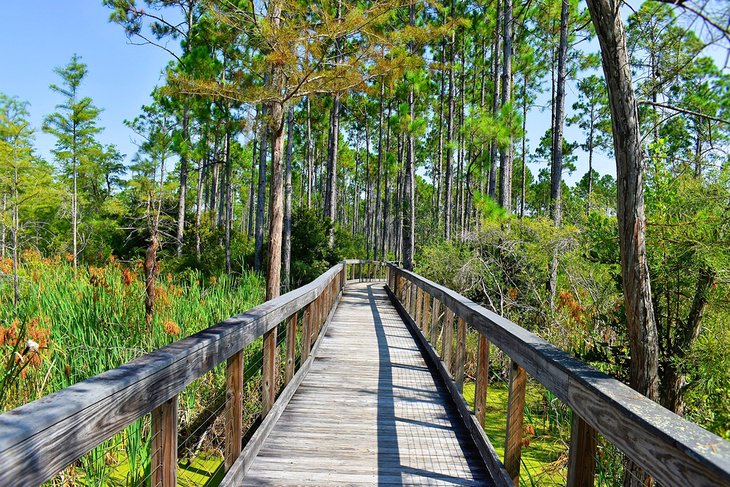 With just under 3,000 acres of uplands and wetlands, PCB Conservation Park offers a range of outdoor recreational opportunities, from hiking and biking to bird-watching and wildlife spotting.
The park has a dozen well-maintained trails, which range from approximately a half mile to 12 miles in length, a total of 24 miles in all. Several of these have sections of boardwalk, which are especially convenient for strollers and wheelchairs, and most of the dirt paths are reasonably level, making them suitable for anyone.
Towering pine trees dominate some trails, providing shade on hot days, and there are shaded picnic areas as well as restrooms for visitor use. Another great advantage of this park is that there is no admission fee, and guided Audubon walks are available, as well as regular naturalist programs.
Dogs are permitted, but must be leashed.
Address: 100 Conservation Drive, Panama City Beach, Florida
13. ZooWorld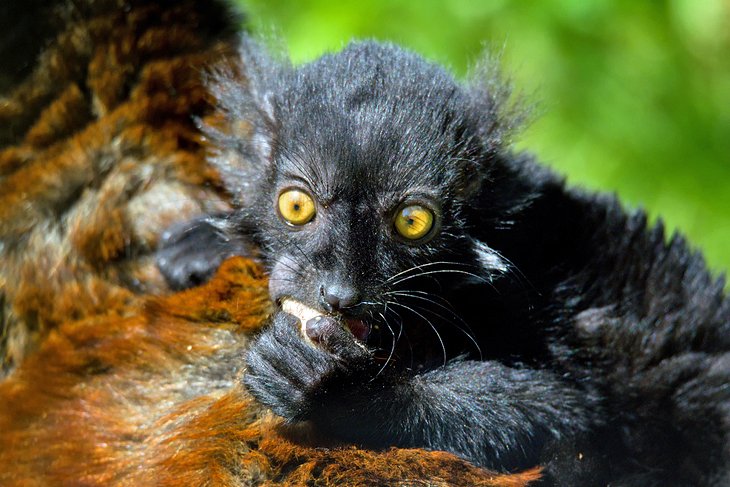 Another option for an off-the-beach activity on a cooler day is a trip to ZooWorld. This is a relatively small zoo with an entertaining selection of animals, which include giraffes, tigers, lions, tropical birds, reptiles, and many other lovable critters.
The park has made significant improvements, and the newest change is a larger lion enclosure along with a new crested porcupine nursery and a place to see baby cranes.
The zoo's main focus is on its close-up encounters, which are popular with kids and animal-lovers of all ages. These include giraffe feeding from an elevated platform, lemur snuggling, sloth petting, alligator feeding, and a walk through an aviary with tropical birds flying above. Most of these animal interaction activities involve an extra fee, but are well worth the money.
Address: 9008 Front Beach Road, Panama City Beach, Florida
Official site: http://zooworldpcb.com
14. WonderWorks Panama City Beach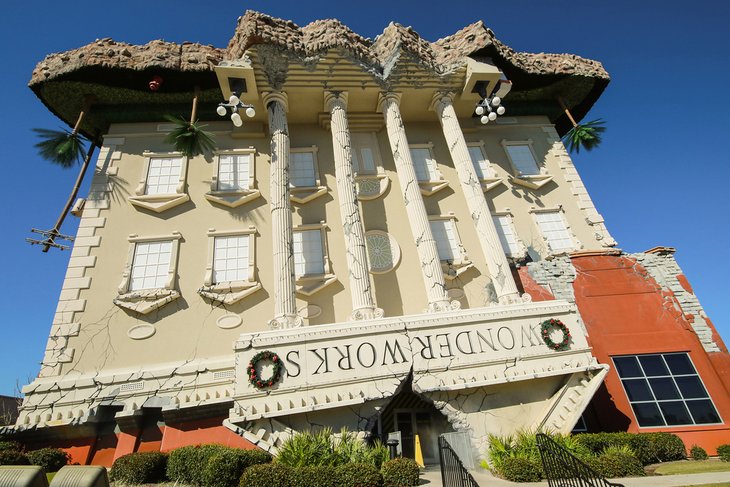 The building itself makes WonderWorks one of Panama City Beach's best-known landmarks, a topsy-turvy architectural feat that adds whimsical charm to the landscape. Far more than just another place to bring the kids to work off their energy on a rainy or super-hot day, WonderWorks is more like a giant playground-meets-science museum.
Families can experience interactive learning together, from exciting rides that prove the properties of physics to creating a mural with a wall of backlit colored pegs. Top exhibits include a Tesla coil, where you can put your hand into 100,000 volts of electricity; an Army Blackhawk simulator; and the Space Discovery area, where you can put on an astronaut's EVA suit and climb in a replica Mercury capsule.
Additional areas are geared toward younger children, like the Bubble Lab and games in the Imagination Lab.
Address: 9910 Front Beach Road, Panama City Beach, Florida
Official site: www.wonderworksonline.com
Panama City Beach, FL - Climate Chart
Average minimum and maximum temperatures for Panama City Beach, FL in °C
J
F
M
A
M
J
J
A
S
O
N
D

17

4

18

5

22

8

25

12

28

16

31

20

32

22

32

22

31

19

26

13

22

8

18

4

PlanetWare.com
Average monthly precipitation totals for Panama City Beach, FL in mm.

146

120

158

95

98

153

222

191

156

89

115

103
More Related Articles on PlanetWare.com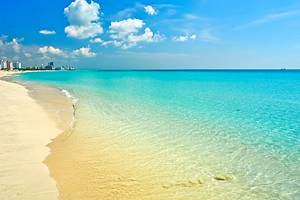 Florida Family Vacations: Panama City Beach is one of the best places to visit in Florida, especially for families who want plenty of options to keep the kids entertained. It may not be home to any of Florida's best-known attractions like Disney World or Busch Gardens, but it is full of activities and things to do, whether you want to bask in the sun and watch dolphins, or escape from the heat or rain and enjoy indoor attractions - all of which are at much more reasonable prices than their big-name counterparts.
As its name implies, the town's white sandy shores along the Gulf of Mexico are among the best beaches in Florida, in good company with other top seaside destinations like Daytona Beach and the pristine dunes of Sanibel Island.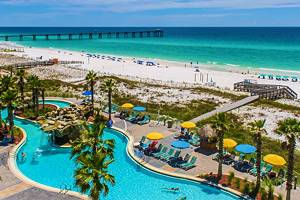 Gulf Coast Resorts: Pensacola is another popular beach town along the coast of the Florida panhandle, an area which is home to some of Florida's best Gulf Coast resorts and convenient to tourists traveling from neighboring states like Alabama and Georgia. There are also several excellent resort options in Destin, which sits about halfway between Panama City Beach and Pensacola.