11 Best Beaches in Destin, FL
Destin and the surrounding communities haves some of the best white-sand beaches in the entire state of Florida. The quartz sand is white, soft, and squeaks under your feet as you walk. With the crystalline Gulf waters washing the shoreline, you can't help but be drawn in. Extending for miles and miles along the Gulf of Mexico, these beaches have been drawing legions of visitors for decades.
Different beaches are available for whatever you like, from lively right through to deserted stretches where your only company will be the odd seagull. If you to be able to walk to the beach, Destin has several lovely beach resorts. When searching out the beach you want to visit, be aware that some beaches are private. None of these are listed below.
Plan your beach vacation with our list of the best beaches in Destin.
1. Henderson Beach State Park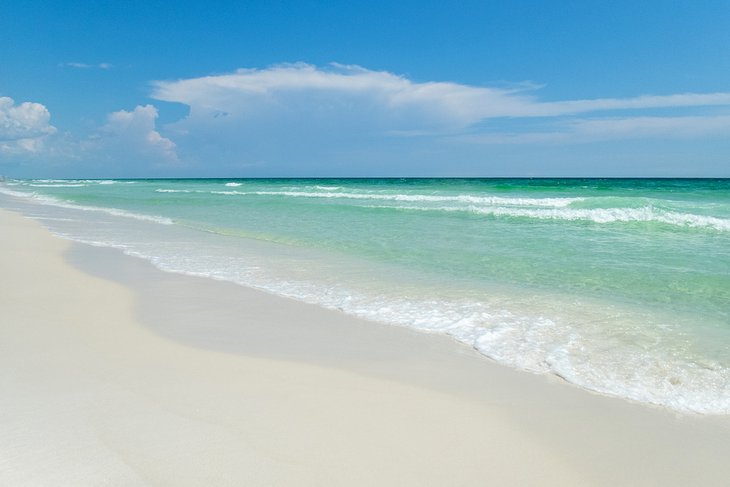 The best beach in Destin is located in Henderson Beach State Park. It's also one of the top beaches on the Florida Gulf Coast. A long stretch of wonderful white sand greets you as you walk up the boardwalk over the sand dunes. Views up and down the coast are in order, as are endless ones out over the Gulf of Mexico.
The water here is emerald green and clear. It's so enticing, you can't help but dip your toes then the rest of your body into its warm embrace. As you sit on your beach chair under your umbrella, keep a close watch on the waters in front of you; dolphins and stingrays are frequent sightings in the nearshore waters.
Back from the beach, more land-based activities include exploring the park's unique 30-foot-high sand dunes. A three-quarter-mile-long hiking trail, open to pets on leash, winds its way through the coastal scrub to emerge at the top of one of the dunes.
A popular pastime at the park is to pack a picnic and set up in the shade in one of the six large pavilions where picnic tables, water, barbecue grills, and restrooms are all available.
If you are lucky enough to book well in advance and can snag one of the 60 campsites in the park, you'll be lulled to sleep by the sound of the waves gently rolling ashore.
2. Eglin Matterhorn Beach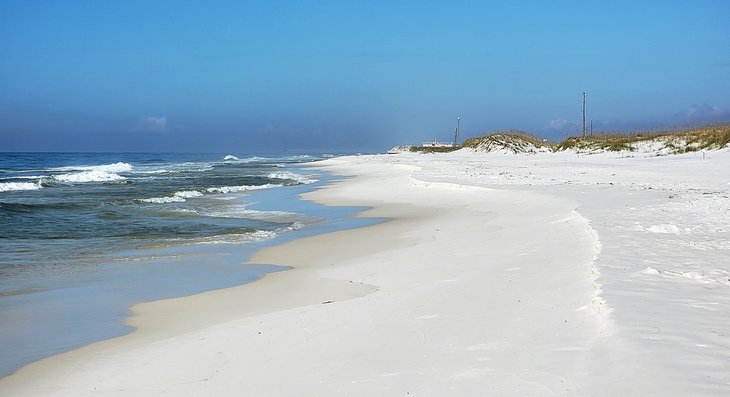 When you stand on Eglin Matterhorn Beach and look left then right; all you'll see is beach, beach, and more beach. No condos, no vendors and lounge chairs, no loud music, just the ocean, dunes and the occasional seabird.
This amazing stretch of sand on Okaloosa Island is for nature lovers and those who just want to enjoy the beach in its natural state. It's a beach walker's paradise. Walking west, you'll run out of energy before you run out of beach.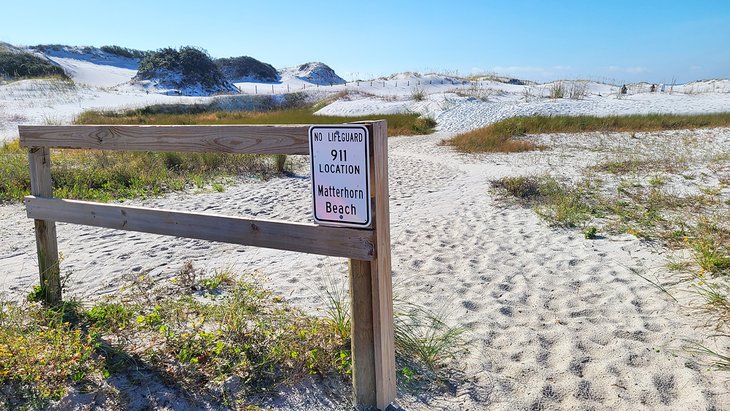 Eglin Matterhorn Beach has no facilities, so bring everything you need with you, and be prepared for a long trek across soft sand in the full sun to the water's edge. You may second guess your decision to come here midway in the walk, but once you get to the water, you'll definitely know you've made the right decision.
The access is easy to miss. Look for some cars parked along the side of Highway 30. Be careful when parking, the drop-off from the pavement is significant, plus the sand in the parking area is soft, making it easy to get bogged down.
3. Princess Beach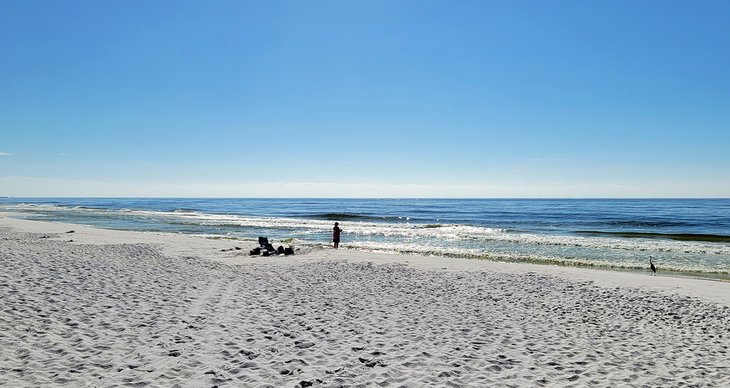 Princess Beach is a basic but lovely beach that could be considered a Destin local's secret. The beach has no facilities whatsoever, but that's what makes the place special. It hasn't been altered in any meaningful way; it's just a classic stretch of Panhandle sand open to whoever is interested in visiting and making the trek across the soft sand to the water's edge.
You won't find any Jet Skis or parasailing here, just a few locals enjoying a quiet day at the beach swimming or fishing or reading a book. The beach access is easy to miss; keep an eye out for it when you pass Eglin Matterhorn Beach coming from the west and Eglin Beach Park when coming from the east.
4. John Beasley Park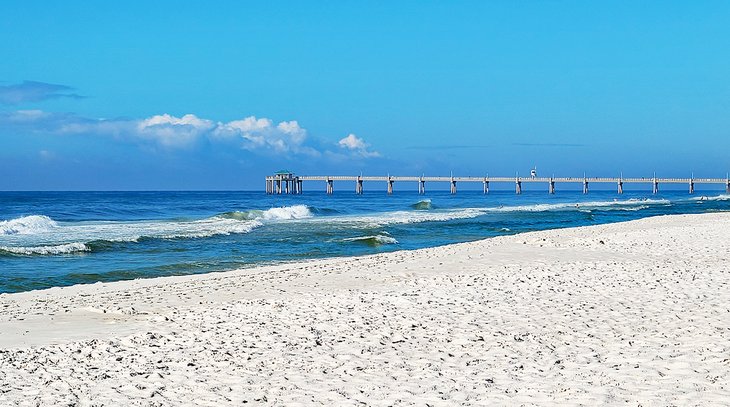 The Florida Panhandle is lucky to have an array of excellent beach parks operated by local counties, and John Beasley Park, with its snow-white sands is no exception. Parking at the beaches around Destin can be challenging at times, but at John Beasley Park, you'll likely have a good chance of securing a spot, owing to its 208 spaces.
This beach is a good family destination; facilities are excellent and include two large pavilions, along with 12 picnic tables, restrooms, showers, and changerooms. If you want a little more action, just head west, and eventually you'll come to The Boardwalk. Here, you'll find a wide assortment of restaurants, shops, the fishing pier, and the Gulfarium.
5. James Lee Beach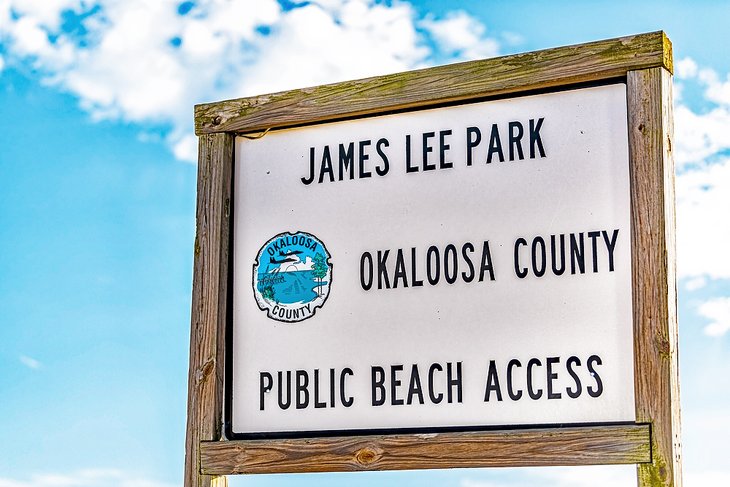 Many Destin locals with inside knowledge of where to go to avoid the crowds head to James Lee Beach. This nice stretch of sand is located in an area of beautiful homes and is operated by the local county. James Lee Beach primarily attracts families; if you are looking for a lively buzz, you'd be better off heading to Crab Island.
The park is well set up for visitors, with 166 free parking spots and three pavilions complete with picnic tables, showers, and restrooms. If the kids get bored on the beach, a well-equipped playground is set back from the ocean just off the boardwalk.
The beach is also known locally as Crab Trap beach owing to the famous restaurant located nearby. Pack your own lunch, or hit the patio while the kids have fun at the playground out front at this popular establishment, home to some of Destin's best seafood.
6. Crystal Sands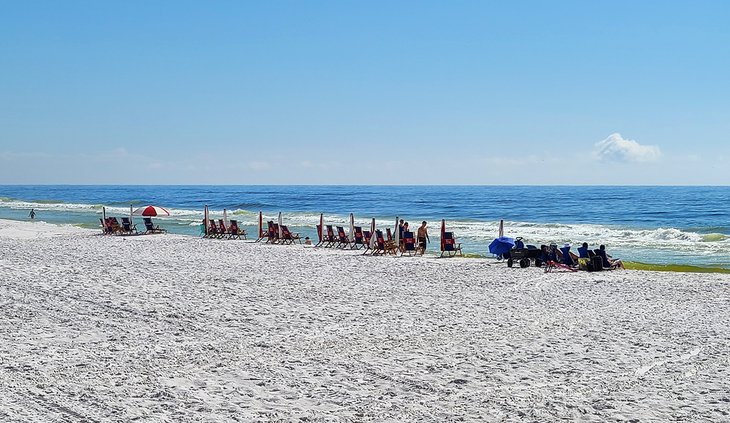 Crystal Sands Beach – just the name evokes a beachside nirvana of relaxation under the warm Florida sun. And indeed the beach is appropriately named. The sugar-soft white sand shimmers and shines as you walk to the water's edge.
The beach scene is relatively low-key here, with most beachgoers from the hotels, condos, and house rentals located in the pleasant neighborhood in behind. A good spot for beach walkers, Crystal Beach eventually merges with James Lee Beach to the east and Henderson Beach State Park to the east.
7. Dune Allen Beach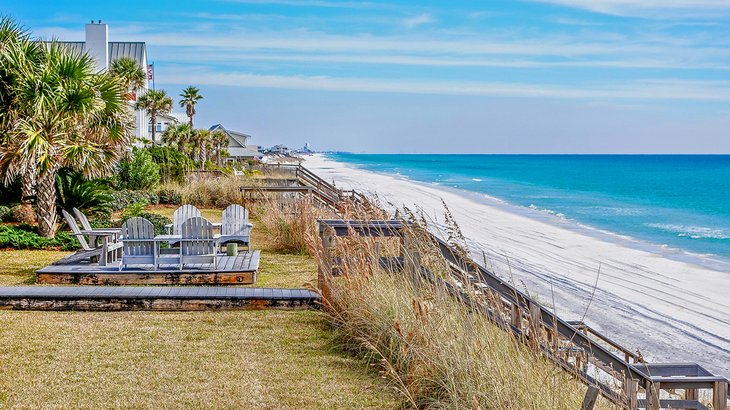 One of the best beaches near Destin, Dune Allen is about a 30-minute drive west of town. It has traditionally been a bit tricky to get to. However, recent improvements in the beach access have made this wonderful stretch of white sand easier to access.
The local government has just opened the brand new Dune Allen Regional Beach Access. This 7.4-million-dollar investment has made getting to the sand a delight. Parking, restrooms, showers, and dune boardwalks all contribute to an easy day at the beach.
Get there early and secure a parking spot, and stay for the day to soak up the sun, sand, and occasional surf. The crystal-clear water will have you swimming and lolling about until you work up a hunger. Fortunately, one of the best local restaurants, Stinky's Fish Camp, is right across the street. Grab a lunch on the patio, and head back out on the sand, or if it's late in the day, chow down on an appetizer platter of fresh seafood.
8. Blue Mountain Beach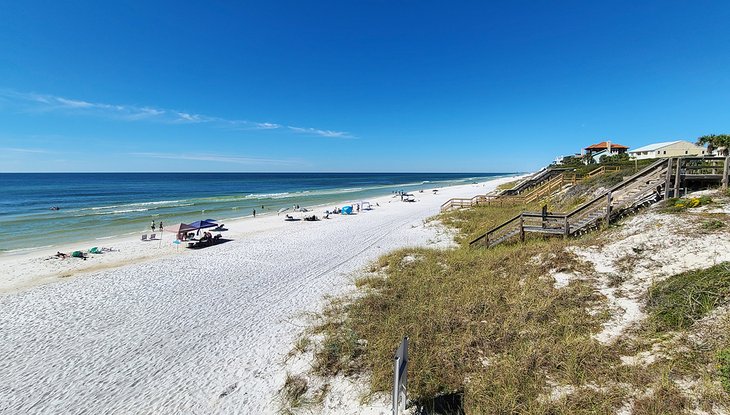 The term mountain and beach are rarely, if ever, used together in pancake-flat Florida. But, in the case of Blue Mountain Beach a combination of natural features have somehow managed to come together to create a point of land 65 feet in the air.
Instead of walking up and over dunes, a common access method at most Panhandle beaches, here you walk down a long set of stairs to access the water. This makes hauling all your gear from the parking lot to the beach a bit tricky, so plan accordingly, and leave the heavy stuff at home.
One of the more unique natural features of Blue Mountain Beach are the blue lupine flowers blooming on the hillside. Local lore has it that this is how the beach got its name. The beach itself is typical of most Panhandle beaches – simply amazing, with clear, warm water and soft sand. Up from the beach, you'll find restrooms, changerooms, showers, bike parking, and a drinking water fountain.
Blue Mountain Beach is located about 35 minutes west of Destin, between Miramar Beach and Seaside.
9. Topsail Hill Preserve State Park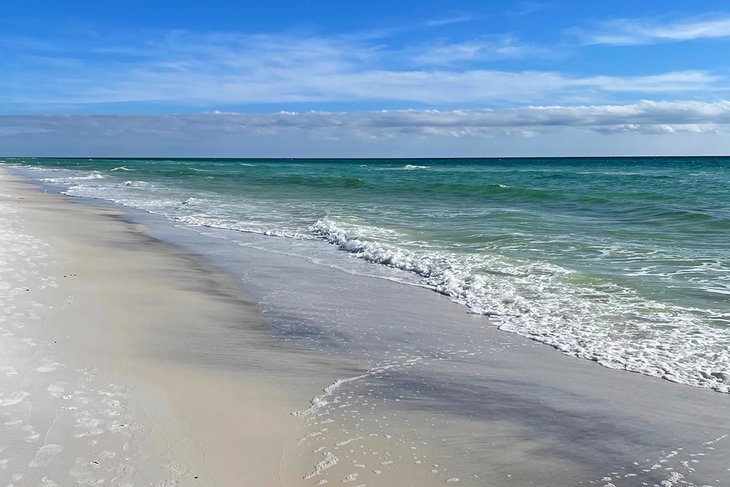 If the beaches of Destin are a bit crowded, noisy, or busy for you, and you crave a more natural experience, head to Topsail Hill Preserve State Park. Here, you'll find 3.2 miles of beautiful deserted beaches backed by large dunes and untouched forest that you can enjoy all by yourself.
Located 14 miles east of Destin, this state park attracts few day trip visitors owing to the fact that you need to either walk or cycle the nearly mile-long trail to the beach, or ride the tram. If you don't mind the extra effort in exchange for your own piece of sandy paradise, it's the place to go.
If you are on a budget, camping at the park is one of the cheapest holidays in Destin that you can have. The campground has 156 fully serviced sites with 30/50 amp service along with a swimming pool and other great amenities. In addition to the campsites, you'll find 32 cabins for rent and two luxury glamping sites complete with queen size beds, area rugs, a heating or cooling unit, and other things to make your stay in the woods extra comfortable.
10. Miramar Beach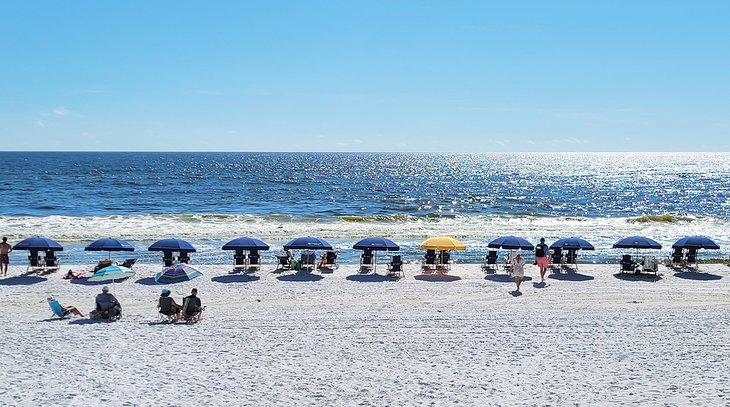 Miramar Beach, with its fantastic elevated walkway, is one of the more unique beach areas near Destin. It's a busy and fun spot to hit the sand, with miles of beach backed by large condo towers. Miramar Beach is a bit farther east, past James Lee Beach, but before Topsail Hill Preserve State Park.
Most people who use Miramar Beach are staying in one of the aforementioned condo towers or a bit farther back at one of the many excellent accommodation options that suit every budget. On the beach, you can rent loungers and umbrellas from one of the many beach vendors, or bring your own.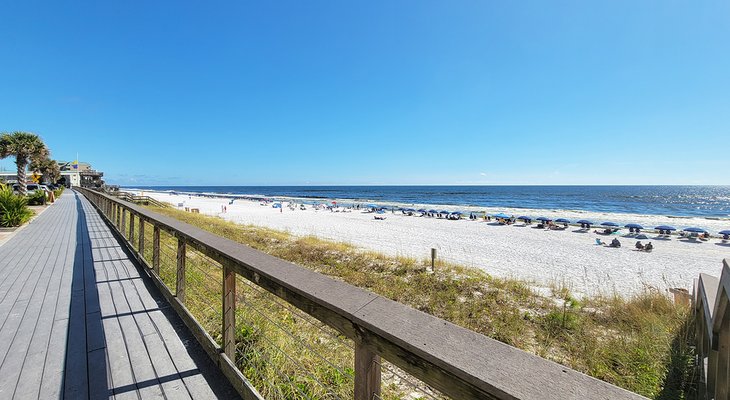 For those looking to be more active, Jet-ski rentals are available. Rent one and zip around offshore, hunting for the largest wave to launch yourself off. For a bird's-eye view of the beach and the azure waters below, sign up for parasailing.
11. Crab Island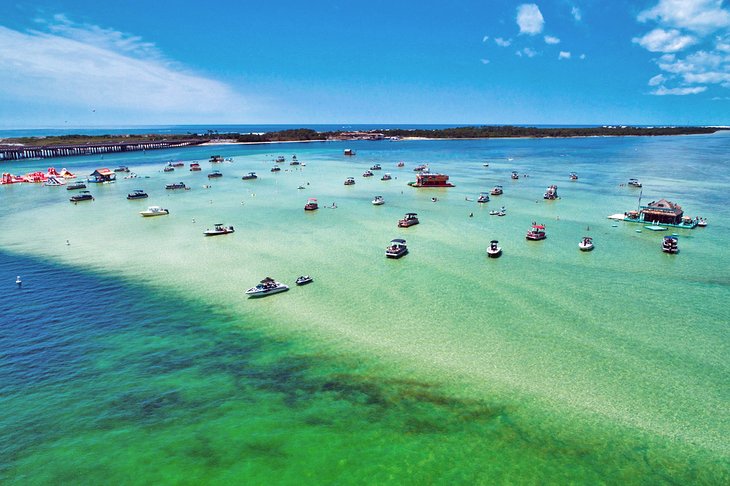 Crab Island, one of Destin's top attractions, doesn't actually exist as a typical land mass and hasn't for many years. What Crab Island actually consists of is a giant sandbar just south of the main bridge in and out of Destin.
A hot spot destination for boaters, Crab Island is a shallow water paradise. On average, the water is two to three feet deep depending on the tides, making it ideal for wading and swimming. This perfect combination attracts hundreds of people from all over the United States. Pack a lunch if you feel like it, but if not, don't worry. Floating vendors sell everything from BBQ hamburgers, hot dogs, and pizzas right through to ice-cream cones.
On the busiest of summer weekends, a festive atmosphere emerges, with music, water games, and extensive socializing. The only ways to get to Crab Island are with a boat (rentals available), via a shuttle, kayak, canoe, or stand up paddleboard.
Destin, FL - Climate Chart
Average minimum and maximum temperatures for Destin, FL in °C
J
F
M
A
M
J
J
A
S
O
N
D

16

3

18

4

22

8

26

11

29

16

32

20

33

22

33

22

31

19

27

12

22

8

18

4

PlanetWare.com
Average monthly precipitation totals for Destin, FL in mm.

147

137

166

108

110

154

239

176

171

115

119

116