11 Best Beaches near Tallahassee
Tallahassee, with its inland location, gets hot and sticky in the summer, and what better way to escape the heat and humidity than by heading to the Gulf Coast beaches. Only one to two and a bit hours from Tallahassee are some of the best beaches in Florida.
You'll find a wide variety of beach options, from the fun tourist town of Panama City Beach right through to the long, deserted beaches of St. George's Island and the shallow waters and sand flats of Apalachee Bay.
In general, the beaches get better and better the farther west you head from Tallahassee. The sand is whiter, the water clearer, and the facilities are better. The only exception to this rule is the beautiful St. George Island.
If you head west, you'll likely be on Interstate 10 and then pop down Highway 231 or 331 to the coast. If you head south then west, you'll be treated to smaller highways and the wonderful Big Bend Scenic Byway (Highway 98, where it runs along the coast). No matter which direction you go, find an enticing slice of coast with our list of the best beaches near Tallahassee.
1. Panama City Beach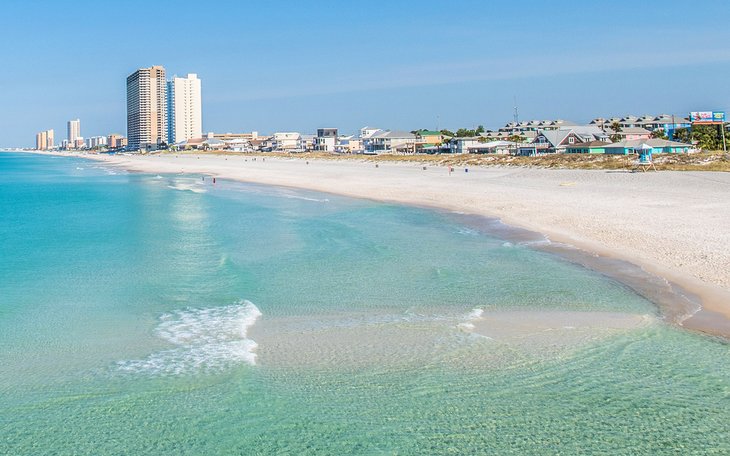 Perhaps the first beach that comes to mind when the temperature and humidity rise in Tallahassee is Panama City Beach. This famous tourist town is home to a fabulous stretch of sand, great resorts, mid-priced hotels, and all kinds of fun things to do.
Only a couple of hours from Tallahassee, Panama City Beach is well set up for day trippers and overnight guests as well. The beachfront is a lively scene, with folks from across the country soaking up the sun and frolicking in the warm Gulf waters. If you love beach walking, this is the place to come – the beach stretches for miles in either direction, and the generally flat sands make for easy walking.
Bring your own beach gear or rent from one of the multiple vendors. If you forget anything, Panama City Beach is chock-full of beach stores selling anything you might need.
Accommodation: Best Resorts in Panama City Beach
2. St. George Island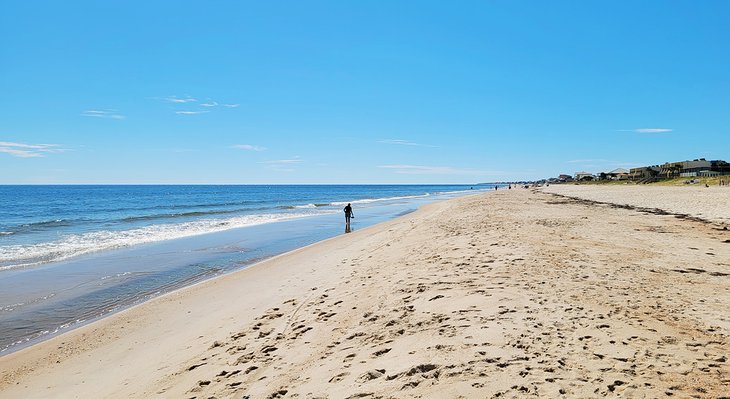 St George Island checks all the boxes for a beach destination near Tallahassee. The drive time, at one hour and 45 minutes, is reasonable, and the beaches are spectacular. Throw in a historic lighthouse, a state park, and a beautiful drive across a long scenic bridge, and what's not to like?
You'll never have to worry about finding your perfect patch of sand out here. The beach runs for miles and miles, and the farther from town you go, the less and less people you'll see. Parking is never a problem, and if you forget something, the small town at the end of the bridge has a few shops likely selling what you need.
Choosing where to access the beach is easy. The closest place is right in front of the lighthouse. Parking is extensive and free, and this is the liveliest scene, not that it's ever particularly busy. Should you wish a bit more solitude, go right out to Dr. Julian G. Bruce St. George Island State Park.
The beaches here are white, sugary soft, and feel great underfoot. If you enjoy shelling, this is one of the best spots near Tallahassee to do it. The location of St. George Island, the tides, and relatively few visitors ensures a good harvest of shells.
3. Grayton Beach State Park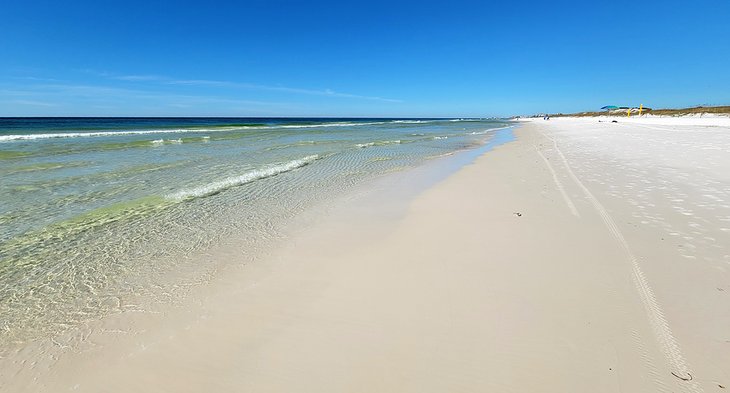 An affordable beach destination with great facilities is what you'll find at Grayton Beach State Park. Located just west of Seaside, this 2,000-acre park has lots of room for everyone. Blindingly white-sand beaches reach as far as you can see, both east and west.
The water is shallow and clear, with an emerald-green tint. It's also warm in the summer – so warm, in fact, that you may find you'll have trouble getting the kids (or yourself!) out to enjoy the picnic you may have packed. Picnic shelters, picnic tables, barbecues, and drinking water make it easy to enjoy a day here.
The park is so beautiful, you may not want to leave, and why should you? See if you can book one of the 59 campsites or 30 cabins, stay overnight, and have the place practically to yourself. Your wallet will also thank you – a campsite here is less than $50, and with a short walk, you'll be enjoying the same beach as those staying in nearby Seaside paying 10 or 20 times that amount a night for their place.
Count on a two-hour-and-20-minute drive from downtown Tallahassee.
4. Inlet Beach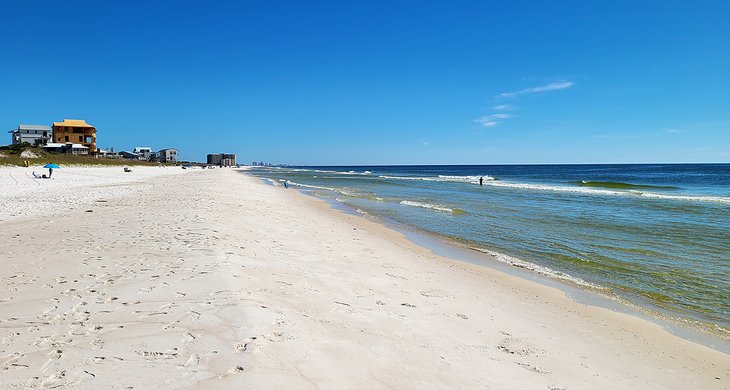 About the same distance as Grayton Beach State Park, Inlet Beach has less facilities but is free. Here, you'll find wide-open beach areas and the added bonus of Camp Helen State Park right next door. If you just want to hit the beach and aren't planning anything else, like a cookout, this is the place to come.
The beach runs uninterrupted west from here all the way to Destin, and to the east, it becomes a deserted natural area, as it joins up with the state park. Pick a patch of sand and set up your gear, which should include snorkeling equipment. Just offshore from the white sands is an artificial reef teeming with all kinds of underwater inhabitants, including colorful fish, turtles, and dolphins. To find the reef, just look for the tall yellow poles, enter the water, and swim out around 1,000 feet.
The county provides lifeguards, washrooms, showers, and drinking water. Note that although parking is available for 160 cars, on busy weekends, these spots can fill up quickly, so plan to arrive early.
5. T.H. Stone Memorial St. Joseph Peninsula State Park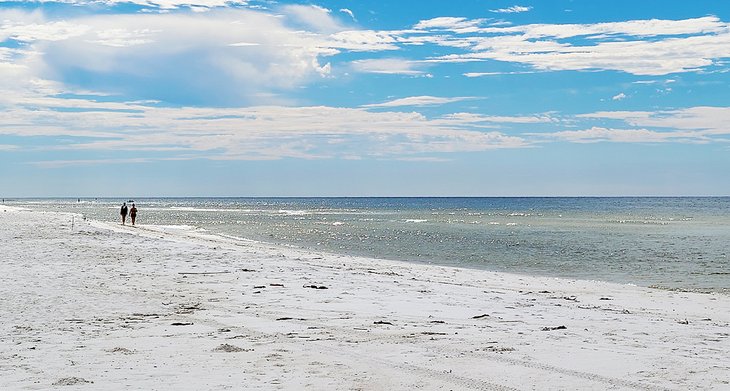 If before October 2018, you had previously visited T.H. Stone Memorial St. Joseph Peninsula State Park out past Cap St. Blas, upon your return, you will likely not recognize it now. On October 10th, 2018 the Category 5 Hurricane Michael roared ashore just 15 miles west of here. The winds, waves, and tidal surges destroyed all the park infrastructure, split the peninsula in two, and blew away the 15 foot sand dunes.
Fortunately, the beaches have recovered and are perfect for a day trip to the beach from Tallahassee. You can choose from the Gulf Side, where you'll find long white-sand beaches lapped by crystal-clear waters, or the St. Joseph Bay side, where the shallow water and sandy bottoms extend for hundreds of yards. Park infrastructure is fairly limited, although washrooms and a few picnic tables are available.
You can expect the trip to take you about two hours and 15 minutes from Tallahassee.
6. Carrabelle Beach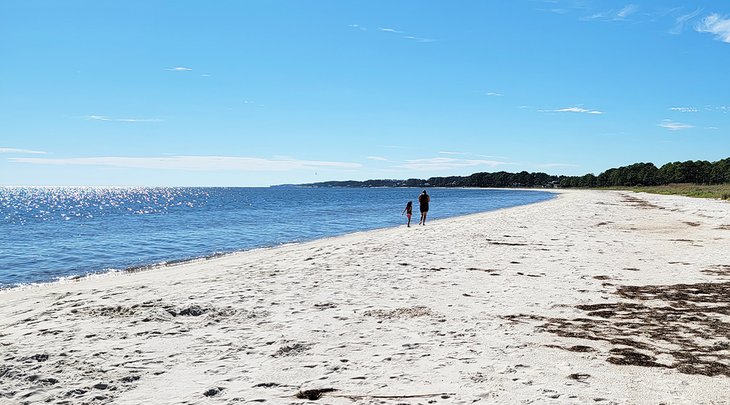 If you have a crew of small people (impatient children) and want to get to a beach fast before issues arise during the car ride down, head straight for Carrabelle Beach. Just over an hour south of Tallahassee, this beach is perfect for families.
You won't find crystal-clear water here. Generally the water is tea stained and somewhat brown, owing to the large Carrabelle River nearby. It is, however, clean and warm, so don't be afraid to go in. The curving beach has whitish/brown sand and is shallow for a long way out.
The town has provided picnic tables and sun shelters, along with extensive parking just off the highway. The beach here is okay. But if you go a bit farther east to Gulf Beach Drive, turn off, and park in the dirt parking lot at the end, you'll find the beach much nicer and wide open with pine trees at the back.
7. Bald Head Point State Park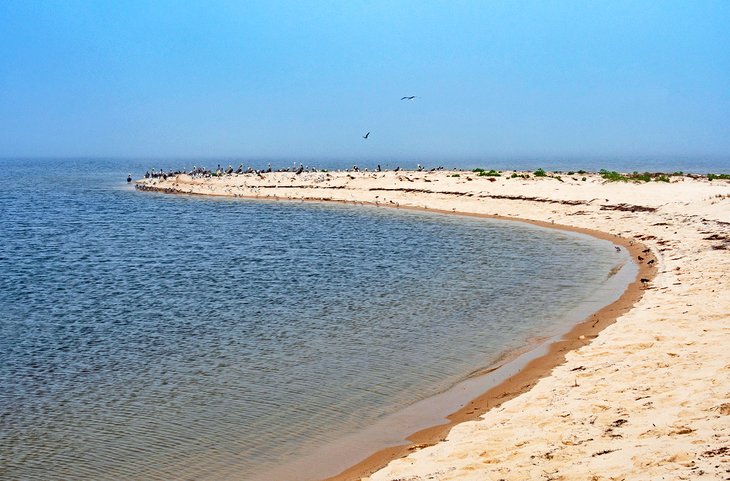 This park is home to the closest beach to Tallahassee; drive time is just shy of an hour. Here, you'll find two beaches: Sunrise and North End. Both front Apalachee Bay and have shallow, warm waters, perfect for small children or less-than-confident swimmers.
Just back from the beach are pavilions complete with picnic tables and barbecues, an ideal location for a family picnic or to escape the relentless Florida sun. In this same area, you'll also find showers, restrooms, and drinking water.
If you are into birding, this is a great place to visit. Part of the Great Florida Birding Trail, Bald Head Point's unique ecosystem attracts all kinds of migratory and resident birds along with butterflies.
If you've had enough sun and sand, consider a walk on one of the parks 18 miles of hiking and biking trails. The park is located across Ochlockonee Bay from Mashes Sands Beach.
8. Keaton Beach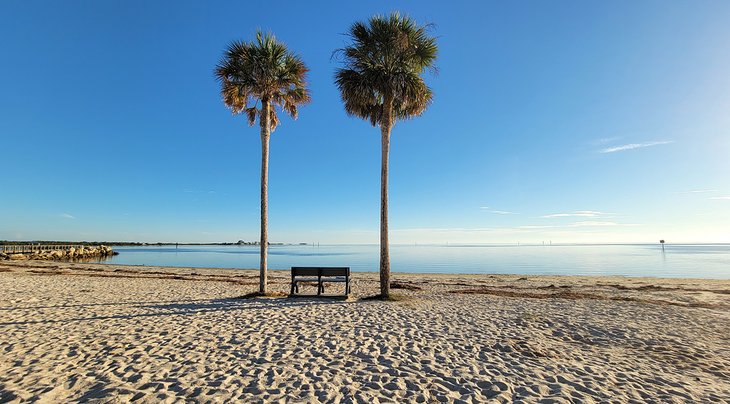 When you are searching for Keaton Beach, you may wonder where the heck it is. Well, don't worry too much – if you find the right road, the beach is located where it meets the water. Keaton Beach is a small patch of sand complete with picnic facilities, washrooms, and a playground.
For an interesting diversion and good views, take a walk out to the end of the small pier located to the left of the beach. If you find you're still here in the later afternoon, the sunsets from Keaton Beach are spectacular. Enjoy a late day picnic as the sun goes down over the calm water.
Plenty of parking is available, and you'll generally be able to find a spot, as the beach is rarely busy. The drive time from Tallahassee is about an hour and 20 minutes.
9. Hagens Cove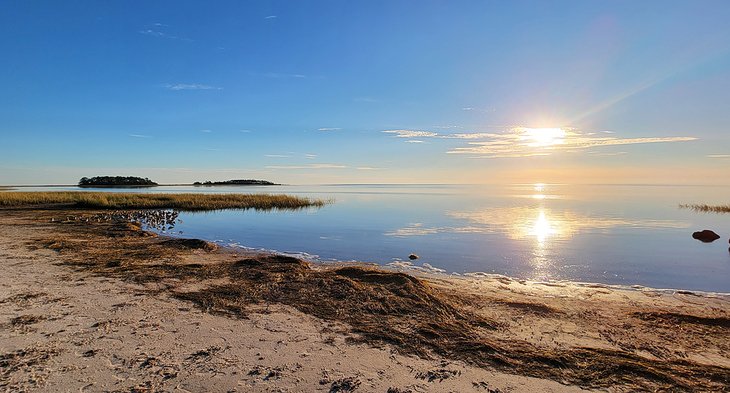 Hagens Cove is located just a bit south of Keaton Beach. Reached by a long crushed gravel road that can be rough at times, this is a beach for those who appreciate nature. The two beaches here are not suited for lying out on a towel, as they are basically clearings in the shore grass. If you'd like to cool off, just walk out onto the sand and go for a swim a bit farther offshore.
Back from the beach is a wide-open area of grass complete with picnic tables, sun shelters, and barbecues. You'll also find basic washroom facilities here. Note that it can be buggy here if the breeze drops.
10. Dog Island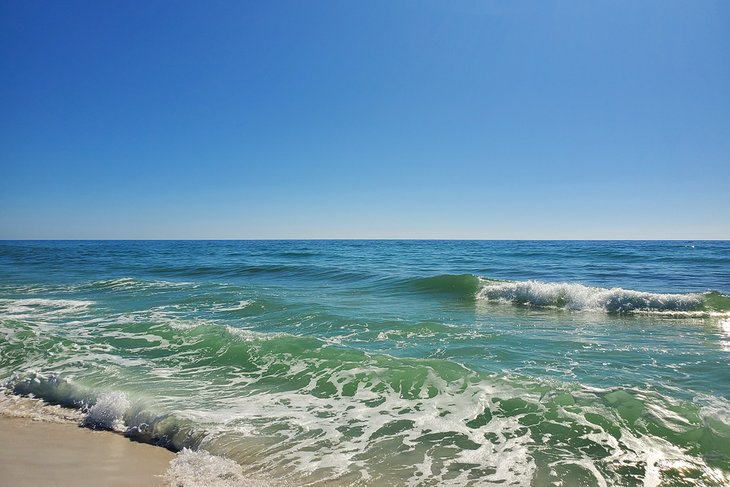 Searching for a deserted island with no one around and have your own boat? Gather your crew and head to Dog Island; it's about as close as you can get. Nearly seven miles long, with most of it as part of a protected nature preserve, it's an excellent example of a relatively untouched barrier island.
Beach walking, swimming, surf fishing, and generally enjoying the solitude are the main pastimes here. Bring all your supplies; no services or stores are available on the island. A ramshackle inn operated on the island for many years but has since closed.
11. Mashes Sands Beach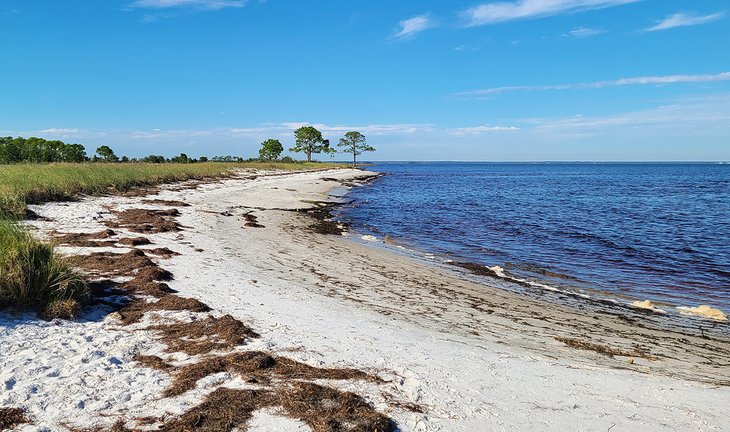 If you decide to go to Mashes Sands Beach and arrive at high tide and see only a rocky shoreline with hardly any sand, you may wonder why this beach is on the list. The beach was badly damaged during Hurricane Michael in 2018 in this area.
However, take a stroll to your left, and you'll find a curving beach area. Mashes Sands is still worth a visit, if not for lying out on the sand, but for the unique opportunity to walk far out into the bay in bathtub-warm, ankle-deep water. Take your shoes off, and wade out through the little channels of water to one of the numerous sandbars.
The advantage of Mashes Sands is that it is only about a 45-minute drive from Tallahassee. Don't make this your first choice, but if you are in the area, and the tides are in your favor, it's worth an hour or so.
Map of Beaches near Tallahassee
Tallahassee, FL - Climate Chart
Average minimum and maximum temperatures for Tallahassee, FL in °C
J
F
M
A
M
J
J
A
S
O
N
D

18

4

19

6

23

9

27

12

31

17

33

21

33

23

33

23

32

21

27

14

23

9

19

6

PlanetWare.com
Average monthly precipitation totals for Tallahassee, FL in mm.

136

118

164

91

126

176

204

179

127

83

98

104