10 Best Small Towns in Georgia
For those who enjoy wandering a little off the beaten track, a visit to the state of Georgia offers no end of rewards. Indeed, Georgia features numerous attractive small towns that are well worth exploring, each of them boasting a Southern flare that's instantly recognizable.
Best of all, the majority of these fun places to visit in Georgia can easily be reached from their big city counterparts. Those seeking an easy day trip or weekend getaway in Georgia, for example, will find great locations like Blue Ridge and Ellijay offer wonderful, picturesque townscapes framed by gorgeous mountain settings.
Add to this charm period antebellum architecture and attractive red-brick main streets offering plenty of entertainment and shopping experiences, and you'll see why so many visitors are smitten with small town Georgia.
To learn more about the many fun things to in the Peach State's smaller travel destinations, be sure to read through our list showcasing the unique charm of the best small towns in Georgia.
1. Dahlonega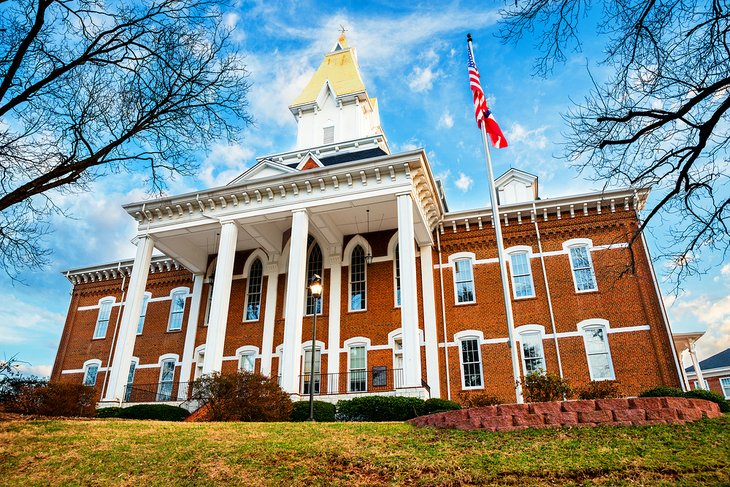 Just over an hour's drive north of Atlanta, the small Georgian town of Dahlonega has been an important travel destination in the South since it was founded in the early 1800s. Admittedly, the first folks to travel here weren't here for the attractive downtown core, with its picturesque shops and boutiques. In fact, little of what you see today when you visit was around when the town was established at the height of USA's first gold rush.
Dahlonega was named after the Cherokee word for gold, and the landmarks you'll see today, such as the beautiful town square and the well-preserved historic downtown area, came as a result of the fame and wealth that followed that first find in 1828, which started what was to be the Georgia Gold Rush.
This exciting period of time is perfectly captured in the must-visit Dahlonega Gold Museum Historic Site, with its many displays and artifacts. You can also get a taste for what it was actually like prospecting and mining in the 1800s at the Consolidated Gold Mine and learn more about the history of this town.
2. Helen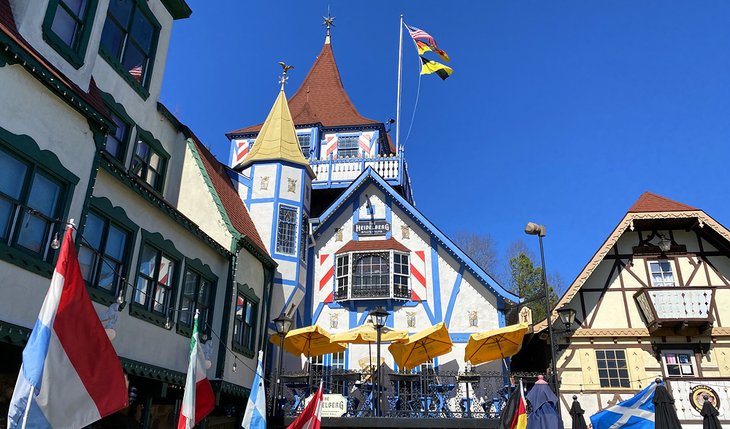 While some small towns in Georgia flourished as tourist destinations in the early 1900s thanks to their picturesque historic old buildings, there were others that had to try a little harder to attract attention. After experiencing a post-war period of decline, one such location, the town of Helen, came up with the unique idea of using its attractive mountain setting to rebrand itself.
In a community-wide effort, the town's once rather plain downtown buildings were given a facelift, with façades that literally look like they were taken straight out of a Bavarian travel guide. The creation of what's now known as the town's "Alpine Village" in the downtown area was an instant hit, and has led to Helen being widely regarded as one of the top places to visit in Georgia.
Pay a visit today during one of the town's popular European-themed events or festivals, and you'll be shoulder-to-shoulder with travelers from across the country, here to enjoy a taste of "Little Bavaria" at its restaurants and riverside patios. You'll also find them enjoying outdoor activities such as tubing or enjoying a gentle hike up to the beautiful Anna Ruby Falls.
Read More: Top-Rated Things to Do in Helen, GA
3. Madison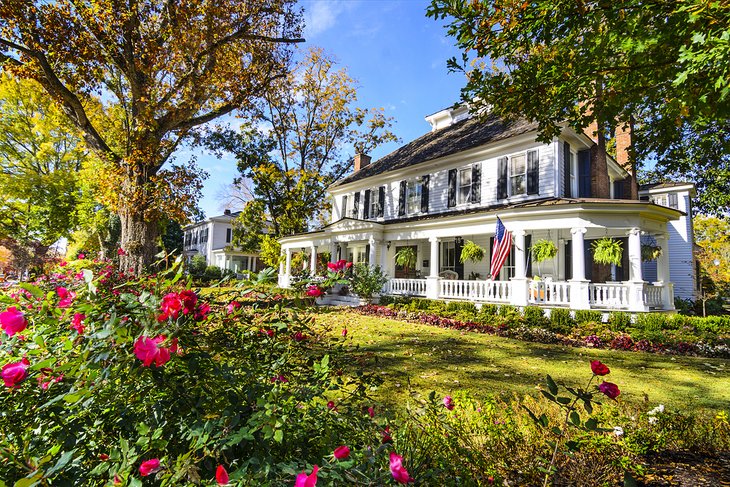 Less than an hour's drive due east of Atlanta, the pretty town of Madison is a popular stop for those following Georgia's Antebellum Trail. This popular 100-mile scenic route extends from the university city of Athens south to Macon, stopping at a total of seven small towns and cities known for their well-preserved antebellum architecture.
If you're only able to hit one or two of the destinations on the trail, be sure to make one of them Madison. Boasting one of the state's most significant early-19th-century historic districts in terms of size and the number of preserved buildings, it's fun to explore on foot, with some great sightseeing opportunities seemingly at every turn.
Have your cameras and phones ready to take photos of buildings like Heritage Hall, an antebellum mansion built in 1811 and located on Main Street, as well as the elegant red-brick Morgan County Courthouse. Built in 1905, its location overlooking the town square makes it a great place to start your Madison adventure.
Be sure to also include the town's many other historic homes on your travel itinerary. These include Rogers House, built in 1809, and Rose Cottage, dating from 1891. Both are also easy to find as part of a fun self-guided walking tour.
4. St. Marys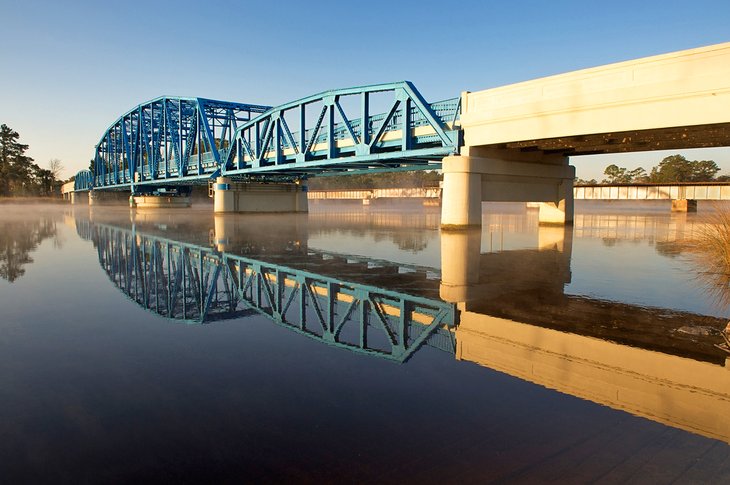 As Georgia's most southeasterly small town on our list, St. Marys' subtropical climate makes it one of the warmest places to visit in Georgia pretty much any time of year. Set on the northern bank of the river after which it's named, St. Marys is positioned just a bridge away from the state of Florida, making it a great day-trip destination for those visiting places like Jacksonville, FL.
Like the Floridian city of St. Augustine, just an hour's drive away to the south, the St. Marys area was first settled by the Spanish, and as such is one of the oldest settlements in the South. While little evidence of these first visitors remains, the town's historic district features many well-preserved 19th-century buildings. The most charming of these, including the pretty First Presbyterian Church dating from 1808, can be enjoyed as part of the self-guided St. Marys History Walk.
You'll also want to explore the harbor area. St. Marys has long been an important Georgian port, most recently as a submarine base for the US Navy. This fascinating history can be explored at the St. Marys Submarine Museum. From here, you can also enjoy another one of the top things to do in St. Marys, and that's visiting Cumberland Island, which is accessible by ferry. Here, you can enjoy a relaxing time exploring nature, including the island's famous wild horses.
5. Blue Ridge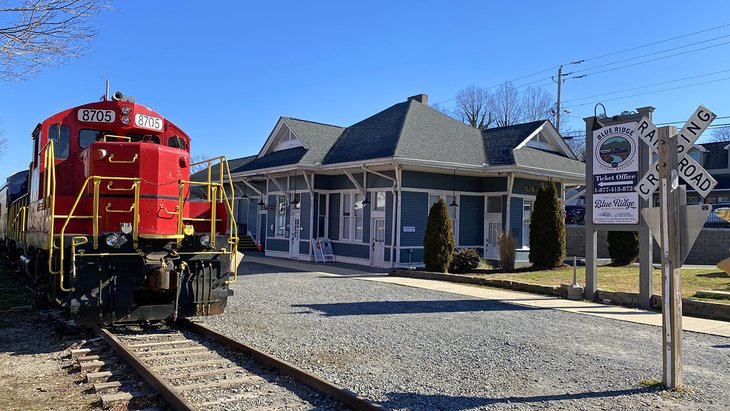 Set in the foothills of the Appalachian Mountains, the small town of Blue Ridge makes for a perfect Georgia weekend getaway or day trip. While lovely at any time of year, some of the most popular times to visit are spring and fall. Both seasons see the community come alive, with visitors making the journey to see the spring blossoms or the spectacular displays of fall colors.
Whatever season you visit, one of the best ways to see the colors in the area is to hop aboard the Blue Ridge Scenic Railway. With its central downtown station, it's easy to combine this four-hour rail adventure with time spent visiting the boutique shops and eateries in downtown Blue Ridge.
For those wanting to make a romantic weekend break of it, consider adding a stay at a historic downtown bed and breakfast. Set in the original heritage home of the railway's founder, the charming Blue Ridge Inn offers chic rooms with heirloom décor and furnishings, welcome treats, and a delicious breakfast, all just steps away from the scenic railway. To top off your getaway, consider booking a table at the Black Sheep Restaurant.
Read More: Top-Rated Things to Do in Blue Ridge, GA
6. Darien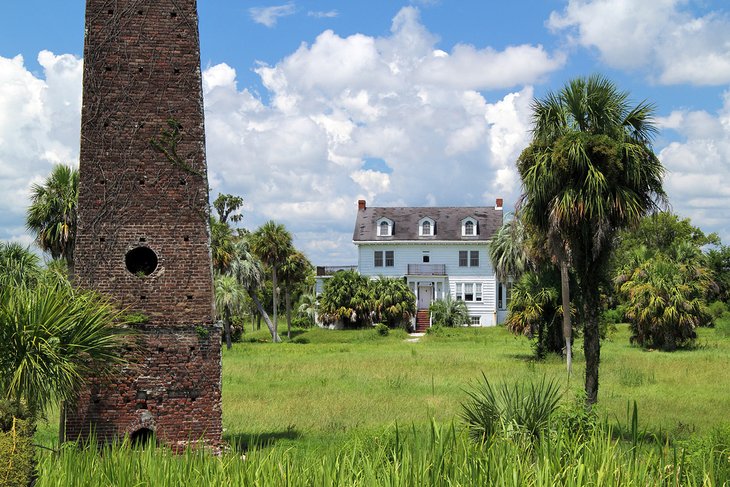 Less than an hour's drive north of St. Marys and just 50 miles south of historic Savannah is the attractive town of Darien. It was settled in 1736 by immigrants from the Scottish highlands and was known for a period as New Inverness. Its location, where the Altamaha River meets the Atlantic Ocean, made it of strategic importance to the British, who had built Fort King George here a decade earlier.
Blessed with mild weather, it's as pleasant to visit in winter as it is in most other seasons. Must-visits include the reconstructed fort, rebuilt to look just as it would in colonial times, as well as the historic Hofwyl-Broadfield Plantation with its pleasant walking trails. Pierce Butler plantation is also worth visiting.
The town's waterfront is also fun to explore on foot, offering great views over the river and estuary. A walk around the historic area is also recommended, and should include the Old Jail Art Center, some shopping, and a meal in one of the seafood restaurants you'll find downtown.
7. Blairsville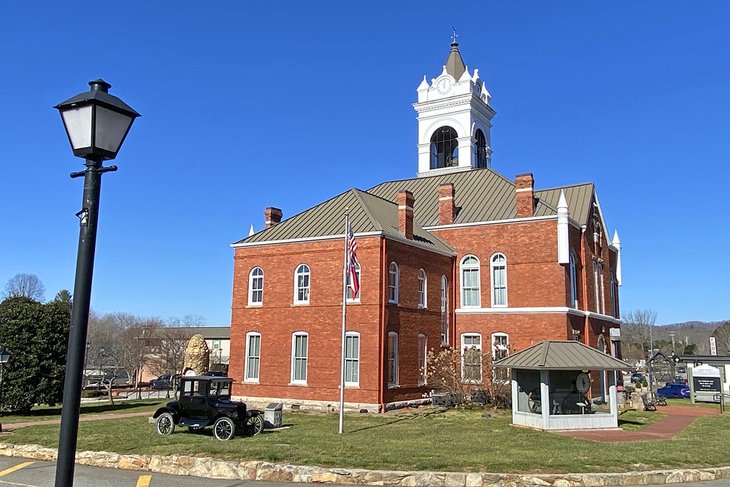 If you're driving the Georgia Scenic Byway between the popular Georgian tourist destinations of Helen and Blue Ridge, you'll stumble across the tiny town of Blairsville. Although it only has a population of just over 700 people, its role as the county town of Union County has made it an important commercial hub for the surrounding area.
Start exploring this delightful small town by crossing the town square to the Union County Historical Courthouse. This handsome red-brick building was constructed in 1899, and pretty much occupies the whole square, except for a circle of grass and flowerbeds that surround it. The courthouse is now home to the Union County Historical Society – take a peek inside at the displays and exhibits relating to local history and culture.
Blairsville is also well known for its outdoor activities. Just 20 minutes' drive east of the town is Basstown Bald, a popular spot for hikers for its more than 80 miles of trails. The park also boasts one of the most stunning viewing platforms in the state.
8. Senoia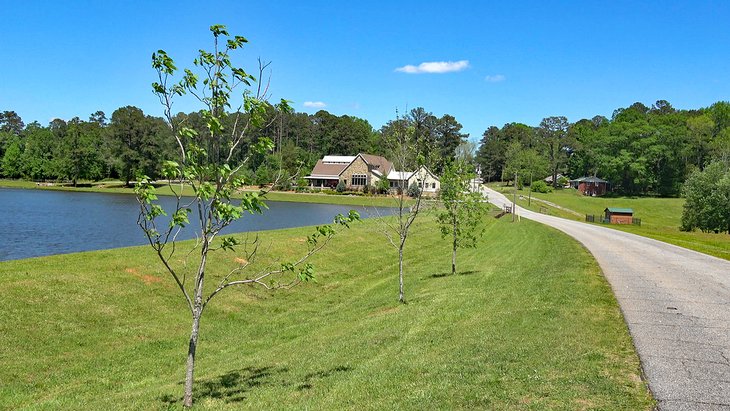 Situated just 30 minutes south of Atlanta, the quaint town of Senoia is well worth visiting, especially if you're a fan of the hit TV show, The Walking Dead. Much of the show was filmed in and around Senoia, with some of the town's landmarks instantly recognizable, even to casual viewers.
Fan or not, a great way to get to know the town better is via the themed Walking Dead tour. Not only will you get to see many of the best-known shooting locations for the series, but chances are your costumed guide will likely even have appeared on screen as an extra.
Afterwards, spend time exploring historic 19th-century Main Street Senoia on foot, being sure to include stops at the downtown area's many interesting art and craft galleries and antique stores. Also worth a visit, the Senoia Area History Museum features interesting exhibits relating to the town's history since 1860 when it was founded, as well as the interesting Buggy Shop Museum, with its displays relating to horse-drawn transportation.
9. Tallulah Falls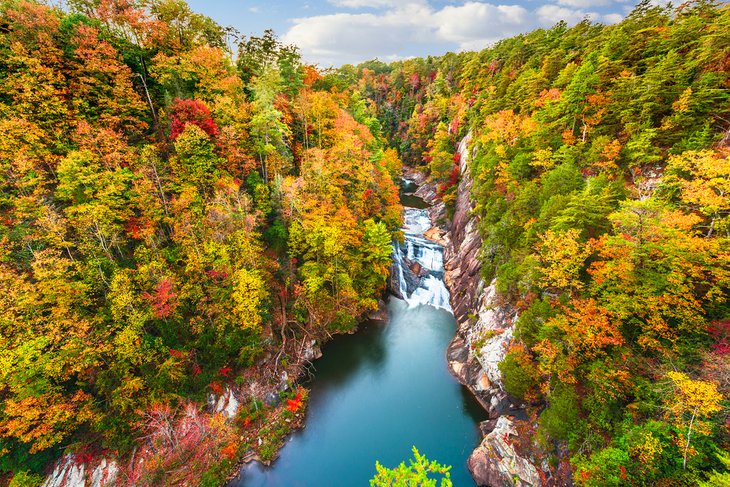 Tucked away in the northeast corner of Georgia near the state border with South Carolina, the town of Tallulah Falls was established in the 1880s as a tourist destination for visitors wanting to see firsthand the region's most important natural landmark, the Tallulah Gorge National Park.
Still considered, as it was back then, one of the "Seven Natural Wonders of Georgia," this must-see attraction in Georgia features not just a gorge, but spectacular waterfalls and rugged rapids. While popular just to look at, and accessible via hiking trails and cool suspension bridges, the 1,000-foot-deep, two-mile long gorge is also a magnet for white water rafters and kayakers.
Make sure you allocate a little time to explore the town itself. While its historic buildings now house souvenir shops, boutiques, and eateries, they've lost none of their Victorian-era charm.
10. Ellijay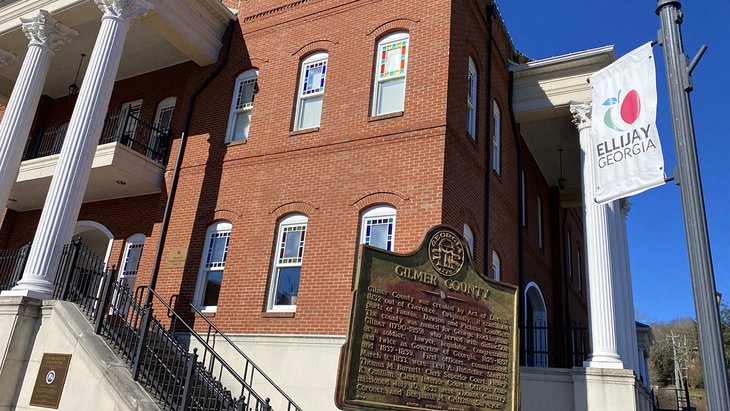 While quaint little Ellijay in the North Georgia mountains is fun to visit any time of year, this small town swells with over 20,000 visitors each day during the popular Georgia Apple Festival. Ellijay's fame as the "Apple Capital of Georgia" is well-known, with visitors flocking here for the two-weekend October event to partake in themed events, parades, and, of course, purchase apple-based produce by the truckload.
Even if you're not able to make it for the festival, any one of the 11 orchards located around Ellijay offer fun picking experiences and farm-related activities. Ellijay is also popular for its white water rafting experiences, kayaking, and mountain biking.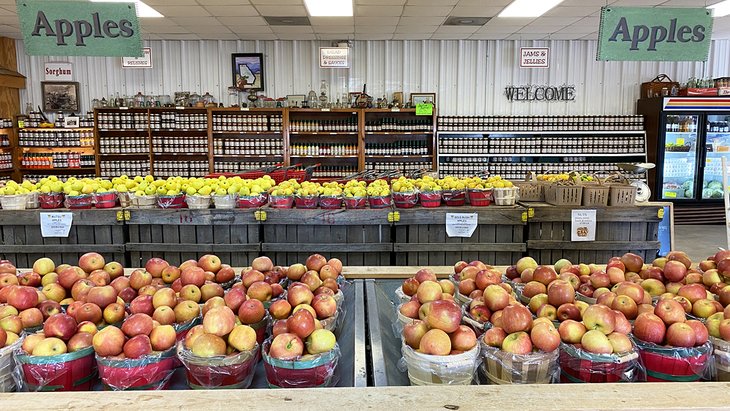 Read More: Top-Rated Things to Do in Ellijay, GA
Map of Small Towns in Georgia