10 Best Weekend Getaways in the South & Southwest (USA)
The thought of a sunny southern weekend getaway makes the idea of dusting off the suitcase from the back of the closet an exciting endeavor. Depending on where you go, packing could include fun or fancy clothes, flip flops or heels, bathing suits or hiking shorts.
Easy flight connections from just about anywhere in the US are what most of these destinations have in common, which makes them perfect for a long weekend. Each city has something to entice you no matter your interests.
For dining, beaching, hiking, spiritual quests, romantic getaways, culture, music, history, or just lazing by the pool, these destinations will fit the bill. All the cities have a range of accommodation, from first-class resorts, to cozy bed and breakfasts, along with more mid-priced options as well.
Begin your planning with our list of the best weekend getaway destinations in the South and Southwest USA.
1. Savannah, Georgia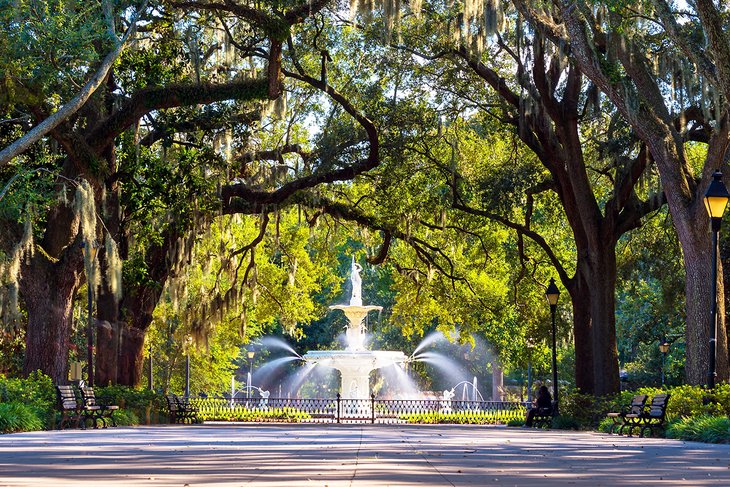 You can't help but wind down to a slower pace of life while in Savanah. Warm days and sultry nights encourage a languid pace of life and are the perfect antidote to your busy work life. Strolling hand in hand with your loved one under the massive Southern live oak trees hanging with Spanish moss makes for one of the most romantic getaways in the South.
Things to do in Savannah include wandering through the city's beautiful parks; browsing through eclectic shops and boutiques in the historic city center; then grabbing a long, lingering, lunch on a shady patio. Perhaps consider some pool time later on or a nap before dinner at one of the fine-dining spots, many set in historical buildings.
When visiting, base yourself in or near the historic center where you'll find a selection of hotels and resorts. Places here are not inexpensive; however, the setting and location are well worth the investment.
2. New Orleans, Louisiana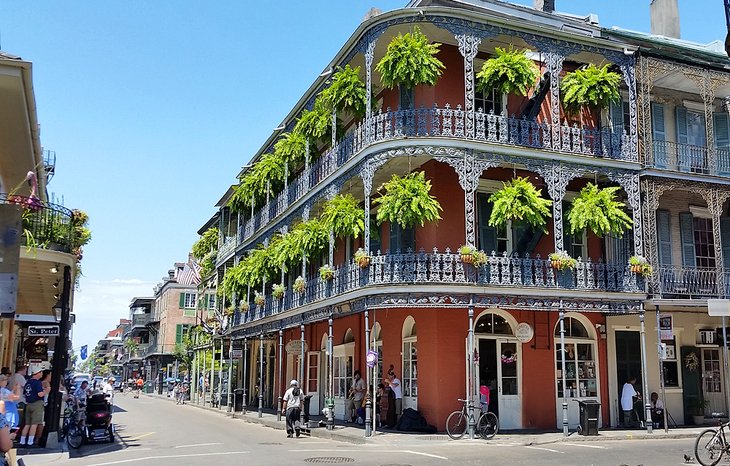 When planning a weekend getaway in the South, one of the first destinations that people think of is the Big Easy, aka New Orleans. The reasons for its popularity are easy to understand: New Orleans is built for good times - whether it's funky jazz music, spicy Cajun cooking, or the revelry that takes place on Bourbon Street, you'll probably end up staying up later than you think.
Must-sees when in town include the warren of streets and wonderfully restored buildings that make up the historical French Quarter, the trendy Warehouse District, and the mansions in the Garden District. No trip to New Orleans would be complete without a bag of beignets and a ride on an authentic paddlewheel steamer.
Part of the enjoyment of a visit to New Orleans is staying on one of the beautiful resorts spread throughout the old city. Many of these are in restored historical buildings, with charming exteriors and modern and exceptionally comfortable rooms.
3. Phoenix, Arizona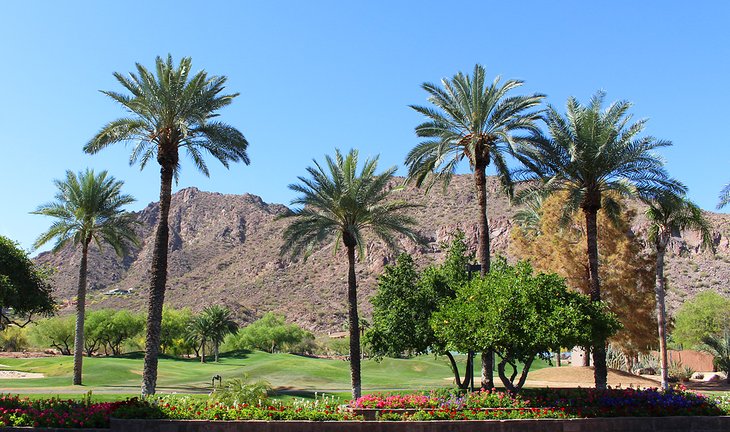 Sitting pretty in the Valley of the Sun, Phoenix is perfect for just about any getaway you can imagine. With over 300 days of sun each year, this desert city is an ideal winter getaway destination for northerners tired of gray days. It's also incredibly easy to get to, with direct flights from all over North America.
Phoenix is full of things to do that range from world-class golf courses, NASCAR races, historical sites, and a lively dining scene. Don't forget about all the natural wonders nearby - the hiking here is spectacular as are some of the nearby lakes in the state.
Phoenix is fortunate to have an excellent assortment of luxury resorts that cater to your every whim. For those on a tighter budget, the city has an ample supply of mid-price hotels that always have good outdoor pools.
Accommodation: Best Resorts in Phoenix
4. Key West, Florida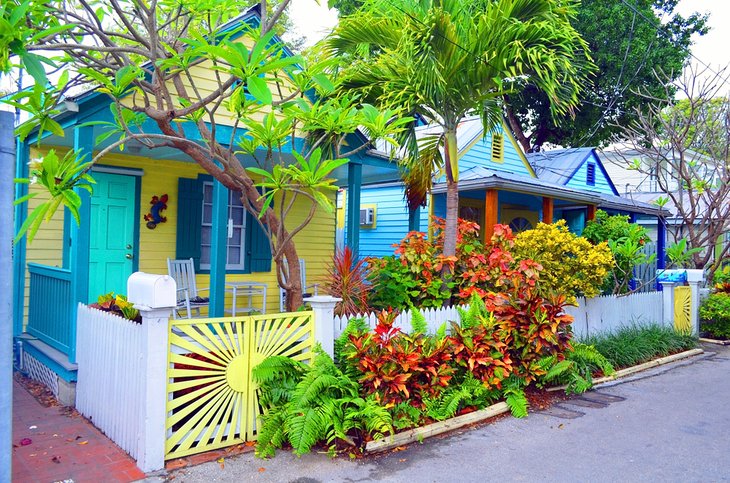 Interested in an island getaway? What better place to soak up the sun and have some fun than Key West? The city is the highlight of a trip along the necklace of islands known as the Florida Keys. Fly into Miami and enjoy the scenery as you drive over the bridges and ocean towards the destination at the end of the road.
Key West embodies fun, and the best spot to find it is on lively Duvall Street, a long strip packed with shops and restaurants. Grab a selfie at the southernmost spot in the USA and then for something completely different stop by and see the six-toed cats at the Hemingway Home.
During the day, hit the beaches, or stay poolside at your resort, but evenings are for sunsets at Mallory Square and good times at an open-air restaurant or patio that will lull you into staying out late in the warm Caribbean night air.
5. Houston, Texas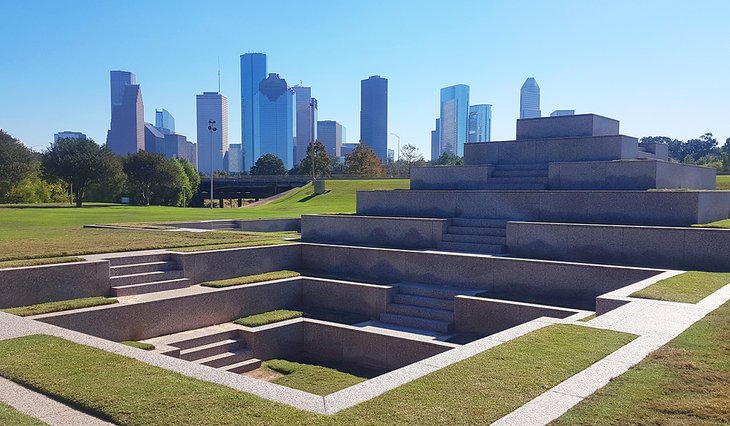 If you're interested in visiting a large city with all the perks that go with that, Houston is the perfect place for a weekend getaway. Although the city is huge, it has some amazing neighborhoods, parks, and unique tourist attractions that will keep you entertained.
Home to up-and-coming and world-class chefs, Houston has an outstanding culinary scene. Foodies should put this city on their list of places to visit. Culture vultures will be right at home in Houston's Museum District with 19 museums to visit, of which 11 are free.
One of the city's main attractions is Space Center Houston, where you can learn about space travel and see replicas of the space shuttles and America's first orbiting structure, Skylab.
Just a little over a half-hour drive from the Space Center are the beautiful beaches of Galveston, both of which can be combined for a full day of fun.
Accommodation: Best Resorts in Houston
6. Miami, Florida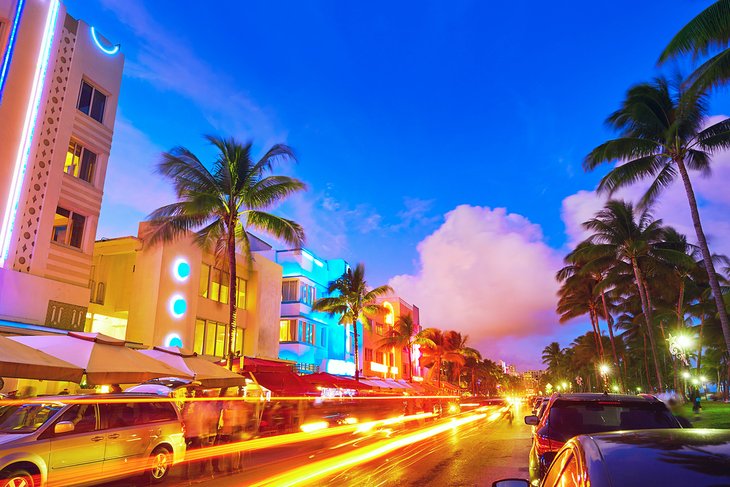 This city pulses with the lust for living life to the max. Let the Miami vibe, with its heat and new scenes, unshackle you from the day-to-day worries of your life.
During the day, head directly to South Beach, one of the best beaches in Miami, which is packed with beautiful people doing their thing. At night, the area transforms as the glow from neon lights gives the place a soft-focus feel. This is the place to see and be seen either by snagging a patio seat at one of the restaurants or casually strolling the promenade along Ocean Drive.
Little Havana is not to be missed. A visit to Calle Ocho, has all the best Cuba has to offer, including music, food, and fun.
For a bit of retail therapy, head to the Bayside Market, where you'll find over 150 shops selling pretty much anything you can imagine or want. Grab lunch here at one of the waterfront restaurants and recap your activities from the night before.
Accommodation: Top-Rated Resorts in Miami
Read More: Top Attractions & Things to Do in Miami
7. San Antonio, Texas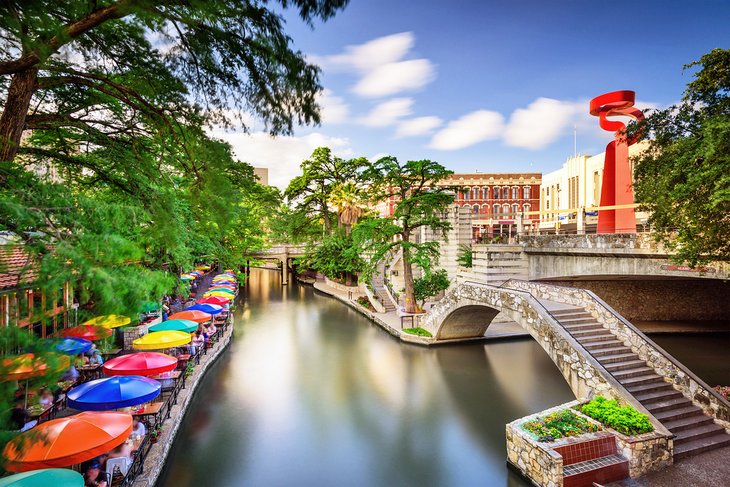 One of the many top things to do in San Antonio is eat. The city is one of the true epicurean centers of Texas and should be the destination of choice for foodies intent on a weekend of feasting and fun. Home to a campus of the CIA ( Culinary Institute of America), the city is a hot spot destination for the world's up-and-coming chefs.
Head to the Pearl District to find restored buildings housing some of the trendiest and hip restaurants in the city whose patios spill out onto the pedestrian-only streets. For some of the best Mexican food, head to Market Square and the immense Mi Tierra Café Y Panderia. This restaurant is so large that it takes up an entire city block.
To work off all the fine food and good times, be sure to visit the famous Riverwalk. This wonderful area is shady and cool and chock-full of interesting shops and even more restaurants. Continue along the waterside trails, and you'll eventually end up at The Alamo.
Accommodation: Top-Rated Resorts in San Antonio
8. Sedona, Arizona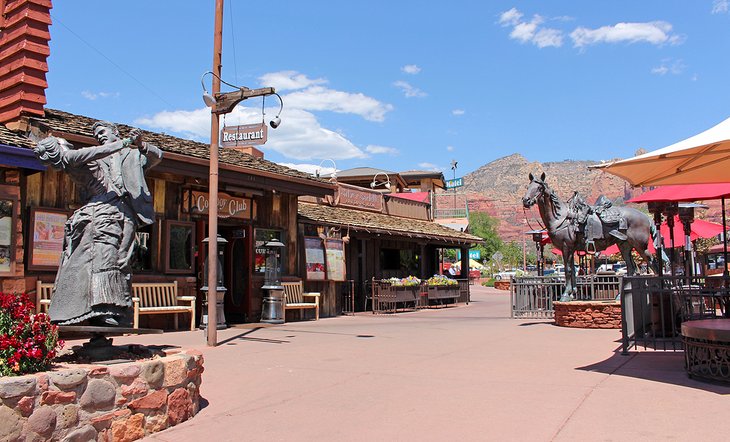 For travelers looking for a getaway in the Southwest that does not involve staying in a big city, Sedona is a great choice. A weekend trip to the scenic small town of Sedona, AZ can take many directions. For those looking for spiritual enlightenment, the city is home to energy vortexes, and a visit to one of these might provide the direction you may be seeking.
Those interested in less esoteric pursuits may want to lace up their hiking boots and tackle one of Sedona's famous hikes, or strap on their helmet and hit the world-class mountain bike trails.
If that all seems a bit too much, consider checking into one of Sedona's luxe resorts and making your days about trips to the spa and poolside lounging. If you're on a serious budget, camp at one of the nearby campgrounds, many of which are in spectacular settings.
Sedona is an easy two-hour drive from Phoenix Sky Harbor International Airport.
9. Palm Springs, California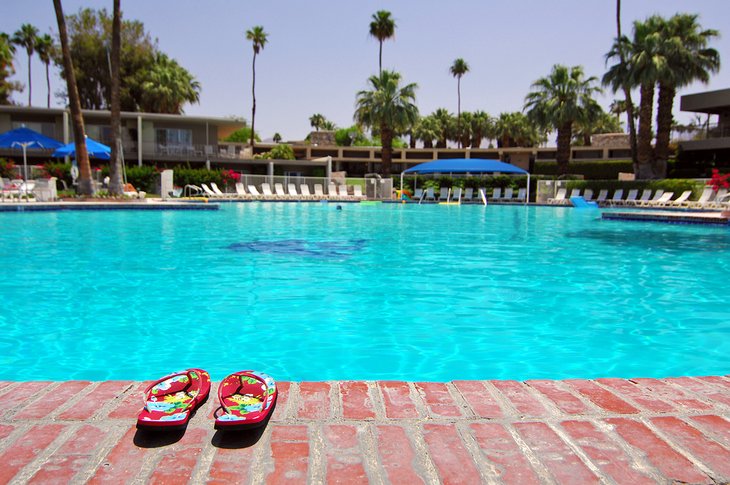 Famous for its laid-back atmosphere, iconic mid-century modern architecture, and proximity to Los Angeles, Palm Springs is an easy weekend getaway. Its enviable location in the desert has long made Palm Springs a magnet for sun-starved northerners from November through April. The city is famous for its upper-end resorts and spas, and a weekend here could be the cure for all that ails you.
Pack your golf clubs, swimsuits, hiking boots, and best going-out clothes - the city has something for everyone. Music fan? Plan a trip around one of the famous music festivals that take place nearby, namely Coachella and Stagecoach, or if you are into design, come during February's Modernism Week.
Hikers will want to take the famous Palm Springs Aerial Tramway to the mountain station at an elevation of 8,516 feet and set out on over 50 miles of hiking trails in beautiful pine forests.
Palm Springs' main street has a diverse set of restaurants, most with patios. Grab a prime table and engage in some serious people watching while enjoying fine cuisine.
10. Las Vegas, Nevada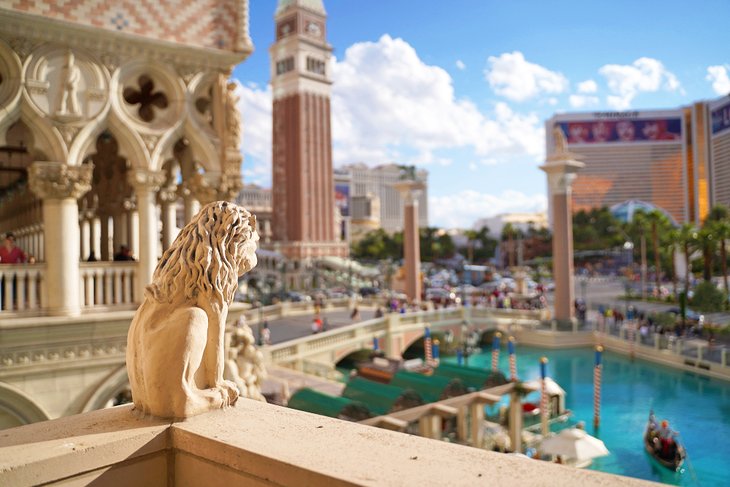 A list of places for a sunny getaway would be incomplete without the most popular weekend destination of all: Las Vegas. No city is better set up to get you from the airport to your hotel to having fun in the shortest span of time. Those flying from the East Coast get the added benefit of adding three bonus hours to their weekend as soon as they land!
Thousands of hotel rooms, ranging from the most luxurious to the most basic (and even some that are pet-friendly) await the planeloads of fun seekers that enjoy great air connections from across the United States. Las Vegas is also an easy four-hour drive from the Los Angeles area on Interstate 15.
What to do when you get there? Well, deciding may be the hardest decision you'll need to make during your weekend, as your options are almost limitless. You could start with some pool time, or perhaps check out the free attractions, like the fountains in front of the Bellagio.
Always wanted to see the Grand Canyon? Fly away in a helicopter and get a once in a lifetime view of one of the world's greatest natural wonders. If that isn't enough, why not jump off the Stratosphere Tower 829 feet above The Strip.
Las Vegas isn't all about manmade fun, the city is close to wonderful hiking trails, and a day trip to Death Valley is also an option.