18 Top-Rated Tourist Attractions & Things to Do in San Antonio
We may earn a commission from affiliate links ()
Home to some of the most famous historic sites in Texas, San Antonio is a wonderful city for sightseeing. If you want to add some fun activities to your itinerary, you'll also find great opportunities for mini-adventures in or near the city.
Take a walk or cruise along the River Walk and then spend some time exploring the Alamo and the city's historic missions. To experience some of San Antonio's fine cuisine, try dining in the Pearl District, or enroll in a cooking class.
If you have time to venture outside the city center, you'll find no shortage of things to do, from caving and golfing to indulging your inner cowboy in nearby Hill Country. Depending on when you plan to visit, you may even be able to enjoy the city's famous Fiesta.
Discover more things to see and do with our list of the top attractions in San Antonio.
See also: Where to Stay in San Antonio
1. Stroll, Dine, or Cruise along the San Antonio River Walk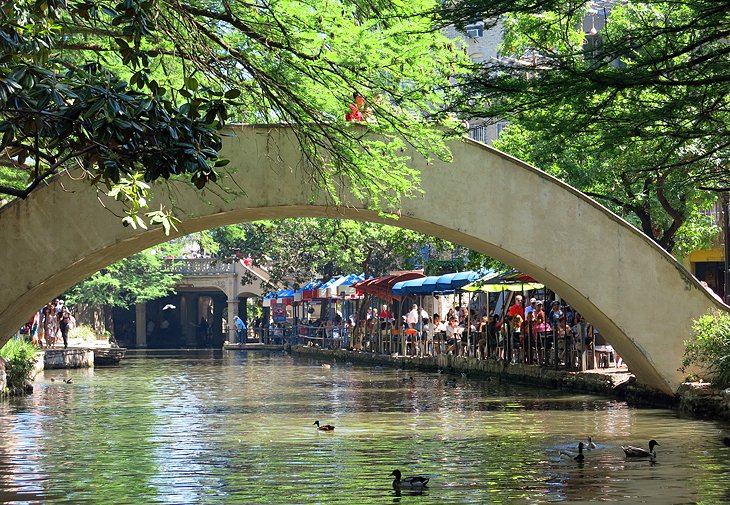 San Antonio's centerpiece is the River Walk, where stone walkways and restaurants line the San Antonio River flowing through the city center. Set below street level, this is a beautiful area with calm waters, graceful bridges, birds, and plenty of shade from large trees towering over the banks.
Most people come down here for a stroll, or to enjoy a meal on one of the outdoor patios. One of the most relaxing ways to experience the River Walk is from the comfort of a barge on a guided tour or dinner cruise.
The barges that cruise the river can hold up to 40 passengers. For dinner cruises, the barge is set with a large table in the center and can accommodate up to 20 guests. These slow-moving boat tours are a wonderful escape from the hustle and bustle of the city and a great opportunity to rest your legs after a day of sightseeing.
A great way to see the sites is with a combo San Antonio River Walk Cruise & Hop-on Hop-off Bus Tour, which also includes access to the Tower of the Americas.
2. Tour The Alamo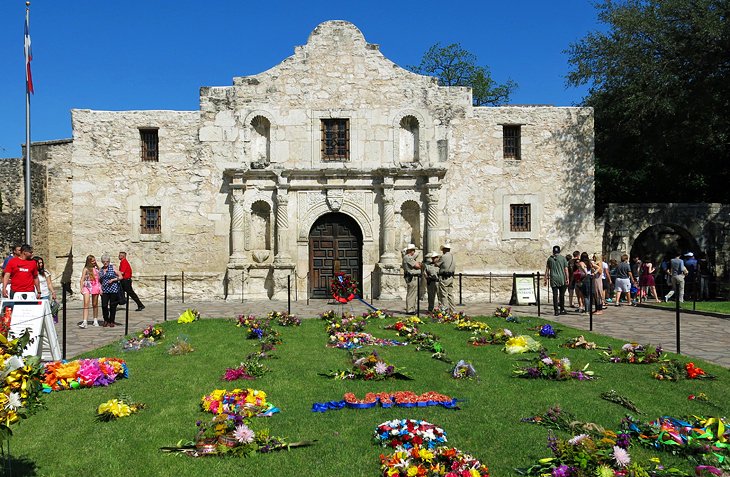 The Alamo is one of the most important historical sites in the United States and a must-see attraction if you are visiting San Antonio. The Alamo was part of the mission station established here in 1718, its church built by Franciscans in 1744.
In 1836, the Battle of the Alamo, one of the most famous battles in US history, played out here, when a small force entrenched themselves in the Alamo against a Mexican army of 3,000. All the defenders were killed, including legendary figures Davy Crockett and James Bowie, in a battle that some estimate may have lasted only 20 minutes.
3. San Antonio Missions National Historical Park & Mission Trail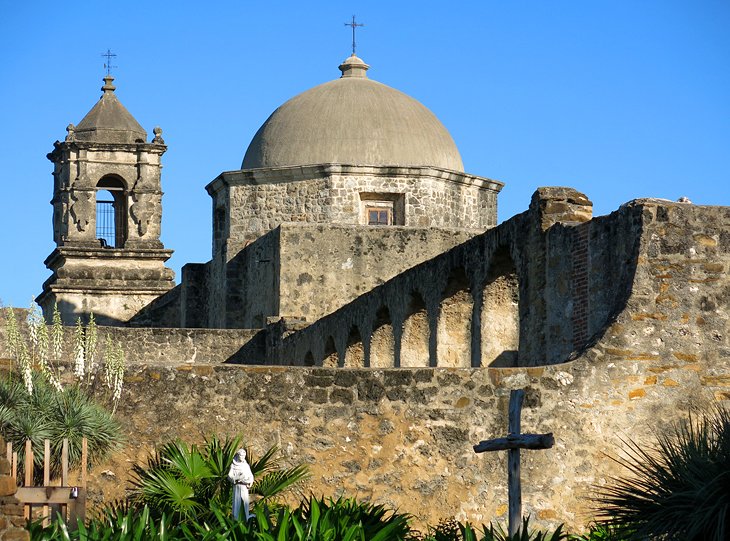 In 2015, the San Antonio Missions were named a UNESCO World Heritage Site, the first such designation in the state of Texas. The five missions, including the famous Alamo (Mission Valero) were built in the early 1700s, established by the Franciscan Order in an effort by Spain to colonize and evangelize the region.
Today, they are one of the city's greatest tourist attractions. If you have time to see only a few of the missions, be sure to see the Alamo, Mission San Jose, and Mission Concepción. The remaining two include Mission San Juan and Mission Espada. The Mission Trail connects the missions.
Most people drive between the missions, but if you want to combine a little outdoor activity with your sightseeing, consider biking between the missions. With a full day and the help of the city's bike share program, you can bike all the way from the Alamo in downtown to the other four missions on an eight-mile, one-way ride or a 16-mile return trip.
The Mission Hike and Bike Trail, which runs along the river and up to the missions, is both scenic and informative and a lovely way to spend a day.
4. San Fernando Cathedral & San Antonio|The Saga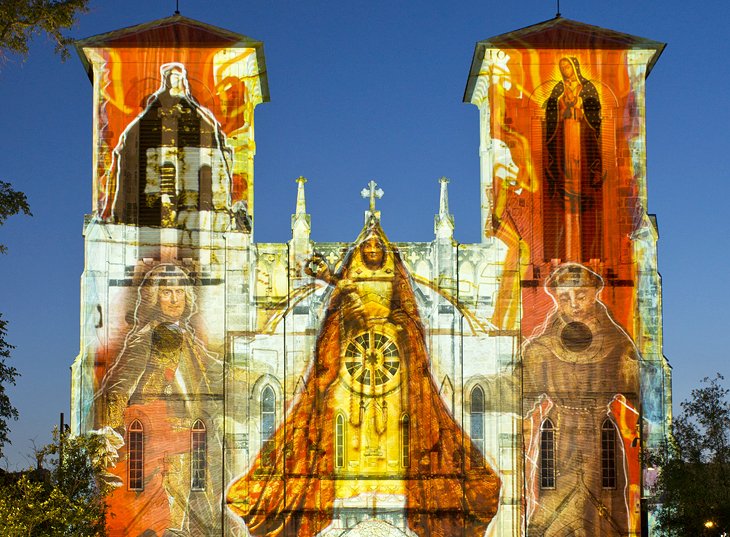 Famous as the burial site of the heroes of the Alamo, the Roman Catholic San Fernando Cathedral (Church of Nuestra Señora de la Candelaria y Guadalupe) is one of the oldest cathedrals in the US and is listed on the National register of Historic Places. The walls of the original church, completed in 1750 and built by settlers from the Canary Islands, now form the cathedral's sanctuary.
The cathedral is on Main Plaza and is one of the best places to visit in San Antonio after dark. At night, it becomes the stage for one of San Antonio's most visually compelling attractions, known as San Antonio|The Saga. Offered free of charge every Tuesday, Friday, Saturday, and Sunday evening, this video art installation, created by Xavier de Richemont, is a 24-minute video, with choreographed music and narration, projected onto the side of San Fernando Cathedral.
5. Natural Bridge Caverns & the Canopy Challenge and Zip Lines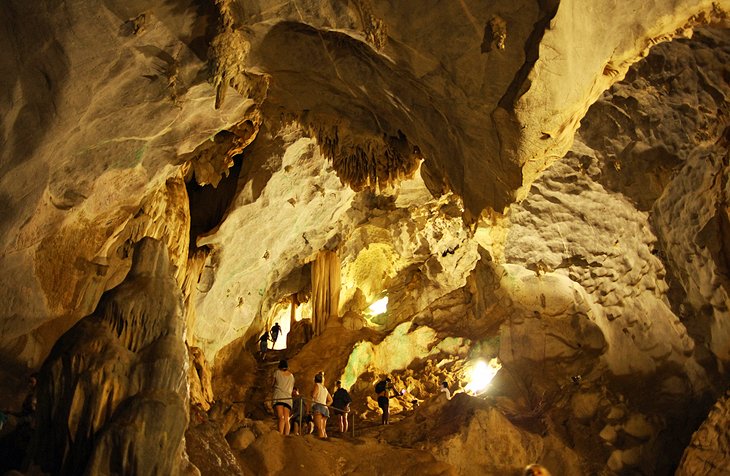 Less than 30 minutes from San Antonio is Natural Bridge Caverns, the largest commercial caves in Texas. These spectacular caves are known for their huge open rooms but they also have narrow passages and interesting formations.
Two types of cave tours are available and take approximately 70 minutes. But there are plenty of things to do here other than just touring the caves, and if you're looking for more of an adrenaline rush, try the Canopy Challenge, a course of platforms and ladders 60 feet above the ground, as well as ziplines. Younger children can also get in on the action with the Sky Tykes, with a rope course designed for younger kids and toddlers.
6. Visit the Pearl District and Farmers Market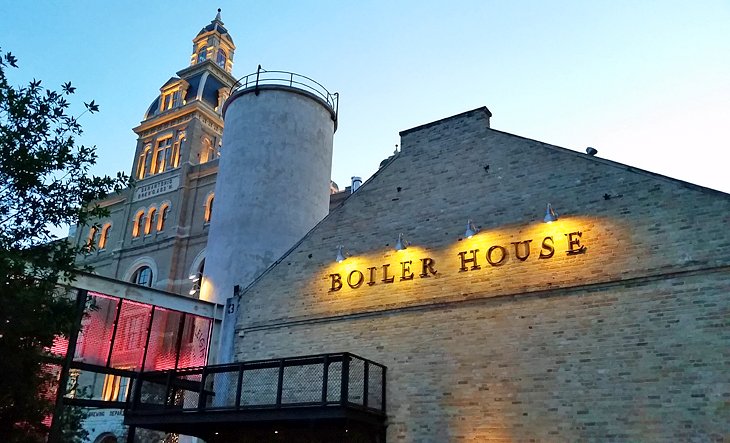 The Pearl is a trendy historic district of San Antonio, with lovely restored buildings, unique shops, and a reputation for great cuisine and hip restaurants. On weekends, the Pearl is home to a lively farmers market, with vendors from a 150-mile radius of the city set up at tables on a pedestrian-only street, selling fresh produce, baked goods, sauces, and other specialties.
The Pearl district has become synonymous with great cuisine and wonderful dining experiences. While fine dining is a term that comes to mind, the restaurants here are not all about white tablecloths and expensive entrees.
7. Shop and Eat at Historic Market Square (El Mercado)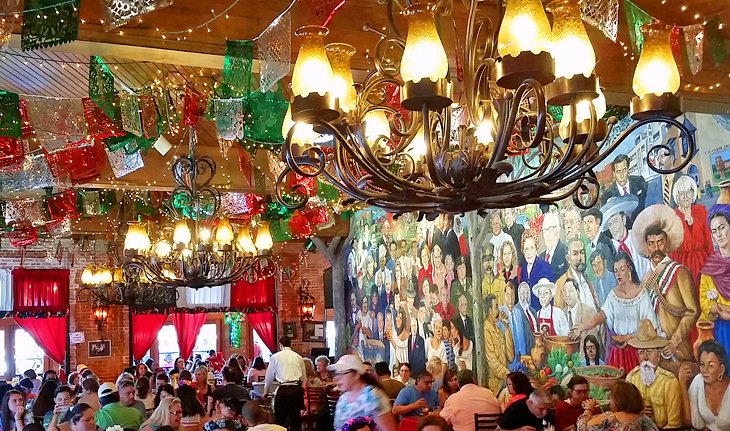 Market Square is the place to go to find unique items and souvenirs. This three-block strip of shops and restaurants is known for being the largest Mexican market in the United States. The indoor El Mercado sells everything from sombreros to pottery.
Locally owned shops display handcrafted art works and all kinds of interesting items that range from paintings and dolls to blankets, jewelry, ponchos, dresses, shoes, musical instruments, and much more.
When you've had your fill of shopping, check out Mi Tierra Café Y Panadería for lunch, dinner, a treat from the bakery, or simply to have a look around. This restaurant is a San Antonio institution that has been in operation by the Cortez family since 1941 and is the size of an entire block.
Open 24 hours a day and serving Mexican food, this one-of-a-kind restaurant is elaborately decorated with Christmas lights and fiesta flags and includes a bakery counter, with baking done right on-site.
8. Japanese Tea Garden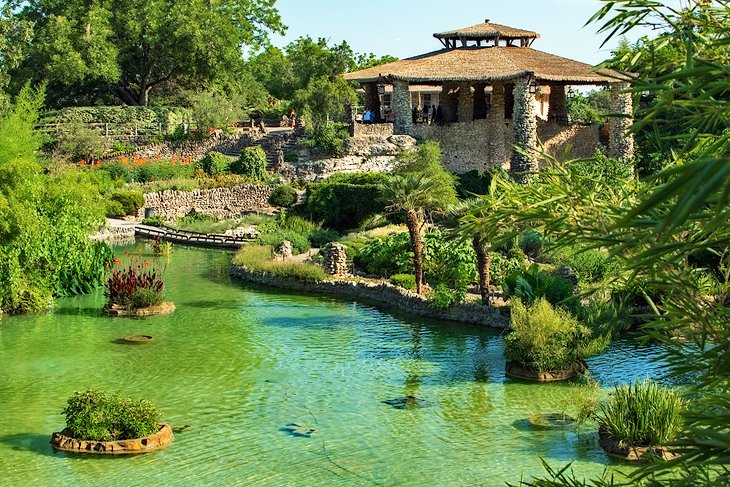 The Japanese Tea Garden is a beautiful, relaxing space and a free attraction in San Antonio. A former rock quarry, this area has been transformed into a peaceful garden with exotic plants, ponds with Koi, waterfalls, and the lovely stone Pavilion. Walkways meander through the gardens. The Jingu House is an on-site restaurant with indoor and outdoor dining space.
9. San Antonio Botanical Garden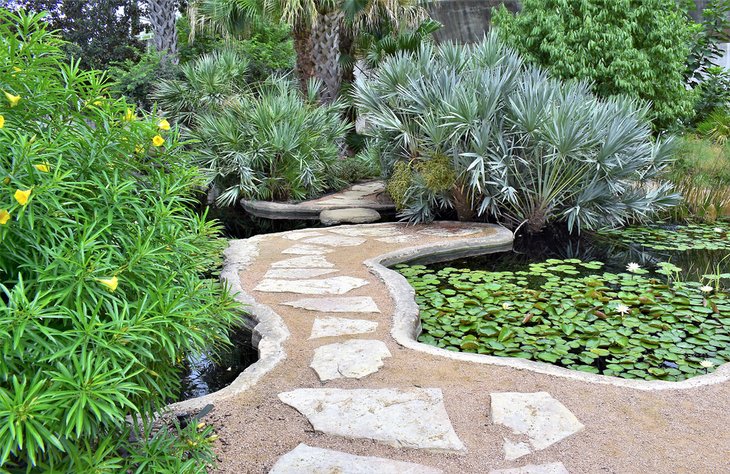 The San Antonio Botanical Garden is an oasis of green in the city. Take a wander around and soak up the quiet and be dazzled by the colors. The garden has a wonderful array of trails that wind their way past some of the main highlights. These include the Mays Family Display Garden with its focus on native plants, the Water Saver Conservation Garden highlighting drought resistant plants, and the 2.5-acre Family Adventure Garden where kids are invited to "mess with Texas."
10. Day Trip to New Braunfels for Country Music and Small-Town Charm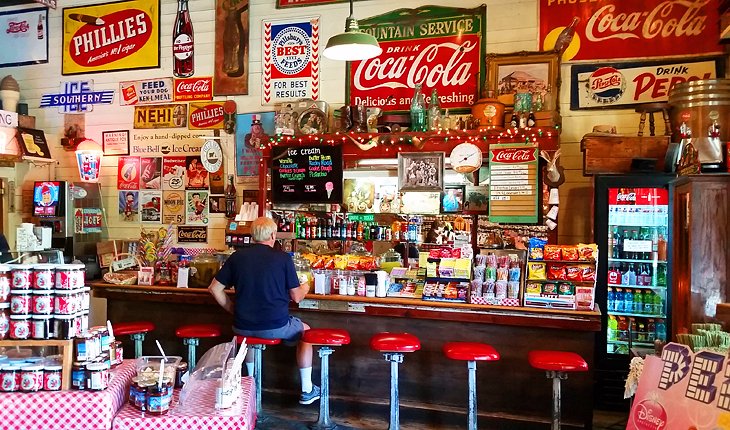 About 40 minutes northeast of San Antonio is the town of New Braunfels, with charming historic areas and country music performances by some of the biggest names in the industry. The Gruene Historic District is one of the main highlights, with an old Grist Mill that has been converted into a beautiful riverside restaurant and the famous Gruene Hall, the oldest dance hall in America.
Today, this building is still in operation, with live music performances every day. Garth Brooks, Willie Nelson, and George Strait are just some of the performers who have graced this small stage over the years. Also not to be missed is the General Store, which looks like it might have been transplanted here from a whole other era.
If you are visiting during the summer, one of the most popular things to do is tubing down the Guadalupe River. On hot days, the river is almost clogged with tubers floating along, enjoying the sun. You can also combine a trip to New Braunfels with a stop at Natural Bridge Caverns for a full day adventure.
11. Fiesta San Antonio
Fiesta is an annual 10-day celebration of epic proportion, held in the spring. Parades and events, including the famous Battle of Flowers parade, are constant in San Antonio during this time, giving the city an almost electric vibe.
12. Culinary Boot Camps & Cooking Classes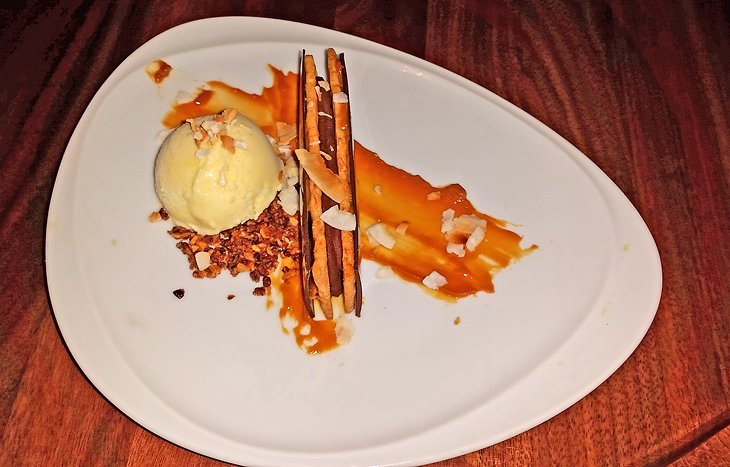 If you ever wanted to enhance your skill level in the kitchen, San Antonio may be just the place to make it happen in a hurry. This city has the distinction of being the location of one of three Culinary Institute of America (CIA) campuses in the United States, and as a result, food is a serious topic in this city.
Fortunately, the CIA offers classes and unique programs for food enthusiasts who want to become better cooks. The institute offers short Culinary Boot Camps for different types of culinary interests, as well as individual cooking classes. Boot Camps range in length from two to five days, and topics cover everything from baking to cooking and can be based on the type of food you want to cook: regional and ethnic cuisine or holiday specialties.
13. San Antonio Museum of Art and the McNay Art Museum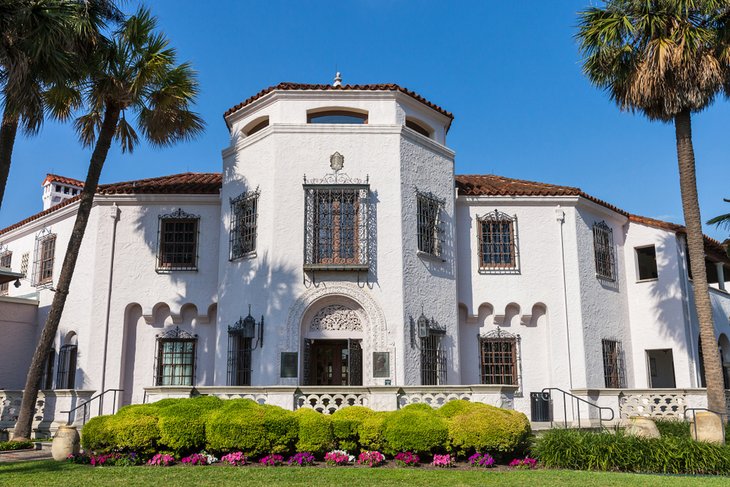 If you are looking to spend some time exploring museums, consider a visit to the San Antonio Museum of Art and the McNay Art Museum for two very different perspectives.
The San Antonio Museum of Art features first-rate collections of Greek and Roman antiquities, as well as Asian, European, American, and Latin American art. Highlights include many fine examples of Egyptian, Greek, and Roman artworks, as well as an exceptional collection of Chinese ceramics and other Asian art.
14. Witte Museum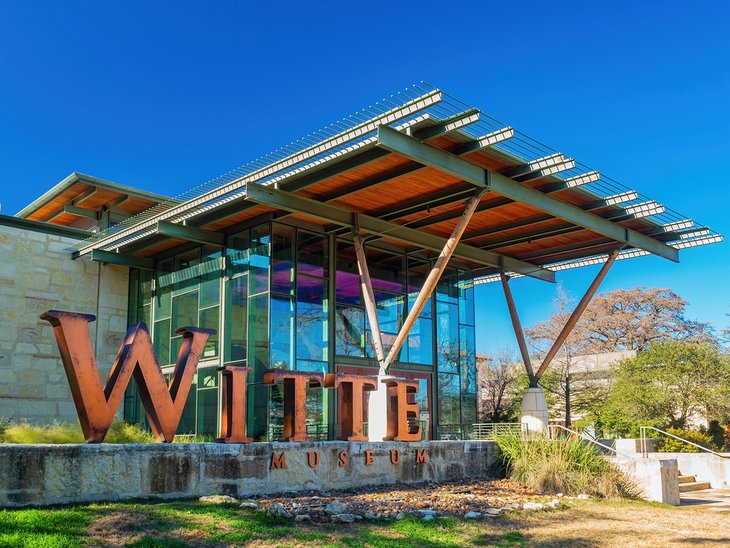 Long a cultural and historical institution in San Antonio, the Witte Museum is now bigger and better than ever. After a series of recent expansions and upgrades, the Witte Museum, does an even better job of explaining and showcasing natural history, science, and culture,
The museum is home to numerous galleries that will be of interest to everyone in your group. For the kids, interactive displays showcasing how the human body works are found in The H-E-B Body Adventure Powered by University Health. For adults, a cultural overview of Texas history is in the Robert J. & Helen C. Kleberg South Texas Heritage Center.
One exhibit not to be missed no matter your age or interests is the spectacular Naylor Family Dinosaur Gallery complete with a huge skeleton of an Acrocanthosaurus that will leave you feeling small and insignificant.
15. Zoos and Theme Parks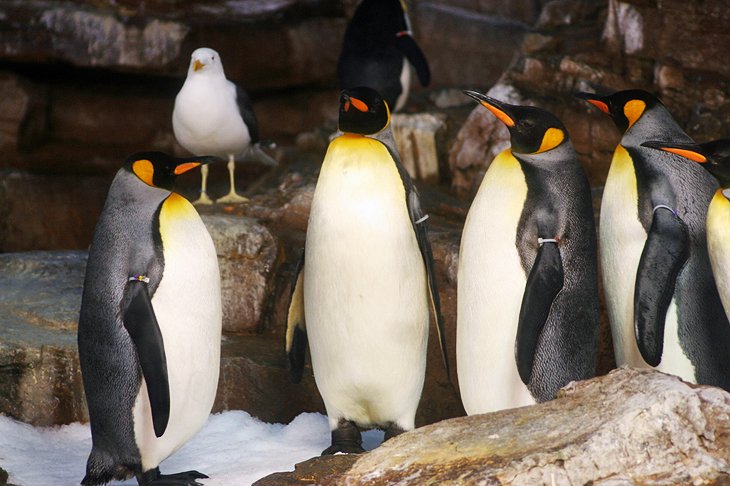 There's no shortage of kid-centric fun in San Antonio. One of the most popular things to do for families with children is spending a day at the San Antonio Zoo and Aquarium, a 35-acre site with some 3,500 animals from 750 species.
16. Six Flags Fiesta Texas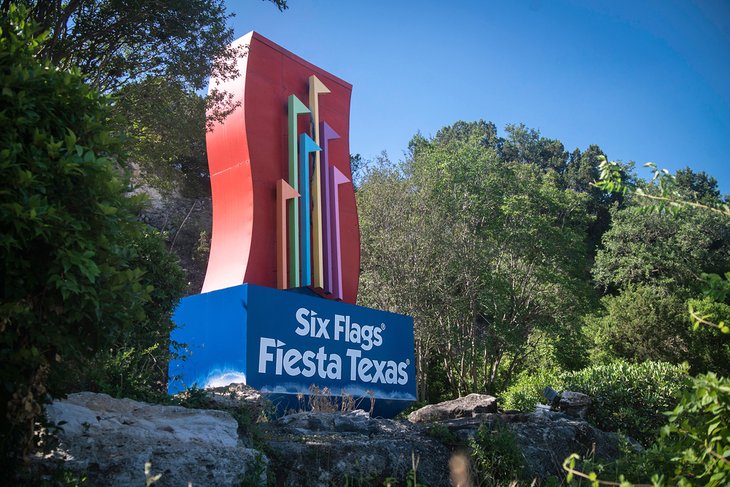 Six Flags Fiesta Texas, a popular attraction designed with kids in mind, is a theme and water park set in a former rock quarry. You can find traditional roller coasters, more advanced thrill rides, as well as those designed for younger kids and families.
17. Day Trip to Bandera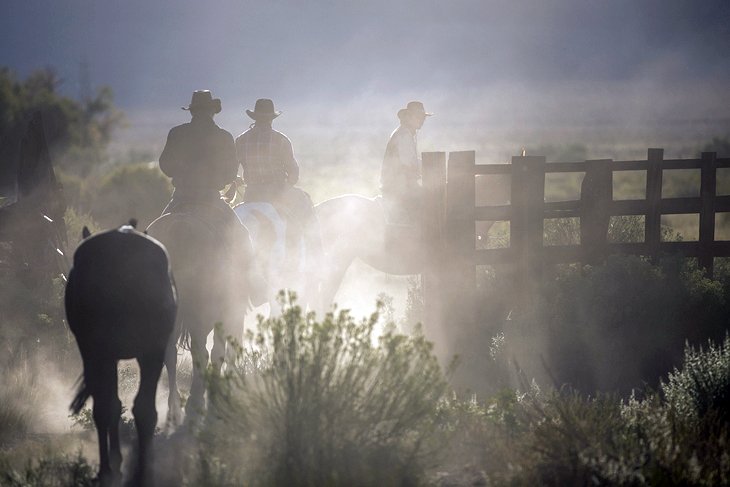 Just an hour away from San Antonio, the small town of Bandera proudly calls itself the "Cowboy Capital of the World." This is a place that truly embraces cowboy culture, with rodeos, dude ranches, lots of horses, and country music.
If you are looking to enjoy some outdoor fun, Bandera is the answer, with ranch tours, horseback riding, golfing, and rodeo and music shows. If you truly want to experience it, why not try living the cowboy lifestyle by staying at a guest ranch?
18. Golfing and Golf Resorts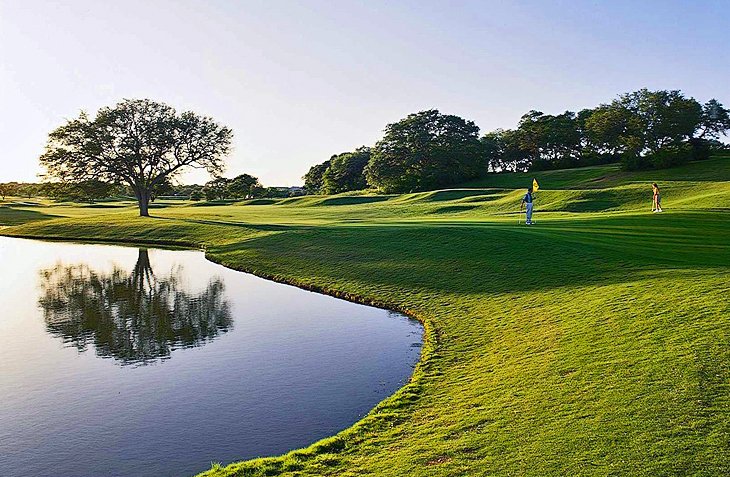 While golf may not be the first thing that springs to mind when considering a trip to San Antonio, there are some fabulous courses in this area of Texas and some beautiful golf resorts. La Cantera Resort & Spa, with the Palmer Course and the Resort Course, is one of the most popular places to stay and play.
Other resorts in the area worth checking out are the Hyatt Regency Hill Country Resort and Spa and the JW Marriott San Antonio Hill Country Resort & Spa. All these courses are spectacular, both in design and scenery, and are well worth adding to your golf "to-do" list.
Where to Stay in San Antonio for Sightseeing
To experience San Antonio's charm and unique ambience, the best place to stay is on the River Walk or in the Pearl District. Luxury and mid-range hotels can be found in both of these areas, and budget hotels are generally a 10-minute walk away. Below is a list of highly rated hotels in convenient locations:
Tips and Tours: How to Make the Most of Your Visit to San Antonio
More Related Articles on PlanetWare.com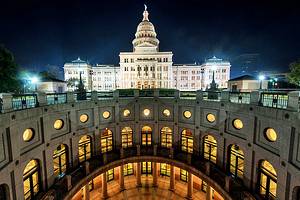 Texas Cities: Cities in Texas are diverse, and each has its own character. If you are looking for a cosmopolitan experience, with fine dining and museums, or you just want to see Space Center Houston, set aside some time to explore the sights of Houston, less than three hours away. Alternatively, head north to Austin, just a 1.5-hour drive away, or Dallas, reachable in about four hours.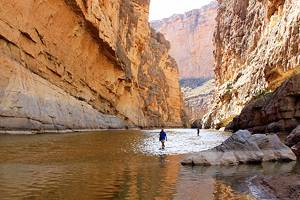 West Texas: This area of Texas offers a completely different experience and is often what many people are searching for when they plan an adventure to the state. Cities like Amarillo and Lubbock set the stage for trips to some of Texas' more remote areas. One of the great highlights of this area is Big Bend National Park. Set in the mountains and along the Rio Grande, this area offers some extraordinary scenery, with great opportunities for hiking and camping, and is also home to a handful of unique luxury resorts. And if you are continuing west, consider a stop in El Paso.